Could CORR Soar, Again?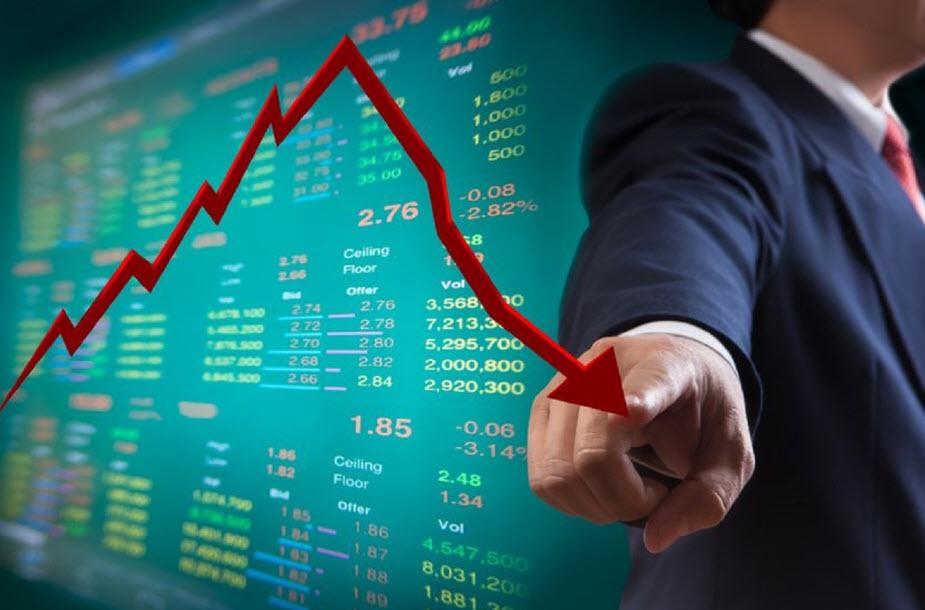 NoahBlacker
Brad Thomas wrote this article and it has appeared previously on Seeking Alpha.
Summary
Commodity prices have stabilized and CORR should become less volatile as a result.
CORR shares took a nosedive on Friday, falling over 6%.
I am upgrading CORR from a HOLD to a BUY.
Back in December 2016, I wrote that my "best REIT in 2016 was up over 150% on a year-to-date basis, CORR has been on fire."
Of course, I'm referring to the energy infrastructure-focused CorEnergy (CORR), a former BDC that restructured as a REIT. By restructuring as a REIT, CORR started acquiring real property (to qualify as a REIT) while still focusing on energy infrastructure.
Although the company does not have a private ruling letter from the IRS (a moderate risk) the company does have a legal opinion, and the energy infrastructure sector is comparable to other real estate asset classes (cash flow is a high component of total return). In the 2016 Annual Report, the company said:
In September, the Internal Revenue Service and Treasury Department released final regulations on the Definition of Real Estate Investment Trust Real Property. We welcome this clarification of qualifying assets in our tax-efficient structure. As a pioneer of the energy infrastructure REIT, we believe the certainty provided by regulation versus the private ruling process confirms our strategy, and will increase confidence with potential operating partners, as well as potential investors.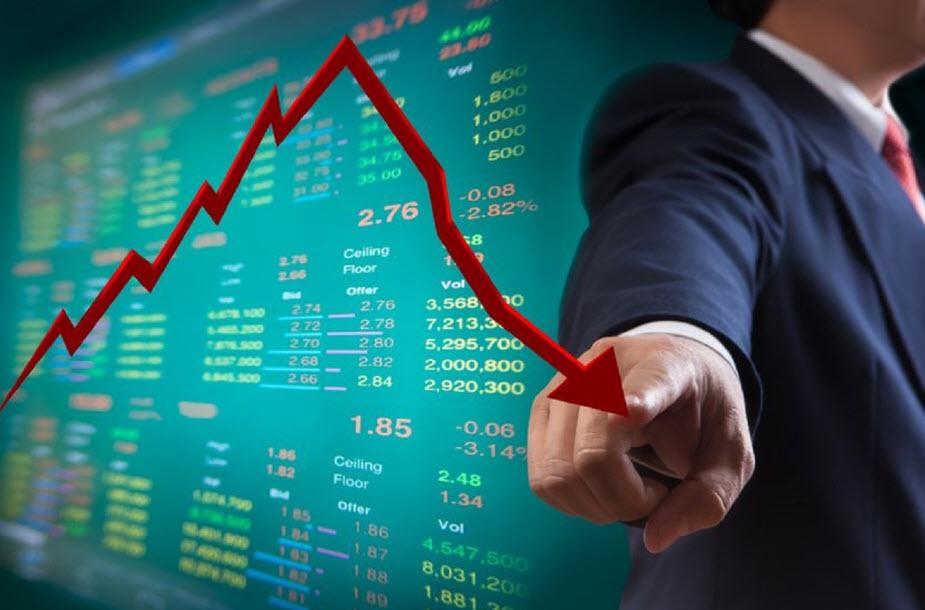 The highly fragmented energy sector enjoys a resilient inflation hedge - the distribution that you get with CORR includes underlying contractual features that give visibility over the long run to inflation-based returns (1% to 3% is a reasonable expectation).
As I said, CORR was a BDC in a previous life, but the company smells more like an MLP. Also, the accounting nuances (MLPs distribute K1s), MLPs are volume based, so the actual pipelines and operational acumen are joined at the hip.
Keep in mind, CORR is NOT involved in the operation of energy-related assets. The company is simply a landlord that primarily owns midstream and downstream U.S. energy infrastructure assets subject to long-term triple net participating leases with energy companies.
Commodity prices have stabilized and CORR should become less volatile as a result: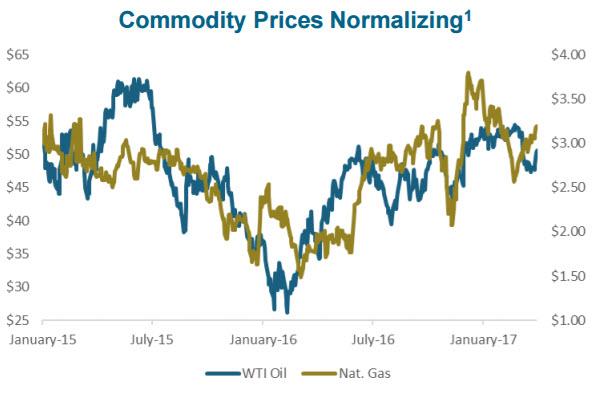 CORR's assets include pipelines, storage tanks, transmission lines and gathering systems. The company invests in a variety of infrastructure-related assets across the energy value chain, and since commodity prices have stabilized, the frequency and magnitude of energy bankruptcies have decreased.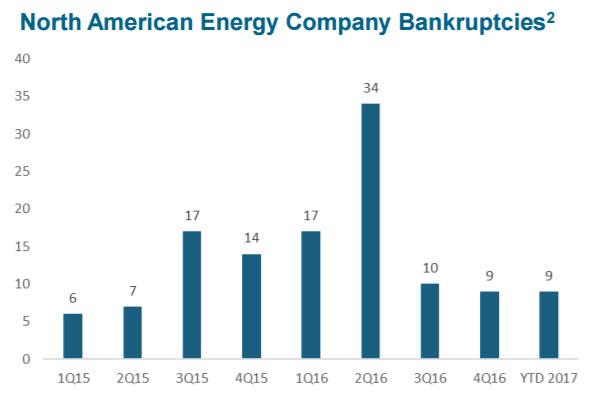 A few months ago, I decided it was time to cash in a few chips, and I explained my trimming event as follows:
We think the multiple could expand further, but unless CORR purchases additional assets, we do not see an increase in FFO. As a result, we believe there might be 10% upside from here, but with the risk of potentially greater downside.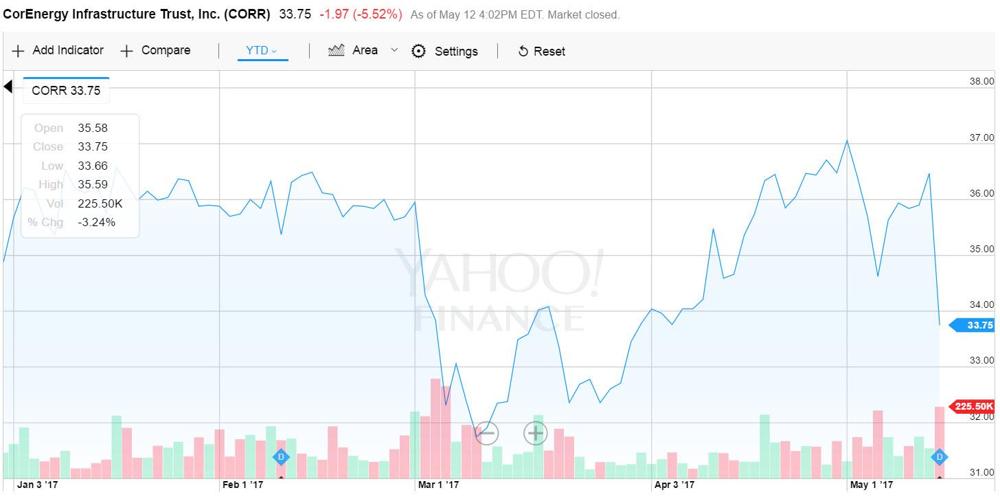 As you can see, CORR shares took a nosedive on Friday, falling over 6%...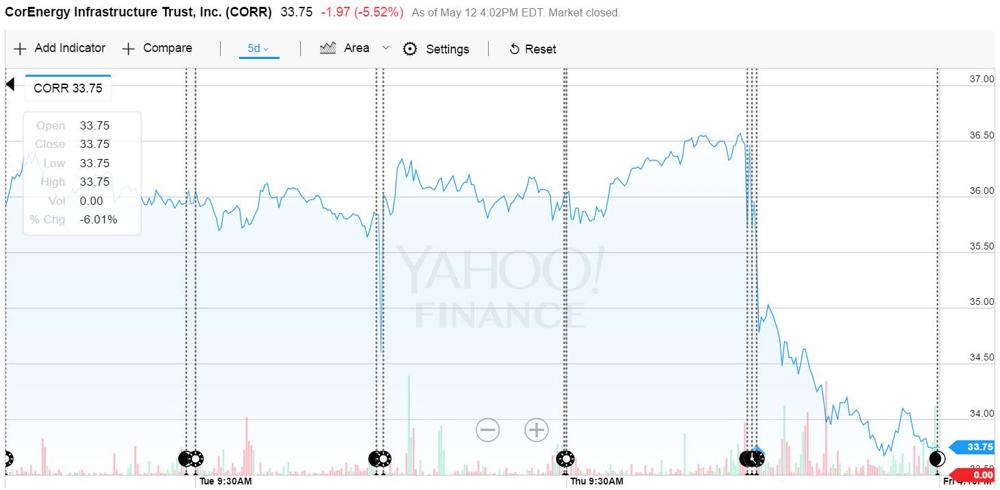 I could not discern the reason for the pullback - the Q1-17 earnings were sound. Let's take a closer look…
The Latest Earnings
CORR's assets are necessary for tenants to produce economic value for their debt and equity holders, and that was demonstrated despite the bankruptcy of the tenants. As David Schulte (CEO of CORR) explained on the recent earnings call:
All these payments are operating expenses; they are not financing expenses for those companies. Operating leases have priority in payment and bankruptcy. The CORR revenue stream therefore is resilient and protected even during bankruptcy. Therefore, our stock price moved with commodity prices in this cycle, our revenues and AFFO did not, demonstrating the benefit of our business model for investors seeking infrastructure assets in their portfolio.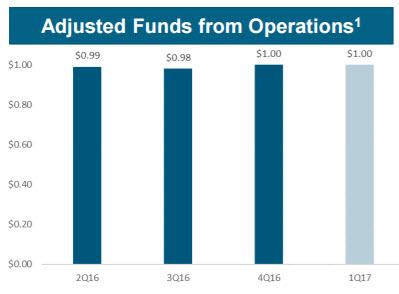 In Q1-17, CORR's AFFO was $1.00 per common diluted share quarter. With the current asset mix, CORR targets a coverage ratio of 1.5x AFFO to dividends. The company believes that amount of excess coverage is a prudent level enabling it to reinvest for dividend stability and growth over the long term.
CORR's AFFO to dividend coverage ratio for the first quarter was 1.49x, and in the seven quarters since the Grand Isle acquisition (on June 30, 2015) the coverage ratio has ranged from 1.43 to 1.53x.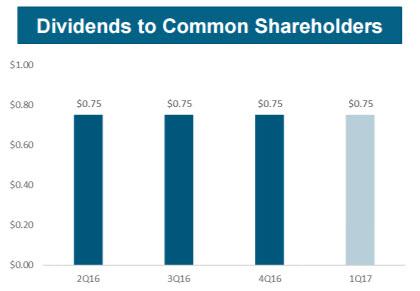 On April 18th, CORR closed on the $70 million offering to the issuance of an additional 2.8 million depository shares, which resulted in net proceeds of approximately $67.6 million. The company immediately utilized $44 million of the proceeds to pay down the outstanding balance on its revolver as a near-term use.
These actions promote CORR's conservative leverage profile by enhancing liquidity and positioning the company well, as it moves from a defensive position in 2016 to growth mode. As illustrated below, CORR is in a good position to grow by funding new drilling plans:
"Which one or two options do you think will be the most likely path that lenders & borrowers will take if faced with a borrowing base deficiency in spring 2017?"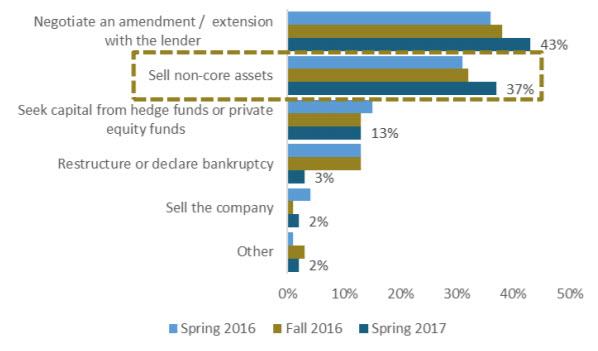 As referenced in a recent article, CORR's preferred stock provides investors with a stable and safe dividend. The issuance of the additional shares brings the total outstanding Series A preferred to over $125 million, which provides enhanced liquidity in the market and promotes broader participation in ownership.
CORR has a policy of employing moderate leverage supplemented with equity issuances. The company believes that "maintaining a conservative leverage policy serves the expectations of investors and the infrastructure asset class."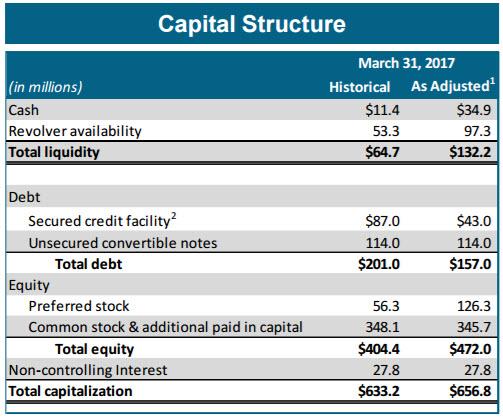 Time To Get Back InThe Game?
The pullback on Friday is intriguing, recognizing the pullback could have simply been a block-sale trade. On the recent earnings call, David Schulte explains:
The energy markets seem to be adjusting to a new normal of $50 crude, bankruptcies have decreased in size and frequency and companies are emerging from restructuring processes which renewed growth expectations, announcing increases in capital expenditure budgets and resumption of drilling plans.
As illustrated in a slide (3 above) rigs are coming back online in the United States.
However, energy companies are still wary of the downturn they just experienced as their lenders and equity investors, and this is where the opportunity lies for CORR. As David Schulte explains:
In a recent survey, energy company said they're more likely to sell non-core assets if they're faced with bond-based efficiencies still in 2017.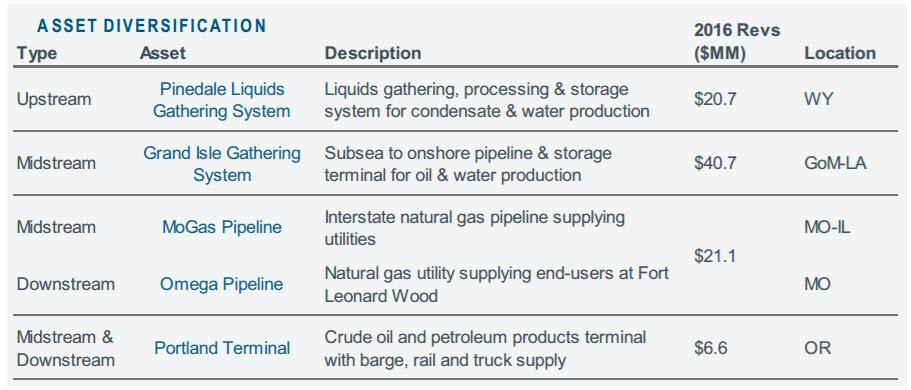 CORR is well positioned to acquire what Upstream companies might consider to be non-core, but which are essential to their overall operations such as Energy XX1 and UPL (two of CORR's tenants).
The sale of an asset to CORR provides an alternative to issuing new equity or increasing debt for companies where capital project opportunities exceed internally generated cash flow, particularly at these commodity price levels. Based on the outlook below, CORR appears to be going back to work: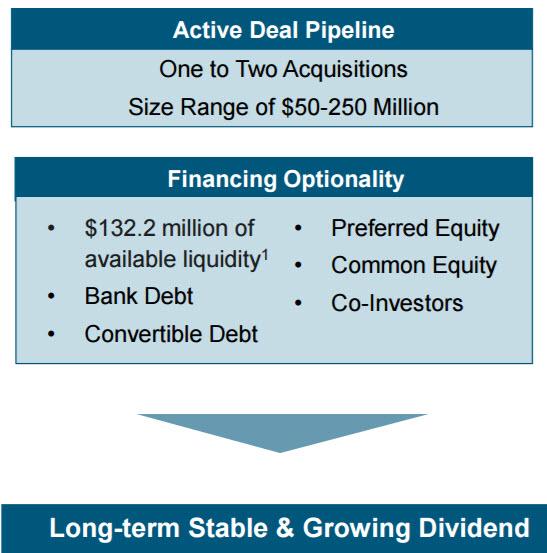 CORR has successfully navigated volatility, as David Schulte explains in the 2016 Annual Report:
To paraphrase Warren Buffett: When the tide goes out, you get to see who is wearing their bathing suit. The onslaught of bankruptcies in the energy sector, including the parent companies of two of our tenants, felt like a reverse tidal wave.
With full exposure to all elements of challenge, CorEnergy demonstrated success on both pillars of our thesis, suffering no economic changes to either lease. CorEnergy also demonstrated its adaptability to changing market conditions by extending the service agreement between our subsidiary, MoGas Pipeline LLC, and its largest customer to 13 years.
We believe 2016 proved to be a year of validation for CorEnergy and for the real estate investment trust structure as a way for investors to access the benefits of the infrastructure asset class.
As noted above, CORR acquires many of the same types of assets as MLPs; however, the structure as a REIT enables access to a much larger pool of capital through a broader institutional investor base. CORR views its risk profile as more similar to that of the REIT and utility sectors.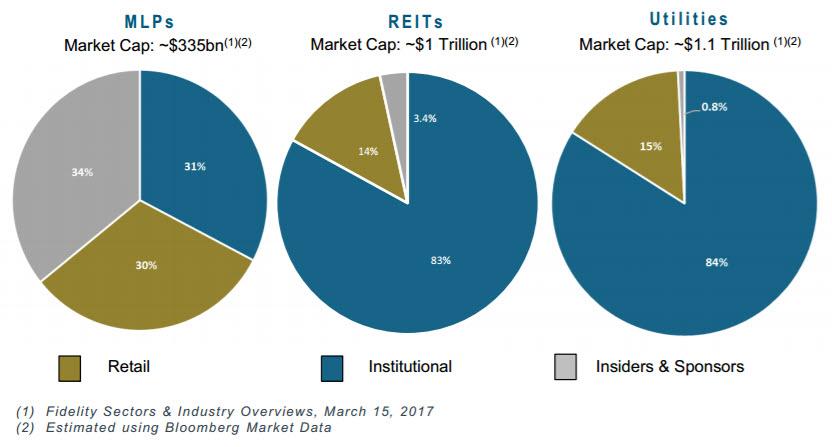 I am upgrading CORR from a HOLD to a BUY and increasing my target price to $31.00 per share. The pullback on Friday was intriguing, and I would like to know what sparked it (the pullback) before I get back in the game. Also, keep in mind that CORR has a market cap of around $400 million, and this means that I am not recommending an equal or over-weight allocation, I propose modest limits. The 8.9% dividend yield is attractive, but the preferred looks like a safer play for income.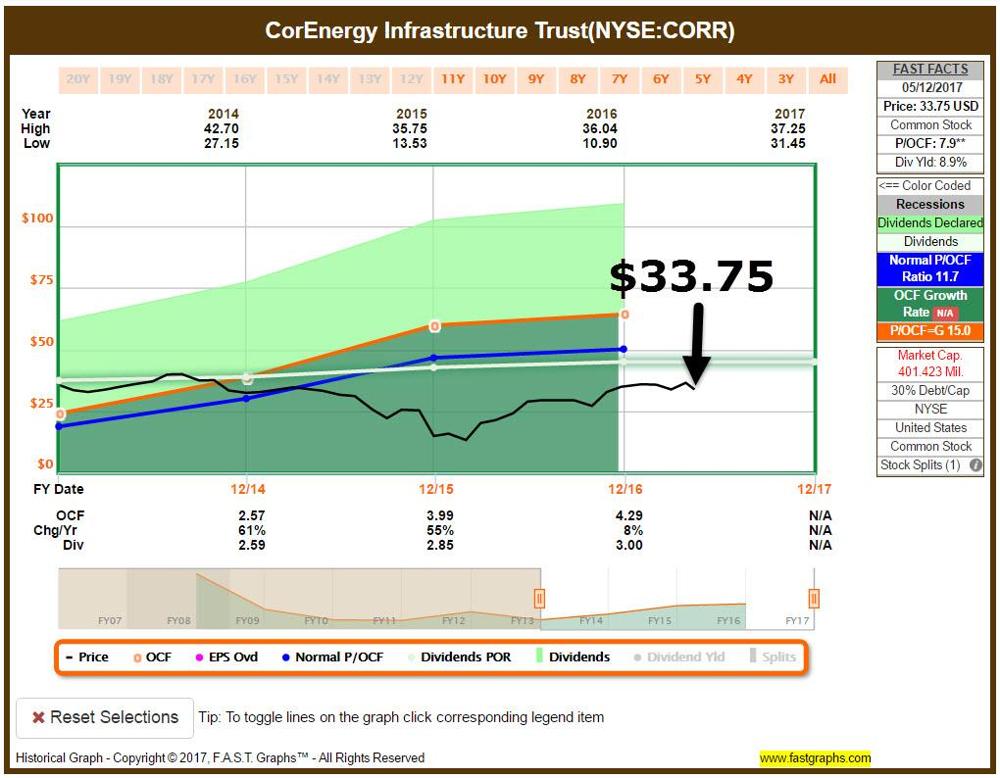 Disclosure: I am on the Advisory Board of NY Residential REIT and I am also a shareholder and publisher on The Maven (OTCQB:MVEN).
Source: F.A.S.T. Graphs and CORR Investor Presentation.
To get a first look at my upcoming article, "The Evolution of My Durable Income Portfolio," click here. I also include all of my Rhino REIT Ratings in my marketplace product, REIT Beat.
Author Note: Brad Thomas is a Wall Street writer, and that means he is not always right with his predictions or recommendations. That also applies to his grammar. Please excuse any typos, and be assured that he will do his best to correct any errors, if they are overlooked.
Finally, this article is free, and the sole purpose for writing it is to assist with research, while also providing a forum for second-level thinking. If you have not followed him, please take five seconds and click his name above (top of the page).
*Travel Update: I will be traveling fromthe East Cast to the West Coast on Monday and I will not be able to reply to comments until later in the day.
*Disclosure: I am/we are long APTS, ARI, BRX, BXMT, CCI, CCP, CHCT, CLDT, CONE, CORR, CUBE, DLR, DOC, EXR, FPI, GMRE, GPT, HASI, HTA, IRM, KIM, LADR, LTC, LXP, O, OHI, PEB, PK, QTS, ROIC, SKT, SNR, SPG, STAG, STOR, STWD, TCO, UBA, VER, WPC.
I wrote this article myself, and it expresses my own opinions. I am not receiving compensation for it (other than from Seeking Alpha). I have no business relationship with any company whose stock is mentioned in this article.