EPR Properties: A Fun In The Sun Update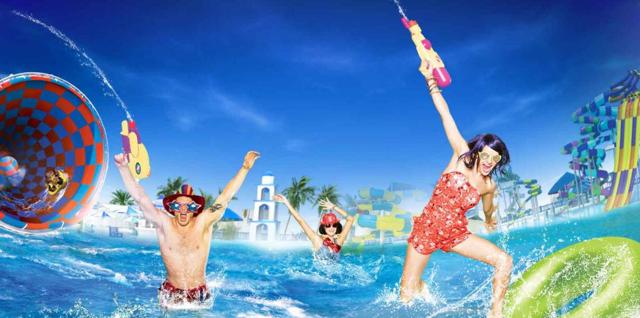 NoahBlacker
Brad Thomas and Mike Terry contributed to this article and it has previously appeared on Seeking Alpha.
Summary
These are not your typical net lease assets.
Buying a CVS is straightforward, buying a waterpark requires a different skill set and market understanding – one that is not easily replicated.
EPR has been outperforming for years, but 2016 witnessed a tremendous run-up.
​
​
Gotta love EPR (I do, which is why we own it!)
Rubicon Associates contributed to this article.
From ++the company++:
EPR Properties (++EPR++) today announced that its Board of Trustees has declared its monthly cash dividend to common shareholders. The dividend of $0.34 per common share is payable July 17, 2017 to shareholders of record on June 30, 2017. This dividend represents an annualized dividend of $4.08 per common share, an increase of 6.25% over prior year and the Company's seventh consecutive year with an annual dividend increase.
Dividend increases are music to my ears. When done right (consistently and a positive real rate), dividends show that the REIT is performing and is confident in its ability to continue to generate positive FFO growth.
EPR's dividend growth has been averaging a real five percent plus with consistent increases. This creates a quality dividend.
​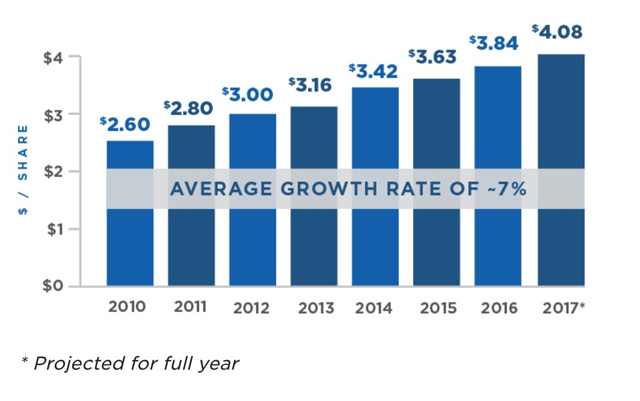 ​
For those unfamiliar with EPR, a little background: EPR is a specialty REIT with an investment portfolio that includes primarily entertainment, education and recreation properties. These types of properties can be viewed as both their strength and their weakness. They are a strength because they can produce higher returns to the REIT due to lack of competition for the assets. They are a weakness because they are often misunderstood and judged to be higher risk.
The assets in the EPR portfolio are geographically diverse within the United States:
​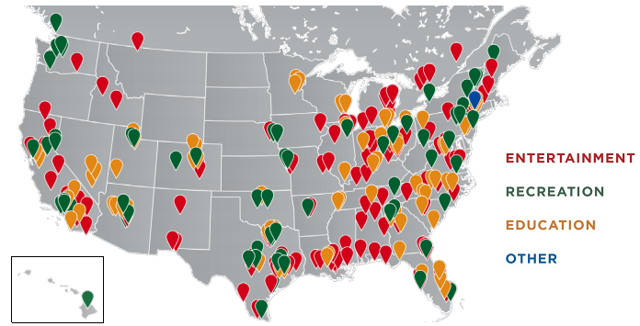 ​
The current asset breakdown looks like the following:
​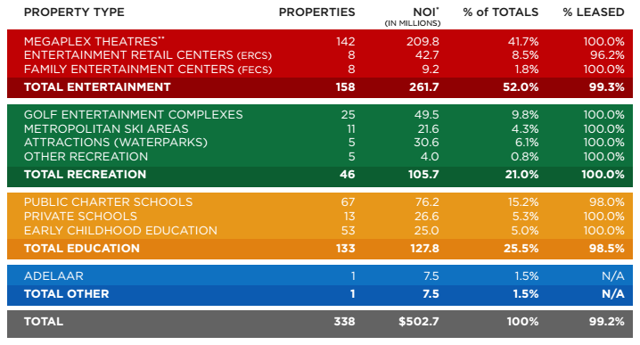 ​
These are not your typical net lease assets. We believe it is this differentiation that gives the REIT an advantage. Buying a CVS is straightforward, buying a waterpark requires a different skill set and market understanding – one that is not easily replicated. Consider that the recent CNL acquisition was done at at cap rate of 9.35%, and you can see that these properties, when combined and managed well, contain a significant margin cushion.
For those unfamiliar with the CNL transaction, on April 6, 2017, the Company ++completed the acquisition with CNL Lifestyle Properties, Inc++. (CNL Lifestyle). The Company acquired the Northstar California Resort, 15 attraction properties (waterparks and amusement parks) and five small family entertainment centers for aggregate consideration valued at $455.5 million.
Additionally, the Company provided $251.0 million of five-year, 8.5% secured debt financing to funds affiliated with Och-Ziff Real Estate (OZRE) for its purchase of 14 CNL Lifestyle ski properties valued at $374.5 million. Immediately following the acquisition, the Company sold the five family entertainment centers for approximately $6.8 million.
The following shows the impact of the acquisition on the recreation portfolio:
​

​
It is important to note that On December 21, 2016, American Multi-Cinema, Inc. (++AMC++) announced that it closed its acquisition of Carmike Cinemas Inc. (Carmike). Including the effects of this acquisition, AMC was the lessee of a substantial portion (35%) of the megaplex theatre rental properties held by the Company at March 31, 2017. For the three months ended March 31, 2017, approximately $29.2 million or 22.7% of the Company's total revenues were derived from rental payments by AMC.
With this in mind, the following are EPR's top ten tenants:
​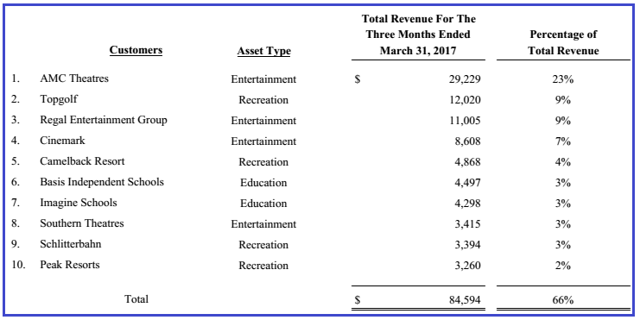 ​
There is concentration risk within the portfolio, especially with AMC, but the REIT has been managing it well and the new properties will help reduce this concentration as the following chart shows:
​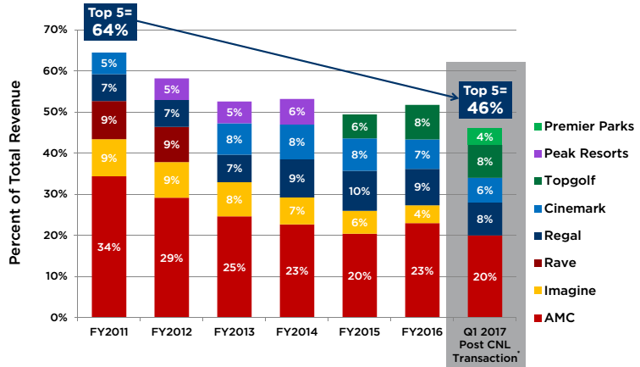 ​
As a result of their asset performance (and acceptance), EPR has been outperforming for years, but 2016 witnessed a tremendous run-up (like most REITs) that was not sustainable:
​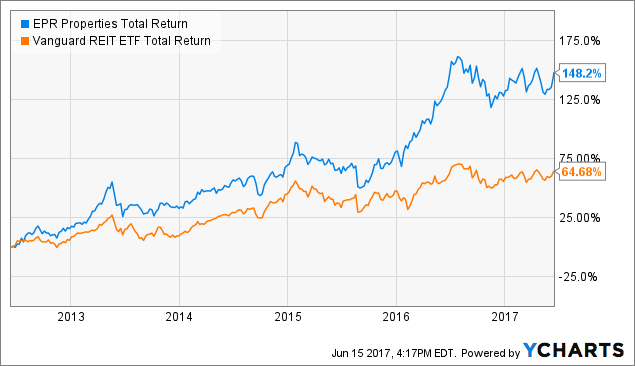 ++EPR Total Return Price++ data by ++YCharts++
Lately, however, the equity has flat-lined with the REIT market:
​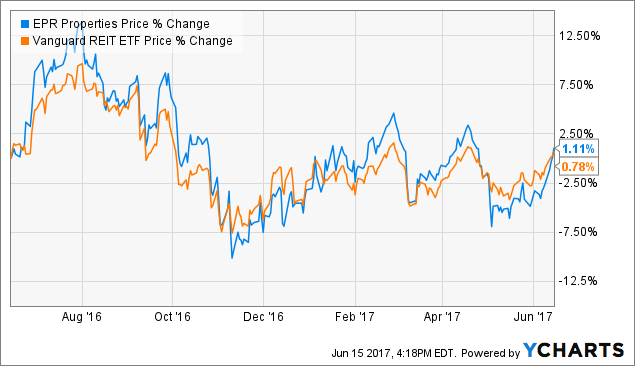 ++EPR++ data by ++YCharts++
The sell-off in the name and the cash generating ability has, however, brought their FFO down closer to average:
​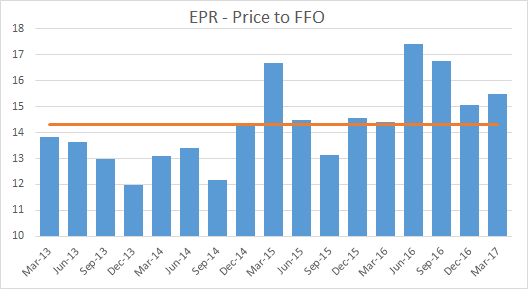 ​
At slightly above 15x FFO, we view the price as attractive for the growth potential of FFO.
We were initially attracted to the company because they traded at a discount due to their asset base and the dividend yield was enticing. Due to the success of the shares, the yield is lower, but still very healthy.
​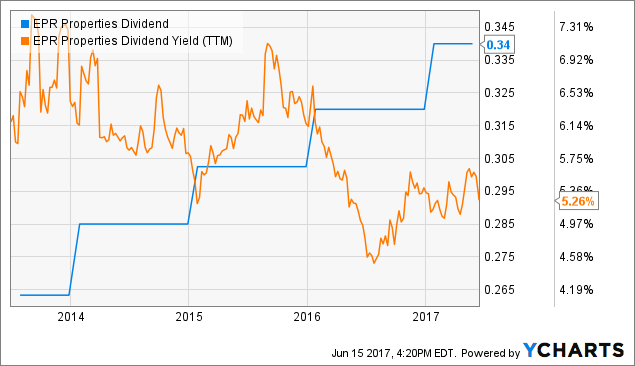 ++EPR Dividen++d data by YCharts
When compared to other "triple nets", it is still very attractive (yes, nearly all REITs seem to have triple net leases now - a better term is probably "single property"):
​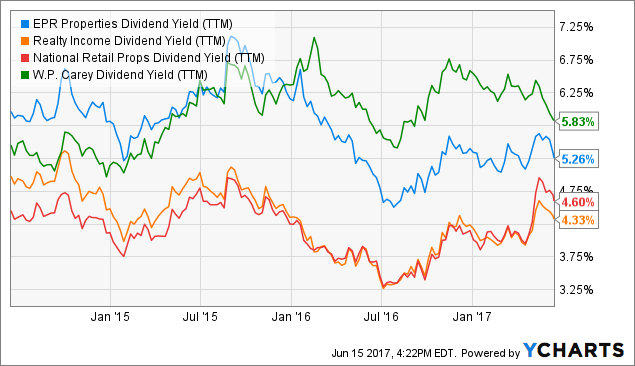 ++EPR Dividend Yield (NYSE:++++TTM++) data by ++YCharts++
While we enjoy the healthy dividend (who doesn't?), the payout ratio is a little high (for our taste):
​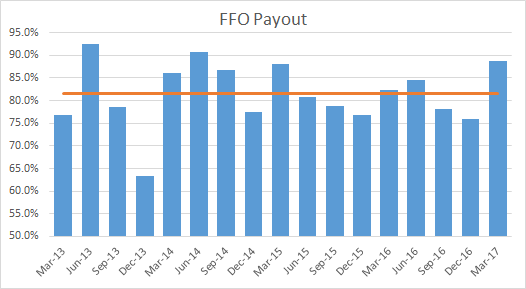 ​
We would like to see them get the payout ratio down below 80% for a margin of safety, despite the assets' ability to generate cash flow.
EPR is levered at 6x EBITDA, a little higher than we would like it:
​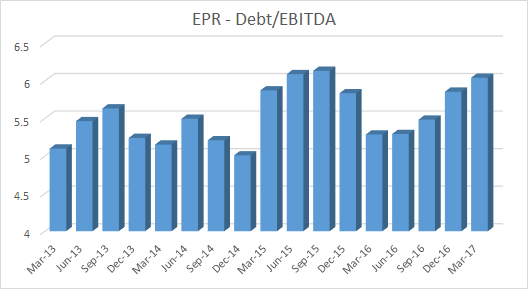 ​
That said, their leverage is actually better than many of their peers:
​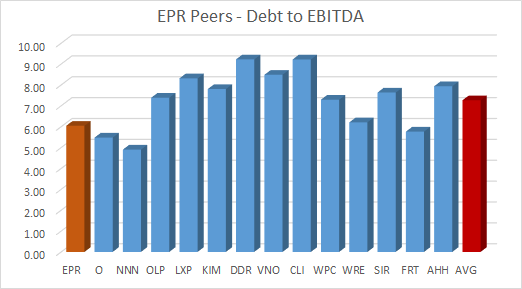 ​
Their debt to EBITDA (and debt to capitalization) level will be going down due to their acquisition of properties from CNL Lifestyle (Northstar California Ski Resort, 15 attraction properties -waterparks and amusement parks - and five small family entertainment centers). ++Recall++ the transaction was funded as follows:
The Company's aggregate initial investment in this transaction at closing, excluding capitalized transaction costs, was $706.5 million and was funded with $647.4 million of the Company's common shares, consisting of 8,851,264 newly issued, registered common shares, and $59.1 million of cash.
The transaction has had the following effect on the company's capital structure:
​

​
EPR has estimated that net debt to EBITDA will be closer to 5.5x with this transaction. At that level, the REIT's balance sheet will be one of the stronger balance sheets. More music to my ears.The following table shows that EPR's debt is distributed well and should pose no issues for the REIT:
​

​
The debt, like most public REIT debt, also contains financial covenants that inure to the benefit of all investors as it precludes the REIT from becoming over-levered:
​

​
Looking at their bonds, there is no sign of trouble on the horizon:
​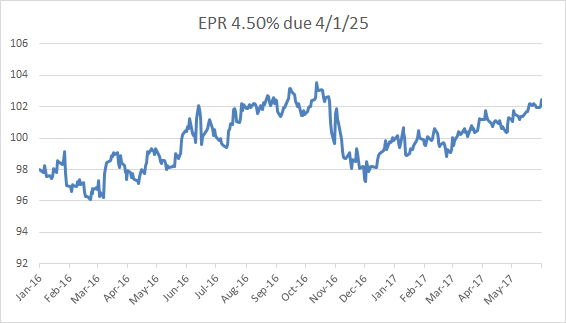 And yield:
​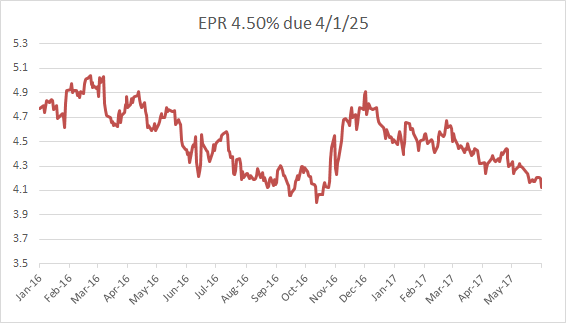 ​
Finally, spread (the value of the credit's risk):
​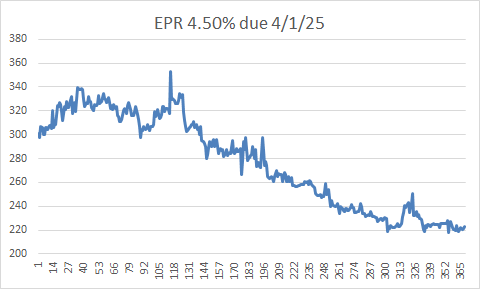 ​
EPR's bonds trade cheap to peers due to their asset mix, we have been a fan of the bonds for a long time, and they have performed well.
At the end of the day, there are two primary attractions to REITs: Cash flow (via the dividend) and real growth in the value of assets. EPR has been doing very well producing both of these. We fully expect that continued performance of the assets and consistency in FFO growth will help expand its FFO multiple while increasing FFO. FFO expansion and multiple expansion are the recipe for outperformance, and we expect EPR will reward investors.
​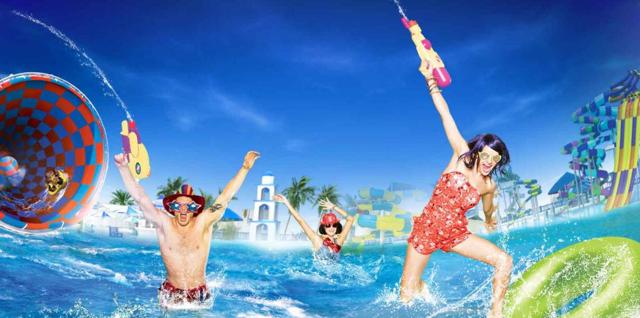 Rubicon is long EPR equity and we hod EPR in the monthly REIT dividend portfolio (Forbes Real Estate Investor).
I am honored to partner with Seeking Alpha and Investor in the Family as a presenter at the DIY Investor Summit. In total, nine of the best investors on Seeking Alpha have gathered to share detailed tips on our core investment strategies, top advice for DIY investors, and specific ways we're positioning for the second half of 2017. This is a unique event that you will not want to miss. ++FREE REGISTRATION IS NOW OPEN++ (for a limited time).
Subscribe to my marketplace content ++HERE++.
Brad Thomas is a Wall Street writer, and that means he is not always right with his predictions or recommendations. That also applies to his grammar. Please excuse any typos, and be assured that he will do his best to correct any errors, if they are overlooked.
Finally, this article is free, and the sole purpose for writing it is to assist with research, while also providing a forum for second-level thinking. If you have not followed him, please take five seconds and click his name above (top of the page).
Disclosure: I am on the Advisory Board of NY Residential REIT, and I am also a shareholder and publisher on the Maven.
Disclosure: I am/we are long APTS, ARI, BRX, BXMT, CCI, CCP, CHCT, CLDT, CONE, CORR, CUBE, DLR, DOC, EXR, FPI, GMRE, GPT, HASI, HTA, IRET, IRM, JCAP, KIM, LADR, LTC, LXP, NXRT, O, OHI, PEB, PEI, PK, QTS, ROIC, SKT, SNR, SPG, STAG, STOR, STWD, TCO, VER, WPC.
I wrote this article myself, and it expresses my own opinions. I am not receiving compensation for it (other than from Seeking Alpha). I have no business relationship with any company whose stock is mentioned in this article.