Global Medical REIT Is Poised To Profit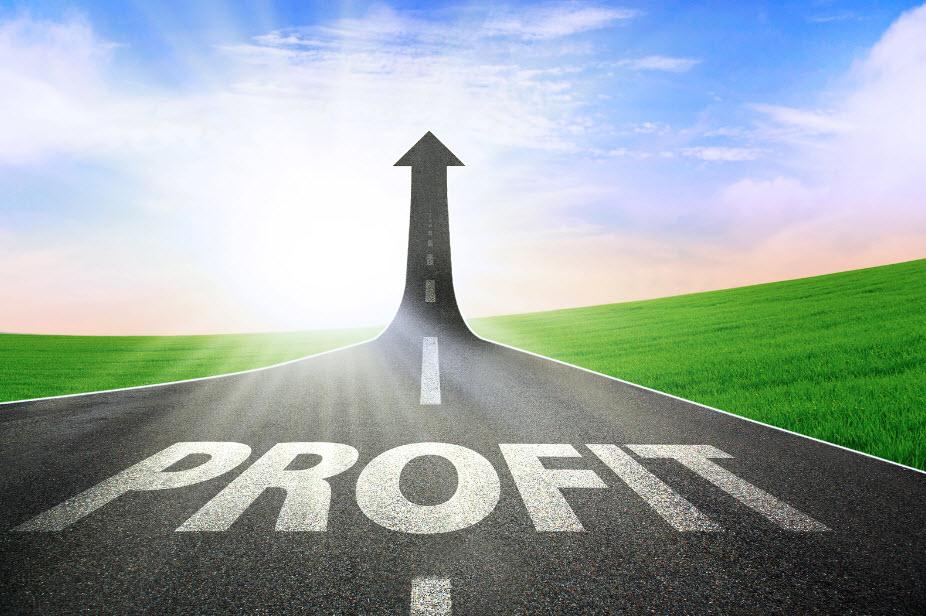 NoahBlacker
Brad Thomas wrote this article and it has appeared previously on Seeking Alpha.
Summary
While the investment strategy is unique, Global Medical REIT is also considered an outlier for its strategy of sourcing capital both domestically and internationally.
This newbie in REITdom appears to be ripe for reward.
Although Global Medical REIT is externally managed, the company expects to internalize as soon as it reaches critical mass.
I would expect the company to normalize its payout ratio in the low 80%'s range.
Subscribers to REIT Beat had early access to this article. The author purchased shares prior to publishing this article at a price of $9.42 per share.
According to REIT.com, when Global Medical REIT (NYSEMKT:GMRE) "went public last summer, the company set its sights on a specific niche within the health care real estate sector: licensed medical treatment facilities."
The company focuses on transactions in the range of $10-50 million, and CEO David Young sees a steady flow of acquisition opportunities coming from smaller cities and rural locations.
The Bethesda, Maryland-based REIT focuses on medical practices that deliver core medical procedures, such as cardiovascular treatment, cosmetic plastic surgery, eye surgery, gastroenterology, oncology treatment and orthopedics.
Some would argue that GMRE is a niche-based REIT that pursues an asset class that's "underserved" rather than more crowded categories such as assisted living, senior housing, and medical office.
While the investment strategy is unique, GMRE is also considered an outlier for its strategy of sourcing capital both domestically and internationally. According to the company's CEO, David Young:
There are no other REITs in our space that are sourcing capital internationally. I think that does give us a competitive edge,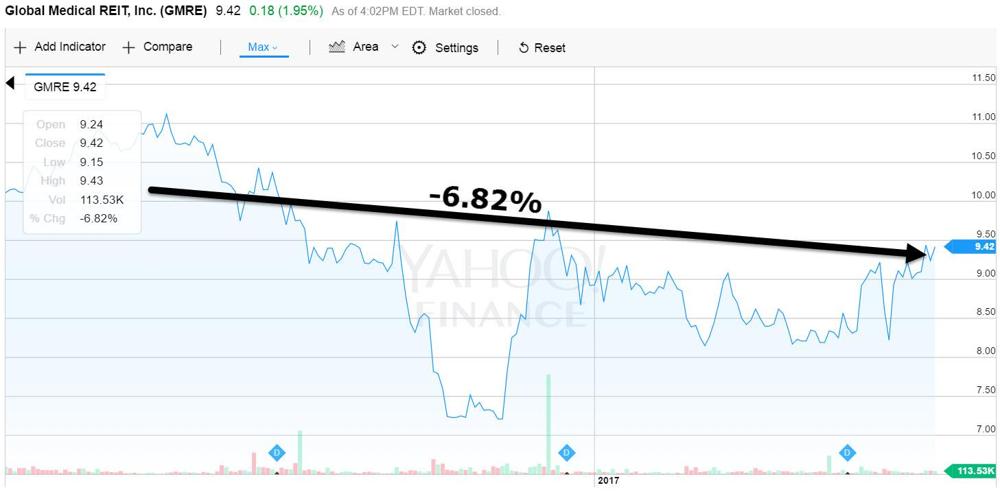 Prior to listing shares, GMRE was established in 2014 when Hong Kong-based ZH International Holdings, Ltd. provided the first tranche of private equity. GMRE spent 18 months to build a portfolio worth about $110 million by using private equity and bank leverage.
In 2016, the company raised $150 million through an IPO, and a few months later, it secured a $200 million syndicated bank line of credit and an accordion feature for an additional $50 million.
At the end of 2016, GMRE had acquired $219 million of assets, and it purchased approximately $108 million of assets in the first quarter of 2017. This newbie in REITdom appears to be ripe for reward, and this is why I chose the article "Global Medical REIT Is Poised To Profit".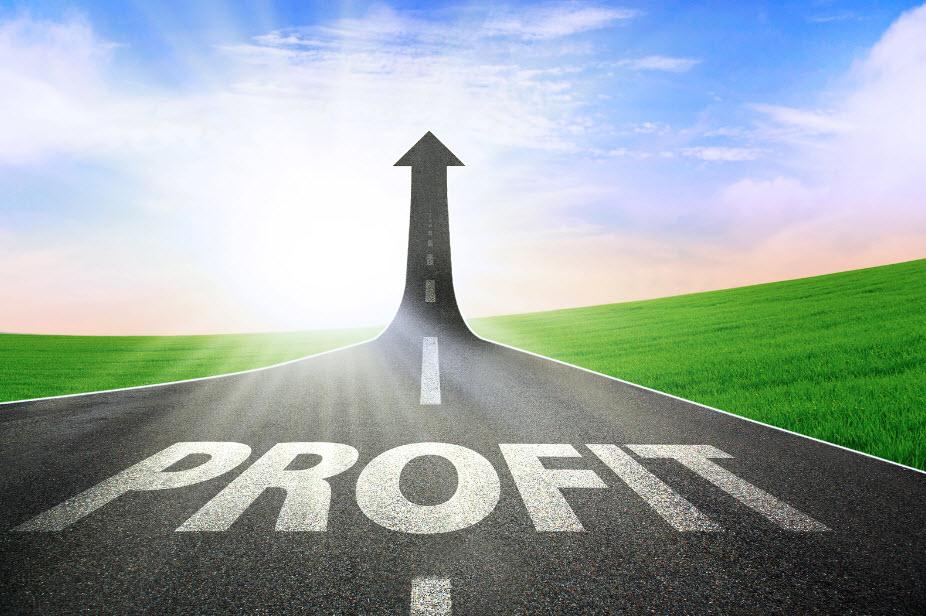 (Image Credit)
Company Overview
GMRE is focused on the acquisition and leasing of state-of-the-art, purpose-built healthcare facilities. The facilities are built or adapted to contemporary best healthcare practices, and the company targets the "factory" where core medical procedures are delivered. GMRE leases to leading medical providers with dominant local market share. It also focuses on single-tenant, net lease real estate.
The current portfolio consists of 31 facilities net-leased to fourteen tenants. The portfolio includes approximately 666,000 square feet of leasable area with leases averaging 10 years or remaining term (14 years average age of portfolio - the youngest of listed healthcare REITs).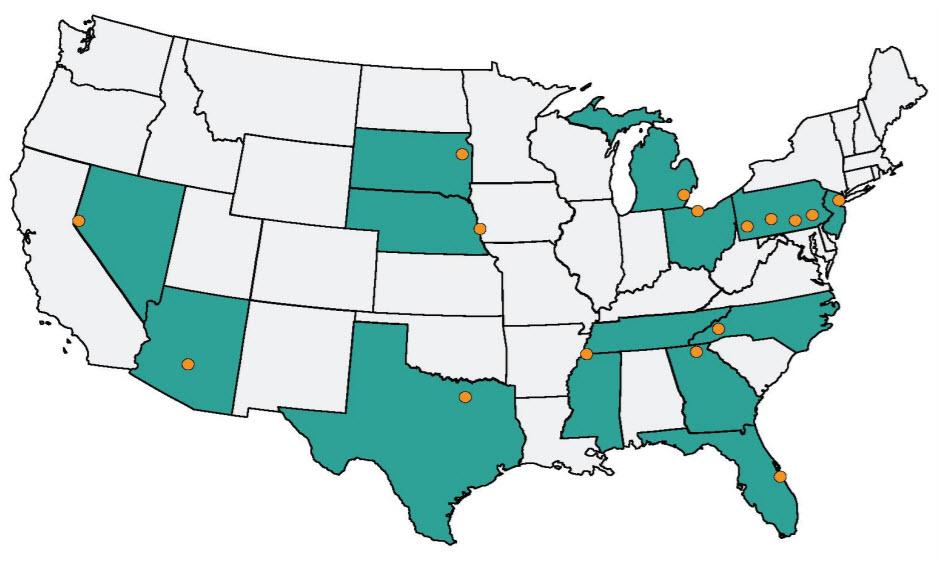 The REIT's closes peer is Medical Properties Trust (NYSE:MPW), but GMRE does not invest in ambulatory properties like MPW. GMRE executives have robust relationships with healthcare providers, allowing for direct negotiation and generation of new long-term leases without broker intermediaries. Here's a snapshot of the company's portfolio (as of 12-31-16):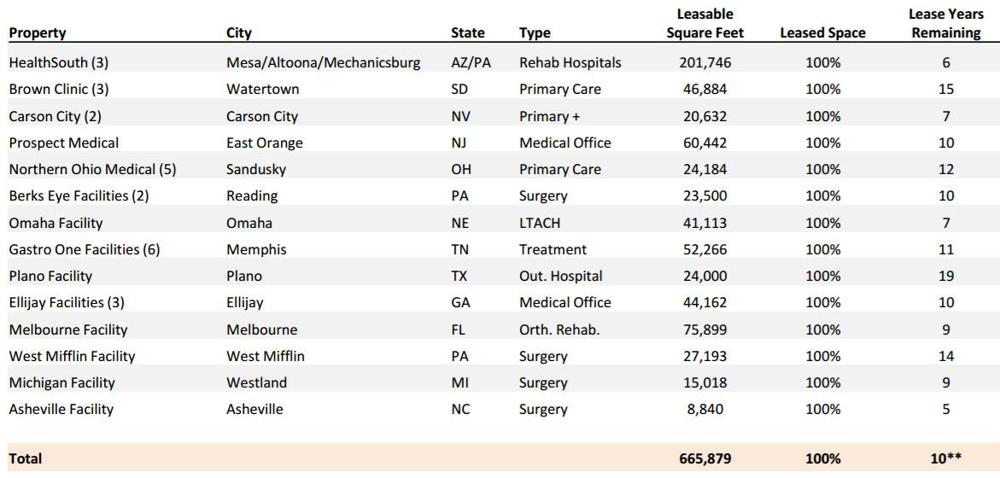 GMRE targets annual base rent of 7-9% of projected total investment cost, and leases typically have 2-3% annual rent escalations. Most leases are absolute NNN leases, with 10-20 year initial lease terms. Because the leases are NNN, there is minimal recurring capex exposure and minimal asset management expenses.
The company also insists on credit enhancements to mitigate risks:
Subordination of tenant physician salaries and medical practice profit distributions to timely payment of rent
Licenses, CONs (Certificates of Need) stay with the real estate in the event of change in occupancy
Personal, corporate, sponsor guarantees and/or third-party letters of credit
High rent coverage ratios (EBITDARM) required of tenant for security
GMRE has right to evict and replace management of medical provider tenant
Cross-collateralization for portfolio investments by GMRE with same operator
Comprehensive tenant reporting requirements and annual audits
GMRE has the youngest assets of listed healthcare REIT peers, driving high-quality tenant retention. The portfolio has no lease rollovers until 2021, and the average annual base rent per square foot is $23.14.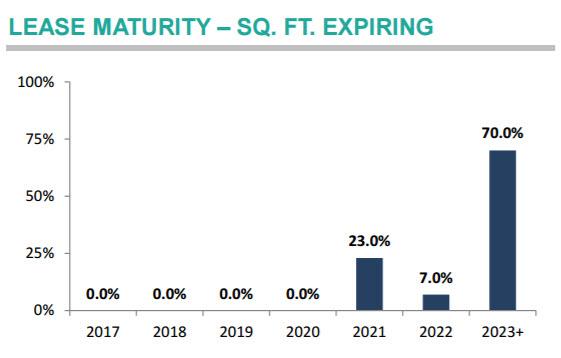 Management Team Looks Solid
I took a look at GMRE's Investor Deck, and I see that the management team has deep experience in healthcare. For example, the company's CEO has over 25 years of experience and was formerly VP at Windrose Medical Properties Trust (WRS), which was acquired by Welltower (NYSE:HCN). He was also an executive responsible for business development for Healthcare PropertyInvestors (NYSE:HCP) and helped it grow from AUM of $300 million to over $3.5 billion.
I also noticed there were a few heavy-hitting Board members, including Matthew Cypher, Ph.D., professor at Georgetown University's McDonough School of Business, as the director of the Real Estate Finance Initiative. Another notable Board member includes Ronald Marston, founder and CEO of Healthcare Corporation of America (OTCPK:HCCA) Management Company, originally a subsidiary of Hospital Corporation of America (NYSE:HCA).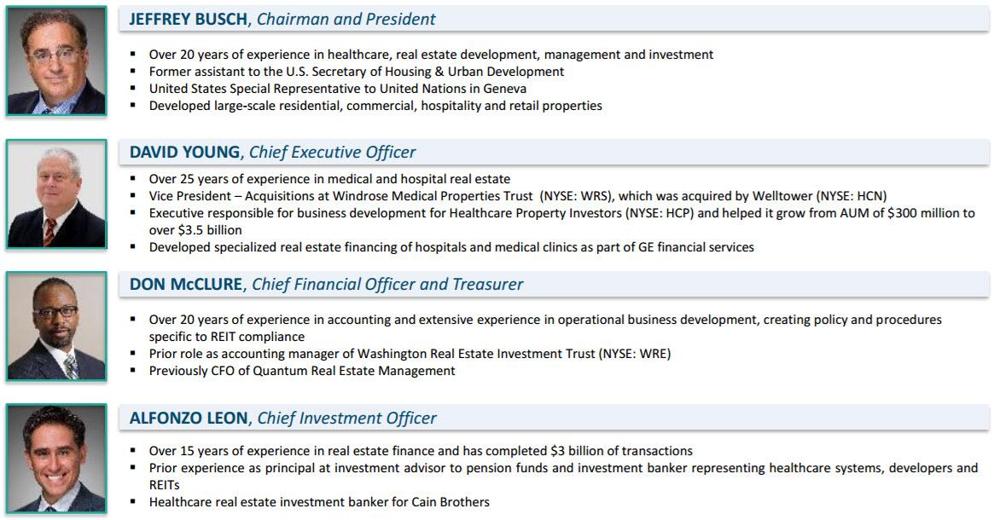 Latest Earnings
GMRE has just one quarter of earnings under its belt, but the results were promising. The Q4-16 highlights included:
Total revenue increased to $3.1 million from $0.7 million.
Net loss increased to $(1.9) million from $(0.8) million.
Funds from Operations of $(0.06) per share.
Adjusted Funds from Operations ("AFFO") of $0.06 per share.
Occupancy rate of 100% at both December 31, 2016, and December 31, 2015.
During the first quarter, GMRE closed on acquisitions totaling approximately $33.5 million, bringing its gross investments to approximately $241 million (and an additional $75.1 million of acquisitions currently under contract). Clearly, the REIT is out of the gates with strong growth potential and likely strong shareholder returns.
Although GMRE is externally managed, the company expects to internalize as soon as it reaches critical mass. It continues to reduce G&A, and the path to internalization (~$500 million) is obvious.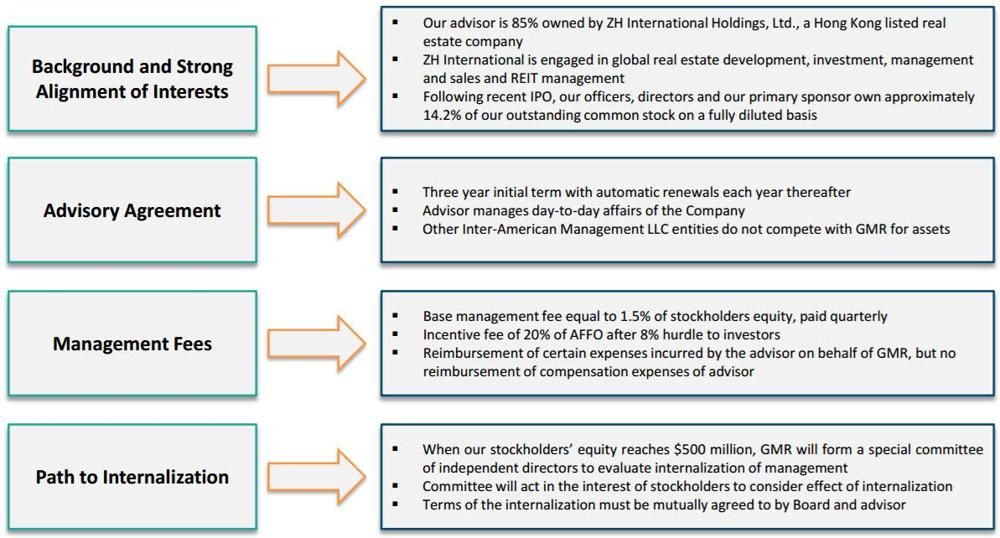 A Small Cap Poised to Profit
Here's a snapshot of GMRE's market cap, compared to the Healthcare REIT peers:

As you can see below, the dividend yield is attractive (8.5%):

While GMRE's dividend is not covered by current earnings (FFO/share)...:

... the growth estimates provide a clear indication that the company will be able to cover its dividend in late 2017. Here's a snapshot of forecasted FFO (using F.A.S.T. Graph estimates):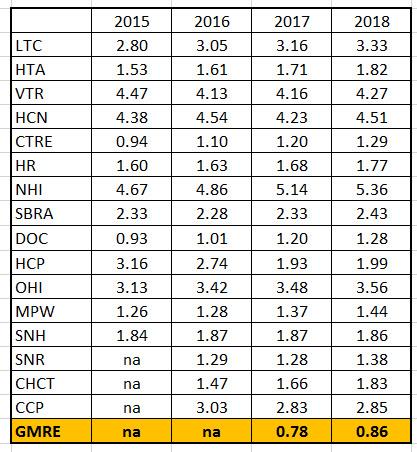 Same data using %: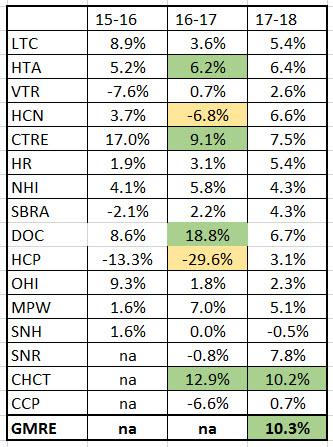 GMRE's dividend is currently $0.20 per, annualized at $0.80 per share. Based on estimates for 2018, the company is likely to generate ~$.86 per share, which translates into a forward-looking payout ratio of 93%. Given the composition of NNN leases in GMRE's portfolio, I would expect the company to normalize its payout ratio in the low 80%'s range.
In summary, GMRE could be the underdog, and I am initiating a BUY. Keep in mind, small-cap companies are exposed to more volatility, and for that reason, I am maintaining speculative (1%) concentration. Clearly, the market has not picked up on GMRE, so I need to get a seat on the train before it chugs off!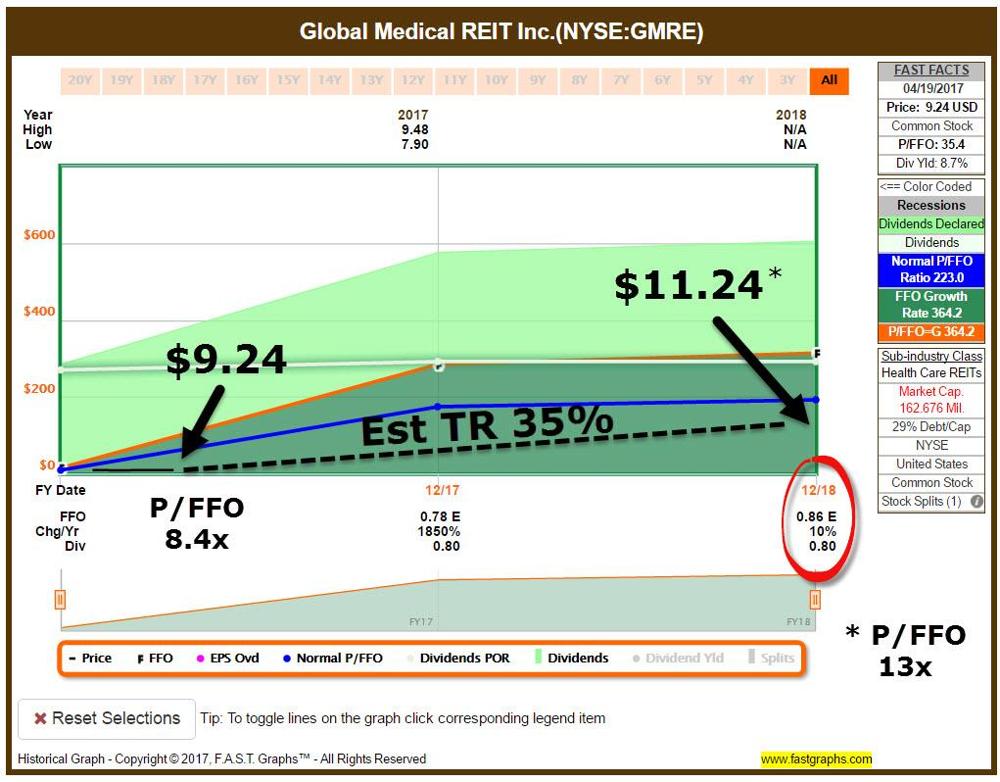 You can view all of my Rhino REIT Ratings by subscribing to REIT Beat here.
Author Note: Brad Thomas is a Wall Street writer, and that means he is not always right with his predictions or recommendations. That also applies to his grammar. Please excuse any typos, and be assured that he will do his best to correct any errors, if they are overlooked.
Finally, this article is free, and the sole purpose for writing it is to assist with research, while also providing a forum for second-level thinking. If you have not followed him, please take five seconds and click his name above (top of the page).
Source: F.A.S.T. Graphs and GMRE Investor Presentation.
Disclosure: I am/we are long VTR, APTS, ARI, BXMT, CCI, CCP, CHCT, CLDT, CONE, CORR, CUBE, DLR, DOC, EXR, FPI, GPT, HASI, HTA, KIM, LADR, LTC, LXP, O, OHI, PEB, QTS, ROIC, SKT, SNR, SPG, GMRE.
I wrote this article myself, and it expresses my own opinions. I am not receiving compensation for it (other than from Seeking Alpha). I have no business relationship with any company whose stock is mentioned in this article.