I'm Glad I Took A Bite Out Of This Georgia Peach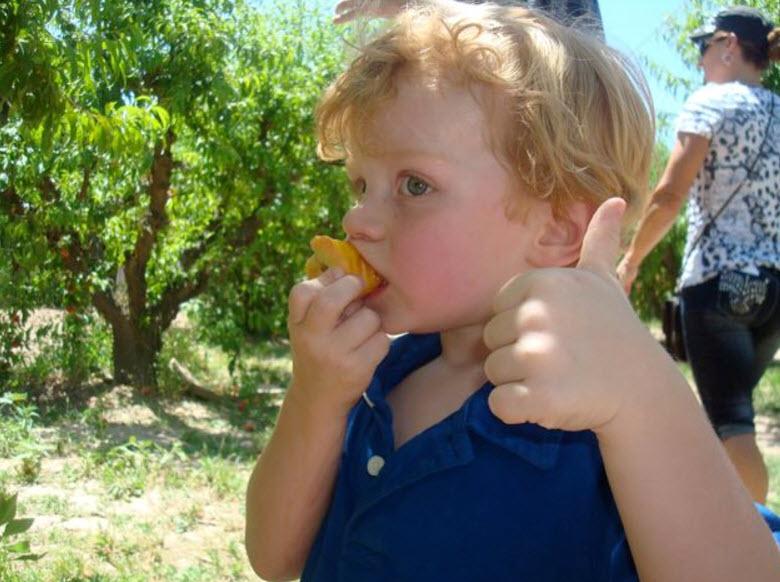 NoahBlacker
Brad Thomaswrotethis**article and it has appeared previously on Seeking Alpha.
Summary
APTS is not just your prototypical Apartment REIT, the Atlanta-based company is a unique platform that is differentiated by design.
I'm glad I took a bite out of this Georgia peach.
I would like to see APTS stay committed to "food & shelter" until such time that the company spins off the "food" component.
I first recommended Preferred Apartment Communities (APTS) back in December 2014 when shares were trading at $8.65 per share, and since that time (around 2 ½ years later) APTS shares have increased by over 86%.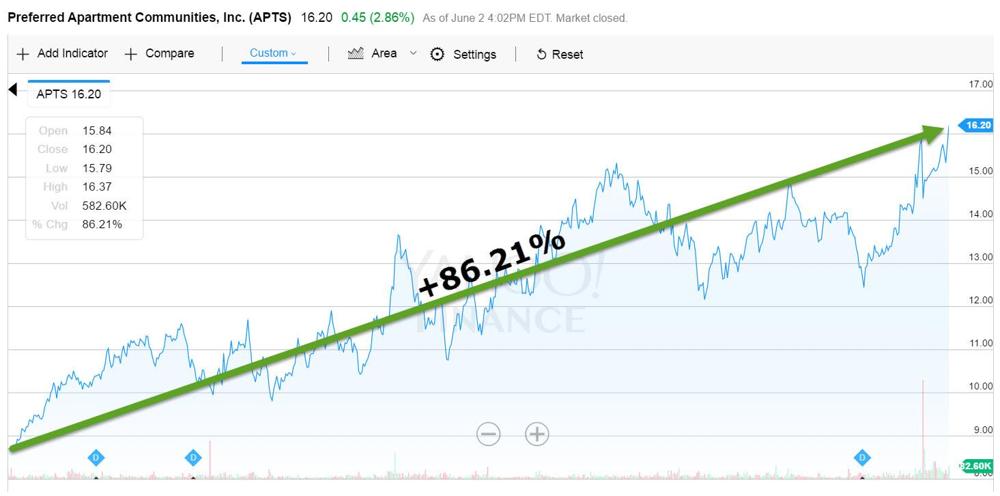 APTS is a holding in both my Durable Income Portfolio (+3.8% YTD) and my Small Cap REIT Portfolio (+6.54% YTD) and I have maintained a BUY Target of $15.00 per share in my Fair Value Lab.
Year-to-date APT has performed in line with the Apartment REIT peer, as illustrated below (APTS has returned 11.1% YTD).

APTS is not just your prototypical Apartment REIT, the Atlanta-based company is a unique platform that is differentiated by design.
Upon first glance, APTS may appear to be just as the company's name suggests – "preferred apartments" – but upon closer inspection, the most compelling differentiator for the company is its sustainable dividend growth. Since going public (March 31, 2011) APTS has grown its annual dividend by 14.8%.
It's no fluke that common stockholders (including me) have benefited from APTS's differentiated strategy, shares have returned 20.25% annualized since the IPO. Simply out, "I'm Glad I Took A Bite Out Of This Georgia Peach."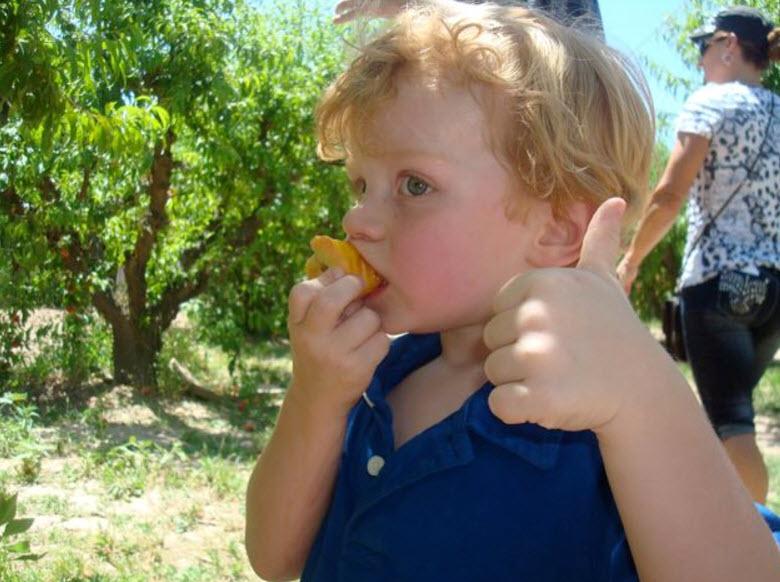 Source
Preferred Apartment Communities (and More)
APTS listed shares on March 31, 2011, and it took time for the company to gain traction, shares began trading above $10.00 in January 2015.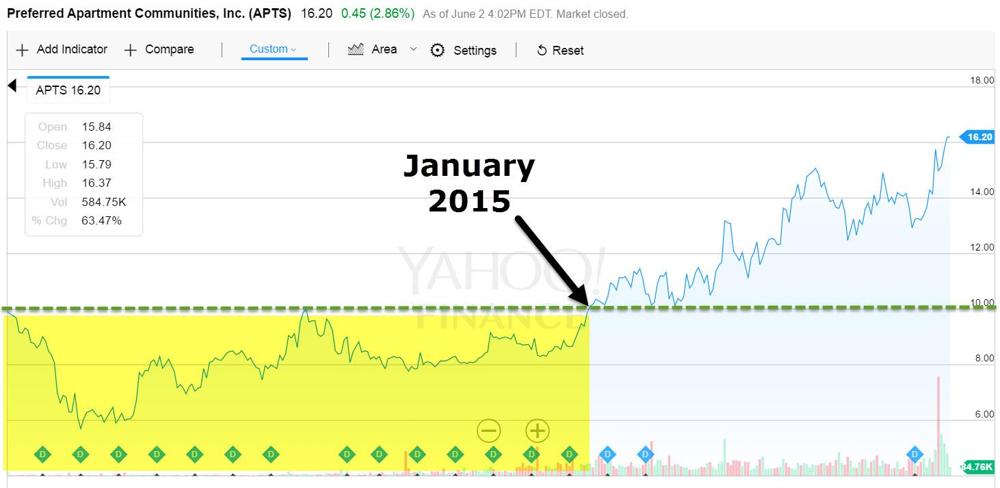 APTS has a market capitalization of just under $500 million, and Total assets are over $3.5 billion (includes projected of $1 billion). As you can see (below), assets have grown significantly since 2011: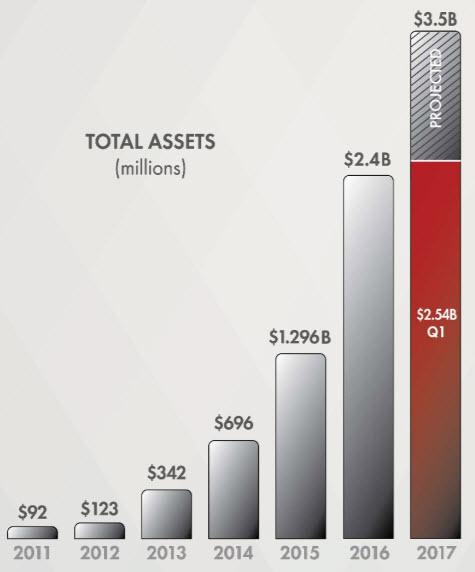 The Total portfolio (as of Q1-17) consists of $2.54 billion of assets consisting of 27 multi-family properties (8,276 units), 26 loans ($398 million), 32 shopping centers (3.375 million square feet) and 2 office buildings. Here's a snapshot of APTS's operations and loan portfolio: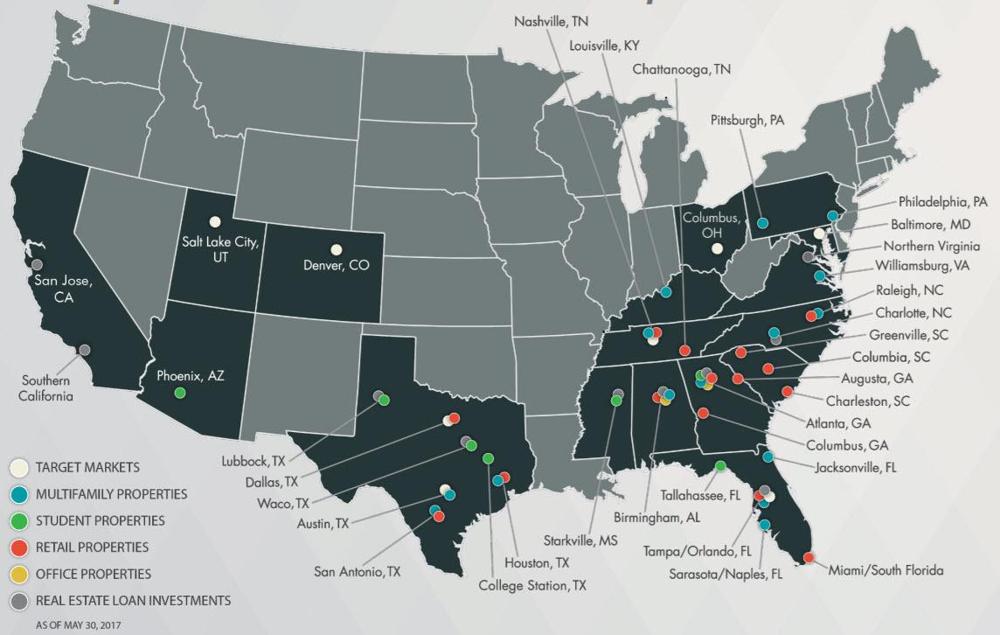 As you see, APTS owns a combination of apartments, shopping centers, and office; and as the name suggests - Preferred Apartments - the primary revenue generator for the REIT is multifamily.
Multifamily fundamentals are still strong; market fundamentals reflect new supply and solid demand. As you can see below, the tan columns show that last year ended with over 70k net move-ins in the final three months – the best seasonally-adjusted quarterly total in six years.
After quarterly demand firmed throughout the year, the calendar-year tally rose to 230k units absorbed – very close to the early-cycle peak in 2010.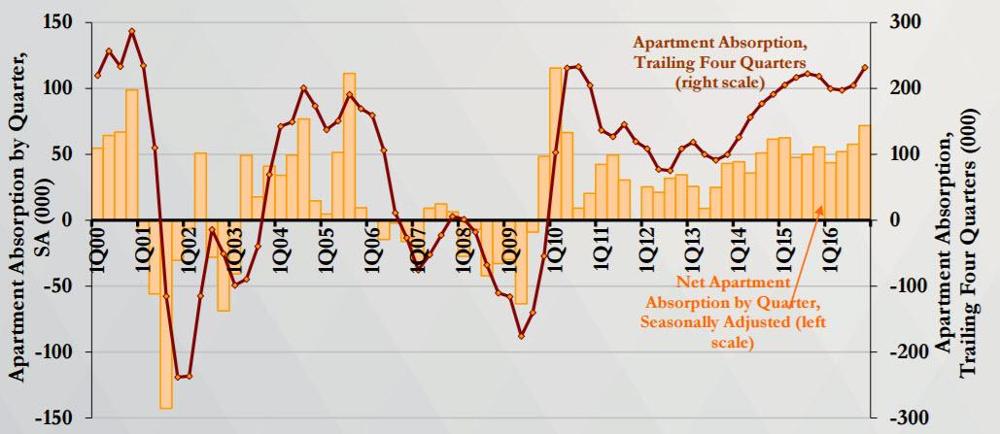 Multifamily starts appear to have peaked, forecasted to drift down in the wake of less debt capital available, interest rate increase and pressure on yields. New supply forecasted to decline; job growth estimates and rising ages improve prospects for increased demand.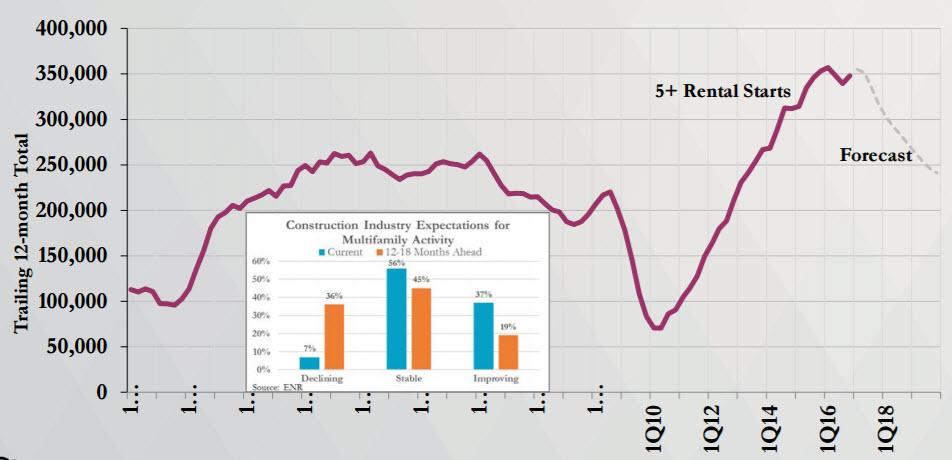 APTS has maintained a commitment to investing in Class A multifamily assets along with a secondary strategy of diversifying a portion of investments in non-multifamily assets such as grocery-anchored shopping centers.
APTS's strategy is to acquire newer stabilized properties in targeted markets and submarkets. The company maintains a real estate loan investment program providing current returns and pipeline acquisition opportunities at below market pricing. APTS owns 8,276 units and the company has one of the youngest portfolios (~6.5 years) in the sector.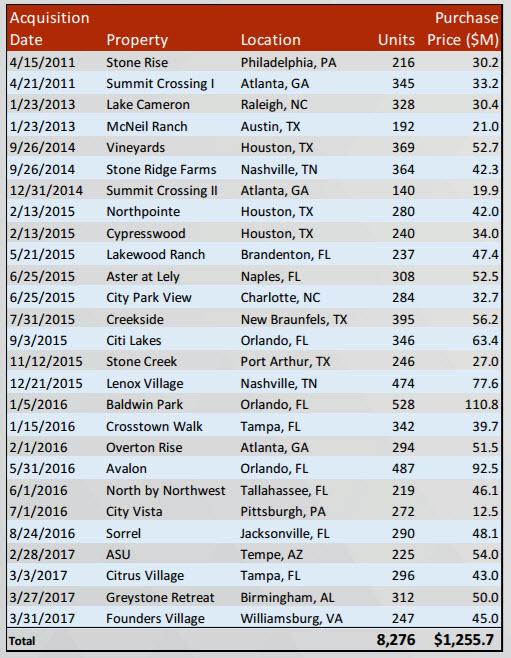 The loan program is structured for total interest returns (including current and accrued interest) between 10.5% and 16%. Most all loan contracts contain options to purchase assets at stabilization at predetermined price or discount to then market value. This provides an opportunity (not obligation) to acquire newly built assets in targeted submarkets from developers who build to APTS's specifications.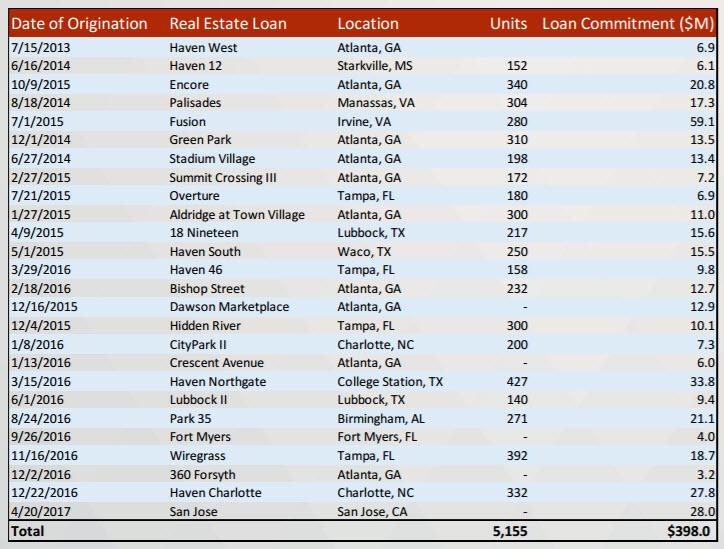 APTS has a unique development platform whereby the company leverages relationships built over 40 years to identify opportunities. APTS attempts to mitigate the development risk by pre-negotiating take-out arrangements with developers.

Here's an example of a project in Charlotte that APTS acquired from a developer (for $115k per unit).

APTS is not only an apartment owner, the company has extended into off-campus student housing.
APTS focuses on privately owned, off-campus, modern, upscale amenity communities in markets with growing enrollments. The company also created a separate campus management division solely focused on student housing called Preferred Campus Management, LLC (led by Kim (Barkwell) Hodge, 35-year industry veteran).
The campus housing program's current portfolio consists of 9 assets under management (6,151 beds) and 2 additional units (totaling 1,319 beds).
Campus housing appears to be a logical extension for APTS, especially since the company already has the development relationships in place.
APTS targets universities with enrollments of at least 15,000 students and desired location within both walking and biking distance to campus. The company focuses on townhome, garden style and mid-rise properties consisting of 450 to 800 beds per property.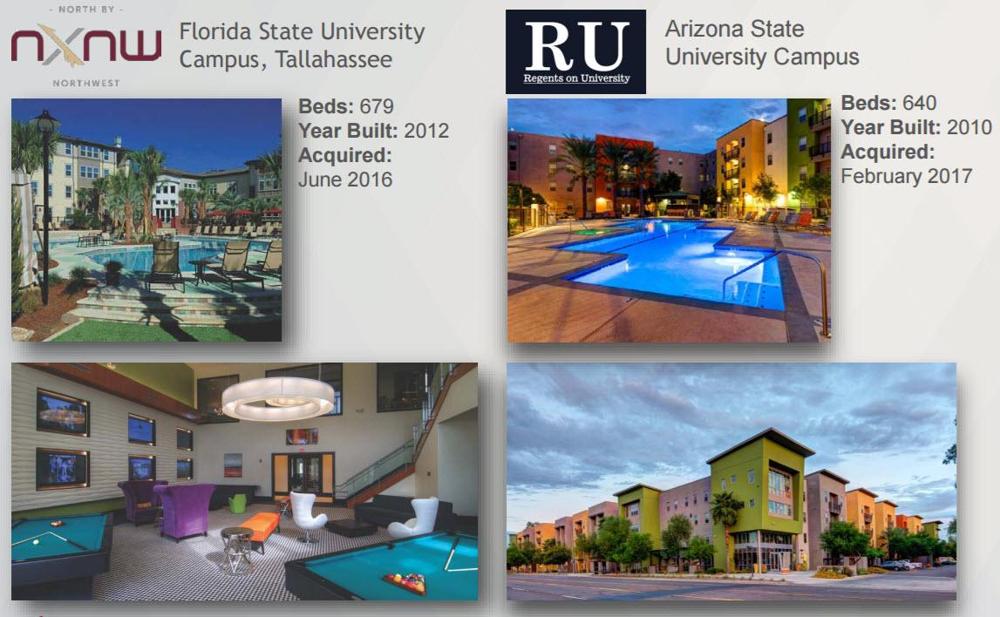 How About Food & Shelter
A few years ago (2014) APTS expanded its strategy to include Grocery-Anchored Shopping Centers. The company targets grocery-anchored assets located in the Mid-Atlantic, Southeast and Texas. Currently, APTS owns shopping centers leased to Sprouts, Wal-Mart (NYSE:WMT), The Fresh Market, Tom Thumb, HEB, Harris Teeter, Bi-Lo, Publix, and Kroger (NYSE:KR).

APTS focuses on grocers with strong credit and good sales in the submarket (Publix, Kroger, etc.) and most all of the centers consist of necessity-based operators for in-line shop space.
APTS retail division was formed as a wholly owned subsidiary, New Market Properties, LLC, to own these assets. Joel Murphy, CEO of New Market Properties, has extensive experience in the sector (formerly President of the retail division of Cousins Properties, Inc.). APTS seeks to acquire the #1 and #2 Market Share grocers with above average sales per square foot.

Although APTS was formed as a "pure play" Multi-family REIT, I have been warming up to the grocery exposure. Let's face, everyone needs "food and shelter" and APTS's platform provides necessity attributes that provide durable sources of income.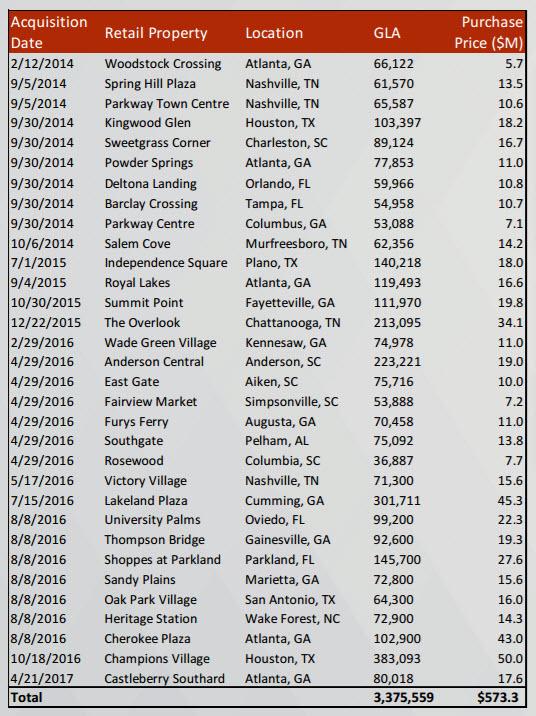 I suspect that once the grocery portfolio reaches $1 billion in AUM (assets under management) the company will seek to list or merge with an existing shopping center REIT. On the recent earnings call, Joel Murphy explained,
…we continue to discuss and review what a spin-off and mid-market as a standalone entity would like. But we want to get really clear on this. We'll only pursue such a transaction if we believe this to be a wise and biennial transaction for all our stockholders in the near and longer term.
Food, Shelter, and Office?
Recently APTS has begun to further diversify into non-core properties and more recently the company said it is targeting stabilized Class-A office buildings in high-growth markets like Atlanta, Charlotte, Dallas, Nashville, Raleigh, Tampa, and Orlando. APTS seeks to invest in office because (1) it has in-house expertise, (2) is complementary to the core multifamily business, (3) the current pricing is attractive to other asset classes.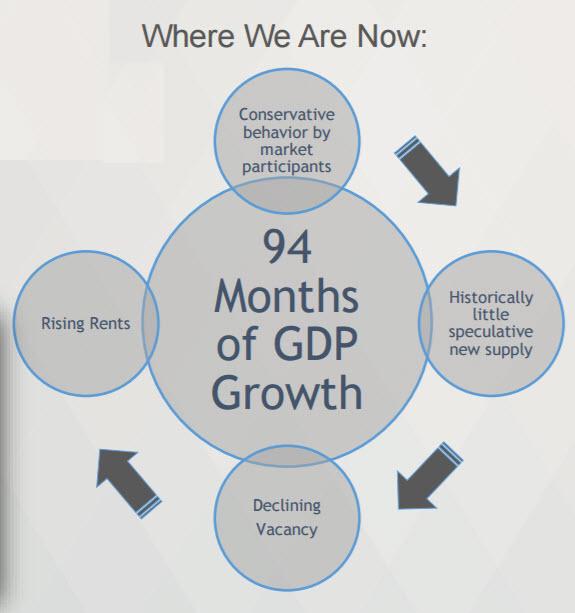 In a previous article I explained that,
…the latest (office) acquisition raises a new question as to how far APTS is extending its line of business. The lines are getting blurred and as an investor in APTS, I am beginning to wonder how the external management team can generate alpha outside of its core circle of competence.
With the exception of healthcare REITs (like VTR and HCN), most REITs are shifting to pure play business models in order to appease analysts and investors. In other words, owning a diversified basket of real estate is less appealing when there are now over 200 US REITs to own with one simple click of the button. An investor can create instant asset-level diversification with a dedicated management team.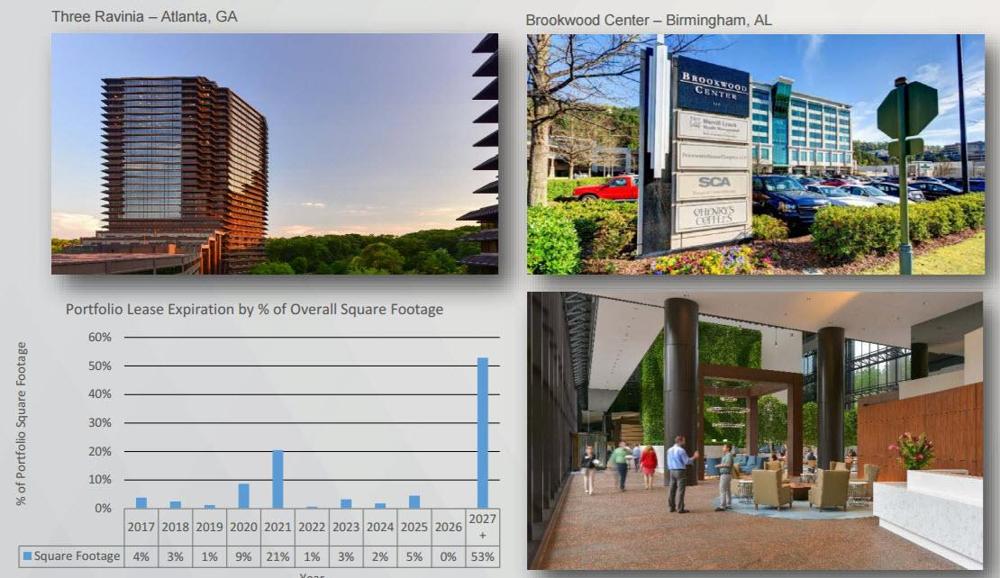 As I ponder the evolution of APTS's diversification strategy, I am reminded that the company has two options: (1) it can maintain its pure pay status and maintain lower earnings growth, or (2) it can reinvest in multiple asset classes and achieve a higher multiple.
As we will discover below, APTS has a unique-positioned capital stack that allows the company to deploy significant capital.
What's Fueling The Fire?
As I said, APTS is truly an outlier. In addition to its externally-managed platform that invests in multiple property sectors, the company also has a unique balance sheet.
In addition to its common stock (which I own), APTS also utilizes its Series A Redeemable Preferred Stock. This is a non-traded perpetual stock, with a cumulative dividend and no financial covenants.
On the surface, there's nothing unusual with the APTS capitalization; however, upon closer inspection, you can see that the company's preferred stock (series A) cannot be accessed through public markets.
The company chose not to do a traditional secondary offering of its common stock, because of the availability of other capital sources and possibility of diluting existing stockholders. The Series A preferred issue allows APTS to finance real estate and pay 5.75% annual dividends, allowing the company to leverage funds to make acquisitions.
The APTS preferred Series A is priced at $1,000 per unit. The Series A Redeemable Preferred Stock ranks senior to APTS's Common Stock with respect to payment of dividends and distribution of amounts upon liquidation, dissolution and winding up. During the last quarter, APTS issued and sold units that resulted in gross proceeds of approximately $100 million.
Many REITs (except PSA) have around 10% of their capital allocated to preferred issues (and not all REITs utilize preferred issuance); however, APTS has a less traditional strategy in which it utilizes a non-traded marketplace to raise preferred capital. There is a big difference: APTS does not charge fees, so the transaction is a par trade. (I can see why this is such a popular part of the capital stack for APTS).
Also, APTS has a more complex balance sheet in terms of its overall leverage, measured by the ratio of its debt to the undepreciated book value of its total assets of approximately 58%. As you can see below, there are no loan maturities before 2018.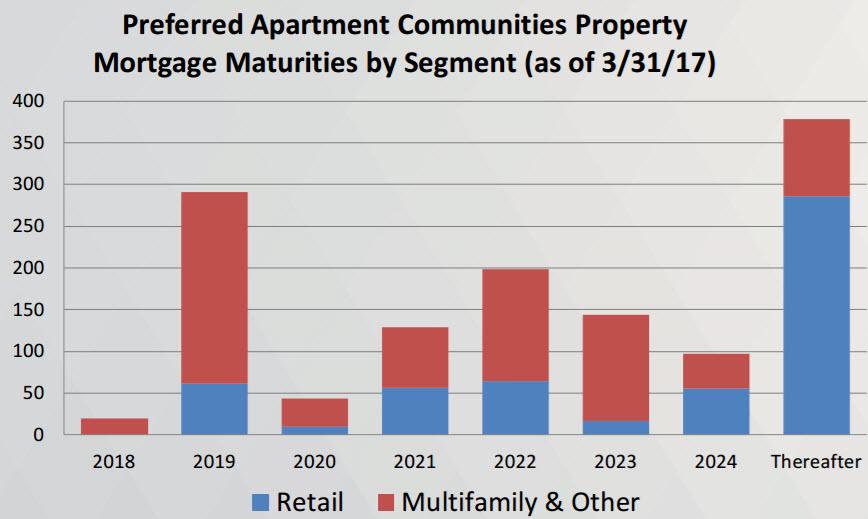 The company has crafted a strategy to use its Preferred vehicle to provide investors with a stable source of income. In my view, APTS is functioning more like a commercial mortgage REIT because it is bringing in close to $400 million a year in preferred capital to incubate multiple business lines.
As long as you understand, there are risks to the overweight Preferred capitalization model. Given the success of the common shares, I am not sure why I would want to own the Preferred shares. But for some, it represents a stable source of income tied to the "food, shelter, and more" business model.
The Latest Earnings Scorecard
APTS's FFO for Q1-17 was approximately $9.6 million or $0.35 per share compared to approximately $3.9 million or $0.17 per share for Q1-16. The company's core FFO was $10 million or $0.36 per share compared to $7 million or $0.30 per share for the first quarter in 2016. This represents a 20% increase in core FFO per share. Here's a snapshot of APTS FFO and Dividend performance since the IPO.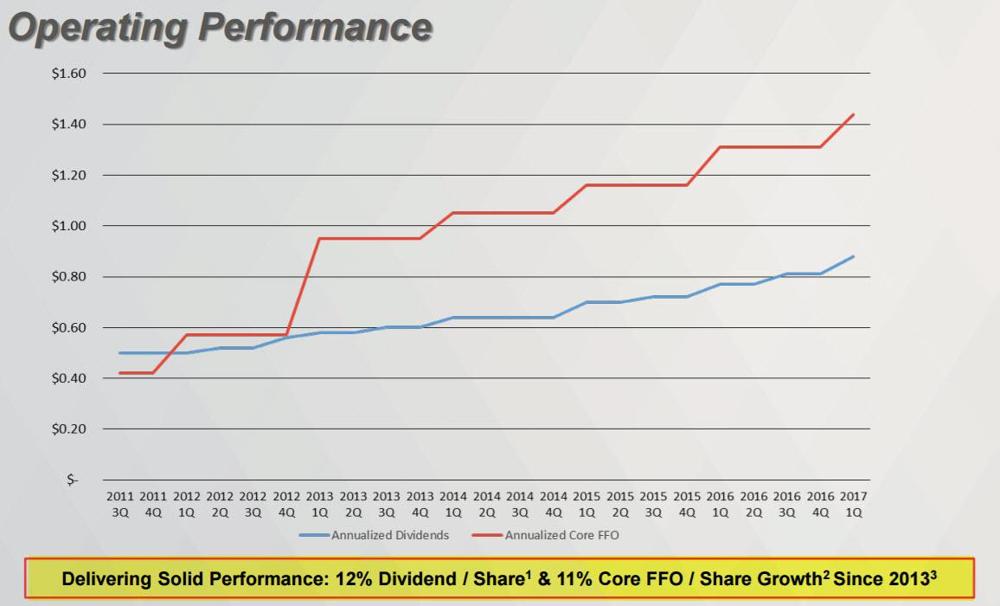 APTS reiterated its core FFO guidance range for the year of $1.40 to $1.48 per share. The midpoint of range continues to represent the goal to increase core FFO per share by 10% or more for 2017 compared to 2016.
In Q1-17, APTS paid its common stockholders and unitholders a dividend of $0.22 per share representing 14.3% per share increase over the dividend paid in Q1-16. Take a look at the FFO/share per chart provided below: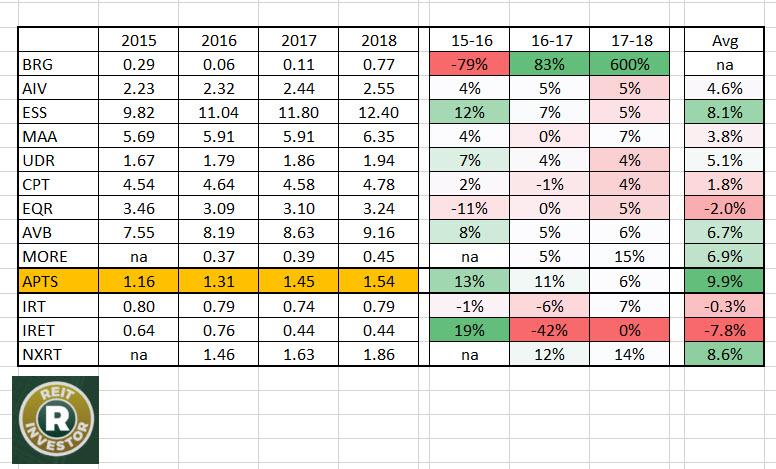 As you can see, APTS has the strongest growth forecasted in the peer group. Now let's compare the Payout Ratio below:

All Is Peachy For Preferred Apartment Communities
As I said earlier, I got in early before APTS took off, but it took me a while to get comfortable with the unique company structure: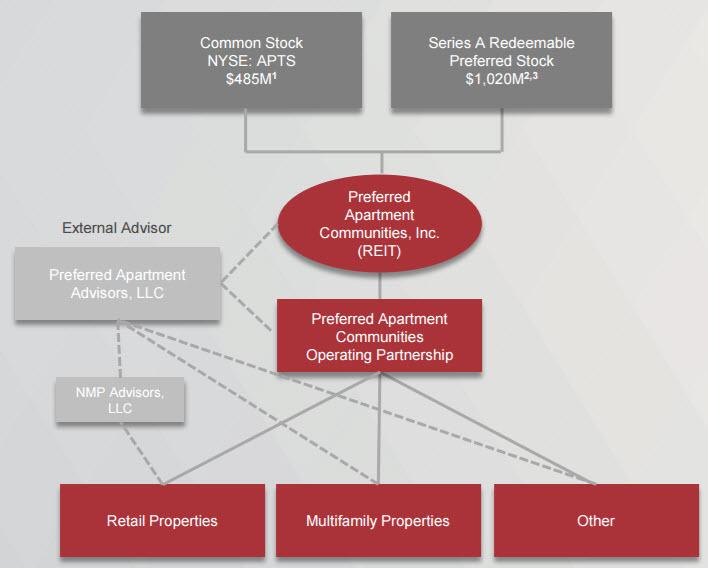 Fortunately, I have become more familiar with the management team, that has deep experience in all property sectors (I plan to meet them this week at REITWeek in NYC).
Now let's take a closer look at the dividend yield compared with the closest peers:

Now let's compare the P/FFO multiple with the peers:

In summary, there are risks: (1) small market cap, (2) outsized exposure to preferred shares, (3) multiple property sectors, and (4) external management. However, APTS has developed a track record for successfully growing its dividend.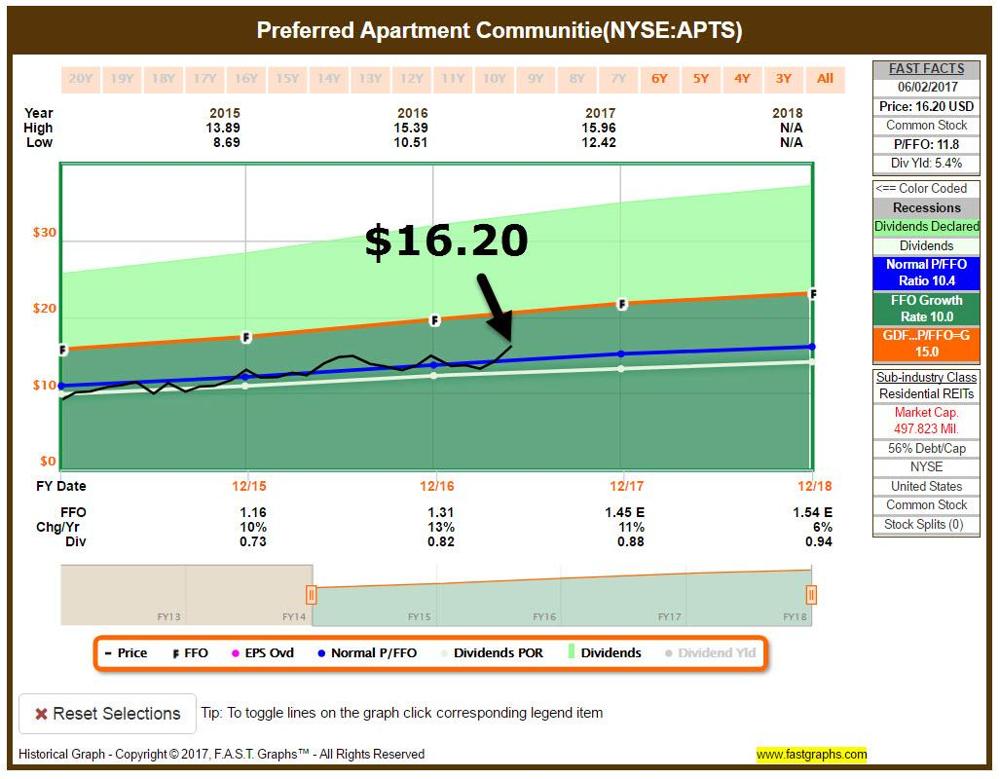 I am maintaining a BUY rating, as I believe that shares will continue to grow. I would like to see the company (NYSE:A) internalize management, (NYSE:B) pay a monthly dividend, and (NYSE:C) stay committed to "food & shelter" until such time that the company spins off the "food."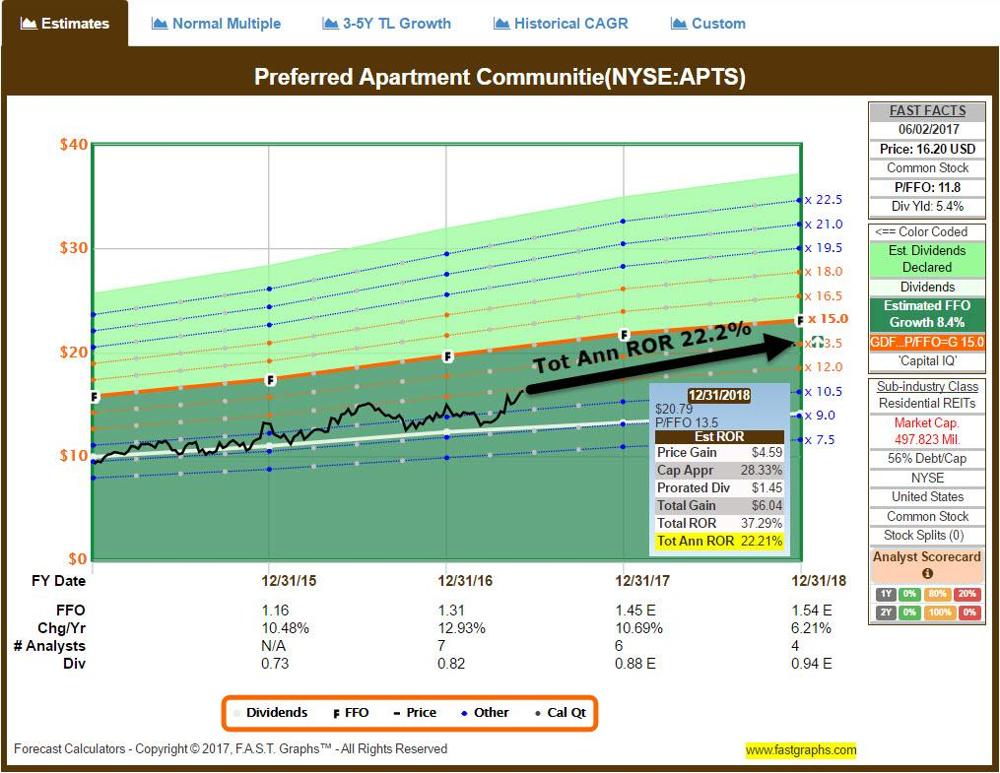 Note: I will be lecturing at NYU on Monday and attending REIT Week (sponsored by NAREIT) on Tuesday and Wednesday. I will be commenting later in the day, and thanks for your patience.
To get a first look at my upcoming article, "The Evolution of My Durable Income Portfolio," click here. Disclosure: I am on the Advisory Board of NY Residential REIT, and I am also a shareholder and publisher on theMaven.
*Author Note: Brad Thomas is a Wall Street writer, and that means he is not always right with his predictions or recommendations. That also applies to his grammar. Please excuse any typos, and be assured that he will do his best to correct any errors, if they are overlooked. Finally, this article is free, and the sole purpose for writing it is to assist with research, while also providing a forum for second-level thinking. If you have not followed him, please take five seconds and click his name above (top of the page).* Disclosure:** I am/we are long APTS, ARI, BRX, BXMT, CCI, CCP, CHCT, CLDT, CONE, CORR, CUBE, DLR, DOC, EXR, FPI, GMRE, GPT, HASI, HTA, IRM, JCAP, KIM, LADR, LTC, LXP, O, OHI, PEB, PEI, PK, QTS, ROIC, SKT, SNR, SPG, STAG, STOR, STWD, TCO, VER, VTR, WPC.
I wrote this article myself, and it expresses my own opinions. I am not receiving compensation for it (other than from Seeking Alpha). I have no business relationship with any company whose stock is mentioned in this article.