Jernigan Capital Is Becoming A Prime-Time Player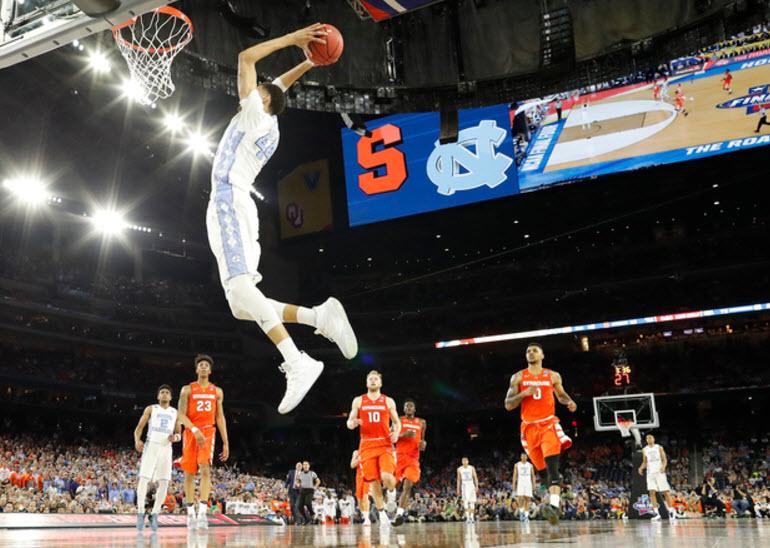 NoahBlacker
Brad Thomas wrote this article and it has appeared previously on Seeking Alpha.
Summary
This one is, of course, a rising star that is beginning to look like a "Diaper Dandy" (sensational freshman).
It gives me comfort to know that Jernigan Capital's management team is led by veteran operators.
The company is proving that it can successfully operate a specialty finance platform.
I know it's late May and it has been a few weeks since March Madness ended. But forgive me, I'm still reminiscing about my beloved North Carolina Tar Heels Final Four win, defeating Gonzaga 71-65 at University of Phoenix Stadium in Glendale, Arizona, in front of a crowd of 76,168. It's UNC's sixth title and the first since 2009.
I still can't forget the final seconds of the game, when Isaiah Hicks scored a jumper, and seconds later Joel Berry II dished a wicked pass to Justin Jackson, who put the nail in Gonzaga's coffin - can anybody say "Phi-Slama-Jama"?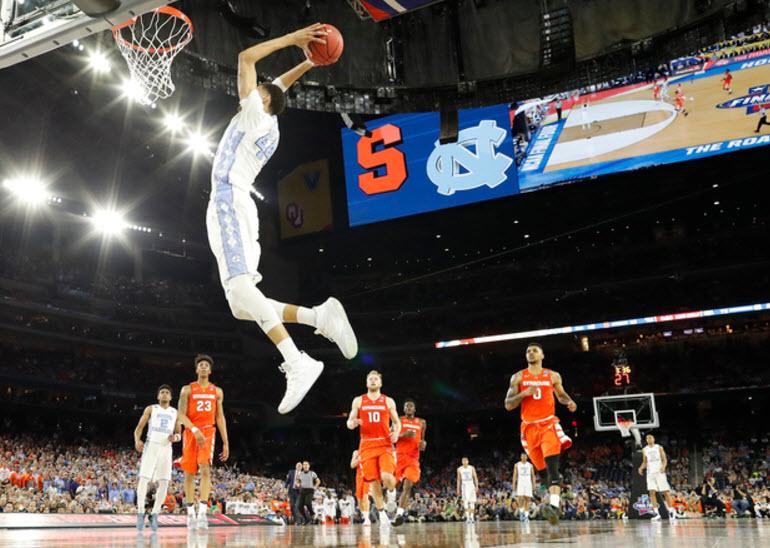 Berry, who scored 22 points on 7-of-19 shooting despite dealing with ankle injuries, was named MVP. Jackson had 16 points, and Meeks finished with seven points, 10 rebounds, two blocks and two steals.
Berry is a rising senior, and he declared for the 2017 NBA Draft, hoping to test the "big boy" waters. After earning second-team All-ACC honors this year, I'm hoping Berry will stay at UNC another year, as he is an early favorite for ACC player of the year. He's definitely a P-T-P (prime-time player).
Wait a minute, it's almost June, so why the talk of being a "PTP"? Because I'm going to fill you in on another prime-time player.
This one is, of course, a rising star which is beginning to look like a Diaper Dandy (sensational freshman), and also a high riser (good leaper). For a complete glossary of Dick Vitale terms, click here.
So let's get started, breaking it all down, and at the end of the article, I will tell you whether or not this REIT deserves a spot on the "All-Diaper Dandies Team" (top freshman players).
Jernigan Capital: The Freshman in REIT-dom
Jernigan Capital (NYSE:JCAP) is a commercial real estate mortgage REIT that lends to private developers, owners and operators of self-storage facilities. The company went public in 2015 to originate a diversified portfolio of development, acquisition and refinance loans secured by self-storage facilities primarily in the top 50 United States metropolitan statistical areas.
In April 2016, the company completed a $122.2 million joint venture with a fund managed by Heitman Capital Management, LLC, one of the leading real estate investment advisers in the world and one of the largest public pension plan investors in the world, and by the end of 2016, that JV had committed $123.6 million of capital.
In July, JCAP executed a transformational financing transaction with Highland Capital Management - a preferred equity line for up to $125.0 million of Series A preferred stock that allowed the company to match-fund its development investment commitments. The Series A preferred stock carries a reasonable cash dividend and a capped cost at a 14.0% internal rate of return to holders of the Series A preferred stock.
Highland Capital's commitment to acquire the Series A preferred stock, combined with a sizeable position they have acquired in the common stock, has provided further institutional validation of JCAP's business model.
In December, JCAP executed a follow-on offering of common stock, issuing approximately 3.0 million shares for net proceeds of approximately $53.5 million with significant participation by new institutional investors.
The net proceeds from the follow-on offering, together with the availability under the preferred equity line and the capacity to sell senior participations as new self-storage facilities open for business, has left the company well capitalized and able to aggressively pursue what is now an $800 million pipeline as the self-storage development cycle moves into its later innings.
As noted, JCAP is a commercial mortgage REIT, and the company's closest peer set is as follows (in $US billions):

It Was a Slow Start
In JCAP's 2016 Annual Report, the company includes the following quote:
Successful investing takes time, discipline and patience. No matter how great the talent or effort, some things just take time.
- Warren Buffett
Choice words for a new REIT that began with an investment pipeline exceeding $600 million in the early innings of a monumental self-storage development cycle. The company had strong headwinds - no shelf space, and a shorter of capital to fund its pipeline.
It didn't help matters when a junior analyst slapped JCAP with a Sell note just as the REIT was trying to close on the above-referenced Heitman deal. Mr. Market reacted to the Sell pressures, and of course, that put the company in defensive mode.
The downgrade was contradictory to JCAP's 8-K filing, and it took a few quarters for the company to prove itself as a legitimate REIT. I would sum it up as more of a "mis-read" by the analyst, and since the downgrade, JCAP has beat guidance and consensus - proving that it has created a successful commercial mortgage REIT business model. As the CEO, Dean Jerningan, explained in the 2016 Annual Report:
Yet our outstanding team maintained its investment discipline, patiently analyzed and pursued capital that was optimal for sustaining our business and building stockholder value, and allowed our early investments to mature and demonstrate the value that was so obvious to us all along.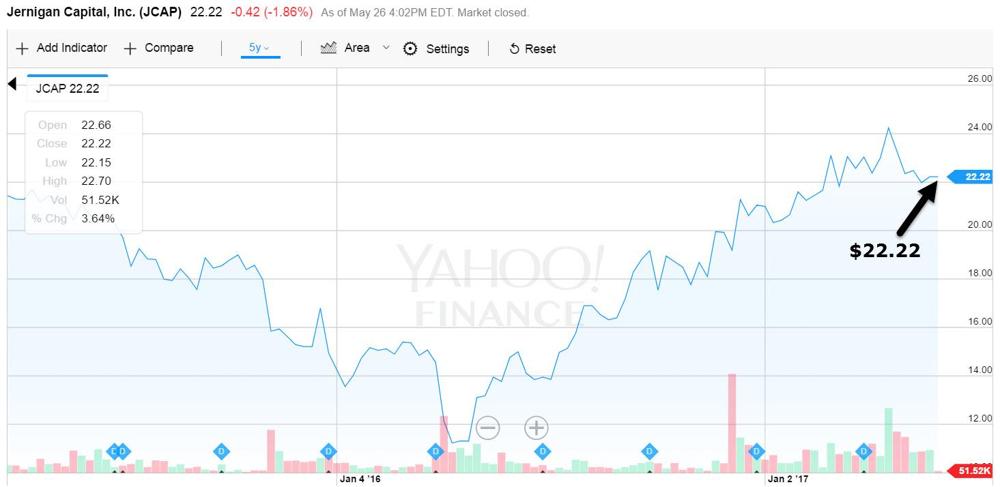 JCAP was not prepared for the strong demand originally, and the company had to quickly create the infrastructure to sort out the estimated $800 million pipeline of deal flow.
It has a simple business model: it provides innovative loan financing solutions for the self-storage industry. The company's primary focus is on programmatic self-storage development in top-tier markets. Prototypical loan terms include 90% LTC (loan-to-cost), 6-year terms and equity participation.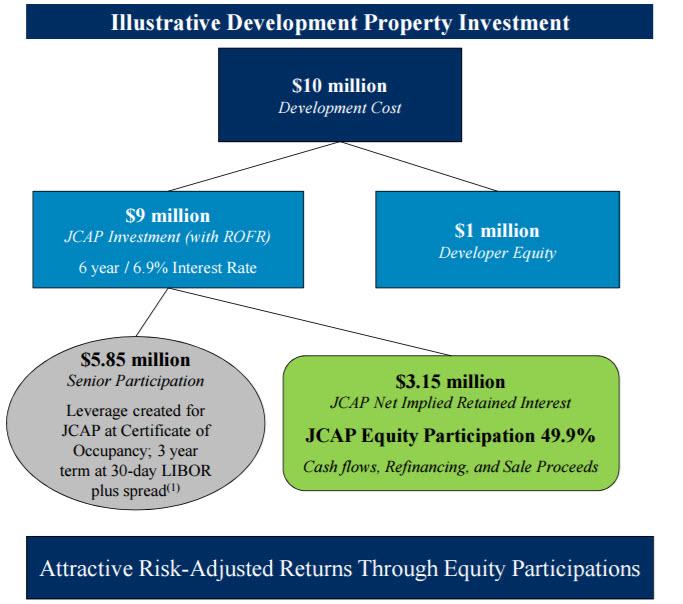 As you can see, JCAP is essentially a JV partner with the self-storage developer, and the REIT generally maintains an equity stake in the single-asset entity. Here's a snapshot of the company's underwriting process: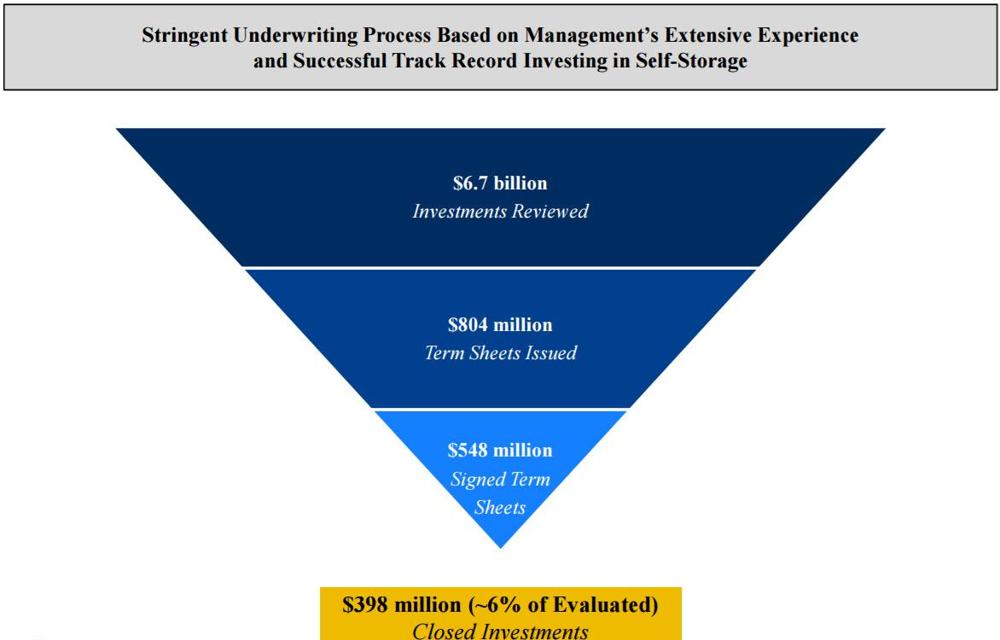 JCAP's portfolio of completed self-storage development projects as a whole is exceeding original lease-up projections. The company believes these exceptional leasing results are a "testimony to great site selection by developers, highly disciplined underwriting by the business development team and excellent management by third party managers."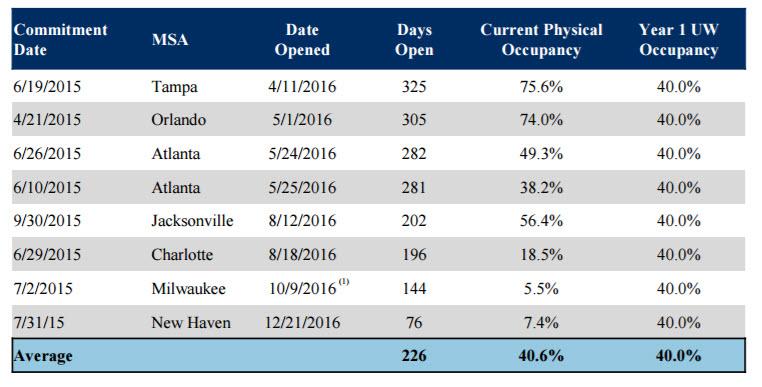 Loan To Own?
JCAP is a commercial mortgage REIT; however, I recently spoke to the CEO (Jernigan), and he said that the company "will evolve as an Equity REIT." He explained that today the company is more of a "hybrid," whereby it has equity participation and most contracts have a first right of refusal provision. The CEO said, "We'll mainly be an Equity REIT as some point."
I asked Jernigan whether or not JCAP will compete head-on with the top Self Storage REITs, and he explained:
There's no need to build a brand, because everyone operationally has consolidated.
He referenced the hotel model, where many of the top brands - like Hilton (NYSE:HLT) and Marriott (NASDAQ:MAT) - have deep brand equity. Jernigan suggested that JCAP's model is not intended to carry brand equity at the consumer level. He said the company will not "deviate from using third-party managers," and he added that JCAP will continue to use the REITs (like CubeSmart (NYSE:CUBE) and Life Storage (NYSE:LSI)) to manage assets.
For now, JCAP plans to continue building out its loan portfolio, and at some point in the future, the company may convert to an Equity REIT model. Here's a snapshot of its investments by type: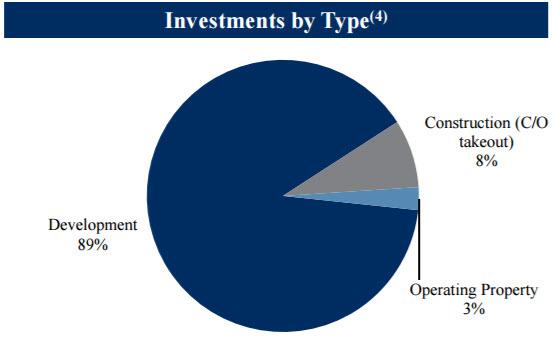 Here's a snapshot of the % of wholly owned versus % of JVs: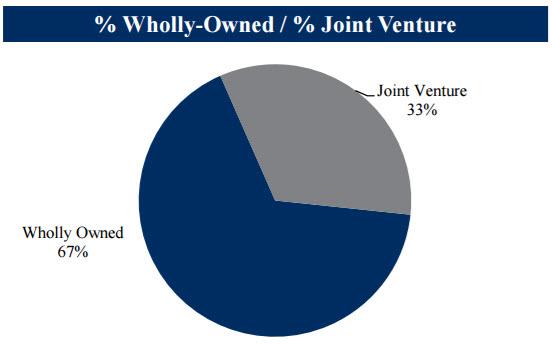 Here's a snapshot of the development investments: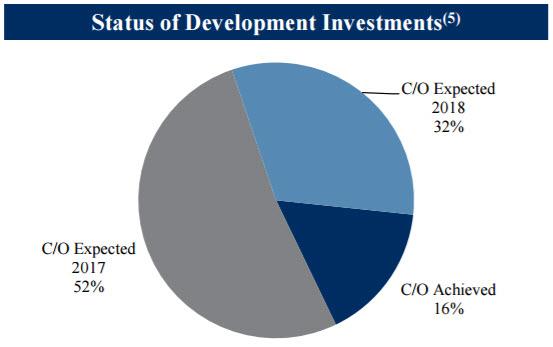 As noted, JCAP's investments are in a portfolio of newly built, Class-A self-storage facilities located within the top 100 MSAs. The target markets are characterized by strong projected population growth and below-average self-storage supply.
The company seeks markets positioned for high-return self-storage development, with high density, population growth and household incomes, low self-storage coverage per capita and concentration of renters (particularly millennials). The current markets are expected to grow more than 35% faster than the national average. The current markets have 15-20% less storage available per person relative to the national average.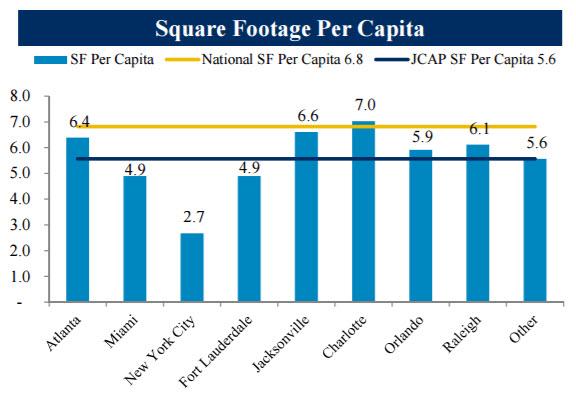 In Jacksonville, FL, JCAP invested in a multi-story, climate-controlled facility totaling 59,848 net rentable square feet. The investment originated in September 2015; C/O achieved in August 2016. The property is located on East West Parkway, just west of Highway 17, in Fleming Island, Florida.
The site has extremely low competition; Fleming Island currently only has one self-storage facility and 1.7 square feet of storage per capita within the submarket (3-mile median household income: $91,282).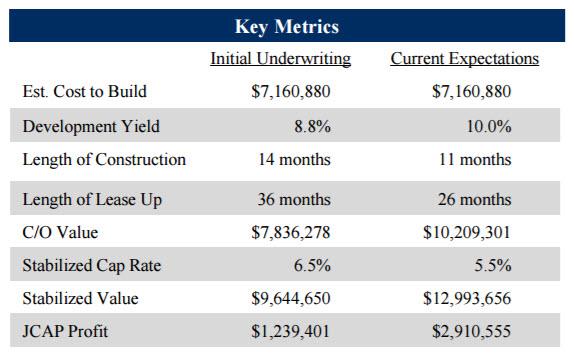 In Atlanta, GA, JCAP invested in multi-story, climate-controlled facility totaling 66,332 net rentable square feet. The investment originated in June 2015; C/O achieved in May 2016. The property is located directly off of Interstate 75, which is a major north-south interstate that runs through six states (226,580 cars pass the site daily on Interstate 75, and 3-mile population: 77,749).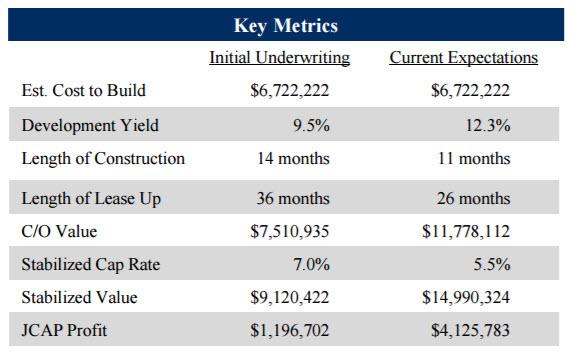 JCAP has closed investments with 23 developers, seven of whom have multiple projects with the company currently.
During the first quarter of 2017, it closed $105.6 million of investments, and it closed an additional $50.1 million in the 32 days since March 31. So year to date, the company has closed on $155.7 million of new on-balance sheet investments. In addition, it currently has executed term sheets for an additional $212 million.
As of Q1-17, JCAP has completed the following projects: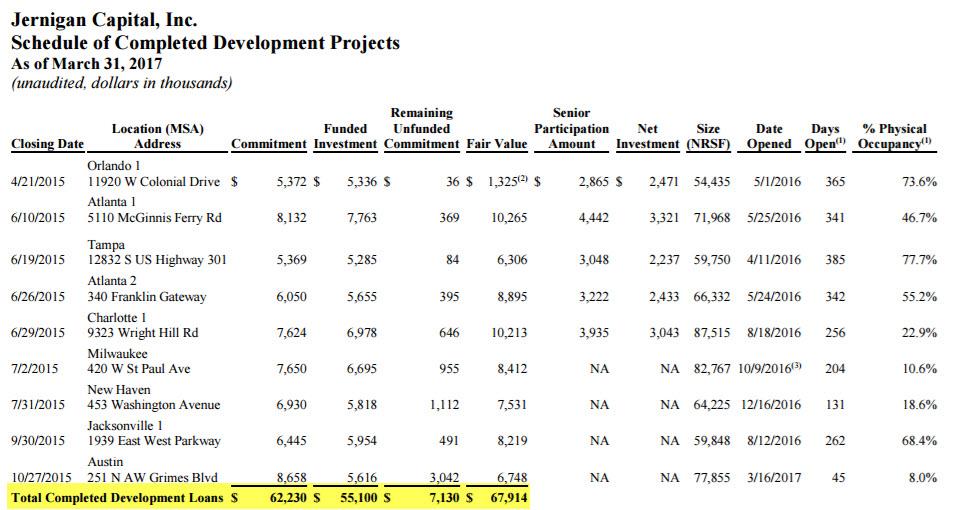 As of Q1-17, it has the following projects in progress: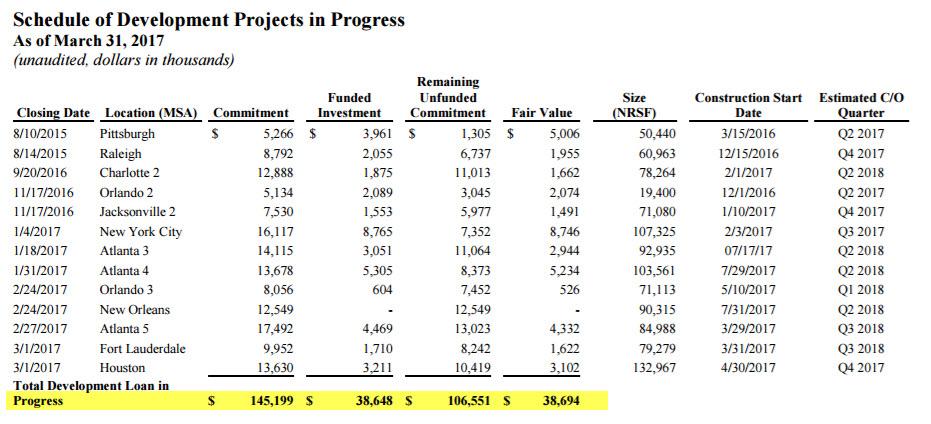 As of Q1-17, the company has the following JVs in progress: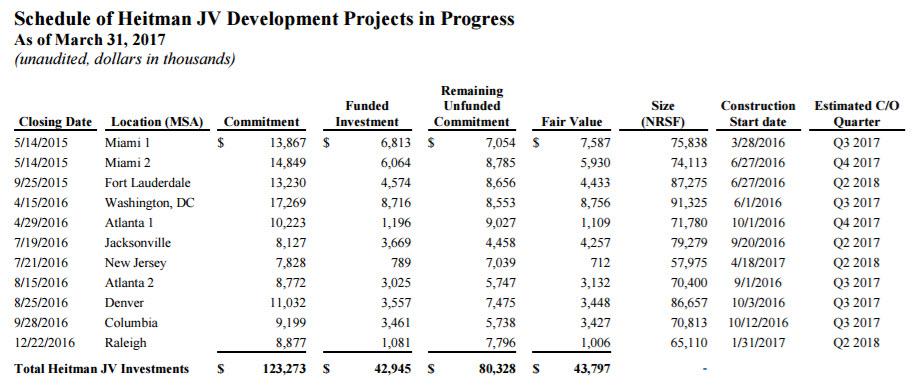 Here's a snapshot of the current investment pipeline: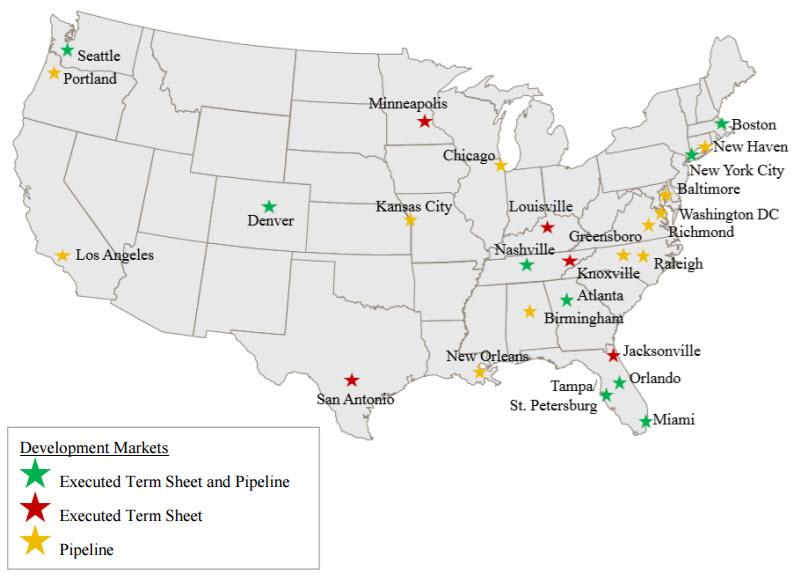 Bottom of the 5th Inning?
When I spoke with JCAP's CEO about the cycle of the self-storage market, he alluded to the "5th inning" in terms of new development. As illustrated below, supply growth has been modest due to "spec" building and loan lease-up times. Development exacerbated from 2010 to 2015 due to the financial crisis and resulting regulatory changes. According to JCAP, "the top 50 markets are significantly undersupplied."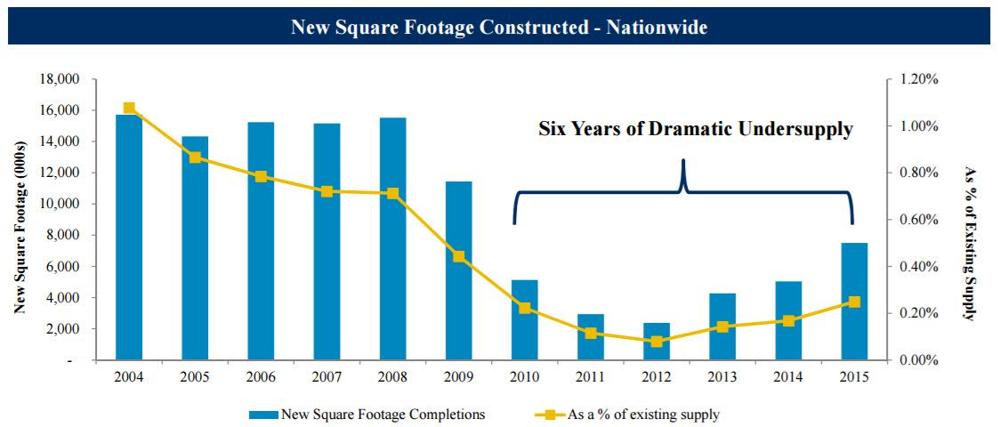 Self-storage total returns during the last 10 years have been 3x greater than those of the RMS. The industry is essentially full (91-94% physical occupied) and driving premium (4-9%) same-store NOI growth.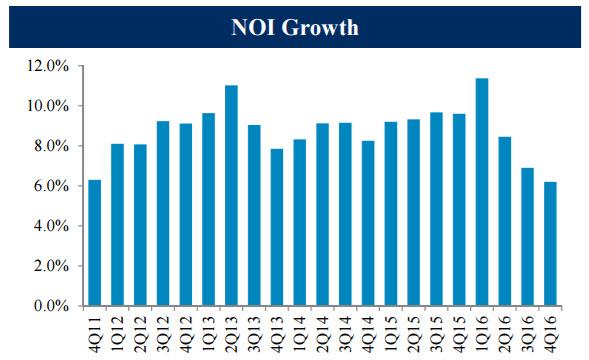 Public REITs have predominantly avoided development, favoring acquisition and "C/O deals" (Certificate of Occupancy). Here's a snapshot of JCAP's historical occupancy levels: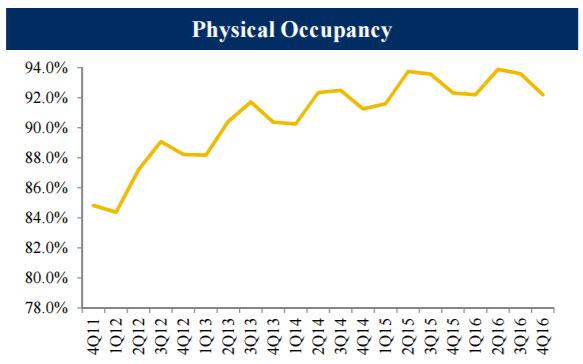 Proving The Concept
Now you can see how JCAP is serving its niche, and at some point, the company will continue to maintain a similar niche on the equity side of the platform. At the end of Q1-17, it announced net income attributable to common shareholders of $0.14 per share and adjusted earnings of $0.21 per share, the latter of which was $0.04 above the high end of the guidance.
JCAP issued second-quarter guidance with a GAAP earnings per share range of $0.25-0.36 and an adjusted earnings per share range of $0.31-0.42. The company also reaffirmed its full-year guidance for 2017 of GAAP earnings per share of $1.62-2.02 and adjusted earnings per share of $1.80-2.30.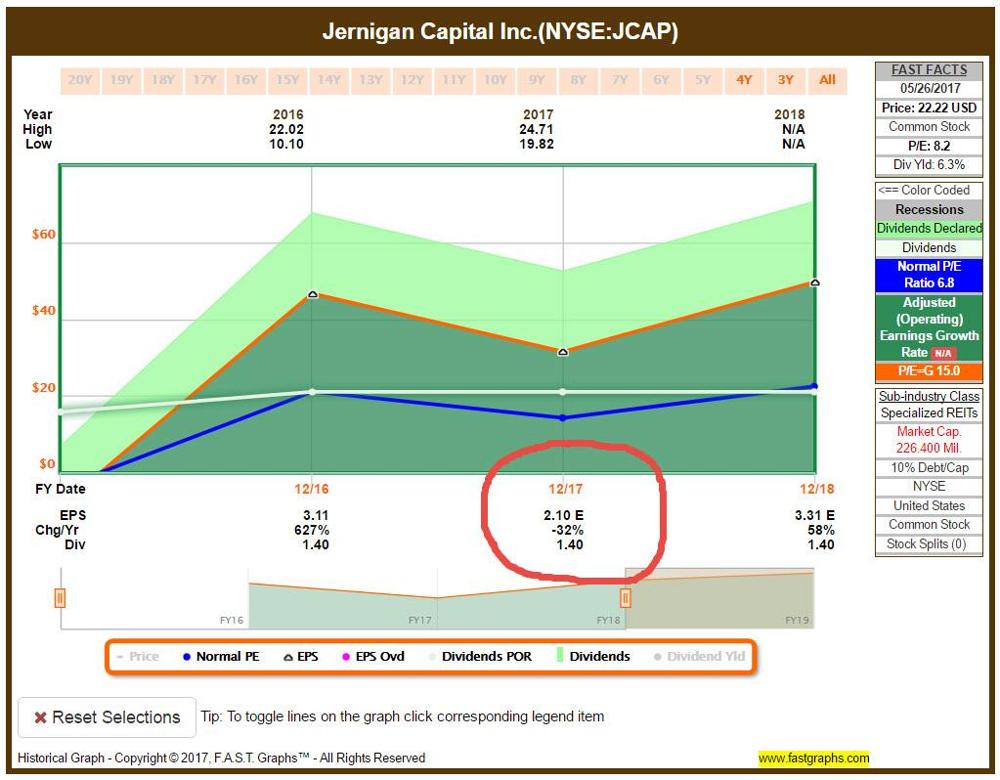 As noted above, JCAP was in a tight spot last year when it was seeking capital. The downgrade forced the company to seek higher-priced capital until it had better access to capital. Since that time, it has had a successful follow-on offering (with Institutional Investors) and also initiated an ATM program.
JCAP's pipeline is approximately $825 million, including $212 million of executed term sheet, and is more than sufficient to allow the company to meet its closing goals for 2017 and provide additional momentum into 2018.
The REIT has proven that its dividend is sustainable. Let's compare this to the peer commercial mREITs:

As you see, the dividend yield is competitive, but I prefer to compare JCAP's yield to that of the Self-Storage Equity REITs:

I know, Mortgage REITs are riskier than Equity REITs, but JCAP is somewhat of a hybrid. It gives me comfort to know that the management team is led by veteran operators, a key risk mitigator when it comes to investing in this sector.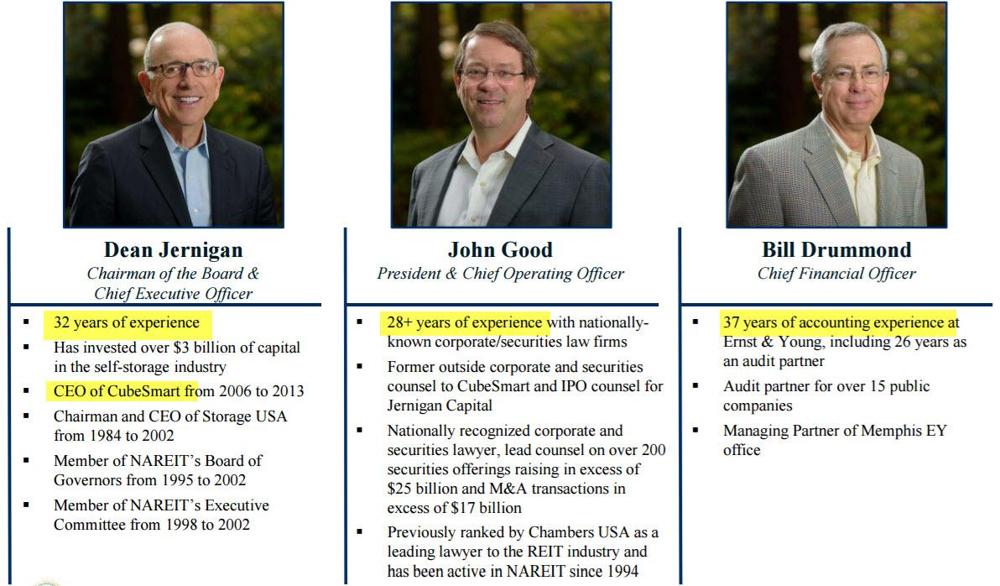 It also helps that the management team owns approximately 9% of the company, creating significant alignment of interests. Here's how JCAP's year-to-date performance compares with that of its commercial mREIT peers:

The Bottom Line
JCAP is proving that it can successfully operate a specialty finance platform. Given the continued growth trends in self-storage, I am recommending this stock. Given the current cycle in the sector, I believe it's prudent to maintain a HOLD on the Self-Storage REITs until the development cycle pulls back.
Keep in mind, development funding is riskier in nature, and JCAP is a small-cap REIT. I would not recommend putting all of your eggs in one basket, but JCAP is now an egg that I am putting in my basket. It is a prime-time player.
One suggestion for JCAP's management team: Pay out monthly dividends.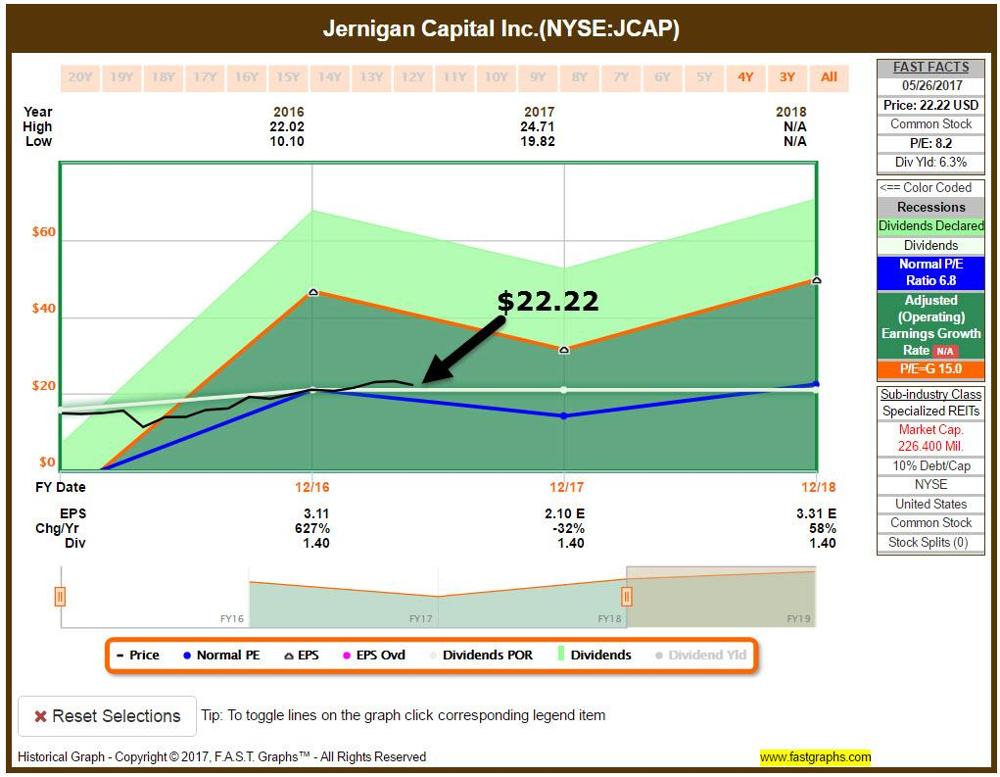 Check out all of the Commercial Mortgage REITs in my upcoming newsletter (Forbes Real Estate Investor).
To get a first look at my upcoming article, "The Evolution of My Durable Income Portfolio," click here. Disclosure: I am on the Advisory Board of NY Residential REIT, and I am also a shareholder and publisher on theMaven.
Source: F.A.S.T. Graphs and JCAP Filings.
Other REITs mentioned: Blackstone Mortgage Trust (NYSE:BXMT), Ares Commercial Real Estate Corporation (NYSE:ACRE), Ladder Capital Corp. (NYSE:LADR), Starwood Property Trust (NYSE:STWD), Apollo Commercial Real Estate Finance (NYSE:ARI) and RAIT Financial Trust (NYSE:RAS).
*Author Note: Brad Thomas is a Wall Street writer, and that means he is notalways right with his predictions or recommendations. That also applies to his grammar. Please excuse any typos, and be assured that he will do his best to correct any errors, if they are overlooked. Finally, this article is free, and the sole purpose for writing it isto assist with research, while also providing a forum for second-level thinking. If you have not followed him, please take five seconds and click his name above (top of the page).* Disclosure:** I am/we are long APTS, ARI, BRX, BXMT, CCI, CCP, CHCT, CLDT, CONE, CORR, CUBE, DLR, DOC, EXR, FPI, GMRE, GPT, HASI, HTA, IRM, JCAP, KIM, LADR, LTC, LXP, O, OHI, PEB, PK, QTS, ROIC, SKT, SNR, SPG, STAG, STOR, STWD, TCO, UBA, VER, WPC.
I wrote this article myself, and it expresses my own opinions. I am not receiving compensation for it (other than from Seeking Alpha). I have no business relationship with any company whose stock is mentioned in this article.