Looking For A Dividend That's Fatter? Try Ladder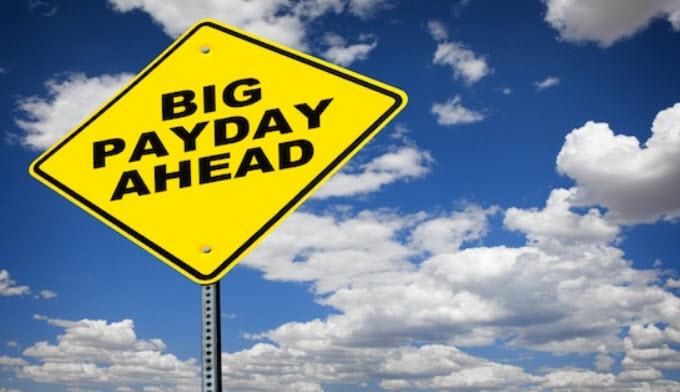 NoahBlacker
Brad Thomas wrote this article and it has appeared previously on Seeking Alpha.
Summary
LADR has maintained a disciplined credit culture throughout the organization with zero credit losses since inception.
LADR can capitalize on its 3 primary lines of business in order to take advantage of the most profitable trends.
LADR now provides the company with much needed float and further diversify the base of shareholders in the commercial mortgage REIT.
Last week, I wrote a Forbes article highlighting the Commercial Mortgage REITs. As I explained:
The commercial real estate (or CRE) market is in enjoying extra innings of the cycle and that means investors should stay focused for opportunities to diversify and take advantage of the continued economic recovery.
While many of the commercial mREITs underperformed prior to the Great Recession, I explained that "since the end of the last recession, commercial mortgage REITs have become less risky – primarily due to lower leverage and lower loan-to-value (or LTV) ratios."
A few days ago, I wrote on KKR Real Estate Finance Trust (Pending:KREF), a KKR-managed mortgage REIT focused on commercial real estate debt. The company has filed with the SEC to raise up to $100 million in an IPO.
I'm anxiously waiting on the new mREIT IPO, as I have become a fan of the commercial real estate lenders. They continue to serve a valuable place setting in my Durable Income Portfolio as a means to capture stable and reliable dividend income, without the volatility risk of the traditional residential mREIT REITs.
One of my favorite commercial mREITs is Ladder Capital (LADR), a New York-based REIT that has returned over 43% since January 2016 (see my article here).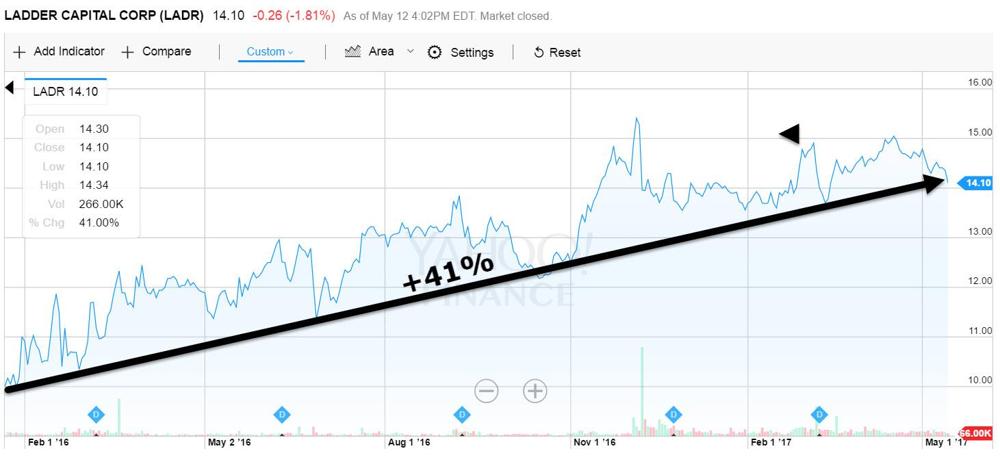 …and LADR has outperformed the peers (since January 2016):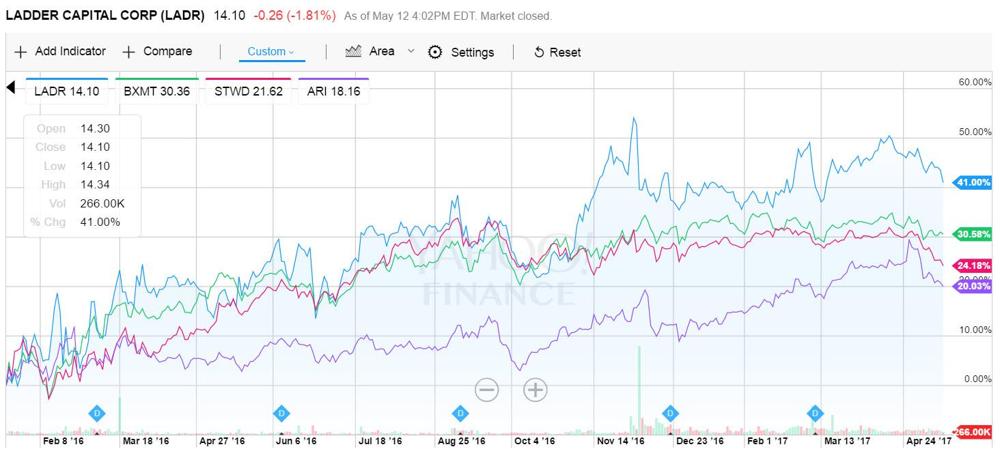 But is LADR still on my BUY list? Keep reading….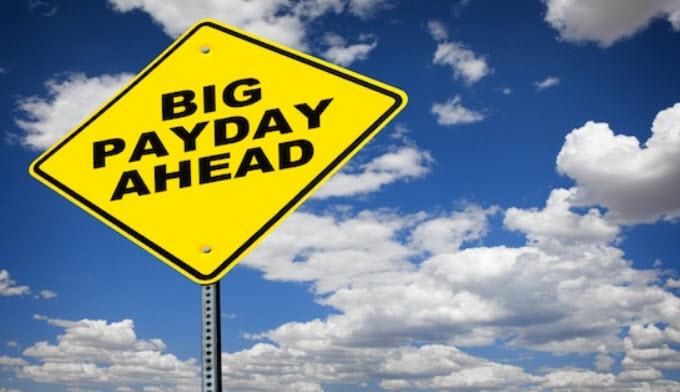 Ladder Capital: AUniquely-Positioned REIT
Ladder Capital is a diversified commercial real estate company that was formed in 2008 and went public in 2014 (as a C-Corp). The company's primary business strategy is to originate and securitize first mortgage loans on stabilized, income-producing commercial real estate properties. LADR is one of the largest non-bank contributors of loans to CMBS securitizations in the U.S.
However, LADR has a unique model in which the company does not rely exclusively on securitization for its revenue and has other diversified sources of revenue, including earning a significant portion of its revenue from first mortgage balance sheet loans and property rentals as well as expanding its market share in the commercial mortgage loan origination market.
In 2014, LADR commenced the necessary steps to convert from a C-Corp into a REIT structure, and during the first quarter of 2015, the company received shareholder approval to convert to a REIT. (On March 2, 2015, LADR said that shareholders had approved the plan to restructure as a REIT).
LADR has maintained a disciplined credit culture throughout the organization with zero credit losses since inception. The company operates as an internally-managed REIT (the other peers referenced are externally managed) that originated first mortgages secured by commercial real estate and invests in commercial properties and highly-rated CMBS (commercial mortgage-backed securities).
LADR has stable and diverse income streams from Commercial Real Estate, the company's tactical approach to the mREIT sector is rooted in the flexible manner in which the company can interact in periods of change. As illustrated below, LADR can capitalize on its 3 primary lines of business in order to take advantage of the most profitable trends: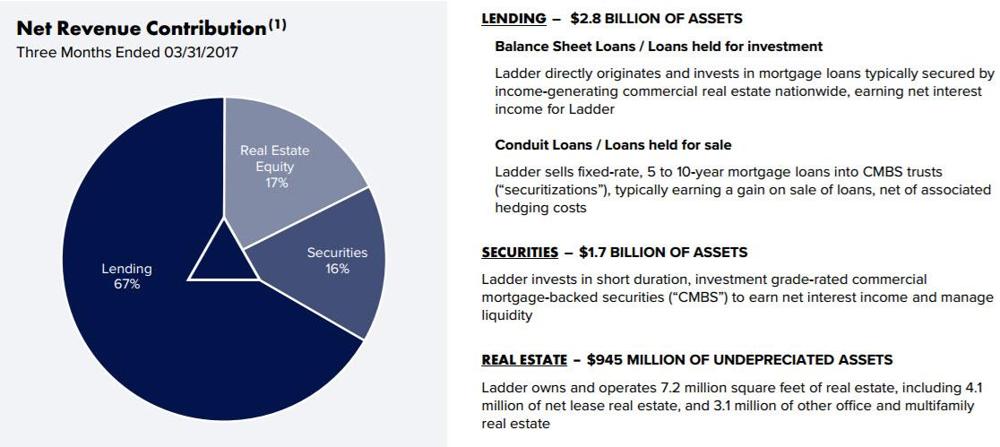 As illustrated below, LADR invests in predominantly Senior Secured Asset Base of Commercial Real Estate-Related Investments: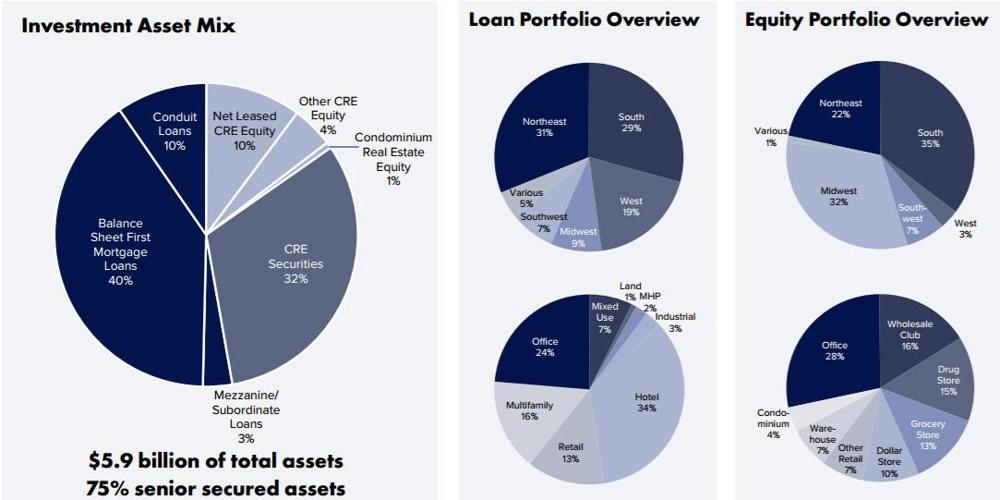 LADR's Senior Secured Balance Sheet business represents around 40% of revenue and this business is similar to Blackstone Mortgage Trust (NYSE:BXMT) and Starwood Property Trust (NYSE:STWD). Generally, LADR's loans are for 2-to-5-year terms.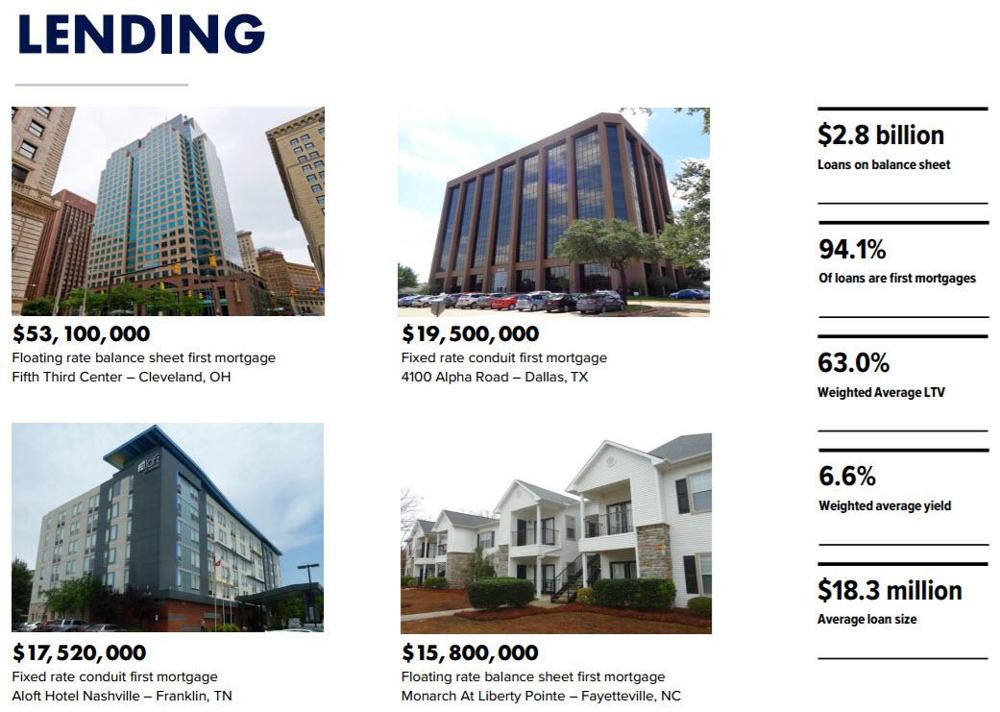 LADR's conduit finance business represents around 10% of revenue, and this business line is comparable to STWD's subsidiary called LNR. Conduit loans are typically 5 to 10 years offered at fixed rate with LTVs (loan to value) of around 70% to 75%. LADR has a balanced securitization model with over $1.7 billion in loans (with an average loan balance of around $17 million).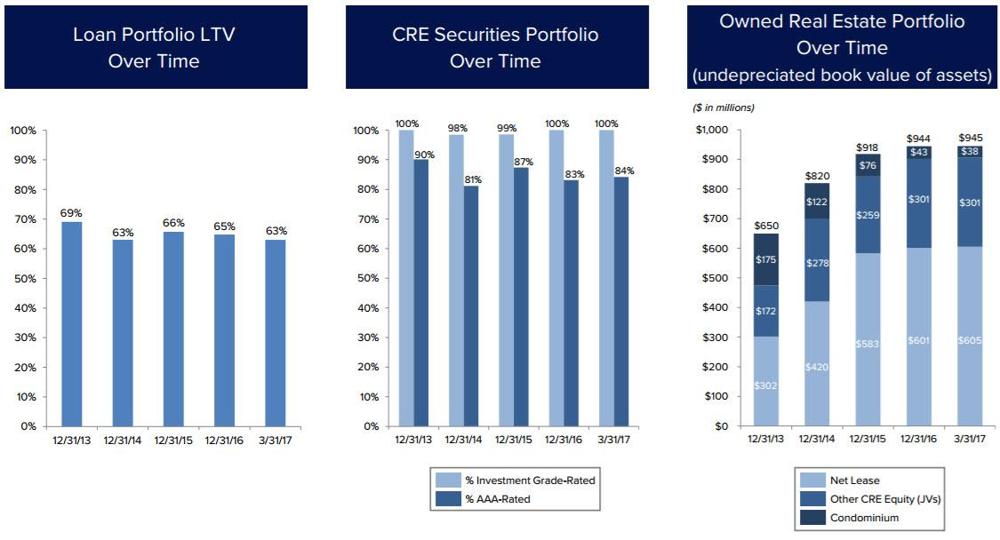 The CMBS business is the "bread and butter" for LADR and represents around 10% of revenue and almost all of LADR's CMBS product is investment grade (focused on senior secured). LADR takes advantage of market disruptions - when it's hard to lend, LADR invests in CMBS.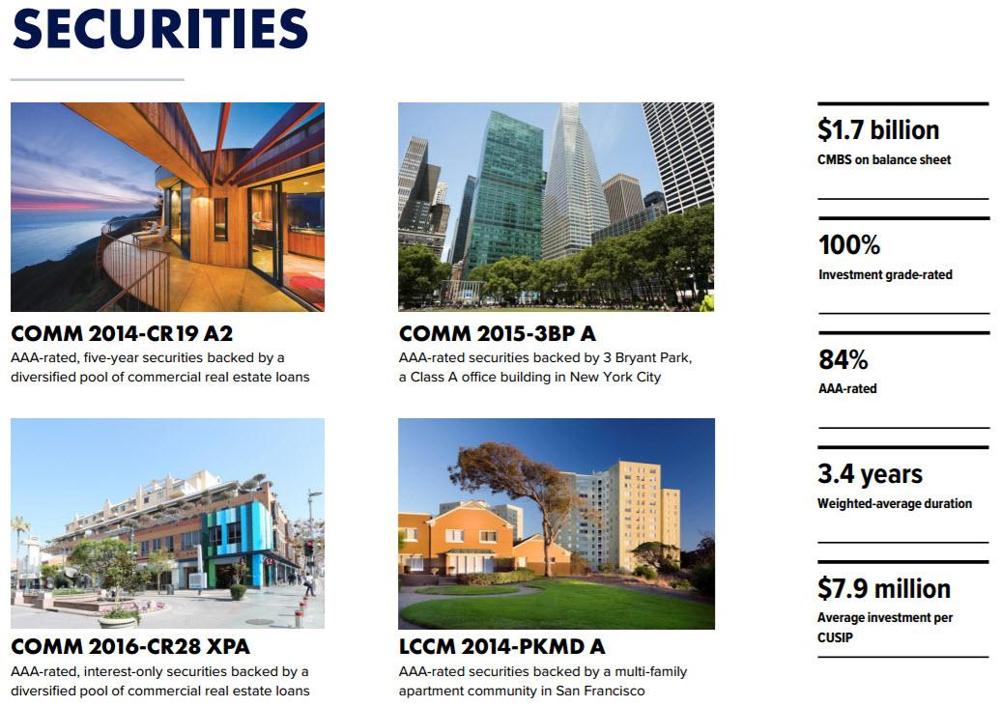 The final leg to the stool is LADR's equity platform - representing around 10% of revenue. Around 50% of the equity investments are Net Lease properties representing around 3.6 million square feet. LADR owns 22 free-standing Walgreens (NASDAQ:WBA) and 7 Hy-Vee grocery stores. In addition, LADR owns several office buildings and several condo deals in Las Vegas.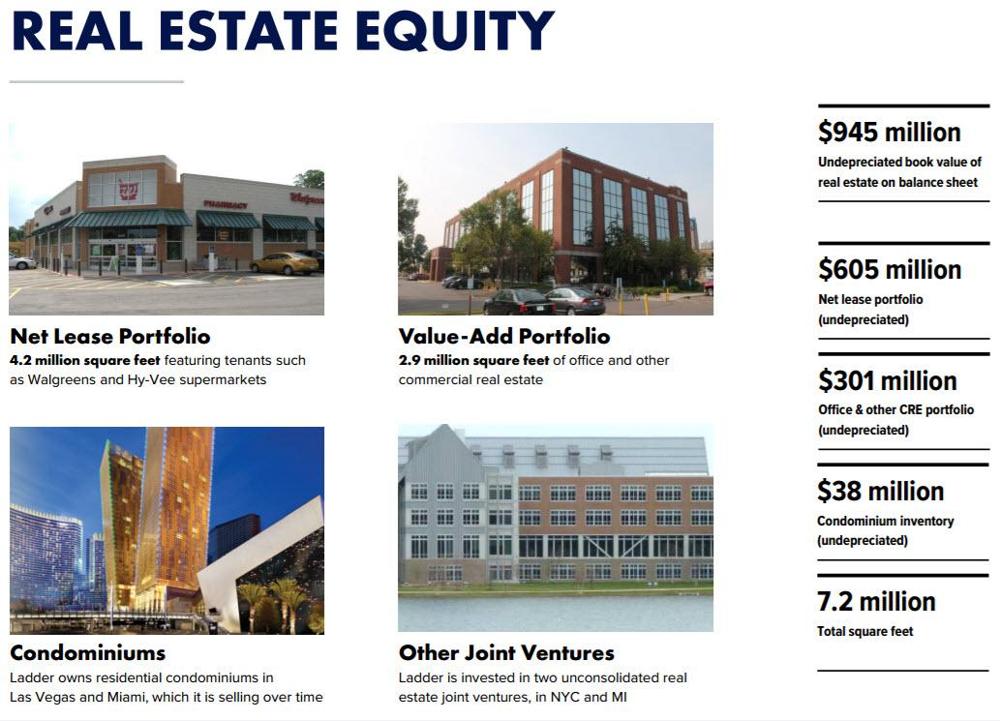 So Why the REIT Structure?
As referenced above, LADR converted to a REIT earlier this year and the structural benefits allow the company more efficiency of capital flow. Accordingly, the REIT structure appears to fit more squarely (no pun intended as it relates to the triangle) into LADR's business model given the compelling profits and enhanced potential for growth (in normalized book value).
What makes LADR uniquely positioned (in my opinion) is the fact that the company is able to consistently generate industry-leading ROE that is the result of a solid base of REIT earnings. Here's a snapshot of LADR's balance sheet that includes assets predominantly held for investment.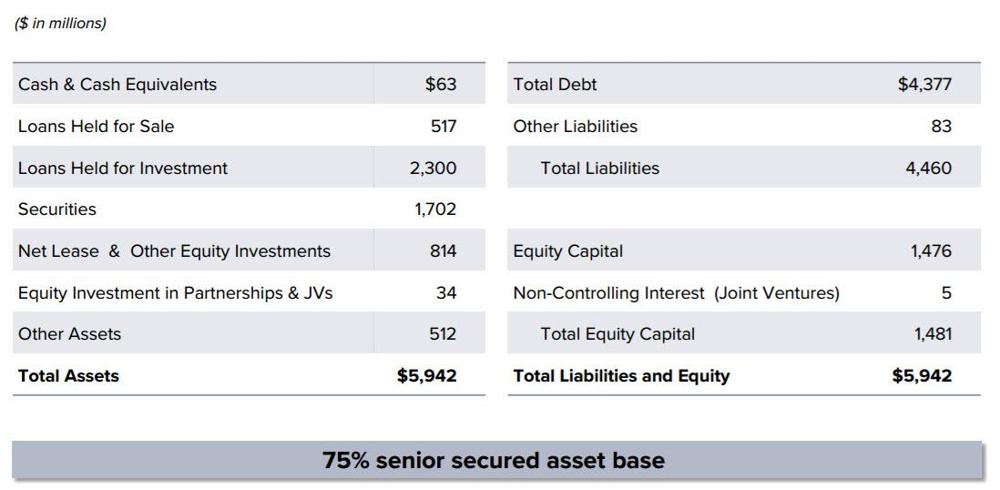 What makes LADR unique is the solid baseline REIT ROE plus potential TRS upside. Even with share price volatility, LADR is making 10%-13% ROAE:

Compared with the select peer group (below) LADR's REIT structure optimizes after-tax earnings paving the way for strong ROE combined with meaningful cash dividends.
LADR minimizes reliance on access to capital markets and facilitates "offensive" capital deployment. While the dividend is well covered, LADR's capital recycling business drives attractive ROE and book value growth.
While most Commercial mREITs have payout ratios close to 100%, LADR's conservative leadership team opted to keep the ratio lower. That's a unique characteristic and one that resonates with my style of investing.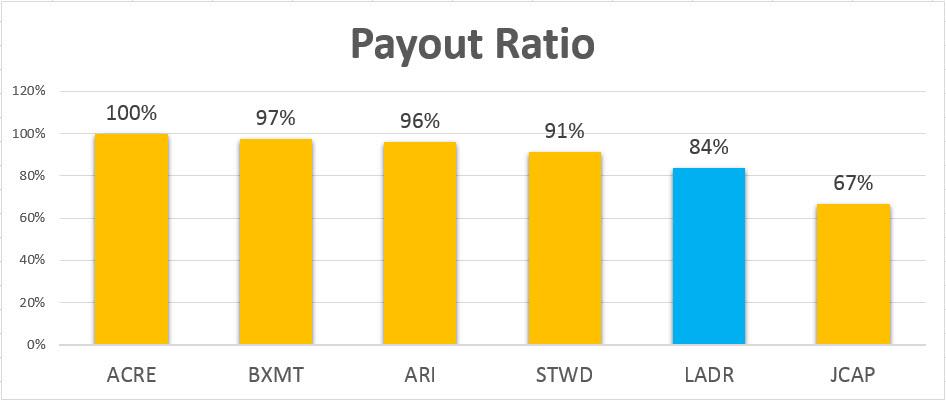 With such a low payout ratio, you would think that LADR would be paying out a low dividend yield, it's not.

So you are not only getting an attractive 8.5% dividend yield but also a "true-up" dividend at the end of the year. LADR's current dividend is $.30 per share and the company has continued to provide ample cash flow to support the dividend.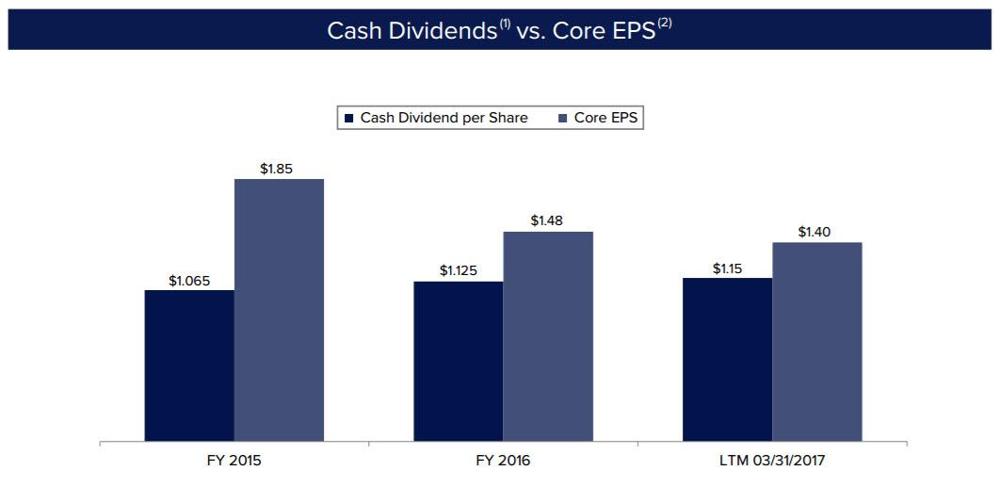 In Q1-17, LADR generated core earnings of $31.6 million. This amount compares to $38.2 million in the first quarter of the prior year. Core EPS for the first quarter was $0.31 per share compared to $0.38 per share for the same quarter a year ago.
On an after tax core basis, LADR generated 9% return on average equity during Q1-17, down from 10.8% in Q1-16. This is based on an average equity balance, excluding non-controlling interest of consolidated joint ventures, of approximately $1.5 billion.
Keep in mind that LADR's $31.6 million of core earnings were achieved without the benefit of any securitization gains, and less than $5 million of core gains from real estate and security sales. The remaining core earnings were derived from LADR's solid foundational investment that generated recurring income in excess of total corporate expenses.
During Q1-17, LADR's recurring net interest, net rental and fee income contributed $40.6 million to core earnings. These recurring revenues were more than 2.5 times the remaining core corporate expenses of $15.1 million incurred during the quarter. In other words, in the first quarter, LADR generated over $25 million of recurring core earnings (net of corporate expenses), the largest gap to core earnings adjustment for the quarter related to real estate depreciation.
LADR ended the quarter with total assets of $5.9 billion and total equity of $1.5 billion. The company's core leverage increased to 2.9:1 from 2.6:1 during the quarter, impacted by the addition of new loan investments during the quarter and the inflation of other assets related to the bond payoff on April 3rd. Excluding the impact of this bond pay-off, LADR's core debt to equity ratio would have been 2.7x.
LADR continued to enhance its maturity profile while maintaining a diverse set of funding sources. As of March 31, 2017, LADR had $4.3 billion of core debt outstanding and committed financing availability of over $1.8 billion for additional investments. The FHLB borrowings stood at $1.48 billion as of March 31, 2017.
Looking For A Dividend That's Fatter? Try Ladder
As I said earlier, LADR shares have improved considerably since January 2016, and I give a lot of credit to the management team for placing an emphasis on term funding with multiple counterparties. This has allowed the company to better manage duration risk and enhance overall diversity.
I'm also pleased to see a new investor join the mix. In a previous article, I explained that Related Companies purchased $80 million of LADR stock from certain pre-IPO shareholders, including affiliates of TowerBrook Capital Partners and GI Partners.
The investment was made by Related Real Estate Fund II, an opportunity fund, with equity commitments of over $1 billion. In conjunction with Related's investment in LADR, the REIT agreed to appoint Richard O'Toole, Executive Vice President and General Counsel of Related, to replace Jonathan Bilzin, Managing Director of TowerBrook Capital Partners, on LADR's Board of Directors.
I have frequently commented that "LADR is predominantly institutionally owned" with "two large sovereign wealth funds that accounted for around 16.5% of ownership."
Related's investment (in LADR) now provides the company with much needed float and further diversify the base of shareholders in the commercial mortgage REIT. I am particularly happy to see Related make this investment, given the company's deep experience in commercial real estate and success as a global luxury residential, retail, and mixed-use developer.
Disclosure: I am writing this article from the MiMa building, a Related property in New York City.
The Bottom Line: I am maintaining a BUY recommendation on shares of LADR. The dividend is safe and the 8.5% yield is attractive.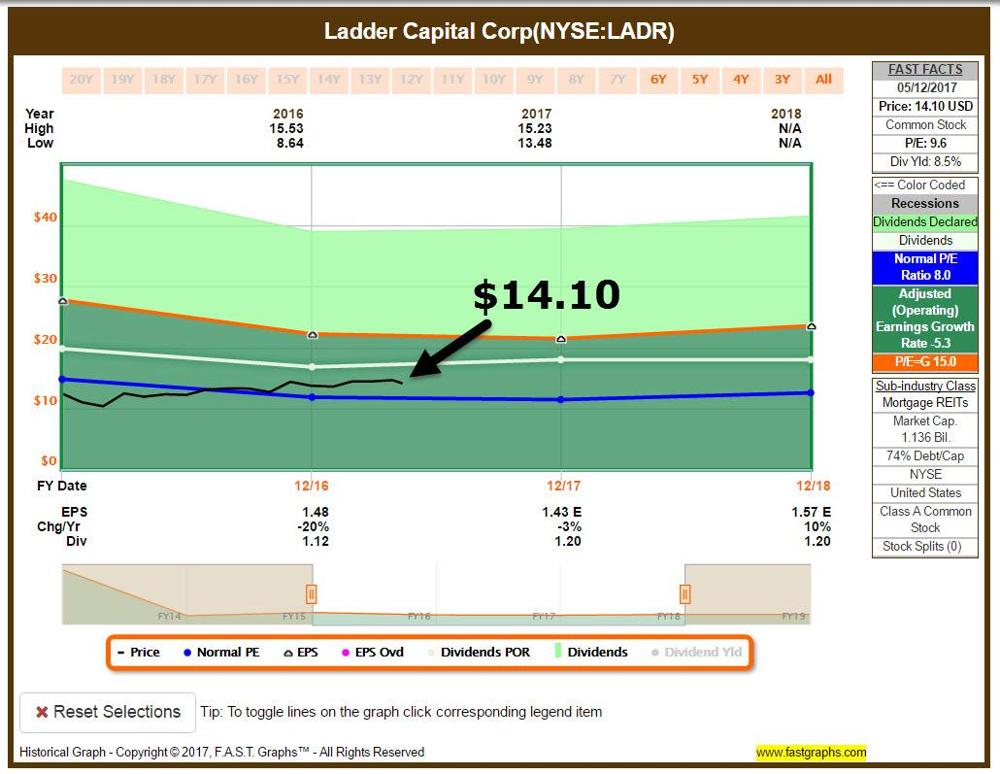 Disclosure: I am on the Advisory Board of NY Residential REIT and I am also a shareholder and publisher on The Maven (OTCQB:MVEN).
Source: F.A.S.T. Graphs and LADR InvestorPresentation.
To get a first look at my upcoming article, "The Evolution of My Durable Income Portfolio," click here. I also include all of my Rhino REIT Ratings in my marketplace product, REIT Beat.
Author Note: Brad Thomas is a Wall Street writer, and that means he is not always right with his predictions or recommendations. That also applies to his grammar. Please excuse any typos, and be assured that he will do his best to correct any errors, if they are overlooked.
Finally, this article is free, and the sole purpose for writing it is to assist with research, while also providing a forum for second-level thinking. If you have not followed him, please take five seconds and click his name above (top of the page).
*Travel Update: I will be traveling from the East Cast to the West Coast on Monday and I will not be able to reply to comments until later in the day.
*Disclosure: I am/we are long APTS, ARI, BRX, BXMT, CCI, CCP, CHCT, CLDT, CONE, CORR, CUBE, DLR, DOC, EXR, FPI, GMRE, GPT, HASI, HTA, IRM, KIM, LADR, LTC, LXP, O, OHI, PEB, PK, QTS, ROIC, SKT, SNR, SPG, STAG, STOR, STWD, TCO, UBA, VER, WPC.
I wrote this article myself, and it expresses my own opinions. I am not receiving compensation for it (other than from Seeking Alpha). I have no business relationship with any company whose stock is mentioned in this article.