Mom Will Love This Commercial Mortgage REIT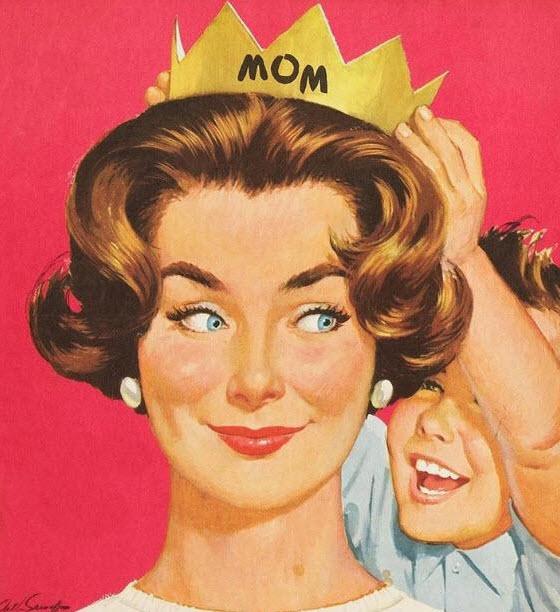 NoahBlacker
Brad Thomas wrote this article and it has appeared previously on Seeking Alpha.
Summary
Mom is not a market timer, when it comes to investing.
I focus on REITs with lasting repeatability.
BXMT maintained its Q1-17 dividend at $0.62 per share, reflecting its estimation of the consistent earnings power of the platform over the medium term.
A few months ago I decided to add Blackstone Mortgage (BXMT) to Mom's Moat-Worthy REIT Portfolio.
Mom is not a market timer, when it comes to investing, she prefers the more stress-free REIT picks, as I explained in a recent article,
While the double-digit dividend income may appear attractive, mom is not a day-trader and she does not have the time to sit on her computer all day monitoring market noise. In addition, mom insists on a stress-free lifestyle, and owning shares in highly leveraged securities does not translate into sleeping well at night.
I added that,
However, mom could benefit from the steady and reliable income generated from a simpler commercial mortgage REIT…
It's now time to peak under the hood of Mom's Commercial Mortgage REIT known as Blackstone Mortgage Trust (BXMT).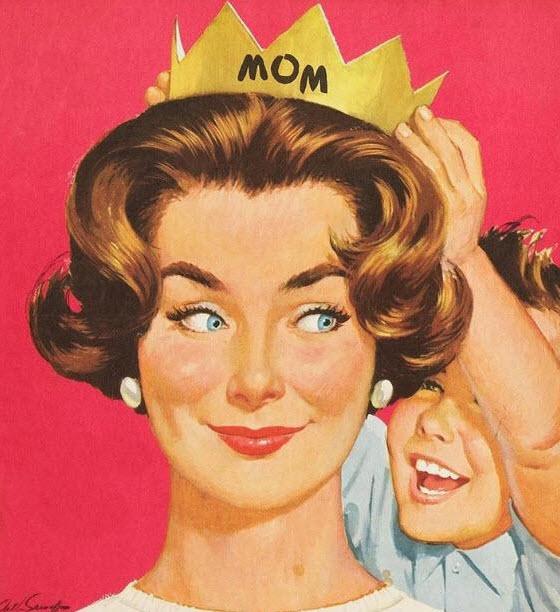 A Simpler Commercial Mortgage REIT
As many of you know, I focus on REITs with lasting repeatability.
As far as I'm concerned, dividend sustainability is the ultimate research metric, and if I'm not comfortable with the durability of the dividend, I won't recommend the stock. So why am I recommending this commercial mortgage REIT?
Economic conditions are sustaining a favorable commercial real estate market as liquidity and fundamentals in the commercial real estate sector are generally in balance. Real estate continues to benefit from limited supply and moderate growth.
The macroeconomic backdrop for commercial real estate fundamentals is sound; fueled by job growth and positive consumer sentiment, real estate operating fundamentals have continued to improve, and supply has been limited in most markets and asset classes. Commercial real estate fundamentals are improving, which further supports the business model for real estate lending.
Reluctance among traditional commercial real estate lenders, coupled with increased transaction volume, creates a compelling lending environment. CMBS and bank lenders are reducing CRE lending activity under regulatory pressure.
BXMT is a REIT that primarily originates and purchases senior mortgage loans collateralized by properties in the U.S. and Europe. The New York-based REIT is managed by Blackstone Real Estate, a world leader in real estate investing with nearly $70 billion of assets under management (or AUM) and over $120 billion of owned real estate.
Around three years ago, Blackstone Mortgage Trust completed an equity offering, raising $660 million in growth proceeds - a strong indication of the growth potential of the simple floating rate senior mortgage business plan. Limited new commercial real estate construction, coupled with modest growth, has led to a more favorable investment environment for senior commercial real estate debt.
BXMT's relationship with the "big brother" (Blackstone Real Estate) offers a huge advantage in which the former's access to proprietary deal flow and property and market information is a valuable differentiator, given the scale of BX's real estate business. (See my previous article on BX HERE).
As part of Blackstone Real Estate, BXMT is uniquely positioned to obtain market leading credit opportunities. The low cost and superior structure of financing enhance the returns on the REIT's loans. Simply said, BXMT's connection to Blackstone Real Estate allows the company to benefit on both sides of the balance sheet. Blackstone Real Estate is a premier debt and equity investment and asset management platform.
BXMT is externally managed (most commercial mortgage REITs are, except Ladder Capital Corp. (NYSE: LADR)), and so, BXMT and BX are essentially the same management team. BXMT's real estate debt people are the originators and asset managers for both BX and BXMT.
BXMT is the senior vehicle, but there are other vehicles at BX, managed by the same team, for different strategies which are not public. BX has access to deal flow, attractive financing terms (where the companies leverage the entire BX relationship with the banks), underwriting/asset knowledge, reputation and brand, etc.
As many of my readers know, I'm normally not a proponent for externally-managed REITs, but BXMT is an outlier.
It charges a 1.5% management fee on equity and a 20% incentive fee on gains above a hard hurdle of 7% (no catch-up gains below that), with a look back. General and administrative expenses (G&A) include management and incentive fees, as well as other G&A expenses for the REIT.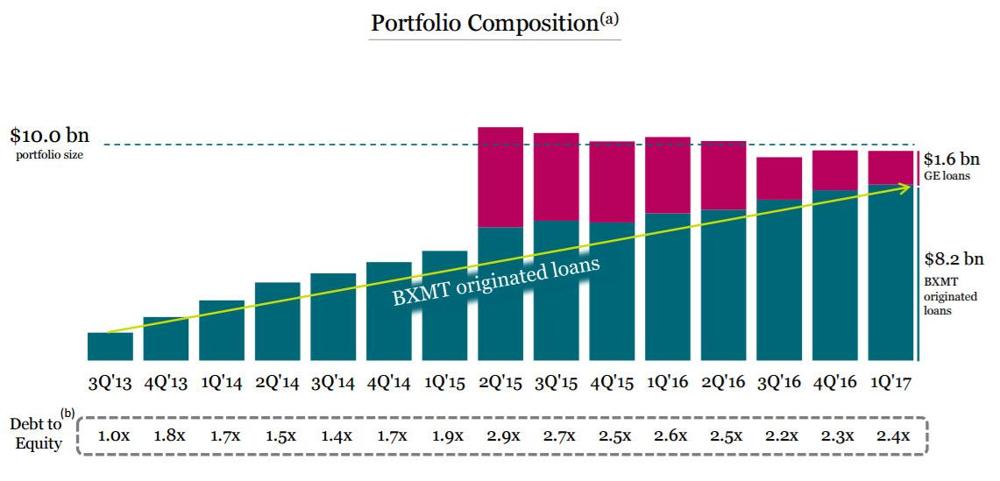 This strong commercial real estate environment, marked by healthy property transaction volume, gives rise to strong borrower demand for transitional capital. BXMT is one of the most elementary commercial REITs that exists. Take a look at its simple balance sheet: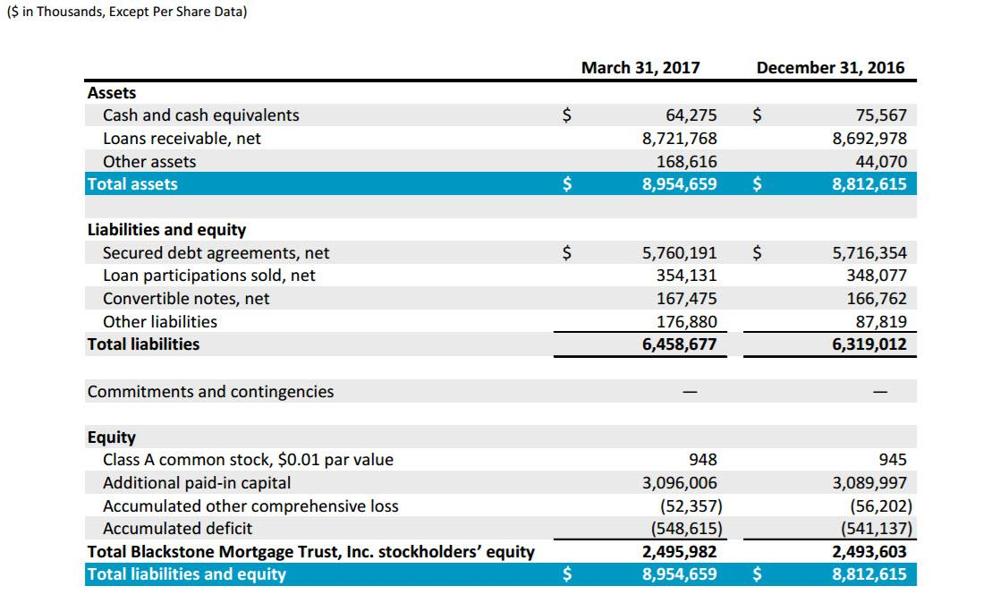 BXMT's short-term floating rate assets benefit from rising short-term interest rates, as their current yields increase with these rates. REIT investors tend to fear rising rates, particularly investors in residential mortgage REITs, where many of the assets are fixed rate, but the liabilities float - but BXMT is different.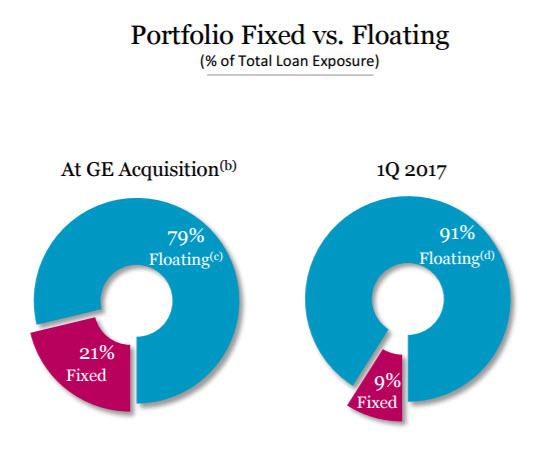 The company's loans are LIBOR-based and insulated from the valuation impact of rising rates. Its credit facilities are also LIBOR-indexed and match fund assets. As a result, equity returns directly benefit from increases in LIBOR. When rates rise in tandem with better economic activity, the real estate underlying the loans will generate higher cash flows.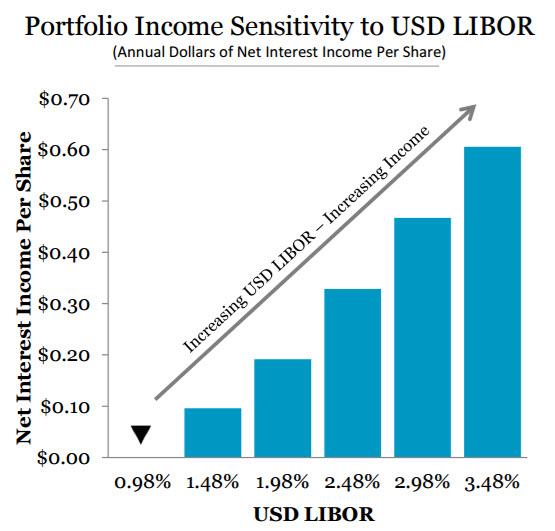 BXMT's larger loan base offers a competitive advantage among the peer group with large loans: BXMT's $161 million avg. size.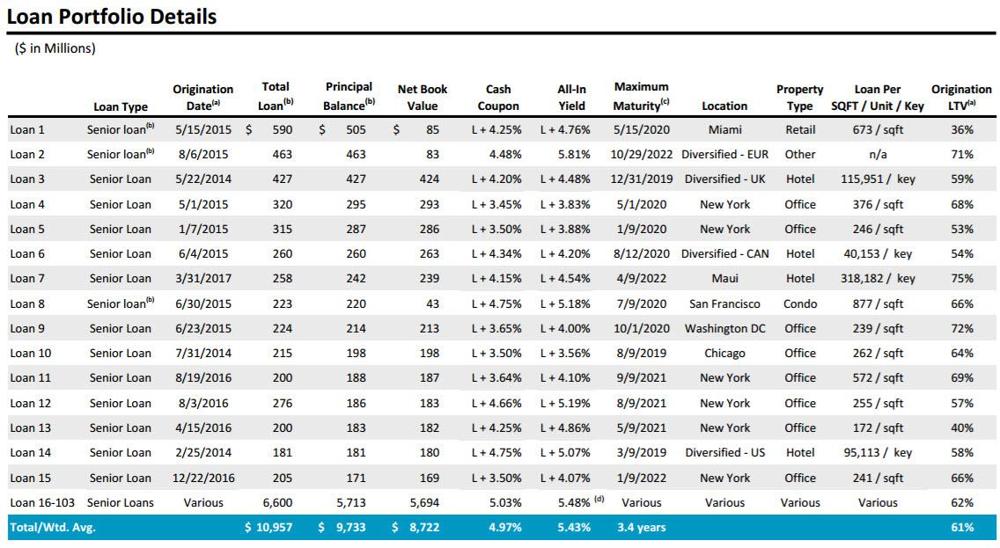 All six loans that BXMT originates in Q1-17 were with repeat sponsors, strong validation of how the company does business from origination through asset management. The origination LTV in BXMT's loan portfolio was 60% for the quarter and declined to 61% overall. The loans are 100% performing.
BXMT's portfolio continues to have no defaulted or impaired loans, and the company does not have any four or five risk-rated loans. The overall portfolio LTV of 60% provides a healthy equity cushion against potential future collateral value declines and demonstrates the overall strong credit profile of the loan book.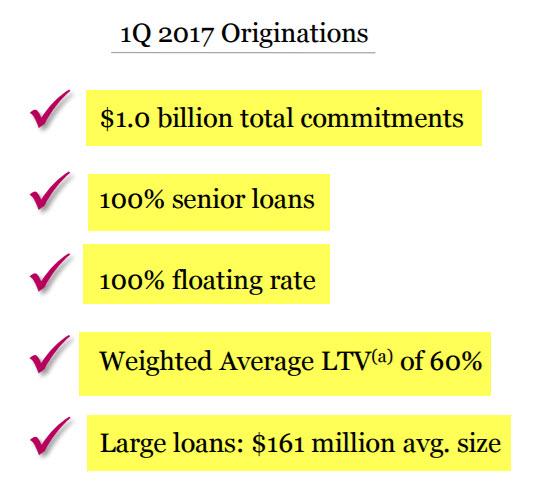 BXMT's business is primarily driven by borrower demand from real estate opportunity and value add funds with senior floating rate transitional loans that the REIT provide.
The fund sponsors are now more actively pursuing opportunities to refinance loans made a few years ago in order to recapitalize asset, extend hold periods, or just access more accretive debt. In addition to the acquisition and refinance loans, during the quarter, BXMT closed two construction loans totaling $348 million. The loans closed in Q1 had an LTV of 46% and a weighted average all-in rate of Libor plus 6%.
Construction lending is a segment of BXMT's business in which the company has benefited from the regulatory climate. The banks used to dominate but are now much more challenged by regulation.
BXMT only pursues loans with best-in-class developers that provide guarantees of completion, greatly reducing the risk of construction. The projects that BXMT has financed to date are primarily office buildings in major markets with low LTVs.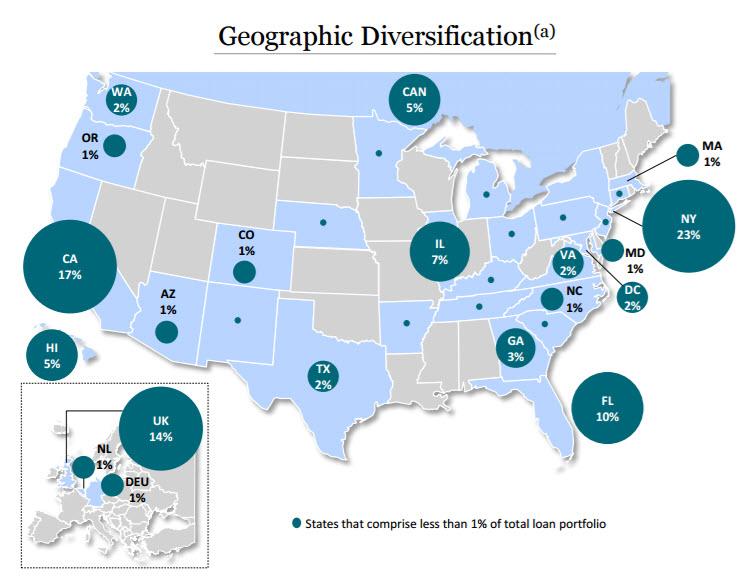 The low basis of the new high-quality building at a 30% to 50% discount to development cost, mitigates the market risk associated with lease up. BXMT's construction loans (like all of portfolio assets) are managed by an experienced high quality loan asset management team.
The Balance Sheet
As noted above, BXMT has stayed true to its senior mortgage platform because it is the best value proposition for capital. Unlike other peers (i.e., Starwood Property Trust (NYSE: STWD) and LADR), the company's earnings are not predicated upon trading or securitization activities.
It has not bought CMBS, high-risk mezzanine loans, preferred equity positions or otherwise moved out on the credit curve.
So, even with CMBS spreads blown out and the CRE securitization market barely functioning, BXMT has continued to produce strong results because of its singular focus on originating senior mortgage loans efficiently financed to maximize ROI.
In Q1-17 BXMT had another strong quarter, the company upsized the credit facilities by $1.1 billion and is taking total asset level financing capacity to $10.1 billion.
Post quarter end, BXMT doubled the size of its corporate swing line to $250 million and improved its terms. The swing line expends the capacity to execute on bigger loans without carrying excess liquidity or requiring a simultaneous senior execution.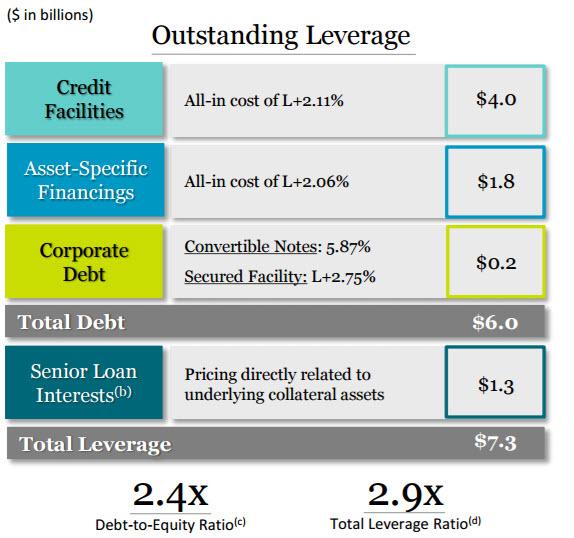 When BXMT grows debt capacity, it does not compromise on structure and credit continues to be longer-term, match funded and without capital market's mark-to-market provisions.
BXMT closed the first quarter with a debt-to-equity ratio of only 2.4x, consistent with its ratio of 2.3x as of 12/31 with a slight uptick in net borrowings to fund loan origination during the quarter.
Another Predictable Quarter
Looking at first quarter results, BXMT reported GAAP net income of $0.54 per share and generated core earnings of $0.61, down $0.01 from Q4-16. This slight decline was primarily a result of the particular timing of loan originations and repayments during the quarter.
Although the overall origination volume was positive, the majority of these loans close late in the quarter, outstanding for only about one month on average, while repayments happen to fall primarily in the first half of the quarter.
All else equal, BXMT closed the entire $1 billion of loans earlier in Q1-17, the company would have generated an additional $0.01 to $0.03 of core earnings for the quarter.

BXMT also maintained its Q1-17 dividend at $0.62 per share, reflecting its estimation of the consistent earnings power of the platform over the medium term. Here's a snapshot of the dividend history: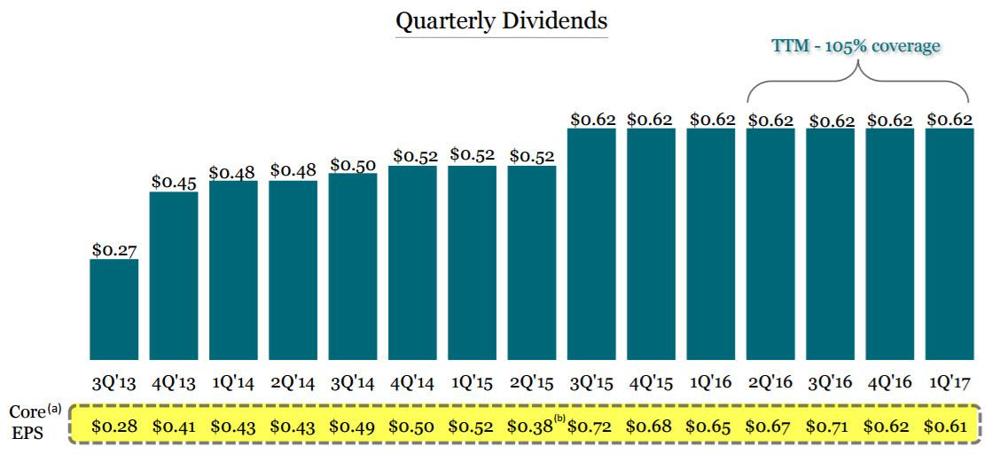 Maintaining a BUY on BXMT
Here's how BXMT compares to the peer group:

As you can see, BXMT is trading at 11.7 P/EPS with a dividend yield of 8.10%. In terms of safety, I consider BXMT's dividend yield to be one of the safest in the Commercial Mortgage REIT sector. The targeted floating rate portfolio should bolster earnings during rising rates (a 100 bp increase in USD Libor generates approximately $.19 per share annually).
Also, the modest loan-to-value (60%) underwriting standards and superior loan portfolio provide my mom and I the ultimate in terms of safety, and that's why my mom and I enjoy owning this Commercial Mortgage REIT, it's simply stress-free.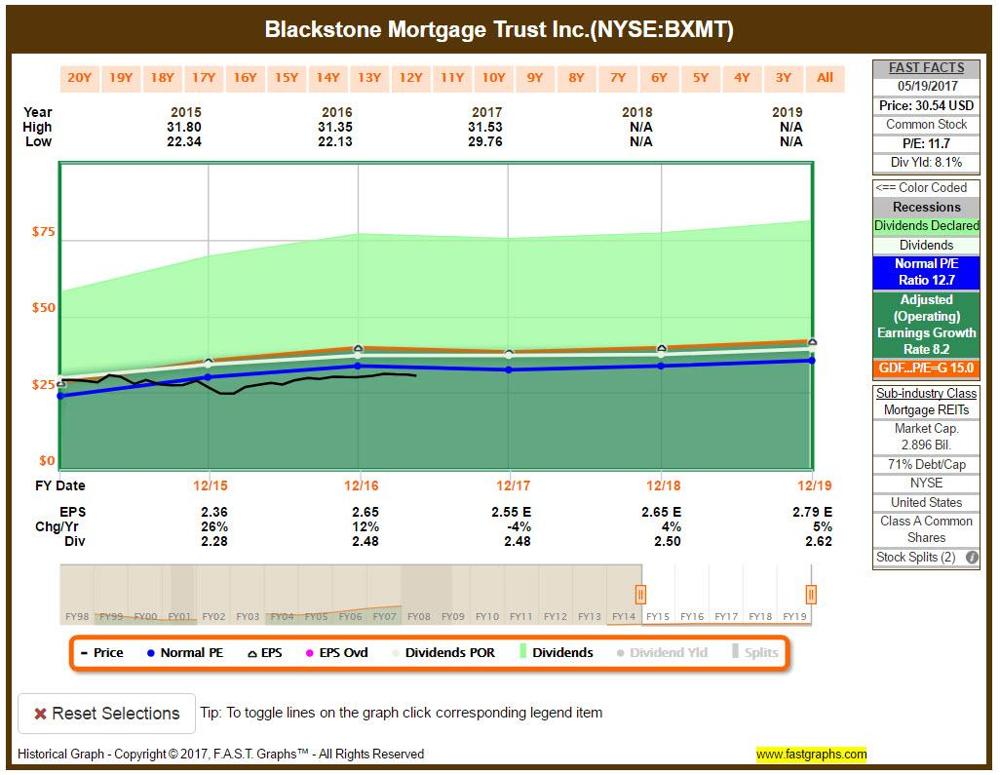 Note: I will be attendingReCon today and I cannot return emails until later in the day.
Disclosure: I am on the Advisory Board of NY Residential REIT, and I am also a shareholder and publisher on theMaven (OTCQB:MVEN).
Source: F.A.S.T. Graphs and BXMT Investor Presentation.
To get a first look at my upcoming article, "The Evolution of My Durable IncomePortfolio", click here. I also include all of my Rhino REIT Ratings in my marketplace product, REIT Beat.
Author Note: Brad Thomas is a Wall Street writer, and that means he is not always right with his predictions or recommendations. That also applies to his grammar. Please excuse any typos, and be assured that he will do his best to correct any errors if they are overlooked.
Finally, this article is free, and the sole purpose for writing it is to assist with research, while also providing a forum for second-level thinking. If you have not followed him, please take five seconds and click his name above (top of the page).
Disclosure: I am/we are long APTS, ARI, BRX, BXMT, CCI, CCP, CHCT, CLDT, CONE, CORR, CUBE, DLR, DOC, EXR, FPI, GMRE, GPT, HASI, HTA, IRM, KIM, LADR, LTC, LXP, O, OHI, PEB, PK, QTS, ROIC, SKT, SNR, SPG, STAG, STOR, STWD, TCO, WPC.
I wrote this article myself, and it expresses my own opinions. I am not receiving compensation for it (other than from Seeking Alpha). I have no business relationship with any company whose stock is mentioned in this article.
Editor's Note: This article covers one or more stocks trading at less than $1 per share and/or with less than a $100 million market cap. Please be aware of the risks associated with these stocks.