One Smart Way To Invest In Smartphones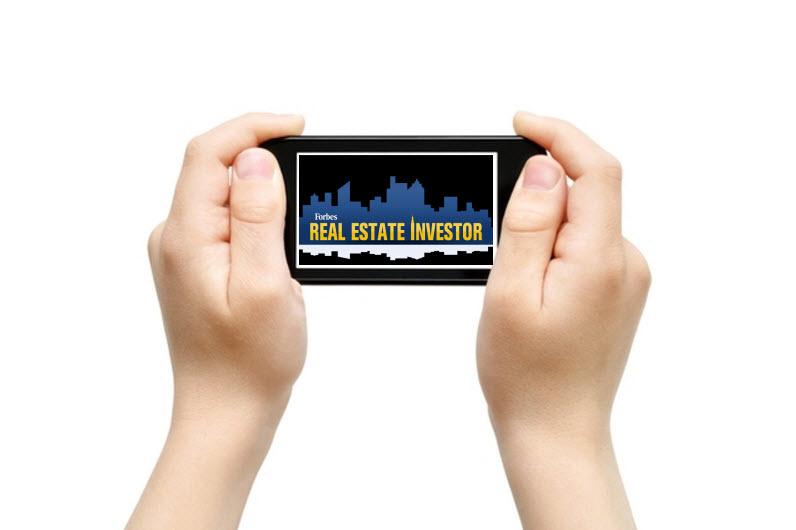 NoahBlacker
Brad Thomas wrote this article and it has appeared previously on Seeking Alpha.
Summary
The "communication" REITs boast stronger organic growth rates compared to other REIT peers.
The average Total Return for all 9 "communication" REITs is 15.6% YTD.
As long as my kids use a smartphone, there will be demand for "smartphone REITs".
There is no little doubt that AMT is the best-in-class Cell Tower REIT.
Last week I wrote a Forbes article called Investing In This Explosive REIT Sector, and I explained that "it's important to maintain a tactical approach to wealth creation." I went on to suggest that "one sector that I am most bullish is the "communications" category, that includes Data Center REITs and Cell Tower REITs.
Although the more traditional "brick and mortar" REITs are exposed to a variety of economic risks, the "communication REITs boast stronger organic growth rates compared to other REIT peers, with elevated demand prospects that are decoupled from broader macro-economic factors such as inflation and GDP."
I have covered the Data Center sector extensively on Seeking Alpha: Digital Realty (DLR), CorSite Realty (COR), CyrusOne (CONE), and QTS Realty (QTS). I plan to write on Dupont Fabros (DFT) and Equinix (EQIX) in a few days (as soon as I finish my monthly newsletter).
I have also covered the Cell Tower sector, here's my latest article on Crown Castle (CCI). In addition, I wrote my first article yesterday on OUTFRONT Media (OUT), an interesting REIT that invests in billboards and is adding cell tower revenue to its platform.
As evidenced below, the Communication REITs have out-performed in 2017, and the performance validates the fact that I endorsed an over-weight for Data Center and Cell Tower REITs at the beginning of the year. The average Total Return for all 9 REITs is 15.6% YTD.

Currently I own shares in several of these REITs, including CONE (+22.2%), DLR (+16%), CCI (+11.5%), and QTS (+7.5%) – the average YTD return for these holdings is 16.5% (weighted average).
I see no reason for these REITs to slow down, and I am considering increasing my exposure. As referenced above, these REITs "boast stronger organic growth rates" and I see no reason to believe that the macro-economic news will disrupt the steady flow of dividend income. As long as my kids use a smartphone, there will be demand for smartphone REITs (aka Cell Tower REITs).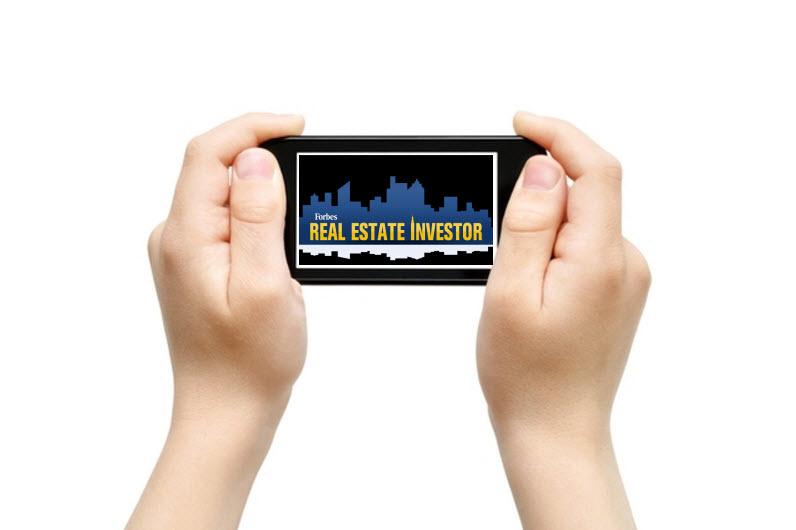 I Know When That Hotline Bling, This REIT Says Ka-Ching Ka-Ching
It's been a while since I wrote on American Tower (AMT), my last article was published in March 2016. I was hoping for a pullback, but the market would not wait, since my article shares have returned over 24%.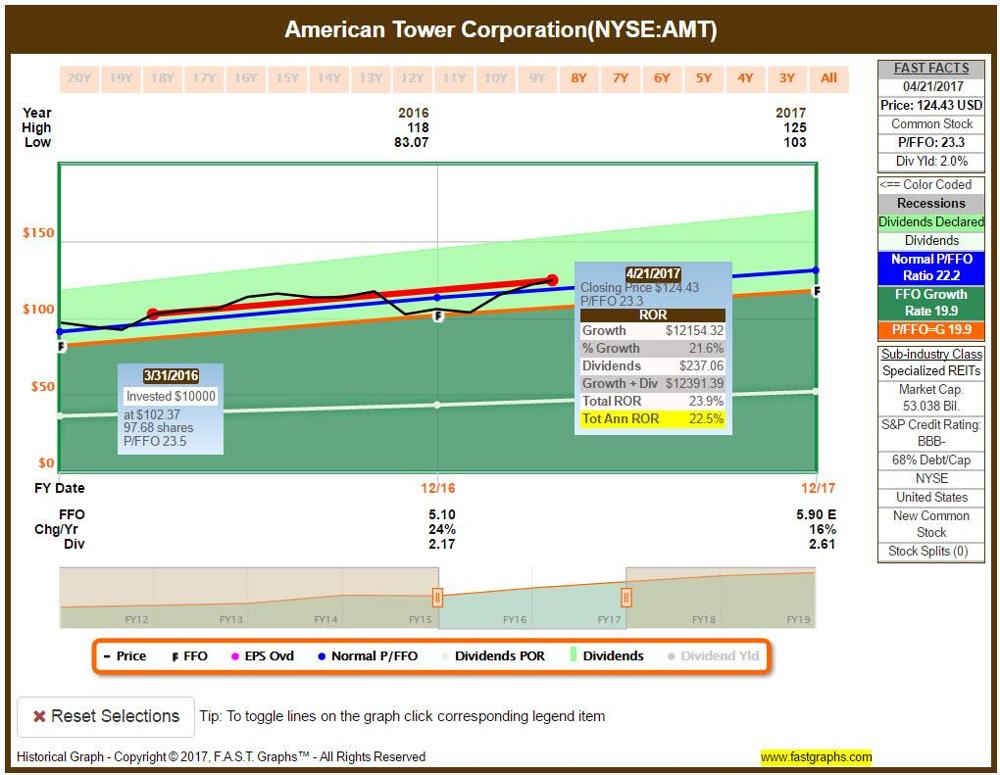 Founded in 1995, AMT is the fastest-growing player in the world of telecommunications infrastructure. The Boston-based company started out as a subsidiary of American Radio and expanded operations in Mexico, Brazil. India, Chile, Colombia, Peru, Ghana, and South Africa.
The company announced its intentions to become a REIT in 2010, and after obtaining a private ruling letter from the IRS, the company officially converted to a REIT in January 2012. In the same year, AMT reached a historic milestone of 50,000 communication sites (and also launched operations in Uganda and Germany).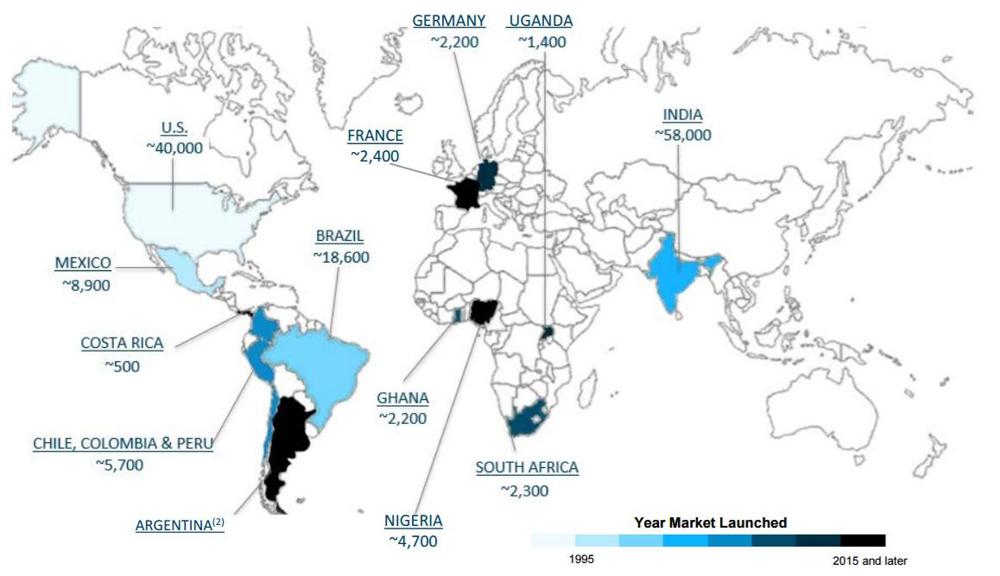 AMT's direct peer, CCI, was a few years late to the REIT game as the company opted to delay the change until it had exhausted all of its net loss carryovers (an accounting adjustment that allows companies to use past operating losses to offset current tax obligations). CCI began operating as a REIT on January 1, 2015 and the company owns, operates and manages approximately 40,151 towers in the United States.
AMT has a market cap of around $53 billion and CCI has a market cap of around $34.5 billion; combined, these two REITs are approximately the same size as the dominating mall REIT, Simon Property Group (NYSE:SPG), with a market cap of around $75 billion.
CCI invests solely in the US (40,151 towers) and AMT invests globally (147,000 sites in 15 Countries).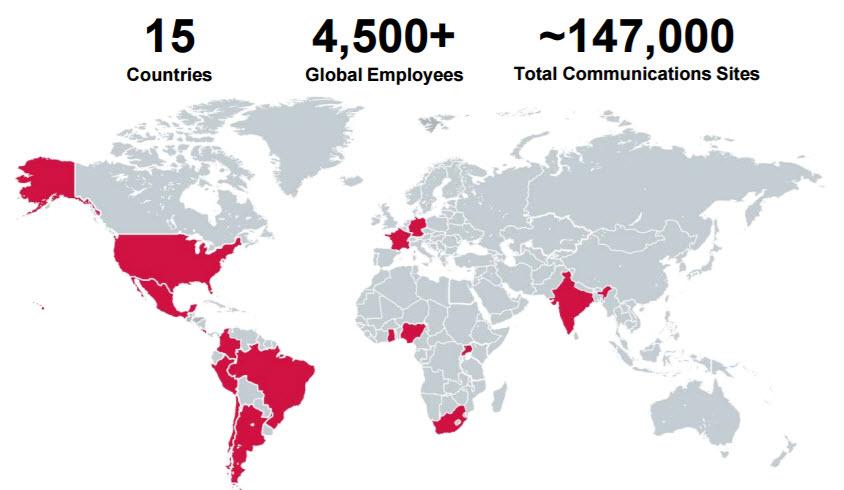 Tapping Into Less Mature Wireless Markets
As you can see below, AMT's global scale allows the company to benefit from the global demand in cell tower use.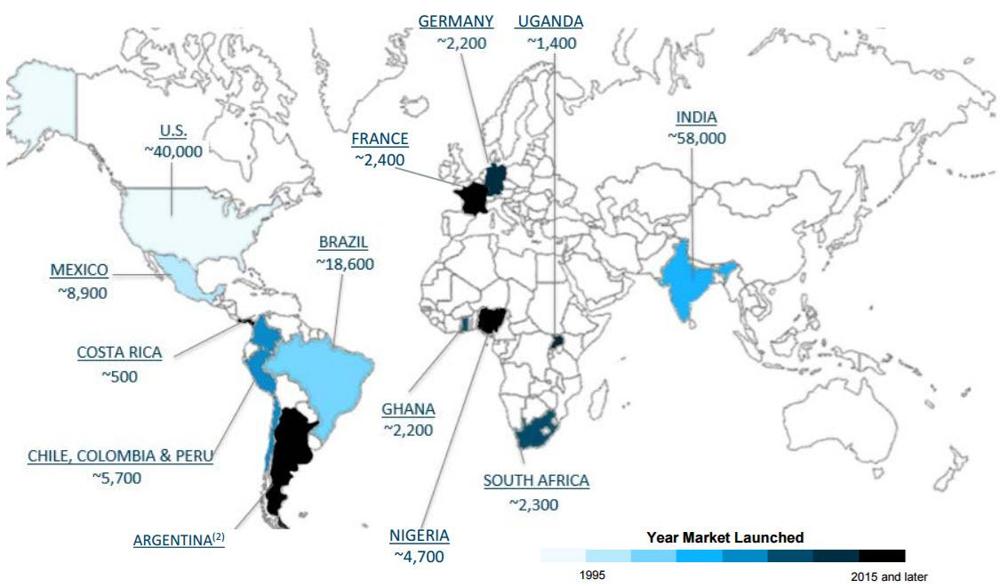 As illustrated below, International markets are poised for Smartphone Growth: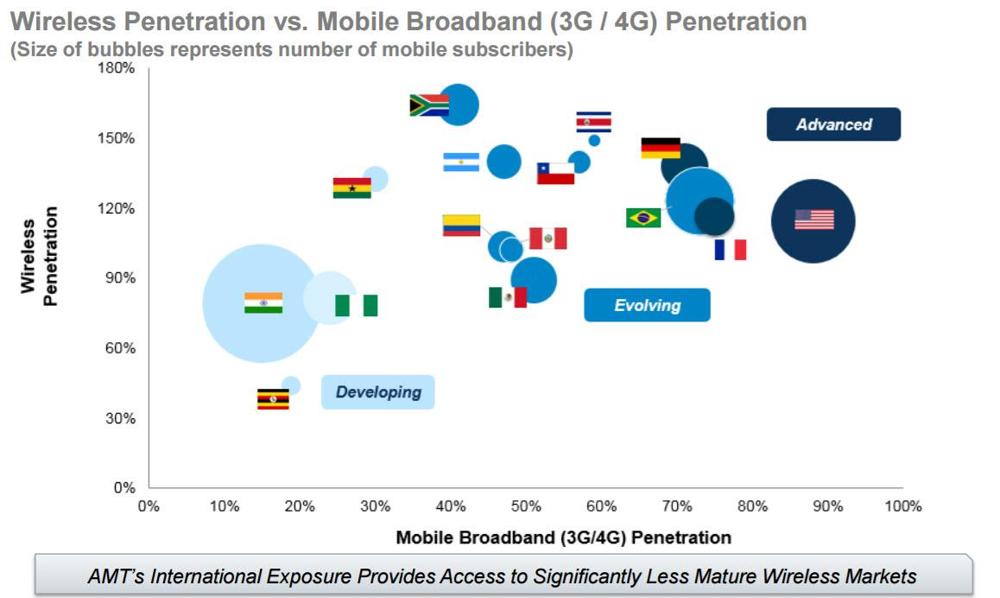 Lower Cost Smartphone availability is increasing. Emerging markets consumers can now get 70% of a high end smartphone for 30% of the cost. Increasing availability of cheaper Smartphones in Emerging Markets should fuel increased Mobile Data Use.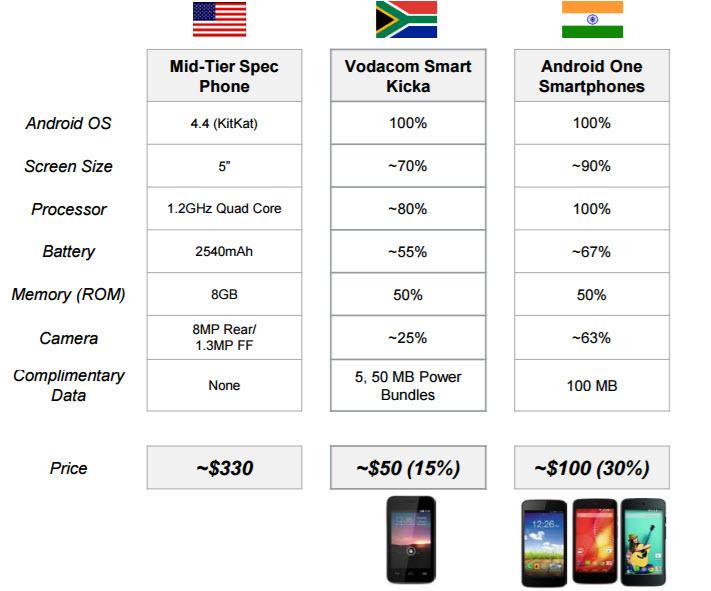 The Growth Machine
AMT is entering 2017 with a tremendous amount of financial flexibility. During 2017, the company expects to generate cash from operations in excess to the $2.7 billion. AMT has around $900 million in incremental debt capacity to maintain current leverage levels.
AMT expects to have more than $3.5 billion available to deploy during 2017; applying 20% growth rate to the 2016 common stock dividend results in a projected payout of $1.1 billion in 2017. Here's a snapshot of AMT's debt maturities:

As you can see, maturities are well-balanced and the cash flow being generated is considerable. AMT has a strong track record of growth in Key Financial Metrics, complemented by growing dividend and increasing ROIC. The company has grown ROIC to nearly 10% while generating ~25% annual dividend per share growth since 2012.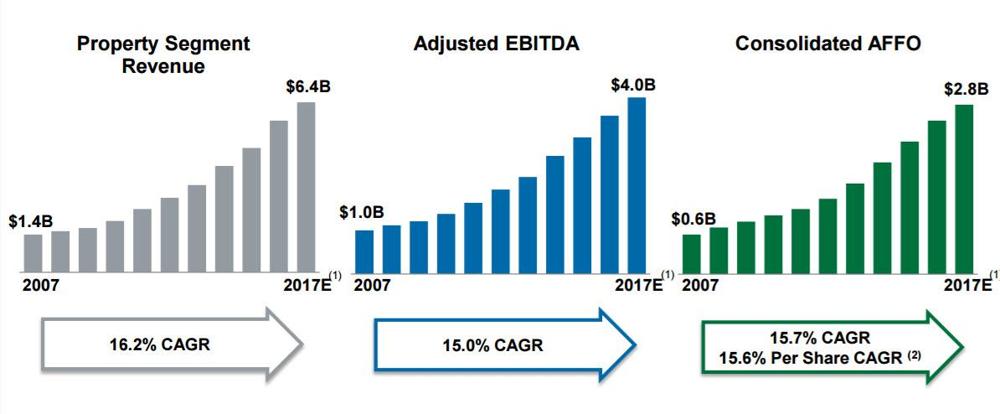 AMT has generated double-digit consolidated AFFO and AFFO per share growth for the ninth consecutive year. Consolidated AFFO grew by nearly 16% and AFFO per share grew by over 14% to $5.80, while AFFO, attributable to common stockholders, grew over 13% or nearly 12% on a per share basis.
On the latest earnings AMT said that it expects adjusted EBITDA to grow by about 9% for the year. Cash SG&A as a percentage of total revenue is expected to be under 8%, despite adding France and Argentina to the footprint, as well as increased spending on IT system upgrades in the U.S.
The company expects consolidated AFFO per share in 2017 to be $6.40 at the midpoint of outlook. On the latest earnings call, AMT's CEO explained,
Going forward, we will strive to extend this combination of double-digit annual consolidated AFFO per share growth and ongoing dividend growth. And thereby believe our business is positioned to support an attractive total return for our shareholders for many years to come.
Most importantly, AMT has increased its dividend by an average of nearly 25% per year since it was introduced in 2012. In total, the company has returned more than $3 billion to shareholders through the dividend in the last four years. Ka-ching, Ka-ching!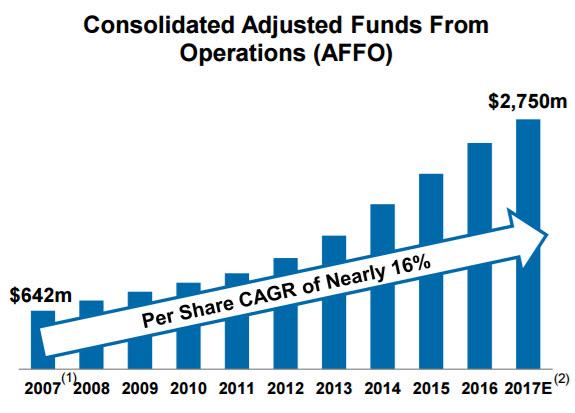 One Smart Way To Invest In Smartphones
Nothing has changed since my last article on AMT, I still cover shares in this global Cell Tower REIT. I am now plugged into the cell tower industry, as my daughter reports from CBNC. In an article last week she explains that "Verizon said it completed its acquisition of XO Communications' fiber assets earlier this year, part of its plan to expand its cell network." She referenced this quote from Verizon's CFO,
We are committed to remain the largest and most reliable 4G network ... As part of the densification, we are deepening our fiber assets as seen by the XO transaction" and continuing to focus on "organic" growth, for now.
There is no little doubt that AMT is the best-in-class Cell Tower REIT, offering a more diverse revenue platform, and broader runway for growth. Here's how the dividend yield compares with CCI: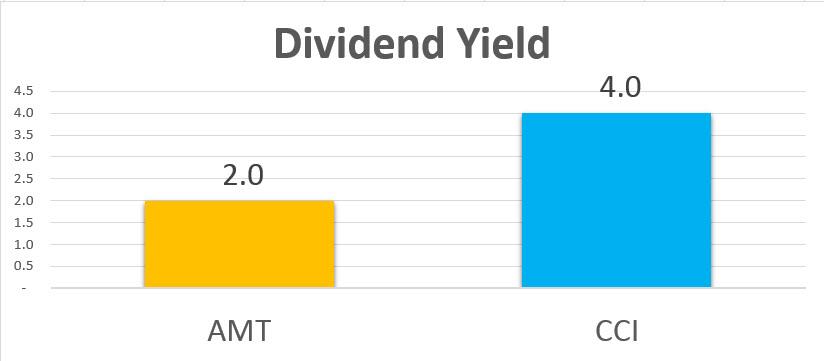 Now let's compare the P/FFO multiple:

Clearly, CCI is the less expensive Cell Tower REIT, based on dividend yield and P/FFO. Let's compare their earnings (or FFO) growth:

AMT's Payout Ratio is 44% compared with 85% for CCI. This suggests that AMT's dividend is safer and the company has more capacity to grow its dividend over time. It also suggests that AMT is likely to receive a credit upgrade (both are BBB-) before CCI.
I know, the title to my article is somewhat misleading, there is really nothing smart about investing in AMT at current levels. I think the smartest way to invest in AMT today is to wait for a pullback, I just can't tell when that will happen.
So perhaps the best way to invest in smartphones is to follow my daughter on CNBC. She provides terrific content on the communications sector and you can follow her on twitter (@laurenthomasx3). That's free advice too!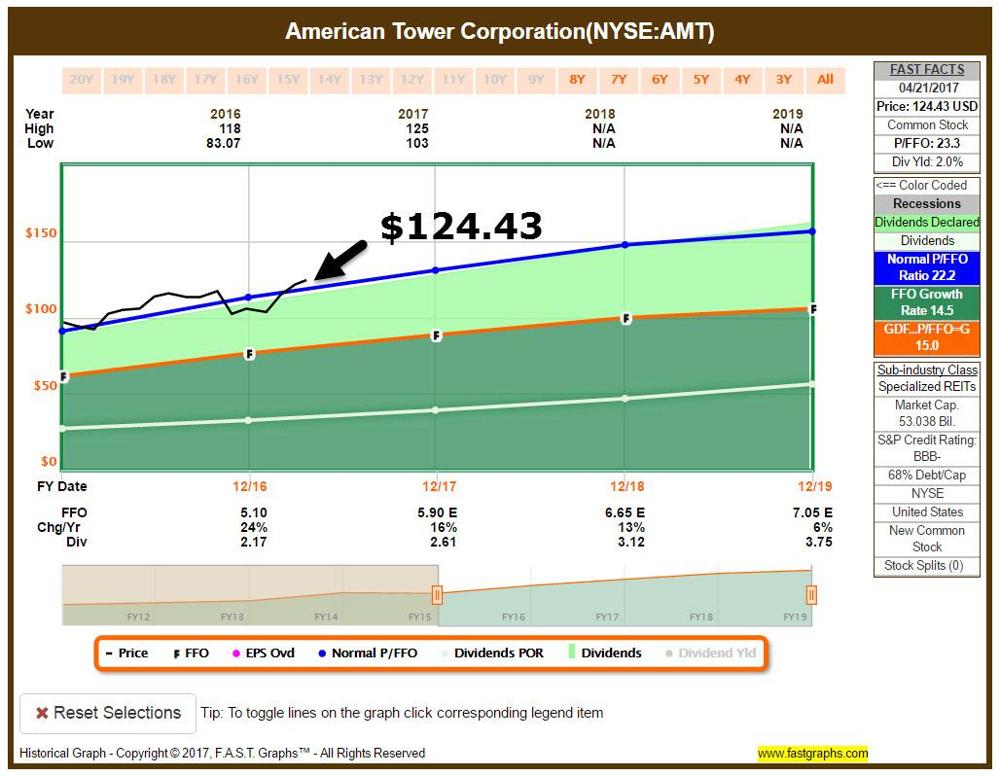 You can view all of my Rhino REIT Ratings by subscribing to REIT Beat here.
Author Note: Brad Thomas is a Wall Street writer, and that means he is not always right with his predictions or recommendations. That also applies to his grammar. Please excuse any typos, and be assured that he will do his best to correct any errors, if they are overlooked.
Finally, this article is free, and the sole purpose for writing it is to assistwith research, while also providing a forum for second-level thinking. If you have not followed him, please take five seconds and click his name above (top of the page).
Source: F.A.S.T. Graphs and AMT Investor Presentation and Q4 Supplemental.
Disclosure: I am/we are long APTS, ARI, BXMT, CCI, CCP, CHCT, CLDT, CONE, CORR, CUBE, DLR, DOC, EXR, FPI, GMRE, GPT, HASI, HTA, KIM, LADR, LTC, LXP, O, OHI, PEB, PK, QTS, ROIC, SKT, SNR, SPG, STAG, STOR, STWD, WPC.
I wrote this article myself, and it expresses my own opinions. I am not receiving compensation for it (other than from Seeking Alpha). I have no business relationship with any company whose stock is mentioned in this article.