Pebblebrook Is 'Movin' On Up'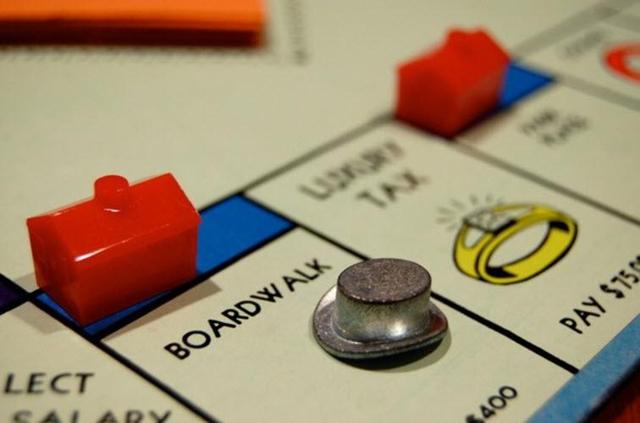 NoahBlacker
Brad Thomas wrote this article and it has perviously appeared on Seeking Alpha.
Summary
Back in March, I decided to take advantage of Pebblebrook Hotel Trust's mispricing by picking up more shares in my Durable Income Portfolio.
Pebblebrook has returned over 25% in just 90 days.
The REIT's strategic plan was "spot on," and that is quite simply why the market has rewarded investors.
​
​
In March, I wrote an ++article++ on Pebblebrook Hotel Trust (NYSE:++PEB++), and I suggested that "you should always buy Boardwalk, especially when the price is right."
My BUY recommendation was based on PEB's "substantial discount," and I explained that "I expect the performance to improve in 2017 as the lodging environment continues to reset."
Of course, I was using the Monopoly example when I was referring to "buying Boardwalk," one of the most desired properties on the famous board game. I have always enjoyed playing Monopoly as a means to test my real estate skills against other players. I summed up my March article as follows:
... when You Land On Boardwalk, You Should Buy It.
​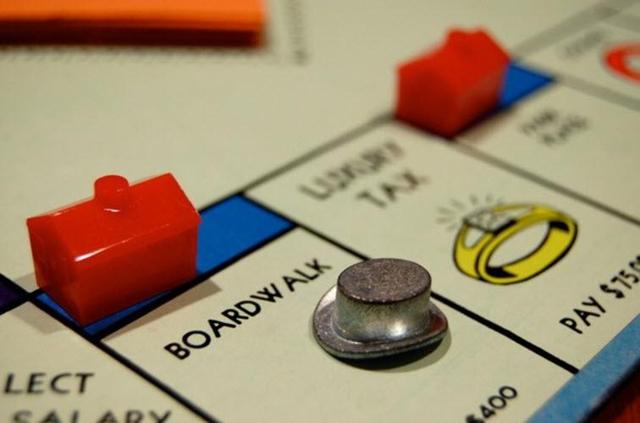 ​
As many of my followers know, I spend a lot of time of researching REITs as means to deliver above-average returns. Back in March, I decided to take advantage of PEB's mispricing by picking up more shares in my Durable Income Portfolio. Here's how that has worked out:
​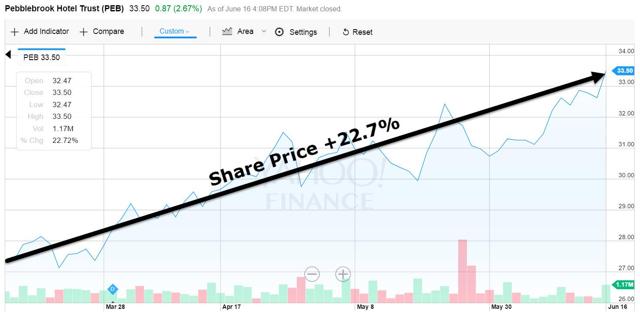 ​
Including dividends, the stock has returned over 25% in just 90 days, well ahead of my Total Return forecast for 2017 of 24%.
Clearly, PEB has done a superior job at managing risk in the Lodging sector, as evidenced by the snapshot below:
​

​
So, was I just lucky, or did I pick a real gem that was on sale?
Why is Pebblebrook So Special?
Most hotel landlords were hit hard during the Great Recession; however, PEB dodged the disaster, as the Maryland-based hotel REIT launched its IPO at the end of 2009.
The timing could not have been better (for PEB), as the Great Recession had a major impact on the performance of hotels, with the average hotel's cash flow declining by 50% between 2008 and early 2010.
But PEB took advantage of the financial collapse by raising $400 million in an IPO that was the genesis of a premier Lodging REIT that now owns 28 high-quality hotels with 6,970 guestrooms.
​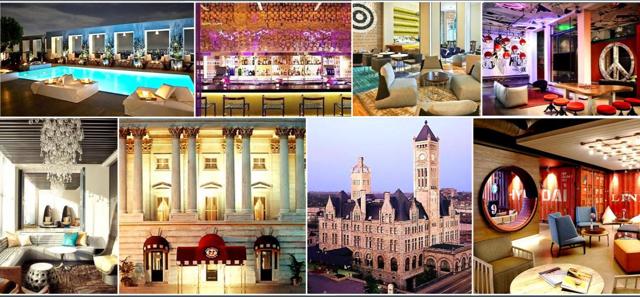 ​
It's important to recognize that PEB has "no legacy assets," and the company was able to acquire hotels operating significantly below comparable operating margins. This presents substantial margin expansion opportunities.
The company's hotels are located in major U.S. gateway cities like San Francisco, West Los Angeles, Seattle, Portland, Boston, Washington, D.C., and Miami. Currently, it has properties in 13 major urban markets, with 13 different operators. Around 66% of 2017F Hotel EBITDA came from West Coast Properties.
​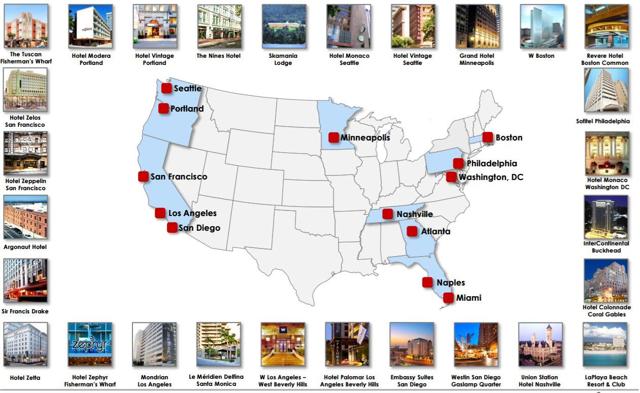 ​
Here's a snapshot (below) that illustrates PEB's geographic diversification. As you can see, San Francisco (24%), Los Angeles (16%) and Portland (13%) are the top markets:
​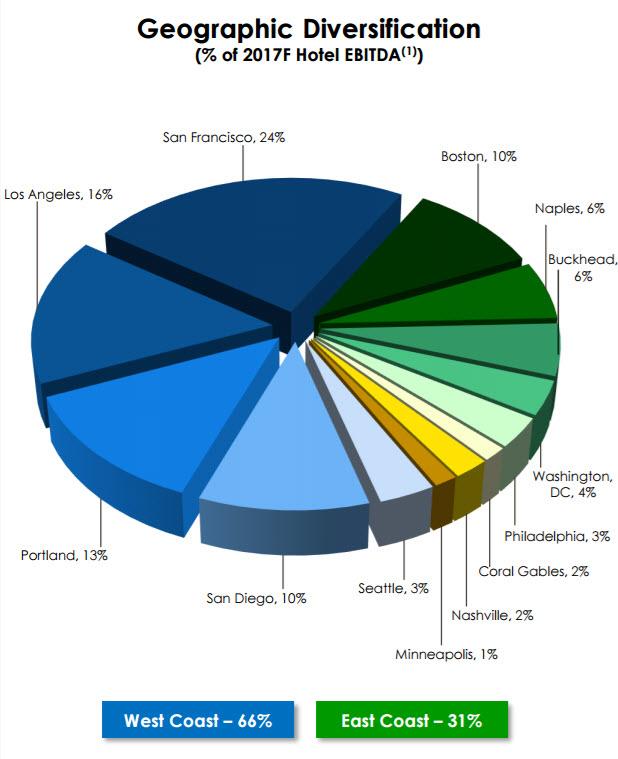 ​
Pebblebrook focuses on acquiring assets that are broken, either operationally or physically, and then utilizing its expertise, in collaboration with the expertise of the operators, to fix the problems and significantly improve the performance of the hotel, thus creating significant value for shareholders.
As you can see below, around 58% of its operators are independent, and 42% represent major brands (like Kimpton, Viceroy, etc...) Here's a snapshot of the company's operators:
​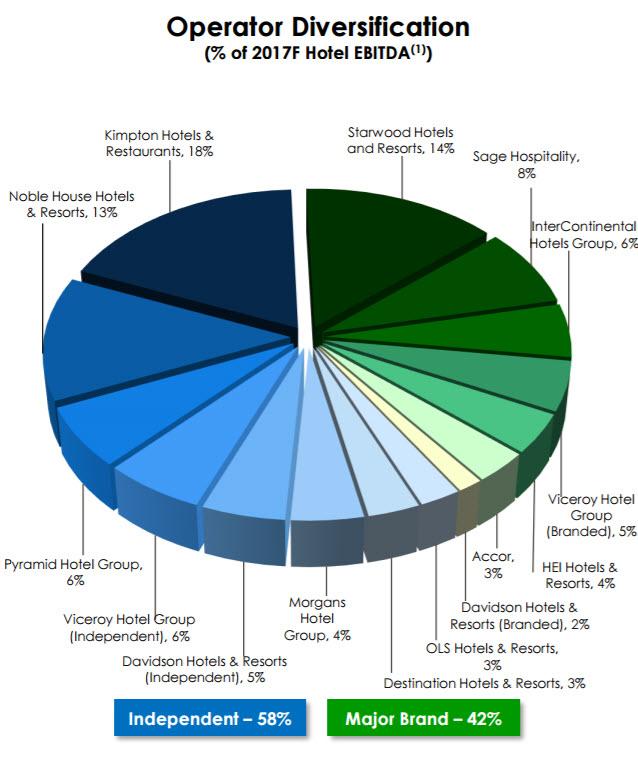 ​
PEB was able to exit the NYC market (6-hotel collection) before the weakness in that trade area. PEB exchanged an interest in a 49% JV with the Denihan Hospitality Group. It was a strategic decision by PEB to exit the Manhattan market with continued increases in new hotel supply and declining operating performance.
This pivot demonstrates management's willingness to recognize mistakes, take losses and reallocate capital in a timely manner. I am actually writing this article from The Benjamin Hotel, one of the six hotels that PEB sold to Denihan.
​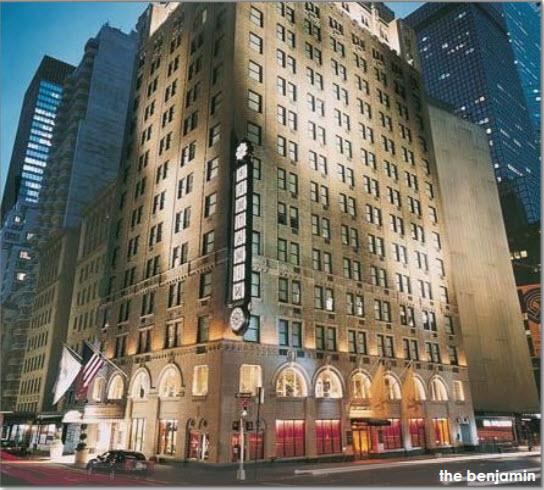 ​
On the ++recent earnings call++, PEB's CEO, Jon Bortz, explained:
"The New York market continues to be under stressed from too much supply growth and relentless labor and real estate tax increases and we'll look for a better opportunity to invest again in New York City whenever the new cycle begins."
Since its IPO, the company has acquired 37 properties and sold, or has contracted to sell, 4 properties in addition to other investment sales. Here's a timeline of the evolution of PEB:
​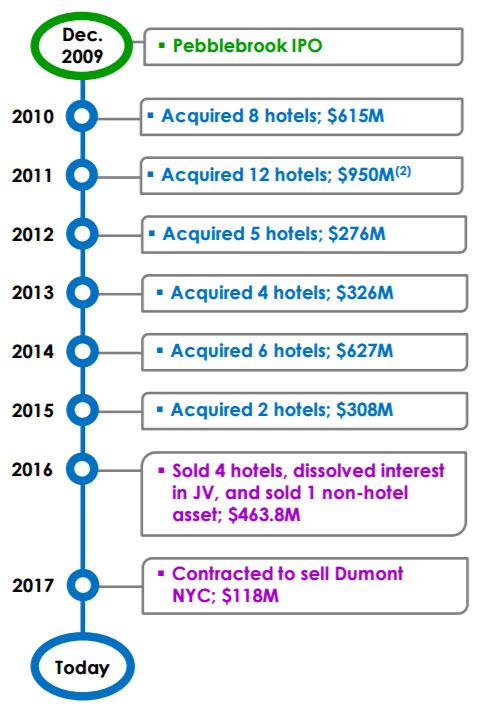 ​
As you can see, the REIT is selling (in late June) the Dumont Hotel in Manhattan in 2017. PEB had acquired the hotel in 2011, and it was able to sell the property for $118 million, representing an exceptionally low cap rate of 3.5%.
Assuming the Dumont sale is completed, PEB will have sold a total of $581.8 million of property at an average trailing 12-month NOI cap rate of 4.1% and an average trailing 12-month EBITDA multiple of 19.7x. In other words, this proves that the company is not only good at buying, but also selling, at the right time. Here's a list of dispositions:
​

​
Defining Pebblebrook's Experiential Redevelopment Process
PEB's experiential redevelopments are often extensive, evolutionary and have historically driven outsized growth and returns. Assuming a 14x EBITDA multiple, total invested capital in experiential redevelopments of $194.0 million is forecasted to create $27.0 million of incremental Hotel EBITDA and $184.0 million of incremental value above the investment amount.
​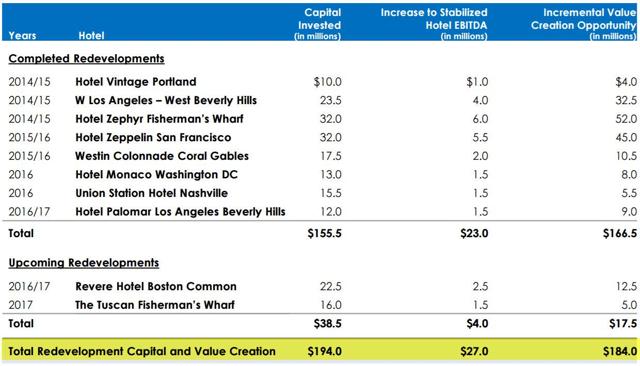 ​
Major redevelopments and operating efficiency implementation through year-end 2017 have and are projected to assist in producing $64.3 million of incremental Hotel EBITDA at a 24% implied yield.
​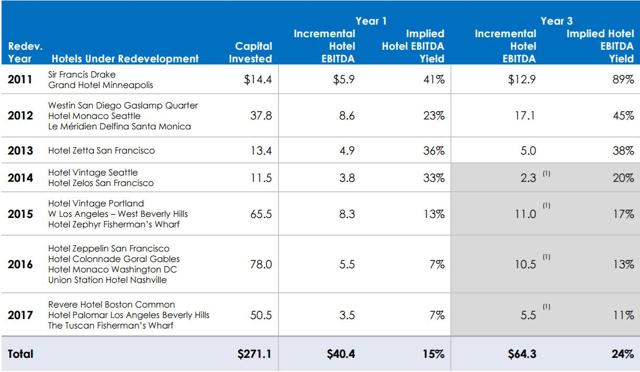 ​
Note: I stayed at the Sir Francis Drake a few years ago, and I was most pleased with the visit.
Here is the impact of value creation opportunities on PEB's valuation. As you can see, the stabilized EBITDA multiple is materially below the long-term average premium to the peers:
​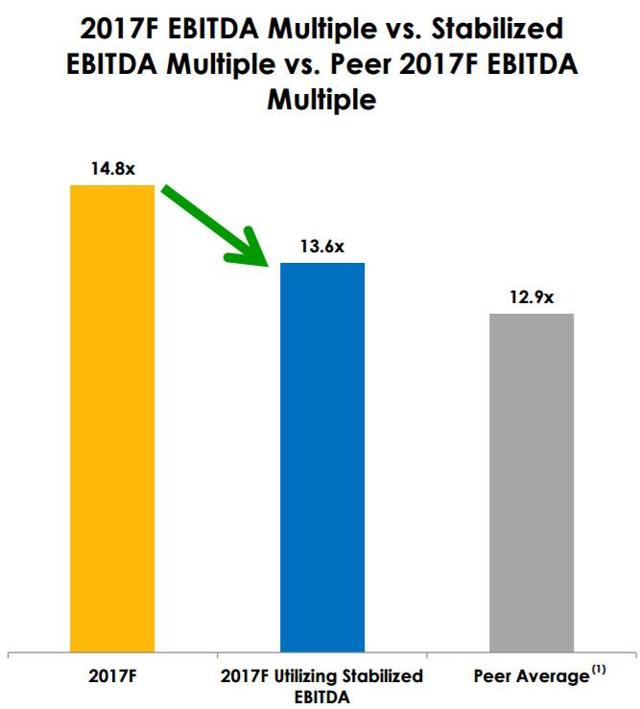 ​
There is significant upside opportunity from prior RevPAR underperformance due to capital deprivation, foreclosure, receivership and lack of asset management or poor positioning by prior ownership.
​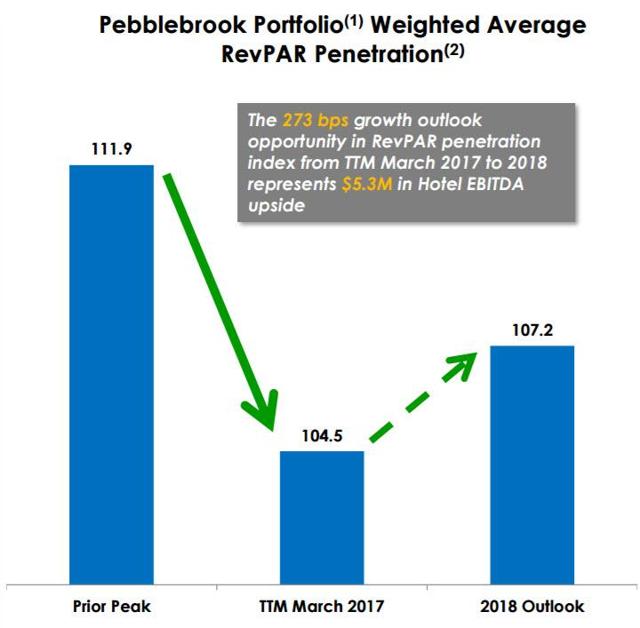 ​
Just look at PEB's EBITDA margin (below). As you can see, the company has made relentless improvements to operating efficiencies. The Same-Property EBITDA margin differential between PEB and LaSalle Hotel Properties (NYSE:++LHO++) reduced by 145 bps in 2011, 150 bps in 2012, 69 bps in 2013, 161 bps in 2014, 30 bps in 2015 and 19 bps in 2016 - for a total of 574 bps.
​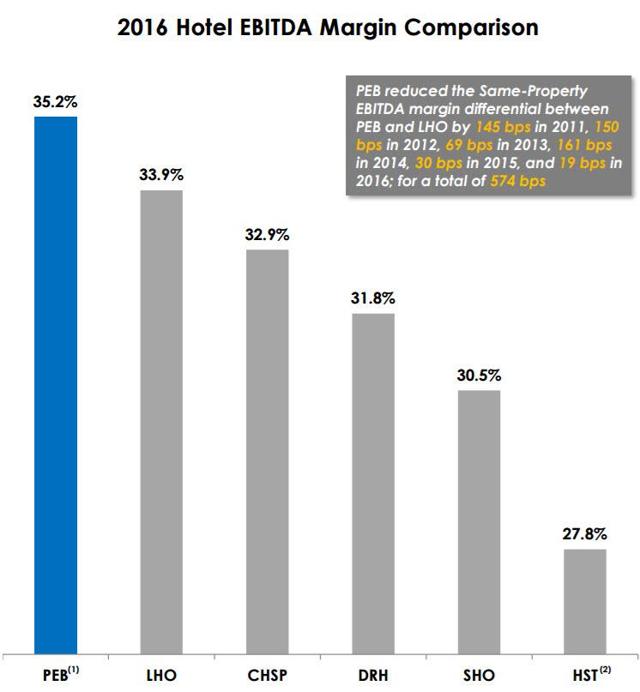 ​
Significant improvement in Hotel EBITDA margin growth is expected to continue during the next several years as asset management initiatives are implemented.
​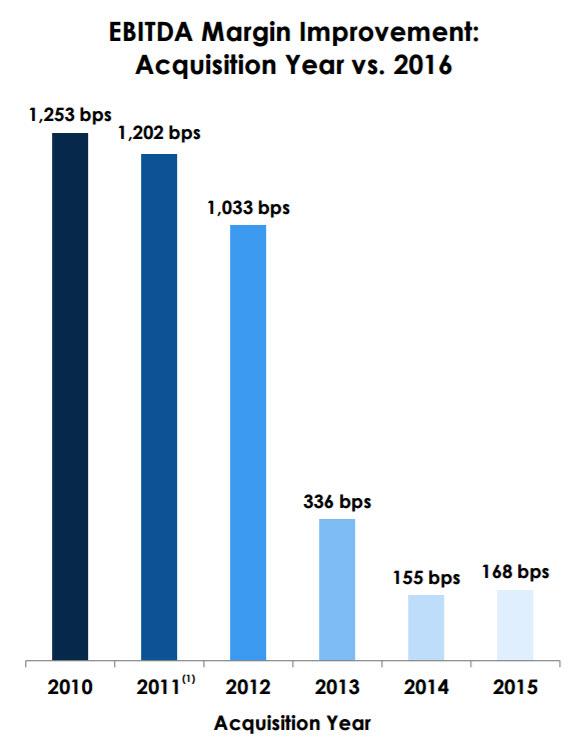 ​
PEB Has already identified Hotel EBITDA opportunities of $19.3 million that will drive Stabilized Operating Hotel EBITDA to $278.9 million in 2017.
​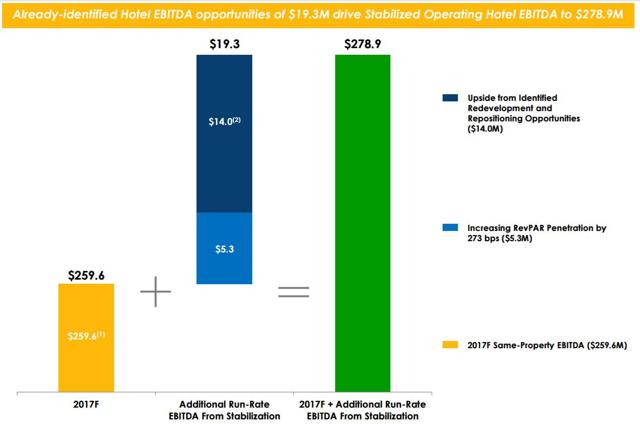 ​
Balance Sheet Initiatives Are Working
During the first quarter, PEB paid off the $44.1 million loan secured by the Sofitel, Philadelphia, the only remaining debt obligation in 2017, 2018 and 2019, and the only loan maturing prior to 2020 is the $25.6 million mortgage secured by Hotel Zelos, which matures in September.
​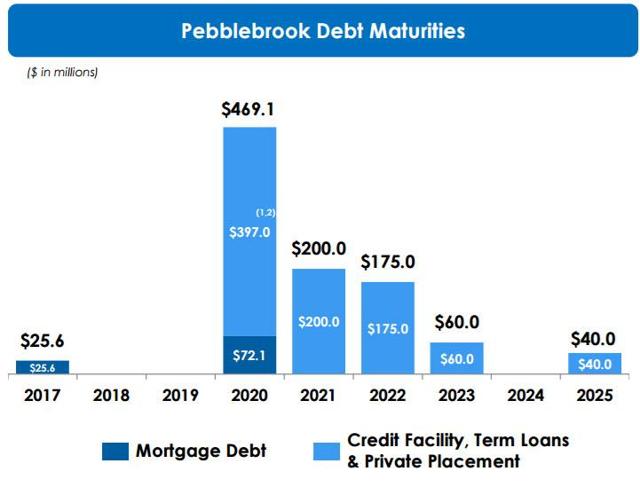 ​
At quarter end, PEB's debt-to-EBITDA ratio was 4.2x and the fixed charge ratio was 3.6x. The debt-to-EBITDA ratio was slightly higher than it was last quarter (primarily due to the 59.9 million of common shares repurchased in the quarter). The REIT is targeting to operate with a debt-to-EBITDA ratio below 4x.
​

​
During the first quarter, it repurchased 2.1 million shares at an average price of $28.22, representing a 26% discount to the middle of the NAV range of $36-40. These repurchases reduced PEB's weighted average shares outstanding by 700,000.
Also, during the first week of April, PEB purchased an additional 525,000 shares at an average price of $28.85 per share. Year to date, the company has purchased 2.6 million shares at a weighted average price of $28.35, which comprises $75 million of total share repurchases.
Its approach is to utilize a conservative amount of debt to minimize risk and absorb cyclical downturns.
PEB continues to pursue other potential dispositions in an effort to take advantage of the very large differential between private market values for its properties and the much lower public market value for the combined portfolio and company.
​

​
The public market's valuation at a $31 share price demonstrates an approximate 14-23% discount on Net Asset Value per share, or an approximately 70-110 bps discount on the NOI cap rate.
​

​
The Latest Results
In Q1-17, PEB's adjusted EBITDA was $49 million, which was $2.9 million above the upper range of the Q1 outlook. This was due to the hotel EBITDA being $1 million above the outlook, combined with lower-than-expected G&A expenses (largely related to the timing of expenses such as preopening and legal fees).
Compared with the prior year, EBITDA declined $7.2 million, and approximately $3.4 million of this decline was due to the prior-year EBITDA eliminated due to hotels sold and no longer owned.
The company's Adjusted FFO was $38.7 million, or $0.54 per share, which exceeded the top end of the outlook by $0.05 per share. This resulted from the hotel EBITDA and adjusted EBITDA beats, as well as a lower share count, because of the shares repurchased during the quarter.
PEB's 2017 outlook contains various headwinds and tailwinds, impacting year-over-year growth on a per share basis by approximately $0.27 and RevPAR growth by approximately 350 bps.
​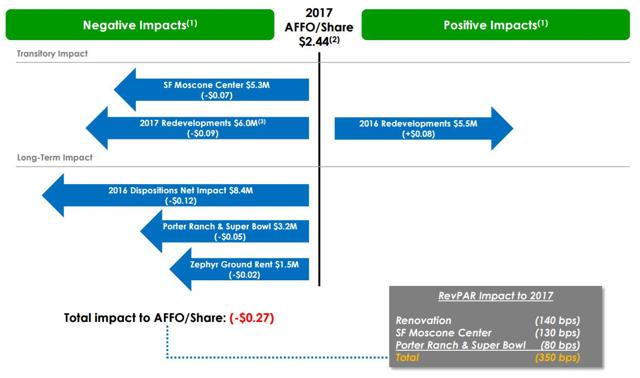 ​
The company has been proving it can take advantage of what is continuing to be attractive valuations for its assets. The primary catalysts for PEB will continue to be the ability to arbitrage the disconnect between public markets (dispositions) and buying back stock.
​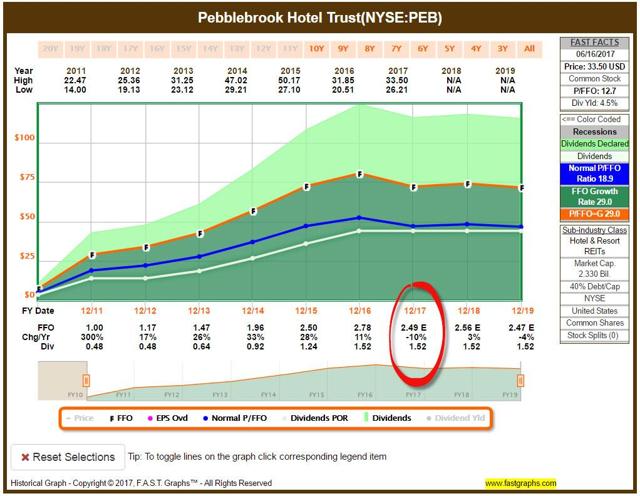 ​
This REIT Knows How To Move The Needle
In 2016, PEB led the peer group in ADR, while remaining in the top half of the peer group for Occupancy growth, RevPAR growth and EBITDA Margin growth.
​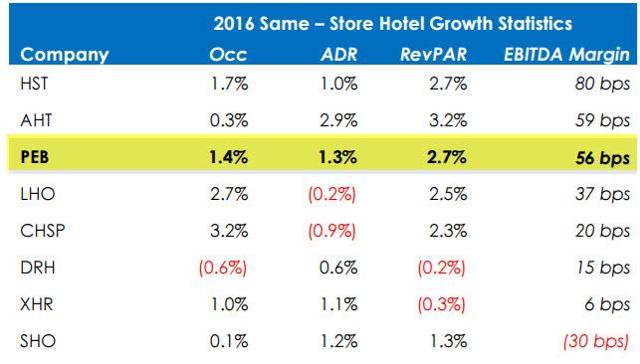 ​
Since 2011, the REIT has led the peer group in adjusted EBITDA per share growth and has maintained impressive RevPAR growth.
​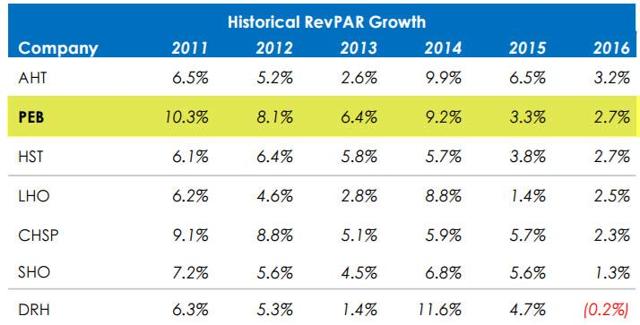 ​
PEB has achieved the highest Adjusted FFO per share growth compared to its peers since 2011, while Total Returns have not reflected the consistent outperformance due to stock underperformance in 2015-2016.
​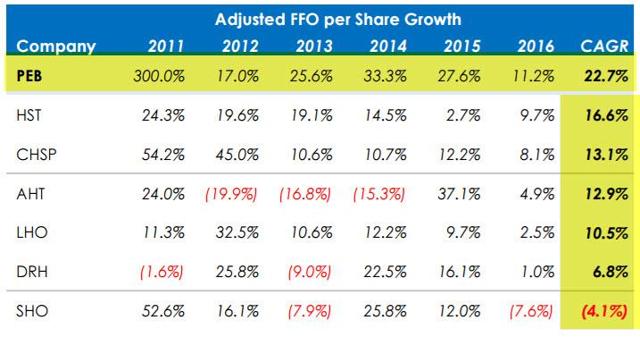 ​
As Jon Bortz (CEO of PEB) explained on the most recent ++earnings call++:
Most economic statistics have been improving since last fall, such as employment growth, corporate profits and consumer confidence. But other ones that also correlate with the travel industry such as business investment and airline employment have yet to improve. Assumingly see some improvements in these statistics, history tells us we should ultimately see improvements in travel demand, but nothing yet.
The company's strategic plan was "spot on," and that is quite simply why the market has rewarded investors. Managing risk in the Lodging REIT sector is challenging, and I credit Bortz and his team for their persistence.
​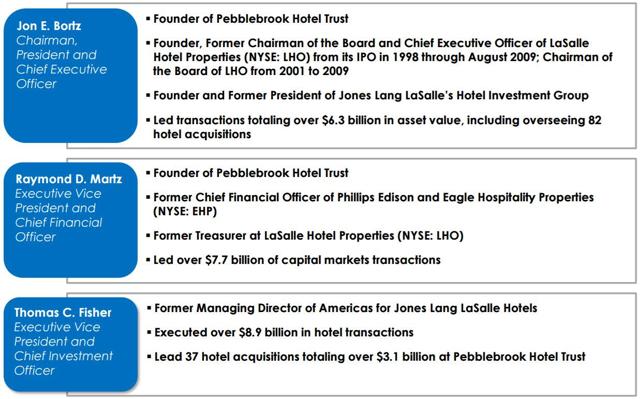 ​
Drilling Down More
Now let's compare PEB's dividend yield with that of the peer group:
​

​
As you can see, it is not the highest-yielding Lodging REIT, but the dividend is safe.
Now let's examine the P/FFO multiple:
​

​
All Lodging REITs appear cheap based on earnings (FFO) metrics, and as noted, PEB's public market valuation is around 20% below NAV. The company has no plans to crank up acquisitions, as Jon Bortz explained:
You're continuing to see in the major gateway markets, strong demand from multiple bidders at low cap rates and high price per key and high EBITDA multiple values. So that, at this point in the cycle, that's why we find that attractive, and on that basis we've initiated sales.
I think there are fewer good quality assets on the market, which is a positive for our efforts to sell, but there is plenty of commodity product out there. So, those who are buying more typical branded managed properties, there's a lot of choices.
For the same reasons (that Bortz articulated), I'm holding onto PEB. I consider it to be one of my best Lodging REIT holdings, and needless to say, I am thrilled with the performance over the last 90 days.
As I said above, I'm typing this article from New York City, and I am reminded of the ++The Jeffersons Theme Song++:
"we're movin' on up"
... and I hope that you finally got a piece of that Pebblebrook pie…
​
​
DISCLAIMER: I recommend a HIGH ALPHA REIT so that there is no confusion over my standard REIT recommendations. Subscribe to my marketplace content ++here++.
Author's note: Join me at the DIY Investor Summit, where I share detailed tips on my core investment strategies, top advice for DIY investors, and specific ways I'm positioning for the second half of 2017. ++Sign up here++.
Brad Thomas is a Wall Street writer, and that means he is not always right with his predictions or recommendations. That also applies to his grammar. Please excuse any typos, and be assured that he will do his best to correct any errors, if they are overlooked.
Finally, this article is free, and the sole purpose for writing it is to assist with research, while also providing a forum for second-level thinking. If you have not followed him, please take five seconds and click his name above (top of the page).
Sources: F.A.S.T. Graphs and PEB Investor Presentation.
REITs mentioned: Condor Hospitality Trust (NASDAQ:++CDOR++), Sunstone Hotel Investors (NYSE:++SHO++), Ryman Hospitality Properties (NYSE:++RHP++), Apple Hospitality REIT (NYSE:++APLE++), DiamondRock Hospitality Company (NYSE:++DRH++), Host Hotels & Resorts (NYSE:++HST++), LHO, RLJ Lodging Trust (NYSE:++RLJ++), Chatham Lodging Trust (NYSE:++CLDT++), Xenia Hotels & Resorts (NYSE:++XHR++), Hospitality Properties Trust (HPT), FelCor Lodging Trust (FCH), Hersha Hospitality Trust (HT), Ashford Hospitality Prime (AHP) and Park Hotels & Resorts, Inc. (PK).
Disclosure: I am on the Advisory Board of NY Residential REIT, and I am also a shareholder and publisher on the Maven.
Disclosure: I am/we are long APTS, ARI, BRX, BXMT, CCI, CCP, CHCT, CLDT, CONE, CORR, CUBE, DLR, DOC, EXR, FPI, GMRE, GPT, HASI, HTA, IRET, IRM, JCAP, KIM, LADR, LTC, LXP, NXRT, O, OHI, PEB, PEI, PK, QTS, ROIC, SKT, SNR, SPG, STAG, STOR, STWD, TCO, VER, VTR, WP.
I wrote this article myself, and it expresses my own opinions. I am not receiving compensation for it (other than from Seeking Alpha). I have no business relationship with any company whose stock is mentioned in this article.