Sifting For REIT Gems In The Lodging Sector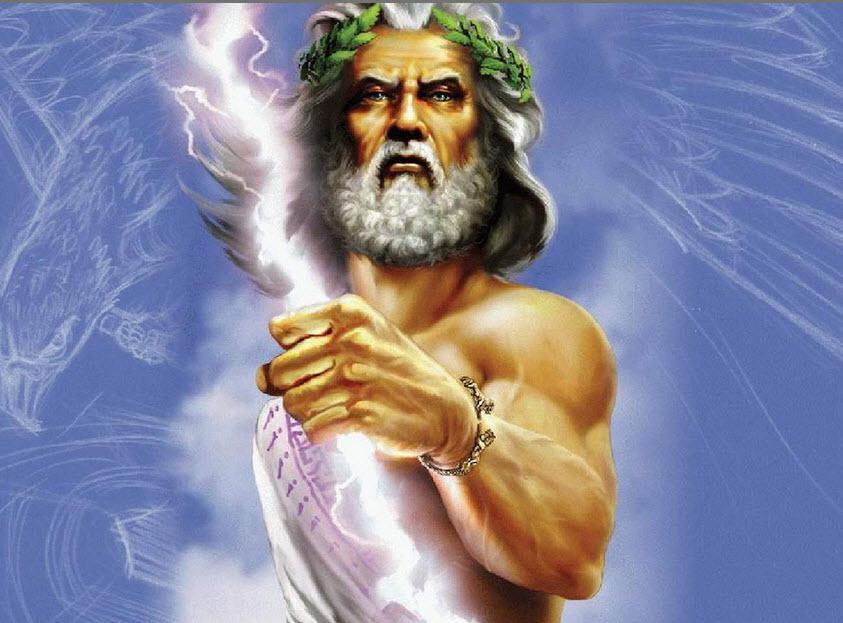 NoahBlacker
Brad Thomas wrote this article and it has appeared previously on Seeking Alpha.
Summary
I am looking for a quintessential REIT gem that offers a combination of good value and good dividend growth potential.
Xenia invests primarily in premium full service, lifestyle, and urban upscale hotel assets.
I can't get excited about the underlying growth.
In the upcoming edition of my monthly newsletter (Forbes Real Estate Investor), I decided to focus on the two most volatile categories in the REIT sector: Retail and Lodging.
Needless to say, both property categories (retail and lodging) are joined at the hip, and they both rely significantly on discretionary income. As the U.S. economy grows, shopping and leisure should improve, making the case that the best known catalyst could be Trump's corporate tax plan.
However, as evidenced by the deeply discounted shares of Retail and Lodging REITs, there are contradictory drivers.
For Retail REITs, it's the "Amazon Effect" and the troubles brewing within the department store sector.
As for Lodging REITs, it's the softness in group business booking and corporate transient demand that has continued to weigh on them. Current hotel sector dividend yields of 4.8%, combined with AFFO payout ratio of 75% and medium-term AFFO growth of 0-2%, suggest minimal dividend growth.
Within both categories (Retail and Lodging), I have constantly cautioned investors to maintain skepticism. The higher-yielding REITs might not always produce steady growth, and a dividend cut could be painful.
As a result, I am looking for the quintessential REIT gem that offers a combination of good value and good dividend growth potential. If I don't see an adequate margin of safety, coupled with reliable dividend growth prospects, I usually don't recommend the REIT.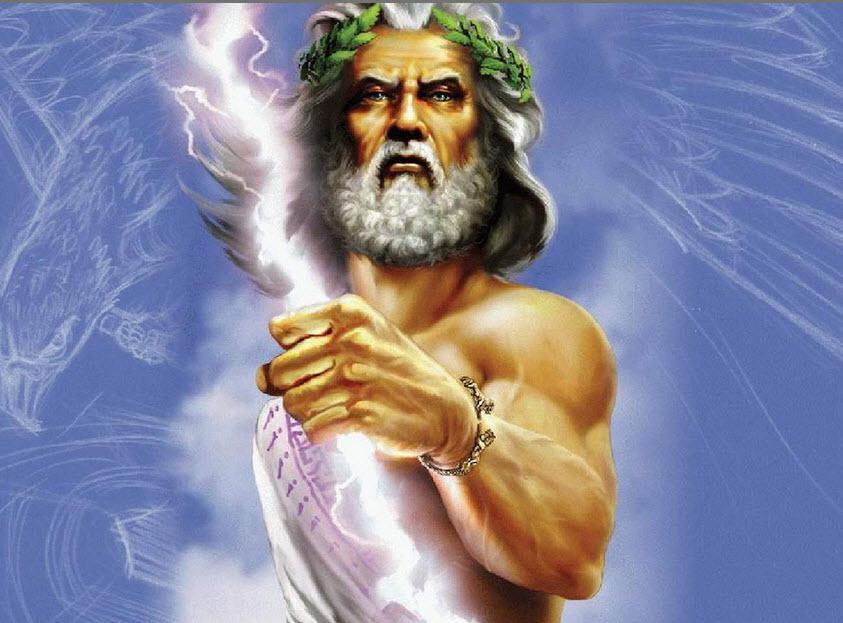 Xenia Is The Protector of Travelers
Xenia is Greek, and is translated to mean "guest friendship". According to Wikipedia, "The Greek god Zeus is sometimes called Zeus Xenios in his role as a protector of travelers". That's a great name for a REIT, and is one I'll be covering in this article today.
Zeus exemplified the religious responsibility to be hospitable to travelers, and I suppose my obligation is to determine whether or not Xenia Hotels & Resorts (NYSE:XHR) is generous to investors. Don't worry, my Greek mythology research will end with this subtle introduction, so we can now focus on the most important aspects of this new player in REIT-dom.
Xenia completed its spin-off from Inland American Real Estate Trust Inc. (a non-traded REIT), and its common stock began trading on February 4, 2015, on the NYSE.
The REIT was established in 2007 as Inland American Lodging Group and has been executing its current portfolio repositioning strategy since 2009, driving significant improvements in quality. As of Q1-17, Xenia owns 41 hotels, primarily located in the top 25 lodging markets and key leisure destinations, with a focused presence in California and Texas.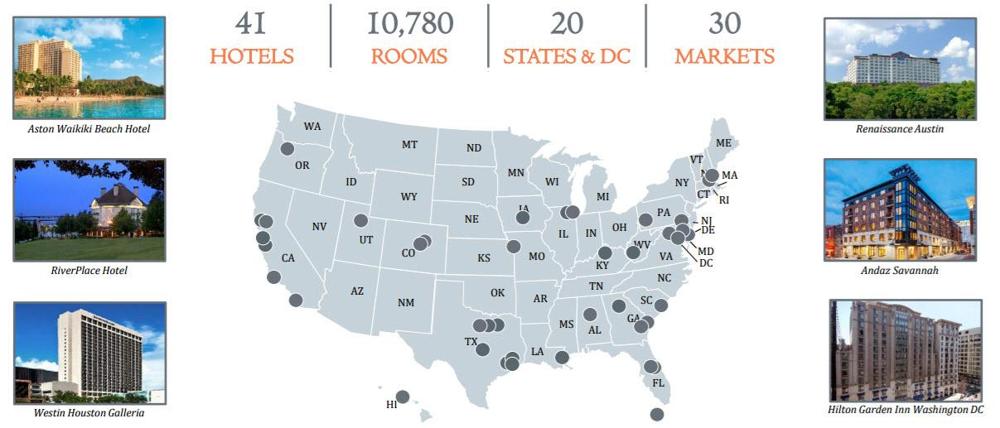 The diversified model consists of lodging properties operated by industry leaders such as Marriott (NYSE:MAR), Hilton (NYSE:HLT), Hyatt (NYSE:H), Starwood (NYSE:STWD), Kimpton, Aston, Fairmont, and Loews (NYSE:L) (83% of the rooms are affiliated with Marriott, Hilton, Hyatt, and Starwood). The portfolio consists of Premium Full Service (56%), Lifestyle (23%), and Urban Upscale Mix (21%). Approximately 80% are luxury and upper upscale hotels, primarily branded hotels.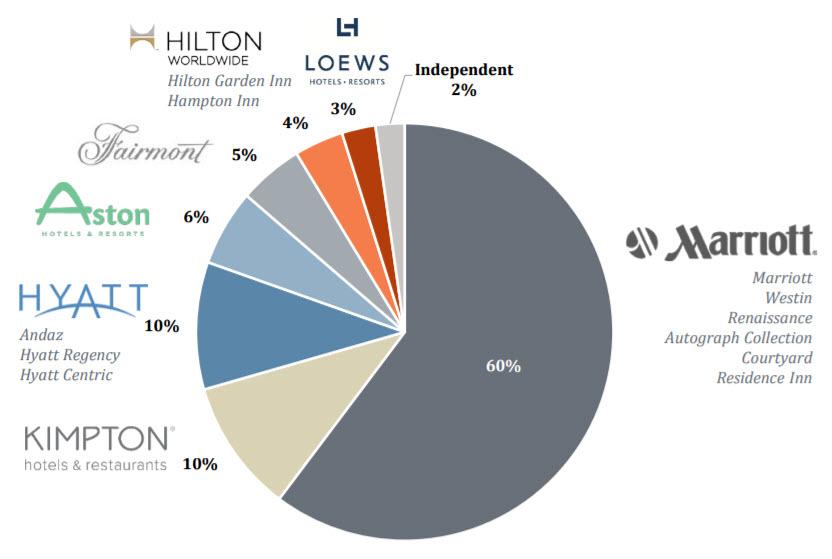 Xenia invests primarily in premium full service, lifestyle, and urban upscale assets. This unique market and asset strategy drives growth potential and allows Xenia to build scale and efficiencies. Around 65% of the portfolio is considered upper upscale, 20% is upscale, 14% is luxury, and 1% is upper midscale.
The Growth Fundamentals
Since inception in 2007, Xenia has transformed its portfolio and significantly improved the quality through strategic transactions. Only three hotels in the current portfolio were owned in 2007.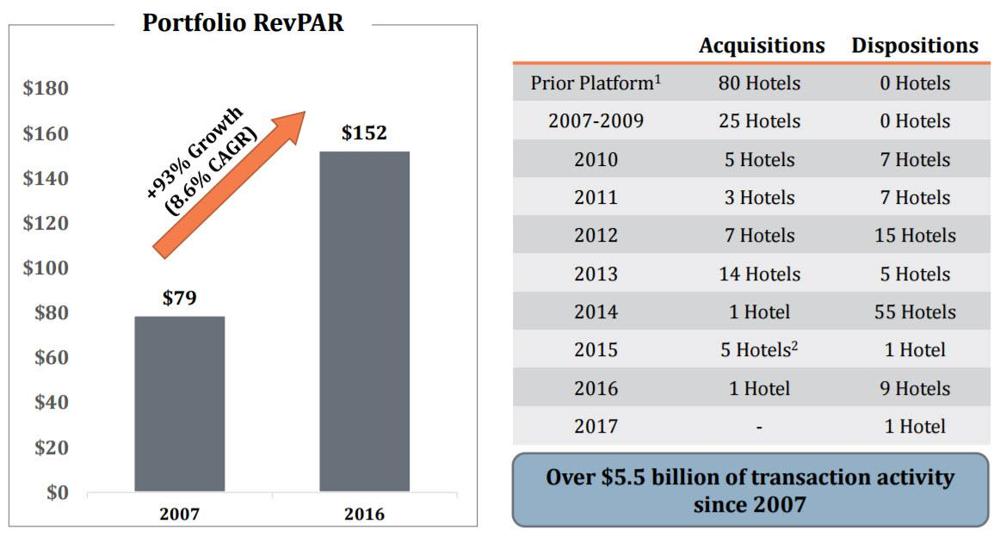 The Property Optimization Process ("POP") includes an intensive site visit by industry veteran team members, followed by a period of analysis, research, and implementation. The XHR "POP" has been completed at ~45% of its hotels, accounting for nearly 60% of the room inventory. Implementation by property and corporate management teams was as follows: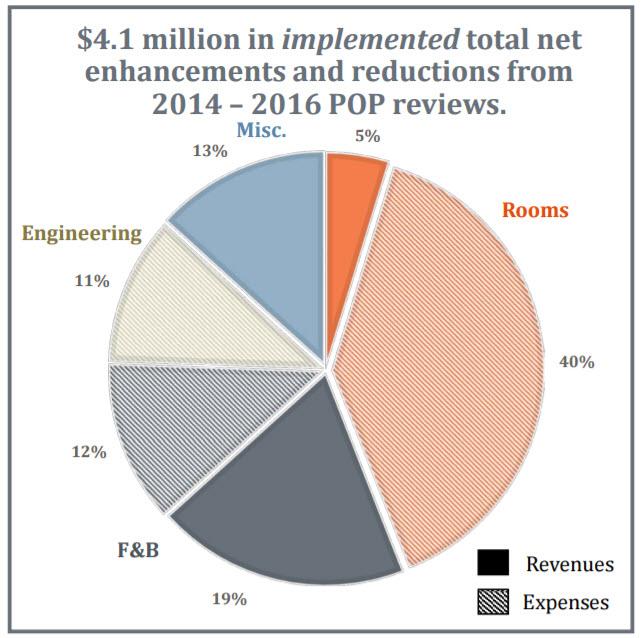 Xenia remains focused on owning top assets in prime locations within its target markets. Owning the right real estate is of the utmost importance in a dynamic industry where the consumer has many choices when it comes to booking channels and types of accommodations.
The decision to exit or not invest in markets such as New York, L.A., and Miami over the past few years has served the company well, as these markets have experienced significant supply increases and demand challenges during this part of the cycle.
The Balance Sheet
At the end of Q1-17, Xenia's leverage ratio as reflected by net debt-to-EBITDA was approximately 3.3x, and the company has no preferred equity or other senior capital on its balance sheet.
Xenia's current level of liquidity is strong, with over $275 million of unrestricted cash and a fully undrawn $400 million line of credit. The company intends to use this liquidity to further address near-term debt maturities, invest in internal and external growth opportunities, or return capital to shareholders.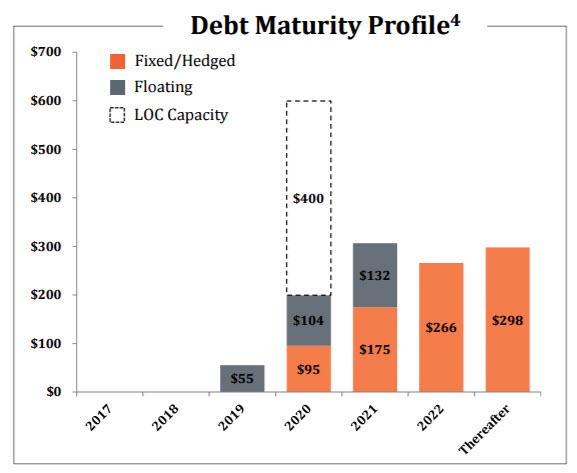 It remains focused on increasing the mix of fixed-rate debt and increasing the duration of debt. Year to date, the company swapped over $140 million of variable-rate debt to fixed-rate debt.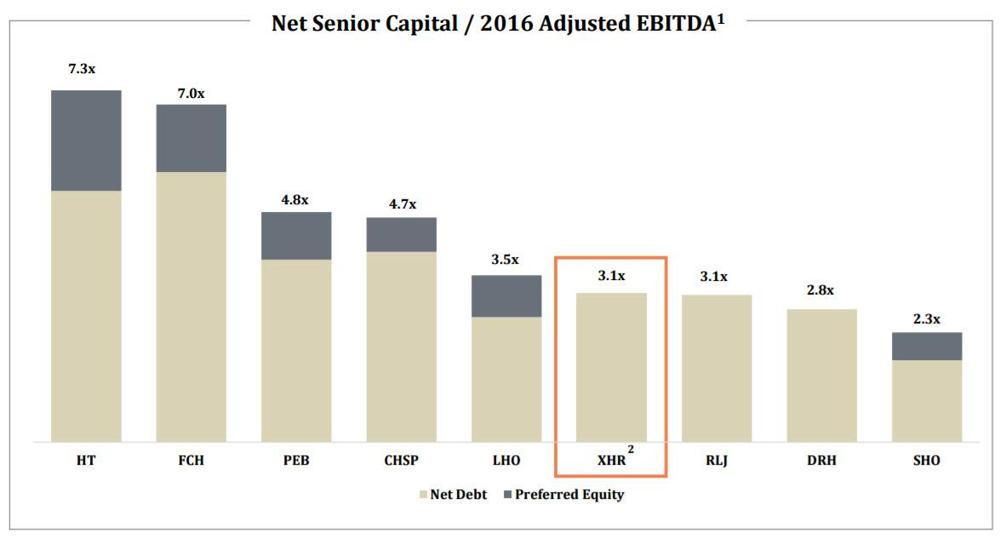 Recently, the company entered into a $115 million loan secured by the Marriott San Francisco Airport Waterfront Hotel and prepaid $73 million of secured debt.
Xenia's fixed-rate debt is now approximately 75% of total debt. This is up from about 55% at the end of the first quarter of 2016. Over this time, it has also extended the weighted average duration of its debt by about 12 months to 4.8 years, without including extension options.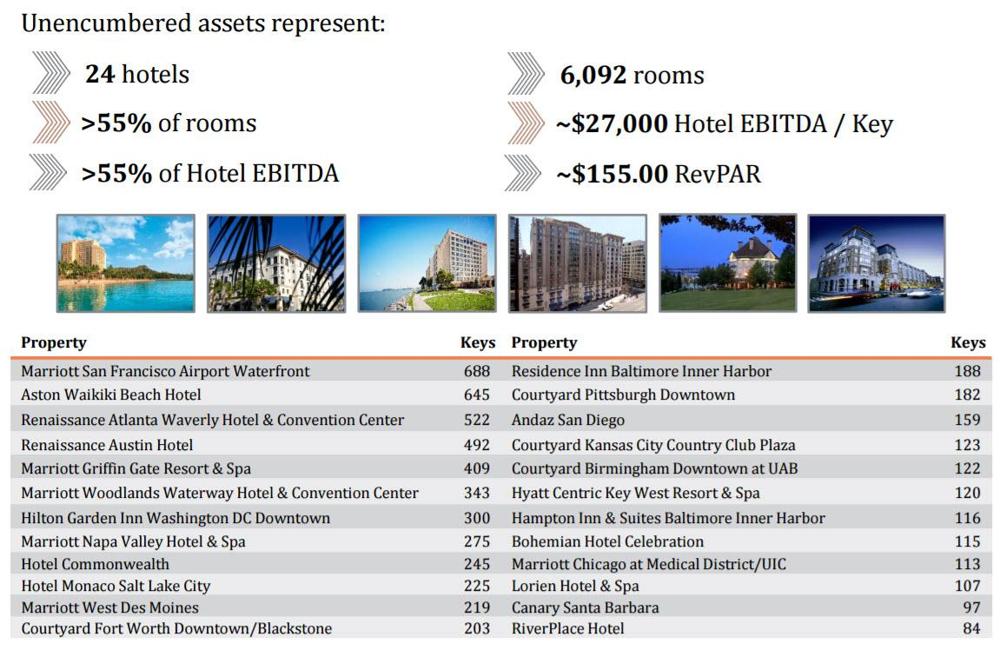 Latest Earnings
During the first quarter, Xenia had net income attributable to common stockholders of $8.1 million, adjusted EBITDA of $59.1 million, and the adjusted FFO per share grew 2.3% to $0.44.
Its differentiated strategy of maintaining a broad market mix benefited the portfolio during the latest quarter, as the company saw 2.7% same property RevPAR growth.
Xenia's hotels in two-thirds of its markets experienced RevPAR growth, and eight of the markets boasted RevPAR growth of 5% or higher. Five of these markets achieved double-digit percentage growth in the first quarter.
As of year end, total portfolio RevPAR and average hotel EBITDA per key were $152.46 and $27,000, respectively, despite the exposure to gateway markets currently being relatively limited.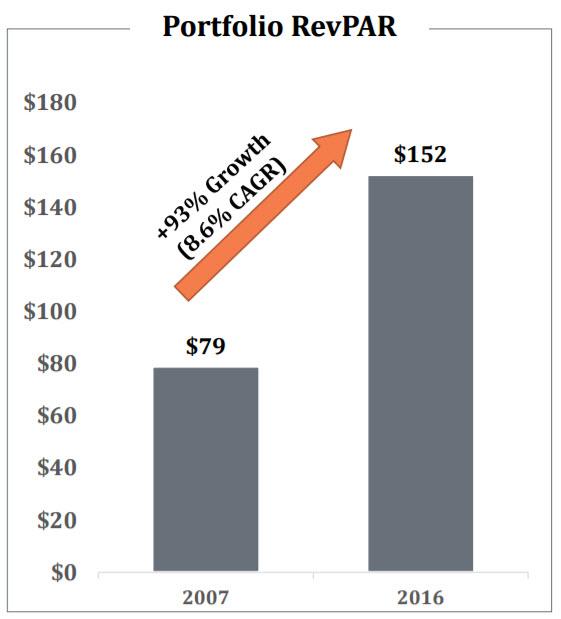 Xenia expects adjusted EBITDA in 2017 to be between $244 million and $258 million, which equates to a $3 million increase from prior guidance. This reflects $5 million of better-than-expected earnings in the first quarter offset by $2 million as a result of a disposition.
It expects adjusted FFO to be between $198 million and $212 million in 2017. This results in adjusted FFO per share of $1.85-1.98, based upon approximately 107 million weighted average shares outstanding. Here's a snapshot below of FFO forecasts for Xenia and the other Lodging REITs: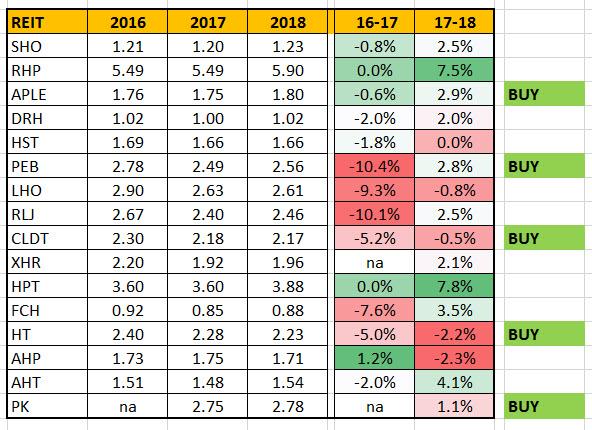 Initiating a HOLD
In my first article on Xenia (in 2015), I explained that "I plan to maintain a more suspect rating on the company until I see a few quarters of earnings results. From my initial review, it appears that Xenia has a high-quality portfolio with seasoned management; however, nothing jumps out at me (yet) that says, 'Wow, I have to own this one'."
Here's how the REIT has performed since my last article: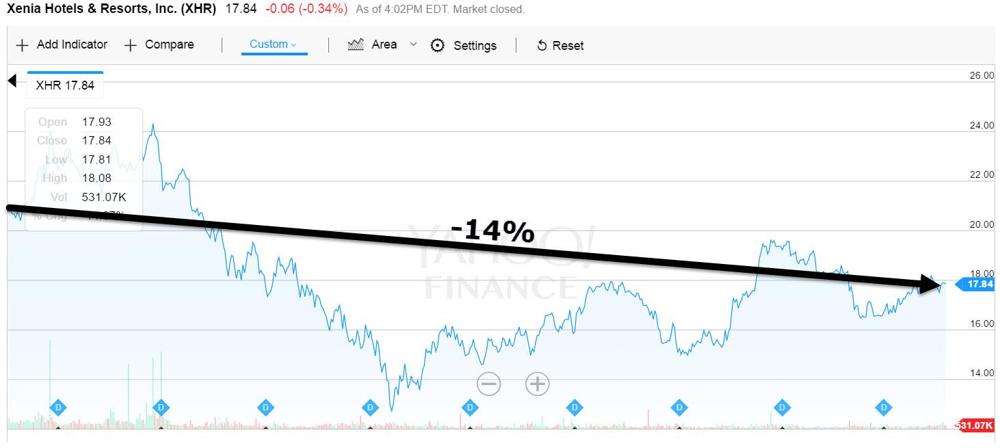 Here's how Xenia has performed year to date:

And how its dividend yield compares with that of the peer group:

Here's how Xenia's P/FFO multiple compares with that of the peer group:

As you can see below, Xenia has a modest payout ratio, especially when compared with the other Lodging REITs (that I have a BUY rating on):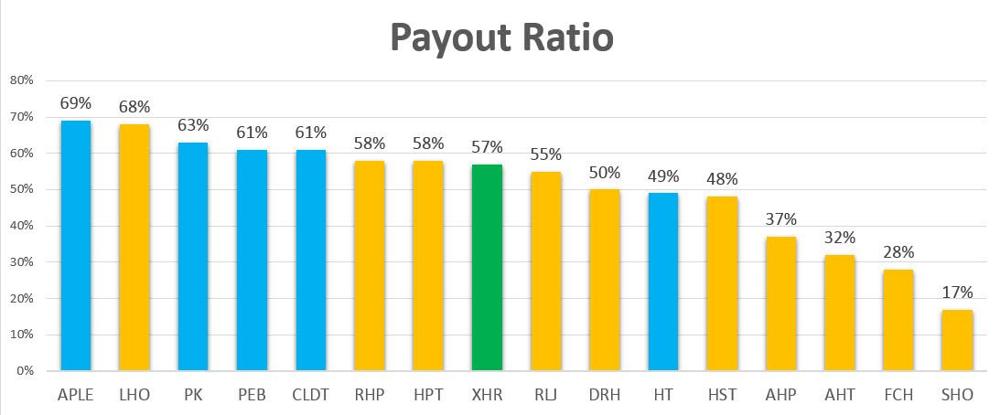 As I said at the outset (of this article), I am seeking REITs that can grow their earnings and dividends per share. While Xenia has performed well since its REIT listing, I can't get excited about the underlying growth. I'm maintaining a HOLD with regard to the stock.
In my upcoming newsletter, I'll share my top Lodging REIT pick with you.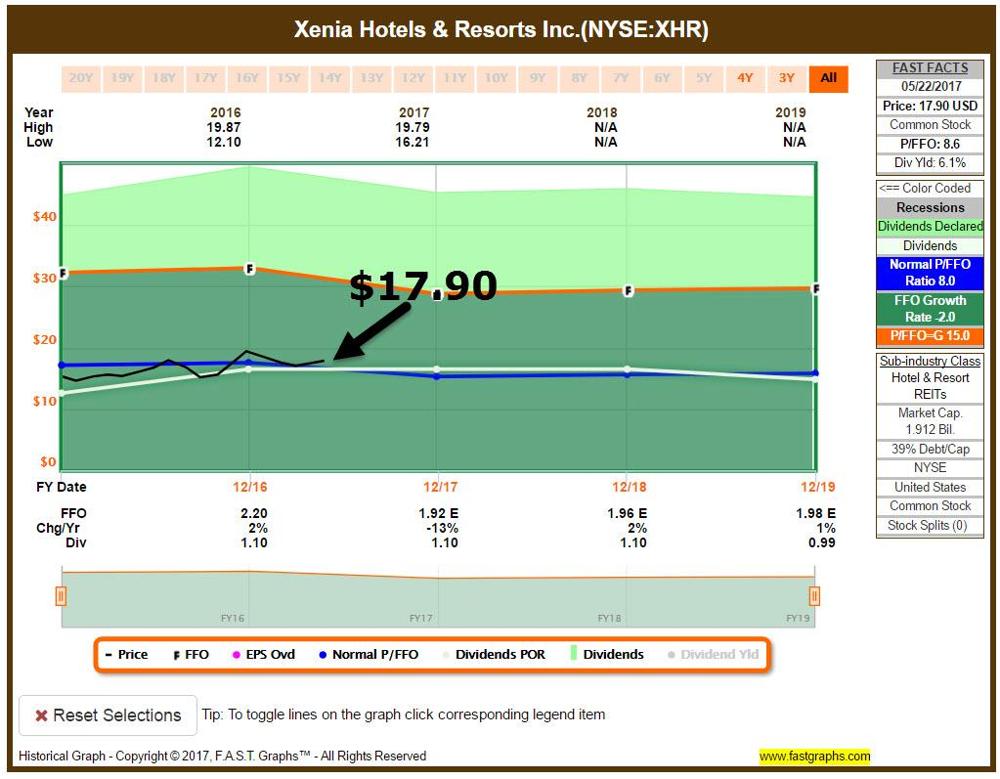 Disclosure: I am on the Advisory Board of NY Residential REIT, and I am also a shareholder and publisher on theMaven (OTCQB:MVEN).
Source: F.A.S.T. Graphs and Xenia's Presentation.
To get a first look at my upcoming article, "The Evolution of My Durable Income Portfolio," click here. I also include all of my Rhino REIT Ratings in my marketplace product, REIT Beat.
*Author Note: Brad Thomas is a Wall Street writer, andthat means he is not always right with his predictions or recommendations. That also applies to his grammar. Please excuse any typos, and be assured that he will do his best to correct any errors, if they are overlooked. Finally, this article is free, and the sole purpose for writing it is to assist with research, while also providing a forum for second-level thinking. If you have not followed him, please take five seconds and click his name above (top of the page).* Disclosure:** I am/we are long APTS, ARI, BRX, BXMT, CCI, CCP, CHCT, CLDT, CONE, CORR, CUBE, DLR, DOC, EXR, FPI, GMRE, GPT, HASI, HTA, IRM, KIM, LADR, LTC, LXP, O, OHI, PEB, PK, QTS, ROIC, SKT, SNR, SPG, STAG, STOR, STWD, TCO, VTR, WPC.
I wrote this article myself, and it expresses my own opinions. I am not receiving compensation for it (other than from Seeking Alpha). I have no business relationship with any company whose stock is mentioned in this article.