This REIT Is Actually Printing Dividends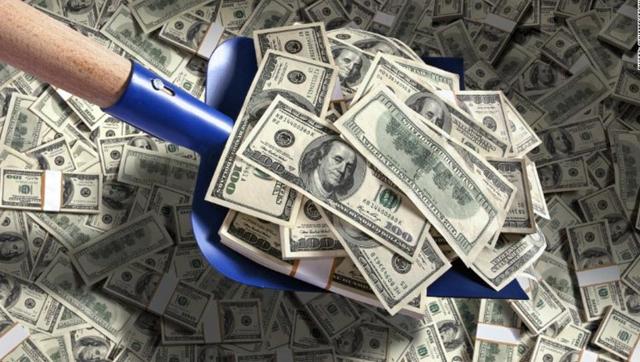 NoahBlacker
Brad Thomas wrote this article and it has appeared previously on Seeking Alpha or Forbes.
Summary
It is generally accepted that the U.S. government will never default on its loan obligations.
These words "full faith and credit" have tremendous value as the phrase describes the unconditional guarantee or commitment behind America's credit quality.
This REIT is actually printing dividends!
​
​
As most investors recognize, money is one of the most intriguing elements of investing.
I'm not referring to "near money" that refers to savings deposits, money market securities, or mutual funds. Instead I'm talking about the most liquid form of money that can be exchanged for goods and services. Usually when we people talk about the Fed printing money, they're speaking metaphorically.
Most money the Fed "prints" these days isn't actually currency; it's just an electronic representation showing that somebody has a certain amount of money in their account.
The reality is that the government is still printing physical bills and it doesn't have anything to do with monetary policy or the deficit or anything like that.
For the most part, the government prints new cash to replace old, worn-out bills that are taken out of circulation. Interestingly, the government has been printing more $100 dollar bills in the past few years, because foreigners like them (see below: 1.516 billion $100 notes printed in 2017).
The Board of Governors (as the issuing authority of the Fed) approved and submitted its fiscal year order for approximately 7.1 billion Federal Reserve notes, valued at $209 billion (on June 27, 2016). The table below reflects the denominational breakdown of the Board's FY 2017 order (++source++):
​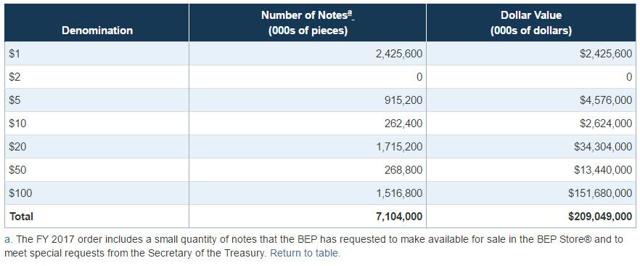 ​
The Board's FY 2017 order of 7.1 billion notes represents a decrease of almost 0.5 billion notes, or nearly 6.3%, from the FY 2016 order. Despite the smaller order, the number of notes in circulation increased 5% in 2016 and the smaller order reflects increased private-sector recirculation of $10 and $20 notes. The FY 2017 order also does not include any $2 notes, as the FY 2016 order included notes needed to meet demand for multiple years.
​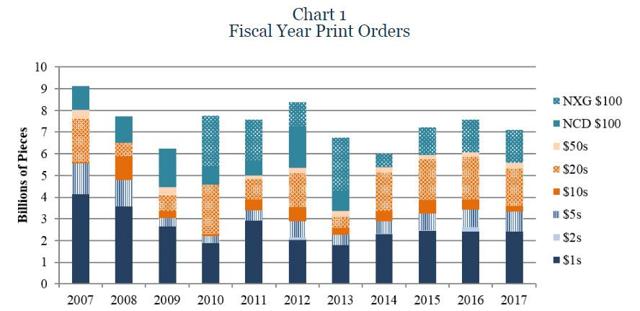 ​
The term "full faith and credit" is used to ++describe++ the unconditional guarantee or commitment by one entity to back the interest and principal of another entity's debt. This "full faith and credit" commitment is typically employed by a government to help lower the borrowing costs of a smaller, less stable government or a government-sponsored agency.
It is generally accepted that the U.S. government will never default on its loan obligations and these words "full faith and credit" have tremendous value as the phrase describes the unconditional guarantee or commitment behind America's credit quality.
​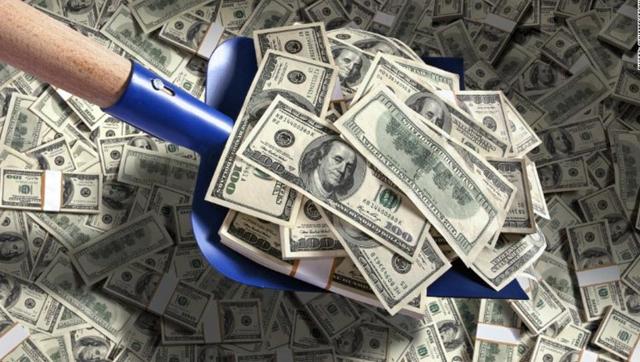 Easterly Government May Be The Gold Standard
The U.S. government is the largest employer in the world and the largest office tenant in the U.S. Easterly Government Properties (NYSE:++DEA++) is the only internally managed REIT with a focus on investing in U.S. government-leased buildings. The other direct peer is Government Properties Income Trust (NYSE: ++GOV++), an externally advised REIT.
In February 2015, DEA completed its IPO on the NYSE, and the company raised $207 million (priced at the mid-point of $15.00 per share) that included the full exercise of 12 million shares. Since my ++first research article++ on DEA on July 13, 2015, shares have increased by over 46%.
​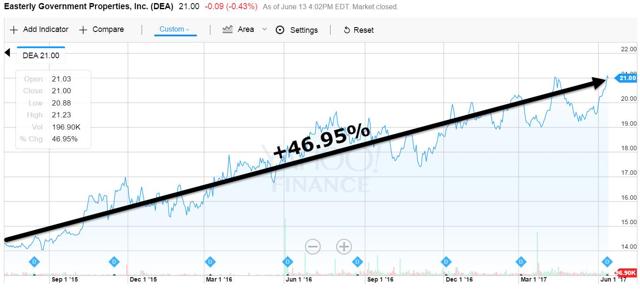 ​
DEA focuses on the acquisition, development and management of class A commercial properties that are leased to U.S. government agencies through the General Services Administration.
The average age of the U.S. Government's owned properties is approximately 49 years. GSA-leased inventory has grown 24.0% since 1998 (as compared to a 8.1% decline for GSA-owned), and the GSA now rents more than it owns – Given recent federal budget constraints, it is likely that the U.S. Government will continue to grow its leased portfolio of assets
​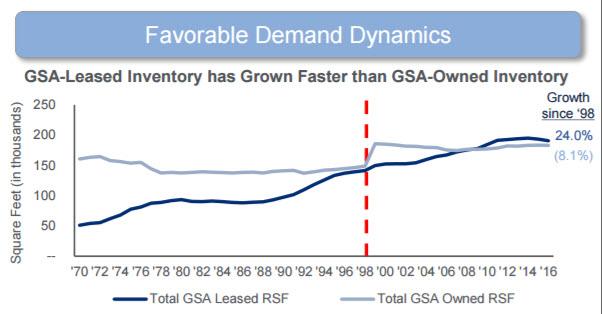 ​
The ten largest owners of GSA-leased assets own approximately 18.6% in aggregate, with no single landlord owning more than 3.4%. No national broker or clearing house for GSA-leased properties.
DEA sticks to critical missions of the federal government that don't go out of favor; agencies like the Federal Bureau of Investigation and the Immigration and Customs Enforcement.
The pool of assets that DEA and GOV fishes in is fragmented - the ten largest owners of GSA-leased assets own approximately 18.5% in aggregate, with no single landlord owning more than 3.4%.
​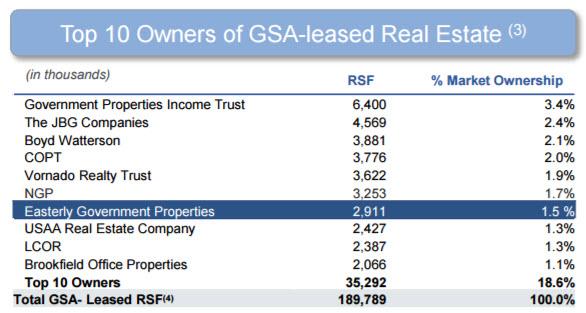 ​
DEA only deals with the U.S. federal government, and the new REIT does not have an interest to work with any other government, state or local because it is not backed by the "full faith and credit" of the U.S.
Its usual tenants are subject to annual appropriations from capricious state governors and governments. Accordingly, DEA underwrites the agency and the importance of the building within the hierarchy of the agency.
DEA owns 46 properties (GOV owns 74) that consist of around 3.6 million square feet (GOV has 11.5 million SF). The portfolio is 100% leased (GOV is 95.1%) and the weighted average age is 11.6 years.
​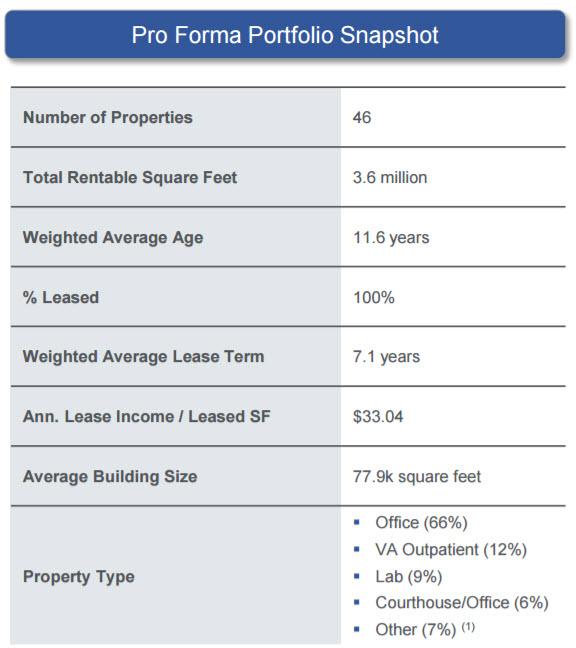 ​
Most of DEA's buildings are office buildings (66%) and the rest are either courthouse/office (6%), lab (9%), VA Outpatient (12%) or other (7%). Here's a snapshot of DEA's geographic footprint:
​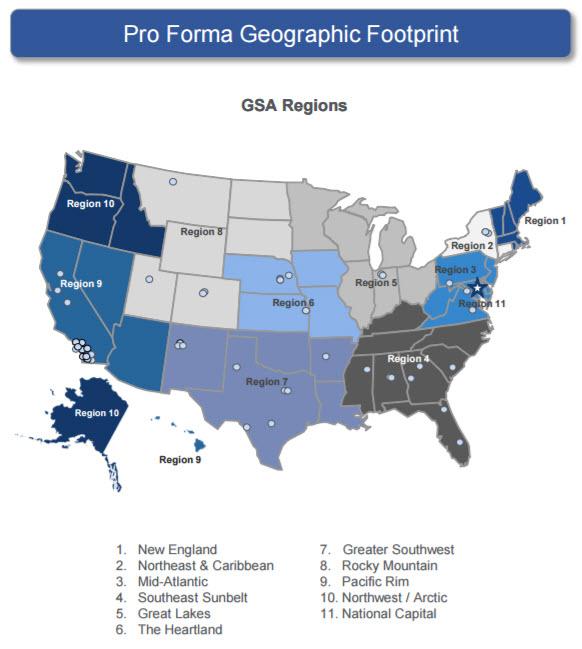 ​
Roughly, 97% of DEA's current lease income is derived from the federal government and its full faith and credit. Here's a snapshot below of the top tenants:
​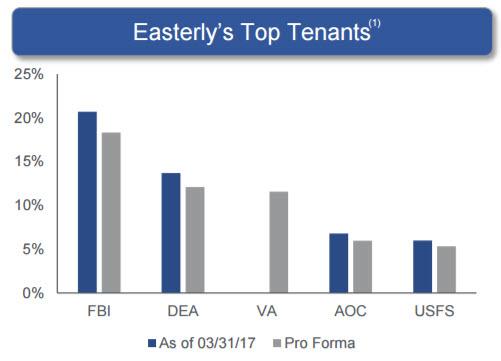 ​
Almost Like a Laddered Bond Portfolio
As stated above, DEA's portfolio is around 97% backed by the U.S. government and the GSA has never financially defaulted on a lease throughout its history, and because DEA does not lease to state agencies, there are no risks related to appropriations.
DEA has long term initial lease structures (typically 10 to 20 years) with renewal terms typically of 5 to 10 years. The company has CPI-based reimbursement of operating expense increases and the GSA generally pays all property tax increases. DEA underwrites the agency and the importance of the building within the hierarchy of the agency.
​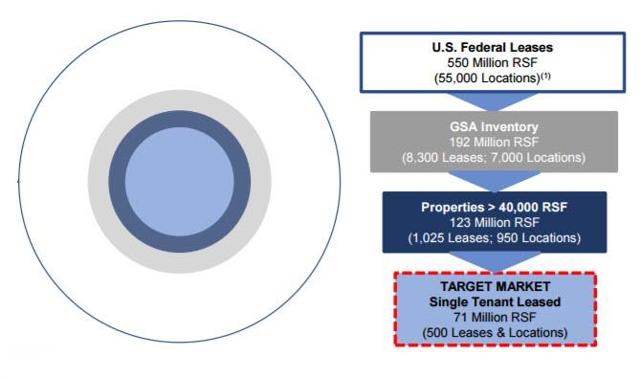 ​
DEA has a 3-part underwriting process and before purchasing any building, the company performs a three-part underwriting analysis to determine if the asset should be introduced into growing portfolio.
​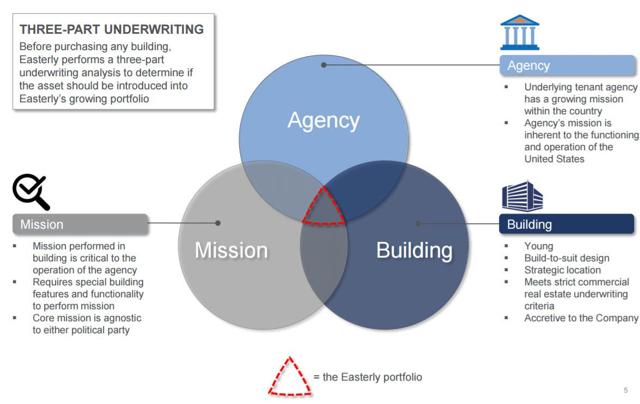 ​
DEA's acquisition of two VA outpatient clinics marks the company's entry into an important new market, the VA. The acquisition of these two new state-of-the-art Class A VA outpatient facilities, totals a combined 414,000 square feet of lease space, all backed by the full faith and credit of the U.S. government.
The VA is the 2nd largest federal agency in terms of total appropriations and staffing and it employs nearly 350,000 people. The VA provides vital services to approximately 22 million U.S. military veterans.
​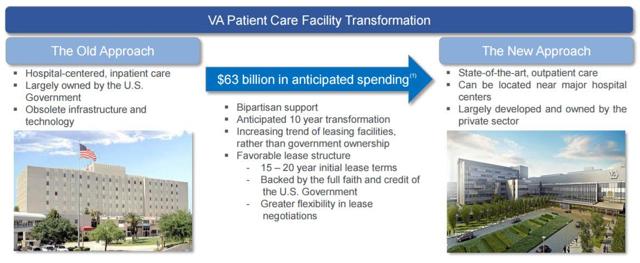 ​
The first facility is located in Loma Linda and is located just two miles from the federally owned VA hospital, this brand new 327,000 square foot ambulatory care facility sits on a 37-acre campus, is surrounded by over 2,000 parking spaces and addresses the outpatient medical needs of the surrounding 72,000 veterans in the region. The facility will employ approximately 500 VA health professional and provide 50% of VA Loma Linda's outpatient visits for the region.
​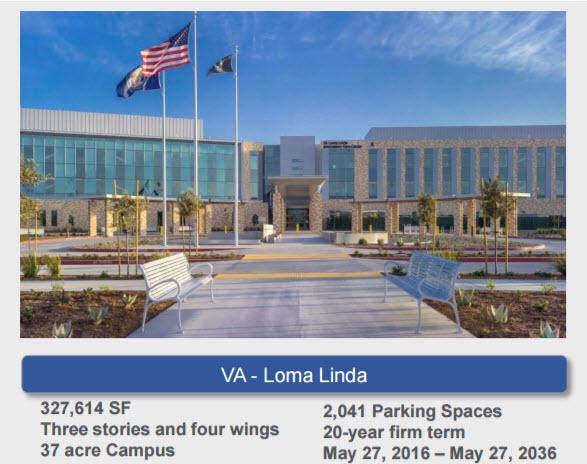 ​
The second VA outpatient facility is located just outside of South Bend, Indiana and is currently under construction. The VA South Bend outpatient clinic is very similar to VA Loma Linda, but on a smaller scale of 86,000 square feet. This facility will employ 190 VA professionals and also provides outpatient services to the many veterans surrounding the region. The VA estimate the facility will see 12,000 patients in its first year of operation, 14,000 patients in its second year of operation and 16,000 patients in its third year of operation.
​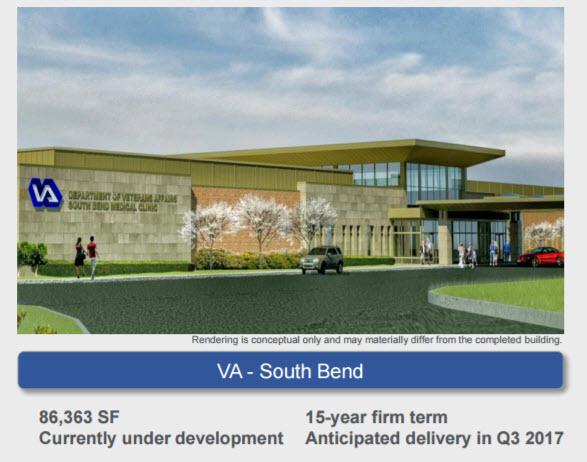 ​
As DEA's CEO, William Trimble, remarked on the recent ++earnings call++:
Both of these properties, just described, squarely fall into Easterly's VA acquisition and development targets. These are mission critical facilities within a highly important department of the U.S. government. These leases are back by the full faith and credit of the U.S. government and are not subject to cancellation and carry long, stable lease terms, which result in a steady cash flow and superior risk adjusted returns for our shareholders. Also of note, pro forma for the addition of these announced pending VA acquisitions, Easterly key portfolio performance metrics are substantially enhanced.
​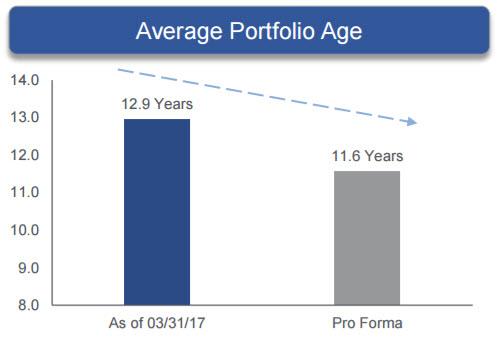 ​
DEA's average portfolio age will decrease from 12.9 years to 11.6 years and the remaining lease duration of the portfolio will increase from 5.7 years to 7.1 years. These are highly attractive metrics for the DEA's portfolio, which continues to grow for the addition of accretive deals that fit within the "bull's eye target universe".
​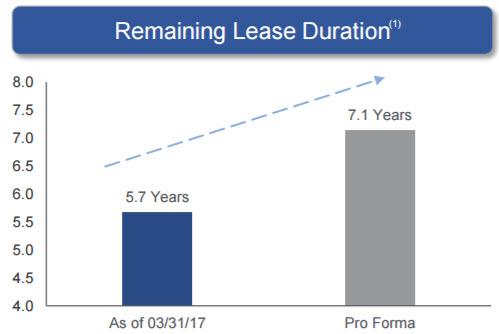 ​
DEA uses modified growth leases instead of triple-net leases - meaning they protect against inflation. Operating expenses for a DEA-owned building are agreed upon in the first year, and every subsequent year the federal government pays an increase based on the consumer price index.
If you take a lease term of 10 to 15 years, the rent will move up, on average, 17.7% when it rolls. If the lease term is 15 to 20 years, rents will rise a little more than 26%. So instead of getting it every year, or every three years, you're going to get it at the end of the lease term. DEA's portfolio is currently 100% leased, and here is how that compares with the peer group:
​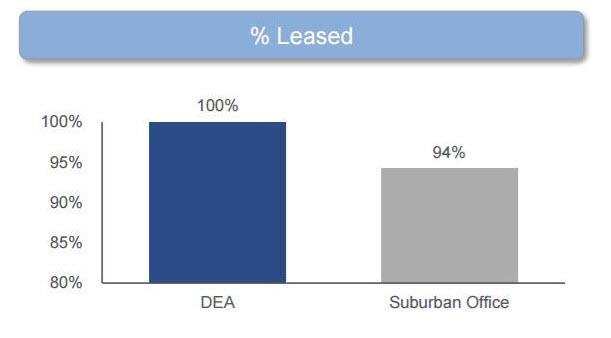 ​
DEA's buildings are mission-critical, the basis for rent renewal is replacement cost. As long as the construction costs are meeting inflation, those rolls will ultimately catch up with growth. In the appendix of DEA's recent Investor Presentation, the company provides the following overview of a typical GSA lease:
​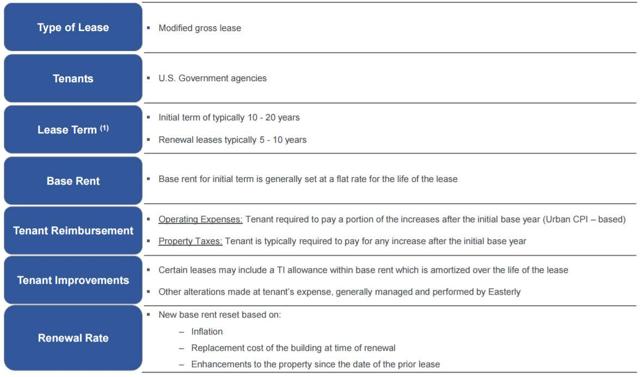 ​
The Balance Sheet
At the end of Q1017 DEA had total indebtedness of $337.8 million, which was comprised of $158.2 million outstanding on its unsecured revolving line of credit, $100 million outstanding on the unsecured term loan facility and $79.9 million of mortgage debt. Availability on the line of credit stood at $241.8 million.
​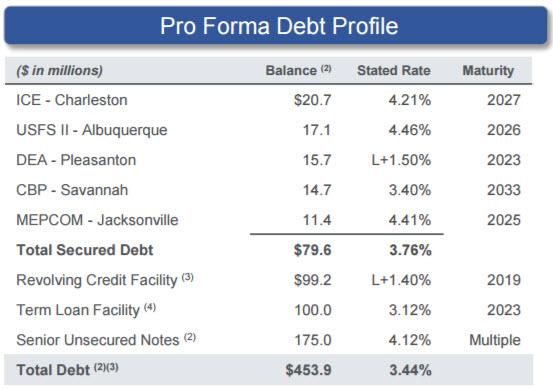 ​
In terms of leverage, DEA's net debt to total enterprise value was 26.8% and net debt to annualized EBITDA was 4.9x. On March 27, 2017, the company completed a public offering of 4.3 million share of its common stock, all offered in connection with forward sales agreements at a price to the public of $19 per share. The proceeds were used to pay down debt and fund new investments.
​

​
Here's a snapshot of how DEA compares with the peer group:
​

​
DEA's market cap and increased flow, coupled with its growth drives (acquisitions and development) will continue to reduce the cost of entry and further enable the company to broaden its shareholder base. As Darrel Crate, Chairman of DEA, explains on the recent earnings call:
...our team is constantly looking at attractive sources of capital to achieve strong financing into these assets. With our goal of providing shareholders with earnings growth sufficient to drive a low double-digit total return opportunity, we believe Easterly will continue to be a heaven for shareholders looking for strong risk adjusted return that rival the Russell 2000 for investors on a compounding basis.
Expanding the "Bulls Eye"
On the recent earnings call an analyst said:
As you look at underwriting agencies, has anything really changed for any agencies more attractive less attractive, or do you do that work as it comes up in your target universe?
DEA's Chairman replied:
I think that it's probably no secret the current administration is very much in favor of what we, the monitor being done building agencies, so you think FBI, the DEA, ICE, CBP, the Federal courts that make-up over 62% of our portfolio. So I think that they are certainly in favor now. Obviously, there's some agencies that are not as much in favor; but again, they are going to continue to exist, there [are] just going to be different priorities, going forward.
In regards to the VA investments, DEA's CEO explained:
...the Federal Government is on a 10 year, $63 billion program to update and build new VA facilities for our 22 million veterans out there. So certainly, as we drive towards new buildings, there are going to more opportunities than usual within the VA space. And we try to figure out the sizing of that and that's probably those opportunities we figure expends our bullseye from 500 and 550 and perhaps $3 billion or $4billion worth of opportunities there. But I think you're going to see fairly consistent path going forward.
The Latest Earnings Results
For the first quarter, FFO per share on a fully diluted basis was $0.31; FFO as adjusted per share on a fully diluted basis was $0.30; and cash available for distribution was $12.2 million.
For the 12 months ending December 31, 2017, the Company is reiterating its guidance for FFO of $1.25 to $1.29 per share on a fully diluted basis. This guidance assumes acquisitions of $350 million in 2017, including the OSHA Sandy acquisition completed in the first quarter, the announced VA Loma Linda acquisition with an anticipated closing date in the second quarter of 2017, as well as the announced VA South Bend acquisition with an anticipated closing date in the third quarter of 2017.
Here's a snapshot of my FFO forecaster:
​

​
As you can see, DEA is forecasted to grow FO/share by 9.4% in 2017 with favorable growth in 2018 (6.3%). The company recently declared a dividend related to the first quarter of operations of $0.25 per share. This dividend will be paid on June 29, 2017 to shareholders of record on June 14th. DEA has a safe payout ratio (77%) that provides investors with an attractive margin of safety (and good dividend growth prospects).
​

​
Show Me The Money
Now let's take a look at some leading indicators of value, starting with DEA's dividend yield:
​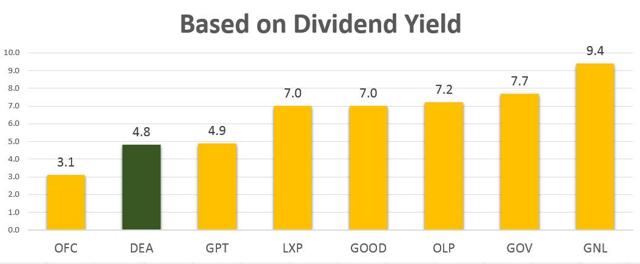 ​
In terms of credit quality, there is really no comparison to GNL and DEA, so let's take a look at this chart:
​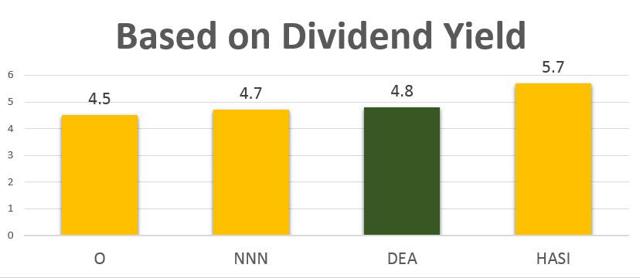 ​
Now let's take a look at DEA's P/FFO multiple:
​

​
Again, I would not compare DEA's tenant credit quality with GNL or LXP, so let's take a look at the chart below:
​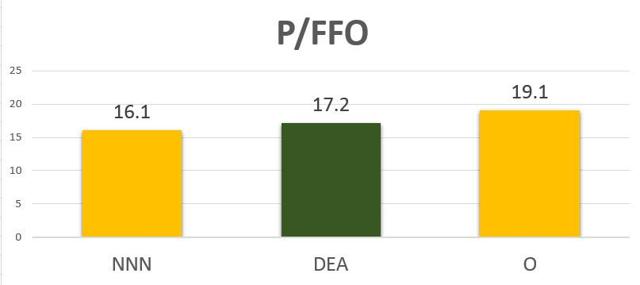 ​
Again, I find DEA soundly valued, as compared with the direct Net Lease REIT peers.
The Bottom Line
If you are asking whether or not GOV is a better investment than DEA, just scroll back up and take a look at the FFO/share chart (scroll up 6 charts). Clearly, DEA has built a better mousetrap and I believe that's largely due to internal management. I except DEA to continue to generate stable income and price appreciation.
As you know, there are no guarantees in life, but you can certainly take this REIT backed by the full faith and credit of the United States to the BANK. This REIT is actually printing dividends!
​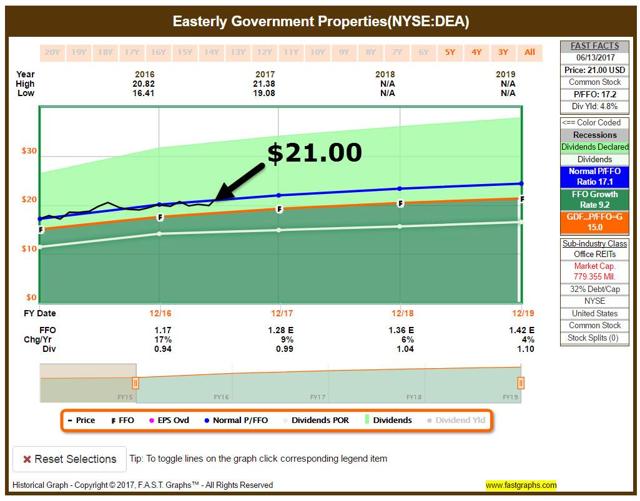 ​
Sources: FAST Graphs and DEA investor presentation.
Author's note: Join me at the DIY Investor Summit where I share detailed tips on my core investment strategies, top advice for DIY investors, and specific ways I'm positioning for the second half of 2017. ++Sign up here++.
Brad Thomas is a Wall Street writer, and that means he is not always right with his predictions or recommendations. That also applies to his grammar. Please excuse any typos, and be assured that he will do his best to correct any errors, if they are overlooked.
Finally, this article is free, and the sole purpose for writing it is to assist with research, while also providing a forum for second-level thinking. If you have not followed him, please take five seconds and click his name above (top of the page).
Disclosure: I am on the Advisory Board of NY Residential REIT, and I am also a shareholder and publisher on the Maven.
Disclosure: I am/we are long APTS, ARI, BRX, BXMT, CCI, CCP, CHCT, CLDT, CONE, CORR, CUBE, DLR, DOC, EXR, FPI, GMRE, GPT, HASI, HTA, IRM, JCAP, KIM, LADR, LTC, LXP, NXRT, O, OHI, PEB, PEI, PK, QTS, ROIC, SKT, SNR, SPG, STAG, STOR, STWD, TCO, VER, VTR, WP.
I wrote this article myself, and it expresses my own opinions. I am not receiving compensation for it (other than from Seeking Alpha). I have no business relationship with any company whose stock is mentioned in this article.