This REIT Is Printing Money
NoahBlacker
Brad Thomas wrote this article and it has appeared previously on Seeking Alpha.
Summary
The words - full faith and credit of the United States – have tremendous value.
DEA's portfolio is around 97% backed by the U.S. government.
This REIT is actually printing MONEY!
Obligations backed by thefull faith and credit of the United States have been the gold standard for credit worthiness.
According to Bloomberg, "the U.S.'s AA+ credit rating was affirmed (June 2015) by Standard & Poor's, which cited the resilience of the economy and the status of the dollar. The U.S.'s strengths include a "diversified and resilient" economy, and its role as the issuer of the world's reserve currency."
S&P, the only major company that assigns the U.S. a grade below its top rating, kept its outlook at "stable," which means there is less than a one-in-three chance it will change in the next two years. You may recall that S&P cut its rating on the U.S.'s debt in August 2011 for the first time, amid gridlock in Washington over the debt limit and government spending.
The words - full faith and credit of the United States – have tremendous value and the phrase is often used to describe the unconditional guarantee or commitment behind America's credit quality.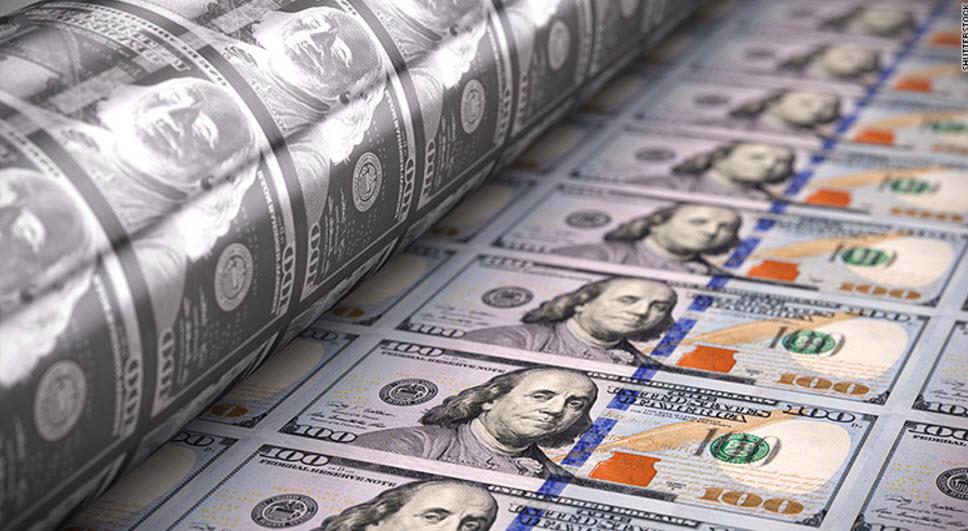 PictureSource
Easterly Government May Be The Gold Standard
The U.S. government is the largest employer in the world and the largest office tenant in the U.S. Easterly Government Properties (NYSE:DEA) is the only internally-managed REIT with a focus on investing in U.S. government-leased buildings. The other direct peer is Government Properties Income Trust (NYSE: GOV), an externally-advised REIT.
In February 2015, DEA completed its IPO on the NYSE, and the company raised $207 million (priced at the mid-point of $15.00 per share) that included the full exercise of 12 million shares. Since my first researcharticle on DEA on July 13, 2015, shares have increased by 23.46%.
DEA focuses on the acquisition, development and management of class A commercial properties that are leased to U.S. government agencies through the General Services Administration.
The average age of the U.S. government's owned properties is 47 years and the GSA-leased inventory has grown 30.1% since 1998 (as compared to a 1.5% decline for GSA-owned), and the GSA now rents more than it owns.
Given recent federal budget constraints, we believe it is likely that the U.S. Government will continue to grow its leased portfolio of assets.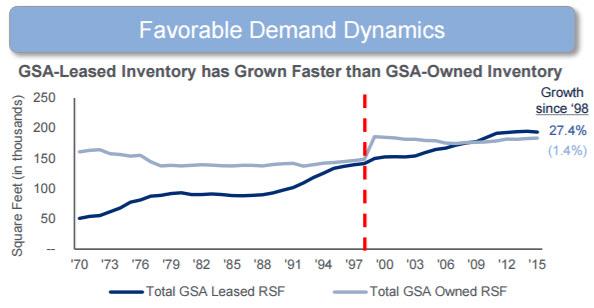 DEA sticks to critical missions of the federal government that don't go out of favor; agencies like the Federal Bureau of Investigation and the Immigration and Customs Enforcement.
The pool of assets that DEA and GOV fishes in is fragmented - the ten largest owners of GSA-leased assets own approximately 18.5% in aggregate, with no single landlord owning more than 3.4%. There is no national broker of clearing house for GSA-leased properties.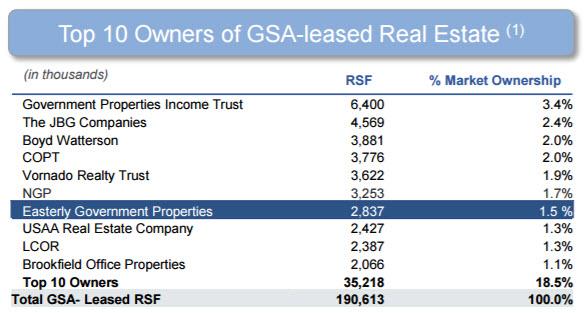 DEA only deals with the U.S. federal government, and the new REIT does not have an interest to work with any other government, state or local because it is not backed by the full faith and credit of the U.S.
Its usual tenants are subject to annual appropriations from capricious state governors and governments. Accordingly, DEA underwrites the agency and the importance of the building within the hierarchy of the agency.
DEA owns 44 properties (GOV owns 73) that consist of around 3.2 million square feet. The portfolio is 100% leased (GOV is 95%) and the weighted average age is 12.7 years.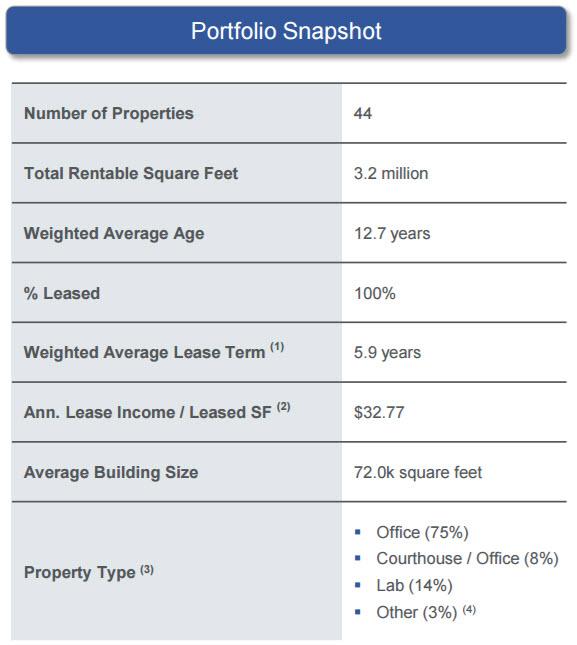 Most of DEA's buildings are office buildings (75%) and the rest are either courthouse/office (8%), lab (14%) or other (3%). Here's a snapshot of DEA's geographic footprint: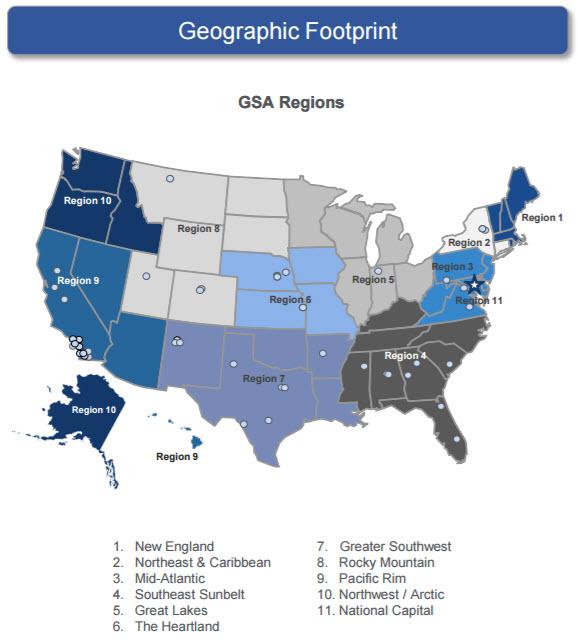 Roughly, 97% of DEA's current lease income is derived from the federal government and its full faith and credit. Here's a snapshot below of the top tenants: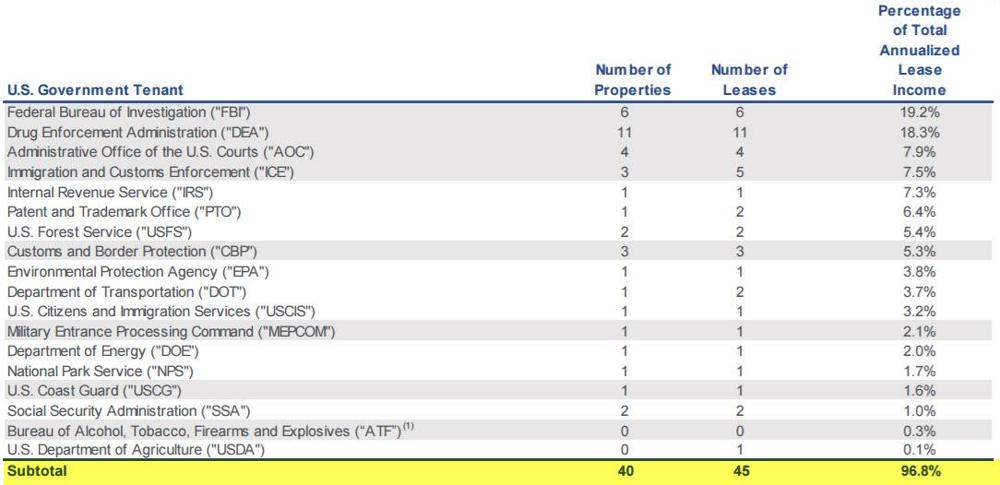 Almost Like a Laddered Bond Portfolio
As stated above, DEA's portfolio is around 97% backed by the U.S. government. GSA has never financially defaulted on a lease throughout its history, and because DEA does not lease to state agencies, there are no risks related to appropriations.
DEA has long term initial lease structures (typically 10 to 20 years) with renewal terms typically of 5 to 10 years. The company has CPI-based reimbursement of operating expense increases and the GSA generally pays all property tax increases.
DEA has high historical renewal rates of approximately 94% with ~ $548 million of contractual rent due from the U.S. Government with ~ $1.5 billion of contractual rent assuming hypothetical 10-year renewal of current leases.

As you can see below, DEA's average lease term is 11.6 years, and that compares favorably to the peer group. Note, GOV's average lease term is ~5.9 years. Due to DEA's long-term lease characteristics, the company has less than 17% of total annualized lease income rolling through 2018.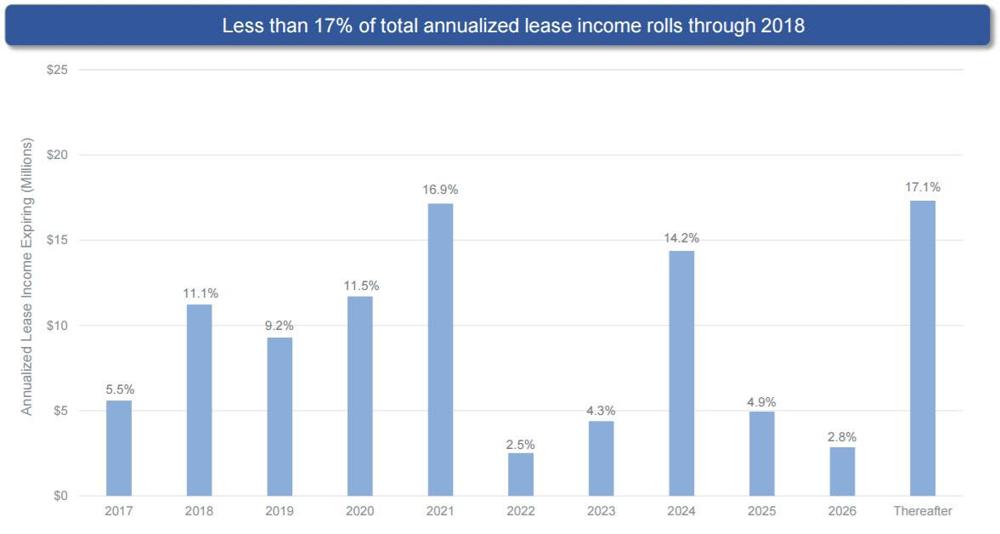 Also, DEA uses modified growth leases instead of triple-net leases - meaning they protect against inflation. Operating expenses for a DEA-owned building are agreed upon in the first year, and every subsequent year the federal government pays an increase based on the consumer price index.
If you take a lease term of 10 to 15 years, the rent will move up, on average, 17.7% when it rolls. If the lease term is 15 to 20 years, rents will rise a little more than 26%. So instead of getting it every year, or every three years, you're going to get it at the end of the lease term. DEA's portfolio is currently 100% leased, and here is how that compares with the peer group: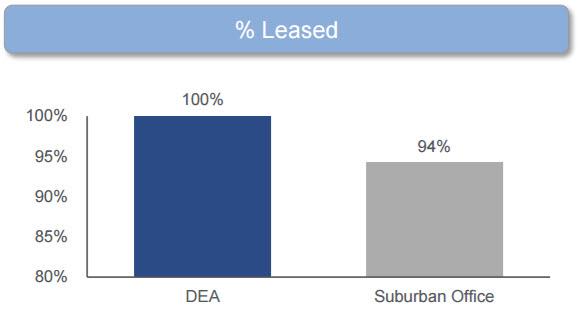 DEA's buildings are newer - the average age of the DEA portfolio is 12 years (compared with 22 years for GOV):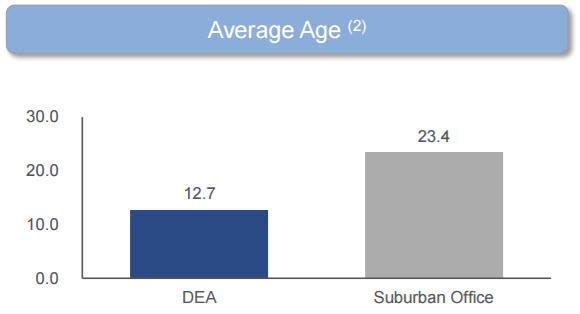 DEA's annualized lease income per leased SF is $32.77 (compared with comps $27.61).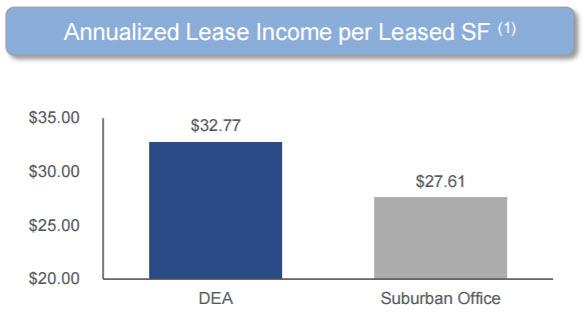 Because DEA's buildings are mission-critical, the basis for rent renewal is replacement cost. As long as the construction costs are meeting inflation, those rolls will ultimately catch up with growth. In the appendix of DEA's recent Investor Presentation, the company provides the following overview of a typical GSA lease: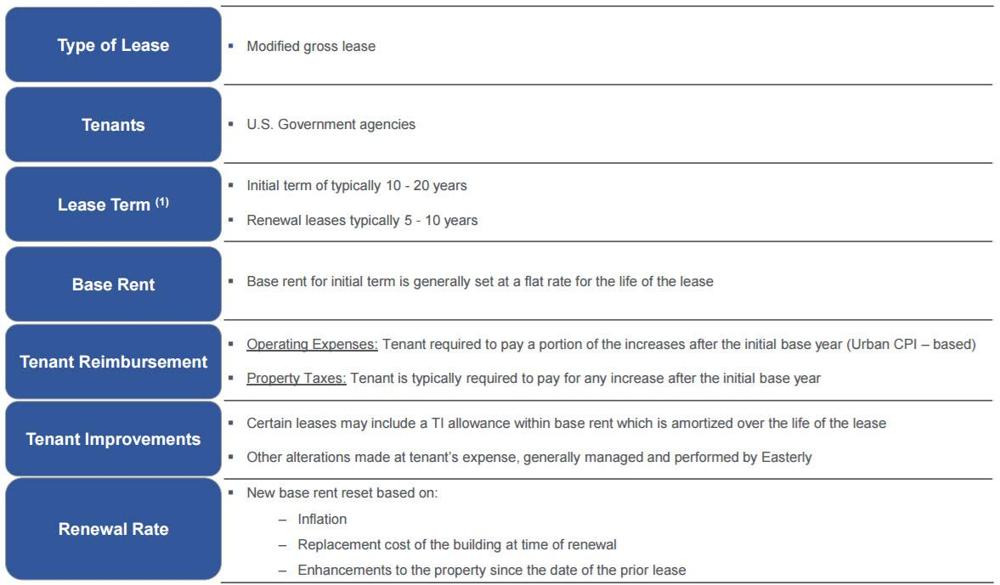 The Balance Sheet
At year-end, DEA had total debt of $292.5 million and leverage was 23.8% (in terms of net debt to total enterprise value) or 4.5x annualized fourth quarter EBITDA. Despite material acquisition growth in 2016, leverage (as measured by net debt to total enterprise value) compared favorably to 2015.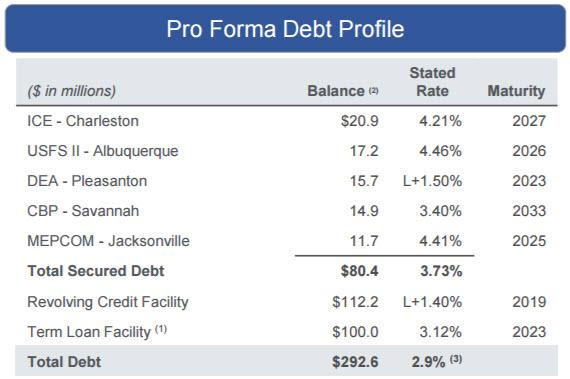 At the end of Q3-16, DEA entered into a $100 million, seven-year, unsecured term loan facility, with a 180-day delay draw period. Early in Q4-16, DEA entered into forward interest-rate swaps to effectively fix the interest rate on future drawdowns under the term loan facility at a rate of 3.12% annually based on the company's current leverage ratio.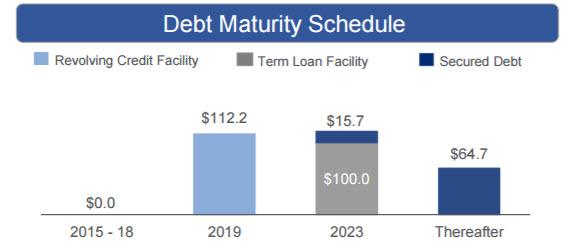 DEA had $288 million of availability on its $400 million revolving line of credit as of Q4-16. There's ample capacity for the company to exceed its accretive acquisition program for 2017 and support guidance.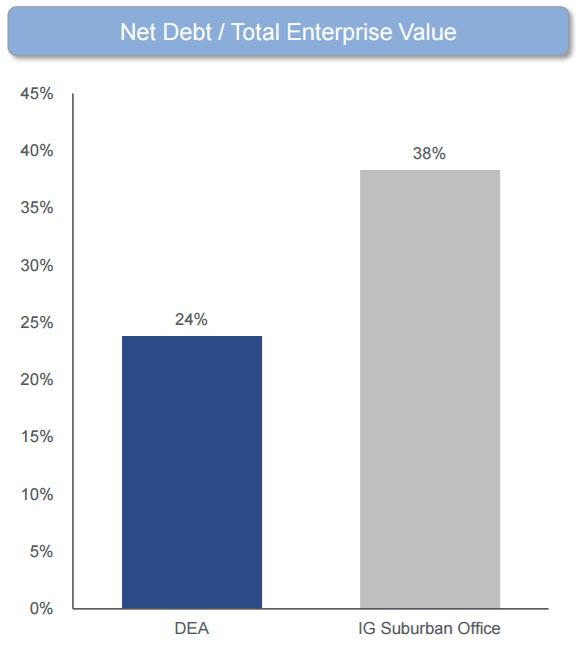 Management Matters
As noted above, DEA is internally-managed and this provides the company with an enhanced platform to grow. Because the missions being performed in DEA's facilities are so inherently critical to the overall safety, well-being and strength of our country, DEA is well-positioned to provide value to government-backed tenants. DEA's CEO explains,
For example, the FBI, having doubled in size since 9/11, has expanded its mission to include cyber terrorism, counterterrorism, all in addition to its primary focus to investigate federal crimes. We do not see their scope of mission decreasing.
Here's a snapshot of DEA's acquisition history since the IPO:

Acquisition of properties are essential to the mission of select U.S. Government agencies and DEA, being internally-managed, is best able to provide the resources needed. In addition, DEA is actively involved in U.S. Government build-to-suit opportunities that meet the investment criteria, with minimal speculative development risk.
By leveraging the reputation and expertise of senior management throughout the U.S. Government procurement process, DEA sees strong potential. One example is the Department of Veterans Affairs or the VA.
The VA is the second-largest department in terms of total appropriations and staffing, employing nearly 350,000 people, which in turn provides vital services to approximately 22 million US military veterans living today.
In recent years, the VA has begun to undertake a transformation in its healthcare facilities that serve these veterans. Rather than providing healthcare to veterans in hospital centered in-patient care facilities, the VA has taken on a roughly estimated $63 billion project to provide new state-of-the-art outpatient care facilities located throughout the country.
These facilities are typically located near major hospital centers and offer a wide range of outpatient services, ranging from primary care, specialized care, mental health care and related medical and social support services for veterans in need. There is now greater reliance on the private sector to develop and own VA facilities on behalf of the US government.

Leases on these new facilities are very attractive. They're typically 15 to 20 years initially, backed by the full faith and credit of the United States government, and can even offer greater flexibility in the lease terms than typically seen in other GSA leases. Examples of this include, greater cost reimbursements and periodic bumps in rent over the term of the lease.
As you can see, DEA's management team has deep experience in the sector and it's important to note that senior management owns approximately 16% of the company.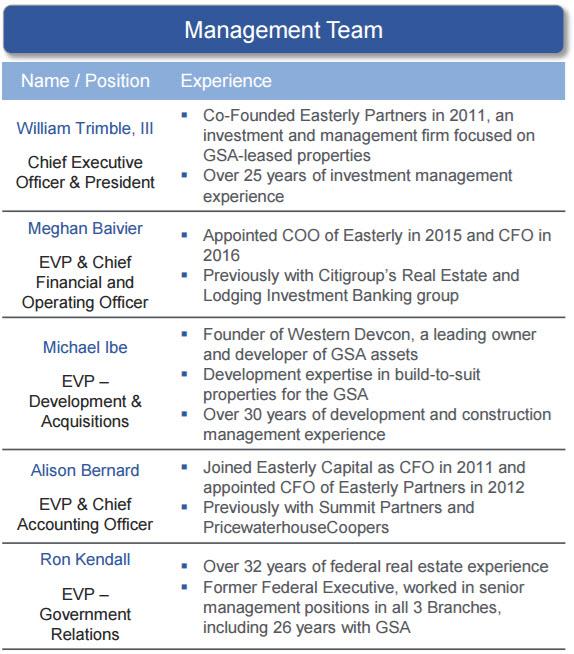 The Latest Earnings
For the fourth quarter, FFO per share on a fully diluted basis was $0.31, up 19% year-over-year. FFO as adjusted per share on a fully diluted basis was $0.30 and our cash available for distribution was $11.7 million.
For the full year, FFO per share on a fully diluted basis was $1.21, up 16.5% year-over-year. FFO as adjusted per share on a fully diluted basis was $1.17 and our cash available for distribution was $43.7 million.
DEA's 2017 guidance for FFO per share on a fully diluted basis is $1.24 to $1.28 per share. This guidance assumes a range of $150 million to $200 million of acquisitions in 2017, including the recently announced OSHA Sandy acquisition and does not contemplate any dispositions. DEA declared a dividend related to Q4-16 of $0.24.
What To Do?
As seen below, DEA is getting more shelf, with an attractive shareholder base: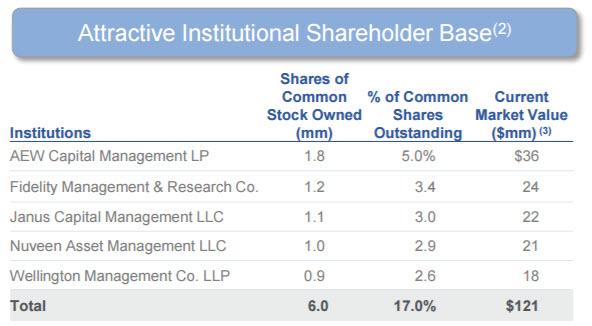 Although the company has a limited history, I like the trend I'm seeing related to FFO/share growth: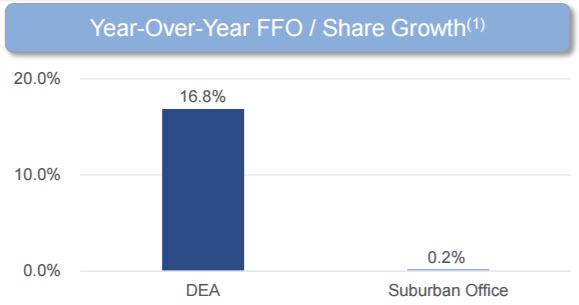 In order to get an accurate picture of DEA's valuation, I wanted to utilize two different peer groups. Let's first look at DEA's dividend yield compared with the traditional peers:

Now let's compare the dividend yield with the non-traditional peers (the net lease REITs). I think this is a better peer group since DEA has higher-quality tenants.

Now let's compare the P/FFO: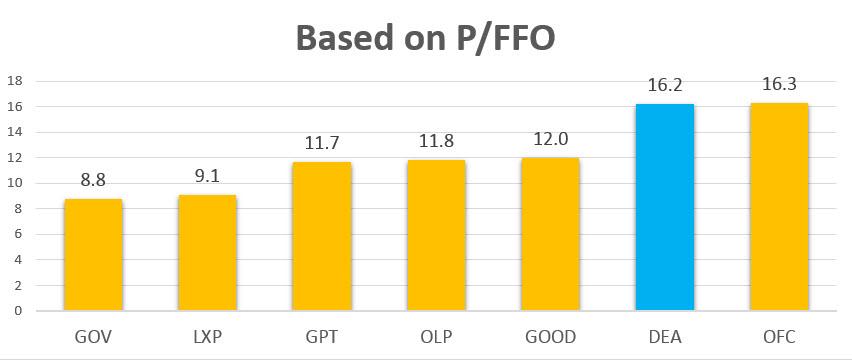 Now compare the Net Lease REITs: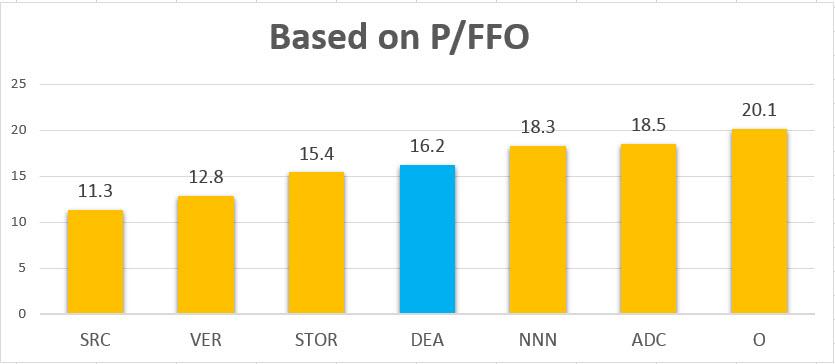 By using two different peer groups you can see that DEA is cheaper than O and NNN and I consider shares "soundly valued." The 5% dividend appears extremely safe, especially when considering the payout ratio (85% of AFFO) and high-quality tenant concentration.
One thing that I find especially interesting is the 11% AFFO/share growth forecasted (FAST Graphs) in 2017. As you know, there are no guarantees in life, but you can certainly take this REIT backed by the full faith and credit of the United States to the BANK. This REIT is actually printing MONEY!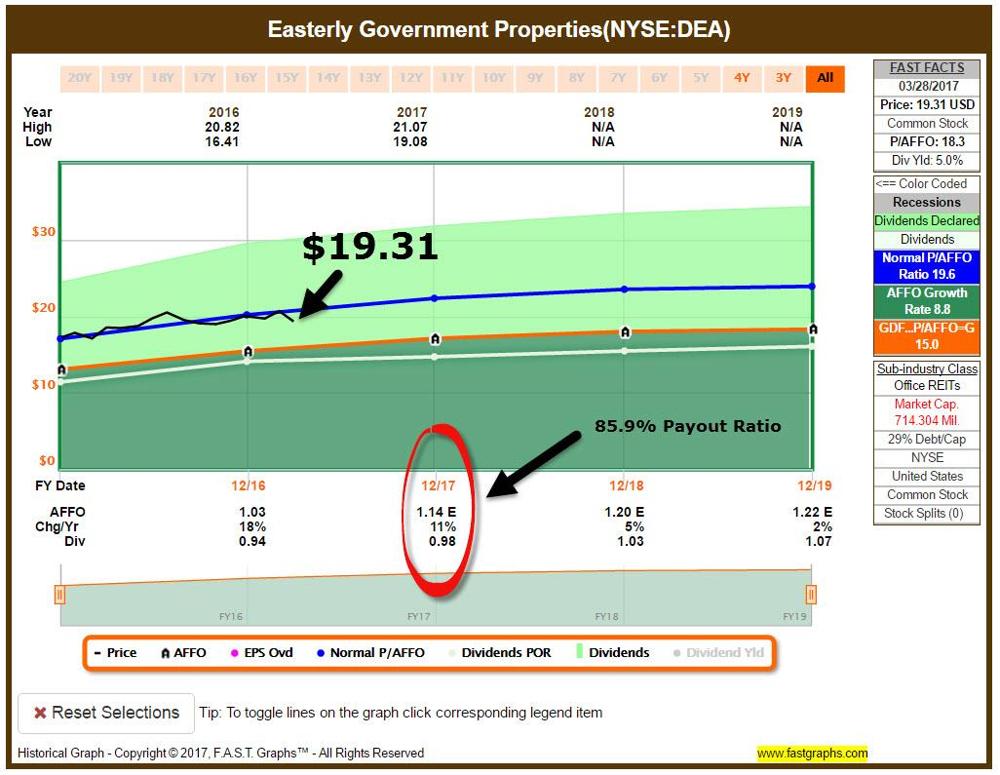 Check out The REIT Beat where you can find my entire bracketology series,including RHINO Ratings for over 140 REITs.
For more information on the 22nd Annual REIT Symposium hosted by the NYUSPS Schack Institute of Real Estate's REIT Center CLICK HERE.
REITs mentioned: GOV, O, NNN
Sources: FAST Graphs and DEA Investor Presentation.
Finally, this article is free, and the sole purpose for writing it is to assist with research, while also providing a forum for second-level thinking. If you have not followed him, please take five seconds and click his name above (top of the page).
Author Note: Brad Thomas is a Wall Street writer, and that means he is not always right with his predictions or recommendations. That also applies to his grammar. Please excuse any typos, and be assured that he will do his best to correct any errors, if they are overlooked.
Disclosure: I am/we are long APTS, ARI, BXMT, CCI, CCP, CHCT, CLDT, CONE, CORR, CUBE, DLR, DOC, EXR, FPI, GPT, HASI, HTA, KIM, LADR, LTC, LXP, O, OHI, PEB, QTS, ROIC, SKT, SNR, SPG, STAG, STOR, STWD, TCO, UBA, VER.
I wrote this article myself, and it expresses my own opinions. I am not receiving compensation for it (other than from Seeking Alpha). I have no business relationship with any company whose stock is mentioned in this article.