Whitestone Is Poised To Profit, I'm Upgrading To BUY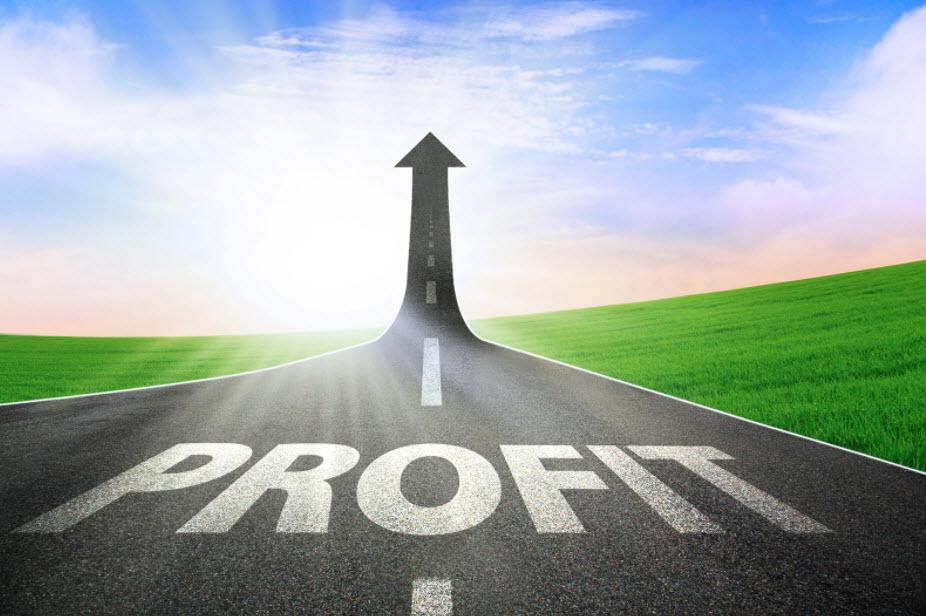 NoahBlacker
Brad Thomas wrote this article and it has appeared previously on Seeking Alpha.
Summary
When I recommend a STRONG BUY in the REIT sector, it signals that the company is not only a quality REIT, but it's also a deeply discounted enterprise.
I now find Whitestone attractive from a risk-adjusted return basis.
What I find the most attractive is the unique growth opportunity with an attractive entry point.
I'm in Las Vegas, but I'm not gambling. I'm not even tempted to wager, since I'm staying at the Trump Hotel where there's no gambling whatsoever.
The reason I'm here is because I'm attending the annual ReCon – everything retail conference – where I'll be meeting with over 20 Retail REIT CEOs.
This year's ReCon should be especially informative, as most all Retail REITs are feeling the impact of the turbulence in the retail sector. Last week, I explained that:
…the specialty retail sector is in a period of unprecedented secular change that is disruptive to traditional business models, and…the sector is likely to remain challenging for the next 12 to 24 months.
I added that:
Ultimately, we believe that with each new retail release and comp sales update, the retail REIT sector will be impacted. As a result, volatility within the sector will remain elevated.
As you can see below, all of the Shopping Center REITs have been impacted by the retail "brick and mortar" commotion: DDR (DDR) has been hit the hardest, -37% YTD, followed by Wheeler (WHLR) -27.6% TR YTD, Kimco Realty (KIM) -24.6% TR YTD, and Brixmor (BRX) -22.0% TR YTD.
I included Washington Prime (WPG) in this analysis, since this REIT owns 50% of shopping centers and 50% Malls. WOG has returned -21.3% YTD.

As my newsletter subscribers know, I have STRONG BUY recommendations on BRX (see my article HERE) and KIM (see my article HERE). I also have BUY recommendations on Kite Realty (KRG), Regency Centers (REG), and Urstadt Biddle (UBA).
All 5 of these REITs own high-quality shopping centers with tenants that are largely internet-resistant. Unlike the department stores in Malls (that are struggling), the shopping center REITs with necessity-based businesses are performing well, despite the weakness in retail.
When I recommend a STRONG BUY in the REIT sector, it signals that the company is not only a quality REIT, but it's also a deeply discounted enterprise. Given the fact that I have 2 STRONG BUYs (KIM and BRX) in the Shopping Center sector, should tell you something.
However, the purpose of my article today is to tell you about an upgrade, from a HOLD to a BUY.
I have been carefully researching Whitestone REIT (WSR), and last week I spoke with the CEO Jim Mastandrea, and CFO David Holeman. Upon further examination, I decided to tap the gas pedal, and initiate a BUY. There's more to the story that just an attractive 9.9% yield, continue reading: Whitestone Is Poised To Profit, I'm Upgrading To BUY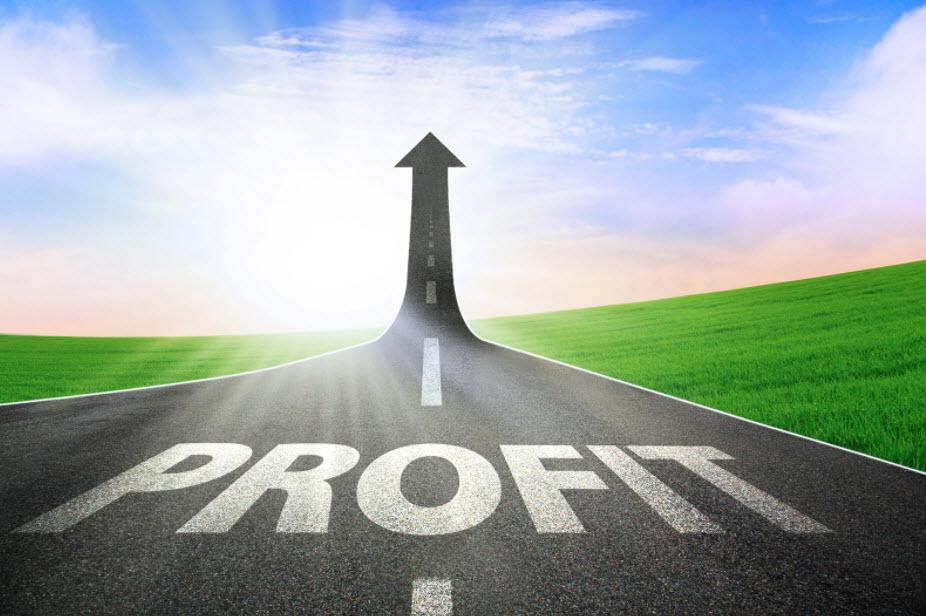 Photo Source
Whitestone's Dividend Yield Is 9.9%- It's Time To BUY
First off, I don't consider Whitestone to be the same quality REIT as KIM or BRX. The reason that I was in a "HOLD" pattern, up until now, is because of Whitestone's "less defensive" attributes. As you will discover in this article, Whitestone does not enjoy the same credit quality as the other REITs (that I have a BUY recommendation); however, I now find Whitestone attractive from a risk-adjusted return basis. As you can see below, Whitestone has an appealing dividend yield (WSR pays monthly too).

As you can see, WSR is yielding 9.9% (the other REITs with BUYs are shaded in green). Now let's examine WSR's P/FFO multiple, compared with the peer group:

As you can see, WSR is trading at 8.6x P/FFO, considerably cheaper than the other Shopping Center REITs (the other REITs with BUYs are shaded in green).
Keep in mind, Whitestone is unique, and while I am upgrading shares to a BUY, investors (or potential investors) should consider the key differentiators.
A Closer Examination of Whitestone REIT
Whitestone REIT was founded in 1998 and began trading as a public company on August 25, 2010. Its portfolio today consists of 69 Community Centers with approximately 6.1 million square feet of gross leasable area, located in six of the top markets: Austin, Chicago, Dallas-Fort Worth, Houston, Phoenix. Headquartered in Houston, Texas. (27 properties in Phoenix and 41 in Texas).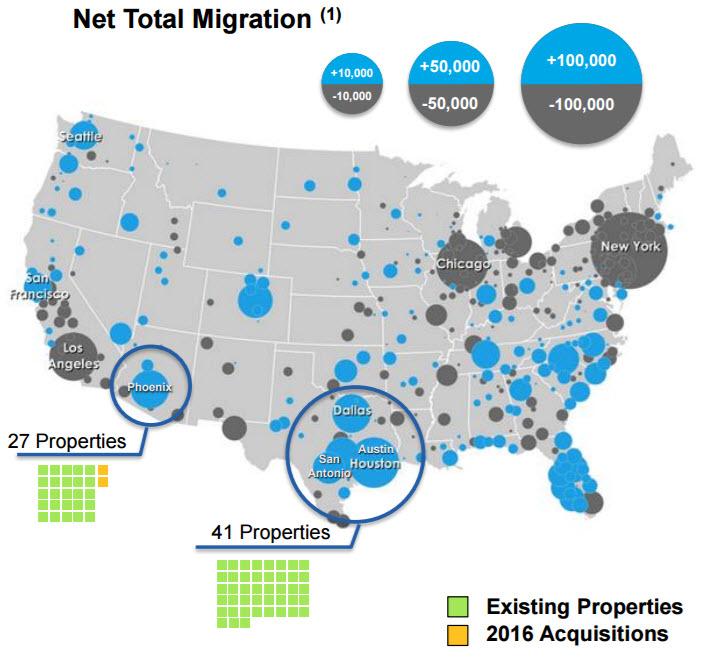 As I explained in a previous article, "I decided to invest in WSR during the downturn in Houston last year and since that time, I have sold out of WSR, but I still own a few shares in the Monthly Dividend Portfolio."
I have subsequently upgraded WSR from a HOLD.
Houston is actually a diversified market with 26 Fortune 500 companies, and 6 of the top 10 employers in the town are energy related. Today, energy accounts for about 38% of the GDP in Houston as opposed to 75% in the 1980s.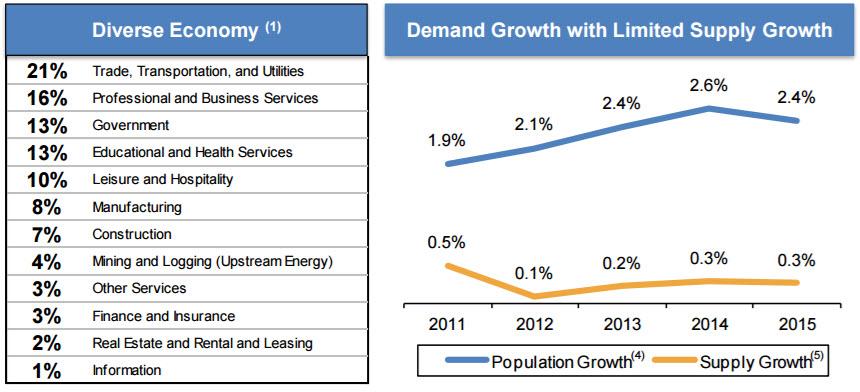 WSR has been able to grow by maintaining exposure in select markets like San Antonio, Austin, Houston, Dallas, and Phoenix. As you can see below, WSR has the most exposure in Phoenix (50%), Houston (20%), and San Antonio/Austin (20%).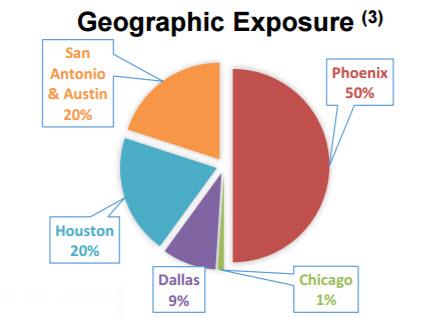 All of these markets are strong - WSR's higher household income leads to greater discretionary spending. WSR has the second-highest median household income (3-mile average) average (of the shopping center peers):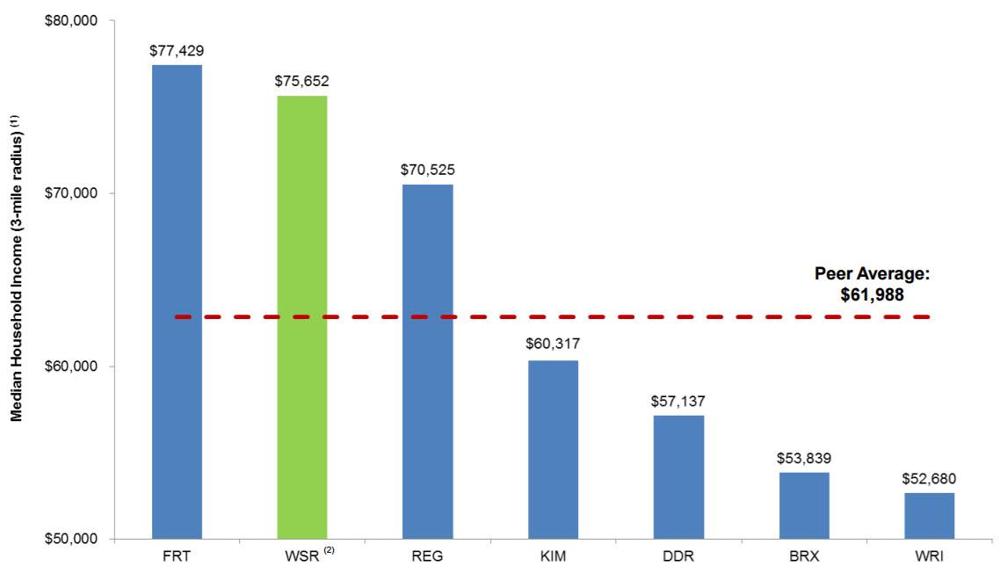 WSR's higher income focus is a key differentiator, and as the chart illustrates below, the Texas and Arizona markets are expected to generate strong population growth: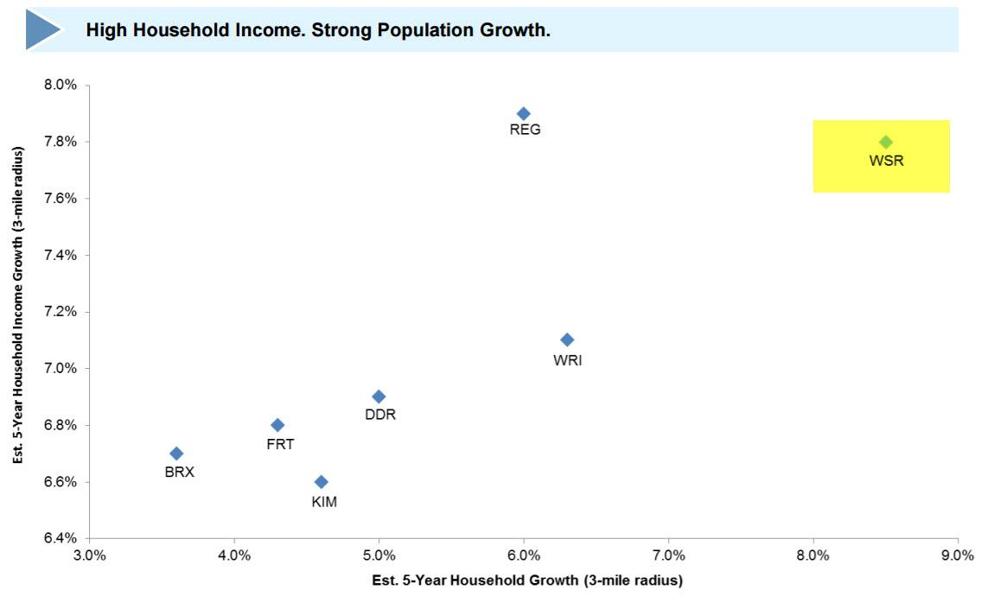 One of my biggest concerns with WSR is that the company lacks geographic diversification and that is a risk that investors must consider.
WSR is also much smaller than the other shopping center REITs; the company has a market cap of $408 million. However, WSR has an enterprise value of over $1 billion, and the company can easily grow within its core markets, supported by current G&A.

As Mastandrea explained to me:
We like growth states, and Texas and Arizona are business friendly.
Mastandrea was referring to the non-business friendly states like OH and PA where it takes much longer to evict tenants. He suggested that Whitestone prefers to invest in states where it can get space back quicker (with a problem tenant). He said that Whitestone could eventually expand into markets like "Denver, Atlanta, Orlando, and Tampa."
A Unique Player in the Shopping Center Sector
Although buying value-add shopping centers is somewhat of a niche investment strategy, WSR's model is scalable and produces above-average returns.
WSR is considered a more tactical re-developer in that the company seeks to acquire "broken" centers and then "bring them back to life" by leasing up space. As you can see below, WSR focuses on community centers and neighborhood centers (see definitions in the chart below):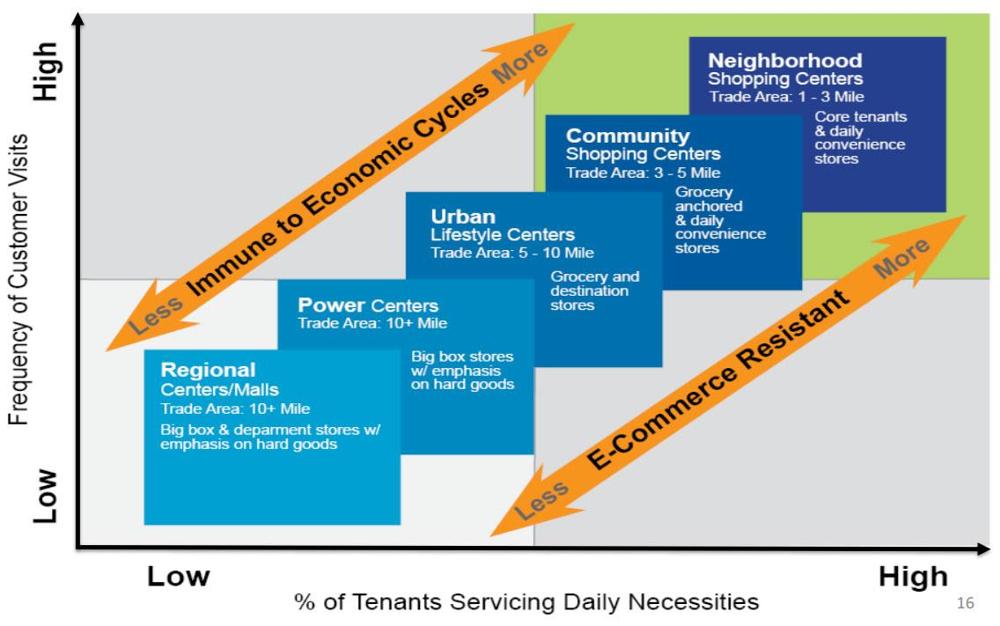 WSR has a diverse portfolio that includes grocery (11%), dining (22%), services (28%), beauty & health (16%), education (6%), and specialty retail (17%). 83% of the company's tenants are service based and resistant to e-commerce. Also, WSR has only two tenants with more than 1% ABR (annual base rent):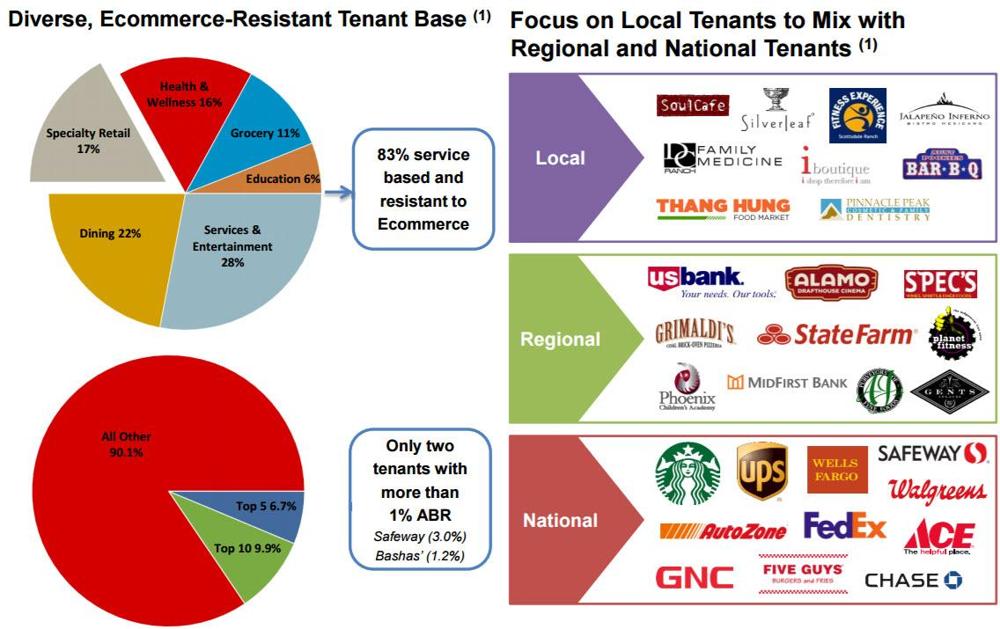 As you can see (above), grocery represents 11% of WSR's portfolio and Safeway is the company's largest tenant with 3.2% of ABR. While there is no argument that WSR has a diversified portfolio, the lack of grocery concentration is obvious.
But WSR's diverse tenant base is concentrated in a variety of categories, so the tenants tend to occupy smaller spaces (less than 3,000 square feet), whereby the small tenants pay a 48% premium over the large tenants. The obvious advantage is that the more diverse portfolio minimizes downside risk with no single tenant concentration.
WSR has continued to be very active in the acquisition side of the business, maintaining a strong pipeline of opportunities sourced through relationships in targeted markets.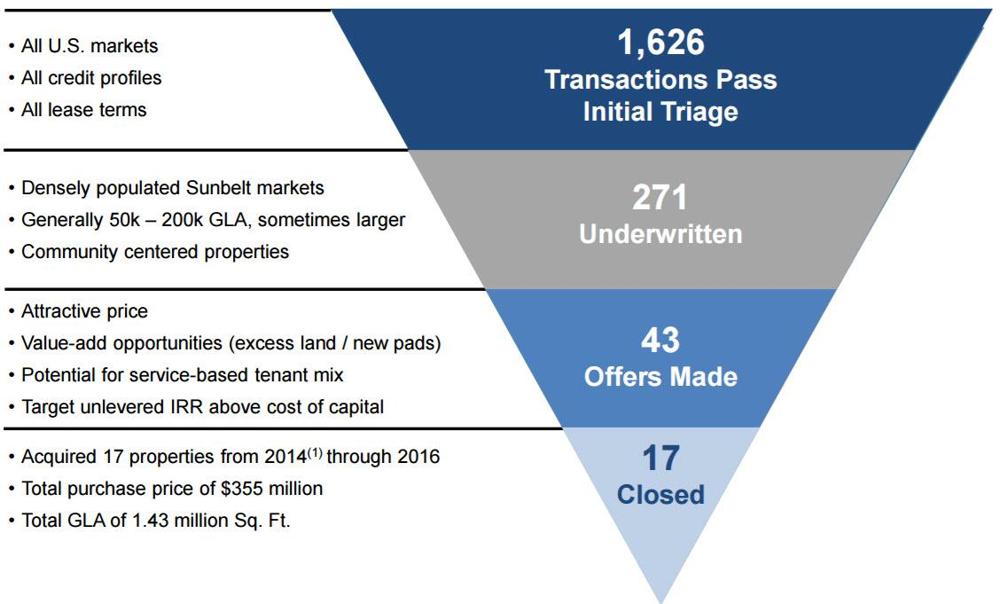 WSR expects to fund these acquisitions using multiple sources of capital, which include non-core asset sales and issuance of operating partnership units (could be a positive if Congress repeals the 103 exchange laws).
WSR recent closed on Eldorado Plaza, anchored by Best In-Class E-Commerce Resistant Specialty Grocers (Whole Foods, Trader Joes). WSR paid $46.6 million for this 97% occupied center.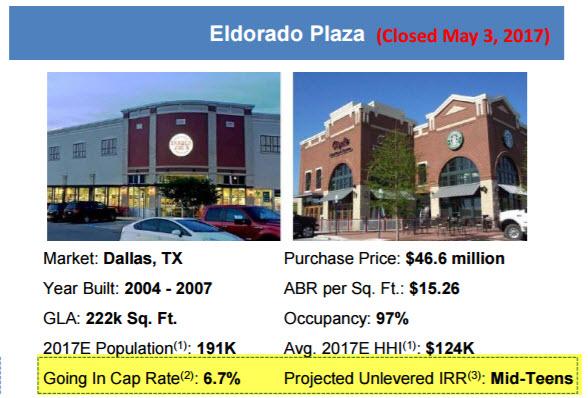 The going-in cap rate for Eldorado Plaza was 6.7%, and I'll admit that I was a bit surprised to see the low cap rate.
However, Mastandrea reminded me of the "unique development opportunity" in which Eldorado could add more space and grow the cap rate to the mid 7% range. As you can see below, Whitestone plans to a free-standing Starbucks (NASDAQ:SBUX) and more retail space.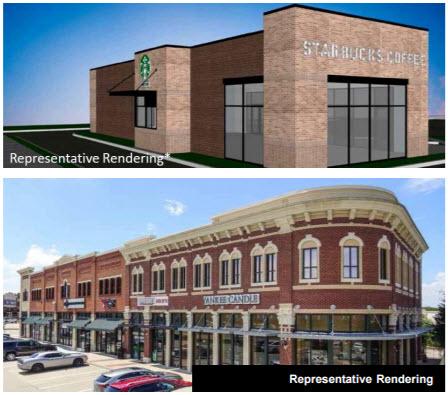 Starbucks has signed an LOI to move from an inline space to a free-standing drive through space that will be located on the undeveloped land. Starbuck's rent per sq. ft. would increase from $30 per sq. ft. to $62.50 per sq. ft. The undeveloped land could house up to ~24 thousand sq. ft. of retail space.
Whitestone is expected to close on BLVD Place (Houston) in a few days: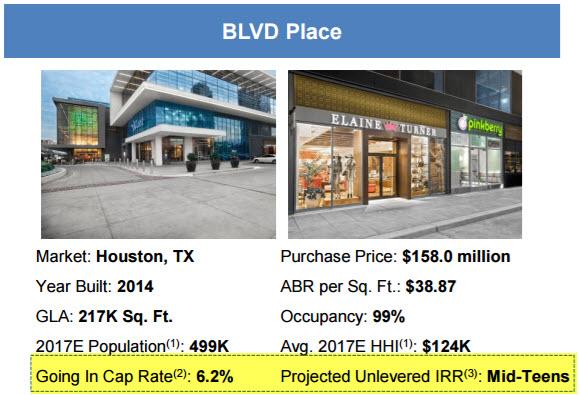 Similar to Eldorado, BLVD Place is being acquired for $158 million, that equates to a cap rate of 6.2%. However, this trophy center has substantial upside, as illustrated below…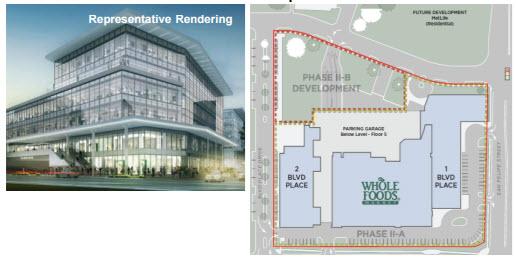 As part of the BLVD Place acquisition, WSR is acquiring a 1.43 acre tract of adjacent land. The planned development includes a six story, 137,000 sq. ft. mix use building (estimated incremental development cost of $45mm with ~46,000 sq. ft. of retail space on the first two floors and ~91,000 sq. ft. of office space on the top four floors.
Construction is expected to begin shortly after acquisition closing and expected to take ~18 months to complete. After accounting for development of adjacent land at BLVD Place, WSR is projecting mid-teens unlevered IRR on the BLVD Place acquisition.
WSR believes that it can successfully grow its differentiated business model to over $5 billion in assets (source: Q4-16 earnings transcripts). In 2016, the company sold 17 non-core assets (including retaining a participation in upside of 14 non-core assets with limited or no downside and no future investment in these assets). WSR acquired two high-quality retail centers in Scottsdale for $72.5 million, utilizing approximately $12 million of cash from the sale of up-REIT operating partnership units at $19 a share.
WSR has completed the disposition of its remaining non-core assets, achieving the previously communicated goal of becoming a pure play owner of retail shopping centers. Here's a snapshot of WSR's growing asset base: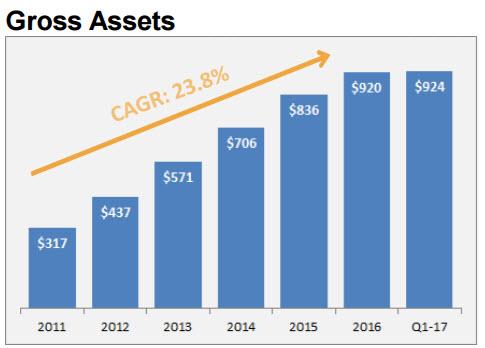 The Balance Sheet
WSR's capital structure is one simple class of stock, with no joint ventures and a combination of property and corporate level debt. The company's underlying debt structure is a mix of secured and unsecured debt and well-laddered maturities.

At the end of Q1-17, WSR had total real estate assets on a gross book basis of $925 million. These assets produced approximately $76 million in annual net operating income, and this equates to an 8.2% unlevered cash on cash return on investment.
Upon closing of the pending acquisitions, WSR will have grown its real estate assets to over $1.1 billion on a book basis.
WSR's underlying debt structure is comprised of a mix of secured and unsecured debt and well laddered maturities. This capital structure provides the company with the financial flexibility to support growth opportunities and be able to weather changing conditions.

At the end of the first quarter, approximately two-thirds of WSR's debt was fixed with a weighted average interest rate of 4% and a weighted average remaining term of five years.
WSR has $102.4 million of availability under its credit facility at the end of the quarter, with additional availability of up to $200 million from the exercise of the facility's Accordion feature.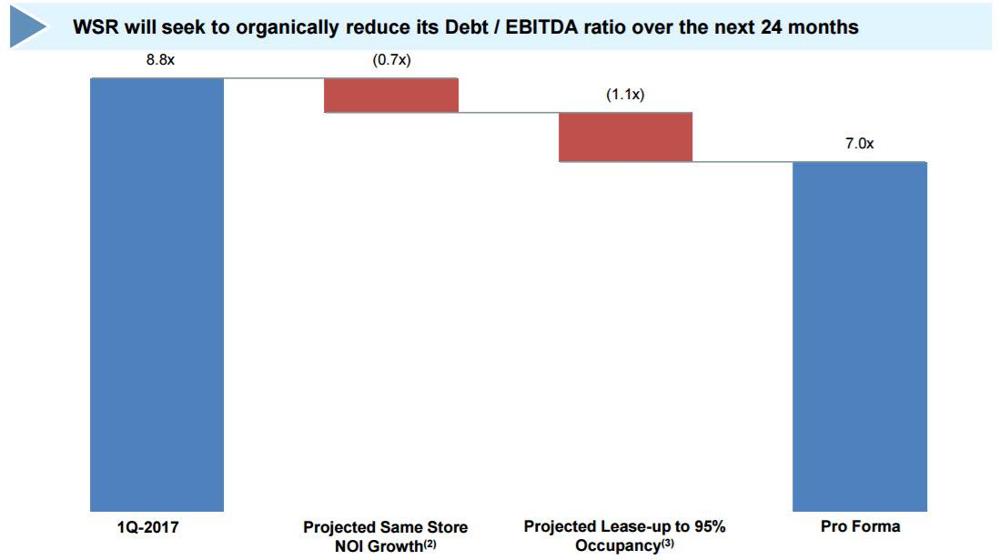 WSR expects debt leverage metrics to improve over time, because of increases in net operating income generated from higher occupancy and rental rates and capital structuring of future acquisitions and additional asset dispositions.
WSR's debt-to-EBITDA at the end of the quarter was 8.7x. The company continues to maintain a largely unsecured debt structure with 46 unencumbered properties out of 55 wholly-owned properties at an undepreciated cost basis of $668 million.
When I spoke with Mastandrea, he explained the he "was comfortable with higher floating rate debt." He was referring to the fact that WSR's leases are shorter term in nature and the company can increase rents faster than most shopping center REIT peers. He also said that "Moody's and S&P are starting to look (at us)."
Moving The Needle
For the first quarter, WSR's total revenues increased 11% over the same period in 2016 to $28.3 million. This was driven by strong growth in same property revenues of 5%.

Property net operating income for the quarter was up 9% over 2016, driven by top line growth and efficiencies gained in property operating expenses, reflecting the scalable business model.
Same property net operating income grew 2% versus the prior year and includes approximately $200,000 in bad debt expense related to re-tenanting. WSR does not expect this bad debt expense repeat in Q2.
WSR's funds from operations core for the quarter increased 5% or $500,000 versus the prior year quarter. On a per-share basis, funds from operations core was $0.32.
Negatively impacting funds from operations for the quarter were $200,000 of bad debt expense related to re-tenanting and approximately $270,000 of professional fees of audit and tax fees related to year-end audit and non-core asset dispositions. Excluding these two expenses, funds from operations core would have been $0.34 per share.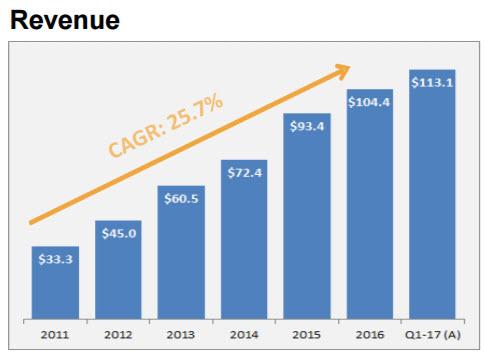 General and administrative expenses for the quarter, excluding the amortization of non-cash performance based share compensation, acquisition and disposition transaction costs from both periods and the nonrecurring audit and tax fees in quarter one was 10.7% of total revenues. This compares to 11.1% for the full-year 2016.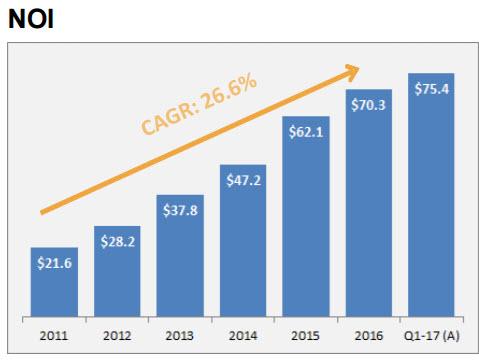 WSR's leasing spreads for the first quarter 2017 on a GAAP basis were a positive 8.2% on renewal leases and a positive 3.1% on new leases for an aggregate positive 7.4% increase. WSR ended the quarter with total operating occupancy at 88.6%, up 90 basis points from a year ago.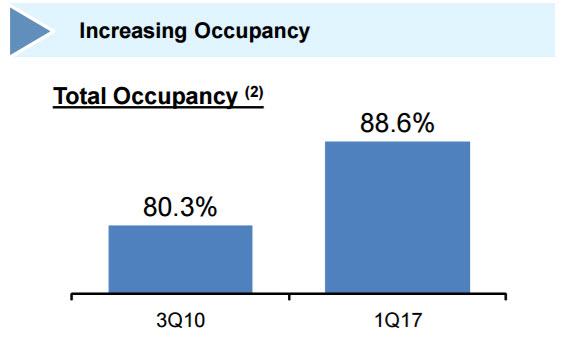 WSR's annualized base rent on a year-over-year GAAP basis expanded 14% to $17.36 per square foot at the end of the first quarter. As noted, WSR has a diverse tenant base, minimizing its individual tenant risk, with the largest tenant representing only 3% of annualized rental revenue. At the end of the quarter, WSR had approximately 1,600 tenants, which represents an increase of 6% in its tenant count from a year ago.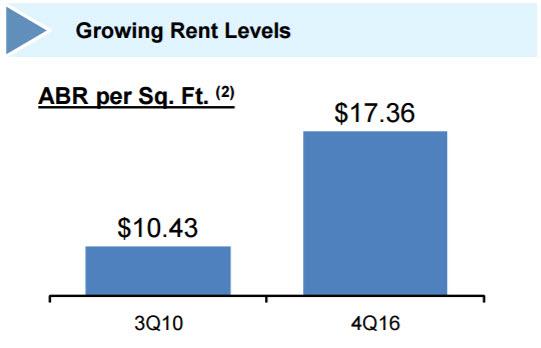 Mastandrea explained that 83% of the leases are service-based (17% specialty) and he said that "restaurants have percentage rent clauses on all leases," and this provides the company with added rent growth.
At the end of Q1-17, WSR reaffirmed the 2017 funds from operations core guidance range, which is $1.34 to $1.39 per share (this guidance does not include future unannounced acquisitions or dispositions).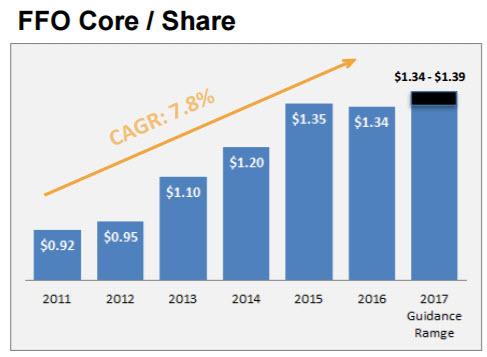 Why Am I Upgrading WSR to BUY?
WSR's leverage (50% debt to total cap) is higher than most shopping center REIT peers and the tenants are higher risk – most are non-investment grade – and this means that the company's revenue stream is much less defensive as the grocery-anchored REITs.
As noted above, I have STRONG BUY recs on BRX and KIM, as they derive the majority of their income from investment grade rated grocers - WSR's specialized approach offers a higher risk value proposition.
However, to mitigate the risk, WSR has a diverse portfolio of tenants (5,500), and so it's virtually impossible for one torpedo to wreck the ship (like WPG or SRC).
So while quality does matter, when it comes to REIT investing, quantity matters too!
But what I find the most attractive, as it relates to Whitestone, is the unique growth opportunity with an attractive entry point. As you can see below, WSR is trading at an implied cap rate of 8.35%.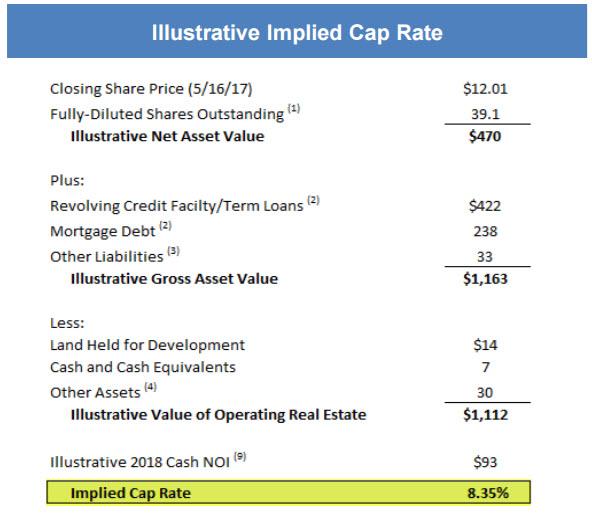 Using the above-referenced $93 million NOI number, and a cap rate of 7%, WSR is worth around $1.2 billion. However, this does not include the development deals and occupancy growth. In addition, WSR has around 140 freestanding properties that are worth more (than a 7% cap rate).
In other words, WSR could sell its free-standing Net Lease portfolio to a company like Realty Income (O) or STORE Capital (STOR) and generate substantial proceeds to reduce debt and fund acquisitions.
Using my "back of the napkin" analysis, I believe that WSR's NAV could be closer to $1.4 billion or $35.00 per share. The market is not valuing the company for its development acumen and the 140 +/- free-standing net lease properties.
Let's take a look at the FFO forecaster (powered by FAST Graphs):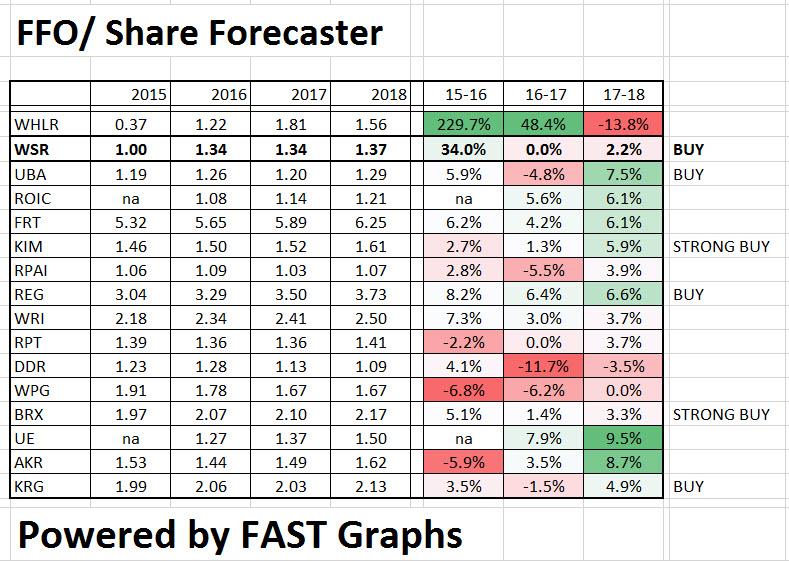 As you can see (above), WSR is forecasted to grow FFO modestly, and that's one of the reasons that I was previously in a "HOLD" pattern. However, the valuation of the shares has become compelling, so from a risk-return lens, I find WSR to be an attractive BUY.
Also, I believe that WSR's service-based tenant base will perform well as a result of the strong demographic profile of the company. If President Trump's Tax Plan gets traction, many small businesses will benefit, and corporate profits should serve as a catalyst. Also, WSR has finally grown into a safer dividend, as you can see below, the payout is covered by FFO.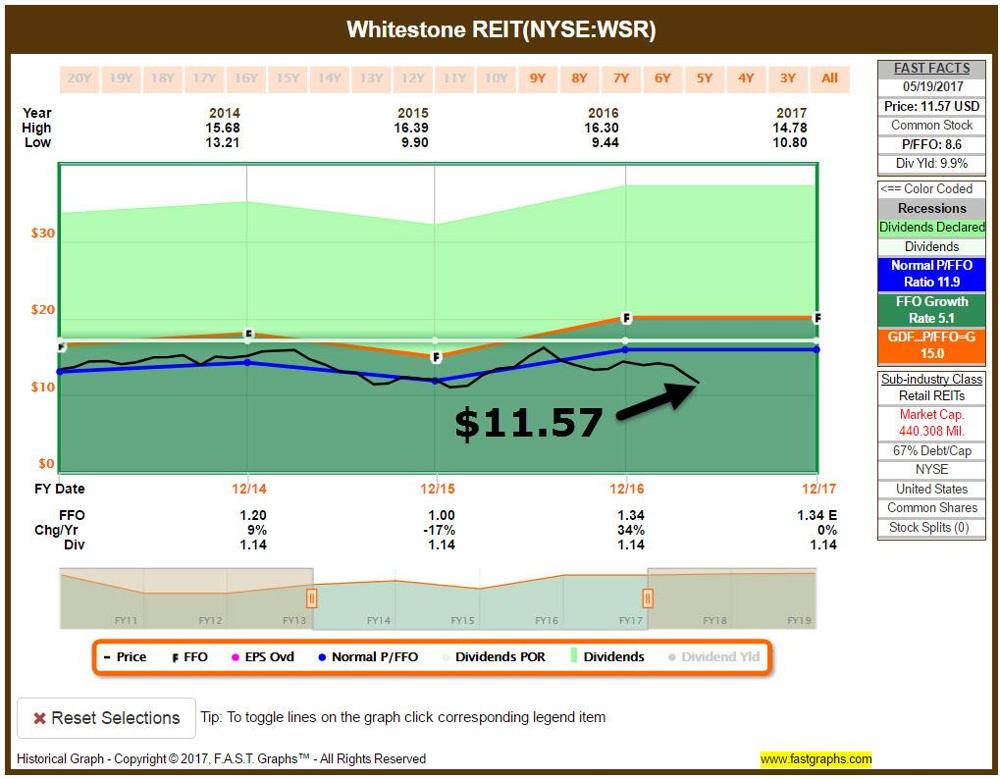 Most importantly, WSR is unique from the other shopping center and mall peers, the company does not lease to department stores; instead, WSR is somewhat isolated from the e-commerce threat.
WSR should continue to benefit from its scale (now over $1 billion) and generate steady growth (with no G&A strain). The shares are extremely cheap (especially when considering the occupancy growth), and WSR should take advantage of its net lease portfolio (by selling at much lower cap rates) and reinvesting in core community center deals.
Note: I will be attending ReCon most of the day, and I will not be able to respond to emails until late in the day.
Disclosure: I am on the Advisory Board of NY Residential REIT, and I am also a shareholder and publisher on theMaven.
Source: F.A.S.T. Graphs and WSR Presentation.
To get a first look at my upcoming article, "The Evolution of My Durable Income Portfolio," click here. I also include all of my Rhino REIT Ratings in my marketplace product, REIT Beat.
Author Note: Brad Thomas is a Wall Street writer, and that means he is not always right with his predictions or recommendations. That also applies to his grammar. Please excuse any typos, and be assured that he will do his best to correct any errors if they are overlooked.
Finally, this article is free, and the sole purpose for writing it is to assist with research, while also providing a forum for second-level thinking. If you have not followed him, please take five seconds and click his name above (top of the page).
Disclosure: I am/we are long APTS, ARI, BRX, BXMT, CCI, CCP, CHCT, CLDT, CONE, CORR, CUBE, DLR, DOC, EXR, FPI, GMRE, GPT, HASI, HTA, IRM, KIM, LADR, LTC, LXP, O, OHI, PEB, PK, QTS, ROIC, SKT, SNR, SPG, STAG, STOR, STWD, TCO, VTR, WPC.
I wrote this article myself, and it expresses my own opinions. I am not receiving compensation for it (other than from Seeking Alpha). I have no business relationship with any company whose stock is mentioned in this article.