Demographics Don't Lie, And Neither Do Dividends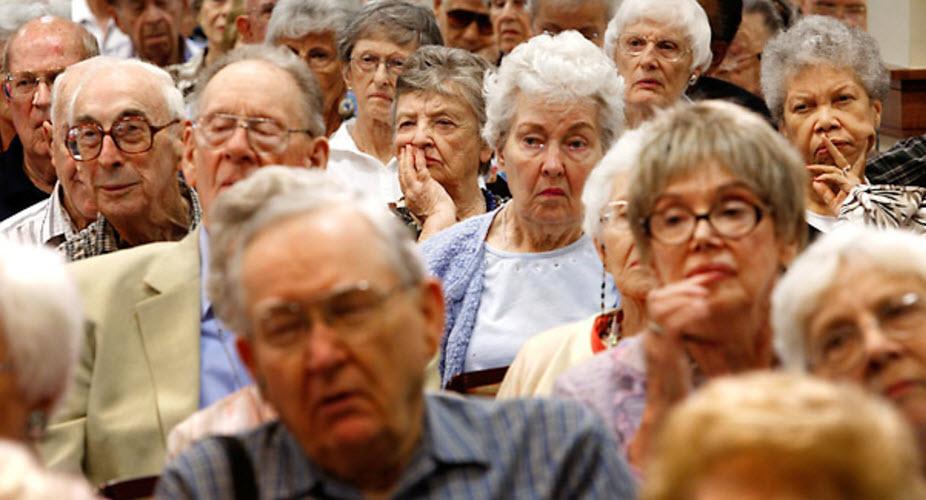 NoahBlacker
Brad Thomas wrote this article and it has appeared previously on Seeking Alpha.
Summary
Demographics drive the Health Care sector, like no other property sector.
The supply of facilities and beds to meet increasing future demand is limited due to CON restrictions, increasing occupancy prospects for existing facilities.
There is no argument that the demographics provide compelling clarity that the growth in the senior population is enormous and the winning consolidators will emerge.
In my upcoming newsletter, Forbes Real Estate Investor, I decided to examine the property sectors that are being beaten down the hardest.
There is little doubt that the Retail and Lodging sectors continue to experience turbulence related to the headwinds associated with consumer demand.
It seems that by embracing technology, the winners will ultimately surface, and the retailers and/or hotel operators with the best combination of brick AND clicks will become the dominant choice for consumers.
In order to become a better investor in the Retail REIT sector, I have decided to take a more tactical approach, focusing on the underlying credit quality of the REIT. By evaluating the sustainability of the tenant, I am in a better position to evaluate the overall health of the REIT.
That's the same approach I'm taking within the Health Care REIT sector.
It's important for me to dig deeper into the various Health Care REITs, to determine the catalysts that could move the values into normalized trading levels. Many Health Care REITs have underperformed year to date, and by adhering to more granular research, I am confident that I will be better positioned to generate above-average returns.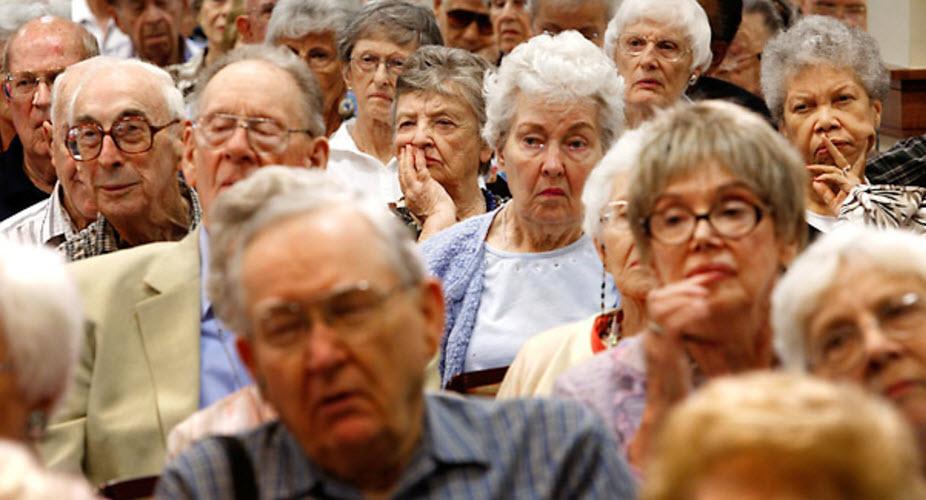 Photo Source
However, before I commence an update on Omega Healthcare Investors (OHI), I want to explain what I believe is the biggest catalyst that supports my BUY recommendation for OHI and other Health Care REITs.
Demographics drive the Health Care sector, like no other property sector. As you can see below, aging demographics would drive skilled nursing facility (or SNF) occupancy beyond capacity in less than 10 years without efforts to reduce the lengths of stay and increased utilization of alternative care sites.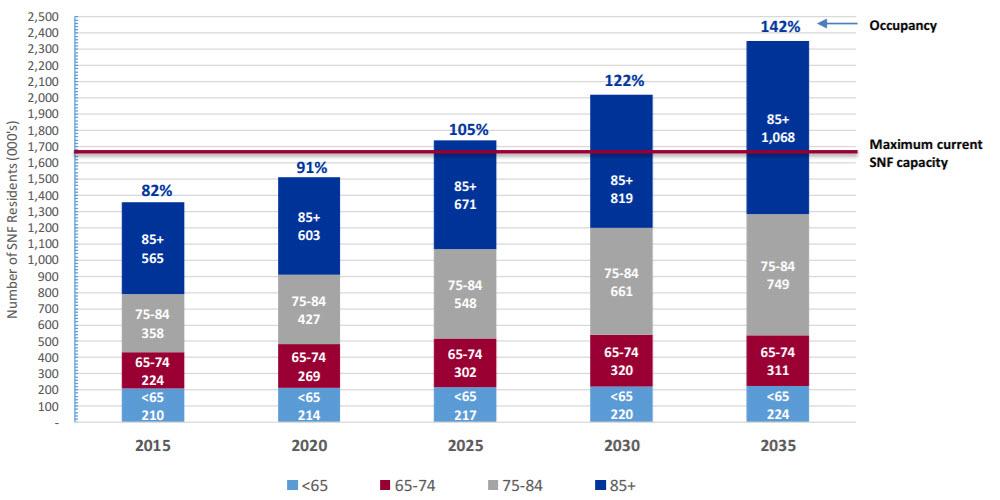 The supply of facilities and beds to meet increasing future demand is limited due to CON restrictions, increasing occupancy prospects for existing facilities.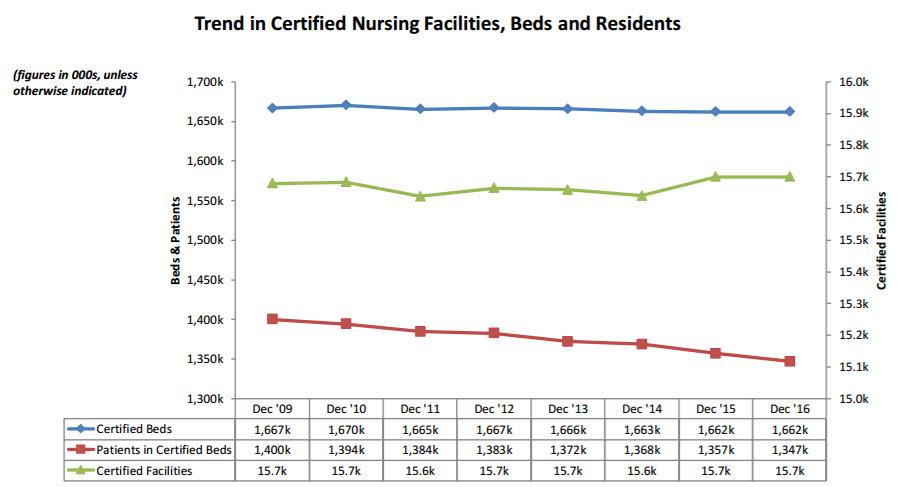 When you consider the supply (demographics) and demand with the Health Care sector, it's clear that the senior population has immense sending power and wealth. Health Care spending is projected to grow 5.8% annually (2-14-2024). There will be continued consolidation in what Charles Darwin referred to as "survival of the fittest."
While the market perceives the operator risks weighing on shares in most Health Care REITs, there is no argument that the demographics provide compelling clarity that the growth in the senior population is enormous and the winning consolidators will emerge…

Omega Healthcare: A Consolidator
There is little doubt of OHI's volatile share price…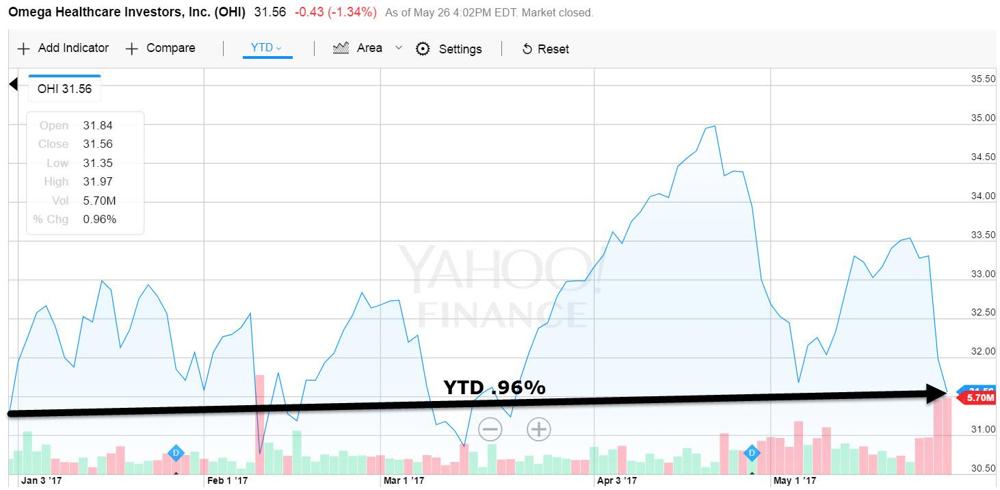 Here's how the company has performed (YTD):

A few days ago, OHI was hit hard after a media report that Signature (OHI has 7% exposure) was suffering liquidity issues. Signature has 148 locations in 11 states and 63 are leased to OHI. You may recall that at the end of 2016, OHI acquired 31 buildings from Signature in a $337 million deal. On the latest earnings call, one analyst asked about Signature's capital structure and OHI's CFO (Bob Stephenson) replied:
… I can tell you that they have a working capital line, I'm sure they're current on that. They don't have really any significant third party debt per se, they have different silos with different landlords and then there is some mortgage debt or leasehold mortgage debt on some of their facilities, but there is no material outside debt associated with that company.
Signature is privately-owned, so it's harder to get a read on the liquidity of the company. To the best of my knowledge, Signature does not have a liquidity issue, and the rental stream appears stable. OHI does have two publicly-traded operators on the "top 10" list, so I thought I would dig deeper…
As you can see (above), Genesis (GEN) is OHI's #3 operator and as I discovered by reading the __latest investor presentation__, Genesis "met expectations and exceeded first call consensus estimates."
Genesis had strong operating performance. The company achieved year-over-year growth in skilled patient admissions for the first time since 2015 (skilled patient admissions increased by 1% versus the first quarter of 2016).
Also Genesis generated very strong operating cash flow of $44.6 million in Q1-17 fueled by solid trade receivable collections and good working capital management. As a result, the revolving credit facility balance was at the lowest reported level in a year and the company's liquidity position of $124 million continued to strengthen.
GEN "expects additional growth in liquidity in the coming quarters as a result of the recent asset sales, the strategic dining and nutrition partnership and continued disciplined management of working capital and capital spending."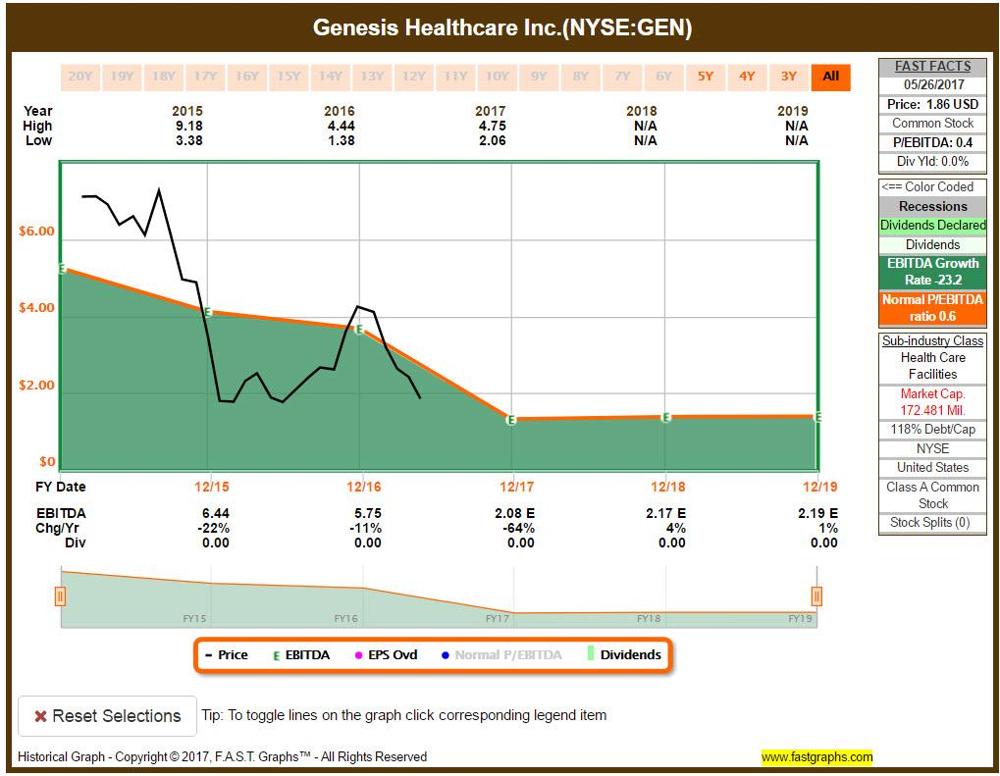 Diversicare (DVCR) is OHI's #10 operator. The company operates almost 8,500 licensed skilled beds in 76 centers across 10 states (35 leased from OHI). DVCR's Q1-17 revenues increased significantly over 2016 from $97.9 million to $141.5 million or about 44.5%.
DVCR's facility level operating margins, as a percentage of revenue, improved from 19.7% to 21.8%. Total operating expense increased by $32 million or 40.8% compared to Q1-16.
The company's adjusted EBITDA of $5.5 million compared favorably to the $3.5 million in Q1-16. For the quarter, net income attributable to shareholders was $1.3 million or $0.22 per share compared to a loss of $111,000 or $0.02 per share in 2016. Source: Q1-17 Transcript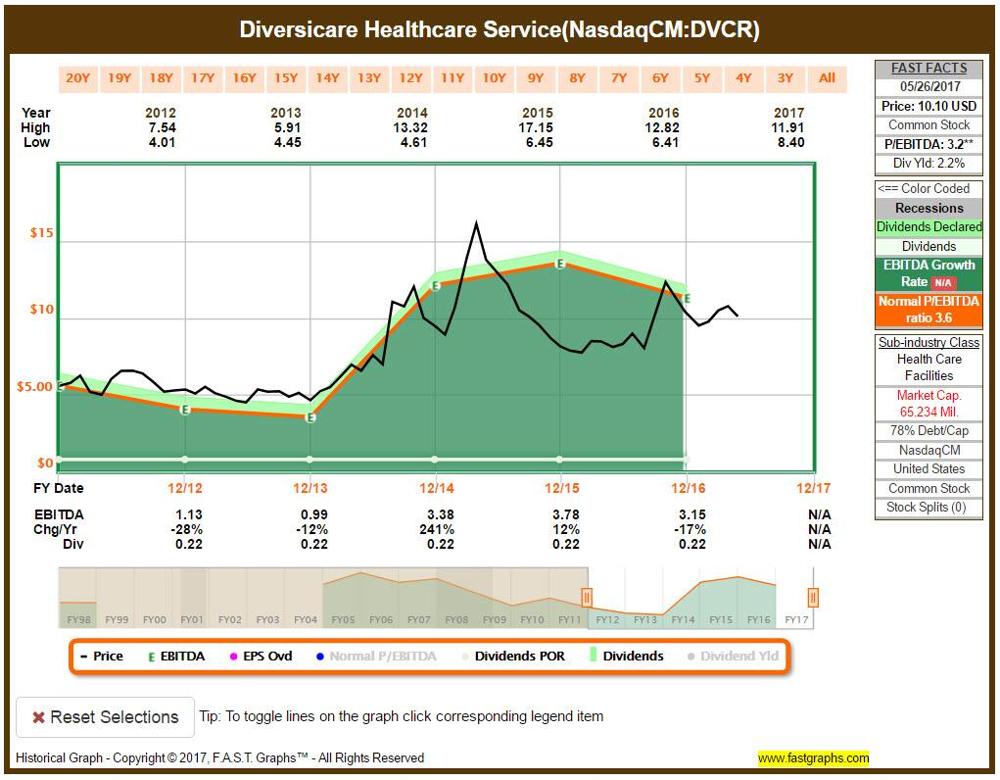 Labor incentives continue to challenge OHI's operators, and they have generally managed to maintain cash flows through expense management and active marketing and quality programs. These initiatives resulted in a small increase in trailing 12-month coverage.
Trailing 12-month operator EBITDARM and EBITDAR coverage for OHI's portfolio increased to 1.69 and 1.33x respectively versus 1.68 and 1.31x respectively for the trailing 12-month period ended September 30, 2016.
I'm not calling this the bottom, but it is certainly encouraging.
To date in 2017, OHI has re-positioned a number of assets within its portfolio including the sale of 20 facilities and the closing of two additional facilities. The company expects to continue these re-positioning efforts throughout 2017.
New investments during Q1-17 were limited to the purchase of single 60-unit assisted living facility for $7.5 million. As of March 31, 2017, OHI had an operating asset portfolio of 972 facilities with approximately 99,000 operating beds.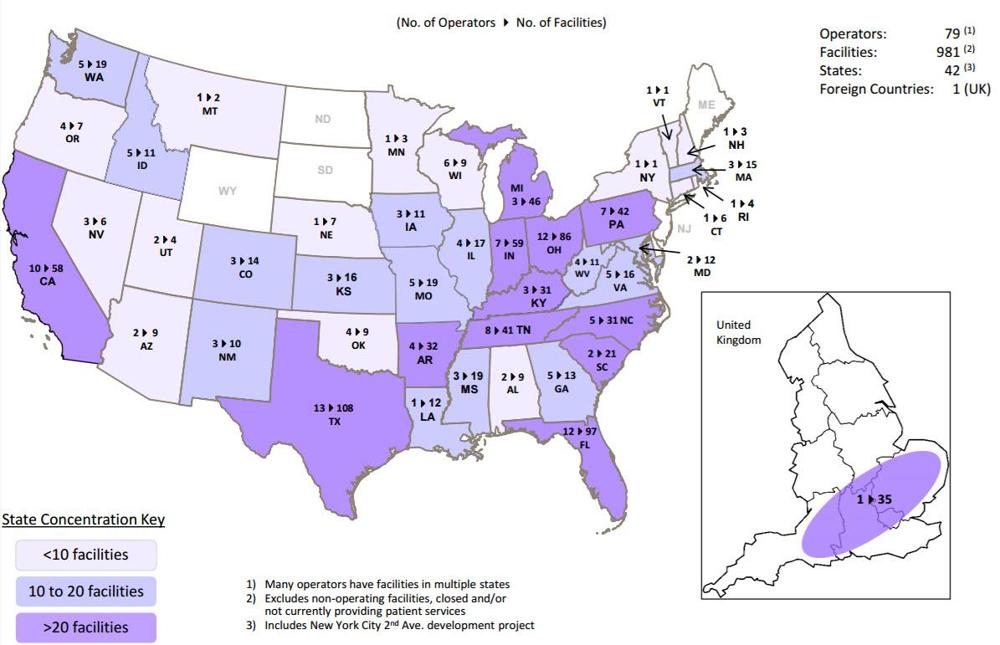 The Balance Sheet
During the first quarter, we sold 15 facilities for approximately $46 million, recognizing a gain of slightly over $7 million. At March 31, OHI had nine facilities valued at $23 million classified as held for sale.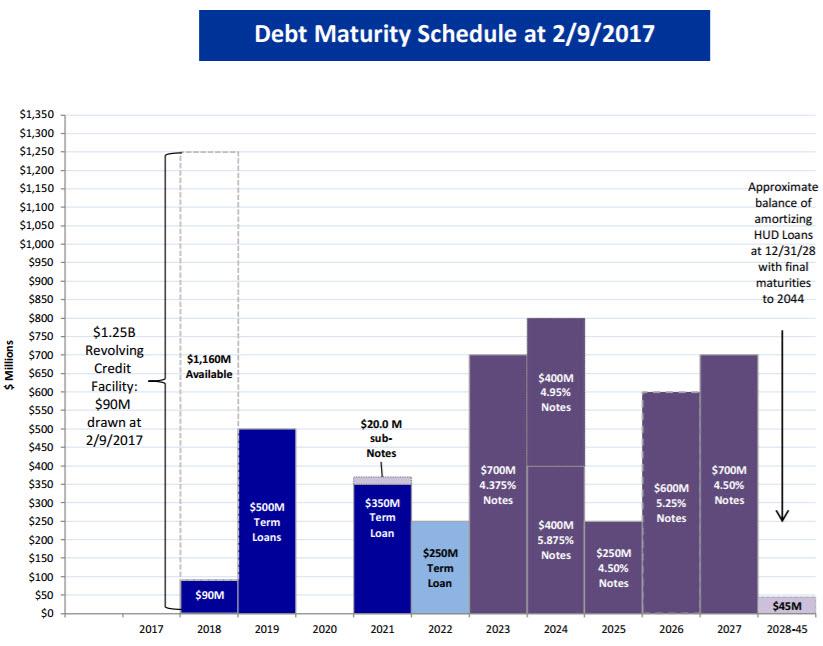 In April, OHI completed the issuance of $700 million of new bonds by issuing $550 million, 4.75% notes due 2028 and issuing $150 million of our existing $250 million, 4.5% notes due 2025 making that issue index eligible.
These capital markets transactions reflect OHI's ongoing commitment to an extremely de-risk balance sheet with no bond maturity prior to 2024.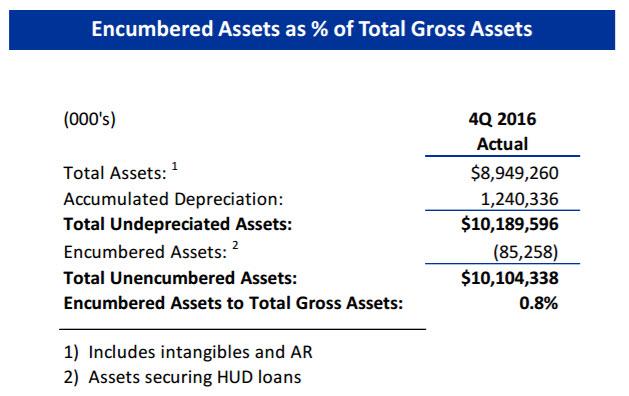 The balance sheet remains exceptionally strong for the three-month period and net debt to adjusted annualized EBITDA was 4.78x and the fixed charge coverage ratio was 4.5x.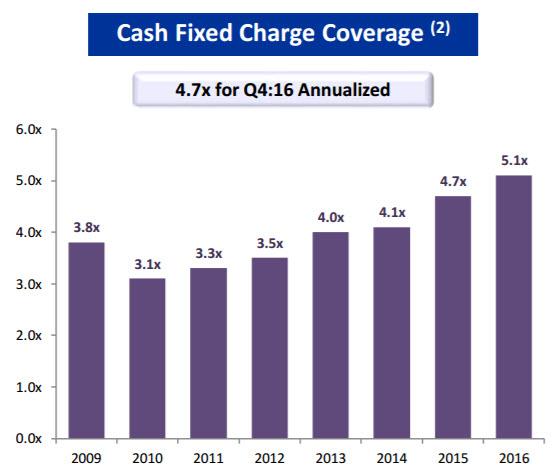 In March 2016, Fitch Ratings affirmed OHI's ratings, including its long-term issuer default, unsecured revolving credit facility, senior unsecured notes, and senior unsecured term loan ratings at BBB-, as well as its subordinated debt rating at BB+. The rating agency also assigned a BBB- rating to the company's $350 million senior unsecured term loan due 2021. The company's ratings outlook is stable.
Fitch said in a note that it expects OHI's robust credit metrics to provide the company with adequate buffer against the possible effects of tenant-related operating headwinds amid Medicare reimbursement changes and regulatory/licensing risk.
Specifically, the rating agency noted that the REIT has maintained "low" leverage levels since 2011 and is likely to sustain its leverage in the 4x-5x range in the next 12-24 months.
OHI also has "strong" fixed charge coverage, reaching 4.2x during the 2015 full year as opposed to 3.7x in 2014, Fitch said. It added that the company is expected to have "exceptionally strong" liquidity in the near term, with no debt maturities through 2017.
The Latest Earnings Results
At the end of Q1-16, OHI reported FFO on a diluted basis of $181 million or $0.88 per share as compared to $153.6 million or $0.77 per share for the first quarter of 2016.
OHI's adjusted FFO was $176.7 million or $0.86 per share for the quarter and excluded the impact of $10.4 million contractual settlement, $2.4 million in provisions for uncollectible accounts, $3.7 million of non-cash stock-based compensation expense and $41,000 of acquisition cost.
Operating revenue for Q1-17 was approximately $232 million versus $213 million for Q1-16. The increase was primarily a result of incremental revenue from over $800 million of new investments completed since Q1-16.
OHI increased its quarterly common dividend by $0.01 to $0.63 per share, and the company has now increased the dividend 19 consecutive quarters in a row. The dividend payout ratio remains very conservative at 73% of adjusted FFO and 82% of FAD.
OHI's adjusted FFO guidance for 2017 remains unchanged at $3.40 to $3.44 per share. Here's a snapshot of my FFO/share Forecaster (powered by FAST Graphs):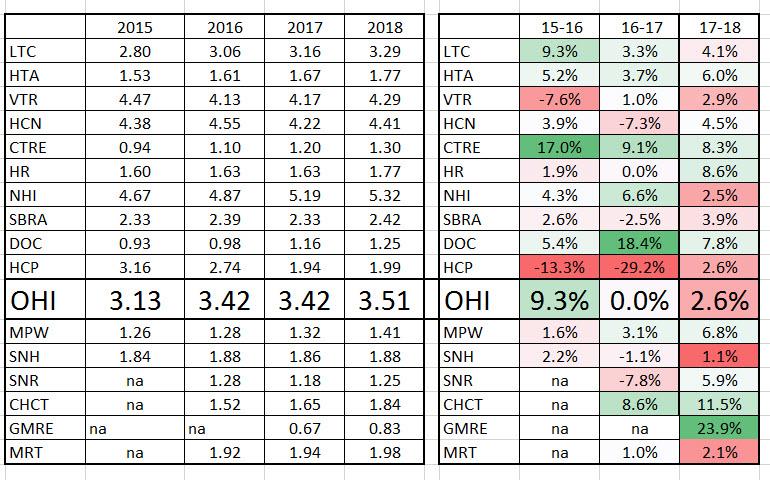 As you can see, OHI has continued to maintain a stable and consistent dividend growth platform, and even though the market sentiment is not favorable, the likelihood of continued dividend growth is sound.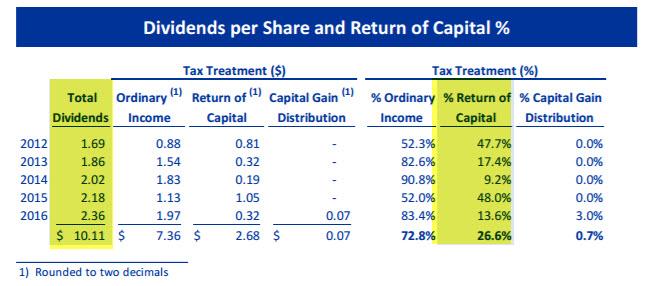 Demographics Don't Lie, And Neither Do Dividends
As I said at the beginning of my article, I consider demographics (aging population) to be the primary catalyst that supports my BUY recommendation for Omega. There is little doubt that the demand for skilled nursing real estate will be in strong demand for quite a while. Even though OHI's share price has been beaten down, the company has still been able to generate sound growth over the longer term.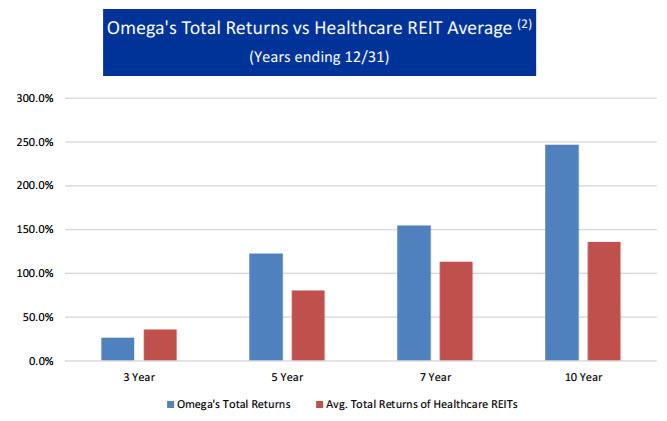 Let's examine OHI's dividend yield compared with the peer group:

Now, let's examine OHI's P/FFO multiple compared with the peer group:

Take a look at OHI's "normal" P/FFO from 2010-2012: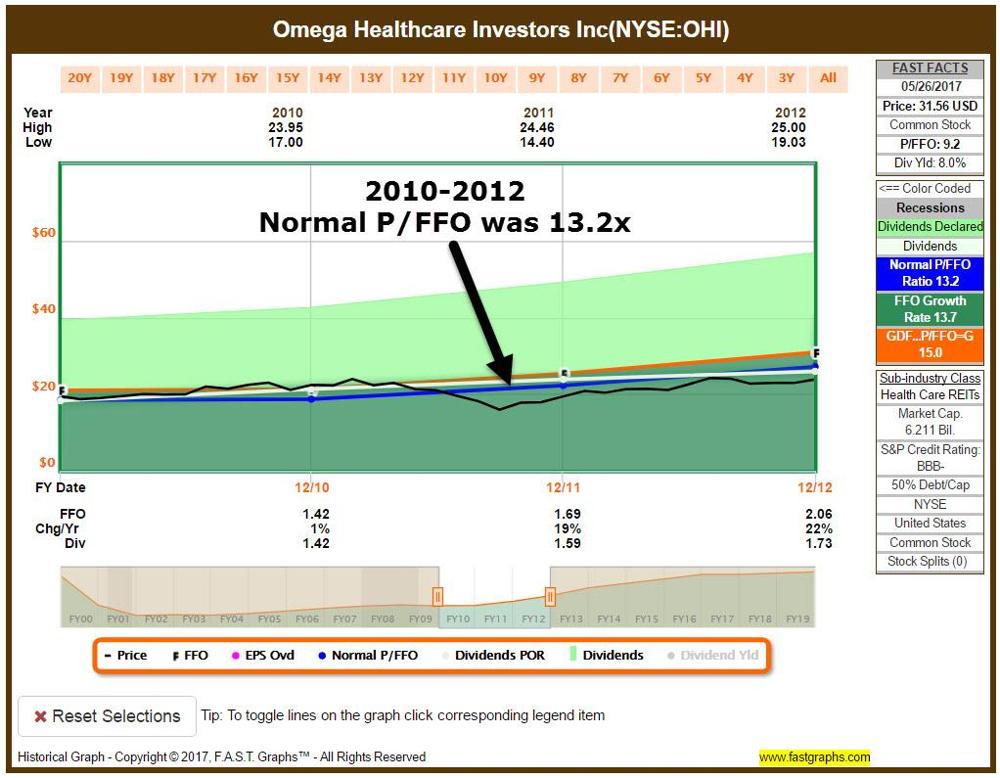 As you can see below, OHI is now trading at 9.2x P/FFO and the average from 2016-2017 is 10.2x.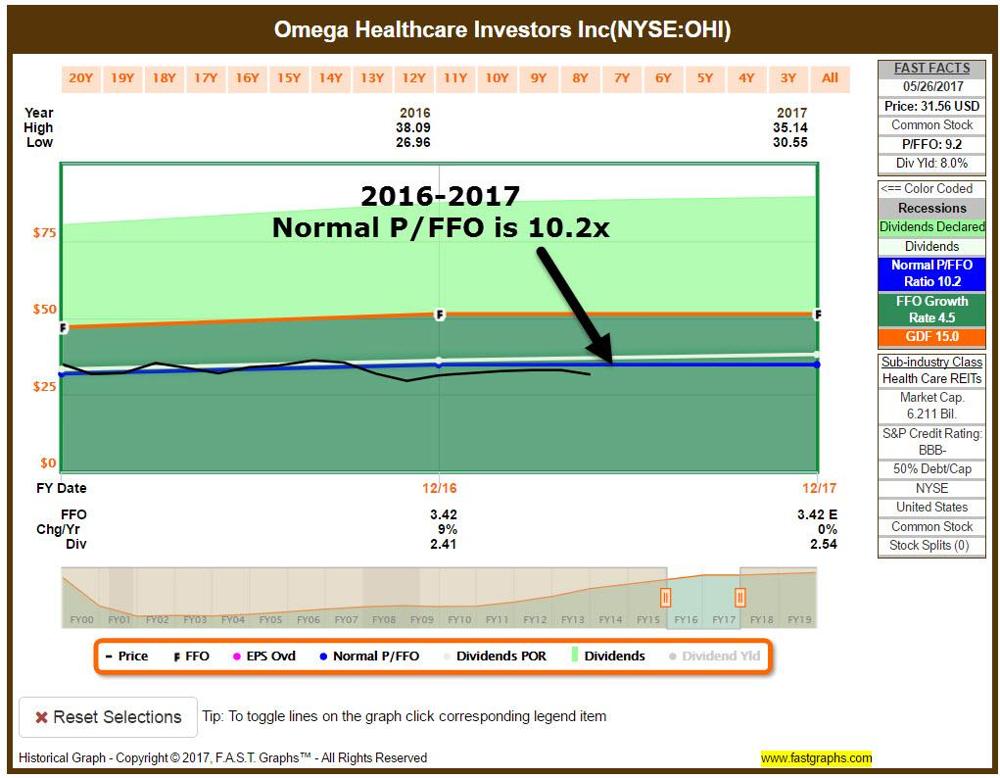 Here's my point: If you trust the demographics and the dividends, Omega should normalize its valuation to 12x over the next few years. I prepared the following FAST Graph forecast to illustrate the point…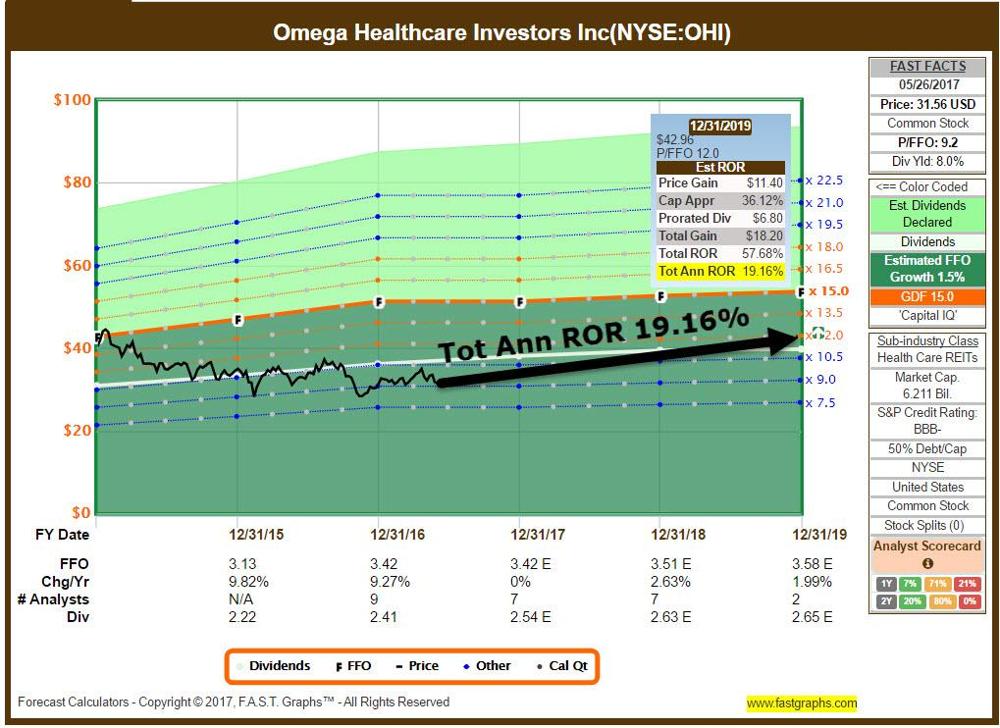 Let me be clear, I'm not forecasting a "get rich quick plan," I am simply suggesting that the "right multiple" for OHI is 12-13x P/FFO.
What about CCP?
As you know, SABRA (SBRA) is acquiring Care Capital (CCP), and this eliminates a "direct" peer for OHI. However, SBRA will continue to operate in the skilled nursing sector, and I see no impact (good or bad for OHI) as it relates to the announced transaction. OHI's model hasn't changed, the dividend is safe, the portfolio is diverse, and I continue to sleep well at night… demographics don't lie, and neither do the dividends.
Note: Dividends Still Don't Lie is a great book to read, I strongly suggest it.
To get a first look at my upcoming article, "The Evolution of My Durable Income Portfolio," click here. Disclosure: I am on the Advisory Board of NY Residential REIT, and I am also a shareholder and publisher on theMaven.
Source: FAST Graphs and OHI Investor Presentation.
*Author Note: Brad Thomas is a Wall Street writer, and that means he is not always right with his predictions or recommendations. That also applies to his grammar. Please excuse any typos, and be assured that he will do his best to correct any errors, if they are overlooked. Finally, this article is free, and the sole purpose for writing it is to assist with research, while also providing a forum for second-level thinking. If you have not followed him, please take five seconds and click his name above (top of the page).* Disclosure:** I am/we are long APTS, ARI, BRX, BXMT, CCI, CCP, CHCT, CLDT, CONE, CORR, CUBE, DLR, DOC, EXR, FPI, GMRE, GPT, HASI, HTA, IRM, JCAP, KIM, LADR, LTC, LXP, O, OHI, PEB, PK, QTS, ROIC, SKT, SNR, SPG, STAG, STOR, STWD, TCO, UBA, VER, WPC.
I wrote this article myself, and it expresses my own opinions. I am not receiving compensation for it (other than from Seeking Alpha). I have no business relationship with any company whose stock is mentioned in this article.