Happy Mother's Day Mom, You Taught Me How To Be Frugal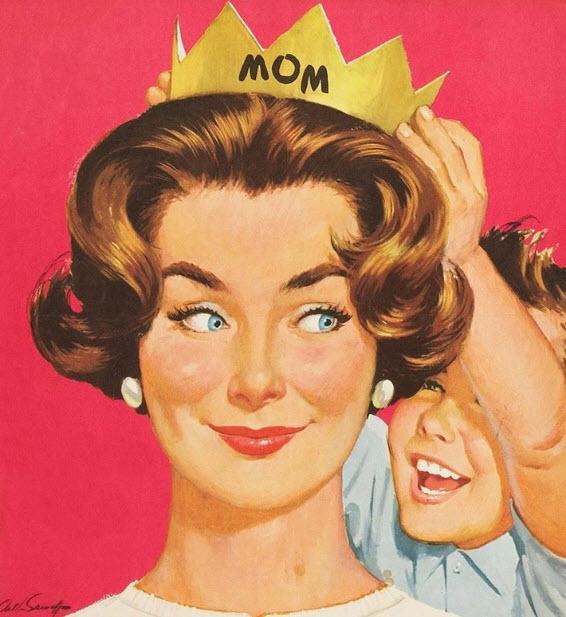 NoahBlacker
Brad Thomas wrote this article and it has appeared previously on Seeking Alpha.
Summary
My mother is not a beginner at all, she has been practicing real estate for decades.
She has negotiated millions of dollars of purchase agreements, and she has taught me the principle of "buying low and selling high".
In the world of stocks, this simply means that investors should always seek some kind of buffer to protect against market fluctuations.
I wanted to wish my Mother and all Mothers reading this article a Happy Mother's Day!
As my frequent followers know, I commenced a new portfolio in early January called the "Moat-Worthy REIT Portfolio For Mom."
The purpose of the new portfolio was to help my mother build a basket of REITs for retirement. Although my mother is still practicing real estate, she is close to retirement, and she needs to begin investing in steady and reliable dividend-paying stocks.
My mother is not a beginner at all - she has been practicing real estate for decades, but her focus has been mostly in residential real estate. She has negotiated millions of dollars of purchase agreements, and she has taught me the principal of "buying low and selling high."
In the world of stocks, this simply means that investors should always seek some kind of buffer to protect against market fluctuations. As Benjamin Graham explained, this "buffer" is the "margin of safety" or the difference between the real or intrinsic value of the business underlying the security and the price assigned to it.
Buying stocks with a significant margin of safety is the value investor's definitive precautionary measure, and that is the primary goal of my Moat-Worthy REIT Portfolio For Mom. As Sir John Templeton famously explained:
To buy when others are despondently selling and sell when others are greedily buying requires the greatest fortitude and pays the greatest ultimate rewards.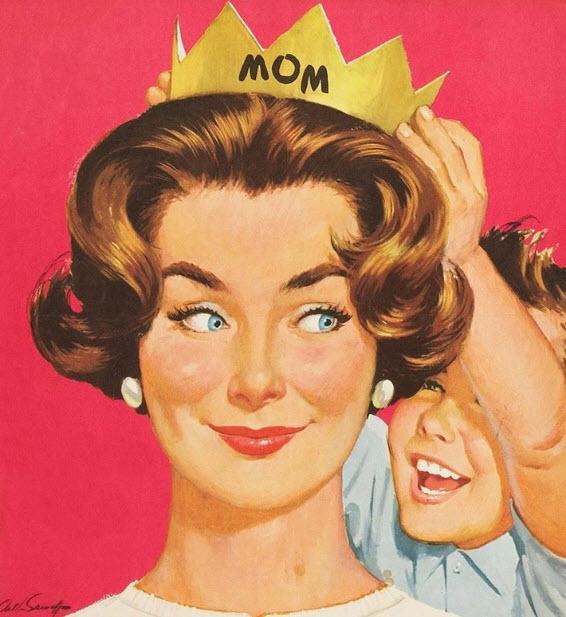 Photo Source
Retail Pressure Continues
So far in 2017, the performance of Mom's REIT Portfolio has not been that good, primarily as a result of the continued pressure in the retail sector. Yesterday, Macy's (M), Kohl's (KSS), and Dillard's (DDS) all reported lower sales for the last quarter and missed Wall Street's forecasts.
Department store chains have been struggling due to intense competition from Amazon (AMZN), while Sears (SHLD) continuestostruggle (see my recent article on Seritage here). J.C. Penney (JCP) will report its latest results this morning.
All three Retail REITs in Mom's Portfolio have underperformed YTD - Tanger Factory Outlet (SKT) is down 21%, Kimco Realty (KIM) is down 20%, and Simon Property Group (SPG) is down 5.3%.
The department store chains are struggling the worst, while many of the discount chains like Target (TGT) are performing well. I really liked Regarded Solutions article this week, as he explained the retail sector:
I am always looking for a stock that seems undervalued and hated by everyone and is paying a really good dividend. Being a dividend aristocrat and having lots of cash with a low payout ratio would "force" me to consider even a retail stock!
He added:
Turnarounds always are riskier than companies that do not need one, but TGT is an enormous company with 1,800 locations, an enterprise value of $43 billion and a market cap of $32 billion.
I'm not sure whether or not Regarded Solutions took a position in TGT (he was mulling it over), but my mom is now a shareholder in Kimco, a dominant landlord to TGT (3.4% of ABR). Since the initial investment in KIM, we have been dollar cost averaging and the most recent purchase was around $20.00 per share. On April 10, I upgraded KIM from a BUY to aSTRONG BUY.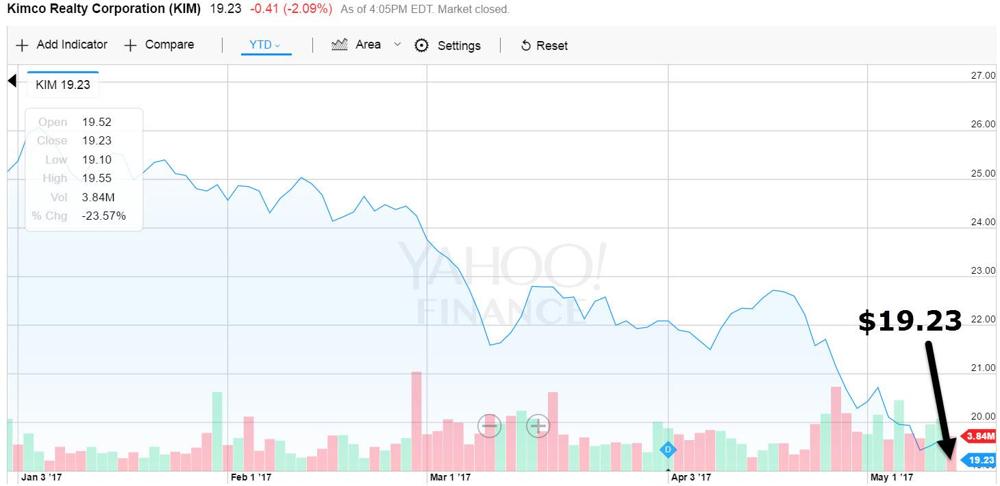 KIM is now trading at $19.23 per share with an attractive dividend yield of 5.5%. As I explained in my recent article:
when comparing KIM's balance sheet, dividend growth history, and high-quality portfolio, none of the (shopping center) REITs can compare. KIM is clearly trading at a discount to its closest peers (FRT 23.4x, AKR 20.7x, REG 19.9x, and ROIC 19.3x). The average P/FFO multiple for these 4 peers is 20x and KIM is trading at 14.7x.
Also I wrote:
KIM is rated BBB+ (by S&P) and based upon the 2020 Vision, it appears that the company could become an "A rated" REIT during the next year or two. KIM has similar ratings with Moody's and Fitch.
Tanger is another bargain in the Retail REIT sector.
Recently I described the "pure play" Outlet REIT in these terms:
Tanger owns no Malls and the company leases to no department store chains. The outlet center is a growth sector and while certain retail tenants are demonstrating weakness, Tanger has "invested over $300 million of (its) own capital in the past ten years upgrading the look and feel of (its) centers.
Outlets aren't immune to retail distress, but I believe the market has completely mis-priced shares in Tanger. The company's fundamentals are excellent (balance sheet is BBB+ and dividend growth history is superb). In other words, mom taught me how to find a bargain, and I could not resist taking another bite at the apple (dollar-cost-average). By the way, Rubicon has a great article validating my recent purchase here.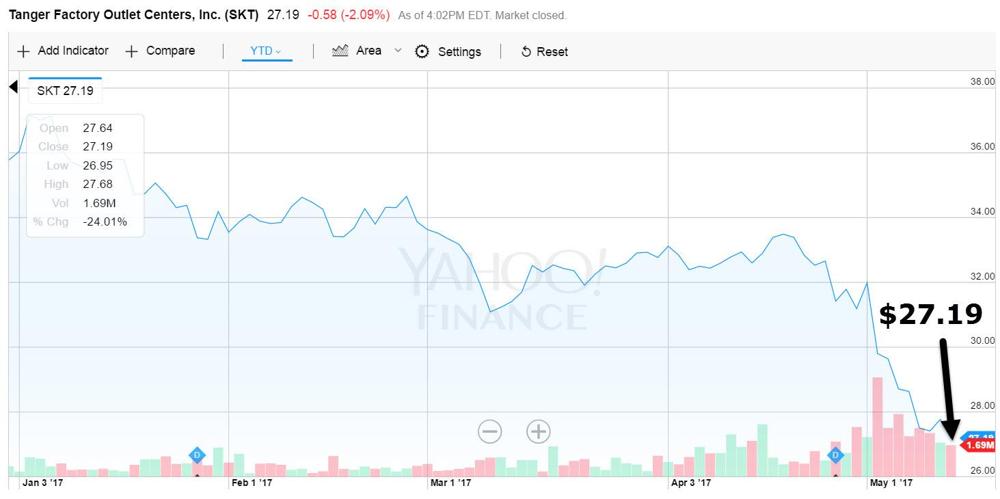 Simon is the 1000-pound gorilla, and while the Malls are certainly getting hammered, I am maintaining exposure within Mom's REIT Portfolio. There's no reason to "be too cute" in this volatile sector, so I am steering away from Washington Prime (WPG) and CBL Properties (CBL).Ican assure you that Seritage (SRG) is not on mom's shopping list either.
The goal for mom is to maintain strict discipline and that means paying close attention to Fortress Balance Sheets (SPG is A rated) and strong earnings and dividend growth. SPG is now sporting a 4.2% dividend yield and a 15.2x P/FFO multiple.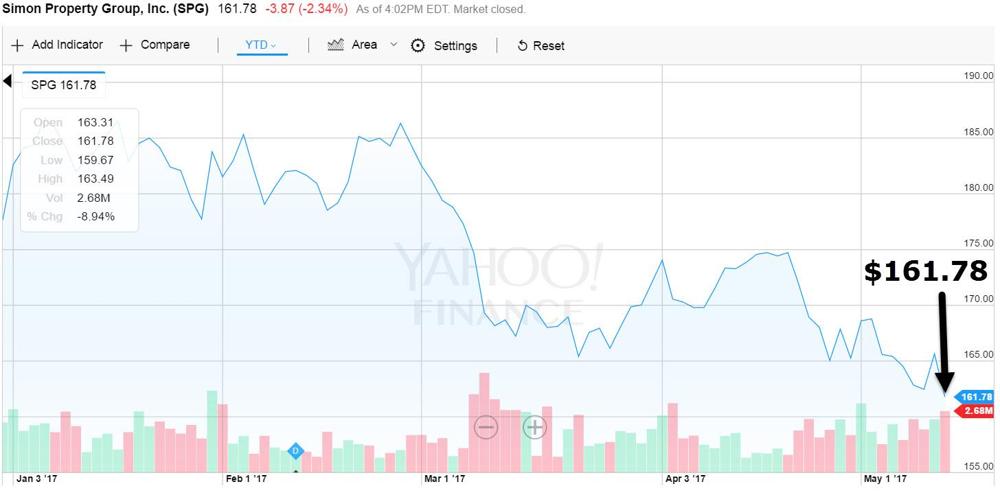 The Rest of the Portfolio
Withstanding the Retail REITs, the rest of Mom's REIT Portfolio is performing well: STAG Industrial (STAG) is up 10.7% YTD (see recent article here), Omega Healthcare(OHI) is up 6.4% YTD (see recent article here), Ventas, Inc. (VTR) is up 4.2% (see recent article here) and Healthcare Trust of America (HTA) is up 5.4% YTD (see recent article here).
W.P. Carey (WPC) has also performed well, returning 8.2% YTD (see recent article here).
One noticeable opportunity is Realty Income (O). Since the Spirit Realty (SRC) earnings results and CEO firing (see article here), SRC is most all of the Net Lease REITs have underperformed. I downgraded SRC from a HOLD to a SELL, and this created an opportunity for me to grab a few more shares in Realty Income.
As you can see below, Realty Income is no "table-pounding" bargain, but shares are trading below my target price (of $56.00), so mom can put some more hard-earning capital to work.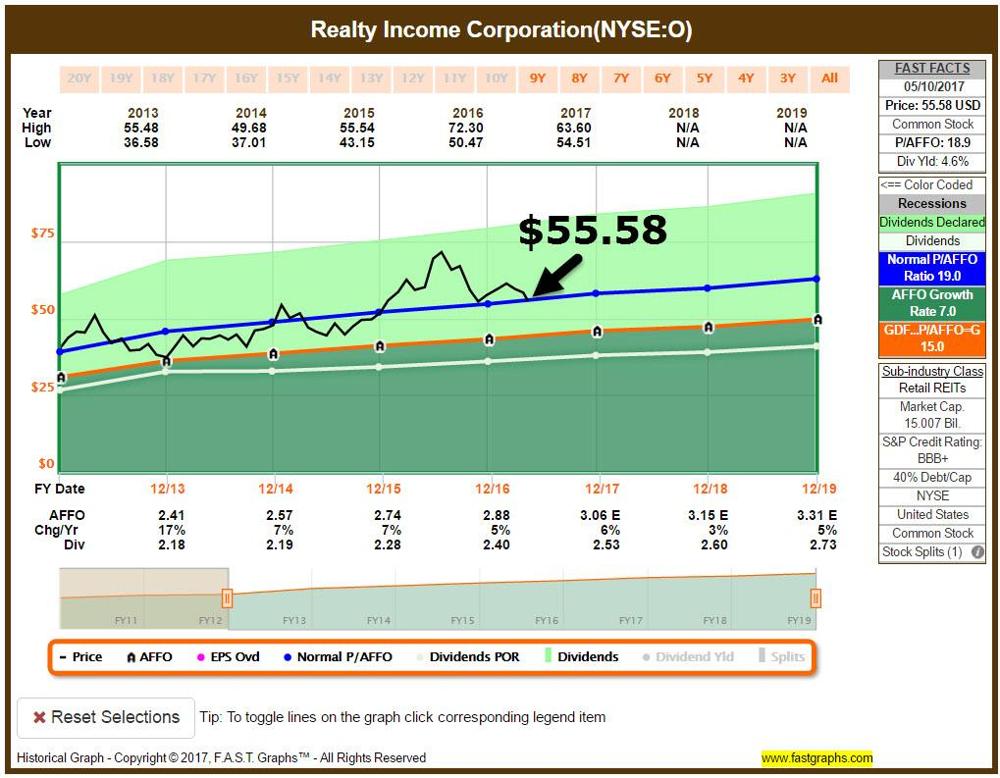 In February, mom also picked up shares in Blackstone Mortgage (BXMT), recognizing that the purpose for the allocation was for an income supplement. Over time, mom would like to have around 20% invested in either commercial mREITs and REIT Preferreds. (You can find a complete list of Preferred REIT picks in my newsletter).
Here's a snapshot of mom's Portfolio:

Mom's REIT Portfolio has returned -.67% YTD, hardly an impressive start (excluding the 3 Retail REITs the portfolio returned almost 5% YTD). The portfolio's average dividend yield is 5.3%.
Over the next few months, I plan to increase the size of the portfolio, enhancing overall diversification. I am targeting investments in the Communications sector (Data Centers and Cell Towers) and the Industrial sector.
Most importantly, I am looking for blue chip REITs that can be purchased at bargain prices. My mother taught me how to be a frugal investor and that has shaped my appreciation for value and of course my mantra here on Seeking Alpha, "how to become an Intelligent REIT Investor".
Final note: I have included a chart for Mom's REIT Portfolio that lists FFO per share for the 11 REITs (consensus forecasts for 2017 and 2018). I ranked the Top 5 REITs (1 is best and 5 is worst) if you are looking to BUY today, or build a portfolio today: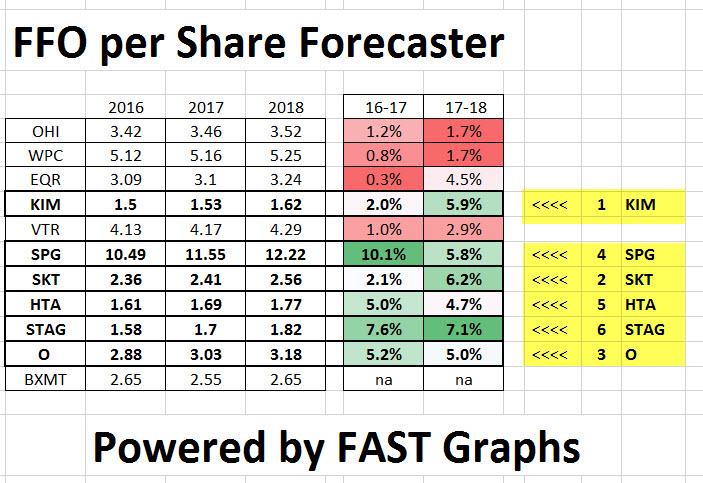 In a few days, I will be launching my new REIT Investor site and it will include real-time portfolio tracking for all of my portfolios (including in the Forbes Real Estate Investor newsletter).
One Final Note: I'm headed off to the West Coast for a week (The MoneyShow and ReCon), so I wanted to wish my mother and all mother's reading this article a Happy Mother's Day!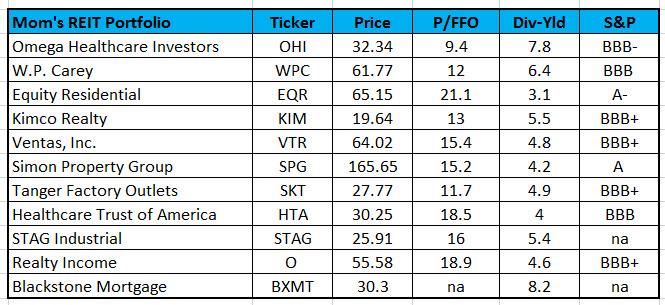 Disclosure: I am on the Advisory Board of NY Residential REIT and I am also a shareholder and publisher on The Maven (OTCQB:MVEN).
Source: F.A.S.T. Graphs.
To get a first look at my upcoming article, "The Evolution of My Durable Income Portfolio," click here. I also include all of my Rhino REIT Ratings in my marketplace product, REIT Beat.
Author Note: Brad Thomas is a Wall Street writer, and that means he is not always right with his predictions or recommendations. That also applies to his grammar. Please excuse any typos, and be assured that he will do his best to correct any errors, if they are overlooked.
Finally, this article is free, and the sole purpose for writing it is to assist with research, while also providing a forum for second-level thinking. If you have not followed him, please take five seconds and click his name above (top of the page).
Disclosure: I am/we are long APTS, ARI, BRX, BXMT, CCI, CCP, CHCT, CLDT, CONE, CORR, CUBE, DLR, DOC, EXR, FPI, GMRE, GPT, HASI, HTA, IRM, KIM, LADR, LTC, LXP, O, OHI, PEB, PK, QTS, ROIC, SKT, SNR, SPG, STAG, STOR, STWD, TCO, UBA, VER, VTR, WPC.
I wrote this article myself, and it expresses my own opinions. I am not receiving compensation for it (other than from Seeking Alpha). I have no business relationship with any company whose stock is mentioned in this article.
Editor's Note: This article covers one or more stocks trading at less than $1 per share and/or with less than a $100 million market cap. Please be aware of the risks associated with these stocks.