Has VEREIT Hit Bottom?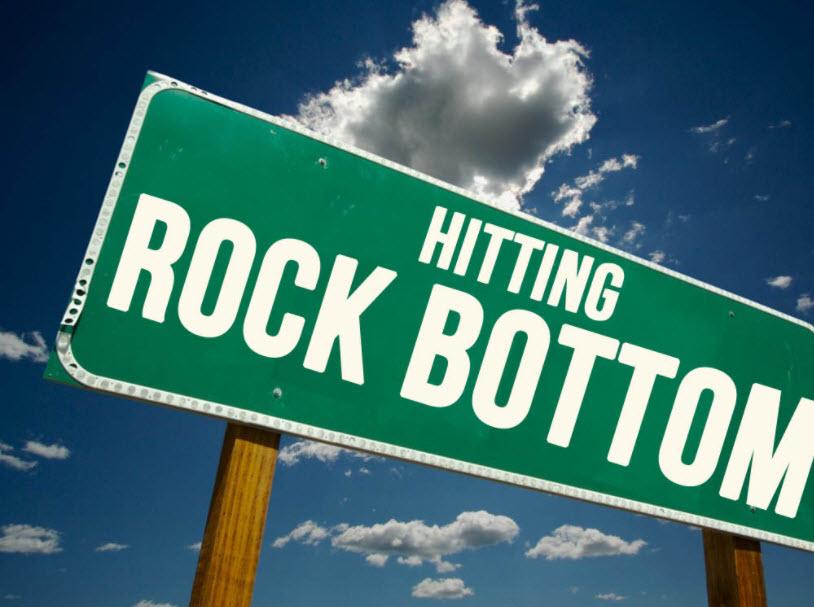 NoahBlacker
Brad Thomas wrote this article and it has appeared previously on Seeking Alpha.
Summary
I'm not actually going to call it "the bottom", that's above my pay grade here on Seeking Alpha.
But it does appear that VEREIT is scraping its bottommost position, at least in terms of its history as a REIT.
The market has not given VER any credit for management's accomplishments since the ARCP debacle.
I'm giving VER credit, especially since the dividend yield is so sweet!
I'm attending the annual ReCon – everything retail conference – where I'll be meeting with over 20 Retail REIT CEOs.
Last week I wrote on Realty Income (O) – see article HERE – and I have recently written on STORE Capital (STOR) – see article HERE- Spirit Realty (SRC) – see article HERE- and W.P. Carey (WPC) – see article HERE.
As I explained in a recent article, I have a STRONG BUY rating on STORE, and BUYs on Realty Income and W.P. Carey. I have a SELL on Spirit.
Now that Q1-17 earnings are in the rear-view mirror, I decided it was time to get an update on VEREIT (VER). As I explained in my last article on VER (November 20, 2016),
A few clouds still linger - litigation and leverage - however we are seeing more predictability as a result of VER's disposition results and more recent credit upgrade.
I added that
We're not calling it a bottom (we're not market timers) but we believe that VER is well positioned to generate outsized returns over the next few quarters.
Well, guess what?
VEREIT may have bottomed!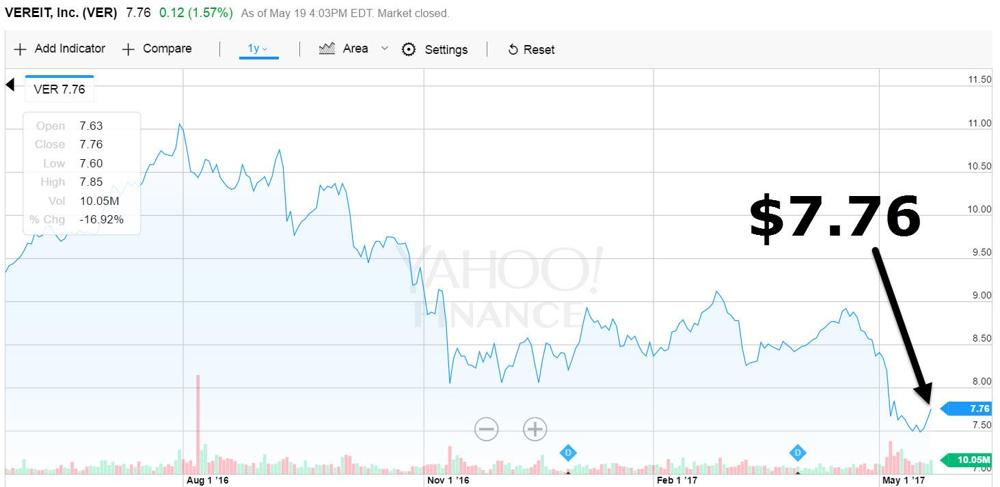 I'm not actually going to call it "the bottom", that's above my pay grade here on Seeking Alpha, but it does appear that VEREIT is scraping its bottommost position, at least in terms of its history as a REIT.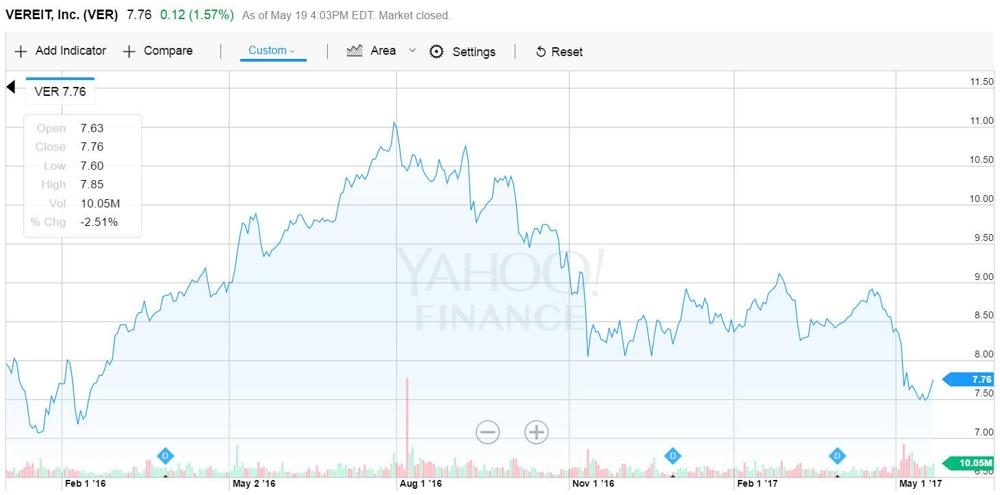 I'll leave it up to the market timers (who read charts) to tell if VEREIT has hit bottom, I'll just focus on fundamentals in hopes of reading the tea leaves to determine whether shares will move back up….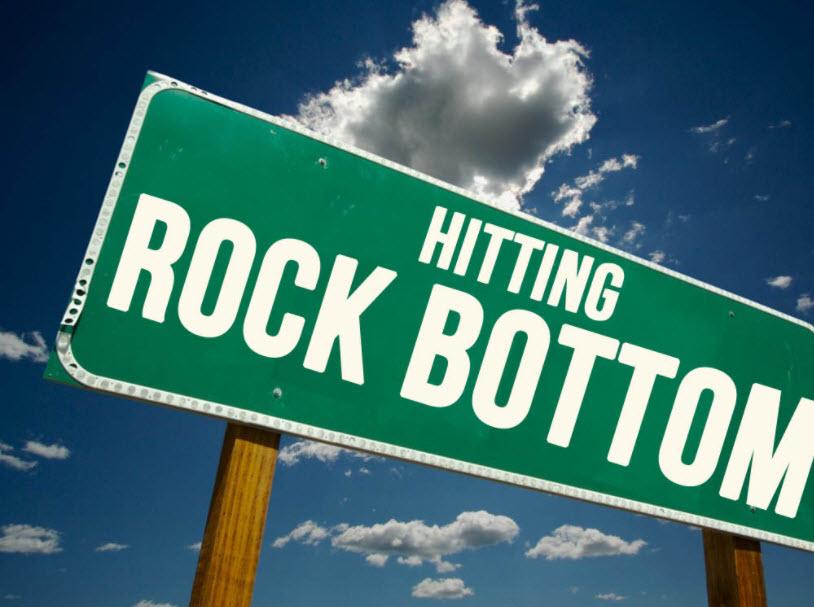 Photo Source
Rebuilding the Empire
We all know that VER's predecessor REIT, American Realty Capital Properties (formerly ARCP) caused investors considerable angst, primarily due to "empire building" at all costs. That resulted in large losses as Average Joe fled for high ground when "financial engineering" was exposed. Later, VER cut its dividend and began to rebrand the business model, focusing on investors first.
After the ARCP debacle, the company renamed the company: VEREIT, the name was chosen because it combined veritsa, the Latin word meaning "truth," and REIT, the industry in which the company now strives to be a respected leader.
VEREIT is a Net Lease REIT which means the company owns free-standing buildings leased to a variety of retail, restaurant, office, and industrial tenants. As of the latest quarter, the company owned 4,105 properties located in 49 states, as well as the District of Columbia, Puerto Rico and Canada (93 million square feet). Additionally, VEREIT manages $7.5 billion of gross real estate investments on behalf of the Cole Capital non-listed REITs.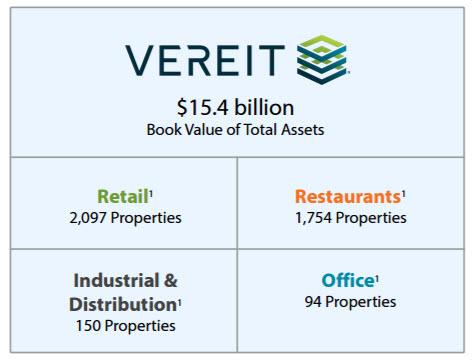 VER is an internally-managed full service Net Lease REIT with a long-term net-lease structure that provides stable and predictable rent stream payments. The diverse portfolio is across sectors, geographies and tenants.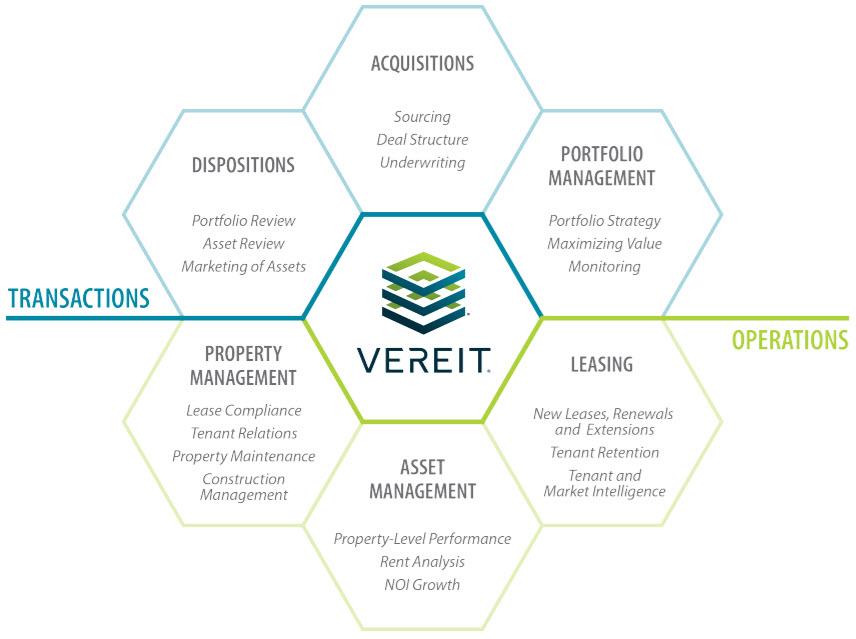 Here is how VER compares in size (based on Total Cap) with the other Net Lease REITs:

Key Portfolio Metrics
Here's a snapshot of VER's portfolio metrics: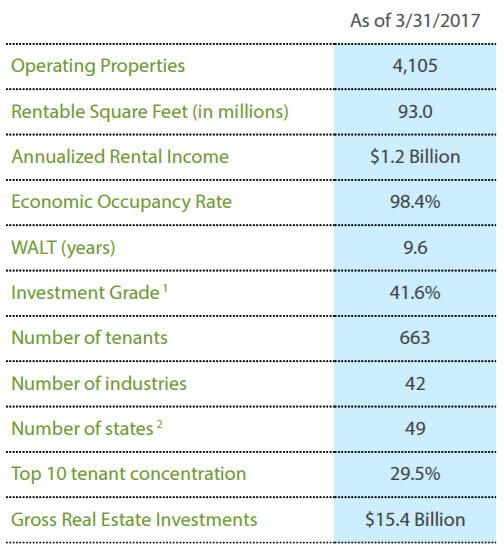 Here's a snapshot of VER's Lease Expiration schedule: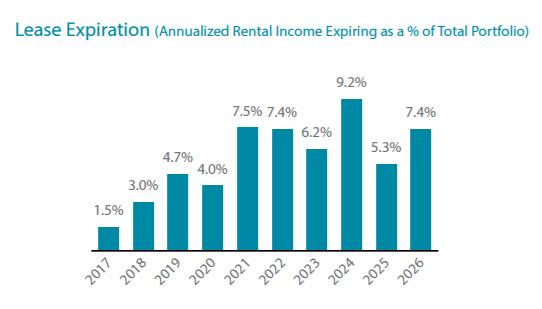 As you can see below, VER is diversified geographically: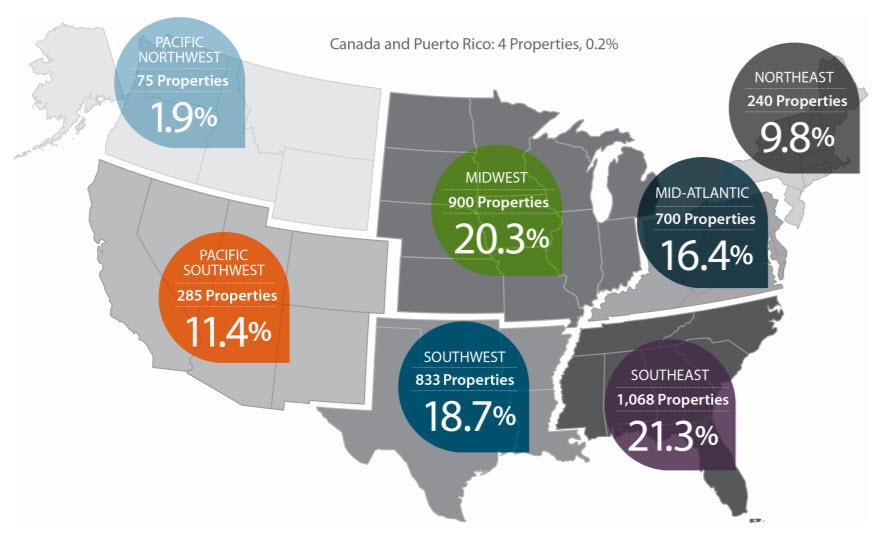 As you can see below, VER is diversified by sector, with a large concentration in retail (39.4%) and restaurants (23%):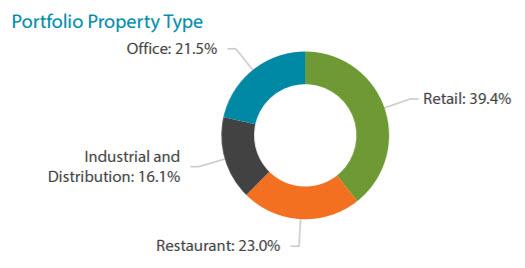 Focusing on VER's retail mix, the exposure is dominated by off price and necessity shopping of which 50% is investment grade. In many of these core categories, VER sees "reasonable expansion plans in 2017 and beyond."
Discount is comprised of 7.9%, pharmacy 7.2%, grocer 5.1%, home and garden 4.5% and convenience 2.5%. Approximately 67% of the retail revenue is derived from tenants that are public companies providing increased transparency into their operations and finances.
50 tenants individually represent 0.5% or greater of ARI, comprising 60.6% of the total portfolio; the remaining 613 tenants comprise 39.4% of the portfolio. 27 of the 50 tenants are investment-grade rated and 32 of the 50 tenants are public companies.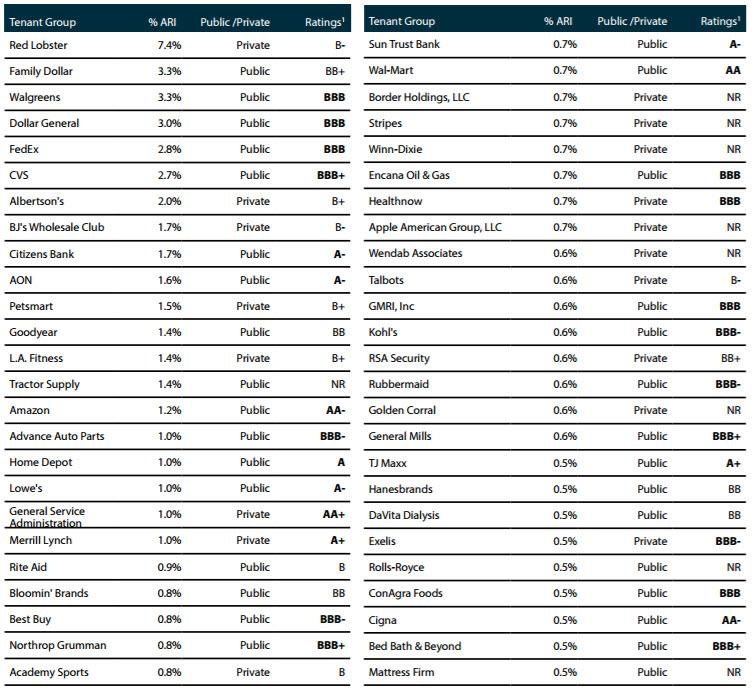 Here's a snapshot of the retail portfolio:
https://static.seekingalpha.com/uploads/2017/5/21/330973-14954170508613737.jpg


VEREIT's strategy of well-positioned single tenant properties in a diversified portfolio - made optimum by size - helps protect against a variety of cyclical and secular disruptors.
In today's retail environment, one of the key disruptors is the evolution of e-commerce. Retailers who embrace e-commerce and have the resources to implement omnichannel distribution are proving successful. Fundamentals of retail should not be forgotten.
Those who continue to provide true retail value - merchandise, price and service - will also thrive. The core retail merchandise groups within VER's portfolio are dominated by discount; pharmacy; grocery; home and garden and convenience. A full listing is provided: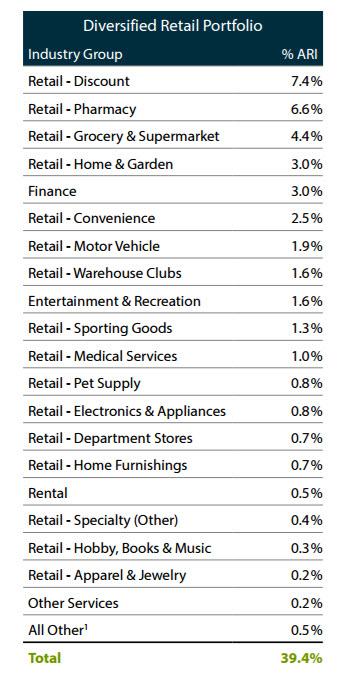 Within each category, VER's focus is to create a portfolio that can both service omnichannel distribution while always considering the consumer experience. Ultimate credit protection is a function of multi-layer diversification.
The following breakdown provides a deeper look into the retail tenant diversification of the VEREIT portfolio by merchandise category:
Property Type Analysis: Retail Category by Percent of Portfolio ARI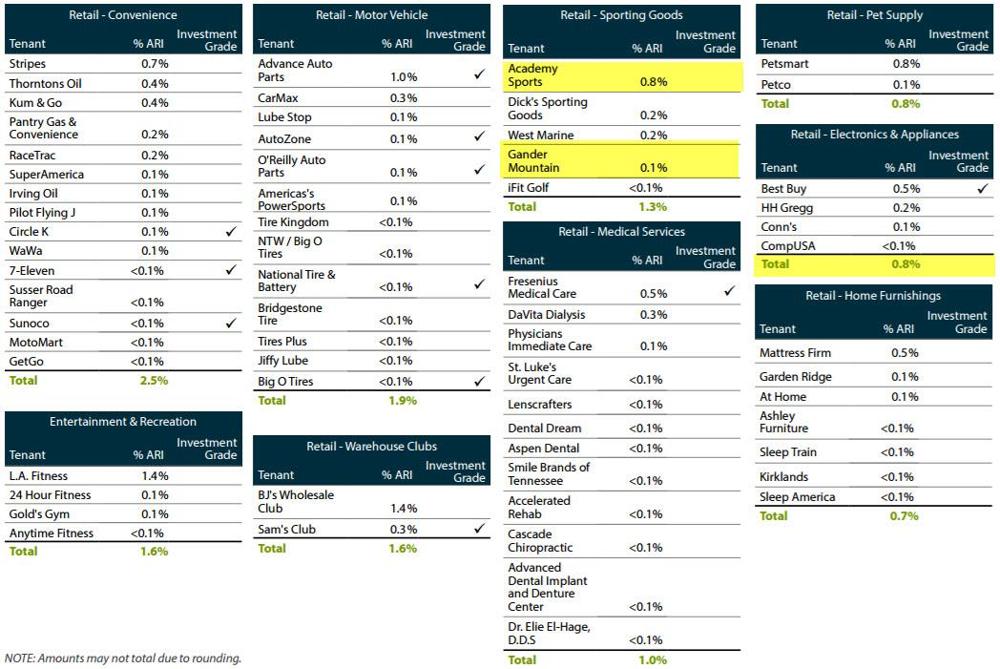 Property Type Analysis: Retail Category by Percent of Portfolio ARI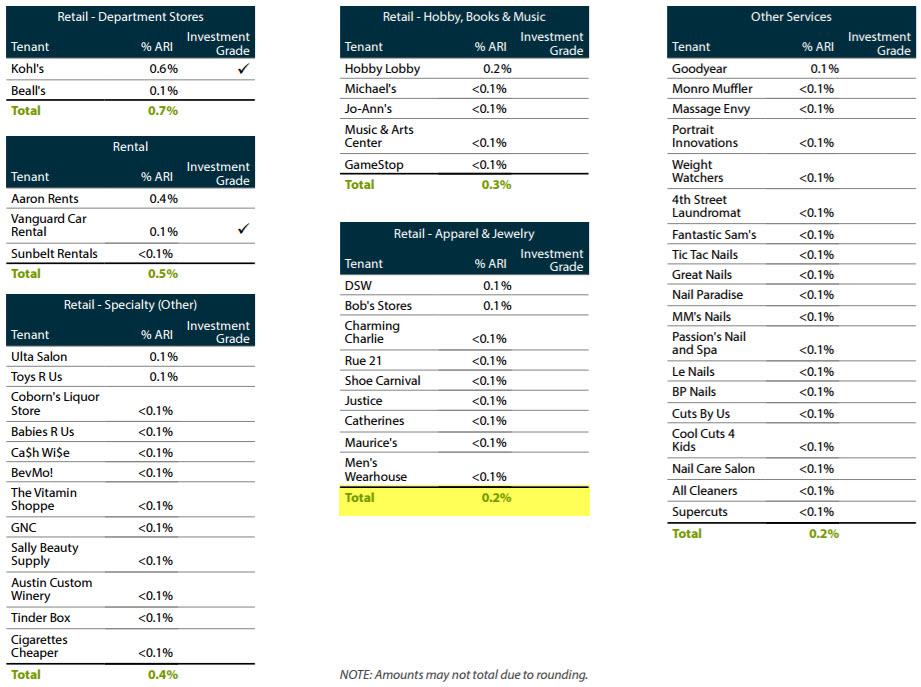 VER's restaurant portfolio consists of single-tenant quick service, casual and family dining properties. Creditworthy tenants, including franchisors, operating strong national and regional brands. Dispositions in Q1-17 included Red Lobster restaurants reducing exposure to the end of Q1 to 7.4% from 8.2% as well as office non-core properties and flat leases.
VER's Industrial property types include single-tenant distribution and warehouse facilities with creditworthy tenants. Most are mission-critical and strategic locations with close proximity to ports railways, major freeways and/or interstate highways.

VER's Office property types include primarily single-tenant corporate headquarters and business operations with creditworthy tenants with strategic location for corporate operations.

Year to date acquisitions were $116.1 million, including $14.6 million subsequent to the quarter. The 21 transactions included retail properties in multiple categories; grocers, convenience, automotive service, and fitness; three leased fee interests and the distribution facility.
VER finds the cross property relationship for 20 tenants representing approximately 20% of revenue. Year-to-date VER has sold 55 assets spread across various strategic categories totaling $213.9 million including $14.7 million subsequent to the quarter.
The Balance Sheet
Turning to the balance sheet, VER's net debt to EBITDA was 5.5x (at the end of Q1-17) providing ample room for leverage neutral acquisitions. Around 99% of the debt is fixed, less than any near term impact from potential interest rate increases.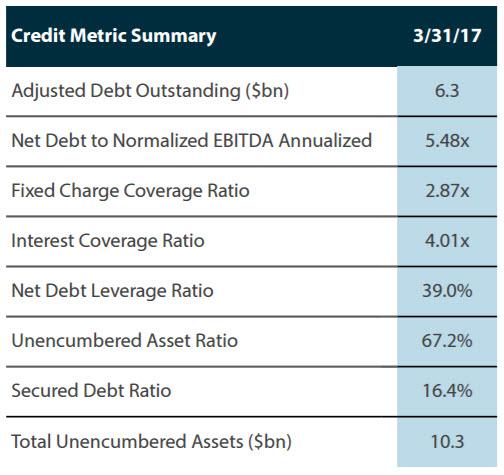 VER has made steady progress during the past two years resulting in Moody's upgrading VEREIT to Baa3, while S&P brought the company to BBB- matching the prior rating in the debt. VER is now investment grade with all three major agencies including Fitch.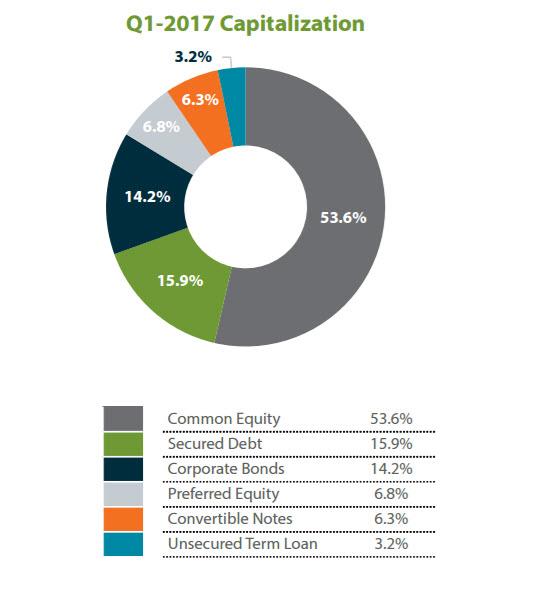 VER's balance sheet remains very safe and liquid, as the company has full capacity under its credit facility of $2.3 billion with $286 million in cash and essentially no floating debt. During the quarter VER had net repayments of $81.7 million of secured debt with only $301 million coming due the remainder of the year. VER's Cash flow provides ample coverage for dividends.
VER's fixed charge coverage ratio remains healthy at 2.9x and net debt to gross asset ratios has been reduced to 39%. The company's incumbent asset ratio was 67% and the weighted average duration of debt stands at 4.2 years.
Has VEREIT Hit Bottom?
VER has virtually no traditional department stores or material exposure to specialty apparel and within sporting goods and electronics are limited by strong operators.
VER had a good first quarter achieving AFFO of $0.19 per diluted share, consolidated revenue was $348 million (just below last quarter's revenue of $351.9 million), mostly due to the disposition program.
In Q1-17 VER reported net income of $14.8 million (versus a net loss of $118.2 million for Q4-16). The slight increase was mostly the result of lower depreciation and amortization primarily driven by the property dispositions and increase in the net gain on properties sold, all partially offset by slightly lower revenue, higher net litigation costs and tax expenses.
Legal costs related to the matters arising from the Audit Committee investigation which are included in litigation and other non-routine costs were approximately $12.7 million for the last quarter.
FFO per diluted share for the first quarter was $0.17 as compared to $0.05 for the fourth quarter. AFFO was $0.19 per diluted share as compared to $0.17 for the fourth quarter, however excluding the impact of the Q4 2016 charges, Q4 AFFO would have been $0.19 per share or flat when compared to Q1.

Here's a snapshot of our AFFO per Share Forecaster:

As you can see, VER is not the "top pick" based on AFFO growth and valuation; however, as you can below, the dividend is well-covered:

There's ample gun powder for the dividend, but there are still unknowns relating to the company's continued litigation and non-traded REIT business.
The legal expenses are continuing to drain cash flow, but VER could easily settle with the strong liquidity on the balance sheet. Also, the non-traded REIT business is not losing money, and in fact, during the first quarter Cole Capital raised $66.7 million of new equity, an average of $22.2 million a month (a 25% monthly increase in March compared to February).
Additionally, 18 new selling agreements were signed in Q1 representing more than 4,500 financial advisors. In April, Advisory Group one of Cole's historically large broker dealer partners approved CCPT5 and initiated sales efforts. Cole Capital's contribution was approximately $0.02 to $0.03 of AFFO per diluted share in Q1-17.
Remember, VER does not have outsized credit risks (like SRC) and is not in danger of a dividend cut (like SRC). Most importantly, VER now has an experienced management team with a strong alignment of interest with shareholders.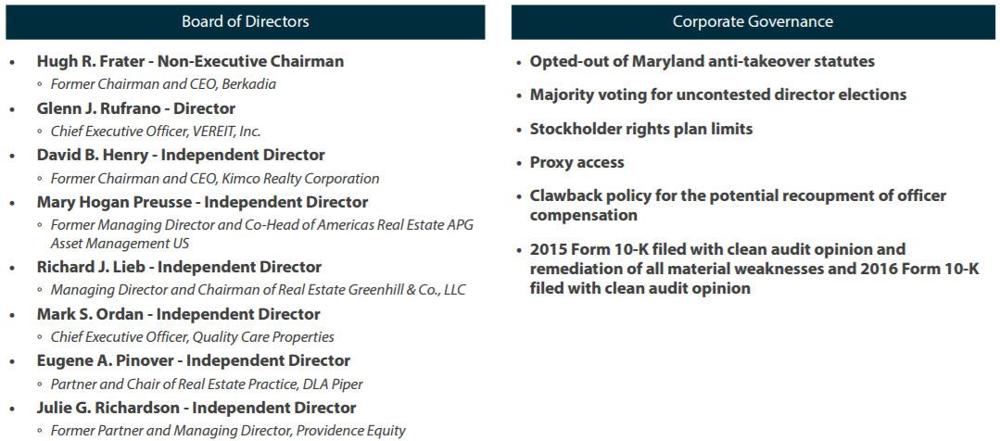 The market has not given VER any credit for management's accomplishments since the ARCP debacle: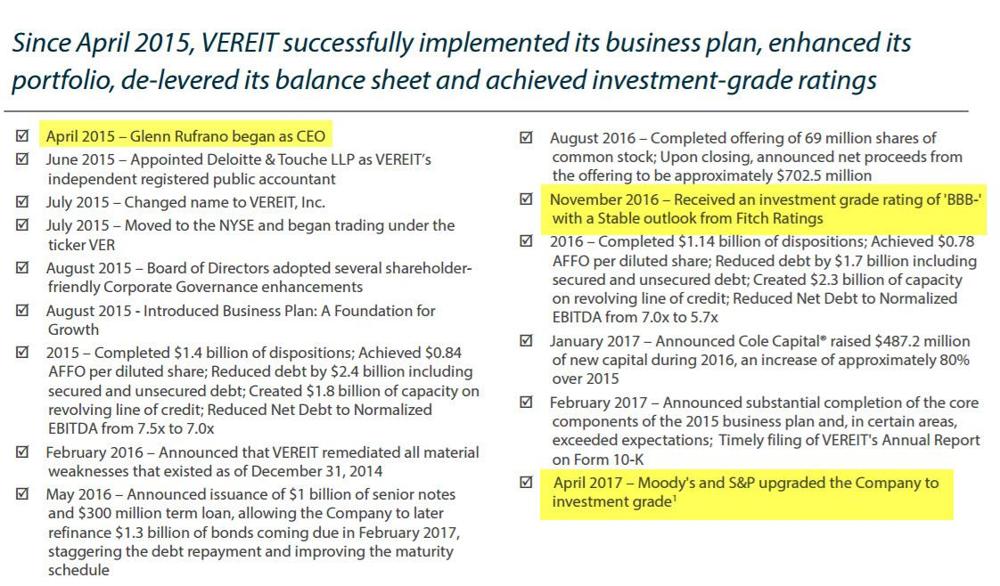 I'm giving VER credit, especially since the dividend yield is so sweet!

Why would you buy SRC (and recommend a STRONG BUY) when you can buy VER?

As I said, I'm not a fortune teller, but VER has all of the ingredients…and if I saw more clarity related to the company's litigation, I would likely upgrade shares to a STRONG BUY.
But I'm very confident, even with legal complexity, that VER is scraping the bottom of the barrel (in terms of its share price). Management matters, and at the end of the day, VER has demonstrated that it can successfully manage risk and provide investors with trusted dividend income. Given the "bottom scraping" pricing today, I'm fairly certain that shares have nowhere to go but up…
Again, I'm not calling it the bottom, but it's pretty darn close!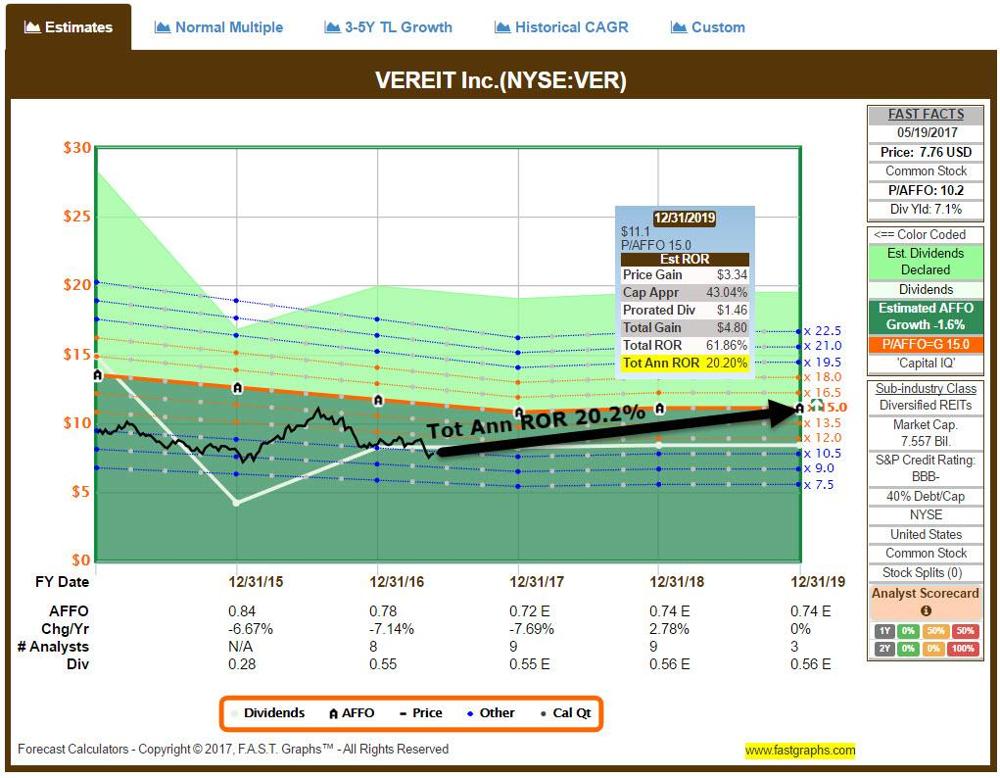 Note: I will be attending ReCon todayand I cannot respond to messages until later in the day.
Disclosure: I am on the Advisory Board of NY Residential REIT, andI am also a shareholder and publisher on theMaven (OTCQB:MVEN).
Source: F.A.S.T. Graphs and VER Presentation.
To get a first look at my upcoming article, "The Evolution of My Durable Income Portfolio", click here. I also include all of my Rhino REIT Ratings in my marketplace product, REIT Beat.
Author Note: Brad Thomas is a Wall Street writer, and that meanshe is not always right with his predictions or recommendations. That also applies to his grammar. Please excuse any typos, and be assured that he will do his best to correct any errors if they are overlooked.
Finally, this article is free, and the sole purpose for writing it is to assist with research, while also providing a forum for second-level thinking. If you have not followed him, please take five seconds and click his name above (top of the page).
Disclosure: I am/we are long APTS, ARI, BRX, BXMT, CCI, CCP, CHCT, CLDT, CONE, CORR, CUBE, DLR, DOC, EXR, FPI, GMRE, GPT, HASI, HTA, IRM, KIM, LADR, LTC, LXP, O, OHI, PEB, PK, QTS, ROIC, SKT, SNR, SPG, STAG, STOR, STWD, TCO, WPC.
I wrote this article myself, and it expresses my own opinions. I am not receiving compensation for it (other than from Seeking Alpha). I have no business relationship with any company whose stock is mentioned in this article.