It's Not Rocket Science: 5 + 5 = 10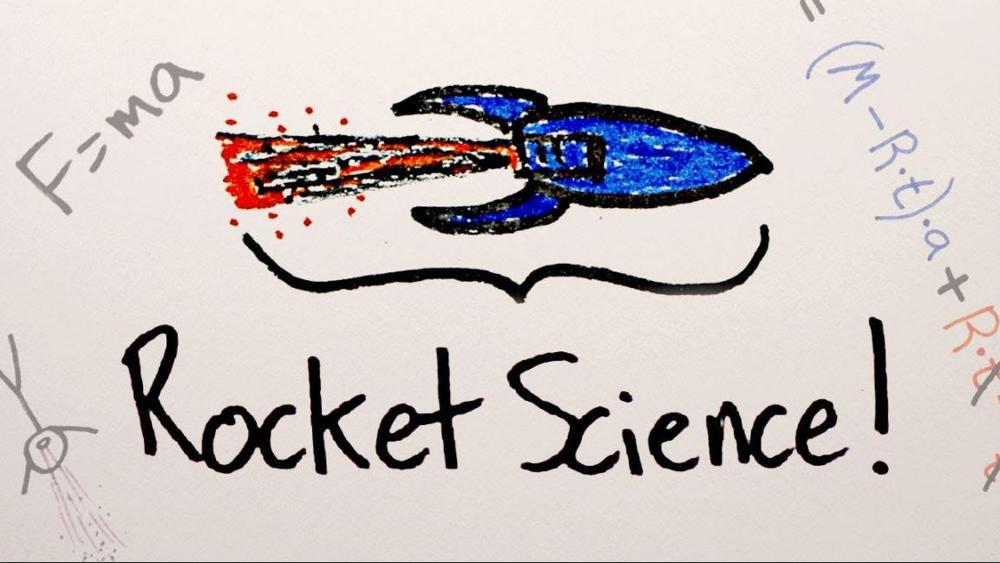 NoahBlacker
Brad Thomas wrote this article and it has appeared previously on Seeking Alpha.
Summary
I'm not looking for a home run ball.
It seems the so-called "timers" are always trying to out-think Mr. Market.
There really is no reason to buy a net lease REIT with a challenged cost of capital, because they can't grow accretively.
"I invest in assets that generate income, and in my opinion, O has as safe an income stream as one can find out there." - Chowder.
I just got back from my two-week trip (from New York to Seattle to Las Vegas), and I'm now catching up on emails and messages. This morning, I noticed a few new articles on Seeking Alpha, and instead of responding to each of them, I thought the more appropriate course of action would be to write an article (in full disclosure, I also make a few bucks).
Unfortunately, I was unable to attend the annual shareholder meeting for Realty Income (NYSE:O) last Monday, but I was able to write on the company recently, and I summed up my BUY recommendation as follows:

Realty Income is now trading at an attractive level. While the company is exposed to retail tenants, the large majority of them are internet-resistant and are considered non-discretionary and/or low price point orientation.
I then explained:
As I often remind my readers, 5 + 5 = 10. This simply means that as an investor in Realty Income, I can expect to see a 5% dividend yield and 5% growth in that dividend. I'm not looking for a home run ball. I am content with holding onto my overweight exposure in one of the most reliable REITs in the universe - it all started as one Taco Bell and turned into a SWAN!
I'm always amazed by the growing number of so-called "market timers" looking to make a fortune off such a simple business model known as Realty Income. It seems that when a company dominates a category, the speculators come out of the woodwork to throw darts - that's what I call the "raised nail getting hammered" syndrome.
Whenever I see the pundits coming out, I always remind investors that the most important part of the investing process is to "protect principal at ALL costs."
It seems the so-called "timers" are always trying to out-think Mr. Market.
Not me. The primary reason that I own shares in "the monthly dividend company" is for predictable monthly income.
Yes, price appreciation is also part of the reason, but as long as there is steady and reliable dividend growth, I am confident that the returns will compensate me for the risk. As I said, I'm not looking to hit the ball out of the park. I am simply seeking safety (singles and doubles) so that I can sleep well at night.
It's Not Rocket Science: 5 + 5 = 10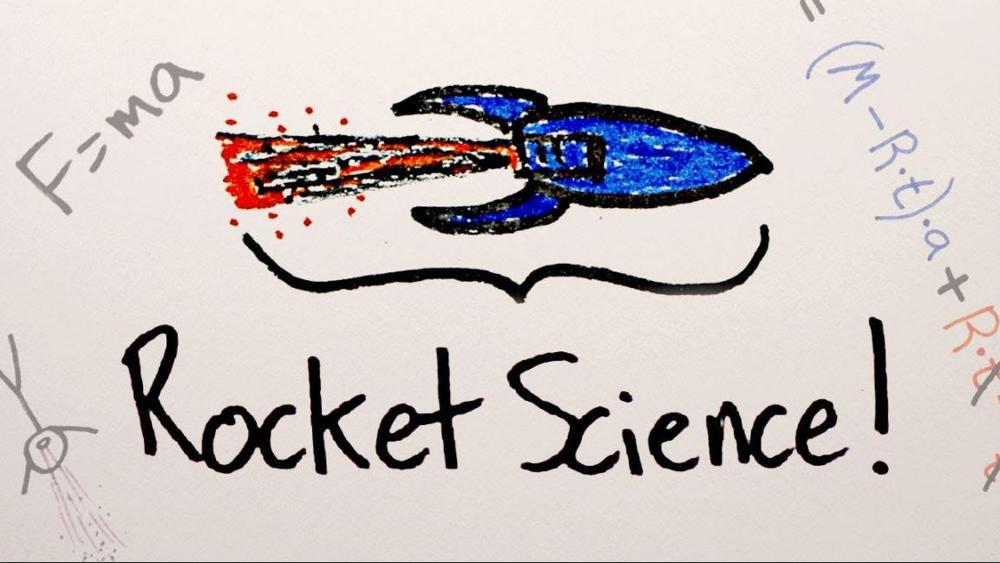 (Image Source)
Realty Income: A Challenging Environment
Recently, my friend and fellow contributor Dane Bowler wrote an article titled "Realty Income: A Challenging Environment."
While I admire Dane's work (we agree with most of our calls), I disagree with his thesis that a "harsh leasing environment will stop O's revenues or FFO from growing." He explains:
99% recapture rate of rent on lease expiry is a dream come true for any triple net REIT, but we think it is highly unlikely to continue at this rate.
Bowler is accurate that Realty Income has been successful with retention rates and, specifically, recapturing "99% of rent" since 1994; however, I disagree with him that the company will not be able to continue the trend.
Keep in mind, when Realty Income commenced operations around 23 years ago, the company invested in primarily franchise credit-leased assets, and today the portfolio leased to a diverse number of customers, 45% investment grade-rated. Dane acknowledged this, saying:
A portion of this (revenue) comes from O's acquisition criteria in which they buy well-located properties with strong tenants.
His (Dane's) argument is centered on the notion that:
... over O's history as 15-year leases expired, the going market rates were higher than when the properties were first purchased.
In my opinion, Dane is missing the most important reason to invest in Realty Income, which is that this company hasbeen managing risk for decades. It's no surprise that O has "recaptured 99% of rent since 1994," and going back over the last two decades there have been dozens of (tenant) bankruptcies, but during that period, the company's occupancy rate has never dropped below 96%.

So, through multiple recessions, it has always maintained consistent performance, and I find no reason to support the argument that rent renewals will slow in the future. In fact, Realty Income is significantly more diverse today, so one, two or even three bankruptcies would not hamper growth.
Also remember that over 2/3rd of Realty Income's per share growth comes from acquisitions. The driver of earnings growth for net lease companies is its external growth, not internal growth. With still the lowest cost of capital in the space and significant volume of sourced acquisition opportunities, the earnings growth driver of external acquisitions remains in good shape.
Don't be confused with Spirit Realty (NYSE:SRC), which has significant exposure tostruggling ShopKo, or VEREIT (NYSE:VER), a REIT that I now have a BUY rating on and that has been choking on exposure to Red Lobster. (see my latest article on VER here).
Dane's argument that growth will slow is limited to the discussion of recapturing space, and he failed to mention Realty Income's cost of capital advantage. That simply can't be ignored, since this is the fuel that allows the company to fish in an ocean littered with opportunity.
I have often cited the fact that Realty Income has the lowest cost of capital in the Net Lease REIT sector, and this is the sole competitive advantage that allows the company to protect its moat, rooted in consistent and reliable dividend growth.
I consider a credit upgrade tobe an important catalyst that will drive "the monthly dividend company's" price appreciation. Realty Income currently enjoys a BBB+ rating (by all three rating agencies), and the company should see an upgrade soon.
There's a reason that the "cream rises to the top," and because of Realty Income's exceptional history of managing risk, it has been able to generate the widest investment spreads, without sacrificing capital. Dane is right that "the retail landscape has changed in a way that will alter the balance of power between tenant and landlord."
However, that power is Realty Income's low cost of capital advantage that will allow the company to maintain dominance in the Net Lease REIT sector. Realty Income has become the "go-to bank for investment-grade-rated customers," and it is the low cost of capital advantage that is driving the growth of the company.
Over 90% of its retail tenants cater to a low price point, non-discretionary or service-oriented need. That is fundamentally different from a mall (which leases to apparel retailers and Big Box department stores).
Additionally, only 1% of Realty Income's assets are leased to Big Box (over 50k SF) retailers that don't have one of those defensive characteristics. And that 1% includes retailers like Home Depot (NYSE:HD) or Lowe's(NYSE:LOW), which are actually excelling in today's environment.
On the notion that Realty Income is expensive on an NAV basis, remember that the median premium to NAV has been 29% since March 2009, and the company currently trades at a 15% premium to NAV (that's in the 15thpercentile of NAV premiums since March 2009). Realty Income has never traded at NAV or at a discount to NAV since March 2009.
Bowler said, Realty Income's "Payout ratio is already quite high."
Really?
83.5% is below the company's target of 85%. That means it can continue paying and growing the dividend so long as AFFO/share doesn't decline by 15%. The worst year for AFFO/share growth in its history? Only a 2% decline (during the Great Recession). And the portfolio and balance sheet are in much better shape today than they were back then.
Also, Realty Income has generated the 99% recapture on lease rollovers WITHOUT TIs (tenant improvements) and LCs (leasing commissions) over its 22-year history. No reason to believe that will change. The argument that the company's recapture rate will slow is ludicrous.
I remember speaking to Realty Income's previous CEO over five years ago, and he explained the "secret sauce" of the company. He would not provide me the actual "secret recipe," but he suggested that the lasting repeatability for the company boiled down to successfully managing risk.
The REIT is constantly stress-testing its portfolio and always balancing the customer base to maintain the highest level of predictability. As I said, you won't see Shopko on the list or any obsessive concentration in casual dining. I would never recommend a BUY, let alone a STRONG BUY, if there is a chance for a dividend cut (see my recent article on SRC here).
Use AFFO for Net Lease REITs
Seeking Alpha author The Fortune Teller recently wrote an article titled "A Guide To Properly Assess The Beaten Up Triple-Net Lease Equity REITs."
I first want to point out that Net Lease REIT investors should not be using FFO but AFFO. The author frequently cites the use of FFO, but AFFO is a much better metric to use, since it deducts cap-ex costs.
The author went on to explain that "it's very tempting to look at the reward but it's way more important to assess (and understand) the risk." That's precisely why I decided to include the WACC scorecard for each Net Lease REIT in my upcoming newsletter. In my opinion, this is a critical part of the risk/reward argument, and investors should always consider the profit margins when selecting REIT securities.
In addition, it's critical to consider dividend growth, and that's why I plan to include a dividend growth tool in the upcoming newsletter. By equipping yourself with all the necessary tools, an investor can become better prepared and always be mindful of protecting principal at all costs.
The No. 1 Stock In The World
Mike Nadel recently wrote an article called "The No. 1 Stock In The World (Revisited) - Apple Up, Realty Income Down." Two years ago, Mike asked me and a handful of writers this question:
"If you could only own one company in your portfolio, which would it be?"
I replied Realty Income, and as you can see below, the company has generated a total return of over 25%.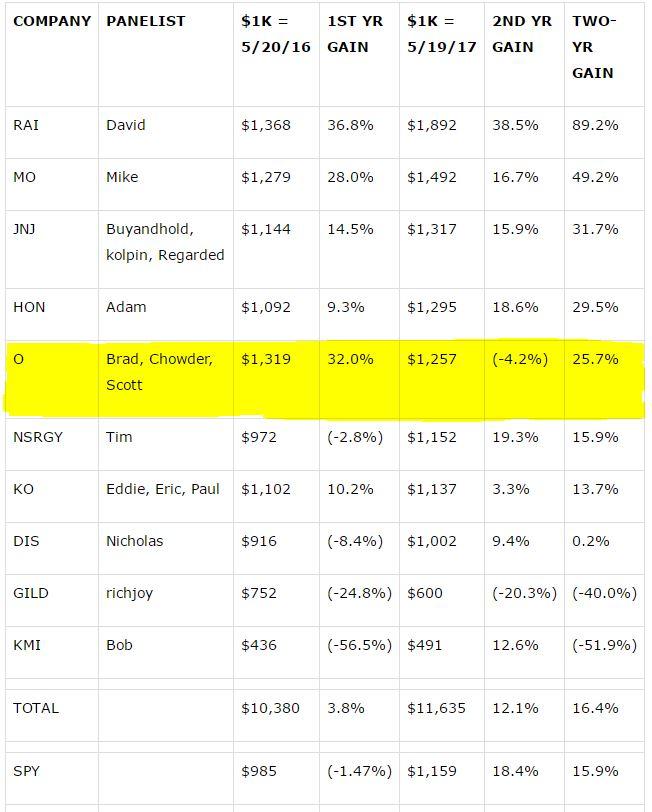 In his article, Mike pointed out:
After soaring to a 32% gain in Year 1, it landed with a thud in Year 2, falling 4.2%. Although a combination of Fed interest-rate hikes and overvaluation seemed to work against O, its 2-year gain of nearly 26% is nothing to sneeze at - especially since investors are confident that "The Monthly Dividend Company" will keep the income flowing month after month after month.
Mike had asked another question two years ago:
"If you had $25,000 to invest TODAY on one company and you planned to hold it for 10 years or more, which company would you buy?"
I picked STAG Industrial (NYSE:STAG), and I'm glad to be in first place (now).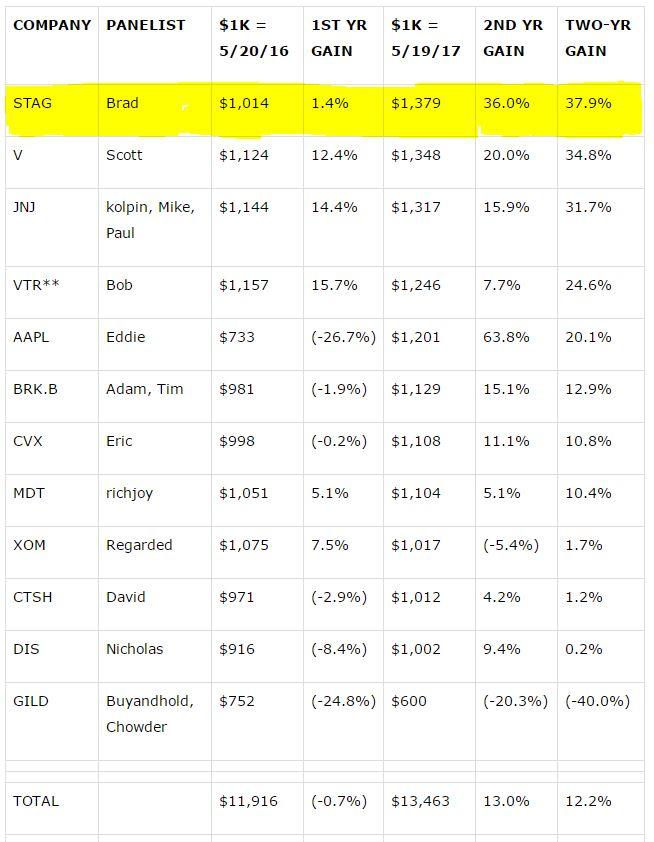 It's great to be in first place, but what really gets me excited is when I see the dividends coming in.
The reason that I picked Realty Income and STAG is because of their predictability and reliability.
I know that I can beat the market timers day in and day out by staying focused on the fundamentals, especially dividend growth. I have no interest in a victory celebration or touting my success for a trade I made last week, or even last month.
In Dane's article, he said Realty Income will "struggle to grow for the next 3-5 years."
Really?
The way the math works is that at current spreads, it takes about $1.5 billion of acquisition volume to grow at 5% (including contractual rent bumps the company gets from its leases). In that vein, the 17.9x multiple helps Realty Income generate growth, as it can issue equity currently at a very low nominal cost.
Now, if that multiple were something like 14x, that would hurt its ability to grow.
The Bottom Line
There really is no reason to buy a net lease REIT with a challenged cost of capital, because it can't grow accretively. Realty Income can with its low cost of capital!
Most investors (dividend growth and dedicated) get the story, but just as Bill Ackman (Pershing Square) attempted to short Realty Income a few years back, there will always be market timers today attempting to short one of the most predictable income payers on the planet. As my mother always said:
If it ain't broke, don't try to fix it.
My success should be measured in years, and while I'm confident I won't always be on the leader board for overall performance, I remain self-assured that "If I could only own one company in my portfolio, it would be Realty Income." It's not rocket science: 5 + 5 = 10.
My job here on Seeking Alpha is to help keep investors informed and, most importantly, to help them evaluate the risks and returns within the REIT sector. Hopefully this article is helpful, as I consider education the most important part of the investing process.
I thought Chowder worded it perfectly in the comment he left for Mike Nadel's article:
Nothing has changed for me.
If I could only hold 1 company it is still O and it isn't because of capital gains. If I can only hold 1 company there's no such thing as harvesting gains, I invest in assets that generate income, and in my opinion O has as safe an income stream as one can find out there.
Any company that advertises itself as The Monthly Dividend Company is going to include the safety of the dividend in every business decision they make.
I started a brand new portfolio for my cousin a couple of weeks ago and took out a full position in O. I could care less about valuations because I'm not selling O at any price.
I'm adding to my long time held position in O next week in my personal portfolio, a position that is overweight and is going to get even larger.
I'm starting a new portfolio for my cousins wife in two weeks with her 401k rollover money and I am going to start a full position in O for her as well. I'm not easing in, I'm going all in. We are focused on the income stream, the capital gains are what they are, they won't be realized, O is a buy and hold and continue to build.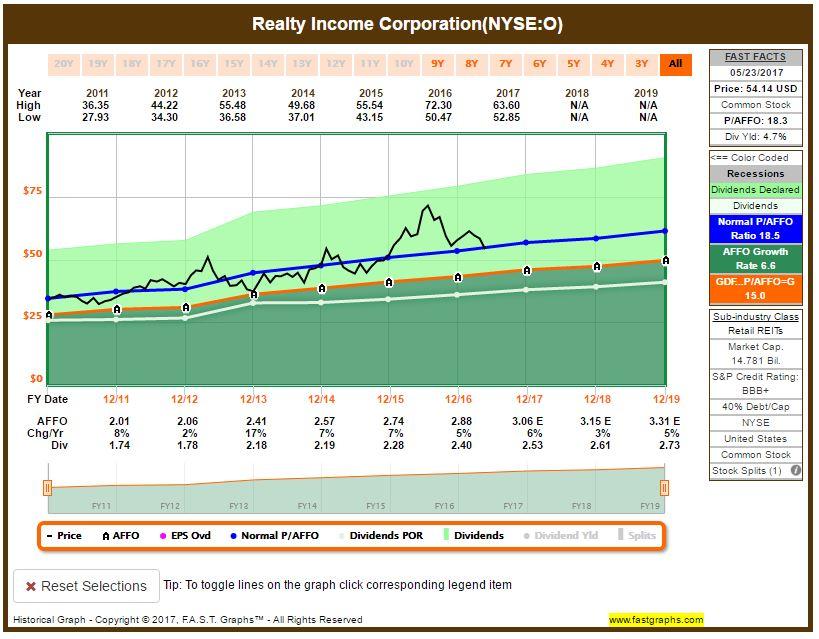 Disclosure: I am on the Advisory Board of NY Residential REIT, and I am also a shareholder and publisher on theMaven.
To get a first look at my upcoming article, "The Evolution of My Durable Income Portfolio," click here. I also include all of my Rhino REIT Ratings in my marketplace product, REIT Beat.
Author Note: Brad Thomas is a Wall Street writer, and that means he is not always right with his predictions or recommendations. That also applies to his grammar. Please excuse any typos, and be assured that he will do his best to correct any errors, if they are overlooked.
Finally, this article is free, and the sole purpose for writing it is toassist with research, while also providing a forum for second-level thinking. If you have not followed him, please take five seconds and click his name above (top of the page).
Disclosure: I am/we are long APTS, ARI, BRX, BXMT, CCI, CCP, CHCT, CLDT, CONE, CORR, CUBE, DLR, DOC, EXR, FPI, GMRE, GPT, HASI, HTA, IRM, KIM, LADR, LTC, LXP, O, OHI, PEB, PK, QTS, ROIC, SKT, SNR, SPG, STAG, STOR, STWD, TCO, VTR, WPC.
I wrote this article myself, and it expresses my own opinions. I am not receiving compensation for it (other than from Seeking Alpha). I have no business relationship with any company whose stock is mentioned in this article.