Management Matters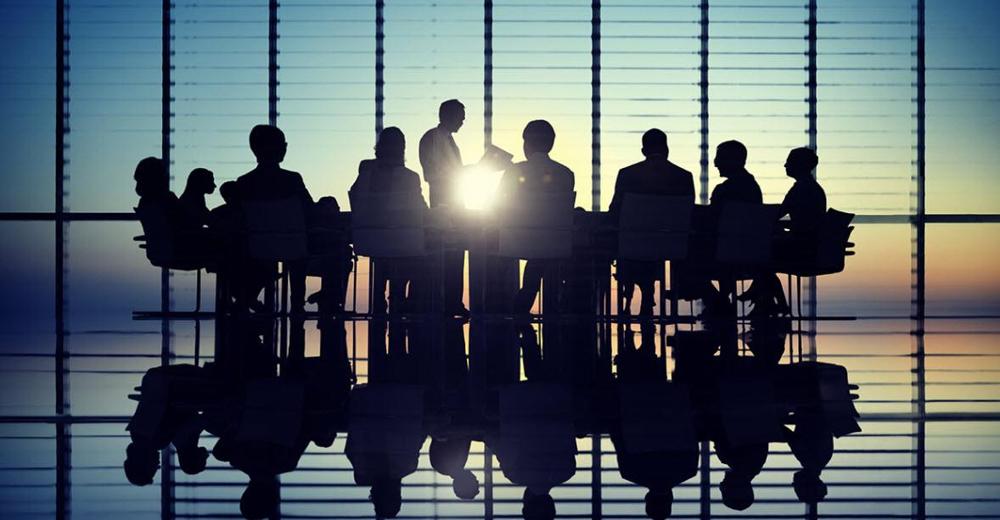 NoahBlacker
Brad Thomas wrote this article and it has appeared previously on Seeking Alpha.
Summary
While fundamentals remain one of my top research tools, I also spend time trying to understand management's role.
A REIT with an external management structure usually resembles a private equity arrangement in which the external manager receives a flat fee and an incentive fee.
There has always been a debate over which management structure is most favorable, and the controversy seems to always center on conflicts of interest.
Yesterday I wrote an article titled A Few High-Yielding REITs To Avoid: The Raised Nail Gets Hammered. The purpose for the article was to point out a few REITs that are riskier in nature, due to weaker fundamentals and lower cost of capital. I thought the article served a valuable purpose as it elevated the discussion of risk tolerance and it was great to see such a diverse number of readers weigh in on the conversation.
It's true that every investor has his (or her) own risk tolerance level, and while I'm not a buyer of the Washington Prime (WPG) common yielding 13.4%, there are plenty of folks who are (buyers). Note: I have a SELL on WPG.
In evaluating risk in the REIT sector, I typically survey a list of vetted investment opportunities to determine which companies are worthy of ownership. This involves some consideration of the REIT's sector, its current competitive position within that sector, and the "economic moat" around the company.
This process includes analyzing the company's financial statements, talking to corporate executives, visiting the assets, and reading earnings transcripts. This fundamental analysis is a key component of understanding the outlook for a REIT's future profitability and competitive forces.
While fundamentals remain one of my top research tools, I also spend time trying to understand management's role, and whether there is an alignment of interest with the stakeholders.
Most Equity REITs are internally managed and there are a few that are externally managed. Usually, private REITs (or non-traded REITs) are externally managed for a fee by a related party manager. The related party fees for these types of vehicles can be significant, and will vary based on the underlying investment premise and management services rendered.
In a REIT with an internal management structure, its own officers and employees manage the portfolio of assets.
Conversely, a REIT with an external management structure usually resembles a private equity arrangement, in which the external manager receives a flat fee and an incentive fee for managing the REIT's portfolio of assets.
There has always been a debate over which management structure is most favorable, and the controversy seems to always center on conflicts of interest.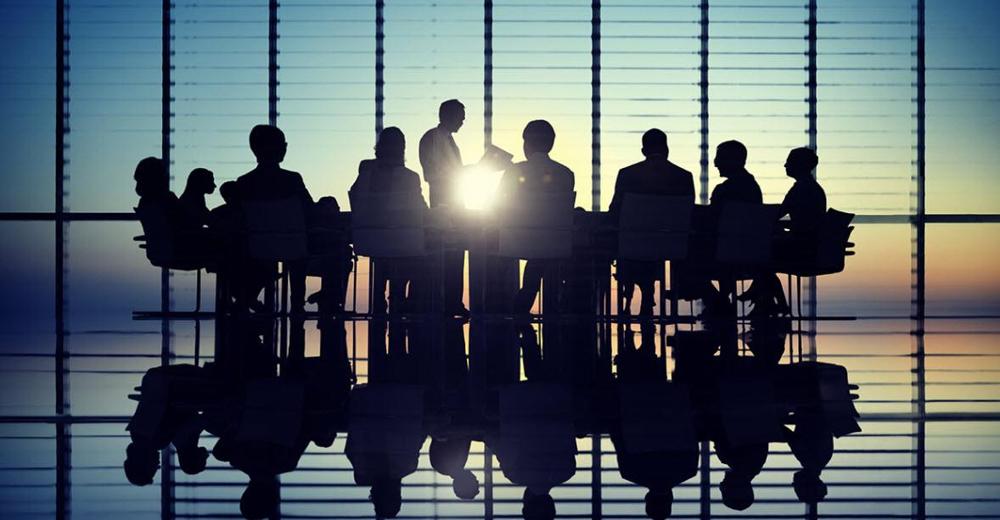 Externally Managed REITs
When you buy shares in a publicly traded REIT that is internally managed, you are actually providing capital (or equity) to the company to invest in buildings and pay the overhead (including salaries) for the business. So, theoretically, I am paying for the salaries of the management team.
However, when you buy shares in an externally managed REIT, you are not actually hiring the management team. The Board has negotiated a contract with an outside management team to run the business, and typically, their compensation is tied directly to growing assets under management, much like the private equity model.
The rub with external management typically involves conflicts of interest within the external manager's compensation arrangement. More often than not, external managers create incentives that are not in the best interests of the shareholders.
An external manager typically receives a flat fee and an incentive fee. Generally, the flat fee is based on the asset value under management, which gives the manager incentive to purchase assets, while the incentive fee is based on the returns from the sale of assets.
Most incentive fees for external managers are structured with a high water mark. Therefore, external managers will receive incentive fees only when the net asset value (or NAV) of a REIT rises above its highest historical NAV.
External structures can create governance risks (at least when compared to REITs that are internally managed), and these governance risks can translate into credit risks. The primary governance risk is that the external manager uses its control to extract value from the REIT, to the detriment of shareholders and bondholders.
As you are aware (see my disclosure), I own a number of externally-managed REITs such as Blackstone Mortgage (BXMT), Starwood Property Trust (STWD), Preferred Apartment Communities (APTS), and New Senior (SNR), to name a few.
Whether internal or externally advised, governance is essential for REIT performance, and the only reason I own these externally managed REITs is because I believe they have a strong commitment to corporate governance. In addition, there are other benefits of external management.
An external manager has larger scale than the individual REIT, so it can provide services at a more economical cost than managing the REIT internally. With regard to management succession, externally managed REITs have a broader set of employees from which to select senior executives, thereby broadening the skills and experiences available to the REIT.
When external manager service agreements are specific and outline strict performance criteria, boards of REITs are better placed to oversee the manager's performance. (Source: Moody's)
My biggest issue with externally managed REITs, however, is the influence that the manager has over the REIT to further his or her interests over those of the REIT's shareholders. External management representation on boards limit the board's capacity to independently oversee the external manager, and this often puts the manager in a highly conflicting role.
What About Performance?
There is no real quantitative research that I have found comparing internally and externally managed REITs. However, I can provide some of my own research to validate the theory that internally managed REITs outperform the externally managed version.
First off, let's take a look at these 10 externally managed REITs: Gladstone Commercial (GOOD),Gladstone Land (LAND), Senior Housing Properties (SNH), Hospitality Properties Trust (HPT), Gramercy Property Trust (GPT), Select Income (SIR), Global Net Lease (GNL), New Senior (SNR), Preferred Apartment (APTS), and Bluerock Residential (BRG).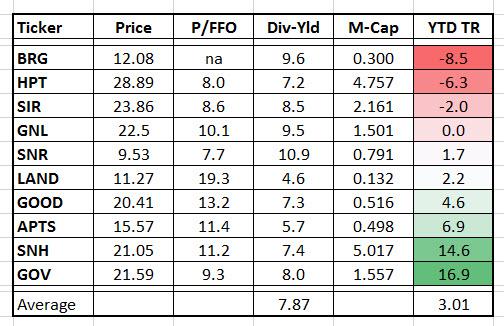 As you can see, these 10 REITs generated an average Total Return of 3.01% YTD (my Durable Income Portfolio returned 3.76% YTD) and these 10 REITs outperformed the Vanguard REIT ETF (NYSEARCA:VNQ) +1.05 YTD.
However, over a longer time frame, you can see that the group of externally managed REITs underperformed (charts below represent annualized returns):

Keep in mind that I used the 8 REITs in my Durable Income Portfolio with the highest exposure: Realty Income (O), Omega Healthcare Investors (OHI), W.P. Carey (WPC), Ventas, Inc. (VTR), STAG Industrial (STAG), Digital Realty (DLR), and Healthcare Trust of America (HTA).
It's interesting that Preferred Apartment (I also own shares) generated the highest returns since May 2012 (21.5% annualized) and the second highest returns since May 2014 (I own the REITs in yellow).

As noted above, there are certainly outliers, and Preferred Apartment is clearly in that league. I plan to write an article on the company later in the week (and meet with management at NAREIT next week).
Also, you can see that Gladstone Commercial has been an over-achiever. I plan to speak with the management team for the first time today and I also plan to visit them at NAREIT next week.
Part of the reason that my Durable Income Portfolio has produced stronger results is because of the disciplined management. As noted above, internally managed REITs have better alignment with investors and this means that they are interested in producing sustainable earnings and dividend growth. When you look at the FFO growth forecast for these externally managed REITs, you can see that the fundamentals are weak. The chart below illustrates FFO/share growth: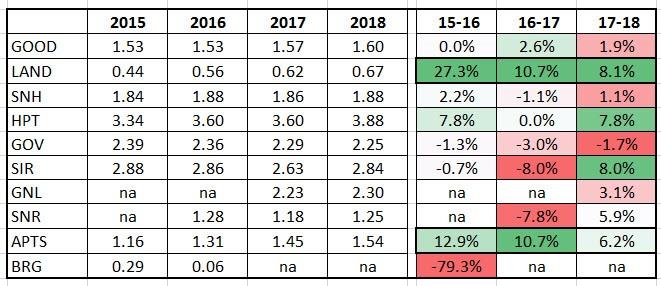 Note that Gladstone Land (LAND) is forecasted to generate 10.7% FFO/share growth in 2017 and 8.1% in 2018. Also, APTS should generate double-digit FFO/share growth in 2017. However, when you take a closer look at dividend safety, specifically the Payout Ratio, you get a better picture:

In conclusion, for smaller REITs, using external management can be cost effective; however, when companies are large enough (~$1 billion) to generate profits without conflicts of interest, it's best to internalize.
When considering an externally managed REIT, it's important to recognize that the management team is not necessarily working for you, and their interests may not be aligned with yours. As I said, I own a number of externally managed Equity REIT and Commercial Mortgage REITs and I recently joined the Advisory Board of NY RESIDENTIAL REIT that has been qualified by the SEC and is live and available for investment via the website ().
Most importantly, always remember to diversify your investments; it takes only one torpedo to sink an entire ship.
To get a first look at my upcoming article, "**The Evolution of My Durable Income Portfolio," click here.
Disclosure: I am on the Advisory Board of NY Residential REIT, and I am also a shareholder and publisher on theMaven.
**Author Note: Brad Thomas is a Wall Street writer, and that means he is not always right with his predictions or recommendations. That also applies to his grammar. Please excuse any typos, and be assured that he will do his best to correct any errors, if they are overlooked. Finally, this article is free, and the sole purpose for writing it is to assistwith research, while also providing a forum for second-level thinking. If you have not followed him, please take five seconds and click his name above (top of the page). () This communication does not constitute an offer to sell or a solicitation ofan offer to buy, nor will there be any sale of, securities in any jurisdiction in which such offer, solicitation or sale is not authorized. You should carefully consider all risks before you make an investment decision with respect to the common shares of NY Residential REIT, LLC (the "Company").
Neither the SEC nor any other regulatory body has approved or disapproved or passed upon the accuracy or adequacy of the information presented in this communication. This communication contains forward-looking statements, which reflect the Company's beliefs, assumptions and expectations of the Company's future performance. These beliefs, assumptions and expectations are subject to risks and uncertainties and can change as a result of many possible events or factors, not all of which are known to the Company.
Actual results could vary materially from those set forth in such forward-looking statements. If a change occurs, the Company's business, prospects, financial condition, liquidity and results of operations may vary materially from those expressed in the forward-looking statements. The Company disclaims any obligation to publicly update or revise any forward-looking statements to reflect changes in underlying assumptions or factors, new information, future events or other changes. A copy of the publicly filed offering circular can be found here. Disclosure:** I am/we are long APTS, ARI, BRX, BXMT, CCI, CCP, CHCT, CLDT, CONE, CORR, CUBE, DLR, DOC, EXR, FPI, GMRE, GPT, HASI, HTA, IRM, JCAP, KIM, LADR, LTC, LXP, O, OHI, PEB, PEI, PK, QTS, ROIC, SKT, SNR, SPG, STAG, STOR, STWD, TCO, VER, VTR, WPC.
I wrote this article myself, and it expresses my own opinions. I am not receiving compensation for it (other than from Seeking Alpha). I have no business relationship with any company whose stock is mentioned in this article.