Will The Rising Tide Lift This Ship?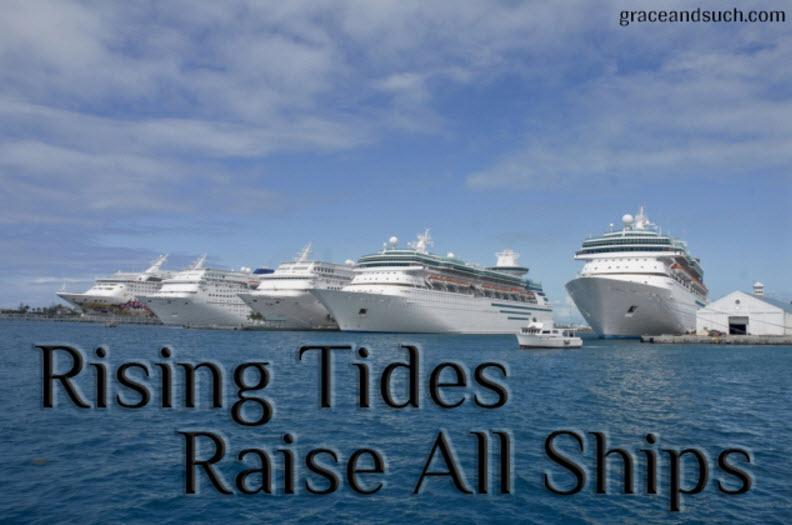 NoahBlacker
Brad Thomaswrotethis article and it has appeared previously on Seeking Alpha.
Summary
QTS Realty has the flexibility to optimize product offerings in response to demand.
The overhang (customer move-out in Northern Virginia) also serves as a catalyst for accumulating shares.
QTS is no bargain, but this is the only Data Center REIT I have a BUY rating on at this time.
In my latest newsletter (ForbesReal Estate Investor), I explained that my Data Center REITs have performed extremely well year to date, generating average returns of 23.3%. The best performers were CyrusOne (NASDAQ:CONE) +28.1% YTD and Digital Realty (NYSE:DLR) +21.4% YTD.
The outlier, or worst Data Center REIT, was QTS Realty (NYSE:QTS), generating just 6.8% YTD.
Back in April, I explained that I was "hoping to see positive news on the upcoming earnings call (Q1-17)," and if the company reported "solid numbers, including premium pricing on the vacated customer, shares could rally."
QTS reported on May 1st, and there was no rally.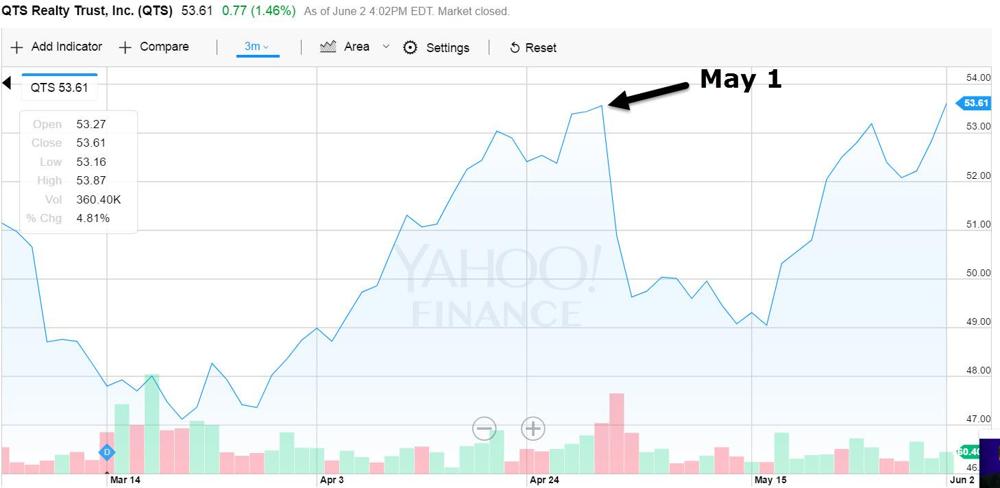 Why not?
Let's take a closer look at the company.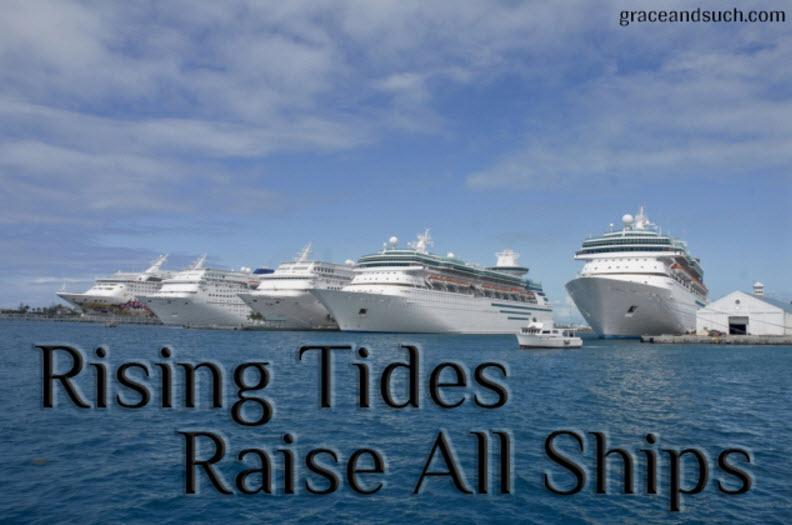 (Photo Source)
A Quick Snapshot of QTS
QTS is the smallest Data Center REIT (as illustrated below), as the company delivers an integrated platform of colocation, cloud and managed hosting solutions designed to simplify strategies for its customers by delivering increased IT efficiency and reduced capital expenses.

QTS's international footprint of data centers provides a redundant, robust and dependable infrastructure, ideal for workloads that demand high-performance, high transaction volumes and low latency, while processing vast amounts of data reliably, securely and cost-effectively.
The company operates 25 data centers on four continents, and it is poised to deliver world-class infrastructure and value-added technology services to more than 1,000 customers in North America, Europe, Asia and Australia.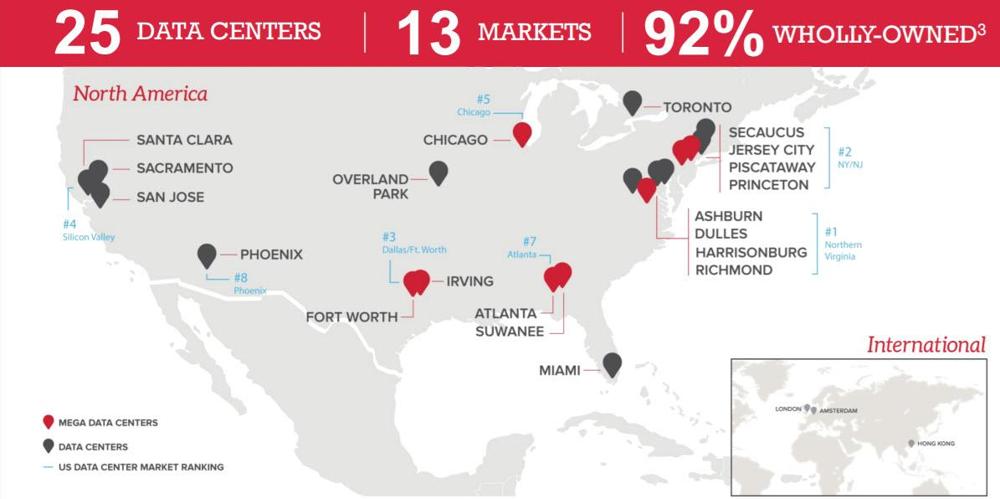 QTS is a leading national provider of data center solutions and fully managed services and a leader in security and compliance. The company offers a complete, unique portfolio of core data center products, including custom data center, colocation and cloud and managed services, providing the flexibility, scale and security needed to support the rapidly evolving hybrid infrastructure demands of web and IT applications.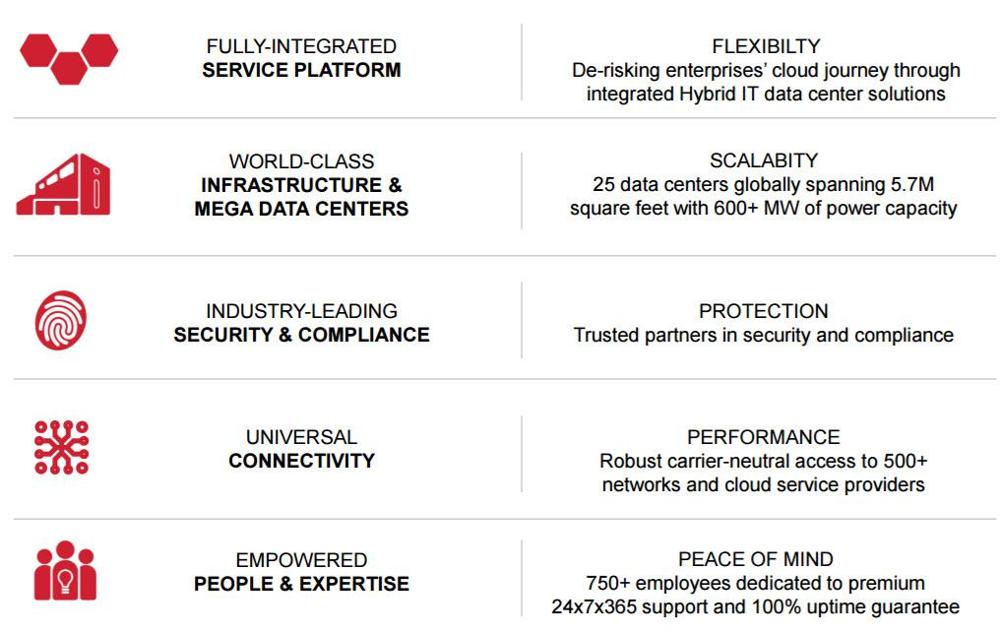 As the nation's only provider of a fully integrated technology services platform: C1 - Custom Data Centers, C2 - Colocation, and C3 - Cloud and Managed Services, overlaid with industry-leading security and compliance, QTS is truly differentiated in the market.
It is uniquely positioned to sell C3 managed services on top of space and power drives incremental revenue and ROIC. Around 60% of recurring revenue is generated from customers using more than one "C" product, up from 40% at IPO.
Also, 50%+ of C1/C2 recurring revenue is generated from customers also using C3, up from 30% at IPO. For its C1/C2 customers that are using C3, the latter increases overall customer data center spend with QTS by 35%, generating $170k of annualized C3 revenue per customer - more than double versus the contribution at IPO.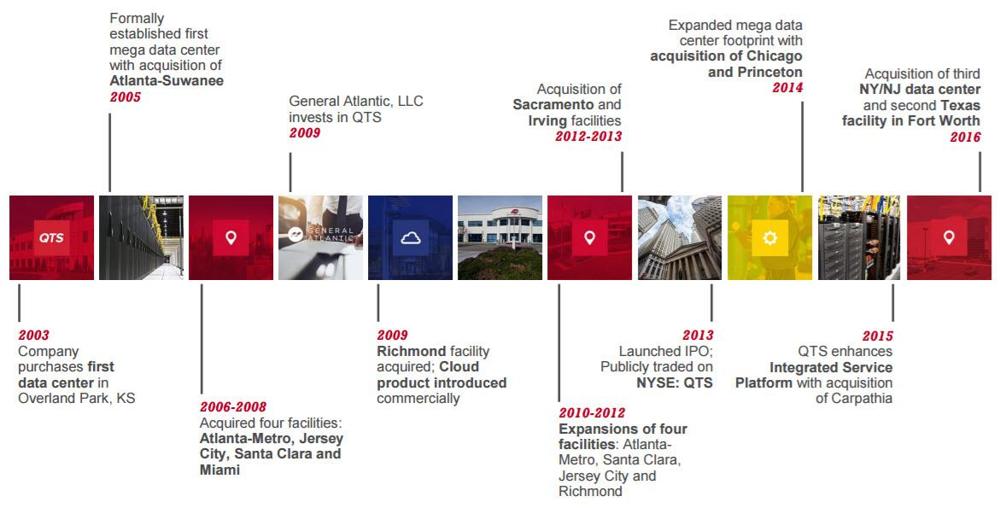 Focusing on Quality, Not Quantity
QTS continues to be driven by its core business model of delivering a unique integrated services platform, on top of world-class real estate assets, with exceptional customer service to achieve industry-leading return on invested capital (or ROIC).
The company has significant capacity to nearly double raised floor in the existing powered shell. It has growth opportunities within its current portfolio to ~5M SF through development on 275+ acres of adjacent, owned land and real estate.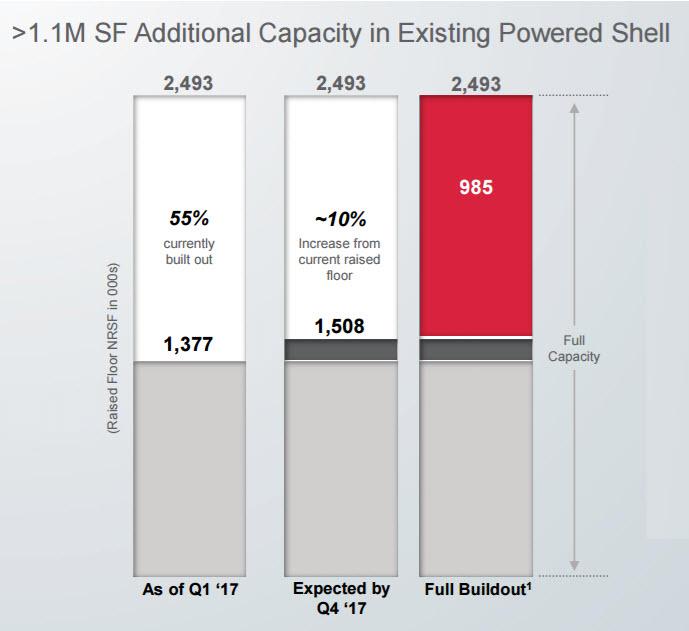 QTS has flexibility to optimize product offerings in response to demand. It has the ability to nearly double capacity in existing properties and more than double facility sizes with adjacent, owned land at every mega facility. The combination of increasing operating leverage + higher C2/C3 penetration over the life of a mega-scale data center drives higher ROIC.
The Growing Platform
QTS has a high-credit quality tenant base with over 1,000 customers. Here's a snapshot of the company's C1, C2 and C3 customers (60% of revenue derived from customers using more than one "C" product):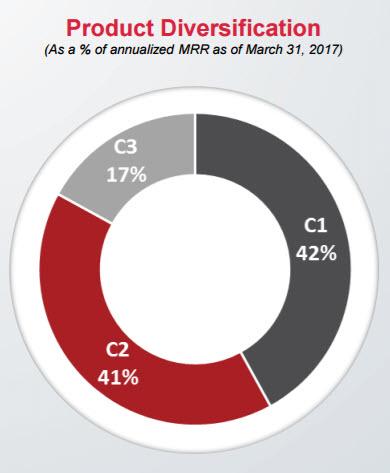 The top 10 tenants as a percentage of annualized MRR are approximately 35%, and the largest tenant accounts for ~12.8% of annualized MRR; no other customer represents >3.5% of annualized MRR.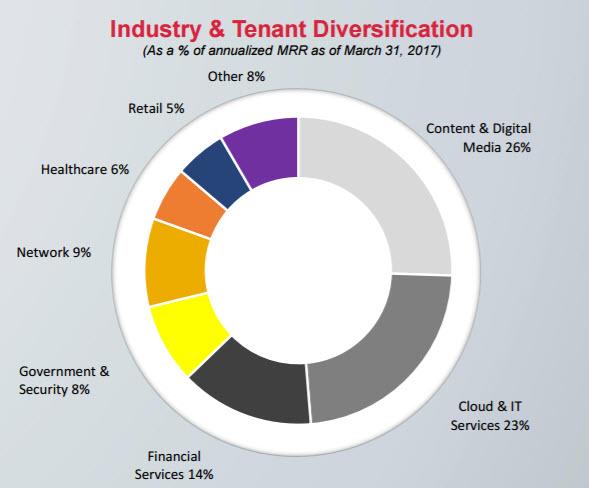 QTS has industry-leading security and compliance and is positioned to bring highly compliant solutions to sophisticated enterprise customers specializing in the healthcare, finance, high-tech and government sectors. There is a significant opportunity for the company to grow its new and existing customer partnerships by focusing on security and compliance needs.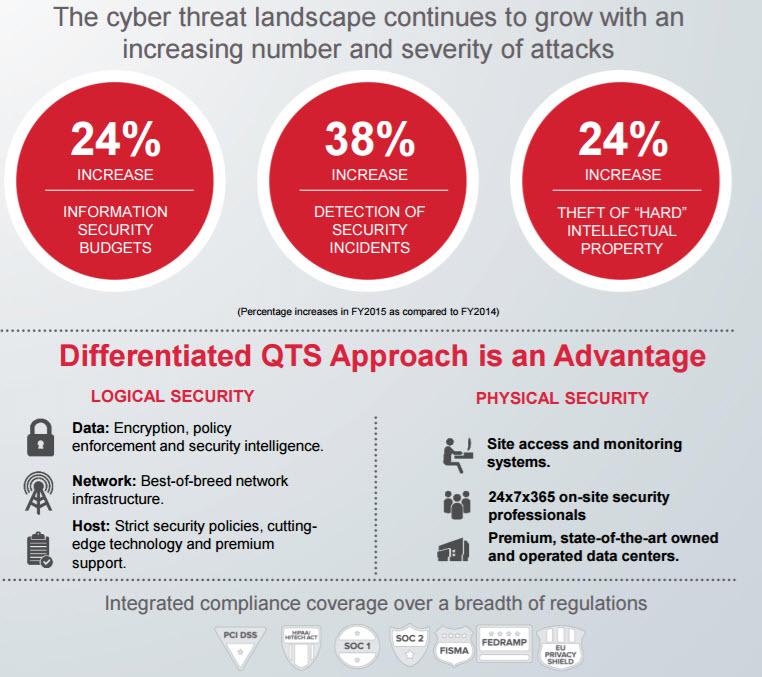 The Overhang
QTS management indicated that its government customer (included in the top customer list) represents ~$9-10 million in annualized rent for ~2M/15K sq. ft. space that was vacated in Q1-17. The customer was located in a facility that QTS leases from Digital Realty (DLR), and the underlying lease expires in February 2019.
On the recent earnings call Jeff Berson, QTS CIO, explained:
As disclosed previously, our year-over-year operating results were impacted this quarter by an approximate $10 million annual churn event that occurred at the end of January in one of our leased sites in Northern Virginia.
As this customer move out occurred at the end of January, there will be an additional month of incremental impact in the second quarter that will result in moderated quarter-over-quarter growth in Q2.
QTS must continue to pay rent on the vacated space until such time as it: (1) finds a replacement tenant and extends the lease (2) finds a short-term tenant (2 years left on the lease), or (3) terminates early. On the latest earnings call, the company's CEO, Chad Williams, explained:
We will continue to analyze our alternatives and expect to announce our plans for this vacated space before the year end.
While there remains lack of clarity as to the vacated space in Northern Virginia, QTS had a solid earnings period (in Q1-17). For the first quarter, the company reported total revenue of $106 million, up 12% over the first quarter a year ago, Adjusted EBITDA of $48.3 million, up 12% year over year, and operating FFO, up 7% year over year.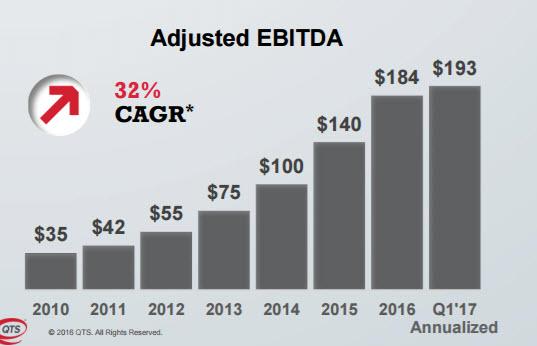 Operating FFO for the first quarter includes a non-cash tax benefit of approximately $1.5 million (related to the customer move-out).
QTS also reaffirmed guidance for 2017, expects 2017 adjusted EBITDA to be between $203 million and $211 million, and operating FFO guidance was unchanged at $151-157 million, or between $2.54 and $2.76 per share fully diluted.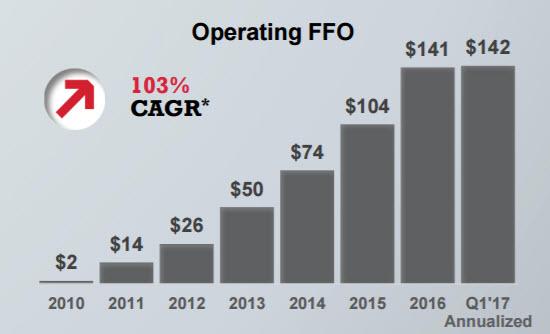 The Balance Sheet
As of Q1-17 QTS had a total of approximately $512 million in liquidity, made up of availability under the credit facility and cash on hand. On March 20, the company announced that it had established a $300 million at the market equity shelf registration.
In addition, in early April, QTS entered into four interest rate swap agreements with regard to $400 million of the credit facility term loan. Entering into these swaps effectively fixes the interest rate on $400 million of term loan borrowings at approximately $3.5%.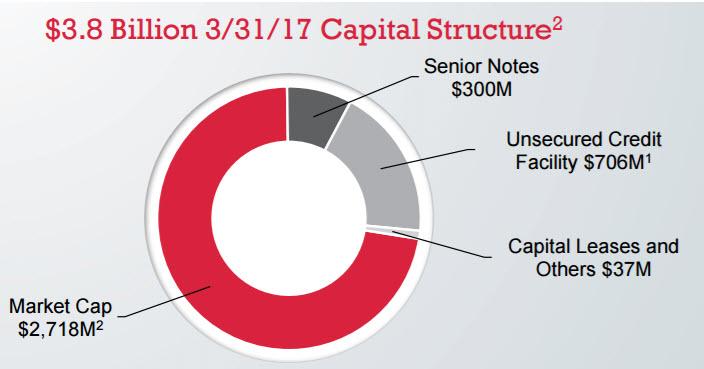 As a result of executing these interest rate swap agreements, the company has effectively reduced its floating rate interest rate exposure pro forma as of March 31, 2017, from approximately 65% of outstanding debt to approximately 29%.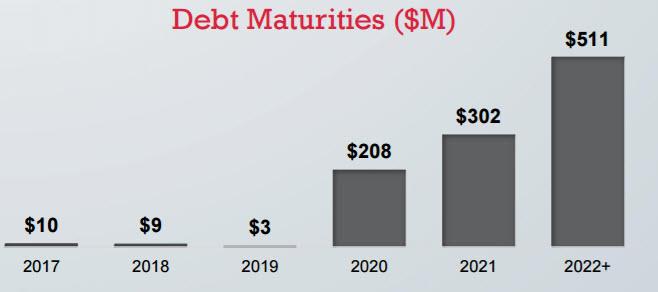 Should I Continue To Increase My Stake In QTS Realty?
The overhang noted (customer move-out in Northern Virginia) also serves as a catalyst for accumulating shares. QTS should be in a position to address the move-out in 2017, and sentiment should improve. Also, the company has been successful in increasing occupancy and expanding its business model into new markets, like Fort Worth.

As you can see below, there is strong visibility into QTS's future cash flows: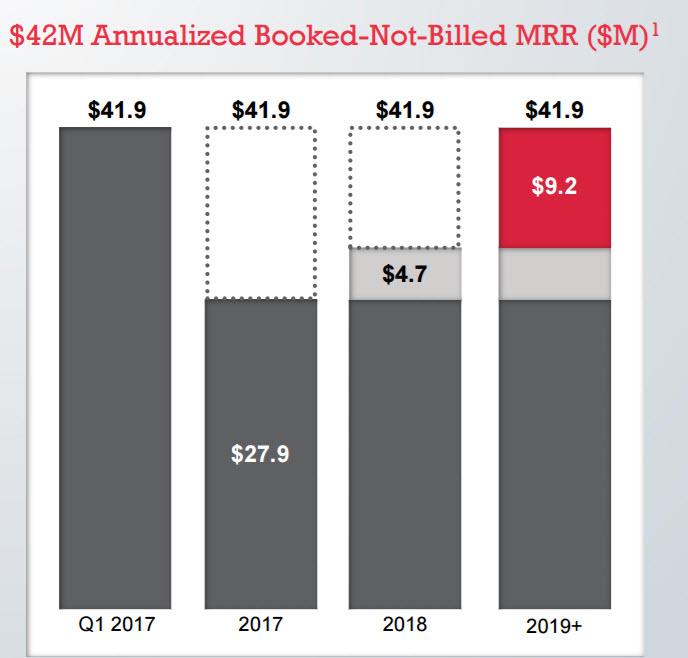 Here's how the dividend yield compares with that of the peer group:

Yes, it's modest, but so is the Payout Ratio:

Here's how its P/FFO multiple compares with that of the peer group:

The Bottom Line
I am maintaining a BUY Rating on QTS, as I believe the churn will normalize and the company is in an excellent position to continue to grow its dividend. Also, I consider QTS a merger candidate, and I would not be surprised to see consolidation in the near term.
QTS is no bargain, but this is the only Data Center REIT that I have a BUY rating on at this time (due to its valuation). Hopefully, the rising tide will lift this ship. I am accumulating shares.
Note: I will be lecturing at NYU on Monday and attending REIT Week (sponsored by NAREIT) on Tuesday and Wednesday. I will be commenting later in the day, and thanks for your patience.
To get a first look at my upcoming article, "The Evolution of My Durable Income Portfolio," click here. Disclosure: I am on the Advisory Board of NY Residential REIT, and I am also a shareholder and publisher on theMaven.
*Author Note: Brad Thomas is a Wall Street writer, and that means he is not always right with his predictions or recommendations. That also applies to his grammar. Please excuse any typos, and be assured that he will do his best to correct any errors, if they are overlooked. Finally, this article is free, and the sole purpose forwriting it is to assist with research, while also providing a forum for second-level thinking. If you have not followed him, please take five seconds and click his name above (top of the page).* Disclosure:** I am/we are long APTS, ARI, BRX, BXMT, CCI, CCP, CHCT, CLDT, CONE, CORR, CUBE, DLR, DOC, EXR, FPI, GMRE, GPT, HASI, HTA, IRM, JCAP, KIM, LADR, LTC, LXP, O, OHI, PEB, PEI, PK, QTS, ROIC, SKT, SNR, SPG, STAG, STOR, STWD, TCO, VER, VTR, WPC.
I wrote this article myself, and it expresses my own opinions. I am not receiving compensation for it (other than from Seeking Alpha). I have no business relationship with any company whose stock is mentioned in this article.