Are The Stars Lining Up For Starwood Property Trust?

NoahBlacker
Brad Thomaswrotethis**article and it has appeared previously on Seeking Alpha.
Summary
My best pick within the commercial mortgage REIT sector is Apollo Commercial.
I am maintaining a BUY on STWD and I am bullish about the REIT's culture of managing risk.
I expect STWD to OUTPERFORM through the second half of 2018, all the stars have lined up!
I recently published the June edition of my REIT newsletter (Forbes Real Estate Investor) and my mid-year Durable Income Portfolio update. Within my portfolio, I own 5 commercial mortgage REITs that comprise of around 8% of my total REIT investments.
Given the fact that my portfolio is named "the durable income portfolio" it should be obvious that I am seeking income as my primary goal, and price appreciation as the second objective.
Specifically, I have included the commercial mortgage REITs in the portfolio because they can provide enhanced income, recognizing that share growth will be less of a catalyst to drive total returns.
My objective is to maintain around 10% exposure with commercial mortgage REITs and I am getting closer to that goal with the recent addition of JerniganCapital (JCAP) – see my recent article here. (Note: I recently purchased shares in JCAP).
Also, I recently wrote on KKR Real Estate Finance Trust (KREF) and since my article, the commercial mortgage REIT has listed shares that are now up ~3.3%.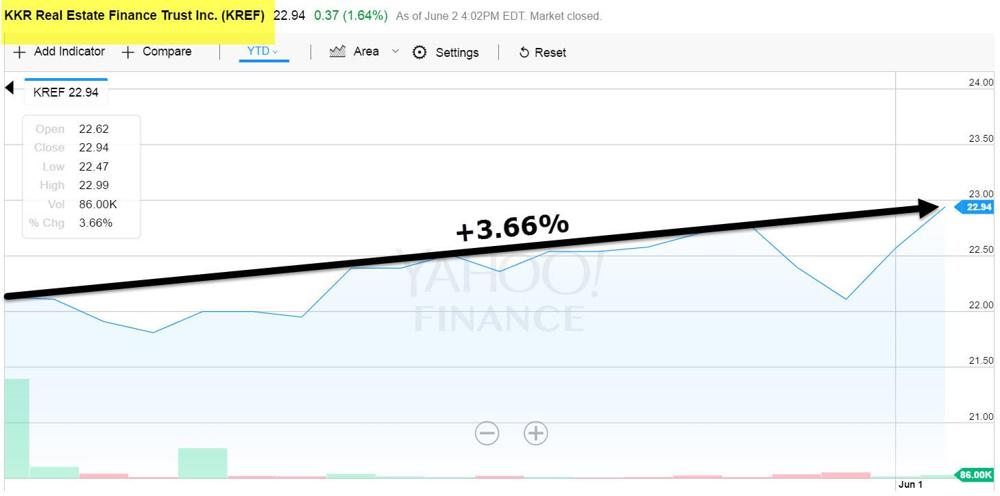 I have also written on Blackstone Mortgage (BXMT) recently, +7.5% YTD and Ladder Commercial (LADR), +6.9% YTD.
My best pick within the commercial mortgage REIT sector is Apollo Commercial (ARI). In January I recommended shares in ARI as Iexplained,
ARI is well-positioned to continue paying a dividend covered from operating earnings. While we don't expect to see returns much more than the dividend yield, we believe that ARI has ample infrastructure in place to scale the loan portfolio to over $3 billion. This should provide adequate cushion for the company to generate steady growth and possibly dividend increases in future years.
I was right to buy ARI, but I was wrong that the company would generate outsized returns…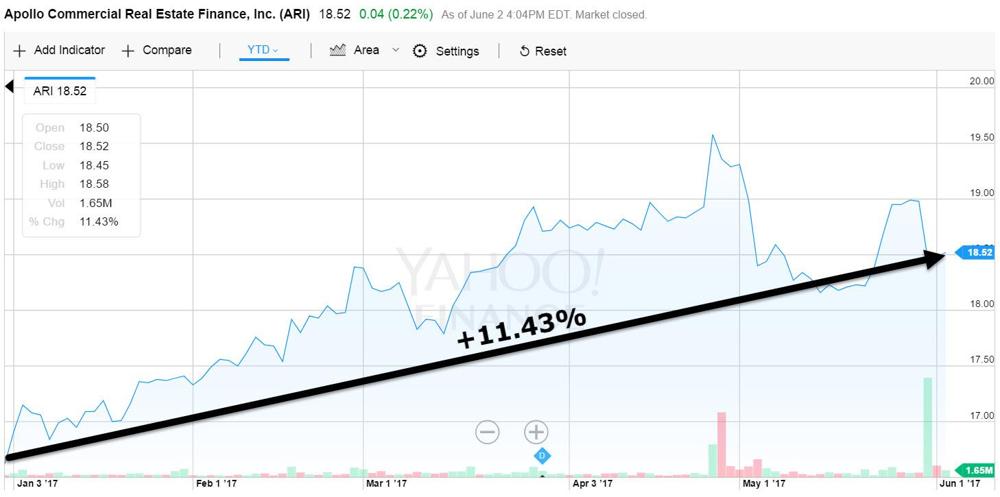 Now it's time to take a closer look at Starwood Property Trust (STWD). I have high hopes for this REIT, given the fact that the company is in the best financial shape ever. As I explained in my last article (on STWD),
The levers are in place for the company to continue to generate stable earnings growth supported by the floating-rate loan portfolio that should outperform in a rising interest rate environment.

The Business Model
Unlike some of the older commercial mortgage REITs like RAIT Financial (NYSE:RAS) or Apollo Investment (NASDAQ:AINV) that cut their dividends drastically in 2009, STWD commenced operations just as the U.S. real estate recovery was underway.
In August 2009, STWD raised around $1 billion, and since that time, the company has deployed over $33 billion in capital; currently, its portfolio consists of $11.3 billion across the lending, investing & servicing and property segments.
Starwood Capital Group, not to be confused with STWD, is a privately-held asset manager founded in 1991 by Barry Sternlicht, and since inception, SCG has acquired over $87 billion of assets, with current assets under management of $51 billion. SCG is a worldwide leader in public-private/private-public market executions, including the creation of five NYSE-listed companies.

Starwood Capital has a seasoned executive team that has been together for over 16 years with an average of 26 years of experience. The company has extensive public markets expertise, having guided IPOs for eight leading companies. The investment flexibility to shift between real estate asset classes, geographies and positions in the capital stack as risk-reward dynamics evolve over cycles.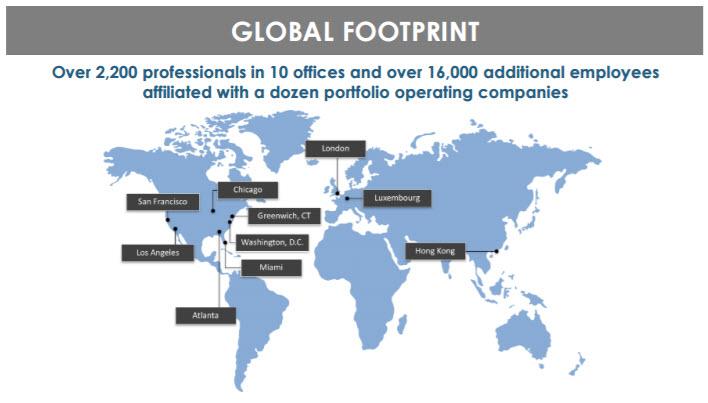 STWD is a leading real estate finance company and the largest commercial mortgage REIT in the US with a market cap of $5.8 billion and total enterprise value of over $11.3 billion.
STWD operates multiple businesses as illustrated below: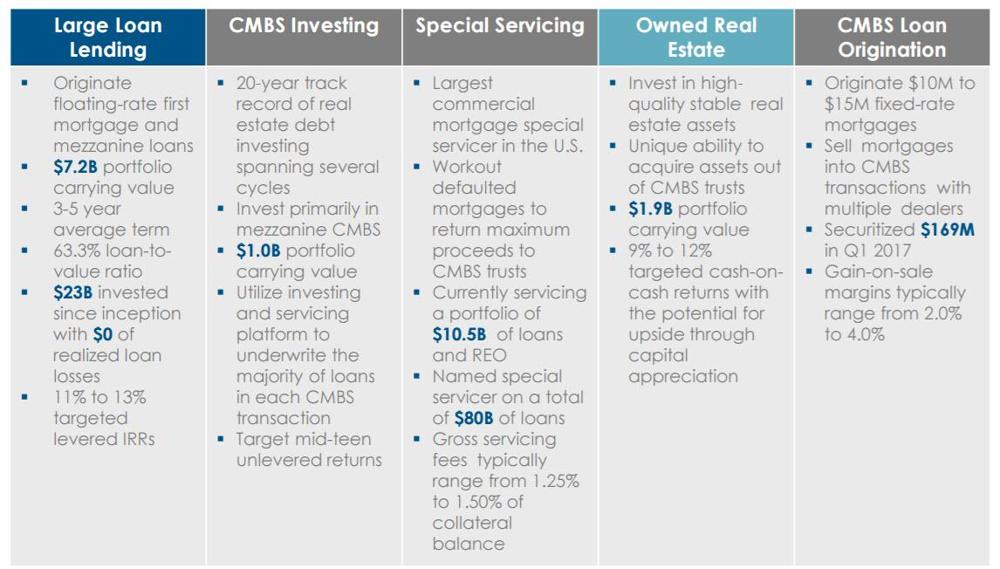 As you can see below, the primary business lines include lending, investing & servicing, and property owned: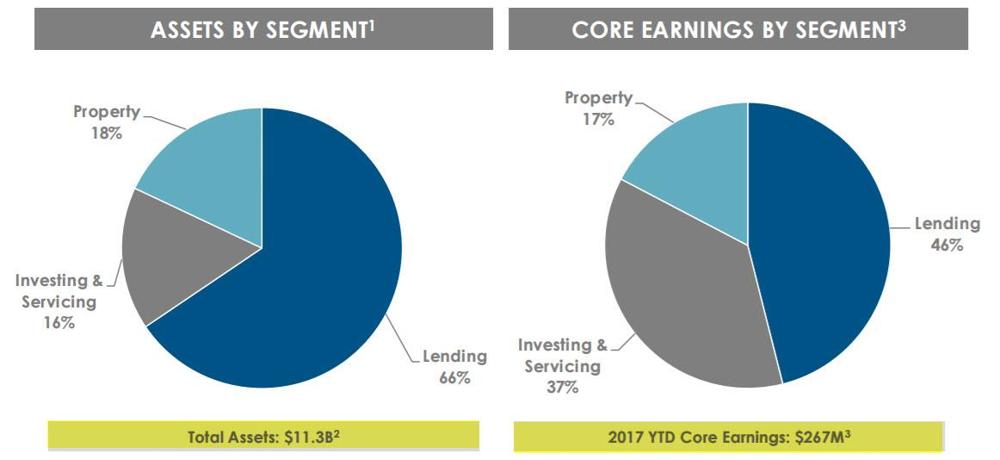 The Lending Segment
As illustrated above, the lending segment represents 46% of STWD's Core Earnings (and 66% of Assets Under Management).
STWD's lending platform originates floating-rate first mortgage and mezzanine loans and the company currently has a $7.2B portfolio carrying value of 3-5 year average term loan. The portfolio is 63.3% loan-to-value ratio and the company has invested $23B since inception with $0 of realized loan losses. The loans are targeted with 11% to 13% targeted levered IRR.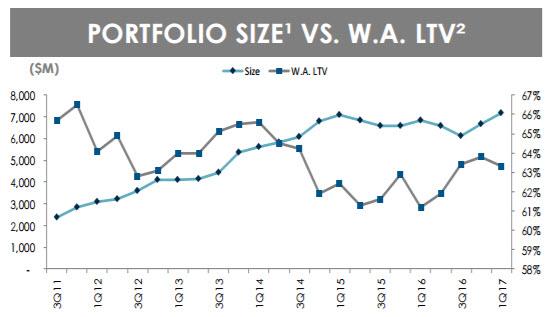 STWD's competitive advantages consist of reputation, scale and market knowledge. As noted above, STWD has an information advantage from its affiliation with Starwood Capital Group and insight into over $100B of real estate transactions annually. The company has decades-long relationships with sponsors, banks and brokers in the CRE community. Also, the benefits of scale include: One-stop financing solution, Focus on large transactions, Lower cost of capital.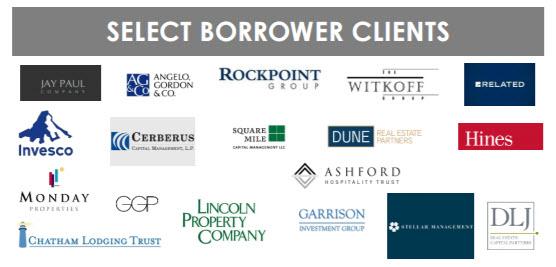 In the latest quarter, STWD's target loan book grew by $326 million. The company originated or acquired $934 million of loans, which averaged a 12.5% optimal IRR, a 62% LTV and an average loan size of $127 million.
STWD funded $489 million of these new loans as well as $142 million under pre-existing loan commitments (these fundings were offset by sales and repayments of $338 million). Here's of STWD's hypothetical loan origination and structuring process: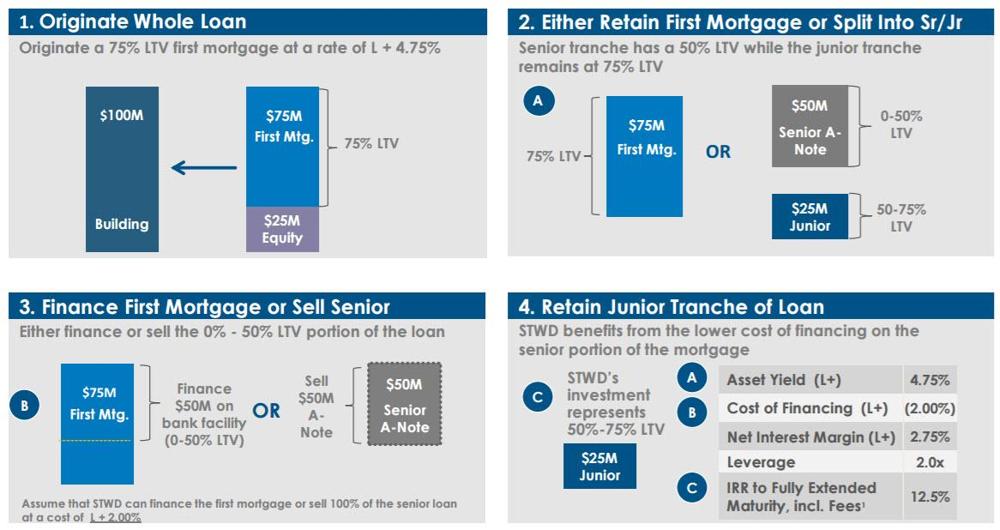 Here's a snapshot of the diversified Loan Portfolio: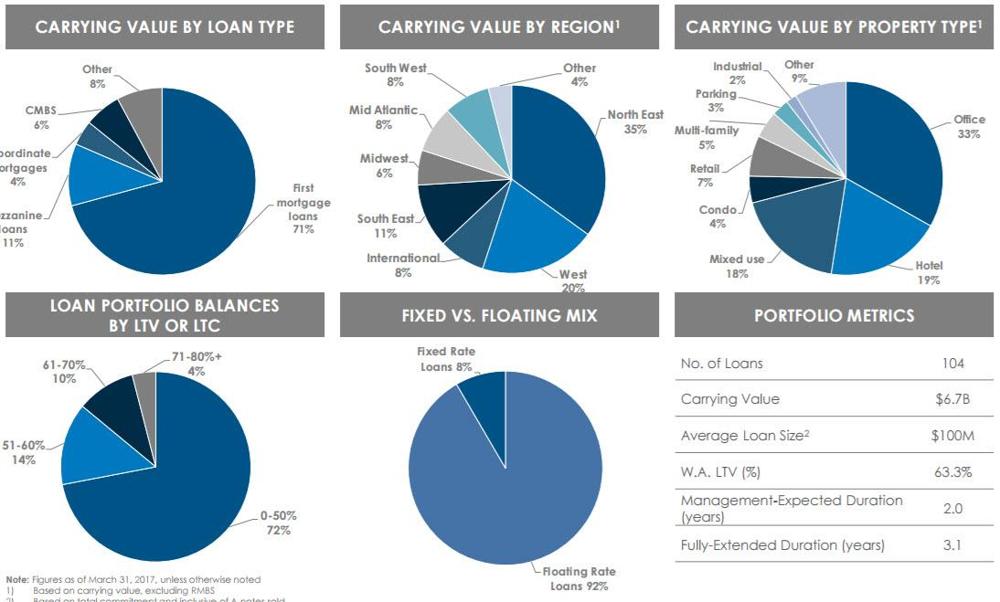 As noted above, STWD has enjoyed "$0 realized loan losses in nearly $23B of lending segment investments since inception" and the risk management model provides evidence that STWD's underwriting practices are sound.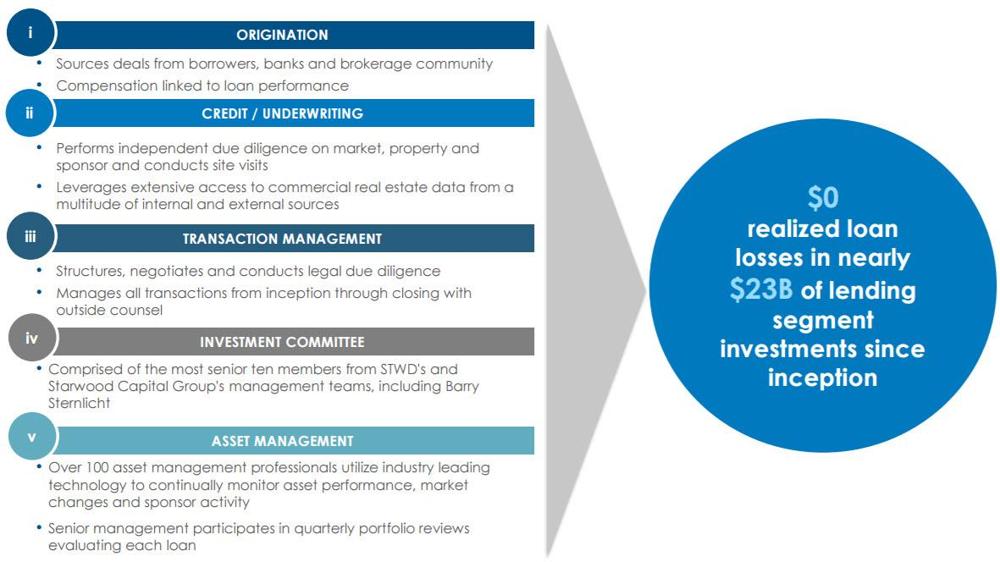 STWD's loan transactions loan volume was down in Q1-17, as Barry Sternlicht, STWD's CEO, explained,
Transaction volume kind of slowed also fairly dramatically, because of the delta adherence between buyers and sellers. I think stemming from the different views of the pace and the rate have increased in interest rates and obviously, rates shocked almost everybody. I think probably 100 out of 100 economists were wrong and rates went down instead of up. And it remained lower than anyone would have thought.
The Investing & Servicing Segment
Less than two-thirds of STWD's revenue comes from its lending segment, and the remainder comes in almost equal parts from the service and mortgage conduit and CMBS businesses and servicing segment, which highlights the diversity in how the business is built.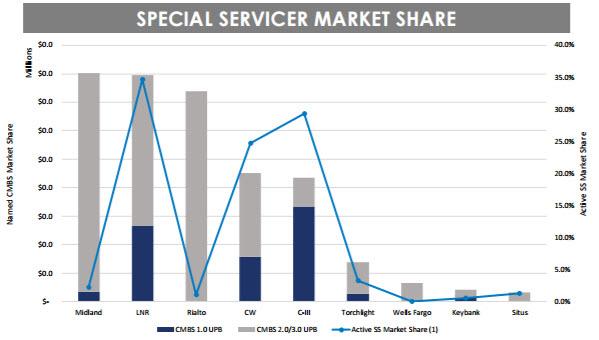 STWD has a 20-year track record of real estate debt investing spanning several cycles, the company invests primarily in mezzanine CMBS. The CMBS portfolio has a $1.0B portfolio carrying value and the company utilizes the investing and servicing platform to underwrite the majority of loans in each CMBS transaction. The company targets mid-teen unlevered returns.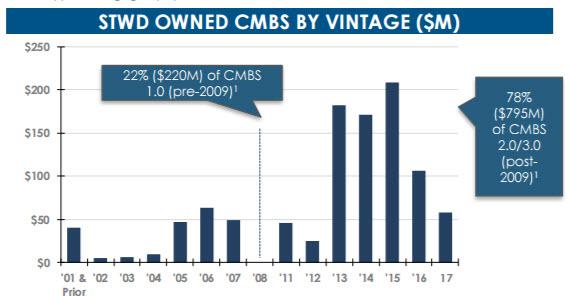 In Q1-17 the investing segment contributed core earnings of $65 million or $0.25 per share.
STWD is the largest commercial mortgage special servicer in the U.S. and the company is currently servicing a portfolio of $10.5B of loans and REO. STWD was named special servicer on a total of $80 billion of loans and gross servicing fees typically range from 1.25% to 1.50% of collateral balance.
In Q1-17, STWD obtained two new servicing assignments on deals totaling $1.7 billion of collateral. As of March 31st, STWD was named special servicer on 154 trusts, with a collateral balance of approximately $80 billion and we were actively servicing $10.5 billion of loans and OREO.
The balance and servicing are down from Q3-17 principally due to five large loans totaling over $700 million that resolved during the quarter. The specific loans that ultimately fall into servicing and their timing of resolution can be difficult to predict.
The Property Segment
Another new diversification strategy for the company has been its gradual entry into doing equity deals. Now just a fraction of the business, STWD is looking to stretch the duration of the portfolio into real estate equity investing.
STWD invests in high quality stable real estate assets with a unique ability to acquire assets out of CMBS trusts. The owned portfolio has a carrying value of $1.9B and the company targets 9% to 12% cash-on-cash returns with the potential for upside through capital appreciation. Here's a snapshot of select data relative to STWD's property segment: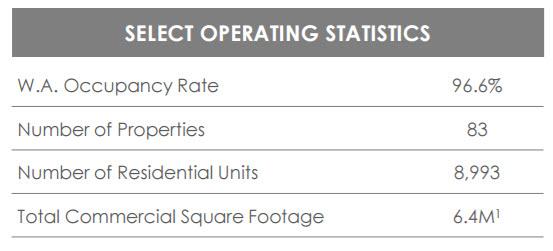 In Q1-17, STWD benefited from a full quarter of results coming from the medical office portfolio purchased in late December. This segment contributed core earnings of $19 million or $0.07 per share, up from $0.05 in Q3-17. The wholly owned assets in this segment continue to generate consistent returns with aggregate cash-on-cash yields of 11.2% and occupancy ranging between 95% and 100%.
The Balance Sheet
STWD has always been focused on optimizing the liability side of the balance sheet. The company's leverage profile remains conservative with 1.4x on balance sheet and just 2.2x, including off balance sheet financing.
STWD has built a multi-cylinder investment company with the belief that if it ran a consistent, transparent low leverage vehicle, the credit markets and lenders would ultimately allow the company to borrow at the best rates in the industry.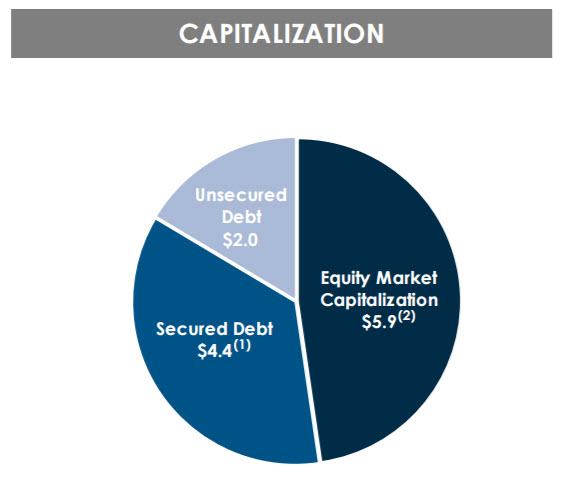 During Q4-17, STWD extended the maturity of a portion of its 2018 convert by repurchasing $230 million of notes and issuing $250 million of 2023 notes. The repurchase resulted in a GAAP P&L loss of $6 million.
However, because this transaction was effectively an exchange, the loss was deferred for core earnings purposes and will be amortized over the term of new debt. STWD ended the quarter with $10.4 billion of debt capacity and a debt to equity ratio of 1.4x.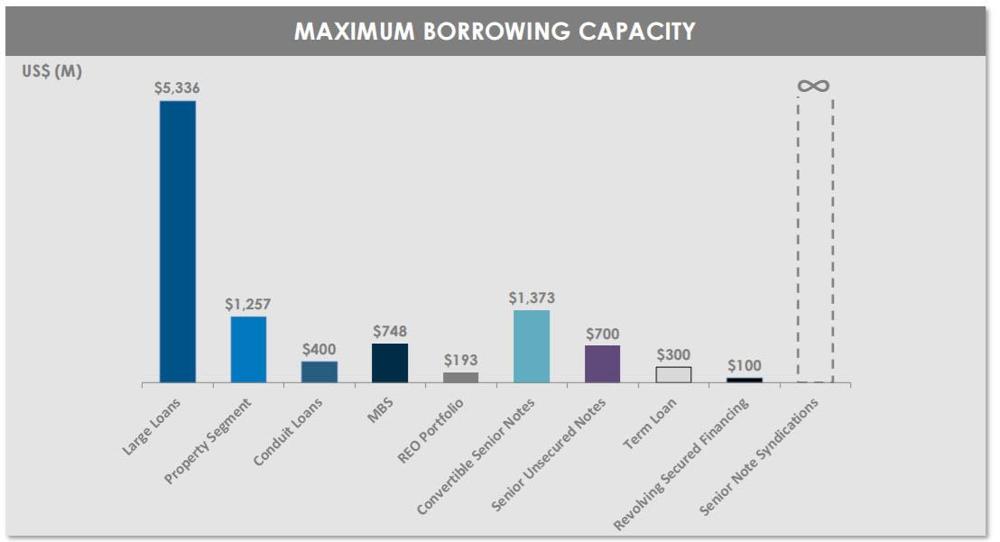 STWD is flush with cash and in Q1-17 the company reported core earnings of $132 million (or $.51/share), up from $.50/share in Q3-17. As evidenced by the snapshot below, the company has been in a great position to distribute dividends to investors (over $2.2 billion of dividends since inception).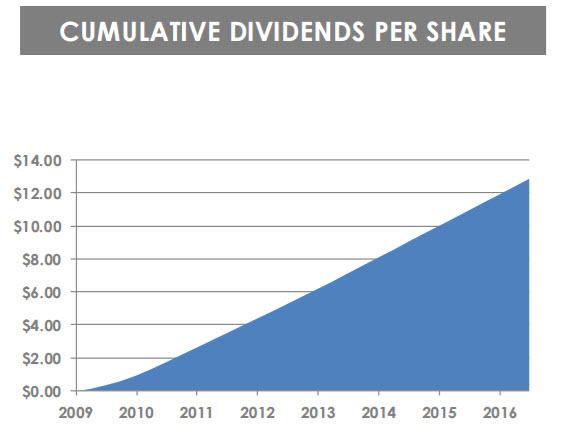 The Stars Are Lining Up For Starwood
For Q1-17 STWD declared a dividend of $.48 per share (paid on July 14th) that represents a yield of 8.7%. Here's how that compares to the peer group:

On the recent earnings call Sternlicht commented,
…what's more astonishing is our stock continues to pay an 8.5% of dividend yield, which I find inexplicable. But it is what it is, especially since we have no need to reenter the capital markets anytime soon. We are flushed with capital …
He went on to say,
...we would always have the cash to pay our dividends and hopefully grow it over time.
STWD is positioned to grow its dividend, here's how the FFO/share compares with the peer group: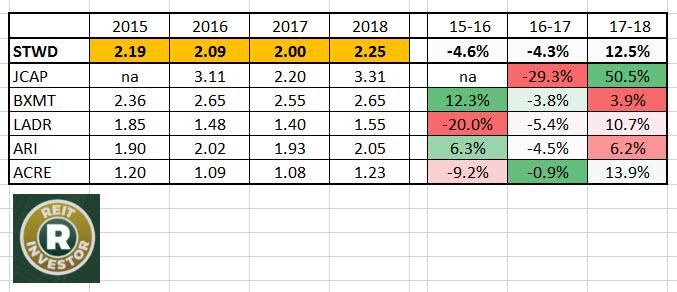 As illustrated above, STWD is forecasted to grow earnings by 12% in 2018 and this signals a likely dividend increase. The benefits of a multi-cylinder finance company should pay "dividends."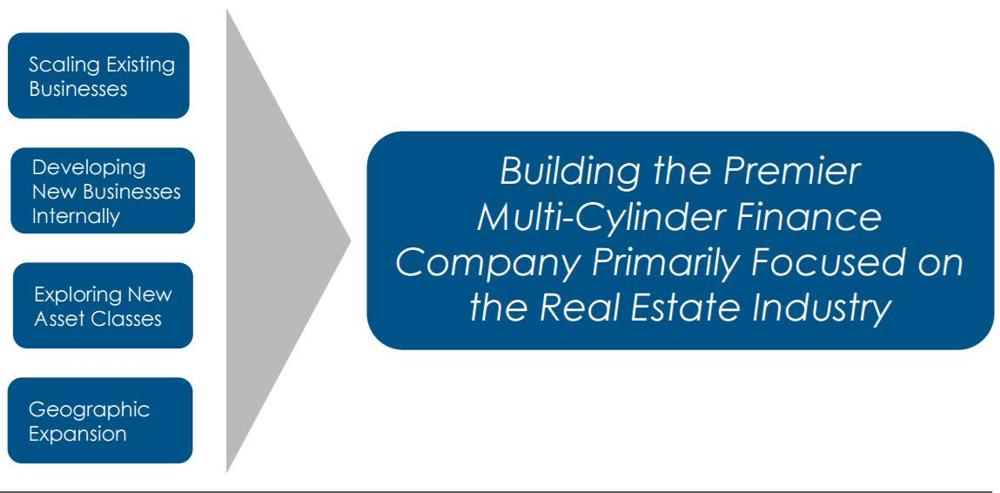 I am maintaining a BUY on STWD and I am bullish about the REIT's culture of managing risk. The special servicer platform provides a unique natural credit hedge as more loans fall into special servicing upon credit deterioration.
Also, 92% of STWD's portfolio is indexed to LIBOR, suggesting that the company is well-positioned to benefit from rising rates. I expect STWD to OUTPERFORM through the second half of 2018; all the stars have lined up!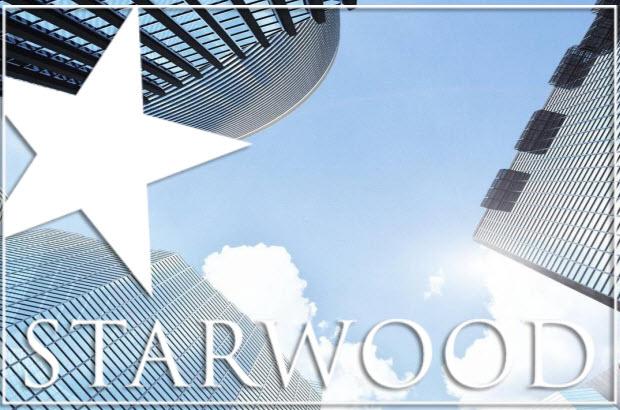 Note: I will be lecturing at NYU on Monday and attending REIT Week (sponsored by NAREIT) on Tuesday and Wednesday. I will be commenting later in the day, and thanks for your patience.
To get a first look at my upcoming article, "The Evolution of My Durable Income Portfolio," click here. Disclosure: I am on the Advisory Board of NY Residential REIT, and I am also a shareholder and publisher on theMaven.
*Author Note: Brad Thomas is a Wall Street writer, and that means he is not always right with his predictions or recommendations. That also applies to his grammar. Please excuse any typos, and be assured that he will do his best to correct any errors, if they are overlooked. Finally, this article is free, and the sole purpose for writing it is to assist with research, while also providing a forum for second-level thinking. If you have not followed him, please take five seconds and click his name above (top of the page).* Disclosure:** I am/we are long APTS, ARI, BRX, BXMT, CCI, CCP, CHCT, CLDT, CONE, CORR, CUBE, DLR, DOC, EXR, FPI, GMRE, GPT, HASI, HTA, IRM, JCAP, KIM, LADR, LTC, LXP, O, OHI, PEB, PEI, PK, QTS, ROIC, SKT, SNR, SPG, STAG, STOR, STWD, TCO, VER, VTR, WPC.
I wrote this article myself, and it expresses my own opinions. I am not receiving compensation for it (other than from Seeking Alpha). I have no business relationship with any company whose stock is mentioned in this article.