Is The Thrill Of Victory Worth The Agony Of Defeat?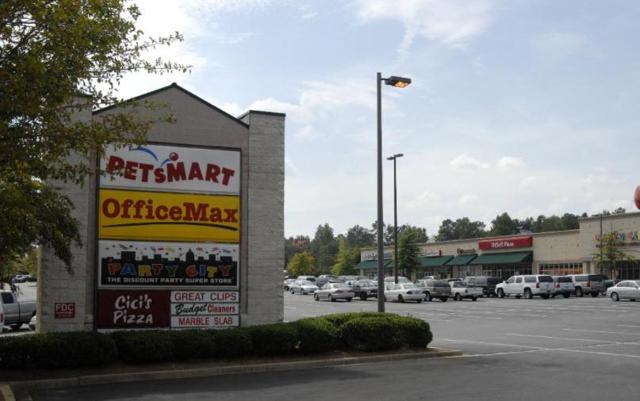 NoahBlacker
Brad Thomas wrote this article and it had previously appeared on Seeking Alpha.
Summary
The quality of CBL's portfolio composition over the past three years has vastly improved as the company has sold lower productivity, higher risk properties.
I can see why the high yield investors like the name, CBL is just plain dirt cheap!
After experiencing the lessons from the last recession, I have become extremely more risk-averse and I am more focused on principal protection than high-yielding REITs.
My hometown Mall, Westgate Mall, was built in 1975. At the time, Interstate-26 had just opened and Spartanburg, South Carolina was ripe for retail expansion. The mall was constructed along the newly opened I-26 corridor (connecting Asheville, North Carolina to Columbia, South Carolina) and it was once the largest mall in South Carolina.
The original anchors were Belk-Hudson, Sears (NASDAQ:SHLD), and Meyers- Arnold; and J.C. Penney (NYSE:JCP) was added in 1978. The original developer, Arden Realty, sold the mall to JMB Realty (around 1979) and then to Bramalea Centers in 1988.
Arden was founded in 1961 by Moses Lebovitz, Charles Lebovitz, and Jay Solomon as Independent Enterprises. In 1970, the company merged with Arlen Realty, a New York-based public company with a portfolio of shopping centers along the East Coast, therefore becoming known as Arlen Shopping Center Group and then CBL & Associates (NYSE:CBL) in 1978 after Charles Lebovitz and five associates left Arlen.
In 1992, Bramalea filed for bankruptcy and in 1995, CBL Properties acquired Westgate Mall and commenced a wave of acquisitions.
It seemed fitting that Charles Lebovitz would acquire Westgate Mall, especially since he was the original developer of the property; he was intimately familiar with the asset (that is ground leased from a prominent property owner in Spartanburg, South Carolina).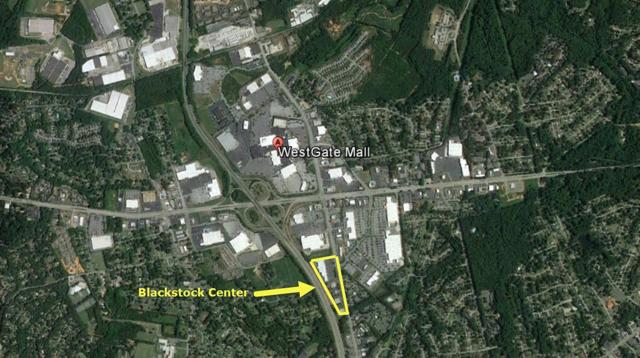 Around the same time that CBL purchased Westgate Mall there was news that Rouse Companies was going to build a competing mall just a few miles away. At the time, I was a developer and I had just optioned a 10-acre parcel to develop a shopping center for PetSmart, OfficeMax, and Red Lobster.
Westgate Mall was around 20 years old and most of the leases were near renewal. If Rouse was successful at luring the anchors away from Westgate Mall, the surrounding retail tenants would likely follow Rouse to the new trade area.
I was obviously betting that CBL would keep its anchor tenants and the mall would maintain its status as the dominant mall in the Spartanburg market (the county population is around 250,000). I had developed numerous other properties in the market for Barnes & Noble (NYSE:BKS), Men's Wearhouse, Outback, etc.… and I knew that if CBL was successful, I would be too.
As it turns out, CBL was victorious, and Rouse did not close on its land option. I commenced construction on my project, Blackstock Center, that was fully occupied upon completion of construction. The retail market was booming and many other retailers located within a mile of Westgate Mall and Blackstock Center.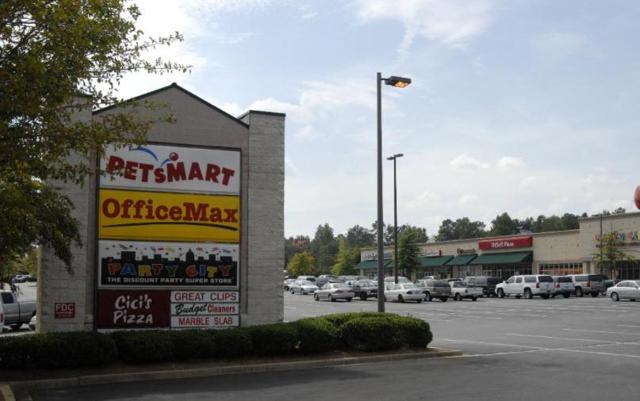 This is Blackstock Center in Spartanburg, South Carolina (photo credit: Brad Thomas)
A Lot Has Changed
It's been 20 years since I developed Blackstock Center, and a lot has changed. Not just the fact that I have traded in my hard hat for a laptop computer, but that many of the retailers have been replaced.
For example, in Blackstock Center the former La-Z-Boy and OfficeMax stores are now leased to G.B. Shoes and Aldi (opened recently).
At Westgate Mall, CBL expanded the mall adding a new wing (for Dillard's (NYSE:DDS)), a food court, movie theater(Regal), Dick's (NYSE:DKS), Bed Bath& Beyond (NASDAQ:BBBY), and free-standing Costco (NASDAQ:COST) (opened in 2007).
But now, the big 1,000-pound gorilla, Sears, is getting restless, and more precisely, the market is getting restless.
As I explained in an article last week called Waiting For The Shoe ToDrop,
It's clear that the REIT market is already pricing in a Sears bankruptcy that will leave many Mall REITs scrambling for cover. The Mall REITs with the most Sears exposure include PEI, CBL, WPG, and of course SRG…
Trouble is still brewing, and whether it's a secular or a cyclical shift, I don't think it's prudent to place any bets on CBL, WPG, or SRG until there is more clarity.
What does that mean?
Let's take a closer look at the Westgate Mall property to determine what the asset looks like from the air: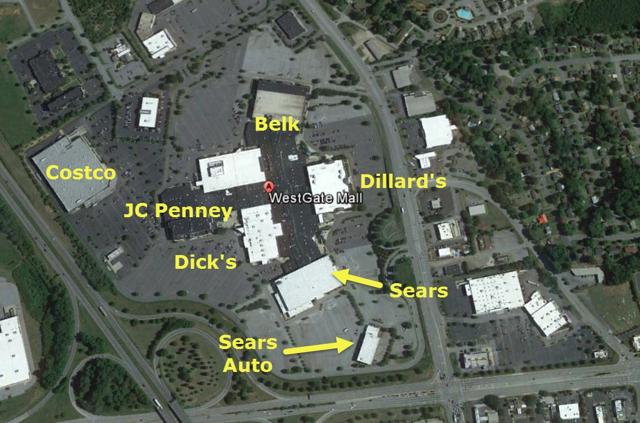 As you can see, Sears is located on the south side and has excellent exposure from US 29. Westgate Mall is 954,769 square feet and the average sales per square foot is $339. As of Q4-17 (Annual Report) the mall's occupancy was 81%.
In terms or redevelopment, the Sears real estate is attractive, but the occupancy is concerning. CBL describes Westgate as a "Tier 2" mall meaning that sales per square foot are from $300 to $375. Should the Sears store close, occupancy would plummet, and CBL would have to grapple with its leverage ($36 million on Westgate) and a loan that matures in 5 years (July 2022).
As I explained above, this is not new to CBL, since the company has deep experience with Westgate (as the original developer and re-developer). As I ponder the Sears space, I put on my developer hat and contemplate uses such as Barnes & Noble (I developed the original store just a block away). I seriously doubt Amazon will open a bookstore in Spartanburg, but it would make sense for Barnes & Noble to reduce its footprint down from 35,000 sf to 10,000 sf.
Another possibility is Burlington, the lower-end retailer has a store around ½ mile away and CBL could throw some TI money at them to relocate.
The Sears Auto store is the crown jewel site and I can think of numerous restaurant chains that would be candidates, including TGI Fridays, Chili's, and Dave & Busters. I also see potential for a hotel pad for chains like Hilton.
As I drive over to Starbucks (NASDAQ:SBUX) (almost daily) I glance over at the Westgate Mall and I try to imagine what the property would look like if Rouse had been successful in relocating many of the anchors at Westgate Mall (over 20 years ago).
Obviously, the retail market would have shifted dramatically and I would not have benefitted from the success of being a developer in the market. Needless to say, I made a "big bet" on CBL over 20 years ago by building a shopping center close by, but I am not making that same bet today.
The market is much different, back then I did not have to compete with Amazon (NASDAQ:AMZN), and today most every retailer has to compete with the data sourcing disruptor. As I explained in my recent article,
At some point (Q1-18?), Amazon will be declared a winner (over Sears), but that does not mean that all retailers will go away. In fact, I would argue that most retailers have adapted to the changes and are successfully thriving in both retail, outlet, and online channels.
My best advice, always invest in quality since the "cream rises to the top" and don't forget "there is one big shoe left to drop.
CBL Today
Today CBL's portfolio consists of 123 properties, including 67 malls, 5 outlet centers, 23 associated centers, 9 community centers, and 5 office buildings (14 properties are also managed for 3rd parties).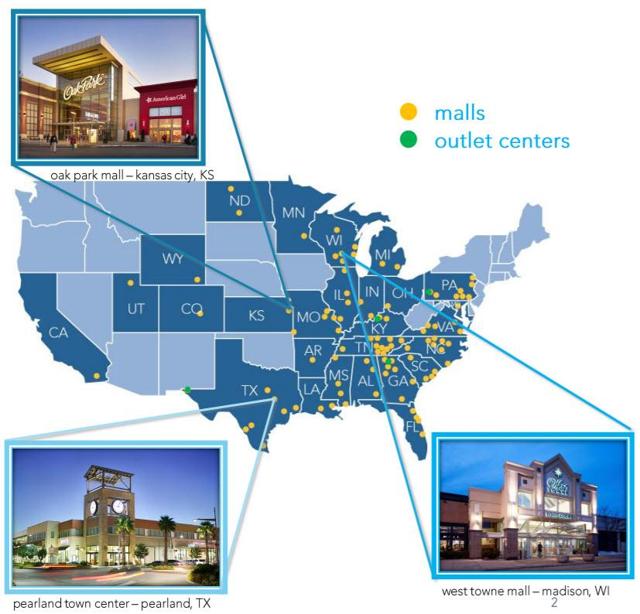 There is little doubt that CBL has been successful in its redevelopment plans, as the company's malls ate evolving into suburban town centers (just like Westgate Mall):

Here's a snapshot of CBL's top tenants: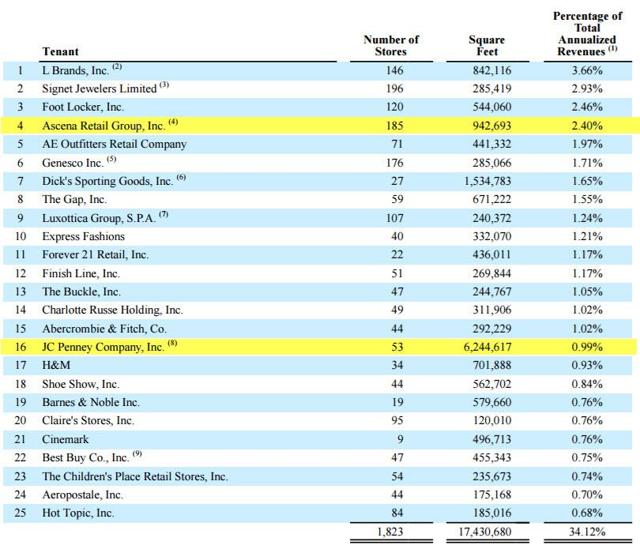 Since 2013 CBL has completed ~28 redevelopments totaling 1.7 million square feet. These redevelopments represent $270 million of invested capital with an average cost per project of $9.6 million. The average return for these redevelopments is 8.6%.
One example (of redevelopment) is CBL's Fayette Mall in Lexington, KY. CBL's redevelopment cost was $68.5 million and (by redeveloping the vacant Sears property) the company generated new value of $63.6 million (based on 4.2% cap rate).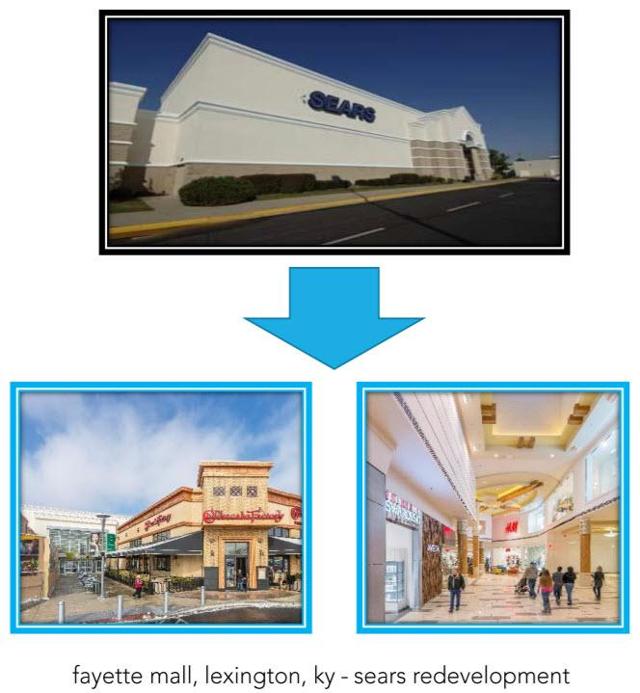 Also in Nashville, CBL redeveloped the Coolsprings Galleria. The redevelopment cost was $64.6 million and CBL generated 7.2% on cost that produced another $4.65 million of NOI. At a 4.9% cap rate that translates into new value of $30.3 million.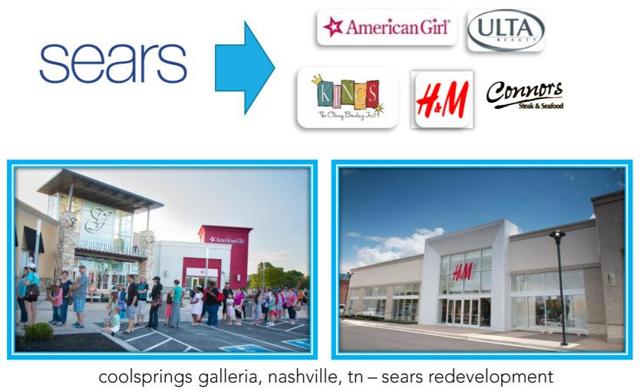 The quality of CBL's portfolio composition over the past three years has vastly improved as the company has sold lower productivity, higher risk properties. Through these sales, CBL has generated significant proceeds to improve its balance sheet and fund investments in higher growth assets.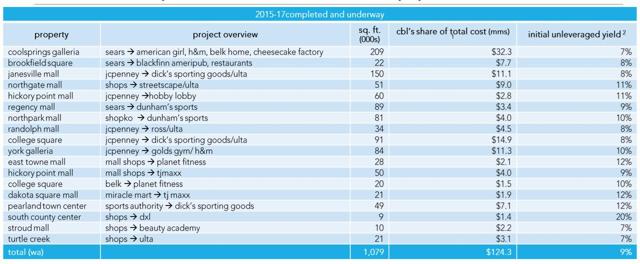 Here's a snapshot of CBL's Tier 1 properties: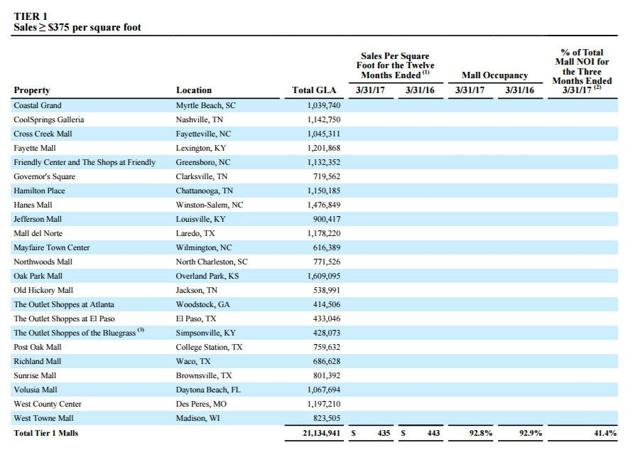 Here's a snapshot of CBL's Tier 2 properties: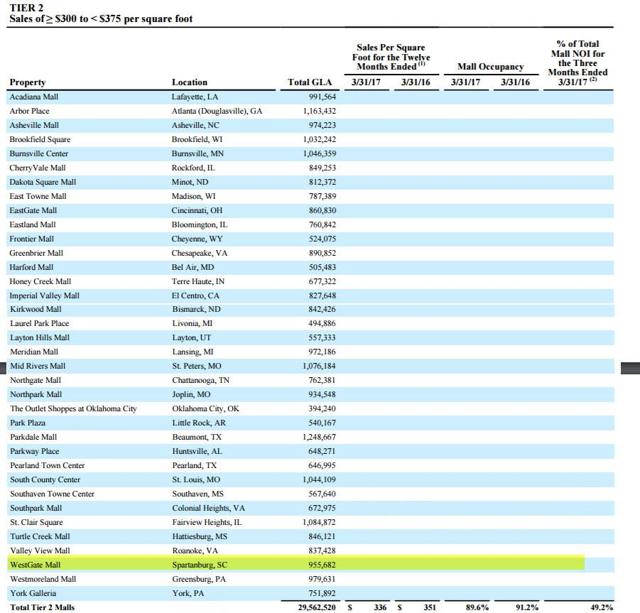 The Tier 3 NOI has declined to just 6% of mall NOI (as of March 31) and the company is still continuing to sell assets as part of its capital recycling program.
Recently CBL sold the Outlet Shoppes at Oklahoma City for a $130 million generating net equity proceeds of $38 million after paying off the debt costs. CBL recorded a gain on sale from this transaction of approximately $44 million.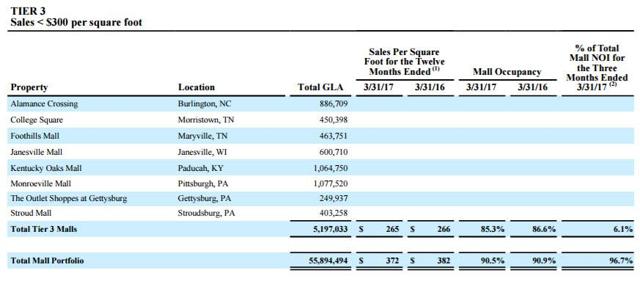 CBL said on its last earnings call that it had entered into a binding contract for the sale of two other malls. The company said that "Due diligence has expired, the buyer posted a significant nonrefundable deposit and we anticipate closing later this month. With the completion of these two additional asset sales, we will conclude our portfolio transformation program having that most of our originally outlined goals."
An Improved Balance Sheet
CBL ended the first quarter with total debt of $5 billion, with good progress in improving debt metrics:

As you can see (above), CBL's net debt to EBITDA is 6.6x (at the end of the quarter) and remained relatively flat from year-end, and improved from 6.9x at the end of the prior-year period.
In the first quarter, CBL unencumbered 4 properties with a total loan balance of approximately $159 million and a weighted average interest rate of 5.67%. These loan retirements increase the percentage of consolidated, unencumbered NOI to 52% of total consolidated NOI.
CBL has $184.7 million of operating property loans remaining that mature in 2017 and is currently in negotiation with the special servicer to restructure the $125 million loan, secured by Acadiana Mall, in Lafayette Louisiana and anticipates finalizing the restructuring in the near term.

Note: Acadiana is a strong property, but it is located in an energy market and its sales have been significantly impacted. CBL believes it is appropriate to restructure the loan to provide additional term for the market to stabilize and utilize free cash flow after debt service to fund improvements at the property.
CBL is also in early discussions with the banks to refinance two unsecured term loans, totaling $450 million, which mature in February and July 2018.
Over the past 24 months, CBL has done an excellent job of reducing the debt balance, lengthening the maturity schedule and reducing its variable rate exposure. CBL's goal is to lower net debt-to-EBITDA to 6x, reduce the secured debt-to-total asset ratio to below 25% and further increase the unencumbered NOI.

Here's a snapshot of CBL's improved credit metrics: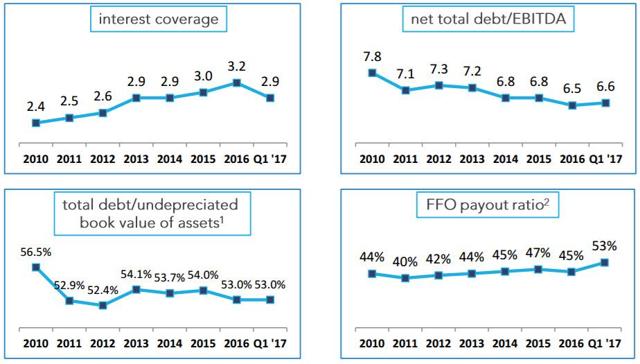 When viewing the REIT's maturities, it is important to realize that the REIT can pay off its debt with internal funds, through refinancing or by drawing against its credit lines:

As with all credit facilities, these credit facilities come with covenants. The company is within covenants limits and has enough headroom where it shouldn't be pressured near term:

Similarly, this investment grade rated REIT has financial covenants in its senior unsecured debt. As with the credit facilities, the REIT is within its covenants and has headroom under its covenants: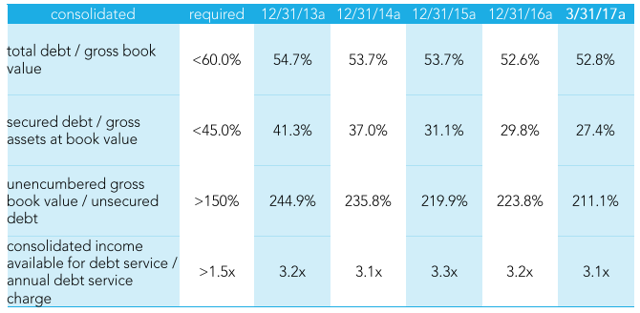 Most importantly, over half of its redevelopment pipeline (as of March 31, 2017) has been paid for, and the remainder can be funded through internal cash flow or via credit facilities: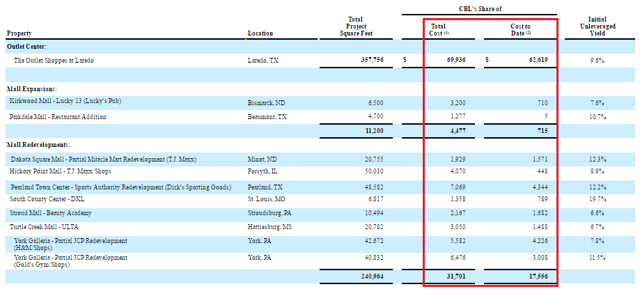 Is The Dividend Safe?
That's one of the biggest questions today for CBL investors.
In Q1-18, CBL generated adjusted FFO per share of $0.52 in line with consensus. Same-center NOI declined 1% and same-center NOI for the mall portfolio declined 1.6%. FFO per share, as adjusted for the quarter was $0.04 lower than the first quarter 2016.
Major variances impacting FFO included $0.05 per share of dilution from asset sales completed in 2016 as well as the office building sold in January. $0.01 of lower NOI for same-center properties, $0.01 of higher interest expense, partially offset by $0.03 higher gain on price of sales.

At the time that CBL issued 2017 guidance (in February) it incorporated the impact of bankruptcy activity. However, since that time, a number of additional retailers have declared bankruptcy and/or announced store closures. While the status of some of these retailers is still being determined, CBL estimates an additional prorated impact to NOI for the remainder of 2017, in the range of $10 million to $14 million, or $0.04 to $0.05 per share.
As a result, CBL adjusted the guidance to a range of $2.18 to $2.24 per diluted share, and same-center NOI in the range of negative 2% to 0%. CBL is also projecting the year-end stabilized mall occupancy of 93% to 93.5%. Here's a snapshot of my FFO/share forecast (includes $2.20/share in 2017 for CBL).

As you can see, CBL has guided FFO/share growth of -9% in 2018 and the consensus estimates for 2018 and 2019 are muted. However, CBL's dividend is well-covered (48% payout ratio).
Given the attractive yield, I can see why the high yield investors like the CBL name:

CBL has not generated a 13% yield since the "great" recession…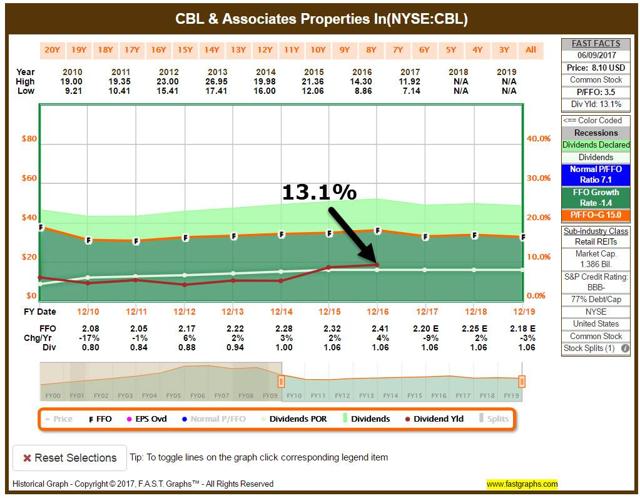 What's wrong with this picture?
CBL is not a sucker yield, and in fact, I truly believe that the management team is doing a terrific job. The balance sheet is in excellent shape or as Stephen Lebovitz reminded me last week (at REITWeek),
Our balance sheet is stronger than ever.
The company has ample liquidity with an $850 million line of credit and $225 million of free cash flow.
Last week at REITWeek someone asked why CBL was not buying back stock and the CEO responded that "redevelopment is the focus and priority." He added that the company's (development) returns go beyond that.
Let me put this in simple terms, CBL is just plain dirt cheap!

So Why Am I Not a Buyer?
I agree, CBL is a bargain, and one of the main reasons that I am not jumping in now is because I believe that I should wait until there is more clarity as it relates to Sears. As referenced in my recent article, Sears is the "next shoe to drop" and I am concerned that the malls (like Westgate Mall) that are generating sales below $340 per square foot could become more challenged.

Westgate Mall is an excellent example of a CBL mall that could survive (with Sears) but if there are a "wave of retail bankruptcies" in 2018, I believe CBL shares will get hammered. I concur with the sentiment of Floris van Dijkum, REIT analyst at Boenning & Scattergood.
"While management has successfully disposed of 20 of its 25 originally identified non-core malls, we estimate CBL has more than 20 remaining 'C' rated malls in its portfolio. We remain Underperform on CBL despite its significant underperformance YTD and deep discount to estimated NAV, as investors have no clarity as to when the company's portfolio will be 'cleaned' of its 'C' mall exposure."
In closing, when I put on my developer hat, I get excited about the possibilities at Westgate Mall. A closed Sears store could generate tremendous opportunity and enhanced returns, but the risks are also high, and investors should recognize that there are layers of complexity (in redevelopment).
Given the lack of clarity as it relates to Sears, I believe that CBL investors are being rewarded for the risks, but imagine owning a Westgate Mall if it were 100% vacant. As I said, that was a distinct possibility over 20 years ago when I developed Blackstock Center.
Recognizing, back in the day, I was a developer (arguably a gambler) and I was used to taking risks (like optioning the land for Blackstock Center). However, after experiencing the lessons from the last recession, I have become extremely more risk-averse and I am more focused on principal protection than high-yielding REITs.
That's the reason I am recommending only the blue chip REITs like Simon Property Group (NYSE:SPG), Tanger Factory Outlet (NYSE:SKT), and Taubman Centers (NYSE:TCO). I have a HOLD rating on CBL at this time.
Will Westgate Mall be around in 2025 when the property celebrates its 50-year anniversary? (I welcome your feedback)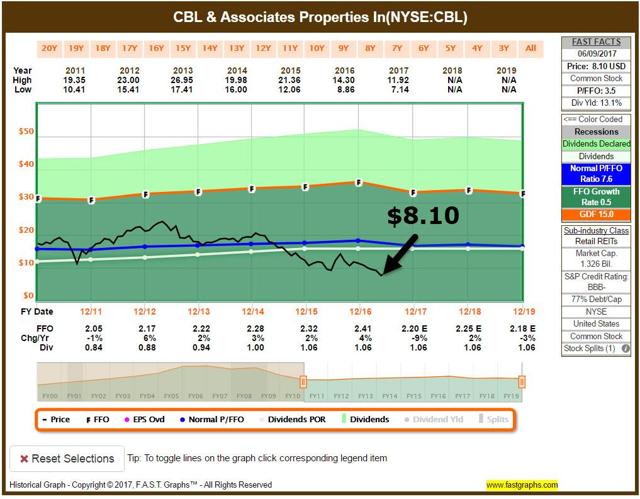 High Alpha Portfolio: As a result of follower demand, I am initiating a new High Alpha REIT Portfolio and I intend to include CBL in it. Although I would not recommend CBL for "the average Joe" or "my mother," I believe that there are excellent opportunities today for certain risk-averse investors who are willing to stomach the risks. I will provide disclaimers whenever I recommend a HIGH ALPHA REIT so that there is no confusion over my standard REIT recommendations.
Click here for the High Alpha REITs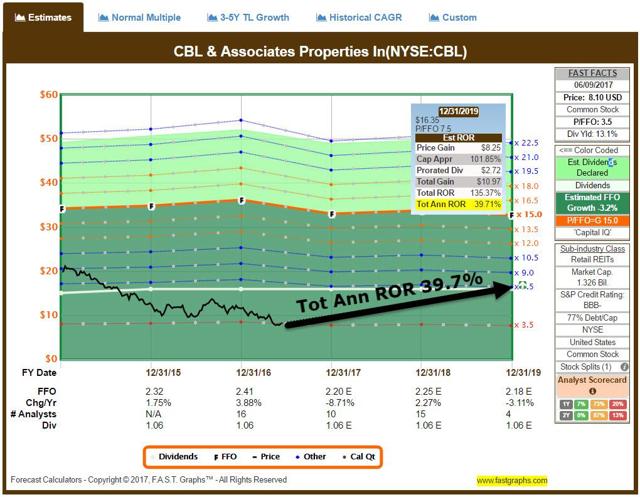 Disclosure: I am on the Advisory Board of NY Residential REIT, and I am also a shareholder and publisher on the Maven.
Sources: Wikipedia, FAST Graphs, and CBL Investor Presentation.
Rubicon Associates also contributed to this article.
REITs mentioned: GGP, SPG, SKT, MAC, TCO, PEI, WPG, and SRG.


Author Note: Brad Thomas is a Wall Street writer, and that means he is not always right with his predictions or recommendations. That also applies to his grammar. Please excuse any typos, and be assured that he will do his best to correct any errors, if they are overlooked.
Finally, this article is free, and the sole purpose for writing it is to assistwith research, while also providing a forum for second-level thinking. If you have not followed him, please take five seconds and click his name above (top of the page).
Disclosure: I am/we are long APTS, ARI, BRX, BXMT, CCI, CCP, CHCT, CLDT, CONE, CORR, CUBE, DLR, DOC, EXR, FPI, GMRE, GPT, HASI, HTA, IRM, JCAP, KIM, LADR, LTC, LXP, NXRT, O, OHI, PEB, PEI, PK, QTS, ROIC, SKT, SNR, SPG, STAG, STOR, STWD, TCO, VER, WP.
I wrote this article myself, and it expresses my own opinions. I am not receiving compensation for it (other than from Seeking Alpha). I have no business relationship with any company whose stock is mentioned in this article.