Mall REITs Getting Whacked, And Tanger Is Not Immune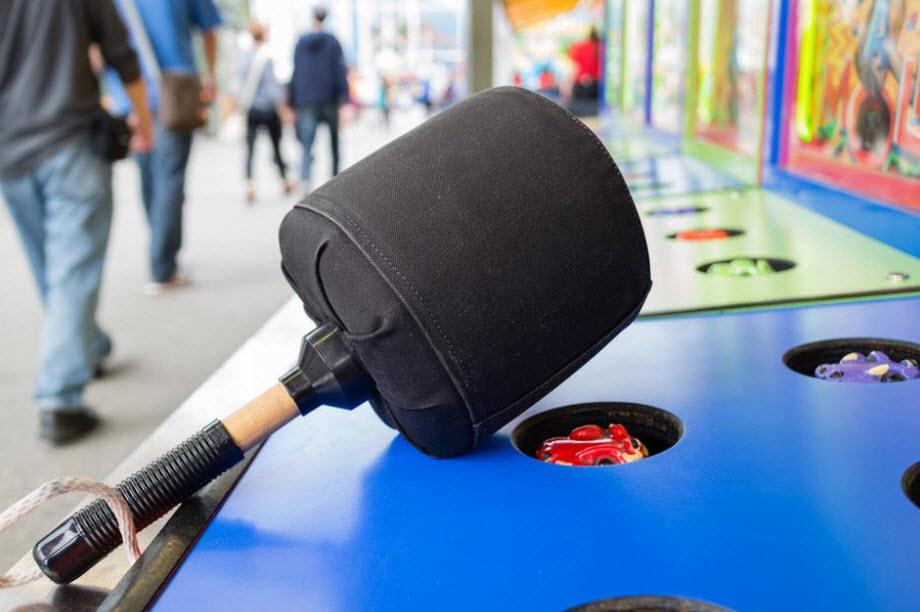 NoahBlacker
Brad Thomas wrote this article and it has appeared previously on Seeking Alpha.
*
*Summary
Today was another tough day in the retail REIT sector.
Rubicon has laid out the reasons for his positions, but he has a different risk profile.
Our approach is to invest in deep value, while I have always espoused buying the best of breed.
I will be attending the annual ReCon in Las Vegas next week where I will be meeting with over 15 Retail REIT CEOs. I plan to publish interviews on my subscription premium channels. Rubicon contributed to this article.
Today was another tough day in the retail REIT sector. After the close, I was talking with Rubicon about the continued pressure on the sector and what caused the selloff today. I thought it might be helpful to use today as an example of what else might be in store for investors.
As many know, Rubicon is long multiple mall stocks (CBL & Associates (NYSE:CBL) here, Washington Prime Group (NYSE:WPG) here, Tanger (NYSE:SKT) here and Pennsylvania Real Estate Investment Trust (NYSE:PEI) here), many of which (all but Tanger) I am not recommending to investors due to the risk. Rubicon has laid out the reasons for his positions, but he has a different risk profile (tolerance) than I do.
The following table shows a recap of today's outcome in the retail REIT sector: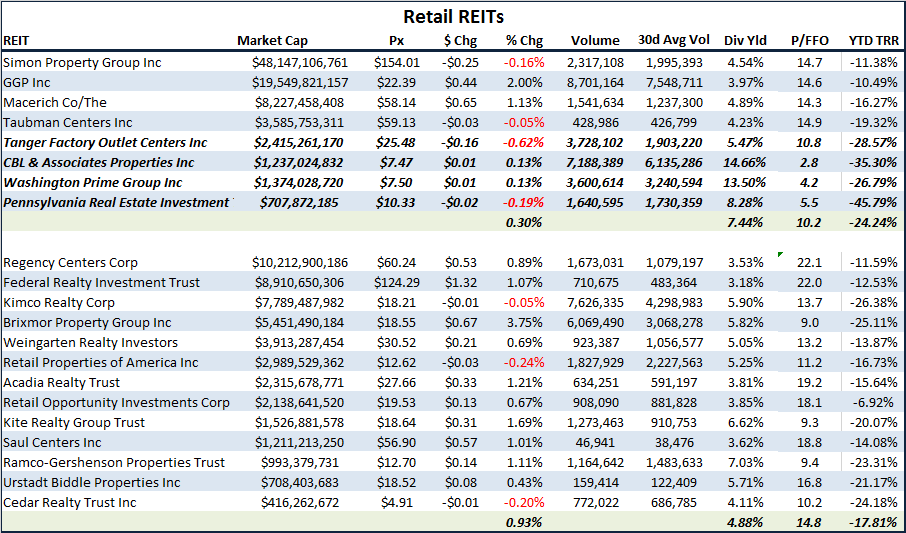 Graphically: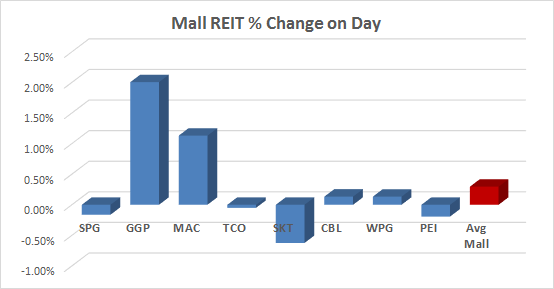 As the table and graph show, Tanger underperformed the sector today – after falling yesterday as well.
The reason de jour was earnings guidance by one of Tanger's (and the other malls') tenants, Ascena Retail (ASNA).
Ascena Retail Group, inc. is a leading national specialty retailer offering clothing, shoes, and accessories under the Ann Taylor, LOFT, Lou & Grey, Lane Bryant, Cacique, Maurices, Dressbarn, and Catherines brands, and for tween girls under the Justice brand. Ascena Retail Group, Inc. operates, through its 100% owned subsidiaries, ecommerce operations and approximately 4,900 stores throughout the United States, Canada and Puerto Rico.
In their release decimating their guidance, the company stated:
Industry-wide traffic headwinds and a highly elevated promotional environment have persisted at levels significantly above our expectations, resulting in a miss to our third quarter sales and earnings outlook. We have adjusted our second-half outlook to reflect this environment and limited near term visibility, and no longer believe it appropriate to expect a stabilization of traffic and resulting normalization of comp sales against softer demand in the year-ago period.
The specialty retail sector is in a period of unprecedented secular change that is disruptive to traditional business models, and we believe operating conditions in our sector are likely to remain challenging for the next 12 to 24 months.
Their guidance:

This is code for "Please whack our stock with a stick and all those establishments at which our stores are located." Tanger is one of those lucky establishments:
In addition to Tanger, most of the other mall REITs have exposure to Ascena.
CBL & Associates: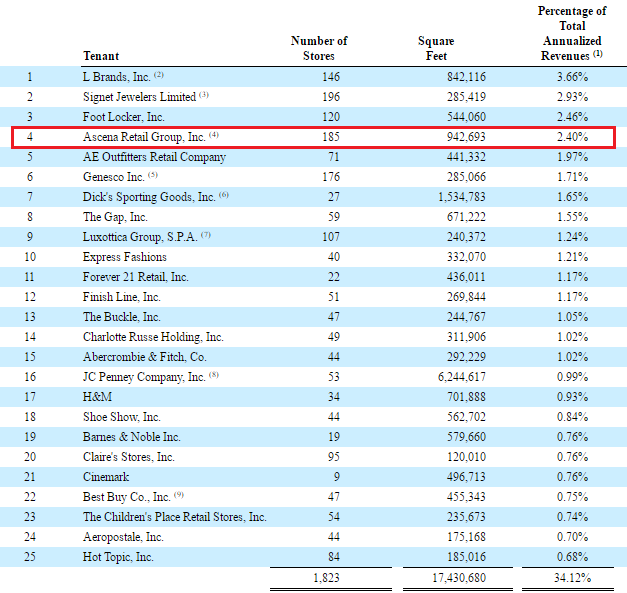 Note that CBL has exposure to yesterday's retail victim, American Eagle Outfitters (AEO), who stated on theirearnings call:
With ongoing traffic declines, we are continually reviewing the store fleet and focusing efforts on extracting store efficiencies and productivity. Our fleet is largely profitable, I want to emphasize that this is case across all mall types A, B, C malls as well as our outlet centers. However, when it makes sense where we are over stored and have a high likelihood of sales migration we are closing locations.
We are also building flexibility into our lease terms with over 500 stores in-store leases set to expire in the next three years. This year we plan to close between 25 and 40 store locations.
Pennsylvania Real Estate Investment Trust (PREIT):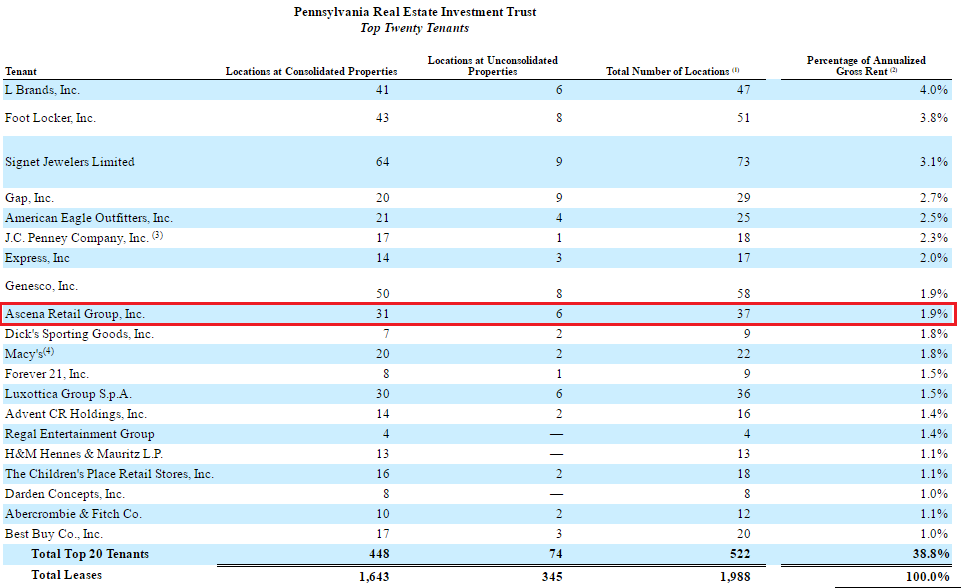 PREIT also has exposure to AEO.
Taubman Centers (NYSE:TCO):

Simon Property Group (NYSE:SPG):

A snapshot of selected retail stocks: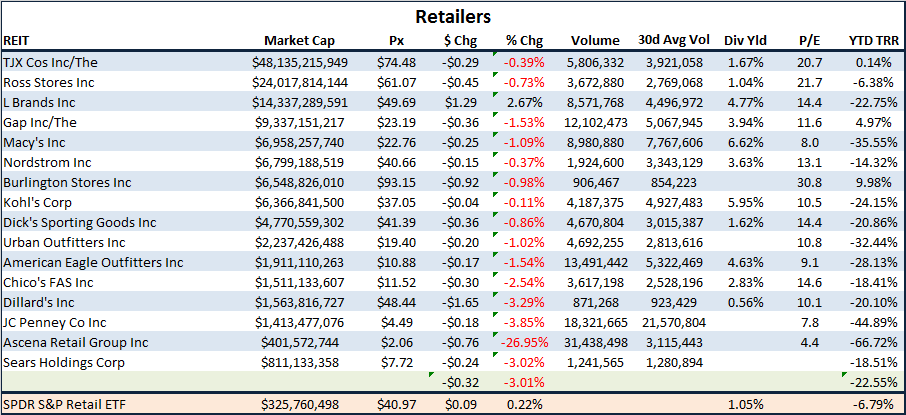 Graphically: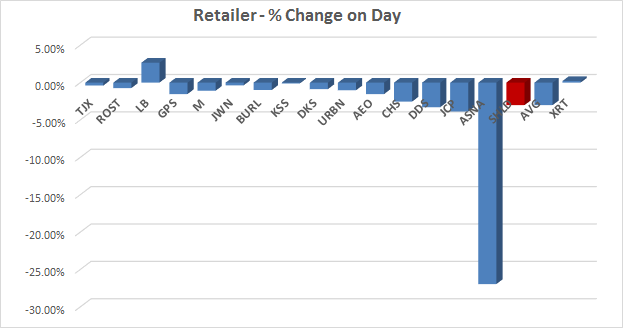 Ultimately, we believe that with each new retail release and comp sales update, the retail REIT sector will be impacted. As a result, volatility within the sector will remain elevated. Our approach is to invest in deep value, while I have always espoused buying the best of breed. Both approaches will continue to exhibit elevated risk, and investors should be aware of the risks and the causes of risk.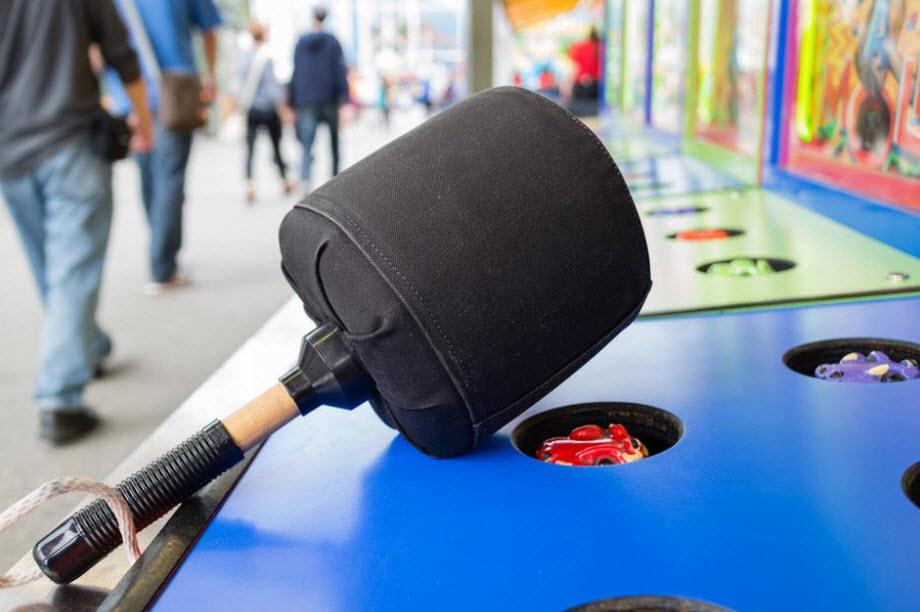 Rubicon is long PEI, SKT, CBL and WPG.
Thomas is long SPG, SKT, TCO, and PEI.
Disclosure: I am/we are long APTS, ARI, BRX, BXMT, CCI, CCP, CHCT, CLDT, CONE, CORR, CUBE, DLR, DOC, EXR, FPI, GMRE, GPT, HASI, HTA, IRM, KIM, LADR, LTC, LXP, O, OHI, PEB, PK, QTS, ROIC, SKT, SNR, SPG, STAG, STOR, STWD, TCO, UBA, WPC.
I wrote this article myself, and it expresses my own opinions. I am not receiving compensation for it (other than from Seeking Alpha). I have no business relationship with any company whose stock is mentioned in this article.