Reports On The Death Of Retail Real Estate Have Been Grossly Exaggerated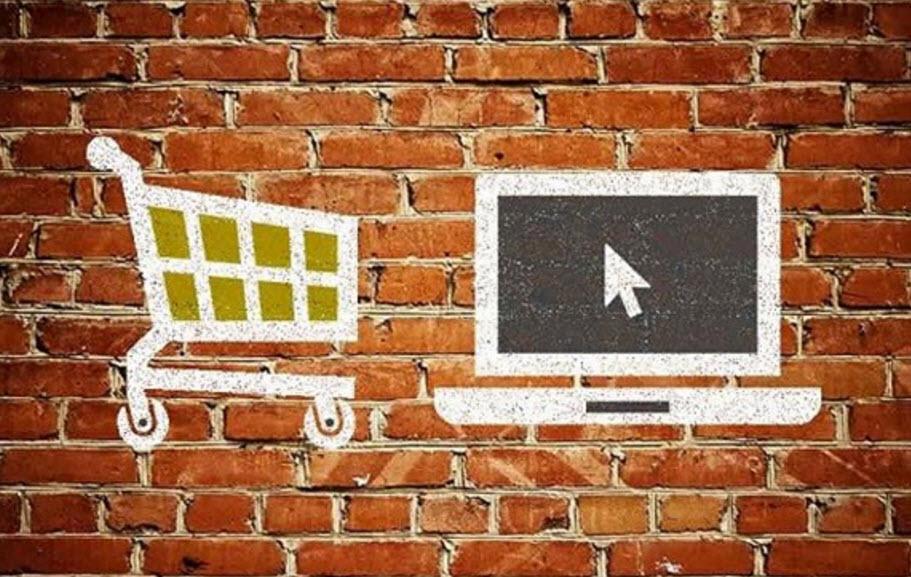 NoahBlacker
Brad Thomas wrote this article and it has appeared previously on Seeking Alpha.
Summary
Some of the hardest hit names have been in the Mall REIT sector.
Lauren Thomas, with CNBC, explained that "investors knew retailers were struggling, but it wasn't until this week's financial reports that they were able to gauge how much sales had deteriorated".
While the market has painted Kimco Realty Corp. as a broad brush retail REIT, the reality is that it is a more tactical shopping center REIT focused on internet-resistant tenants.
It's been just a few days since I wrote on Kimco Realty (NYSE:KIM), as you may recall I decided to upgrade shares in the dominant shopping center REIT from BUY to STRONG BUY. In my previous research report, I explained that:
...when comparing KIM's balance sheet, dividend growth history, and high-quality portfolio, none of the REITs can compare. KIM is clearly trading at a discount to its closest peers...
Note that I did not say the stock was trading at the "widest discount" to its peers, as I pointed out in my article:
I am targeting KIM to move in-line with the closer peers (FRT, AKR, etc..) and generate annual returns in excess of 18%...
There are plenty of Shopping Center REITs that are cheap today, and one of the reasons I opted to upgrade KIM to a STRONG BUY is because of the overall quality of the company. I explained that "while there will be continued pressure in certain sectors, KIM has spent years preparing for the changes, and the balance sheet is now in the best shape ever".
Brixmor Property (NYSE:BRX) is another shopping center that fits in a similar box. This REIT also owns high-quality properties with a large majority of highly productive grocery and value-oriented shopping centers. As I explained in an article last week:
BRX also has a highly diversified portfolio, and combined with a low payout ratio, BRX is well-positioned to mitigate the headwinds.
While KIM has a stronger balance sheet than BRX, I decided to also upgrade BRX from a BUY to a STRONG BUY because of the company's low payout ratio. In addition, catalysts for BRX include predictable dividend growth (low payout ratio) and sustainable income (strong non-discretionary tenancy), combined with an attractive margin of safety (BRX trades 8.9x and KIM trades at 12.5x).

Since my last KIM article (April 10th), shares have declined over 13%, and that has been the case for most all retail REITs.
Some of the hardest hit names have been in the Mall REIT sector, as illustrated below. Simon Property (NYSE:SPG) has declined 8.17% (since April 10th) and Tanger Factory Outlets (NYSE:SKT) has declined by over 18%.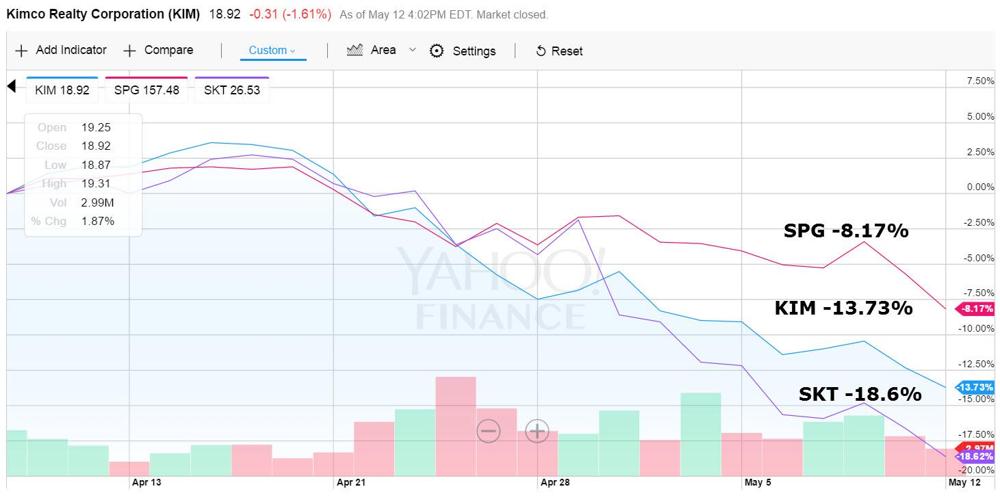 Wait About, Retail Should Not Be Painted By The Same Brush
Last week, Lauren Thomas, with CNBC, explained that "investors knew retailers were struggling, but it wasn't until this week's financial reports that they were able to gauge how much sales had deteriorated due to slowing foot traffic".
She went on to write:
Department store operators Macy's, Dillad's, Kohl's and Nordstroms each reported first-quarter results (on Thursday) sparking a selloff in the sector, which continued Friday as Wall Street awaits a slew of more retailers' earnings to come. Retailers have been under pressure as more sales shift online, helping Amazon (NASDAQ:AMZN) and other online players likeWayfair (NYSE:W).
"A decade ago we were talking about how to compete with Wal-Mart's everyday low prices, now it's Amazon," Thomson Reuters Director of Research Jharonne Martis told CNBC on Friday. "Reducing [store] footprints is a good way to go; they can reinvest in e-commerce. But it's not only rethinking e-commerce... you also have to appeal to millennials.
It's obvious, department store chains are getting hammered, and all of the Mall REITs are seeing the pain as their equity valuations continue to erode. I was one of the few bears covering Washington Prime Group (NYSE:WPG), and while many of my peers have been pounding BUY, BUY, BUY, I have offered my more conservative opinion: SELL.
On Friday, J.C. Penney (NYSE:JCP) reported "disappointing quarterly same-store sales, which dragged shares of the stock at one point down to $4.78, a fresh intraday low not seen since 2014".
As CNBC's Lauren Thomas explains:
The department store operator's net loss widened to $180 million, or 58 cents per share, in the first quarter, from $68 million, or 22 cents per share, a year ago. This was largely due to weaker sales at brick-and-mortar locations during February and higher costs related to store closures and employee severance packages, the company said...
The company said it booked $220 million of restructuring charges associated with store closings and a voluntary early retirement program during the quarter...
Earlier this year, Penney's firmed up plans to downsize its brick-and-mortar fleet,telling investors it will close 138 stores starting on April 17 and running through the second quarter... The 138 stores being closed represent 13 to 14 percent of J.C. Penney's store portfolio but generate less than 5 percent of annual sales, the company said...
I warned investors and prospective investors that WPG could take a hit if JCP's Q1-17 earnings weren't good. Well, here's what happened to WPG on Friday:
I certainly don't have a crystal ball, and I'm not in any position to call the bottom when it comes to retail. However, I do have a "secret sauce" when it comes to Retail REITs, and her name is Lauren Thomas.
Yes, my daughter covers retail stocks at CNBC, and this week she will be working feverishly as she reports on the discount retailers, such as Target (NYSE:TGT), Wal-Mart (NYSE:WMT), Home Depot (NYSE:HD), TJ Maxx (NYSE:TJX), Foot Locker (NYSE:FL), and Urban Outfitters (NASDAQ:URBN).
For the same reasons that I "predicted" the pullback with WPG on Friday, I believe KIM and BRX will have a good week. If the discount chains perform well this week, as expected by most analysts, KIM and BRX (as well as the peers) could see a rebound. Remember that I have a STRONG BUY on these two Shopping Center REITs, and they don't own any department stores.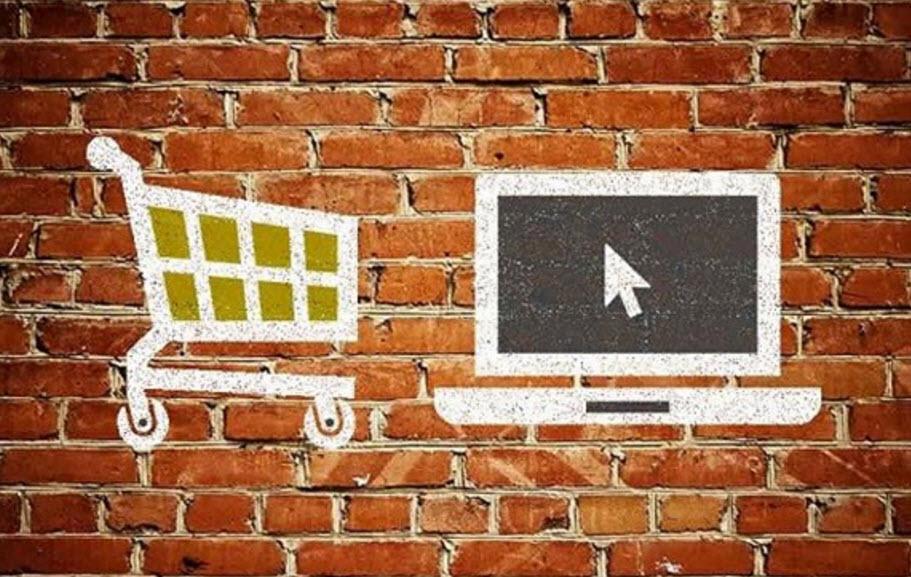 (Photo Source)
Perception Vs. Reality
While Mr. Market is still somewhat confused with KIM's business model (that all retail REITs are the same), the reality is that there is a limited impact of 2017 store closures for the company.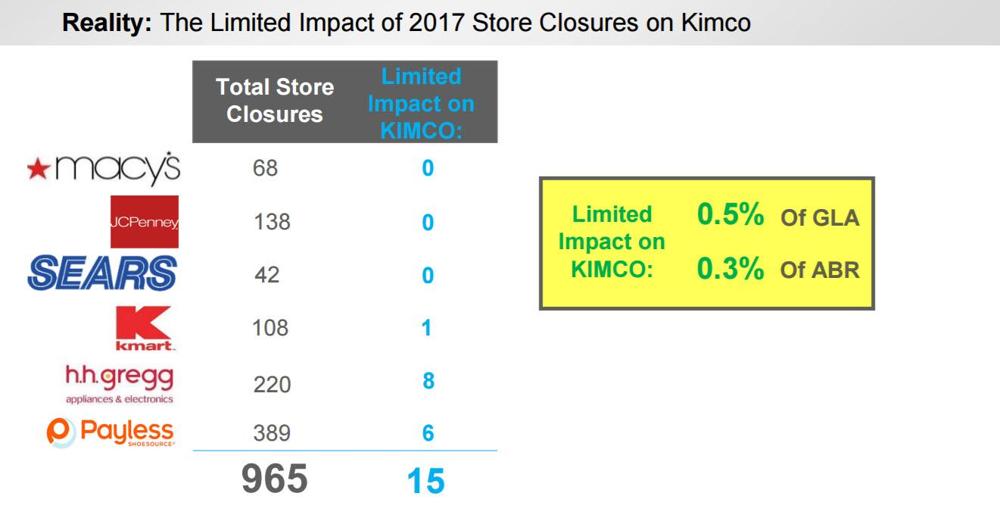 KIM is not WPG or Seritage (NYSE:SRG) - both of those are Mall REITs with outsized exposure to the problem department store chains. KIM is a well-diversified shopping center landlord that has a geographically diverse and highly concentrated portfolio (the large majority in major metro markets).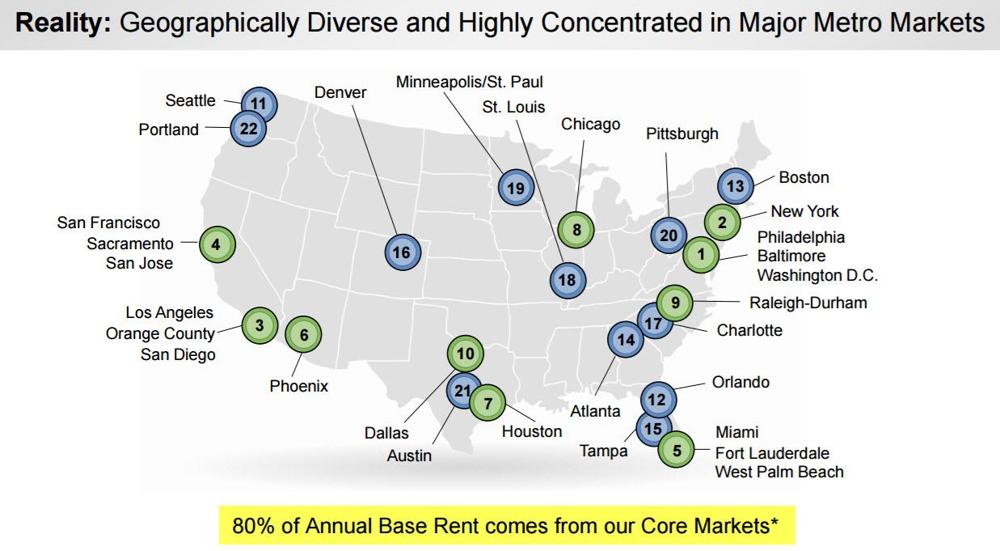 Unlike the Mall REITs, KIM's portfolio has no department stores. Instead, the company invests in properties with a majority of internet-resistant tenants. As noted, many of the tenants below report earning this week - only 15 tenants with an ABR exposure greater than 1.0%:

Diversification is the simplest and cheapest margin of safety, and KIM has one of the most diverse platforms in the REIT sector.

So while Mr. Market continues to hammer away at KIM shares, the reality is that the company is one of the most reliable and stable REITs in the retail sector with a growing number of necessity-based goods and services.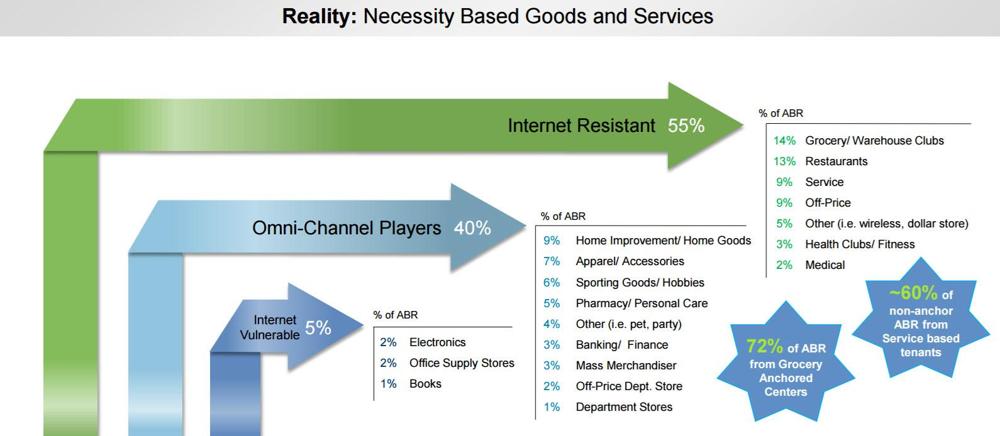 According to Kevin Hoffman, president of online at Home Depot, "over 40 percent of all online orders leverage (our) physical stores". The omni-channel is an incredibly important element, and according to Kohl's CEO, Kevin Mansell, more than 20% of the time its "buy online, pick up in store" shoppers make additional purchases.

The reality is that many retailers are growing their store count...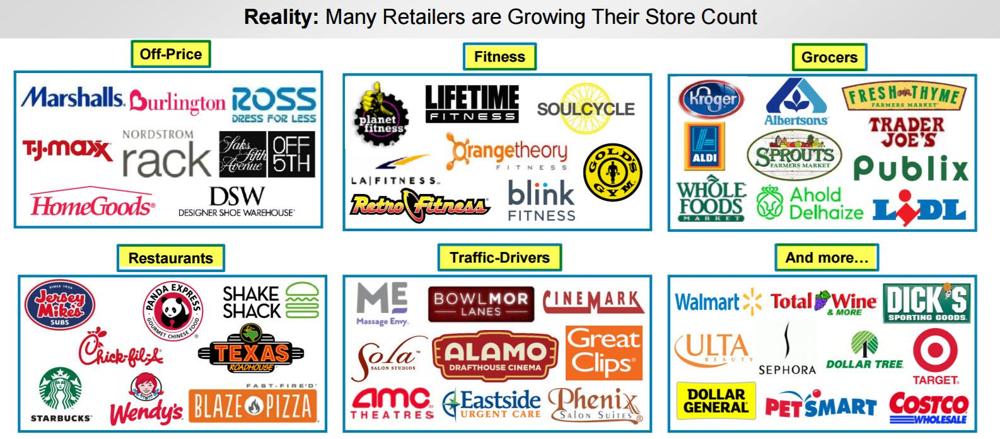 ... the demand for retail space outweighs supply...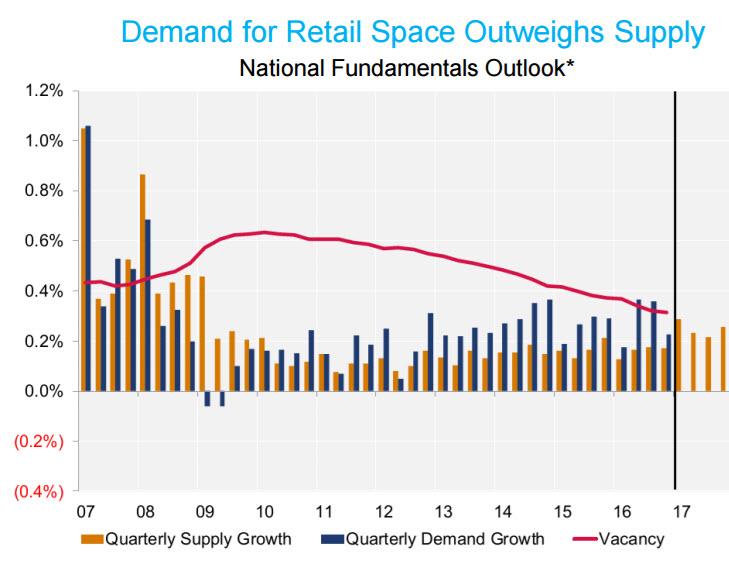 ... and low supply is driving KIM's ABR.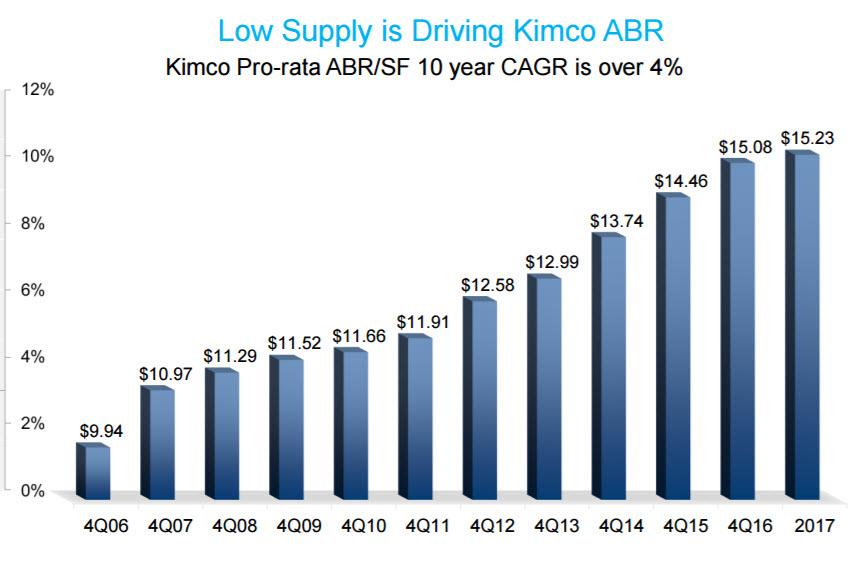 The Case for Kimco
While there are other shopping center REITs that focus on grocery-anchored assets (i.e., Regency Centers (NYSE:REG) and Weingarten Realty (NYSE:WRI)), BRX's differentiated platform is based upon its wide footprint of 512 grocery-anchored centers that span from coast to coast. This portfolio, with gross leasable square footage of 86 million square feet, makes Brixmor one of the largest "pure play" wholly owned grocery-anchored platform in the U.S.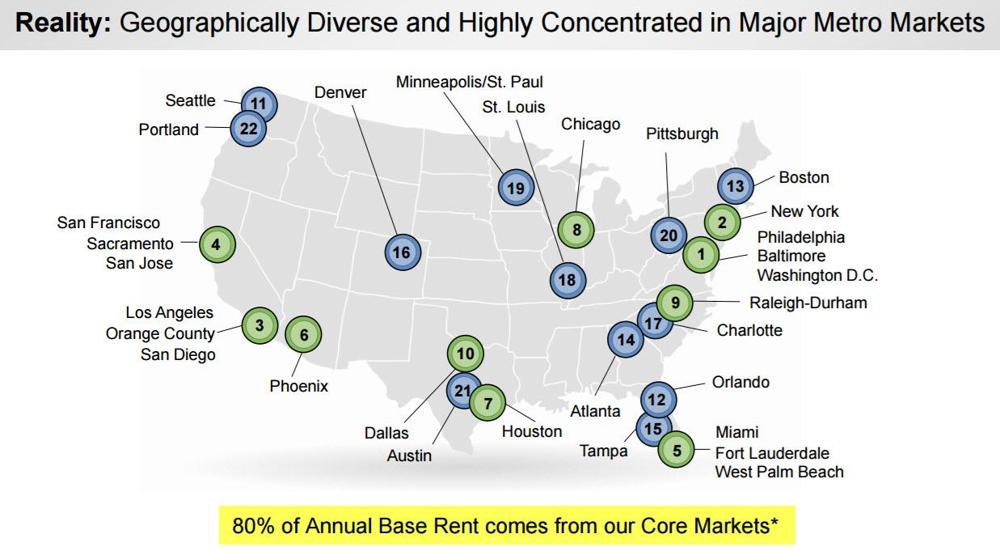 BRX is based in New York City, and the company has three strategically based operating areas. These regional offices service leasing and property management functions that provide the REIT's customers with enhanced services. BRX is a landlord for over 5,600 national, regional, and local tenants.
The REIT's average shopping center is around 168,000 square feet with average base rent per square foot of $15.23.

In Q1-17, BRX's same-site NOI growth was positive 2.2%, driven by minimum rent increases of 150 basis points and improved credit loss of 130 basis points, offset by lower recoveries of 80 basis points.
Same-site NOI growth includes ten basis points from redevelopments. In addition, there was no impact on first-quarter same-site growth from the Sports Authority bankruptcy (KIM had previously reserved the TSA rents in the first quarter of 2016).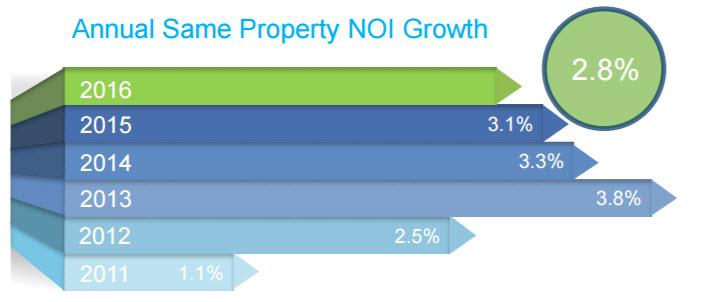 KIM's operating portfolio continues to perform very well. U.S. occupancy is a healthy 95.3%, with anchor occupancy steady at 97.3% and small shop occupancy at 89.6%. U.S. occupancy is down ten basis points from year end.
First-quarter occupancy was impacted by approximately 70 basis points relating to the remaining Sports Authority vacancies. KIM has leased a total of 14 former TSA boxes and has LOIs or active prospects on 11 of the remaining TSA boxes.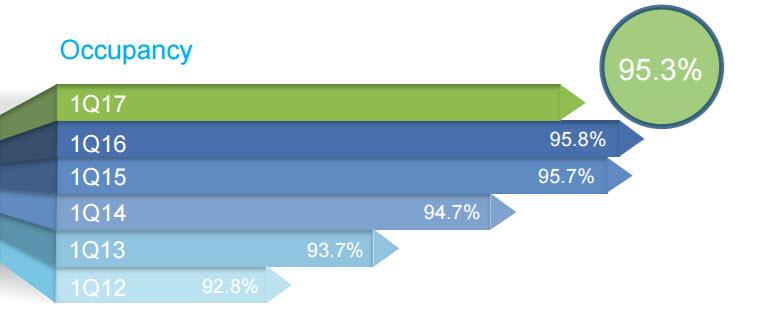 The company had a strong first quarter of operating and financial results. NAREIT FFO per share was $0.37 for the first quarter 2017 compared to NAREIT FFO per share for the first quarter 2016 of $0.38, which included $0.01 per share from the company's preferred equity profit participation.
FFO as adjusted or recurring FFO (excludes non-operating impairments and transactional income and expense) was $155.8 million for the first quarter of 2017 as compared to $152.9 million for the same quarter last year, with $0.37 per diluted share from both quarters. KIM's results were favorably impacted by increased base rents, improved bad debt expense (totaling $7.5 million) and the implementation of strategic initiatives which lowered interest expense, G&A and tax expense by $11.1 million.
The REIT reaffirmed the FFO per share guidance range of $1.50-1.54. As you can see below, I used KIM's mid-point 2017 FFO guidance and analysts' estimates to forecast growth for the company and its peers: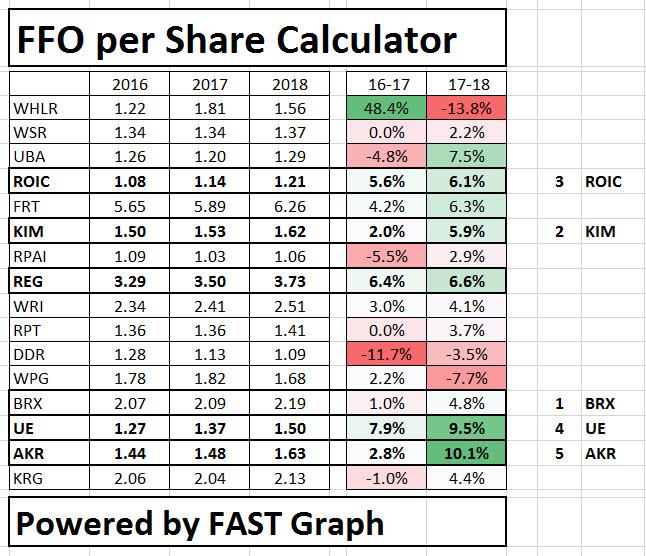 Note: I ranked all of these REITs based on their FFO growth andvaluation. I consider BRX the best overall BUY (based on valuation). KIM is a close #1 because of its balance sheet.
A Fortress Balance Sheet (and Possible Credit Upgrade)
As I explained in a recent article, "it appears that Kimco could become an 'A' rated REIT during the next year or two. KIM has similar ratings with Moody's and Fitch".
The company continues efforts to enhance the balance sheet. Recently, it completed a new $2.25 billion revolving credit facility with borrowings priced at LIBOR plus 87.5 basis points. This new 5-year facility with a final maturity date in 2022 replaces the $1.75 billion revolving credit facility which was priced at LIBOR plus 92.5 basis points.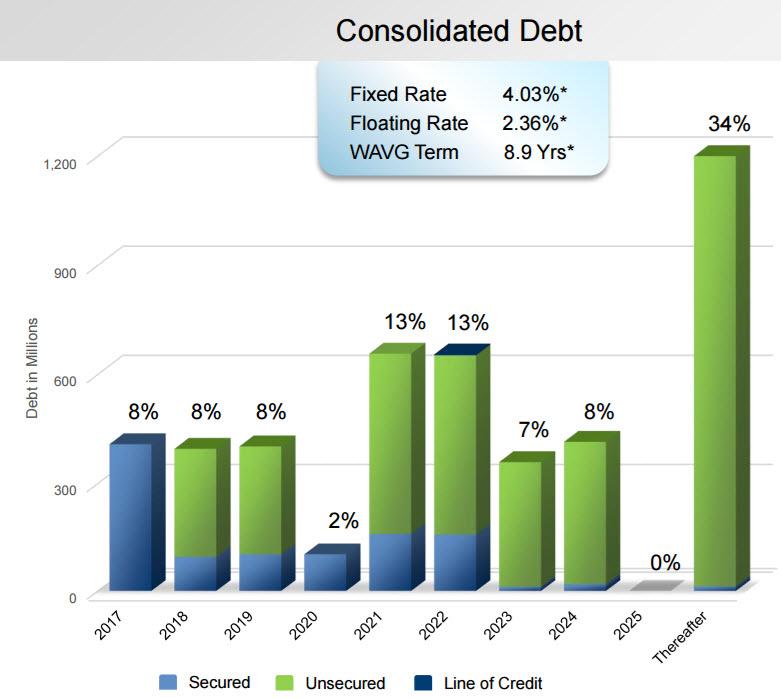 KIM also recently issued a $400 million ten-year unsecured bond at a coupon of 3.8%. Proceeds from this instrument were used to repay the maturing 2017 mortgage debt with a weighted average interest rate of 5.71%. The company's weighted average debt maturity profile now stands at almost nine years, one of the longest in the REIT industry.
KIM finished 2016 with consolidated net debt-to-recurring EBITDA of 5.9x. As part of the 2020 vision, it is targeting a range of 5x-5.5x, as the company continues to pursue an unsecured debt ratings upgrade.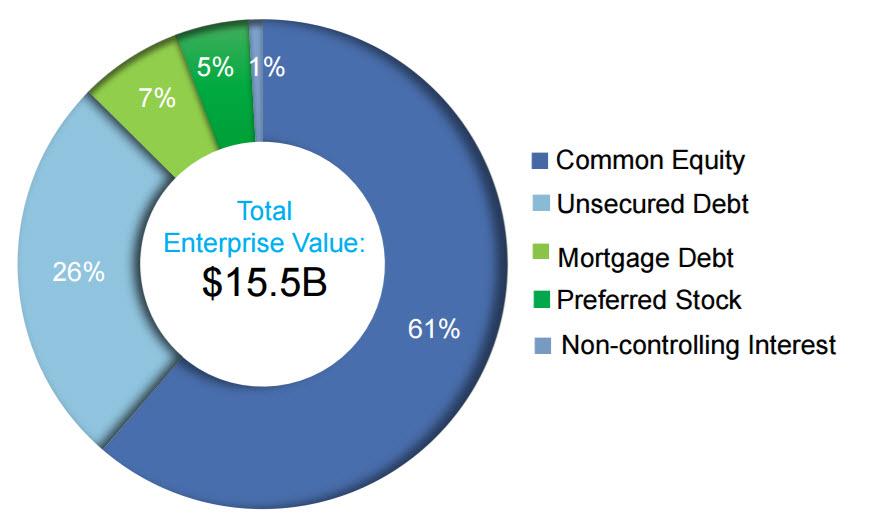 The STRONG BUY Is Warranted
In an article last week, Jussi Askola recommended Spirit Realty (NYSE:SRC) as a STRONG BUY, based on a price flop that was precipitated by a poor earnings report (the company lowered guidance). SRC's CEO was then terminated, and investors are still trying to determine whether the stock is a smart trade. I took the "high road" immediately when I smelled the smoke (I knew it was fire burning) and went to a SELL.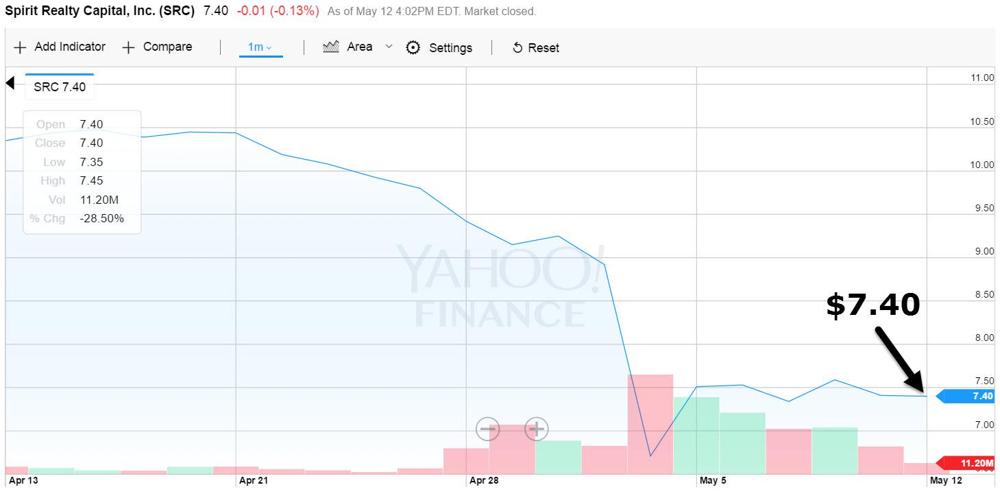 Jussi explains his STRONG BUY rationale:
Before the sell-off, I considered the REIT to be a BUY given its already low valuation at 10.5 times FFO and 8% yield, and now it is even cheaper at 8.6 times FFO and a close to 11% dividend yield. I consider the recent market reaction to be very excessive, and in this sense, I believe that Spirit is becoming a STRONG BUY.
Hmmm... the dividend yield seems enticing (9.73%), but isn't this a "sucker yield" now?
SRC has recovered some since the earnings results, but there is still a good chance the company will cut the dividend. In my opinion, it's way too risky to jump on the train with a STRONG BUY. A dividend cut may lead to price erosion, and there is just way too much uncertainty surrounding the "Most Unpredictable Net Lease REIT".
Nobody likes unpredictability, and one of the reasons I have upgraded KIM to a STRONG BUY is because of its PREDICTABILITY. I certainly don't fear a dividend cut, and I believe there are catalysts to support the price recovery... hopefully this week!
Here's how KIM's dividend yield compares with that of its peer group:

Note: I included WPG in the mix (the company owns malls and shopping centers). I have a SELL on WPG and Wheeler Real Estate Investment Trust (NASDAQ:WHLR). Now let's compare KIM's payout ratio:

Now let's compare the P/FFO versus that of the peers:

As noted, BRX is cheaper, but KIM's balance sheet is much stronger. KIM also has an excellent dividend growth history since the end of the recession: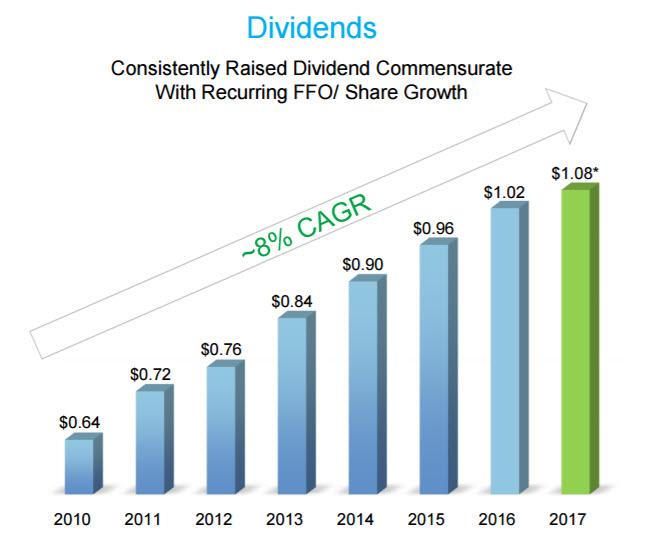 The Bottom Line
I am reiterating my STRONG BUY recommendation on KIM shares. While the market has painted it as a broad brush retail REIT, the reality is that KIM is a more tactical shopping center REIT focused on internet-resistant tenants. We'll see what happens this week.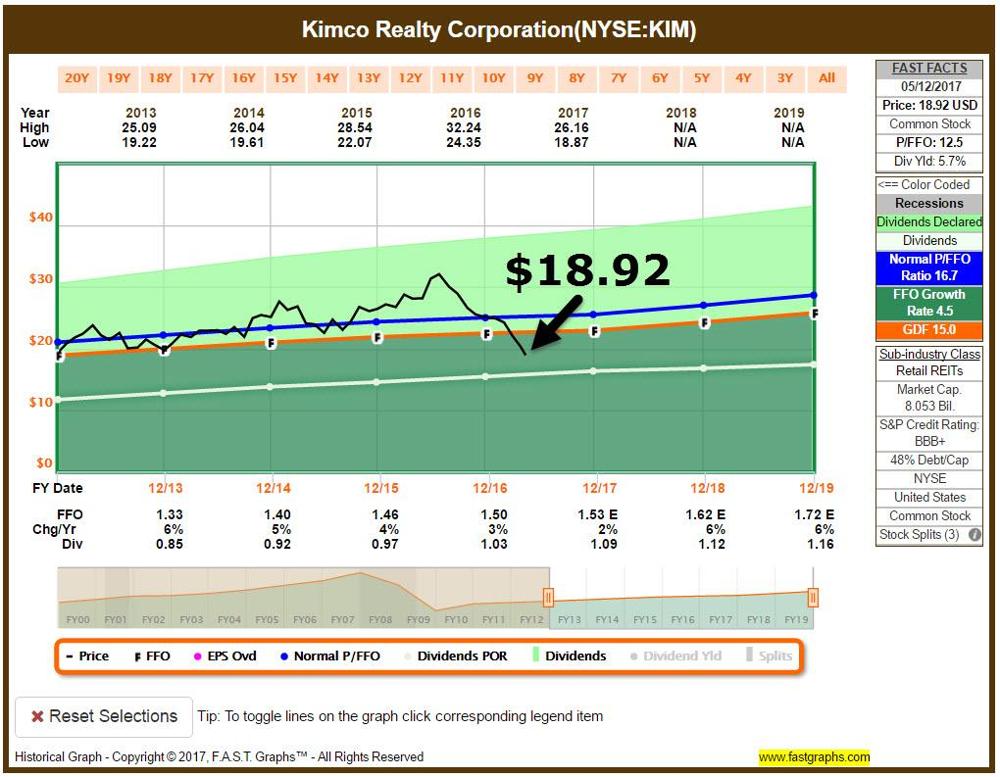 Note: I will be attending the annual ReCon in Las Vegas in a few days, and I will be conducting interviews with around 20 REIT CEOs.

Source: The title for the article is credited to Conor Flynn, CEO of Kimco Realty (from the latest Investor Presentation).

Disclosure: I am on the Advisory Board of NY Residential REIT, and I am also a shareholder and publisher on The Maven (MVEN).
Source: F.A.S.T. Graphs and KIM Investor Presentation.
To get a first look at my upcoming article, "The Evolution of My Durable Income Portfolio", click here. I also include all of my Rhino REIT Ratings in my marketplace product, REIT Beat.
Author Note: Brad Thomas is a Wall Street writer, and that means he is not always right with his predictions or recommendations. That also applies to his grammar. Please excuse any typos, and be assured that he will do his best to correct any errors, if they are overlooked.
Finally, this article is free, and the sole purpose for writing it is to assist with research, while also providing a forum for second-level thinking. If you have not followed him, please take five seconds and click his name above (top of the page).
Travel Update: I will be traveling from the East Cast to the West Coast on Monday, and I will not be able to reply tocomments until later in the day.
Disclosure: I am/we are long APTS, ARI, BRX, BXMT, CCI, CCP, CHCT, CLDT, CONE, CORR, CUBE, DLR, DOC, EXR, FPI, GMRE, GPT, HASI, HTA, IRM, KIM, LADR, LTC, LXP, O, OHI, PEB, PK, QTS, ROIC, SKT, SNR, SPG, STAG, STOR, STWD, TCO, UBA, VER, WPC.
I wrote this article myself, and it expresses my own opinions. I am not receiving compensation for it (other than from Seeking Alpha). I have no business relationship with any company whose stock is mentioned in this article.