The Inside Scoop On Kimco Realty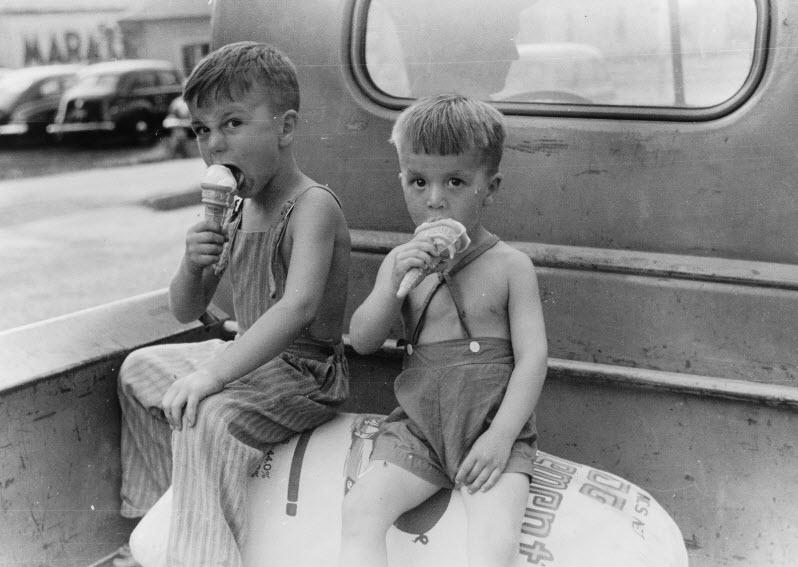 NoahBlacker
Brad Thomas wrote this article and it has appeared previously on Seeking Alpha.
Summary
Kimco appears to be suffering from more drastic mis-pricing.
The fundamentals of KIM's open-air shopping center portfolio remain strong due to the favorable balance of supply and demand in the major metro markets.
KIM is rated BBB+ (by S&P) and based upon the 2020 Vision, it appears that the -company could become an "A rated" REIT during the next year or two.
The average P/FFO multiple for KIM's closest peers is 20x and KIMis trading at 14.7x.
I am upgrading KIM from a BUY to a STRONG BUY.
It's no secret that the retail category has become the ugly duckling in the REIT sector. Shares in Simon Property Group (SPG), TaubmanCenters (TCO), Tanger Factory Outlets (SKT), and Kimco Realty (KIM) have been hammered.

I own shares in all four of these REITs and I have become increasingly fixated on Kimco (-14.55% YTD).
While most all Shopping Center REITs have under-performed YTD, Kimco appears to be suffering from more drastic mis-pricing, that has of course, created a wider margin of safety.
I know you have heard me say this before, and I will say it again, it is now the time to become a more tactical investor. For the same reasons that there are many flavors of ice cream at Baskin Robbins, investors must recognize that there are many types of shopping center REITs.
The key to success, in my opinion, is to examine each scoop of ice cream (or REIT) to determine the highest quality operation, based on a variety of durability metrics.

Recently, I decided to put together a scoring model for all REITs in my Intelligent REIT Lab (over 140 companies). Each REIT is scored based on a number of durability and performance metrics, and each company is measured and compared to the direct peer group. The purpose for the scoring tool - referred to as the RHINO RATING - is to evaluate the overall toughness or durability of the REIT
One of the reasons that I created the Rhino Rating scoring system is so that I can assess each REIT based on 9 attributes. As you can see (above), Kimco scored 4.10875, suggesting that this REIT deserves a premium multiple.
Let's take a closer look at Kimco, so you can get a taste of the durability components, or better said, you can get the inside scoop!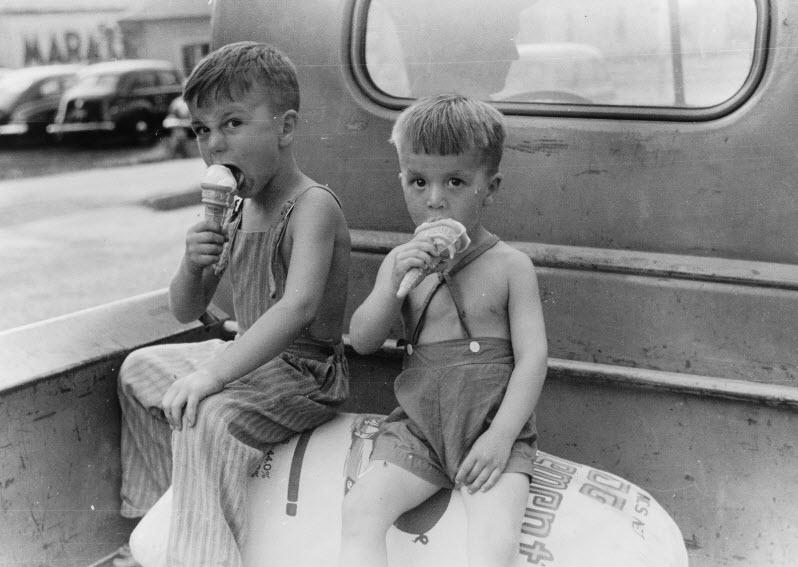 Photo Source
Kimco Realty (NYSE:KIM) is the owner and operator of the largest publicly traded portfolio of neighborhood and community shopping centers in North America. The company was founded in 1958 and listed shares in 1991. In 2006 Kimco was added to the S&P 500 Index.
As of Q4-16, KIM's well-balanced portfolio consists of 524 U.S. shopping centers comprising 85 million square feet of leasable space across 35 states and Puerto Rico. KIM focuses on major U.S. metropolitan markets: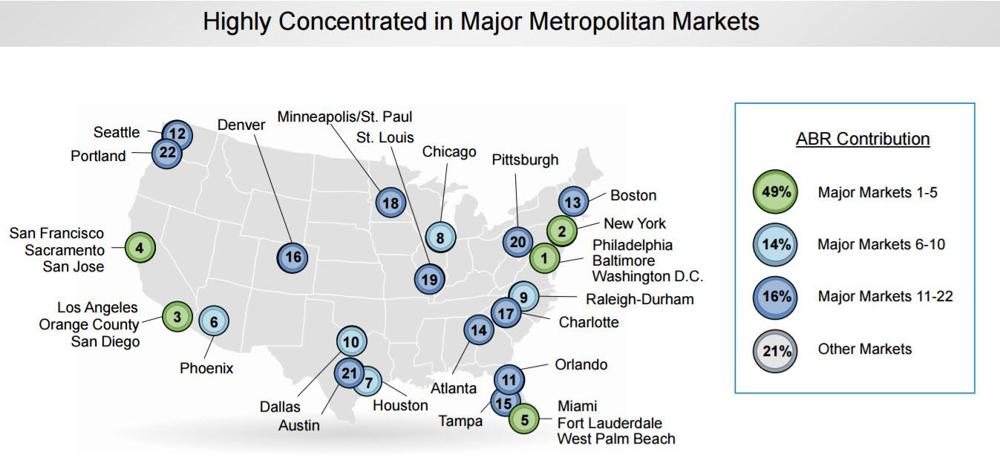 KIM has a very diverse revenue model with over 8,800 leases with 4,100 tenants. The company has well-staggered lease maturities with limited rollover in any given year; averages ~8% of GLA over next 10 years. 4 of KIM's top 5 tenants are Moody's investment grade and only 14 tenants have ABR exposure greater than 1.09%.

Community centers are the most recession resistant shopping centers and KIM's "open-air" focus makes the case that the company will continue to benefit from growth. As illustrated below, only 5% of KIM's portfolio is internet vulnerable: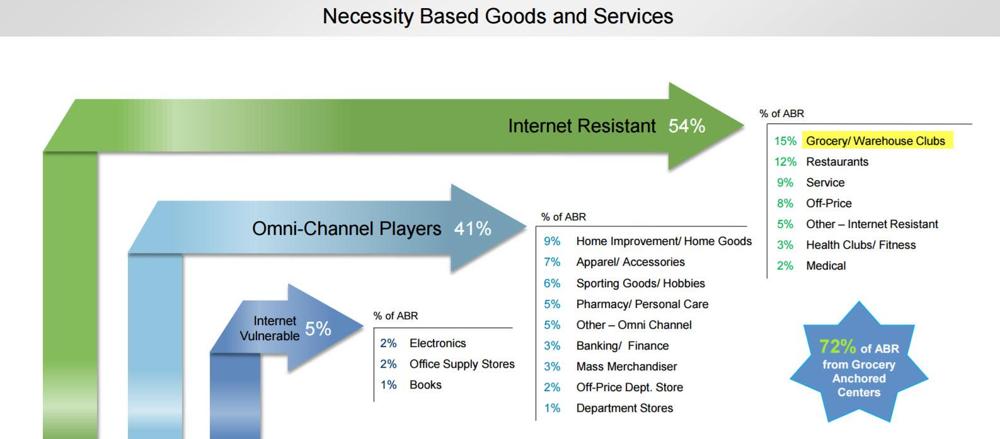 Low new supply also benefits KIM, as you can see below, there has been a 38-year low in new shopping center supply: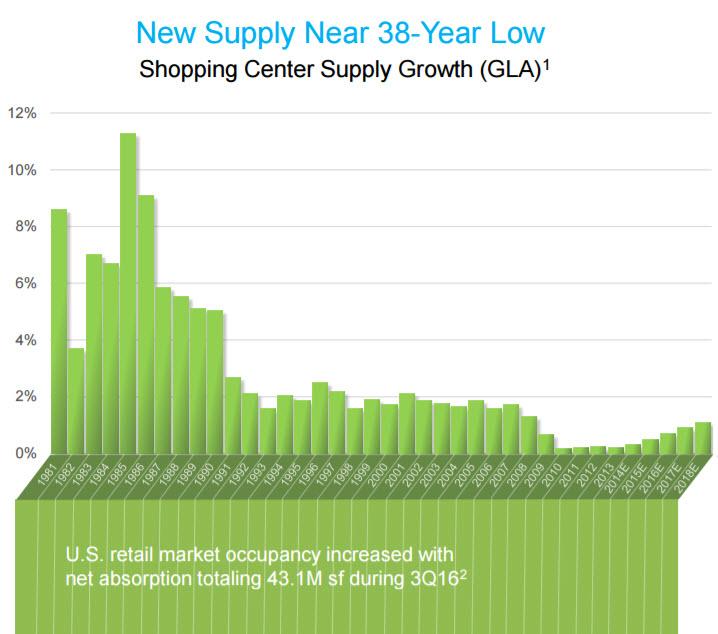 Record low supply has created pricing power for retail landlords: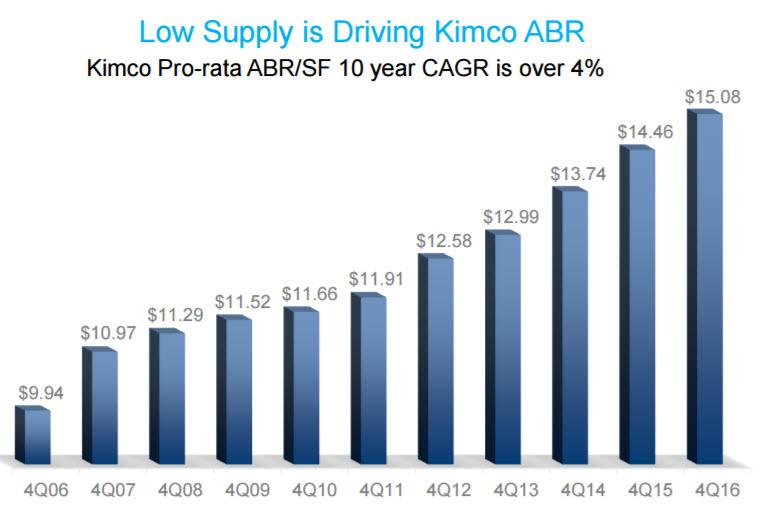 Since 2007, off-price retailers like TJ Maxx (NYSE:TJX) and Ross Stores(NASDAQ:ROST) have more than doubled their market cap and today, exceed the total market cap of all the major department store names. Accordingly, KIM refers to its targeted approach to recession-resistant retail as the "sweet spot" for retail landlords: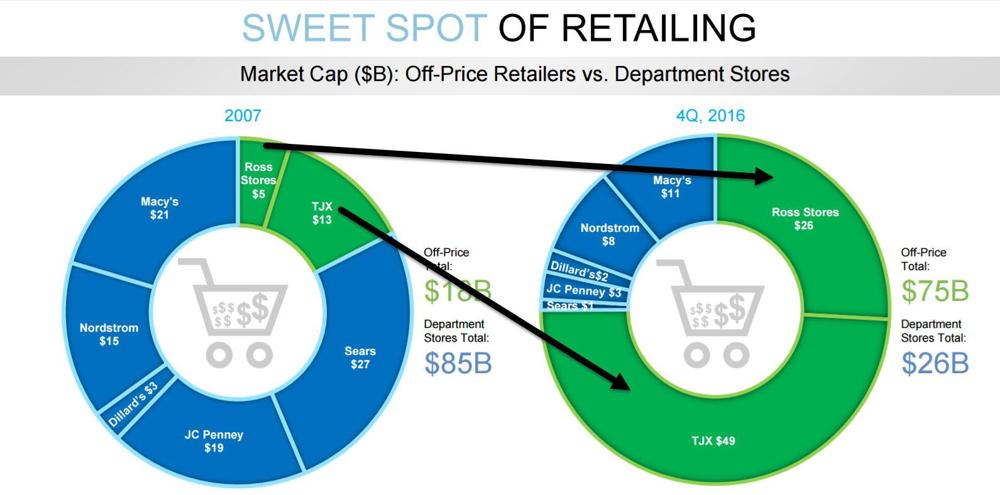 Kimco's 2020 Vision
Over the years and since the last recession, KIM's high-quality portfolio tightly concentrated in major metro markets. The company has boosted Net Asset Value creation through redevelopment, select ground-up development and active asset management. KIM's vision - referred to as the 2020 vision - is to create long-term shareholder value by focusing on the building blocks of growth, reducing leverage and maintaining a cost efficient capital structure.

The fundamentals of KIM's open-air shopping center portfolio remain strong due to the favorable balance of supply and demand in the major metro markets.
As the performance on key metrics demonstrates, KIM's operating platform continues to deliver value to shareholders. A wide range of open-air retailers, including KIM's first Nike store, continue to expand and seek growth opportunities in high-quality real estate.
KIM also seeks to create value from anchor lease expirations, redevelopment, and ground-up development.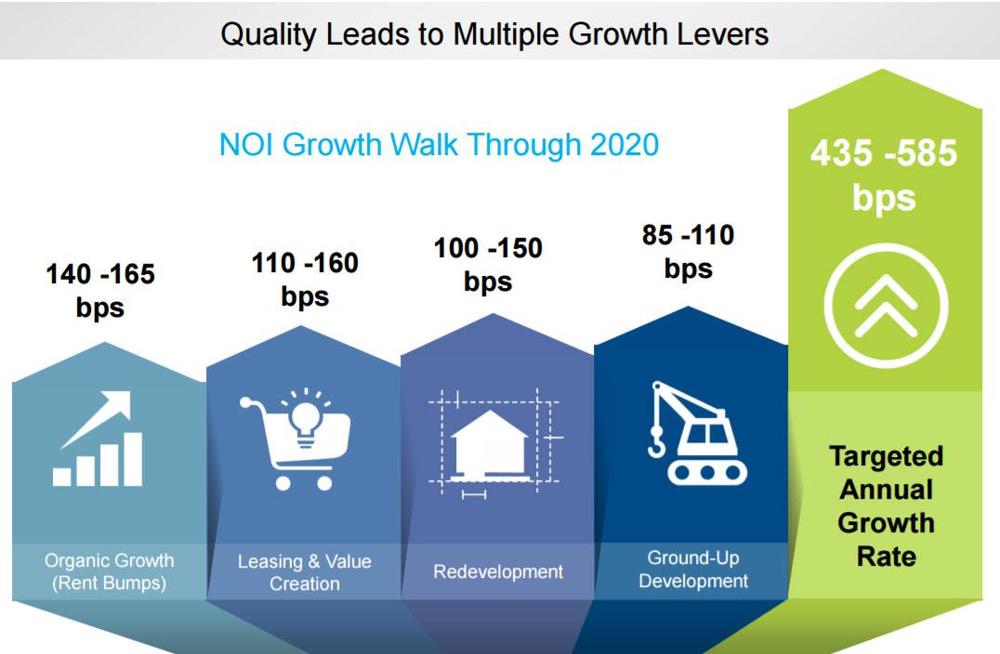 Here's a snapshot of KIM's "building blocks of NOI growth" – part of the 2020 vision: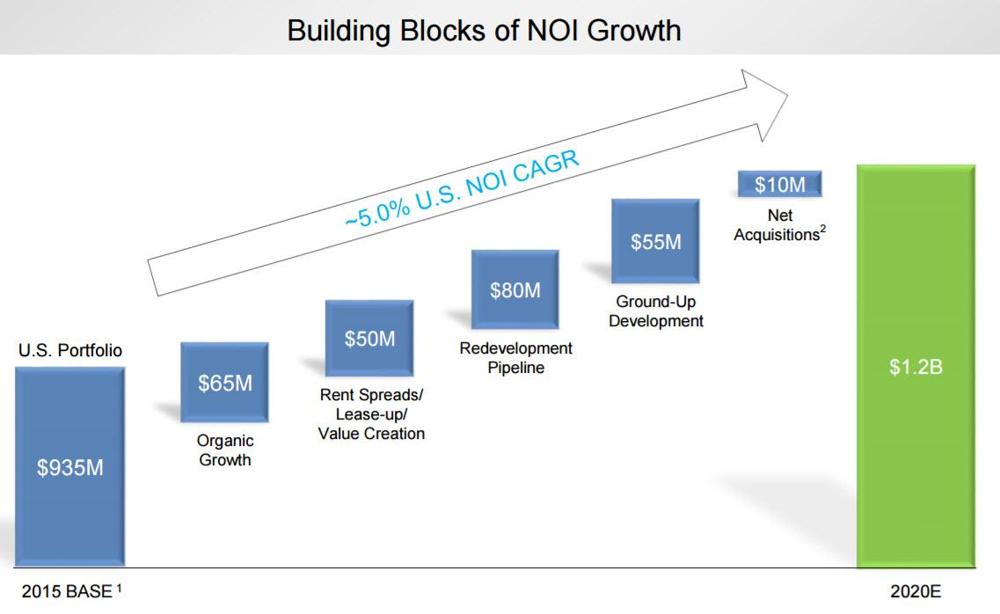 At the end of Q4-16 KIM's overall occupancy was 95.4% (small shop occupancy was 89.9%), the company hopes to achieve 91% "small shop" occupancy by 2020.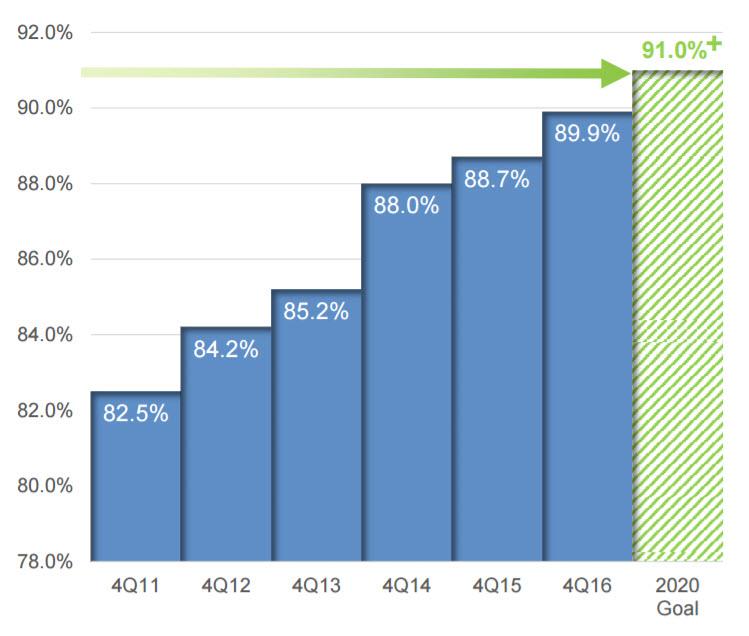 In line with KIM's 2020 vision to create a high-quality major metro focus portfolio that is U.S centric, the company undertook and completed a large disposition program during 2016. KIM was able to divest assets at an opportune time when rates were hovering near all-time lows and demand for open-air centers was at an all-time high.
As a result, KIM has positioned its portfolio to be defensive in nature with long-term leases that have significant mark to market opportunities upon lease expiration or recapture. Each redevelopment takes the advantage of these opportunities to unlock the highest and best use.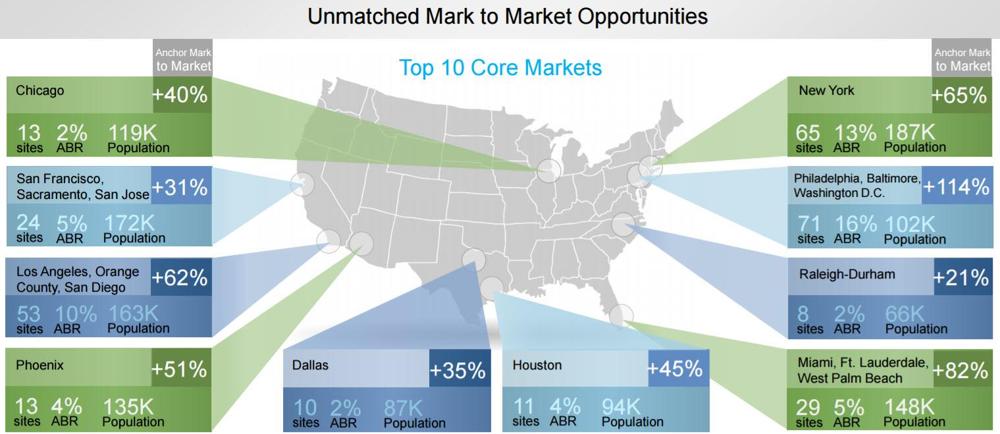 The snapshot below provides a good barometer as to KIM's mark-to-market spreads related to its anchor store leases: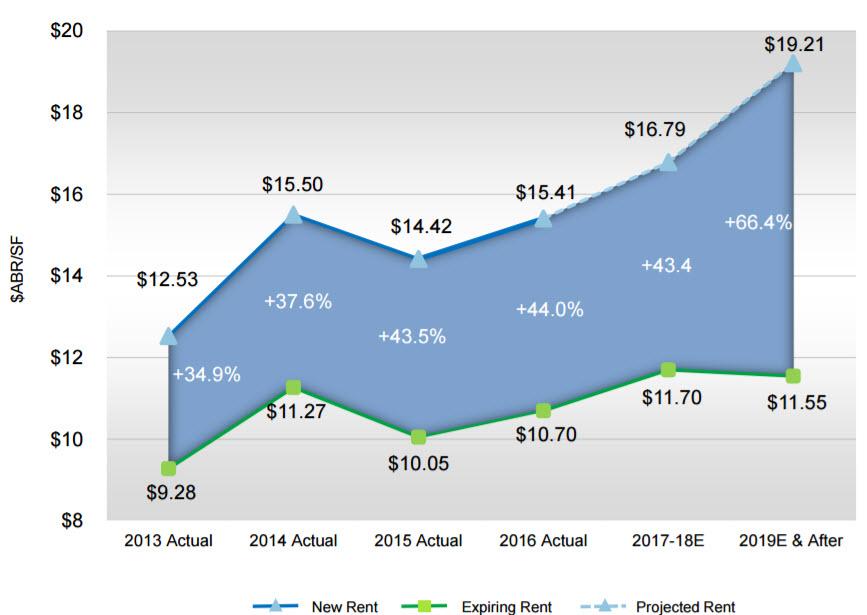 KIM is in the fortunate position of having significant redevelopment and selective ground-up opportunities to help grow its portfolio ($3 B pipeline). KIM targets returns on redevelopment of 8% to 13%.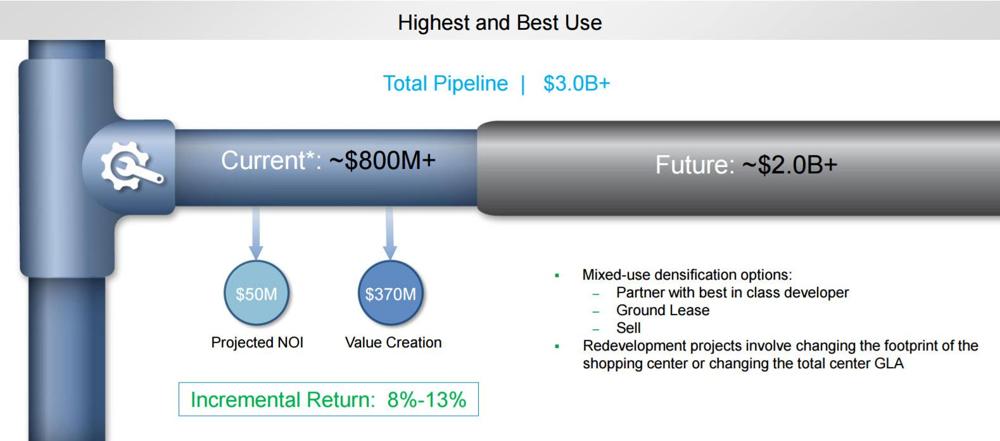 The Fortress Balance Sheet
KIM finished 2016 with consolidated net debt to recurring EBITDA of 5.9x. As part of the 2020 vision, KIM is targeting a range of 5x to 5.5x, as the company continues to pursue an unsecured debt ratings upgrade.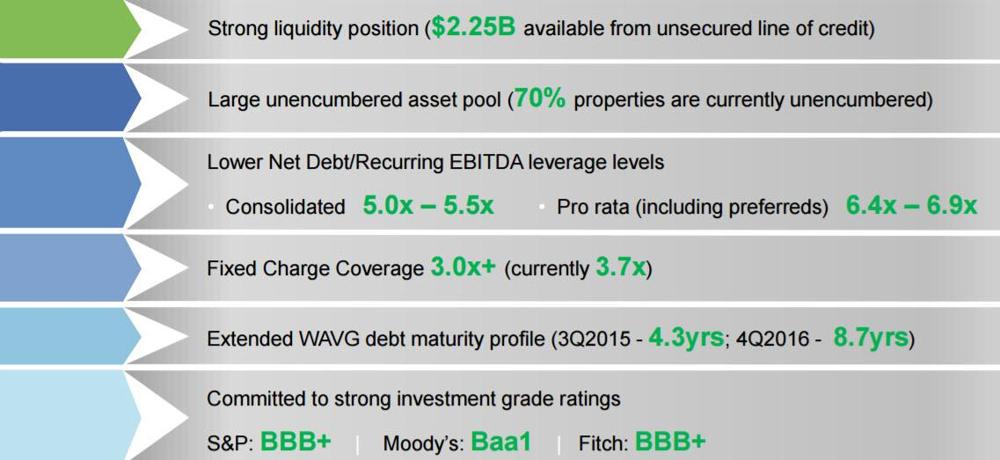 In 2016 KIM was active in the bond market pricing $750 million of unsecured bonds on November 1st at a price of a $400 million, 2.7% bond due in 2024, and a $350 million 4.125% 30-year bond due in 2026.
During 2016, KIM issued a total of $1.4 billion of new unsecured bonds at a weighted average term of 16.3 years.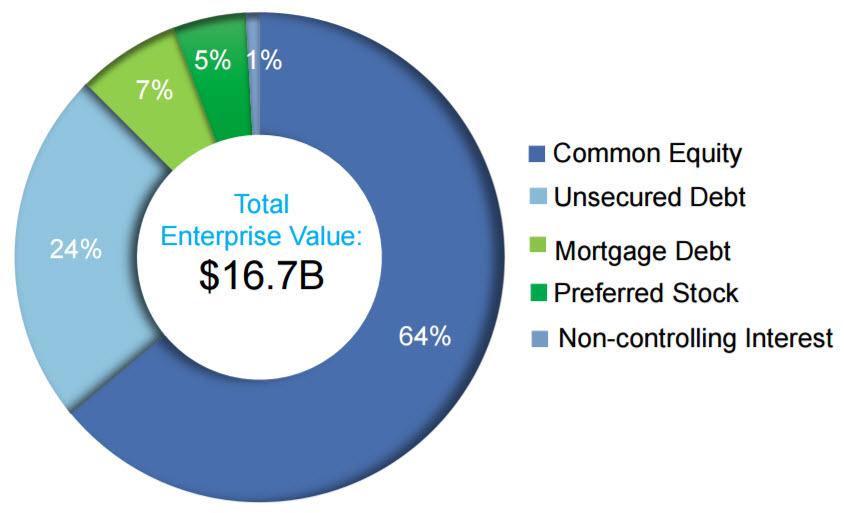 Just over the past year, KIM reduced its consolidated debt by $310 million, and increased its weighted average maturity profile. In addition, the company completed the renewal and expansion of its revolving credit facility, providing additional liquidity.
The new $2.25 billion facility has a final maturity date in 2022 and replaces a $1.75 billion facility, which was due to mature in 2018, further extending the maturity profile.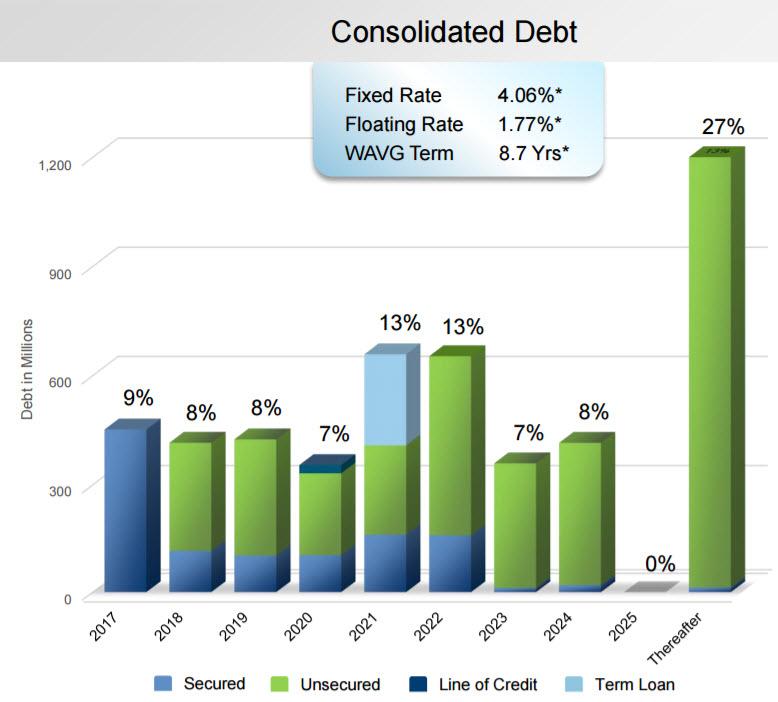 KIM is rated BBB+ (by S&P) and based upon the 2020 Vision, it appears that the company could become an "A rated" REIT during the next year or two. KIM has similar ratings with Moody's and Fitch.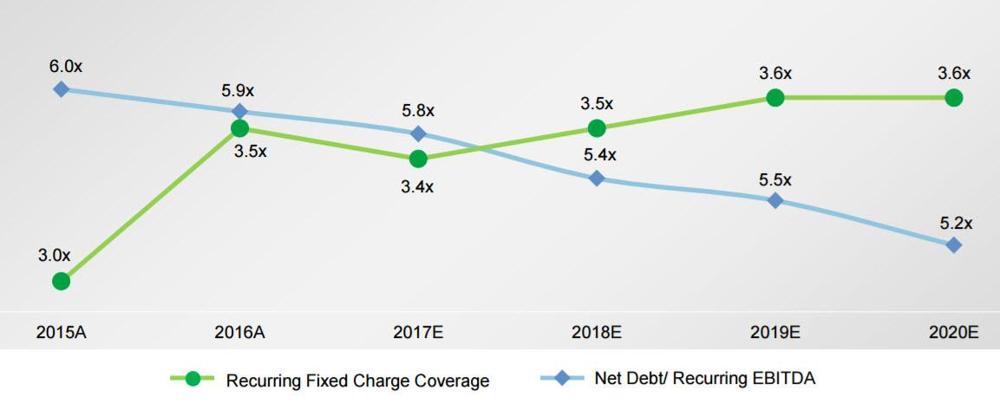 The Latest Results
KIM's NAREIT FFO per share in Q4-16 was $0.38 (Included in NAREIT FFO is $5.3 million of impairment charges related to land parcels sold during the quarter and under contract. These charges were more than offset by gains from the extinguishment of debt related to three properties).
NAREIT FFO per share for the full year came in at $1.32, achieving the upper end of the guidance range. The 2016 full-year results include charges of $0.20 per share related to the third quarter 2016 strategic initiatives to prepay $350 million of Canadian denominated debt, $428 million of US debt, as well as the merger of KIM's taxable REIT subsidiary into the REIT.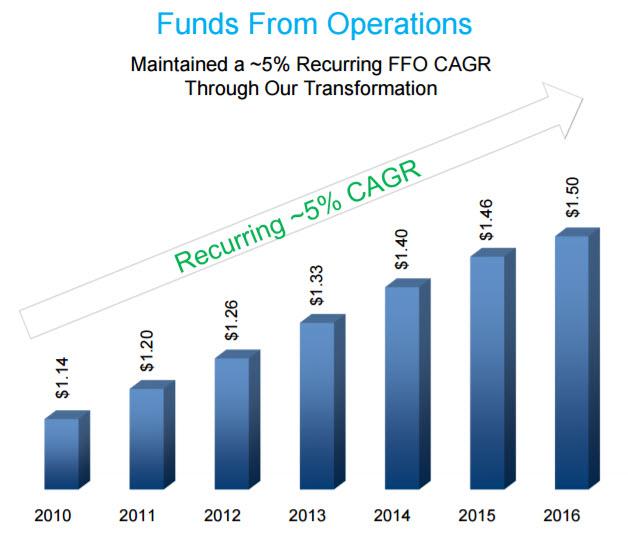 FFO as adjusted or recurring FFO, which excludes transactional income and expenses and non-operating impairments was $0.38 per share for the fourth quarter, $0.01 above the $0.37 per share reported last year. Overall, the fourth quarter FFO as adjusted grew to a $160.4 million from a $153.1 million in 2015, an increase of 4.8%.
KIM's full-year 2016 FFO as adjusted was $1.50 per share, the midpoint of the guidance range and an increase of 2.7% from the $1.46 per share reported in 2015. KIM achieved this growth despite the $7 million negative impact from the Sports Authority bankruptcy, and the $73 million dilutive impact from the disposition activity.
KIM's portfolio operating metrics remain strong, with an occupancy level of 95.4%, up 30 basis points sequentially, including anchor occupancy at 97.3%. The remaining vacant Sports Authority boxes had a negative impact on occupancy of 75 basis points.
Leasing spreads were strong for the fourth quarter delivering 36.5% for new leases, 7.1% renewals and options, and 14.8% combined. For the full-year, combined leasing spreads were solid 12%.

Same-site NOI growth was 2.8% for the fourth quarter driven by minimum rent increases of 180 basis points and improved recoveries of 90 basis points, with redevelopment sites contributing 80 basis points. The Sports Authority bankruptcy had a negative impact of 110 basis points on those figures.
For the full-year, same-site NOI growth was 2.8% and included 70 basis points from redevelopment sites, and a 70 basis point impact from the Sports Authority bankruptcy.
As evidenced below, KIM has consistently increased its dividend since 2010: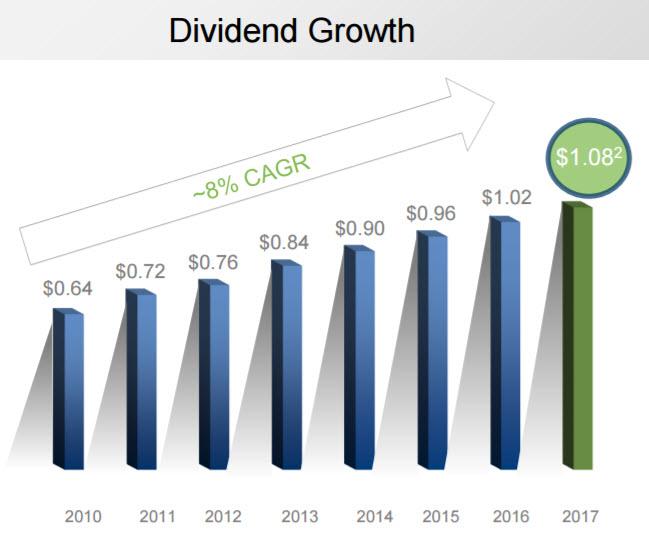 The Inside Scoop On Kimco Realty
As I referenced above, picking REITs is a lot like picking ice cream. It's important to sample each flavor to insure that you don't get fooled by a sugar-coated imposter.
After carefully reviewing Kimco's recipe, I can conclude by saying that this REIT is the "real deal".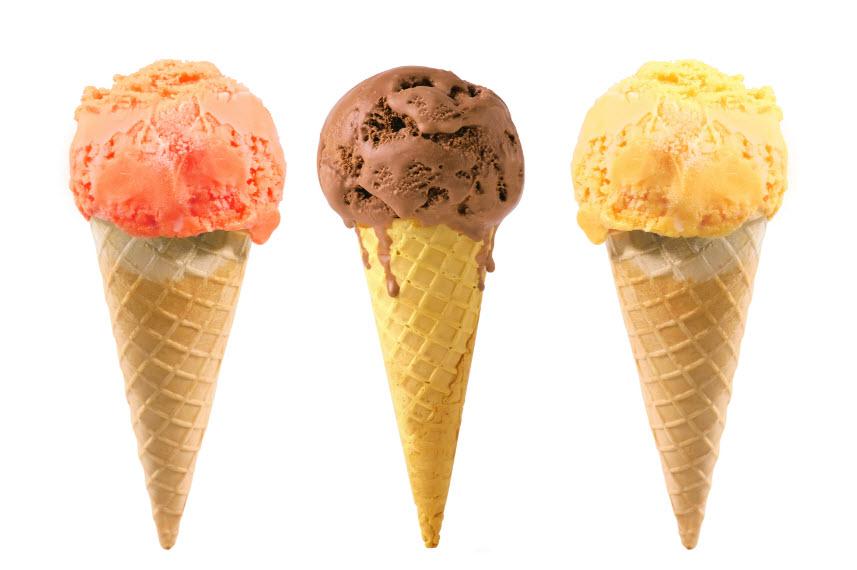 KIM's guidance for 2017 is a range of a $1.50 to a $1.54 per share with a midpoint of a $1.52. The guidance range takes into account the dilution of $22 million or $0.05 per share associated with the transformation of the portfolio from the 2016 U.S and Canadian dispositions.
For 2017, the guidance assumes that KIM will be a modest net acquirer, as it relates to same-site NOI growth, the guidance includes a range of 2% to 3%, which incorporates a downtime related to the lease-up of the vacant Sports Authority boxes and an appropriate credit loss reserve (KIM is monitoring the current retail environment).

The same-site guidance also includes a positive contribution from redevelopments of 20 to 40 basis points, which is lower than the 70 basis point contribution in 2016 (as KIM anticipates an acceleration in projects coming offline during the year). KIM sees significant redevelopment and development projects as an important contributor to growth in 2018 and beyond.

Now let's examine KIM's dividend yield, compared with the peer group:

Remember that KIM is one of the few BBB+ rated shopping center REITs (REG is rated BBB+ and FRT is rated A-). Also, KIM has grown its dividend by an average of 8% since 2010 (few REITs have done that).

Now let's examine KIM's P/FFO multiple, compared with the peer group:

Again, when comparing KIM's balance sheet, dividend growth history, and high-quality portfolio, none of the REITs (to the right) can compare. KIM is clearly trading at a discount to its closest peers (FRT 23.4x, AKR 20.7x, REG 19.9x, and ROIC 19.3x). The average P/FFO multiple for these 4 peers is 20x and KIM is trading at 14.7x.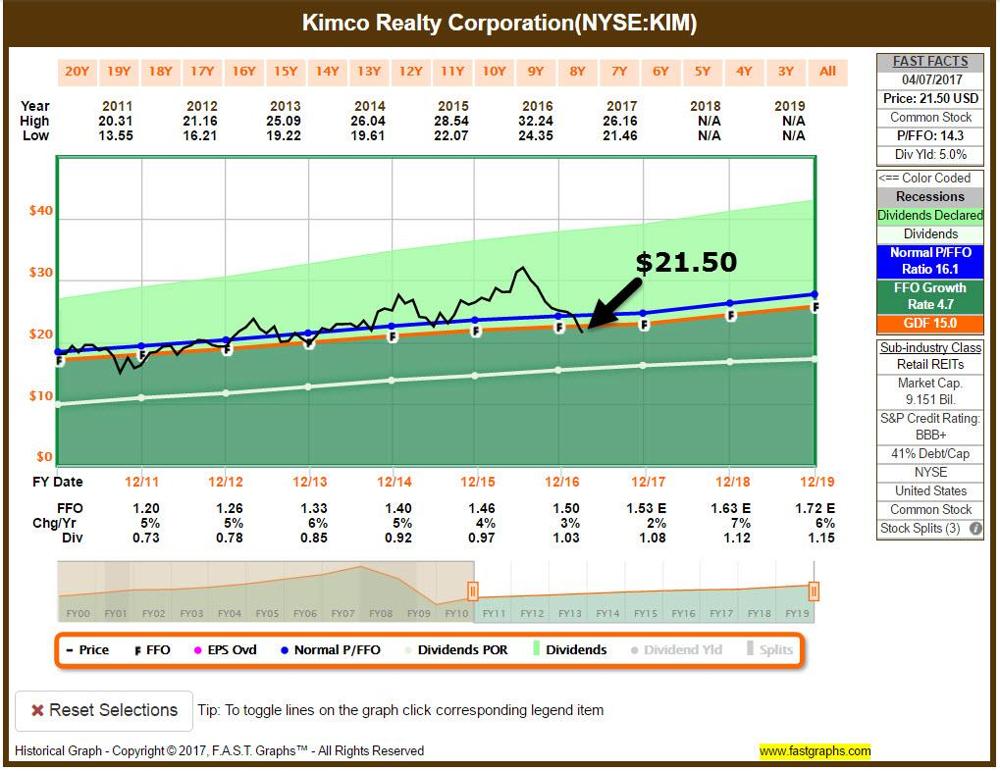 Last week I was attending a REIT conference in NYC (the NYU conference) and I was listening to one REIT CEO discuss the state of retail. He made a good point as it relates to the recent bankruptcies and media noise related to the health of the brick-and-mortar sector.
He said that most all of the news (i.e. bankruptcy of Payless, store closures at JC Penney, etc…) has been known for quite some time. He said that most REITs have been preparing for the news and that Mr. Market is the only one surprised by the headlines.
The fact that interest rates are increasing suggests that retailers will benefit from growth in the U.S. economy. While there will be continued pressure n certain sectors, KIM has spent years preparing for the changes, and the balance sheet is now in the best shape ever.
Given the more recent price decline (and subsequent mis-pricing), I am upgrading KIM from a BUY to a STRONG BUY. As illustrated below, I am targeting KIM to move in-line with the closer peers (FRT, AKR, etc..) and generate annual returns in excess of 18%. As Warren Buffett has said,
Your premium brand had better be delivering something special, or it's not going to get the business.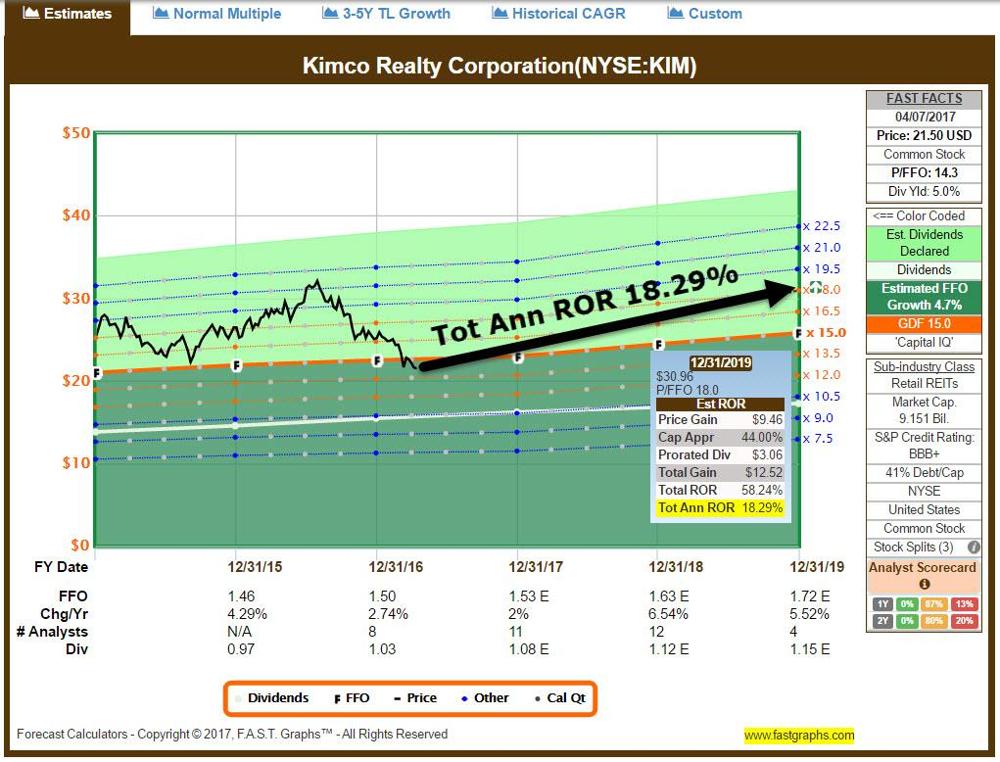 To learn more about my "Rhino Ratings" check out The REIT Beat where you can find all of the SWANs, including RHINO Ratings for over 140 REITs.
Author Note: Brad Thomas is a Wall Street writer, and that means he is not always right with his predictions or recommendations. That also applies to his grammar. Please excuse any typos, and be assured that he will do his best to correct any errors, if they are overlooked.
Finally, this article is free, and the sole purpose for writing it is to assist with research, while also providing a forum for second-level thinking. If you have not followed him, please take five seconds and click his name above (top of the page).
Sources: F.A.S.T. Graphs and KIM Investor Presentation.
REITs mentioned: (WHLR), (WSR), (UBA),(ROIC), (EQY), (FRT), (RPAI), (REG), (WRI), (RPT), (DDR), (WPG), (BRX), (UE), (AKR), and (KRG).
Find more on these REITs:
Urstadt Biddle (April 4, 2017)
Whitestone REIT (March 24, 2017)
Retail Opportunity Investment Corp. (April 25, 2016)
Federal Realty (February 21, 2017)
Washington Prime (March 16, 2017)
Disclosure: I am/we are long APTS, ARI, BXMT, CCI, CCP, CHCT, CLDT, CONE, CORR, CUBE, DLR, DOC, EXR, FPI, GPT, HASI, HTA, KIM, LADR, LTC, LXP, O, OHI, PEB, QTS, ROIC, SKT, SNR, SPG, STAG, STOR, STWD, WPC.
I wrote this article myself, and it expresses my own opinions. I am not receiving compensation for it (other than from Seeking Alpha). I have no business relationship with any company whose stock is mentioned in this article.