What A 'HUGE' Bargain At Tanger
NoahBlacker
Brad Thomas wrote this article and it has appeared previously on Seeking Alpha.
Summary
Tanger has no exposure to department stores.
Tanger is a premium brand on Sale.
What a 'HUGE' bargain at Tanger.
Simon says, go shopping at Tanger!
Tanger Factory Outlets (SKT) lowered earnings guidance on the unpredictable retail environment, and yesterday shares took a hit. The "pure play" Outlet Center REIT reported first-quarter earnings on Monday that largely fell in line with analysts' expectations, but the stock tumbled on management's lowering of future guidance.
The stock reached a 52-week intraday low on Tuesday, hitting $29.52 per share and closing the day down more than 7 percent. KeyBanc Capital Markets analyst Todd Thomas wrote in a note to clients Monday:
We think it is entirely possible that the Company's streak of positive same-store growth (54 quarters) could come to an end this year. While some near-term disruption is due to proactive remerchandising initiatives, store closings and the challenging retail environment are taking a toll on SKT's outlet portfolio, which has disproportionate exposure to apparel retailers.
On Tuesday's earnings conference call, Tanger Chief Executive Steve Tanger had a few things to say about the struggling retail landscape:
We believe the current retail environment, characterized by bankruptcies and store closure announcements, is a direct result of underperforming retailers not having invested in their products, their store experience or their balance sheets…
Overall, though, Tanger's first-quarter results were disappointing, Thomas summarized ahead of the REIT's earnings conference call, especially as the company's leasing activity has "softened meaningfully."
"Given the current market condition, we feel the highest return to our shareholders is to focus our leasing efforts on filling vacant space in our existing portfolio, which we believe is the fastest way to grow cash flow and shareholder value," COO Thomas McDonough said on the conference call with analysts and investors. "Two areas of recent leasing focus have been food and the home products category."
Wait a Minute, Tanger Has No Exposure to Department Stores
Tanger is not a traditional Mall REIT, instead, the North Carolina-based company owns 44 outlet centers in the U.S. (22 States) and Canada. The company commenced operations over 34 years ago in Burlington, NC when the outlet industry was unknown.
This original concept was aimed to connect bargain-hunting consumers with brand-name manufacturers and Tanger's pioneering platform was the spark for the flaming retail sector that shoppers commonly refer to as the outlet center sector.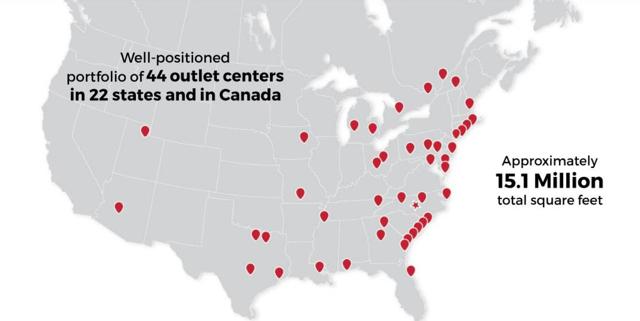 As the retail industry evolved, Tanger was the first to grasp the retail distribution channel in which goods could enjoy a longer life cycle than the traditional clearance concept.
Uncommon to malls that are costly to build (upwards of $100 million) and with significantly higher operating costs, Tanger set out to create a differentiated retail model that could provide both scale and low-price brand recognition, aimed to meet the demands of the bargain-hunting consumer. Tanger is the ONLY "pure-play" outlet center REIT, and as you can see below, there are NO department stores in the portfolio: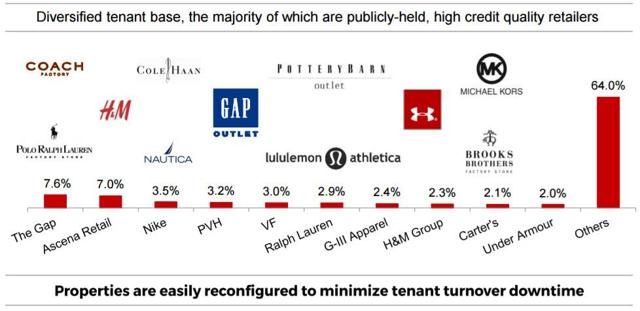 A PremiumBrand on Sale
When I think about "Tanger," I think about a stalwart REIT that has performed extraordinarily well through various economic cycles. Tanger's premium brand can be best observed in periods of uncertainty… and it was evident during the recent economic downturn.
Unlike many other retail distribution channels, outlets benefited during the recession. Consumers did not have as much disposable income, but still wanted to purchase quality products from brands and designers that they knew and trusted.
Tanger has become the "go-to" outlet landlord, and over the years, the company has developed trusted relationships in the outlet sector and the efficiency of driving high-quality tenant relationships across the portfolio, maximizing expense efficiencies by leveraging scale and more sophisticated risk management across markets.
One key competitive advantage that Tanger enjoys is the company's ability to leverage its track record and brand by scaling the business model. The outlet industry is small and Tanger estimates that there is less than 70 million square feet of quality outlet space, which is smaller than the retail space in the city of Chicago.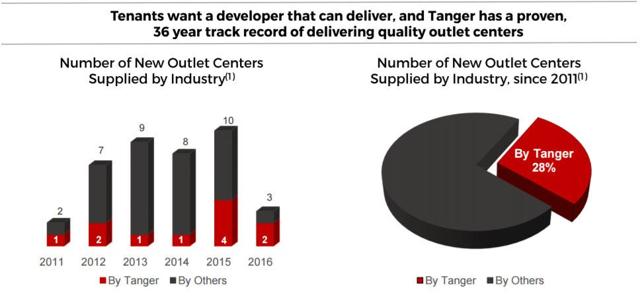 Unlike the traditional Malls, Tanger enjoys a more effective moat-like model that allows the company to grow the portfolio without the risks associated with the struggling department store chains. Many of the Mall REITs have extended into the outlet sector and Tanger has 3 JV deals with Simon Property Group (SPG) - more on that later.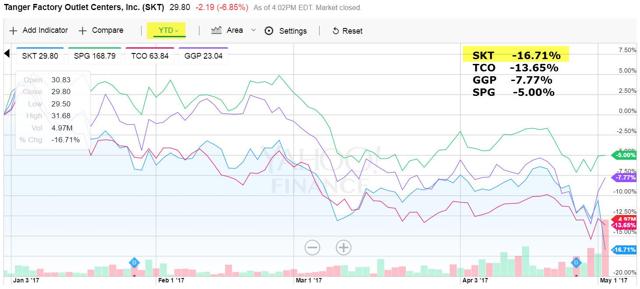 Fortress Balance Sheet
As of Q1-17, Tanger's market capitalization was $5 billion and leverage remained low with a debt-to-total market capitalization ratio at 34%. Last year, Tanger had the foresight to convert $525 million of floating rate debt to fixed interest rates (although higher interest spend is expected to have a diluted impact on 2017 FFO of about $0.05 per share or about 2%).
Tanger has always maintained discipline within the balance sheet, as evidenced by the company's floating rate exposure of only 12% of total debt (or 4% of total enterprise value).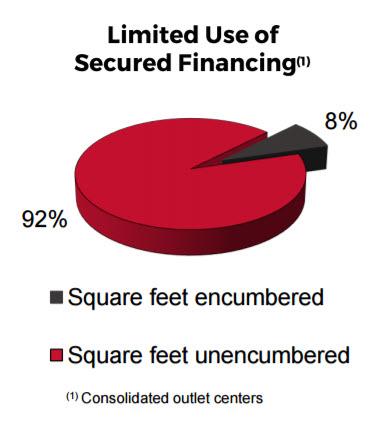 The average term to maturity for Tanger's outstanding debt was 5.9 years as of Q1-17, and the company has no significant maturities until June of 2020.
Approximately 92% of the square footage in the consolidated portfolio was not encumbered by mortgages.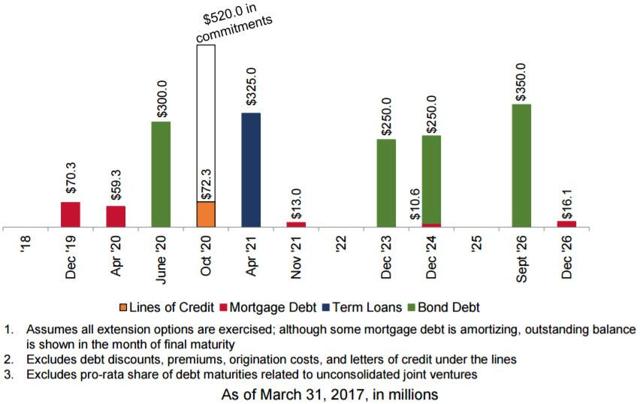 Tanger maintains significant liquidity with about $72 million outstanding under the unsecured lines of credit, leaving 86% unused capacity or approximately $448 million. Tanger also maintained a strong interest coverage ratio during the first quarter of 4.22x.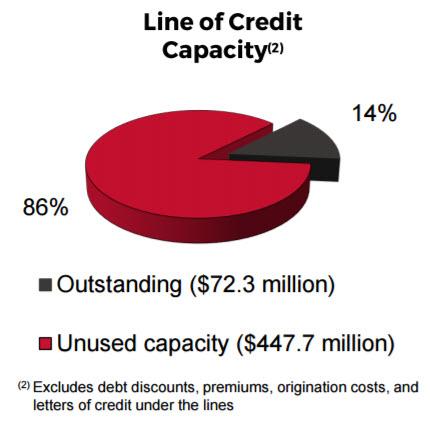 Tanger has solid coverage ratios and leverage ratios with limited floating rate debt. The company is rated BBB+ stable with S&P and Baa1 stable with Moody's.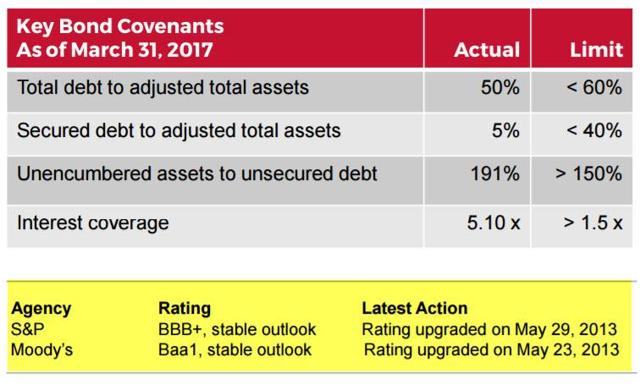 Well Positionedfor Growth
As referenced above, Tanger has no department store exposure, and the company's balance sheet is primed for growth. From an external growth perspective, Tanger has an active pipeline of deals including recently completed projects in Columbus, OH (opened June 24, 2016) and Daytona, FL (opened November 18, 2016).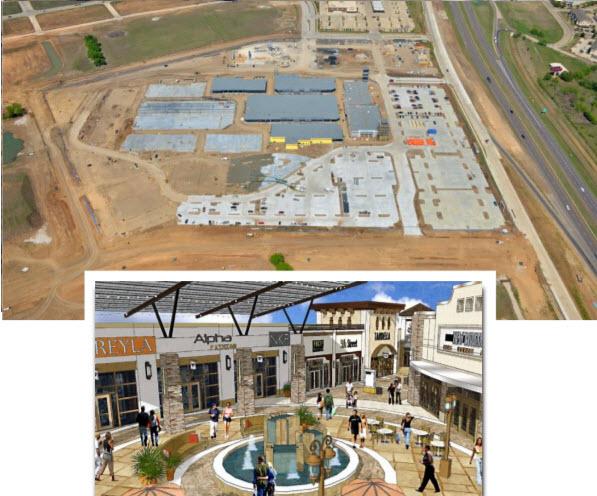 Fort Worth, TX
Tanger has projects under construction in Fort Worth, TX (projected opening late October 2017) and a major expansion in Lancaster, PA (projected opening September 2017).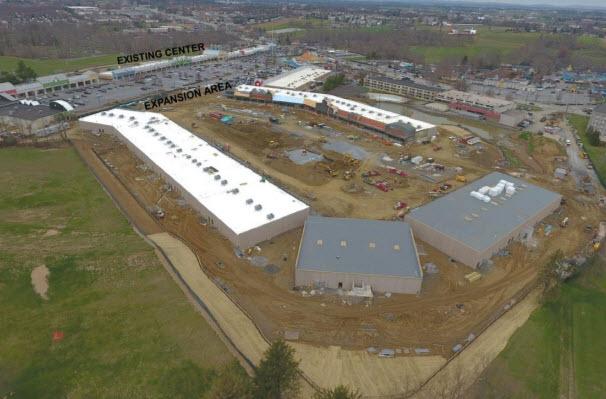 Lancaster, PA
Tenant demand for outlet space continues for developers with access to capital and the expertise to deliver new outlet projects.
Note: I will be attending the annual ReCon (Retail Conference) in Las Vegas in a few days and I will be providing interviews and updates on many Retail REITs including Tanger.
Tanger prefers to fund growth using unsecured financing with limited secured financing (to maintain financial flexibility). Tanger's longstanding disciplined development approach remains intact, and the company's underwriting practice requires achievement of 60% pre-leasing and receipt of all non-appealable permits prior to acquisition of land or commencement of construction. (Tanger does not build on a speculative basis).
During the first quarter, Tanger elected to terminate a purchase option for a pre-development stage project near Detroit, Michigan, which resulted in a $627,000 charge for abandoned predevelopment costs.
Tanger did not deliver any new developments between October 2008 and November 2010, and since that time, the company has delivered ten new developments, acquired seven existing outlet centers and sold eight non-core centers.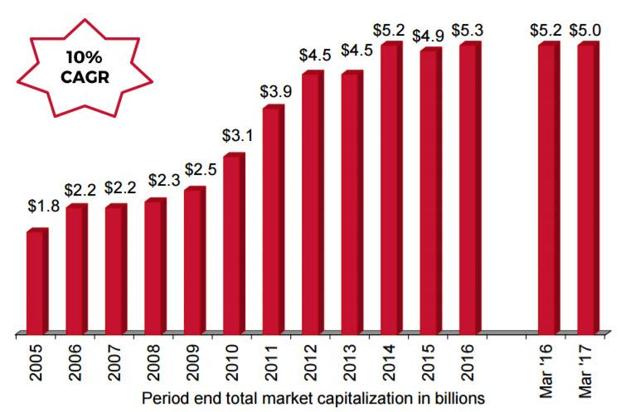 A Choppy Market, ButTanger is a Battleship
On the Q1-17 earnings call Steve Tanger explained:
No other retail venue provides the combination of social experience with the world's best brand names cutting out the middleman and selling direct to the consumer at value prices every day. Our occupancy cost ratio remains the lowest in the mall regroup.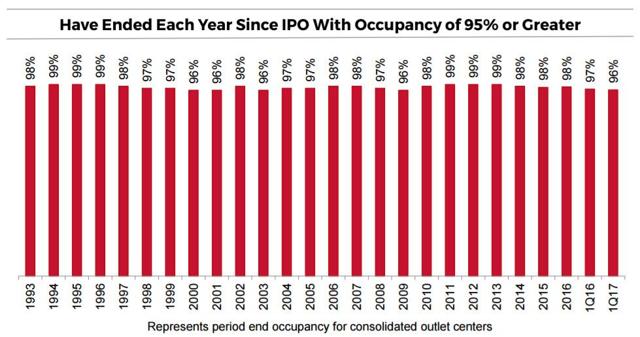 He went on to say:
Outlets remain an important and profitable channel of distribution for our tenant partners. We believe the popularity of outlets with consumers and retailers along with our fortress balance sheet and the strength of our core portfolio position us to whether the current headwinds in the retail environment as we have in similar parts of the cycle for the past 36 years.
Tanger's Q1-17 AFFO per share was $0.58 and in-line with consensus estimates and up 3.6% compared to Q4-16. As evidenced below, Tanger has maintained a very consistent record of AFFO/share growth:

Tanger opted to revise its net income per share guidance and FFO guidance by $0.04. The reduction is a function of lower same center NOI and the right to offer pre-development costs for the Detroit Project, partially offset by approximately $2.3 million of lease termination fees ($1.1 million of which the company is expected to be recognized in the second quarter).
This reduced guidance is the primary spark fueling the selloff yesterday, but I consider the revisions consistent with Tanger's conservative risk management practices. Tanger management said on the earnings call that the company's "initial guidance underestimated the impact of longer downtime, unexpected store closings and lease termination fees."
Tanger now expects its AFFO and FFO per share to be between $2.40 and $2.45, compared to a previous forecast of $2.41 and $2.47.
Note: I spoke with SteveTanger briefly bytelephone after the earnings call and he said that the revised guidance was due to the company's "conservative" management policies.
Also, Tanger commented on the earnings call:
We've been through cycles like this before as I mentioned. We are not going to build on speculation. We're very pleased that our disciplined approach to capital allocation has worked. Our balance sheet is a fortress and we're going to maintain the same strategies that we've done before.
One of the most important elements for Tanger's battles-tested brand is the company's dividend history. As illustrated below, Tanger has increased its dividend each year and paid an all-cash dividend every quarter since its IPO: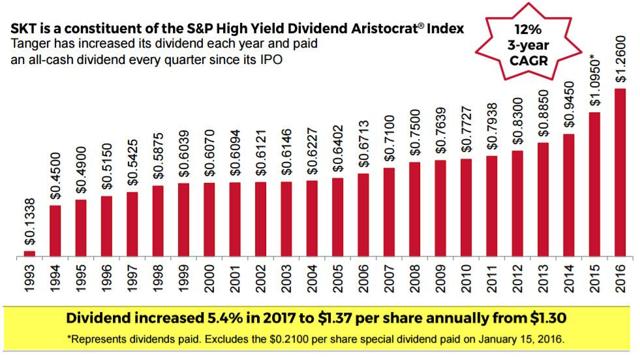 In April, Tanger raised the dividend by 5.4% on an annualized basis. This was the 24th consecutive year the company has increased the dividend for every year since becoming a public company in May of 1993. The current annualized dividend of $1.37 per share is more than double the 2006 dividend which was $0.68 per share on a split-adjusted basis.
Over the last three years, Tanger's dividend has grown at a 30% compounded annual growth rate. On May 15, 2017, Tanger will pay its 96th consecutive quarterly dividend of $.34225 per share to holders of record on April 28, 2017. Tanger's dividend is well covered. In 2016, the FFO exceeded the dividend by over $100 million.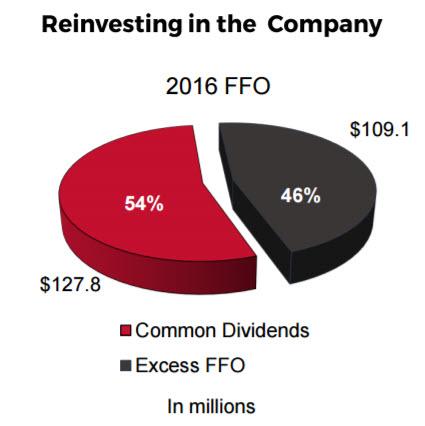 What A 'HUGE' Bargain at Tanger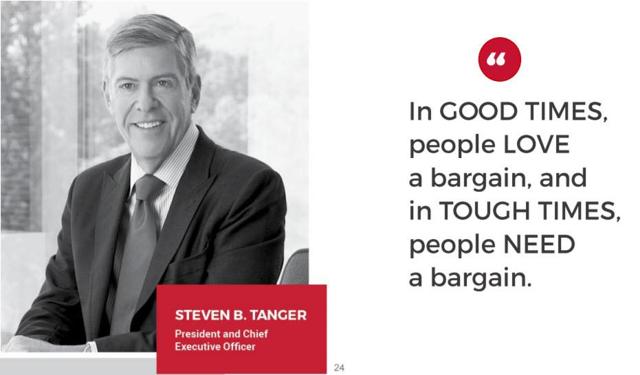 Tanger Factory Outlets is known for bargains, and I can sniff one now…shares are now trading at a massive discount:
Tanger has not seen this price since March 2012: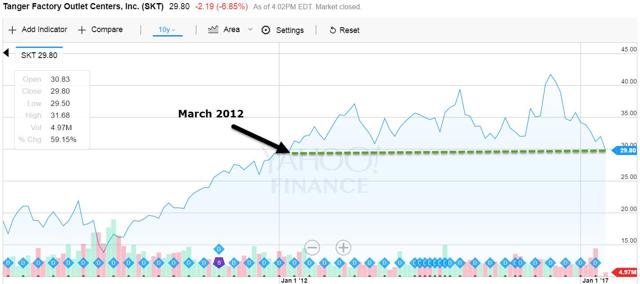 As I alluded to above, Tanger owns no Malls and the company leases to no department store chains. The outlet center is a growth sector and while certain retail tenants are demonstrating weakness, Tanger has "invested over 3$00 million of (its) own capital in the past ten years upgrading the look and feel of (its) centers. As Tom McDonough, Tanger's COO explains:
We are starting to see some of the top-fashion brands like Coach and Polo introducing new store designs that are leading to a dramatic increases in sales.
In addition, as I mull over the latest earnings call, I am reminded that Tanger is still a wide moat REIT that has grown into a highly visible outlet center brand. The portfolio is coast-to-coast and the company's dividend growth record is exceptional. This FAST Graph is simply Mona Lisa!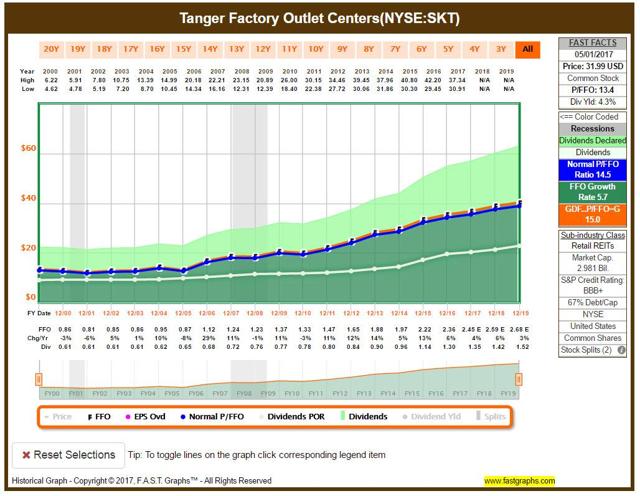 Now let me cut to the chase, I'm already a shareholder in Tanger, and I'm buying more shares. This REIT is significantly undervalued, and although there will be continued choppiness in the retail sector, the upside is HUUUUUGE.
ONE POLITICAL COMMENT: Yes, Trump'sproposed Tax Plan also serves as a catalyst, and I believe that small businesses, that accounts for ~60% of all businesses, will have a HUUUUGE impact as reduced taxes means higher corporate profits, that ultimately drive retail sales. Although I'm biased (I did write the "Trump book" and I voted for him), I can honestly say that Trump's tax plan will be his signature policy, and the impact will be far-reaching.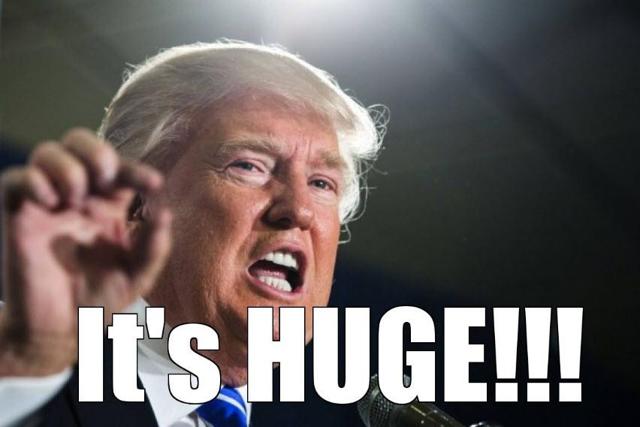 Bottom Line: Tanger is a STRONG BUY. In addition, I would not be surprised to see SPG make a move, given the deep discount with SKT shares. SPG has 3 JV deals on the books with SKT and there are substantial benefits for SPG to acquire a premium brand at a discount.
Simon Says, Go Shopping at Tanger! REIT Analyst, Brad Thomas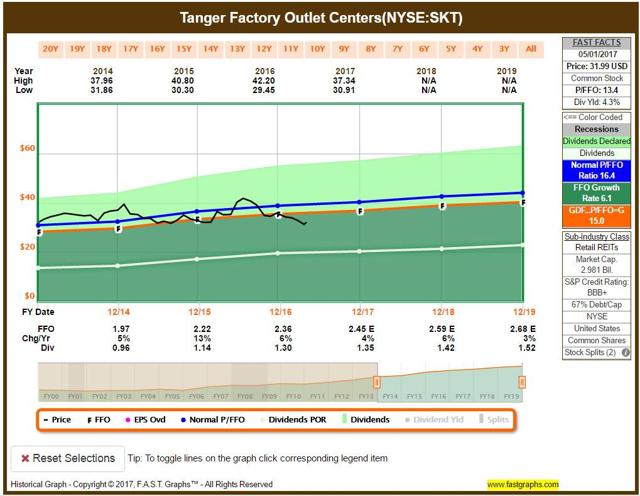 To get a first look at my upcoming article – The Evolution of My Durable Income Portfolio – CLICK HERE. I also include all of my Rhino REIT Ratings in my marketplace product, REIT Beat.
Author Note: Brad Thomas is a Wall Street writer, and that means he is not always rightwith his predictions or recommendations. That also applies to his grammar. Please excuse any typos, and be assured that he will do his best to correct any errors, if they are overlooked.
Finally, this article is free, and the sole purpose for writing it is to assist with research, while also providing a forum for second-level thinking. If you have not followed him, please take five seconds and click his name above (top of the page).
More Reading Ideas: Warren Buffett Once Owned Tanger
Source: FAST Graphs and SKT Investor Presentation (Q1-17).
Disclosure: I am/we are long APTS, ARI, BXMT, CCI, CCP, CHCT, CLDT, CONE, CORR, CUBE, DLR, DOC, EXR, FPI, GMRE, GPT, HASI, HTA, KIM, LADR, LTC, LXP, O, OHI, PEB, PK, QTS, ROIC, SKT, SNR, SPG, STAG, TCO, UBA, WPC.
I wrote this article myself, and it expresses my own opinions. I am not receiving compensation for it (other than from Seeking Alpha). I have no business relationship with any company whose stock is mentioned in this article.