*Brad Thomas wrote this article and it has appeared previously on…
NoahBlacker
Brad Thomas wrote this article and it has appeared previously on Seeking Alpha.
Summary
Over the years, Realty Income has evolved into a massive Net Lease REIT with 4,980 properties located in 49 states and Puerto Rico.
All triple-net REITs grow earnings by utilizing spread investing.
It all started as one Taco Bell and turned into a SWAN.
Note: Most of the slides in this article were presented at Realty Income's shareholder meeting this week.
According to Wikipedia, Realty Income (O) was founded in 1969 by William E. Clark and Evelyn J. Clark. The couple acquired their first free-standing Net Lease property, a Taco Bell restaurant, in early 1970.
Initially, they focused on acquiring properties from their development company which engaged in land acquisition, construction, leasing, and sales of fast food restaurant properties.
When they founded the company in 1969, the Clarks, who are now retired in Dana Point, bought stores that required real estate to function, such as restaurants, fitness clubs and movie theaters, all companies that need a store front to exist.
They bought the land with cash and then leased them back to their operators under long-term deals that ensured a steady 8 to 8.5% rate of return, but left the operators responsible for insurance, maintenance and taxes.
Over the years, Realty Income has evolved into a massive Net Lease REIT with 4,980 properties located in 49 states and Puerto Rico.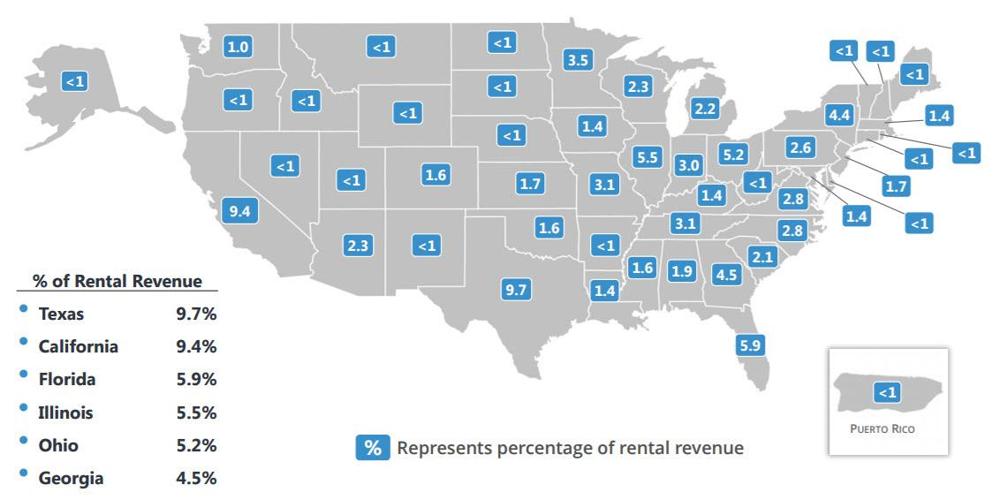 It's hard to fathom how much Realty Income has grown over the years, from one Taco Bell site to over 4,900 properties. The company now has incredible scale, well-diversified by tenant, industry, geography, and to a certain extent, property type.
No tenant represents more than 6.8% of revenue as Realty Income has 250 commercial tenants, 45% are investment-grade rated (including 9 of the top 20 tenants):

Realty Income has extended its reach outside of Taco Bell (fast food sector) as the company now has investments in 47 industries - no industry represents more than 11% of revenue.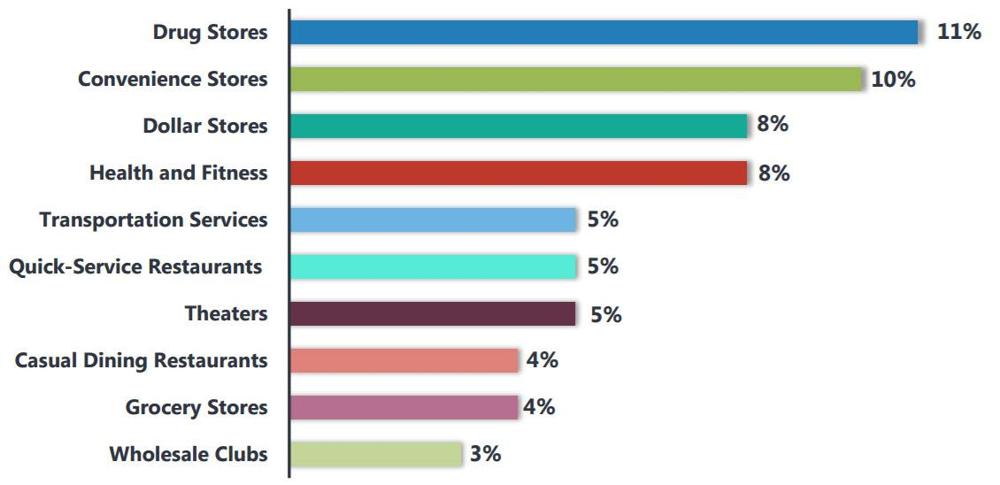 Retail remains the predominant property type (79.5%). Non-retail was 2% in 2009 and 20% in 2017. Retail and industrial properties remain our principal focus.
Walgreens (NASDAQ:WBA) remains Realty Income's largest tenant (at 6.8% of rental revenue) and drugstores remain the largest industry (at 11.1% of the rental revenue).
Realty Income remains comfortable with the momentum in the drugstore industry and continues to view the exposure favorably given the industry's attractive demographic tailwinds, nondiscretionary nature and continued growth from in-store pharmacy pickup.
Additionally, Walgreens and CVS (the top two drugstore tenants) have generated 15 consecutive quarters of positive same-store pharmacy sales growth. During the first quarter, Realty Income added Kroger (NYSE:KR) to its top 20 tenants, representing 1.2% of annualized rental revenue.
The store level performance of Realty Income's retail tenants also remains sound. The four-wall weighted average rent coverage ratio for the retail properties remains 2.8x and the median is 2.7x.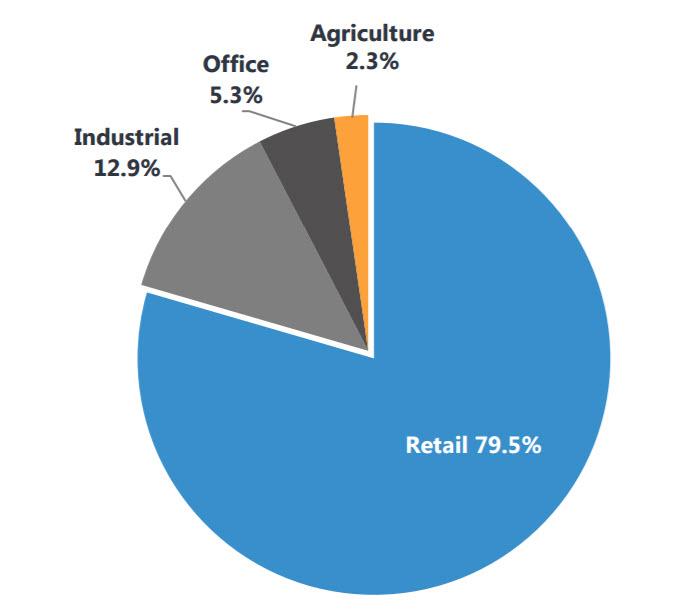 Realty Income has demonstrated a very successful history of generating reliable and predictable cash flow from multiple sources. The company has become the "bond proxy" in the Net Lease REIT sector, primarily as a result of the attractive industries relative to the economic environment.
The Retail-focused investments are principally businesses with service, non-discretionary, and/or low price point orientation. The Non-Retail-focused investments are Fortune 1000, primarily investment-grade rated companies.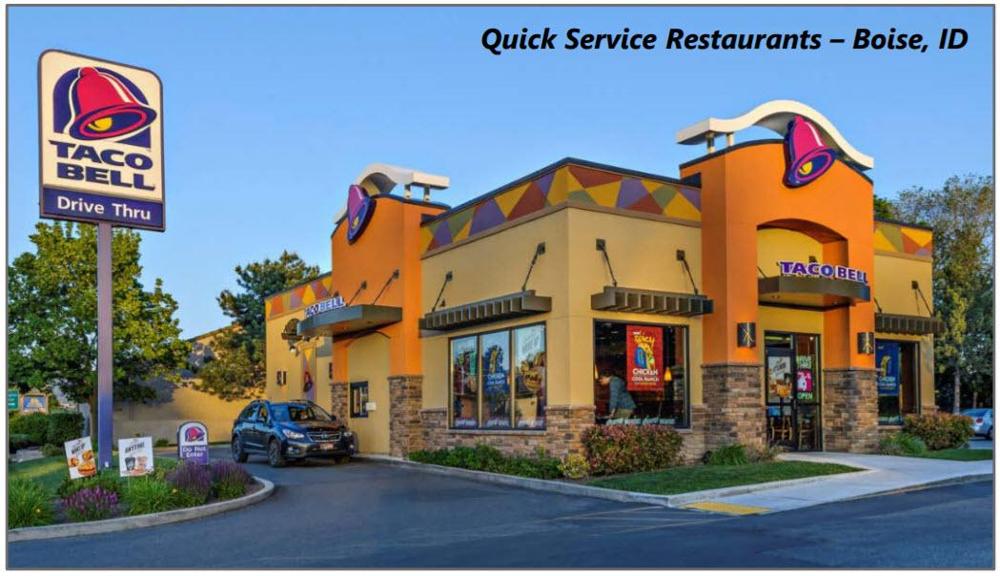 The Net Lease Proxy
All triple-net REITs grow earnings by utilizing spread investing. This simple formula is described as follows:
Cap Rate - Cost of Capital = Spread
Accordingly, using this example, assume a triple-net REIT acquires standalone buildings at a 7% cap rate, and then, after subtracting the cost of capital (~5%), arrives at a spread (that's the profit margin) of ~2% (or 200 bps).
Over the years, I have been reading many articles on Seeking Alpha and other investing websites, and I'm amazed that most analysts miss the "most important thing" when it comes to net lease investing. Let's consider the equity details related to spread investing.
To arrive at the earnings yield, one must divide the P/FFO ratio into 100. For example, a P/FFO of 21x divided by 100 is a 4.7% earnings yield. Since assuming Wall Street charges around 6.5% for equity, the earnings yield after issuance costs is .935 (100% - 6.5% = 93.5%). So, the Nominal Cost of Equity is arrived at by dividing the 4.7% earnings yield by .935, or 5%.
With a 7% cap rate (on a purchase), the 5% NCE is equal to 2.0%. Thus, on a $100-million investment, there is $2 million in new profits for all shareholders. The same thing at 25x P/FFO equals a 4.27% NCE that translates into around $2.73 million (in profits) on a $100-million acquisition.
So, very simply, the higher the multiple, the lower the costs of capital, and that translates into BIGGER MARGINS.
AFFO yield = Annualized 2017 estimated AFFO ($3.06) divided by $53.76 stock price = 5.69%
Estimated cost of 10-year debt = 3.75%
Nominal Cost of Free Cash Flow = 0%
66% equity = 5.69% (0.66) + 3.75% = 3.76% 34% debt = 3.76% (.33) =1.28%
WACC = 3.76% +1.28 = 5.04% (In reality, it's actually lower than that, because O uses free cash flow instead of equity. Cash has a 0% nominal cost.)*
Realty Income's investment spreads relative to its weighted average cost of capital remained healthy in the first quarter, averaging 195 bps, which were well above the historical averages. Realty Income defined investment spreads as initial cash yield less the nominal first year weighted average cost of capital.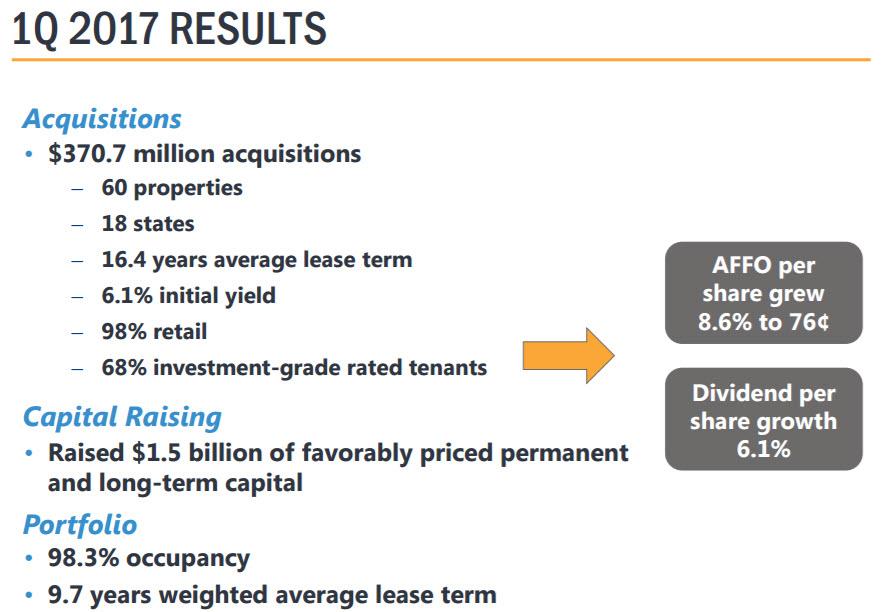 Regarding dispositions, during the first quarter, Realty Income sold 14 properties for net proceeds of $31.2 million at a net cash cap rate of 8.3% unrealized and unlevered IRR of 9.8%.
On the latest earnings call, the company said that it remains confident in reaching its 2017 acquisition target of approximately $1 billion and disposition volume between $75 million and $100 million.
In the first quarter, Realty Income issued approximately $800 million in common equity at an average price to investors of approximately $62 per share (trading at $53.76 now).
Realty Income has the highest credit rating in the net lease sector, the company issued $700 million in fixed rate unsecured debt with a weighted average term of 18.3 years and a yield of 4.1%.
The company's credit spreads remain among the lowest in the REIT industry and leverage continues to decline with net debt to total market cap of approximately 26% and debt to EBITDA of approximately 5.5x. Realty Income currently has approximately $1.5 billion available on its $2 billion line of credit. This provides ample liquidity and flexibility as the company continues to grow.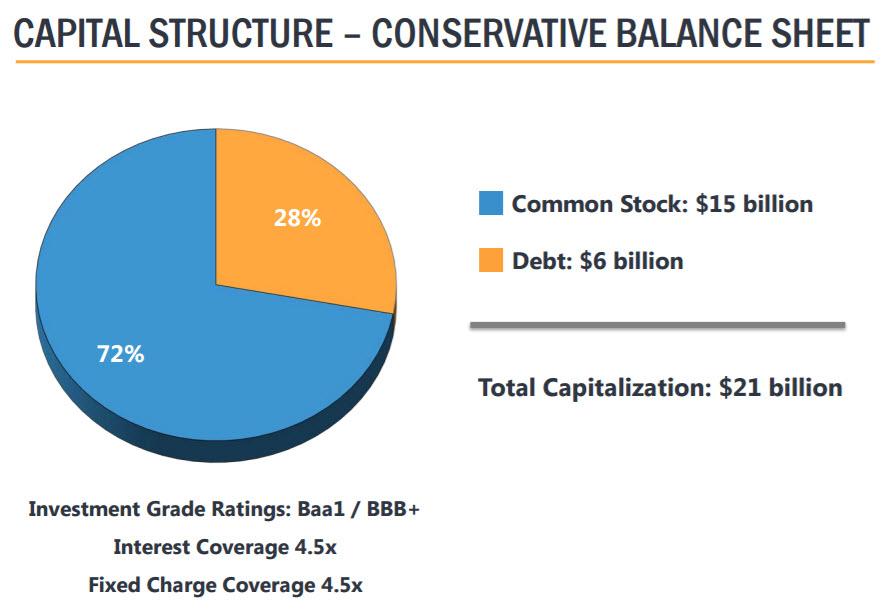 How One Taco Bell Led To A Dividend Juggernaut
Over the last few days, I have read a number of articles recommending Spirit Realty (SRC). While I'm not criticizing the bull case analysts, I think it's important to examine the risks of investing in this troubled Net Lease REIT.
Keep in mind, a Net Lease REIT is designed for one simple task: to provide REIT investors with a stable and predictable form of dividend income.
When you reflect on Realty Income's history as a Net Lease REIT, you can see that the company has maintained a historical P/FFO multiple of ~15x.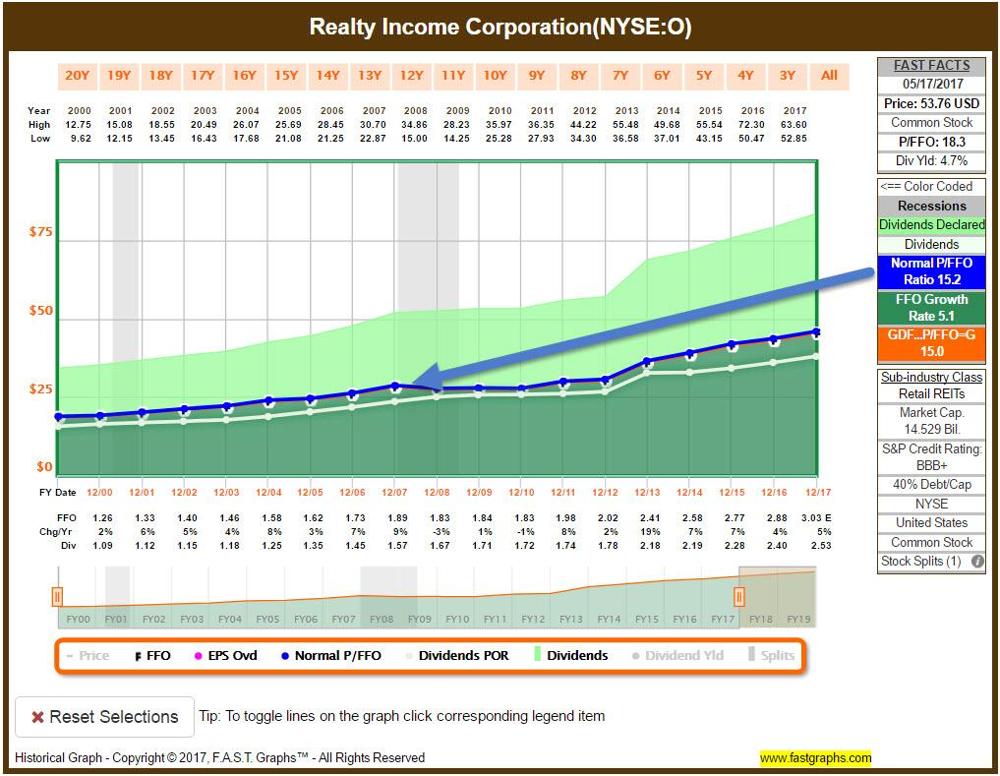 Over the years, Realty Income has evolved into a more powerful model of predictability. The secret to the consistency has been the company's enhanced WACC, diversification, and risk management practices. In short, there's a good reason that Realty Income doesn't own Shopko locations.
Realty Income is one of just a dozen REITs that increased its dividend during the last recession, and since then, the company's P/FFO multiple has increased to ~18x (on average).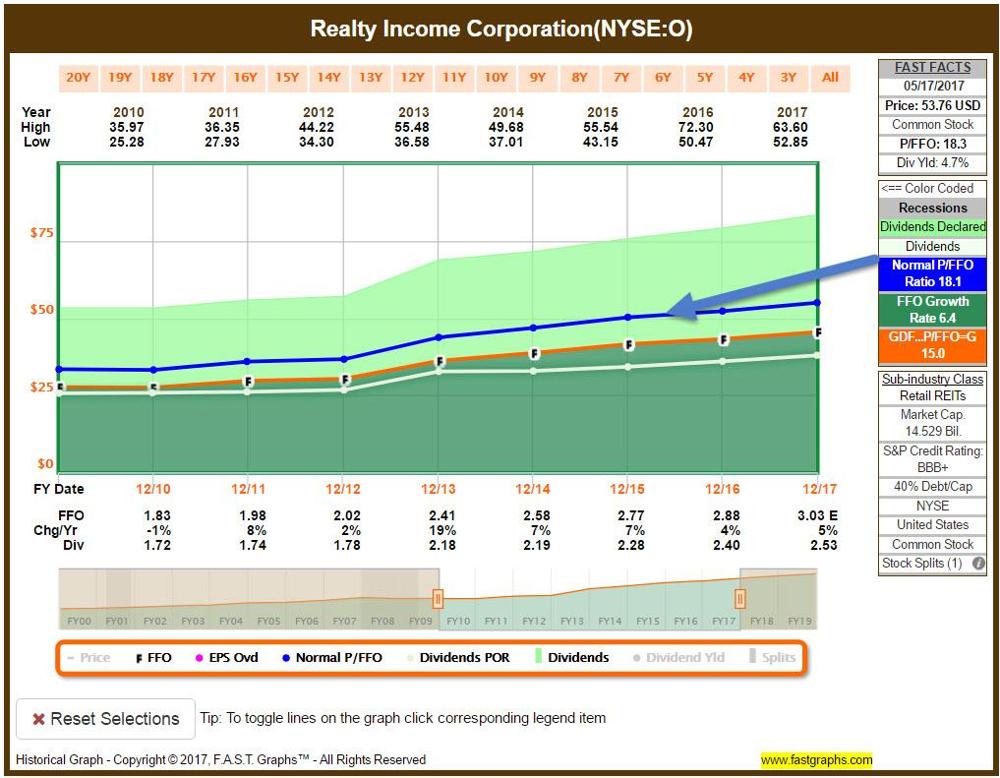 Conversely, Spirit Realty has traded at around 14x P/FFO since its IPO and the company is now trading at around 8.5x P/FFO.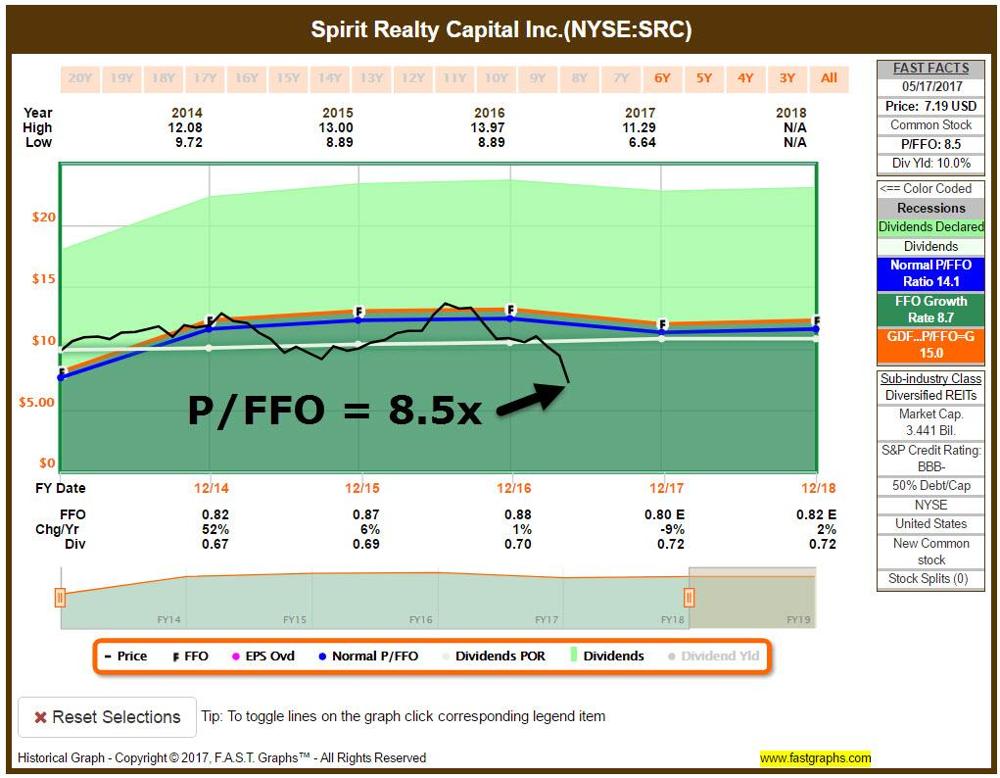 You can clearly see the bifurcation of these two REITs: Realty Income has become a highly predictable dividend juggernaut and Spirit has become just plain "spooky."
Take a look at the AFFO per Share Forecaster:

As you can see, Realty Income is forecasted to generate steady growth over the next few years (averaging 5%) and Spirit is forecasted to see declining earnings over the next few years.
To make things more "spooky," Sprit's top tenant, Shopko, has become a stress point for the REIT and investors should not dismiss the risk of a dividend cut (the coverage is tight). Potential dilution from asset sales and tenant credit risk have become a harbinger that suggests investors should prepare for a dividend cut.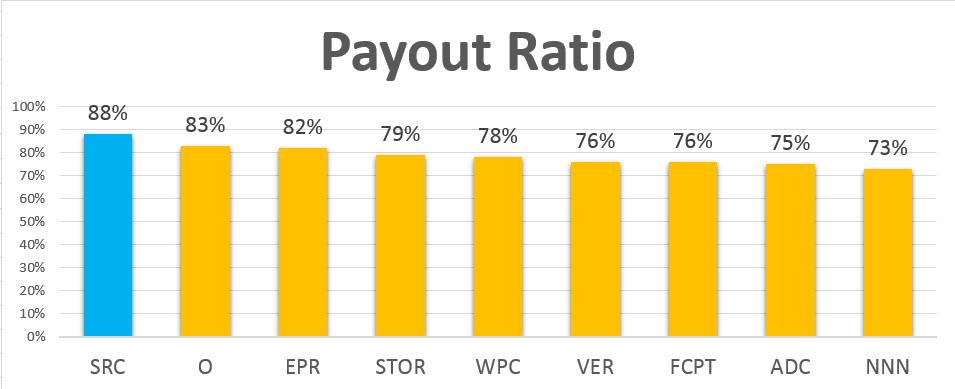 Meanwhile, Realty Income is proving its premium pattern of predictability, with 91 dividend increases since 1994 (NYSE Listing). The company has paid 561 consecutive monthly dividends (averaging 4.7% CAAG).

Keep in mind, the primary reason that most Realty Income investors own shares in the company is for the stability of the dividend and share price appreciation. Here's how Realty Income has performed since its public listing in 1994.

In closing, Realty Income is now trading at an attractive level. While the company is exposed to retail tenants, the large majority of them are internet-resistant and are considered non-discretionary and/or low price point orientation.
My Price Target is $56.00 and as you can see below, shares are now trading below that range. The dividend is well-covered and the company has a proven ability to manage risk – since listing in 1994, the company has re-leased or sold nearly 2,400 properties with leases expiring, recapturing approximately 99% of rent on those properties that were re-leased.
Realty Income's same-store rent increased 1.6% during the first quarter, primarily due to higher percentage rent: 90% of the leases continue to have contractual rent increases.
As I often remind my readers, 5 + 5 = 10. This simply means that as an investor in Realty Income, I can expect to see a 5% dividend yield and 5% price appreciation. I'm not looking for a home run ball. I am content with holding onto my overweight exposure in one of the most reliable REITs in the universe - it all started as one Taco Bell and turned into a SWAN!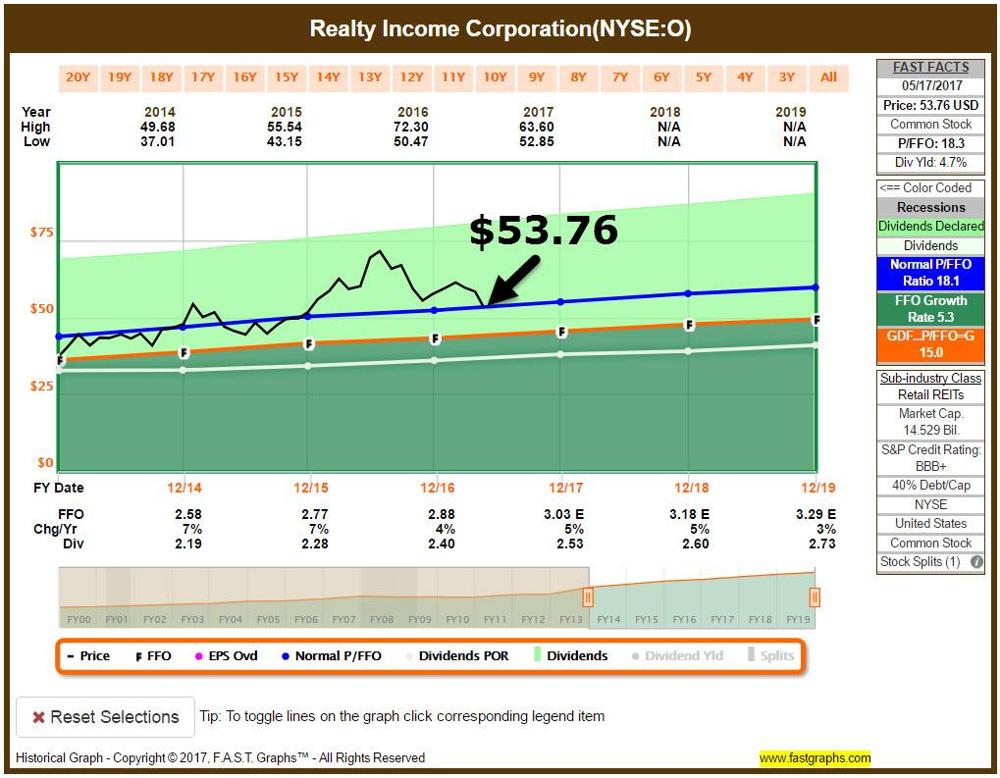 Disclosure: I am on the Advisory Board of NY Residential REIT, andI am also a shareholder and publisher on theMaven (OTCQB:MVEN).
Source: F.A.S.T. Graphs and Realty Income Investor Presentation.
To get a first look at my upcoming article, "The Evolution of My Durable Income Portfolio", click here. I also include all of my Rhino REIT Ratings in my marketplace product, REIT Beat.
Author Note: Brad Thomas is a Wall Street writer, and that means he is not always right with his predictions or recommendations. That also applies to his grammar. Please excuse any typos, and be assured that he will do his best to correct any errors if they are overlooked.
Finally, this article is free, and the sole purpose for writing it is to assist with research, while also providing a forum for second-level thinking. If you have not followed him, please take five seconds and click his name above (top of the page).
Disclosure: I am/we are long APTS, ARI, BRX, BXMT, CCI, CCP, CHCT, CLDT, CONE, CORR, CUBE, DLR, DOC, EXR, FPI, GMRE, GPT, HASI, HTA, IRM, KIM, LADR, LTC, LXP, O, OHI, PEB, PK, QTS, ROIC, SKT, SNR, SPG, STAG, STOR, STWD, TCO, WPC.
I wrote this article myself, and it expresses my own opinions. I am not receiving compensation for it (other than from Seeking Alpha). I have no business relationship with any company whose stock is mentioned in this article.