If You Like Boring, You'll Love This REIT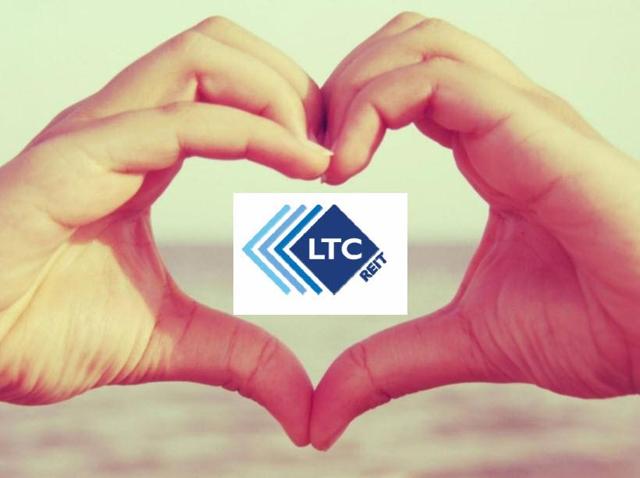 NoahBlacker
Brad Thomas wrote this article and it has previously appeared on Seeking Alpha.
Summary
Most of you know that my REIT picks aren't meant to generate extraordinary returns.
LTC's strong balance sheet and ability to flexibly structure a deal for partners positions the company to take advantage of accretive opportunities as they arise.
I'm maintaining a BUY and if you like boring, you'll love this REIT.
​
​
Back in December 2012, I wrote an article titled, ++Is LTC The Right REIT For Me?++
This was my initial research paper on the company and the first LTC Properties, Inc. (++LTC++) article on Seeking Alpha. Since that first article, shares in LTC have returned 68.3% or an average of 12.4% per year.
​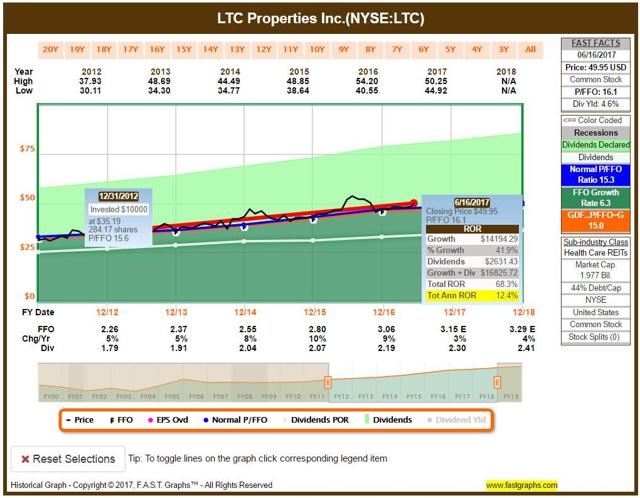 ​
Most of you know that my REIT picks aren't meant to generate extraordinary returns. I am most focused on principal preservation and modest price appreciation. Over time, I have found that owning shares in reliable dividend growers produces the most favorable returns without taking excessive risk.
In early January, I decided that it was time for me to become more tactical within my REIT portfolio, especially the Healthcare REITs. As I surveyed the list of companies, I decided to maintain exposure in LTC and look to increase my stake when the time was right. I ++explained++ that I "believe that LTC has the potential to deliver outsized returns by continuing to maintain disciplined capital management and by partnering with best-in-class operators."
Since that time, I have not added more capital to my LTC holdings, and based upon the YTD performance (below), I'm glad that I was patient.
​

​
Note: I own the REITs shaded green and LTC (dark green).
Today I am going to take a closer look at LTC to determine whether or not I should take action or simply maintain my current exposure. More recently, I wrote on Physicians Realty (++DOC++), Ventas, Inc. (++VTR++), Healthcare Trust of America (++HTA++), Omega Healthcare Investors (++OHI++), and New Senior (++SNR++).
​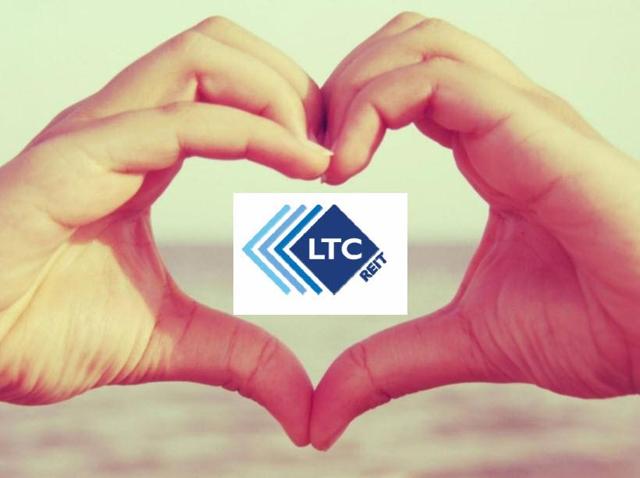 ​
LTC Properties: Under the Radar
LTC is a healthcare REIT that has been around for over 25 years. The company was incorporated on May 12, 1992, in the state of Maryland, and commenced operations on August 25, 1992. LTC invests primarily in senior housing and long-term healthcare property types, including skilled nursing properties (52.5%), assisted living properties (46%), independent living properties, and combinations thereof.
​

​
LTC owns a portfolio with 203 properties, 3 development projects, and 4 land parcels (in 29 states). LTC is based in Westlake Village, CA, and, as you can see below, the company has a nationwide footprint:
​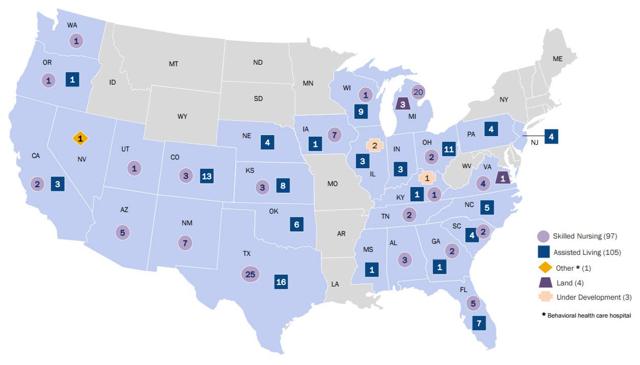 ​
LTC has a well-balanced geographic footprint. Texas has the highest concentration (17.6%), followed by Michigan (14.3%), and Wisconsin (8.2%).

As you can see below, LTC has over 66% of its portfolio in Top 100 MSAs:
​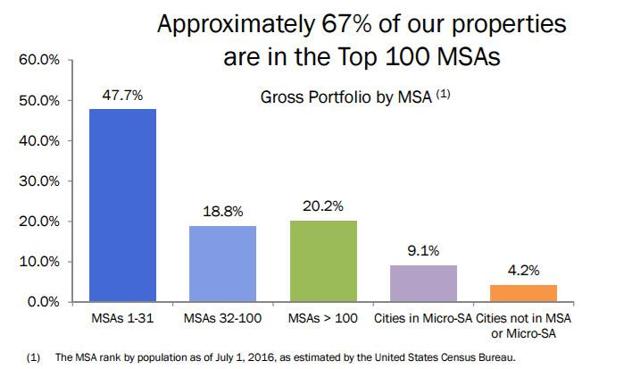 ​
Michigan is the second largest state for LTC, and that is due to the company's loan portfolio. In Michigan, most healthcare REIT deals are done as loans due to the state Medicaid reimbursement regulations, and that's also why you see (below) Prestige Healthcare as the second largest tenant (for LTC). LTC has 28 operators and here are the largest:
​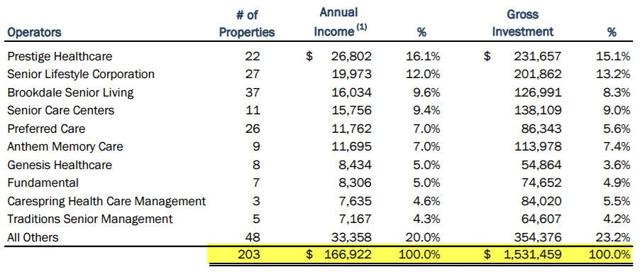 ​
LTC is smaller than many other healthcare REITs. Here's a snapshot of LTC and the peer group (based on total capitalization):
​

​
LTC's Master Leased Portfolio
The vast majority of LTC's portfolio (94%) is tied together in various master leases, such that an operator can't cherry-pick the properties it chooses to keep without the risk of losing all of the assets embedded in the lease structure.
Senior housing operator Senior Lifestyle, and skilled nursing operator Prestige Healthcare, account for 12%% and 16.1% of annual income, respectively. Genesis (NYSE:++GEN++) accounts for 5.0%. The majority of other operators are regional companies that provide granular diversification, protection against one tenant failure.
​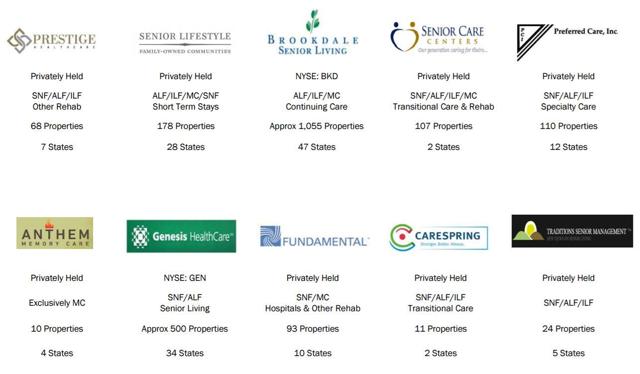 ​
LTC's initial lease terms are between 10 and 15 years, and the weighted average remaining lease term for the portfolio is 8.9 years. All of the leases are triple net, such that the lessee is required to pay additional charges including taxes, insurance, assessments, maintenance, and repair. Here's a snapshot of LTC's lease maturity schedule:
​

​
Most of the leases provide for a fixed minimum base rent, annual rent increases, and renewal options. There is just one lease maturity in 2017 (GAAP rent of $.4 million) and ALL leases are TRIPLE NET.
This means that there is absolutely no operator risk and the total portfolio is 52% private pay. The government pay model is riskier (than private pay) but LTC's net lease model provides added protection since the leases are cross-defaulted.
​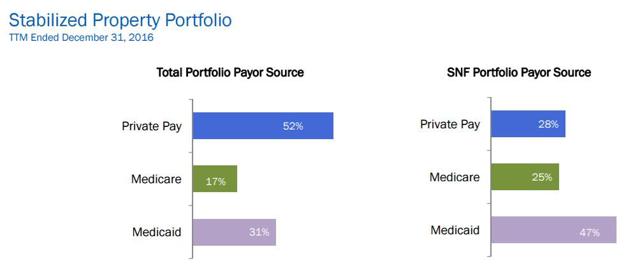 ​
A Highly Disciplined Balance Sheet
LTC has well-laddered long-term debt maturities that are matched to projected free cash flow, there are no amounts currently outstanding under the line of credit, and the company doesn't have any significant debt maturities over the next five years.
​

​
LTC has considerable liquidity, which includes availability of more than $820 million. This liquidity puts LTC in an advantageous position to execute its growth strategy and quickly and decisively seize opportunities. LTC's current availability includes $600 million under the line of credit (almost $37 million under the shelf agreement with Prudential and $185 million under the ATM program).
​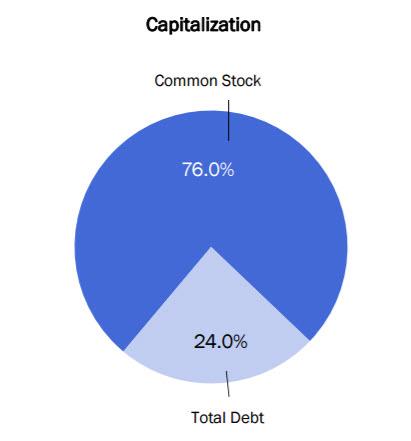 ​
LTC's capital deployment strategy remains conservative in an effort to ensure a profitable portfolio growth. In other words, LTC is not an "empire builder," instead, the company is a "risk manager."
LTC has long believed that closely aligning the maturities on its long-term debt with projected free cash flow is the best way to mitigate future refinancing risk. This strategy combined with a conservative balance sheet helps the company maintain an investment grade credit profile.
At the end of Q1-17, LTC's credit metrics compared favorably to the healthcare REIT industry average, with a debt to annualized normalized EBITDA of 3.9x, a normalized annualized fixed charge coverage ratio of 5x, and a debt to enterprise value of 24.1%.
​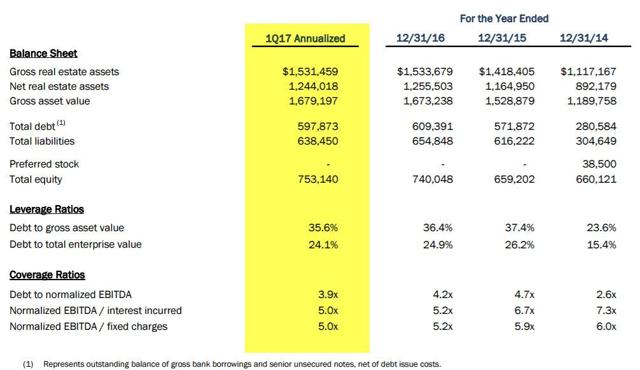 ​
LTC has always maintained a very stable balance sheet, and although the company has no agency rating, I consider the leverage metrics comparable to BBB-rated REITs.
The low leverage and well-laddered maturities provide me with comfort that rising rates will not impact profitability. Also, because LTC has longer-term lease contracts, the company is able to match-fund debt, cushioning any impact to rising rates.
Also, I like the fact that LTC's master leases provide enhanced credit enhancement because these leases provide blanket coverage. This is similar to STORE Capital's (NYSE:++STOR++) master lease model, and this works extremely well as a risk management tool.
The Icing On The Cake
As referenced above, LTC has built an attractive profile that includes low leverage and a diversified pool of assets.
In addition to the company's fundamentals, investors often lose sight of the fact that LTC generates nice profits with its development business. Over the years, the company has maintained a consistent supply of development projects, weighted mainly towards private pay seniors housing. As you can see below, LTC has 3 properties (around $54.6 million) in various stages and these transactions generate outsized returns of around 8.5% (on average).
​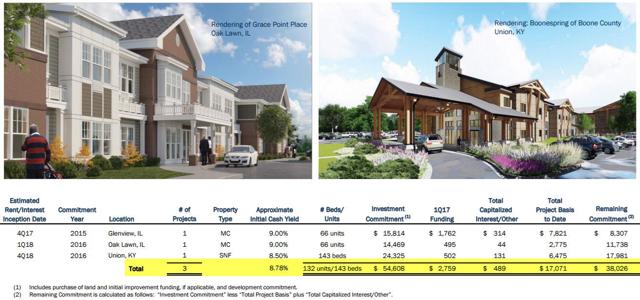 ​
Development projects and the pipeline are with existing relationships and will be added to LTC's master leases. To mitigate development, LTC continues to exercise discipline in its investment underwriting, and the company exercises patience in deploying capital on an appropriate risk-adjusted basis.
Assuming average development returns of 8.5%, you begin to see that LTC generates strong investment spreads close to 250 basis points. I don't know of any other REIT that generates wider profits today (except maybe CyrusOne (NASDAQ:++CONE++) in the Data sector).
The Predictable Profits Help Me Sleep Well At Night
In Q1-17, LTC increased FFO by nearly 9%, the 26th consecutive quarter of normalized FFO growth. LTC's CEO, Wendy Simpson explained,
"As we expected, there was no meaningful investment activity during the first quarter, as we paused to deploy capital in an environment that was not particularly aligned with our measured and conservative investment strategy, a strategy that has served LTC well across many senior housing cycles and one that has allowed us to maintain some of the best coverage ratios in the industry."
LTC reaffirmed its 2017 FFO guidance (at $3.08 to $3.10). Here's the forecasted FFO growth (source: FAST Graphs):
​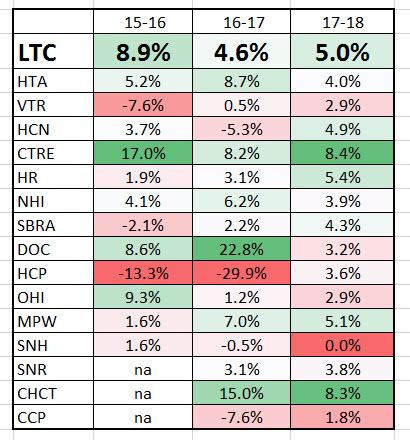 ​
In Q1-16, LTC's FFO expansion was driven primarily by top line growth of more than 10%, resulting from prior year investments, completed development in capital improvement projects, as well as lease amendments in the latter part of 2016. Here's a snapshot of LTC's AFFO per share forecast:
​

​
As you can see, the AFFO growth forecast is better and suggests that LTC could produce more dividend growth in future years. In October 2017, LTC ++increased the dividend++ from $.18/share monthly to $.19/share, a 5% annualized increase.
​

​
Valuation Is An Incredibly Important Aspect Of Investing
Let's now take a look at LTC's dividend yield compared with the peers:
​

​
As you can see, LTC's dividend yield is 4.6%, what I would consider soundly valued. Now let's look at the P/FFO multiple:
​

​
Keep in mind, LTC is much smaller than VTR and HCN, which means the company can grow at a faster rate. The current pipeline is rather active and has grown to $125 million from $50 million (prior quarter's call). Approximately, 70% of the pipeline is represented by private pay assets. Additionally, 70% of the pipeline is represented by assets constructed in the last four years.
​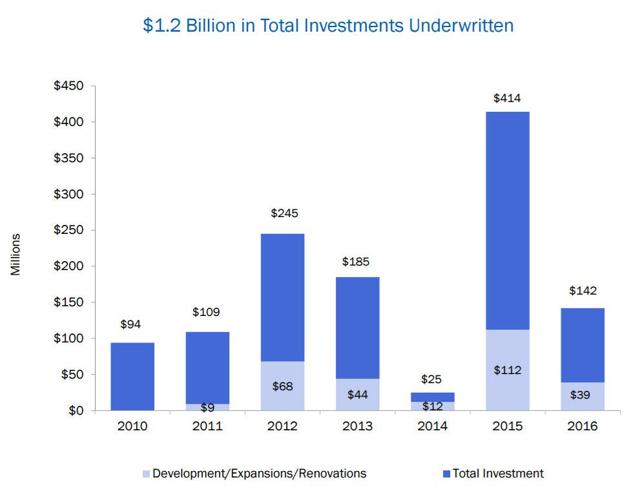 ​
To Sum It Up: If you like boring, LTC may be the perfect fit. Given the defensive composition of the portfolio (stable triple net leases, master leases, and strong rent coverage), I find LTC to be the "kissing cousin" of Realty Income (++O++), except in a healthcare REIT package.
With favorable long-term healthcare trends and the expected growing need for memory care communities, LTC is well-positioned to benefit, and the primary catalyst, is the $155 million pipeline of deal flow. LTC's strong balance sheet and ability to flexibly structure a deal for partners positions the company to take advantage of accretive opportunities as they arise.
I'm maintaining a BUY and if you like boring, you'll love this REIT.
​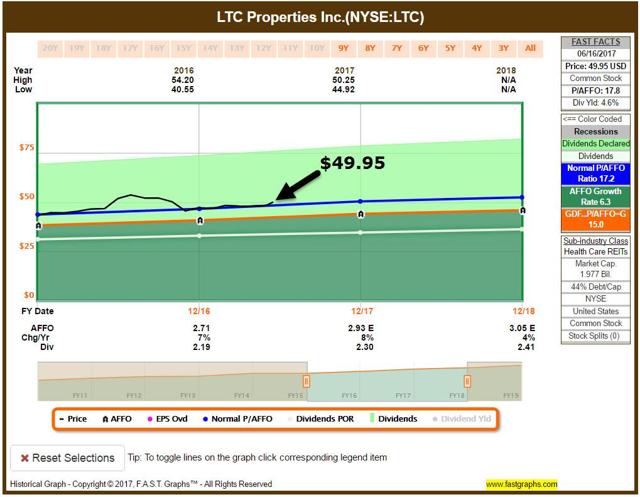 ​
DISCLAIMER: I recommend a HIGH ALPHA REIT so that there is no confusion over my standard REIT recommendations. Subscribe to my marketplace content ++HERE++.
Author's note: Join me at the DIY Investor Summit where I share detailed tips on my core investment strategies, top advice for DIY investors, and specific ways I'm positioning for the second half of 2017. ++Sign up here++.
Brad Thomas is a Wall Street writer, and that means he is not always right with his predictions or recommendations. That also applies to his grammar. Please excuse any typos, and be assured that he will do his best to correct any errors, if they are overlooked.
Finally, this article is free, and the sole purpose for writing it is to assist with research, while also providing a forum for second-level thinking. If you have not followed him, please take five seconds and click his name above (top of the page).
Sources: FAST Graph and LTC Investor Presentation.
REITs mentioned: (++HTA++), (++VTR++), (++HCN++), (++CTRE++), (++HR++), (++NHI++), (++UHT++), (++SBRA++), (++DOC++), (++HCP++), (++OHI++), (++MPW++), (++SNH++), (++SNR++), (++CHCT++), (++CCP++), (++QCP++), and (++OTC:GMRE++).
Disclosure: I am/we are long APTS, ARI, BRX, BXMT, CCI, CCP, CHCT, CLDT, CONE, CORR, CUBE, DLR, DOC, EXR, FPI, GMRE, GPT, HASI, HTA, IRET, IRM, JCAP, KIM, LADR, LTC, LXP, NXRT, O, OHI, PEB, PEI, PK, QTS, ROIC, SKT, SNR, SPG, STAG, STOR, STWD, TCO, VER, VTR, WP.
I wrote this article myself, and it expresses my own opinions. I am not receiving compensation for it (other than from Seeking Alpha). I have no business relationship with any company whose stock is mentioned in this article.