*Brad Thomas wrote this article and it has appeared previously on…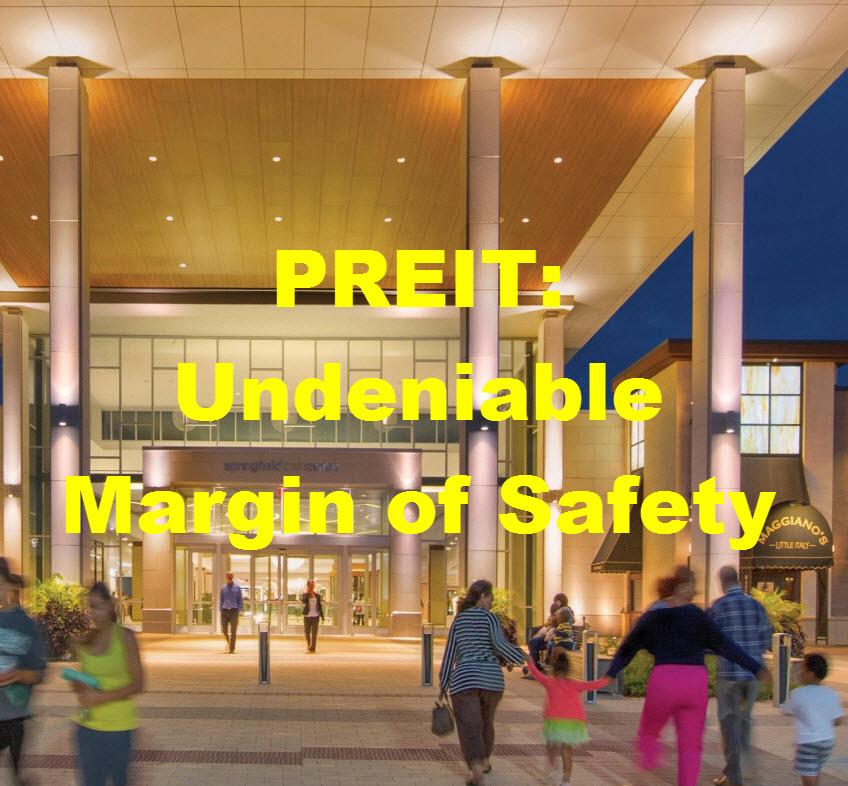 NoahBlacker
Brad Thomas wrote this article and it has appeared previously on Seeking Alpha.
Summary
PREIT's portfolio is distinctly different from the lower-productivity peer set that includes Washington Prime and CBL Properties.
PREIT has limited absolute exposure to Sears through proactive replacement efforts.
"PREIT screens deep value". Floris van Dijkum.
A few days ago, I wrote a Forbes article titled Tanger Factory Outlets: Bargain Of The Year and I explained that:

Tanger Factory Outlet (SKT) could be the quintessential "bargain of the year."
There's little doubt that this "pure play" outlet center REIT is cheap, as Tanger has seen shares slide by over 25% since January 1.
As far as I'm concerned, Tanger is a real bargain today, especially when you consider the durability of the dividend stream. Remember that Tanger is one of just 13 REITs that has increased its dividend during the last recession – Tanger has paid and increased dividends for over 23 years in a row.
Tanger's fundamentals are strong, the company is rated BBB+ (by S&P) and the payout ratio is low (56%). While Mall traffic is experiencing headwinds, outlet centers are growing, and there is a strong pipeline for growth ahead.In my upcoming newsletter (published on the 1st of the month), I put together a dividend growth tool, in which I analyzed over 50 of my favorite REITs, screening them for dividend growth and valuation. As I referenced in my articlelast week:
I intend to provide a broader list of a dozen deeply discounted REITs to BUY that includes a few of the "lucky 13" REITs as well as other carefully vetted REITs with a history of steady dividend growth.
While I was researching the list of 125 +/- REITs in my REIT Lab this weekend, I decided to filter out all of the REITs that I have a BUY or STRONG BUY rating on, based on overall cheapness. As my newsletter subscribers know, I provide a variance between the actual price of the stock and my Fair Value target.
Keep in mind, the cheapest REIT to own is not always the best REIT to own, but I do take pride in my BUY recommendations, and this simply means that there is an undeniable margin of safety with Pennsylvania Real Estate Investment Trust (PEI) ("PREIT").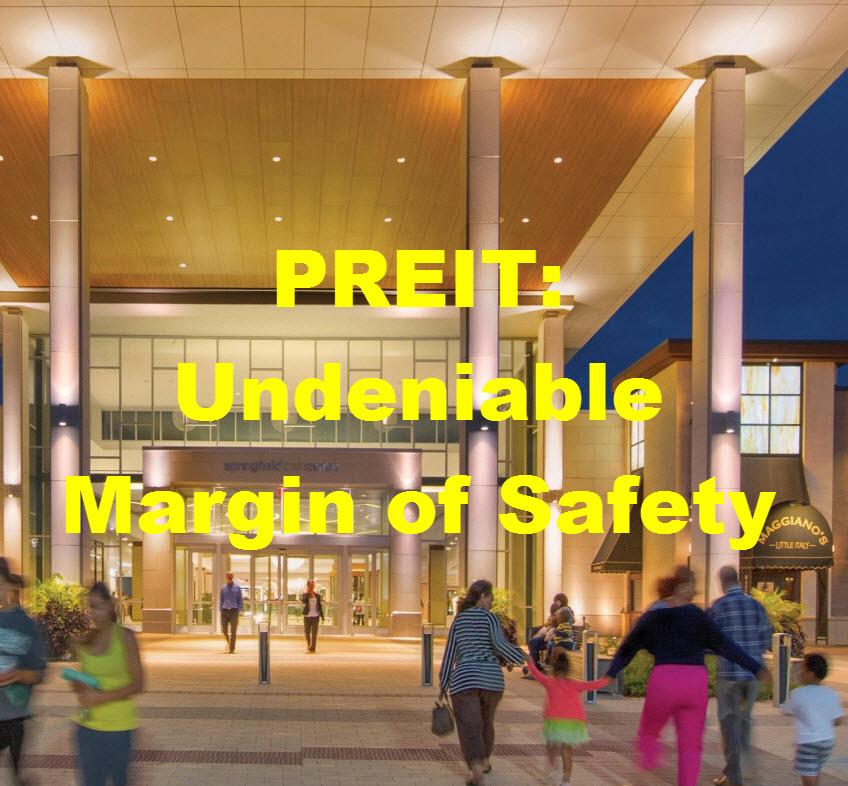 PREIT: The Beginning
Founded in 1960 as Pennsylvania Real Estate Investment Trust, the company merged with the Rubin Organization in 1997. In 2003, the company changed its strategic focus from a diversified model into a retail-focused platform and renamed the company PREIT.
According to PREIT's website, the company paid uninterrupted dividends over 40 consecutive years in a row and that remarkable record lasted until 2008.
Like most all REITs, PREIT was forced to cut its dividend in 2009, and as illustrated below, the payout fell from $2.28 per share to $.60 per share (in 2010).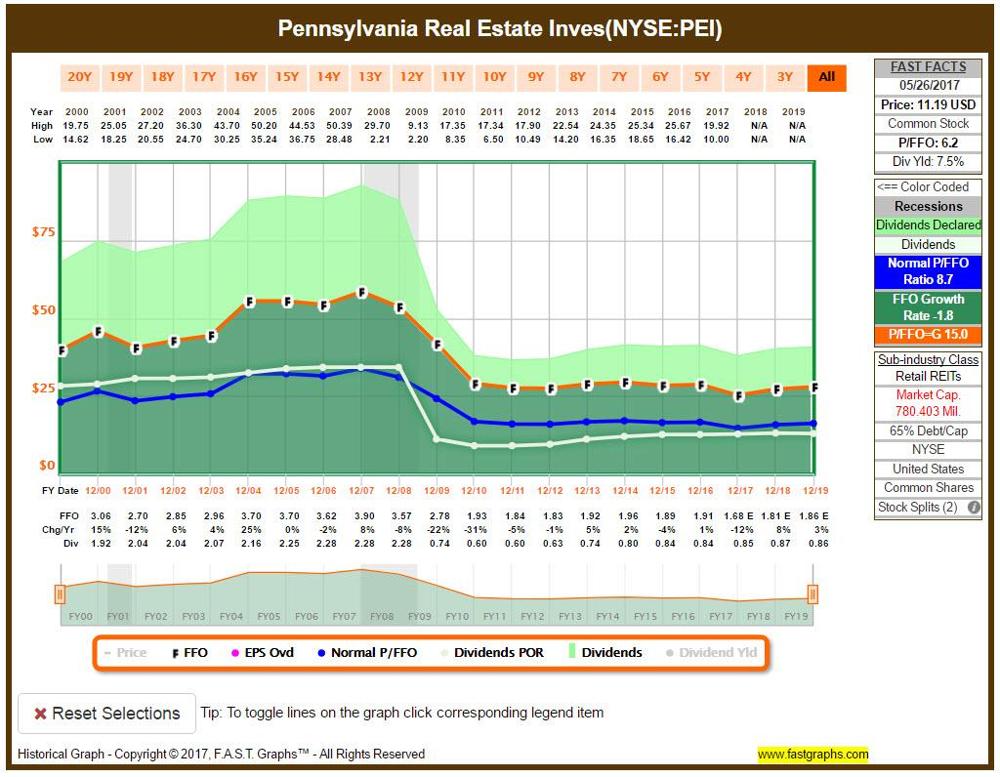 Since the end of the recession, PREIT has been focused on reincarnating itself. In 2012, the company set out on a goal of becoming a "new PREIT" by outlining a plan with key objectives: balance sheet improvement, operational excellence, elevating portfolio quality and positioning the company for growth.
With those objectives in mind, PREIT identified the following goals: Portfolio sales greater than $500 per square foot, same store net operating income ("SS NOI") growth greater than 3%, tenant occupancy costs greater than 12.5% and leverage below 48%.
PREIT has sold a significant amount of underperforming properties, nearly 40% of the portfolio in markets retailers will ultimately vacate.
Prior to 2012, PREIT operated in 13 states, 20 markets (33 million square feet) with sales of $365 a foot. Today, the company's portfolio of quality properties are located in compelling markets where more than half of NOI is generated from high barrier to entry major markets.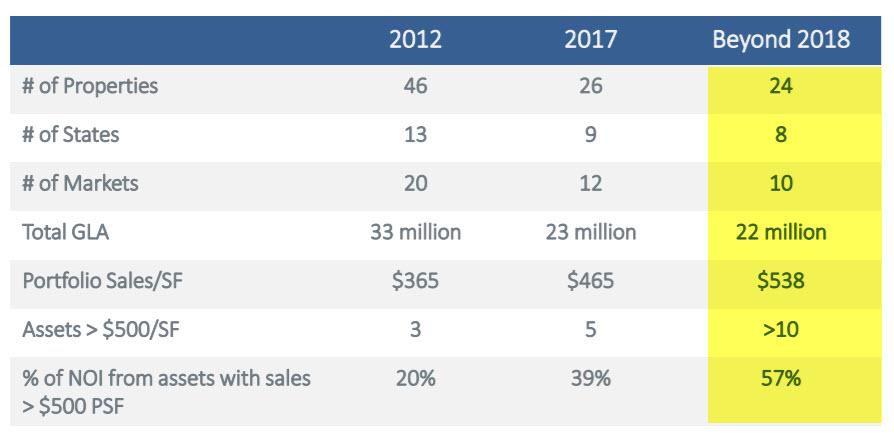 PREIT's primary investment focus is on retail shopping malls located in the eastern half of the United States, primarily in the Mid-Atlantic region. The portfolio consists of interests in 30 retail properties, of which 22 are operating retail properties and four are development or redevelopment properties.
The 26 operating retail properties have a total of 23 million square feet and include 23 shopping malls and four other retail properties. PREIT has a dominant presence in Philadelphia with around 41% of the enclosed mall GLA (9 PREIT malls in PA). In Philadelphia Metro, PREIT serves 6+ million residents and 40 million visitors per year.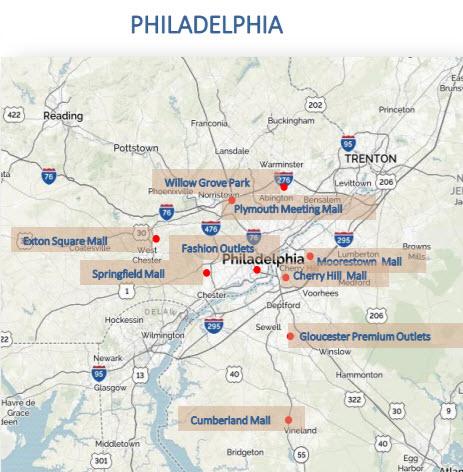 PREIT owns 4 out of 19 enclosed malls in the Washington D.C. Metro Area. PREIT's malls serve 3+ million residents and tens of millions of visitors in the D.C. Metro Area: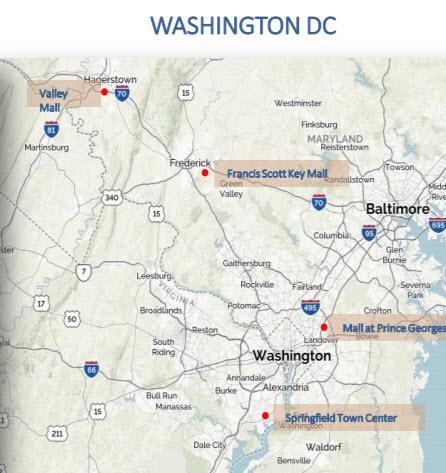 PREIT has drastically improved its portfolio and that has enabled the company to enhance relationships with in-demand retailers. In recent years, the company has increased the presence of quality retailers, like H&M (OTCPK:HNNMY),Michael Kors (NYSE: KORS) and Ulta (NASDAQ:ULTA), in the portfolio. As PREIT's CEO, Joe Coradino, explained on the recent earnings call:
All businesses evolve overtime and we believe we have the unique opportunity to continue to diversify our tenant base. Traditional department stores have grown over the years primarily through consolidation, they spend little effort rationalizing their store basis or investing in the store experience. In fact, the department store is not as relevant to the consumer as it ones was. In well located real estate, the closure of these stores is a positive.
PREIT's portfolio is distinctly different from the lower-productivity peer set that includes Washington Prime (WPG) and CBLProperties (CBL). PREIT's portfolio is insulated due to its scale that results in manageable impact from the retail fallout.The company has limited absolute exposure to Sears (SHLD) through proactive replacement efforts.


PREIT's portfolio sales productivity exceeds "Low Productivity" Peers: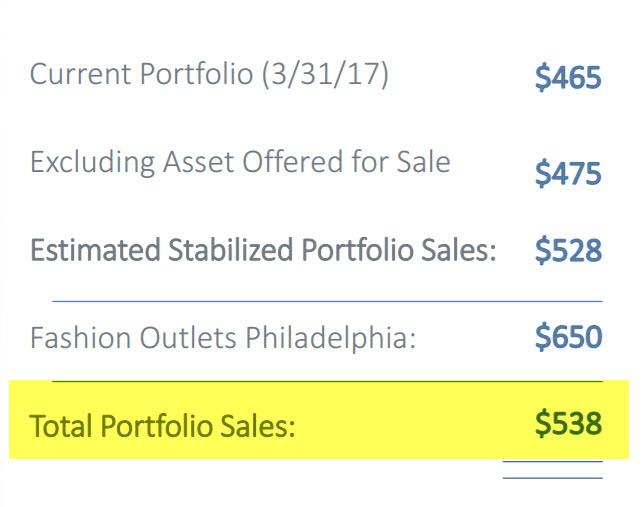 As illustrated below, PREIT has balanced department store risk (again, it's manageable).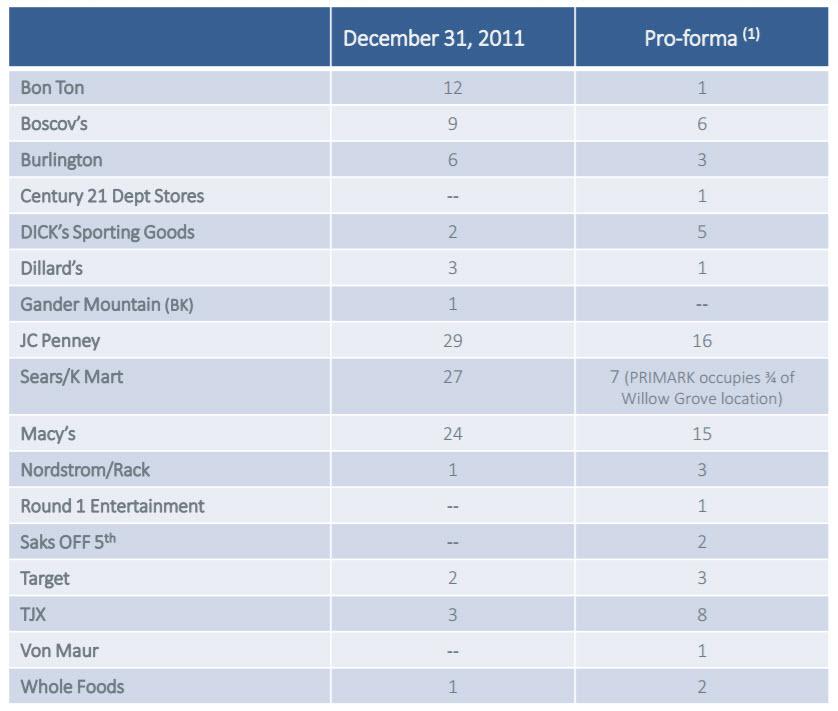 For tenants that filed for Bankruptcy protection in 2017, PREIT currently expects only 20 stores to close within its portfolio. 2017 Bankruptcies: 9 retailers impacting 50 locations in PREIT portfolio • Strong history of replacements: 75% of 2016–2017 spaces covered.


There is ample evidence that PREIT's move to quality was effective including the company's limited exposure following the 2017 store closing announcements with only 15 locations impacted. By way of example, PREIT had no stores on the Payless closing list. PREIT now has 17% of the portfolio dedicated to dining and entertainment, and the company is seeing a real impact from these efforts.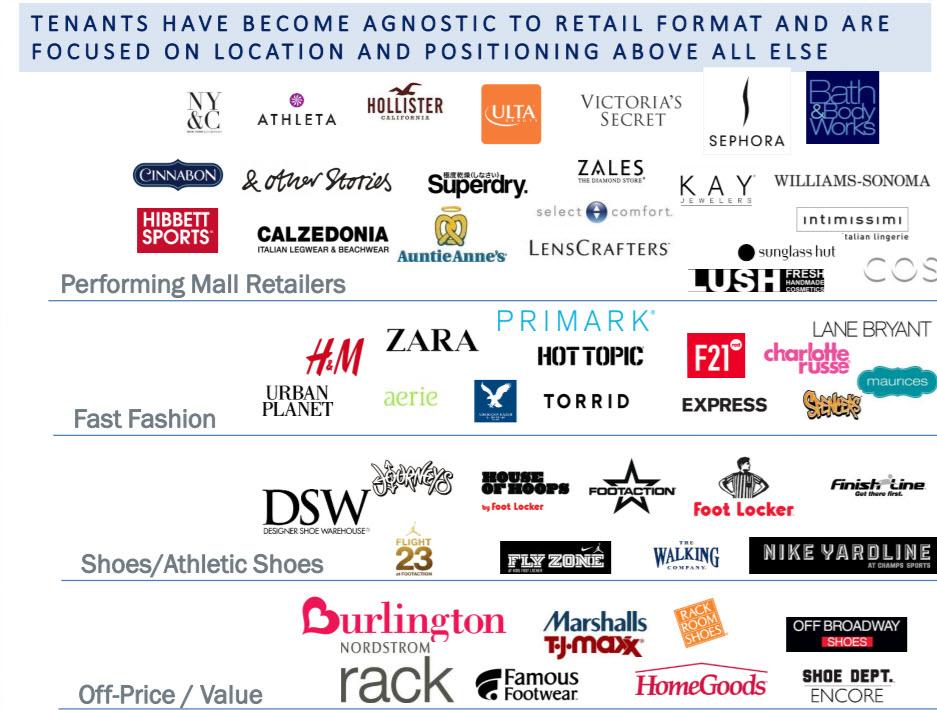 PREIT is also seeing an increase in first-to-portfolio retailers joining the tenant roster, including Century 21, which opened its first and only store outside of the New York market in 2014 as the lead tenant in Fashion Outlets of Philadelphia.
In 2015, PREIT announced the signing of the new LEGOLAND Discovery Center at Plymouth Meeting Mall - one of only nine locations in the country for this entertainment concept - and opened a new Field & Stream by Dick's Sporting Goods (NYSE: DKS) at Capital City Mall outside of Harrisburg, Pennsylvania.PREIT also announced that Lululemon (NASDAQ: LULU), Tumi (NYSE:TUMI), Yard House and LEGO were added to the portfolio.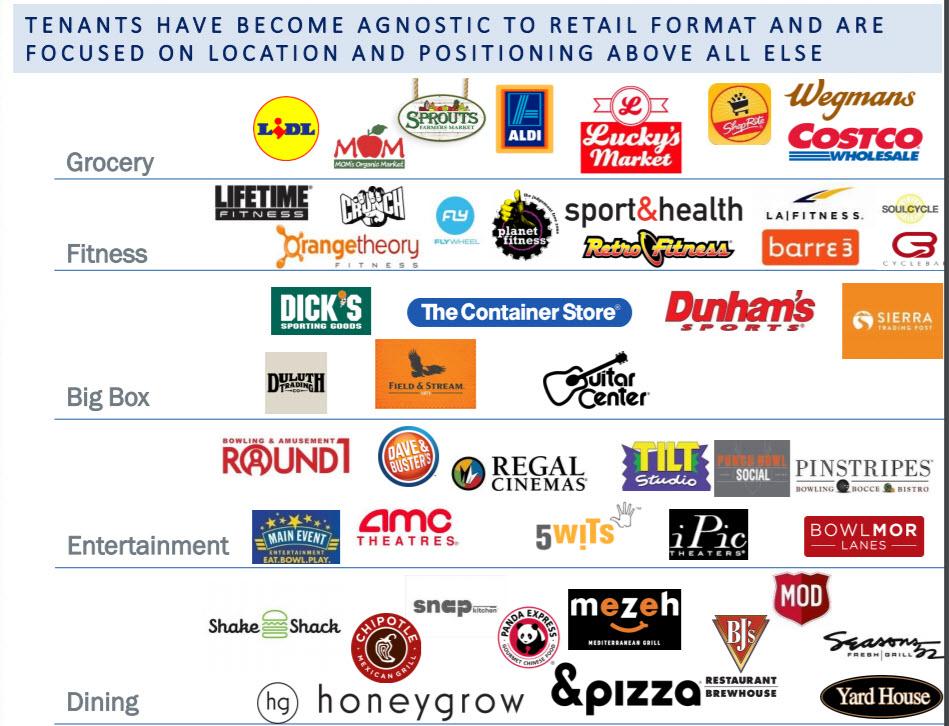 There's a Strong Track Record Forming
PREIT continues to make progress on redevelopment and anchor replacements with several of projects being delivered early. As seen below, 9 anchor locations are in transition, 7 replacements are under construction, and 5 new anchors will be paying rent before the end of 2017.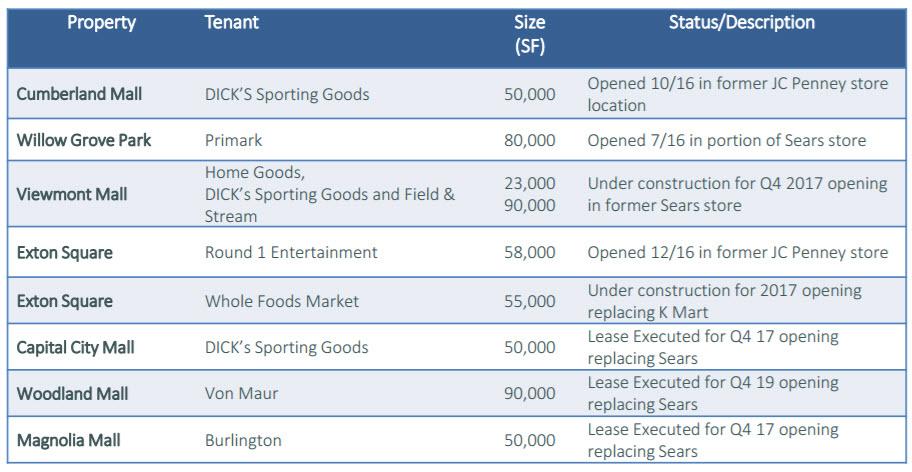 PREIT has carefully reviewed all of the anchors in the portfolio to assess risk of additional closures: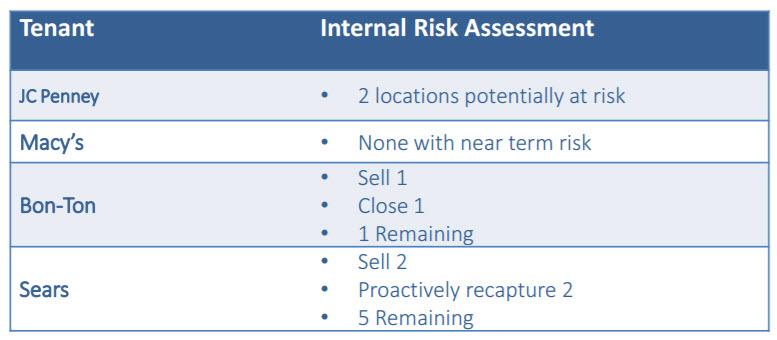 Here's a snapshot of redevelopment underway: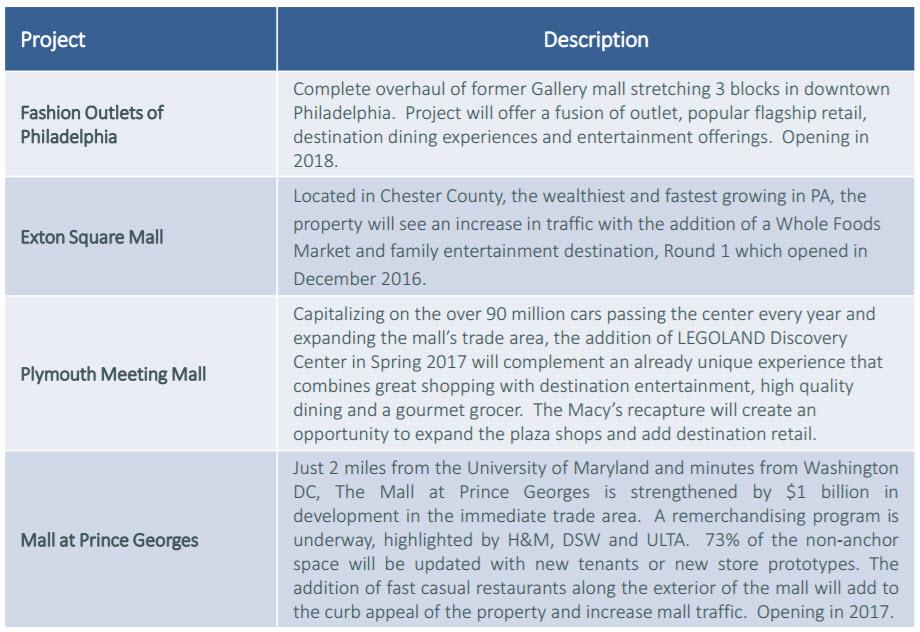 Here's a snapshot of PREIT's proactive risk management platform: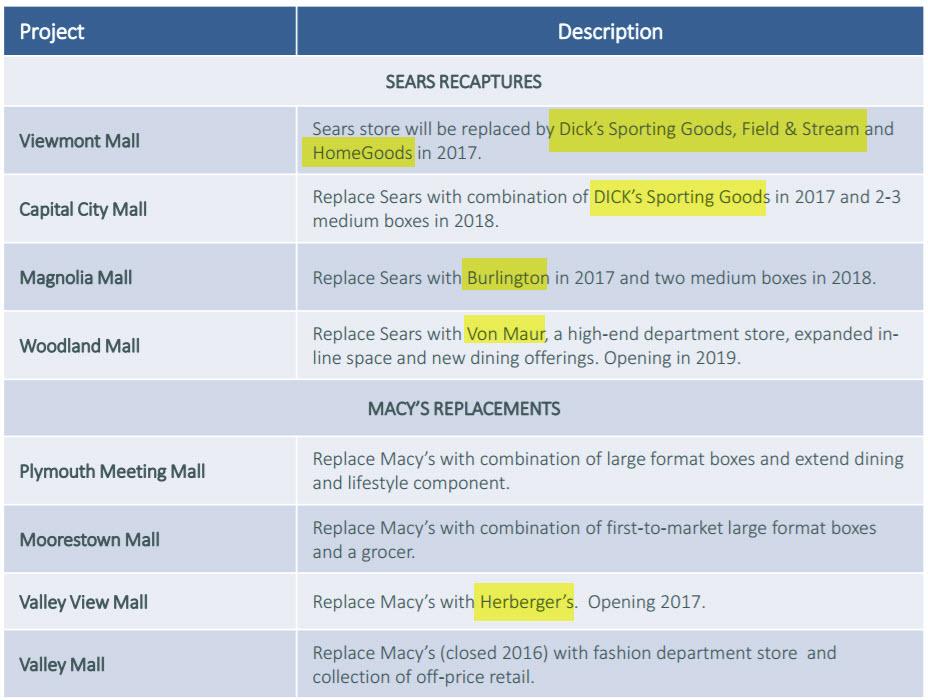 The key to investing in the mall sector is to avoid the lower-quality malls. PREIT gives priority to A malls and high-quality Bs that are cap rate transformative. PREIT's priority is given to value enhancing (offensive) projects vs. maintaining (defensive) them.
PREIT targets returns of 200-300 bps over trading cap rates and the company minimizes leasing thresholds required before commitment is finalized.
Spanning three city blocks, the Fashion Outlets of Philadelphia offers a fusion of outlet retail, taking the form of luxury and moderate brands, traditional mall retail, popular flagship retail, destination dining experiences and entertainment offerings.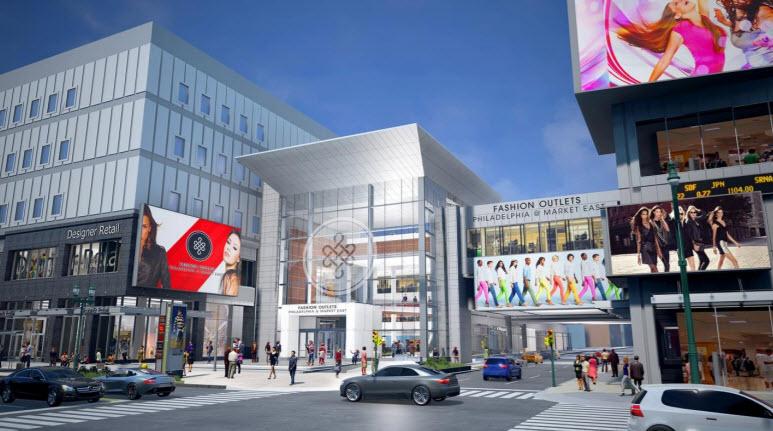 PREIT acquired Springfield Town Center in 2015, following its successful full-scale remodel. Along with the mall, PREIT acquired the ability to add over 3 million square feet of mixed use to the periphery. With the property marching toward stabilization, over 90% occupied and growing sales, we look toward to the future of this mixed-use opportunity that will add tremendous value.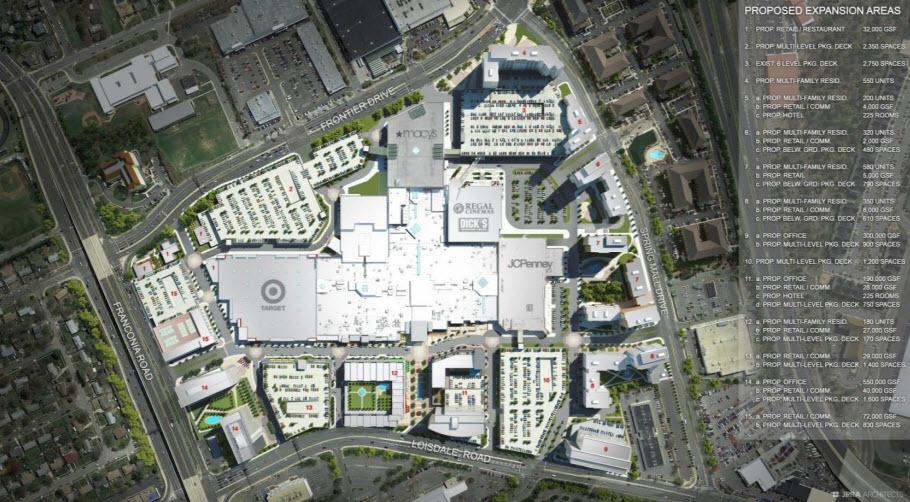 Viewmont Mall has recently been a focus in PREIT's remerchandising strategy. Viewmont's tenancy upgrade cemented its position as the dominant shopping and recreational destination in the Scranton/Wilkes-Barre region. The addition of Ulta, Buffalo Wild Wings (NASDAQ:BWLD), Forever 21 and Yankee Candle along with new prototype store for a majority of key, national retailers, set the stage for a second phase of redevelopment.
A proactive recapture of the Sears space has paved the way for a new combination Dick's Sporting Goods/Field & Stream store accompanied by HomeGoods, all opening in Fall 2017, adding to the mall's impressive line up of destination, traffic driving tenants.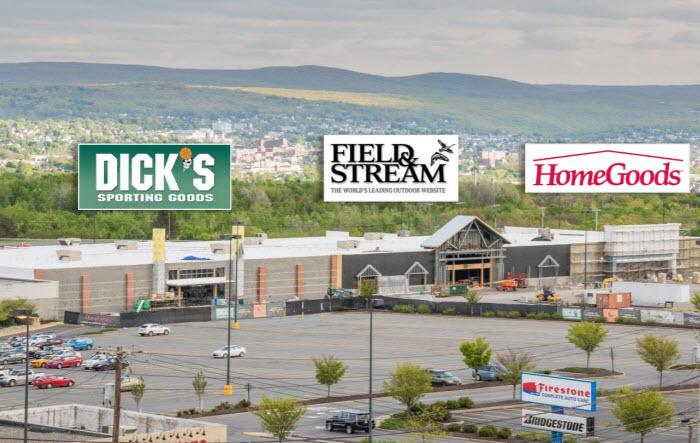 Just 2 miles from the University of Maryland and minutes from Washington DC, the Mall at Prince Georges' position in the market is strengthened by the volume of development immediately surrounding the property – over $1 billion in recent development has occurred in the trade area.
A re-merchandising program, highlighted by H&M, DSW, ULTA. 73% of the non-anchor space will be updated with new tenants or new store prototypes. The addition of fast casual restaurants along the exterior of the mall will add to the curb appeal of the property and increase mall traffic.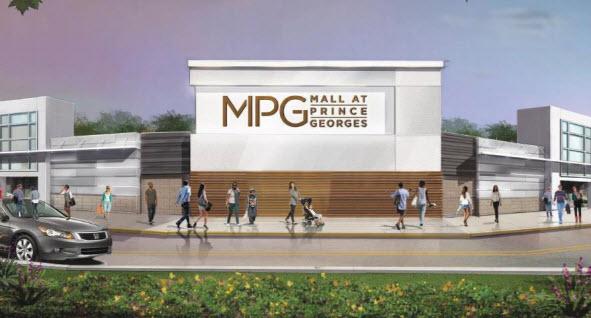 A Much Improved Balance SheetPREIT has utilized the proceeds from asset sales and the January 2017 preferred share offering to fund redevelopment spending and reduce debt balances by $167 million since the end of last year. The combination of lower outstanding debt balances and lower rates contributed to a $3.9 million interest expense savings for Q1-17.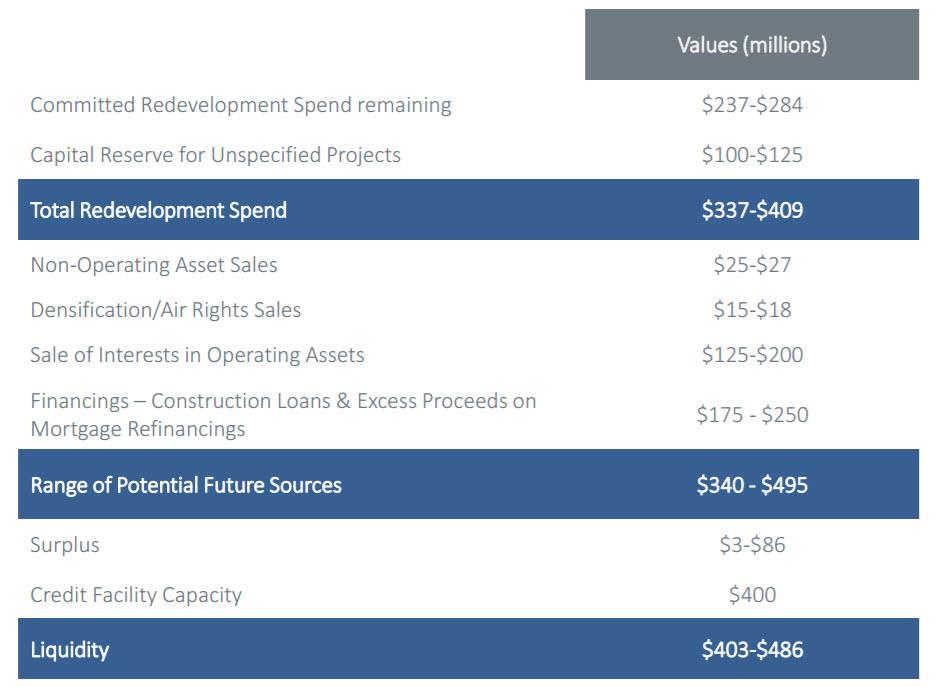 At the end of the quarter, PREIT had approximately $243 million of borrowing capacity available under its banks facilities. The company's average interest rate (excluding non-cash amortization) was 3.75%, 36 bps reduction from a year ago. PREIT's debt maturities are well laddered with approximately 85% of our loans maturing after 2018.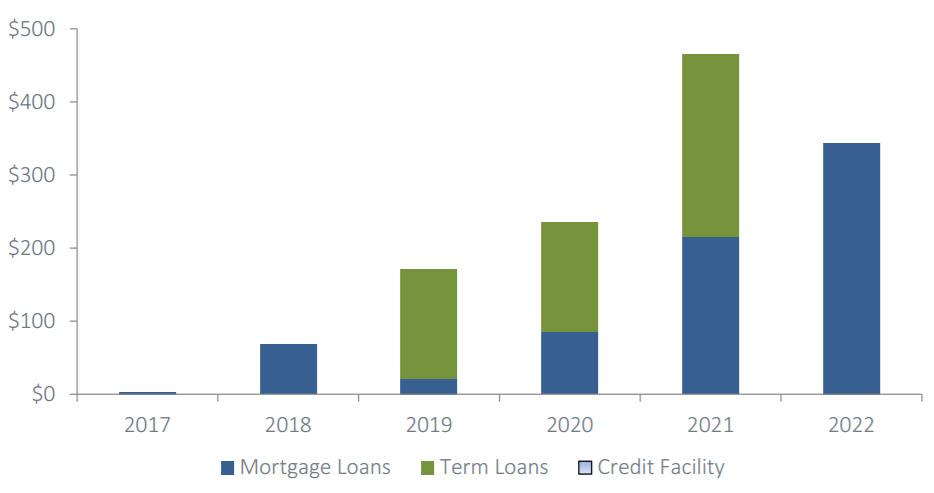 PREIT ended the quarter with 88% of its debt carrying either fixed rates or swaps. In connection with the recent term loan draw-down, PREIT entered into additional swaps that result in 96% of debt effectively being fixed. A few weeks ago, I wrote on PREIT's preferred (that I find attractive).
Digging Deeper Into The Discount
Although PREIT continued to battle the headwinds from department closings, in-line tenant bankruptcies and negative sentiment in the press, the company performed in line with its internal expectations for the quarter.
PREIT reported FFO of $0.35 a share, after taking into account the $0.07 of dilution from asset sales.
Keep in mind that since the beginning of 2016, PREIT sold 8 low productivity malls (including Beaver Valley and Crossroads Mall which closed in the first quarter) as part of the company's strategic move to improve quality.
PREIT reaffirmed its current year FFO guidance and revised the estimate of GAAP earnings to give effect to higher expected depreciation expenses. FFO for the year is expected to be between a $1.64 and $1.74 per diluted share. As you can see below, I used the Dividend per Share Forecaster (powered by FAST Graphs):


As you can see, PREIT has steadily grown its dividends per share, here's a chart illustrating the same data in percent:


As you can see the dividend growth has slowed down, as a result of PREIT's strategic plan to focus on quality. Here's a snapshot (below) comparing historical dividend growth with recent growth estimates: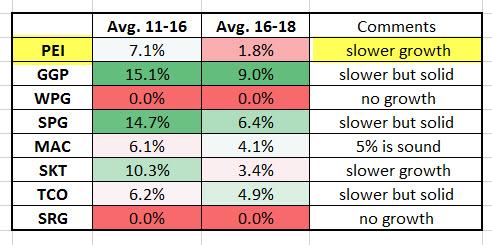 The growth does not surprise me, and as you can see, PREIT still has plenty of powder to grow its dividend:


I want to address the WPG investors now. As you know, I have a SELL on WPG because I view the company as a "value trap" (see my recent article here).
It's true that WPG's dividend is well-covered by FFO (60% payout ratio), but I am not convinced the shares will outperform, in fact, I believe that WPG will underperform. Why?
First off, PREIT is way ahead of WPG in terms of pruning lower quality Malls. WPG has quite a few more "ugly ducklings," and as I explained in my latest article, "grinding it out" is not much of a strategy. Alternatively, PREIT has been successful with its objectives and the company has plenty of dividend power.
Second, as noted in this article, PREIT is in much better shape with its department store exposure. If Sears filed BK within the next 12 months, WPG will have its work cut out for them. Keep in mind that while WPG's dividend is safe (on the surface) a BK will squeeze profits (WPG will have to pay Sears share of taxes, insurance, and CAM) and also some of the Malls likely have co-tenancy clauses that could impact the dividend safety.
Now let's examine the dividend yield:


Before you ask yourself if you want 12.5% or 7.5%, take a look at this chart:


As you can see, PREIT trades about 150 bps above WPG; however, as I explained above, PREIT has turned the corner, and is in much better shape to deal with the potential Sears BK. As REIT analyst, Floris van Dijkum explained:
PREIT screens deep value.
In a research report van Dijkum explains:
PEI's shares appear oversold at current levels as they appear attractive on both NAV and FFO basis while yielding 5.8% (report was dated April 26th). The current NAV relative discount to mall peers is 24% while the company has historically traded at an average relative NAV discount of 16%. While our PEI recommendation has decreased for performance year to date, having lost 23% of their value, the stock continues to screen deep value.
Here's how PREIT compares with the peers: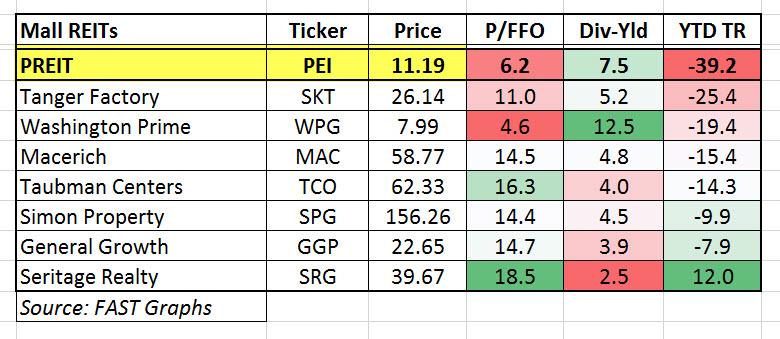 As noted, PREIT has fallen further than any other REIT that I have recommended as a BUY. I'm maintaining a BUY, but remember that times are volatile in the retail sector, so buckle up. In my opinion, WPG has a few more quarters to "grind it out" and nobody has the crystal ball when it comes to Sears and J.C. Penney (as I said, I consider WPG a "value trap" today).
In closing, selecting securities with a significant margin of safety remains value investor's definitive precautionary measure, and I believe that PREIT has now become a compelling BUY with an undeniable margin of safety.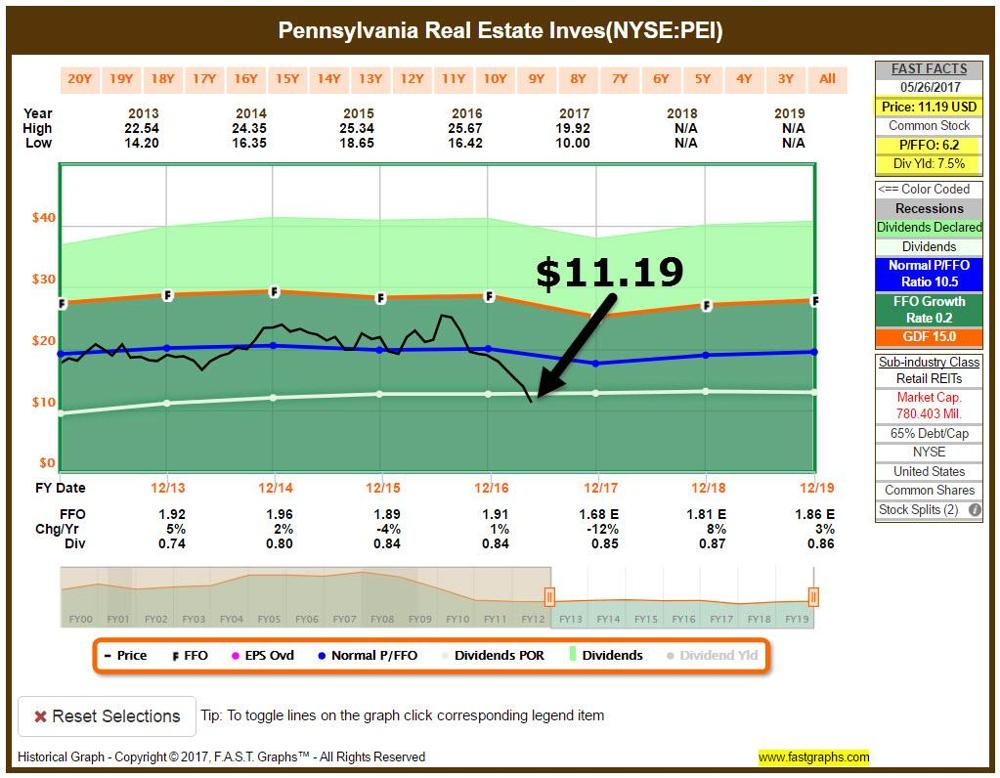 To get a first look at my upcoming article, "The Evolution of My Durable Income Portfolio," click here. Disclosure: I am on the Advisory Board of NY Residential REIT, and I am also a shareholder and publisher on theMaven.Source: FAST Graphs and PREIT Investor Presentation.
*Author Note: Brad Thomas is a Wall Street writer, and that means he is notalways right with his predictions or recommendations. That also applies to his grammar. Please excuse any typos, and be assured that he will do his best to correct any errors, if they are overlooked. Finally, this article is free, and the sole purpose for writing it isto assist with research, while also providing a forum for second-level thinking. If you have not followed him, please take five seconds and click his name above (top of the page).* Disclosure:** I am/we are long APTS, ARI, BRX, BXMT, CCI, CCP, CHCT, CLDT, CONE, CORR, CUBE, DLR, DOC, EXR, FPI, GMRE, GPT, HASI, HTA, IRM, KIM, LADR, LTC, LXP, O, OHI, PEB, PEI, PK, QTS, ROIC, SKT, SNR, SPG, STAG, STOR, STWD, TCO, VTR, WPC.
I wrote this article myself, and it expresses my own opinions. I am not receiving compensation for it (other than from Seeking Alpha). I have no business relationship with any company whose stock is mentioned in this article.