The REIT Recipe For Sleeping Well At Night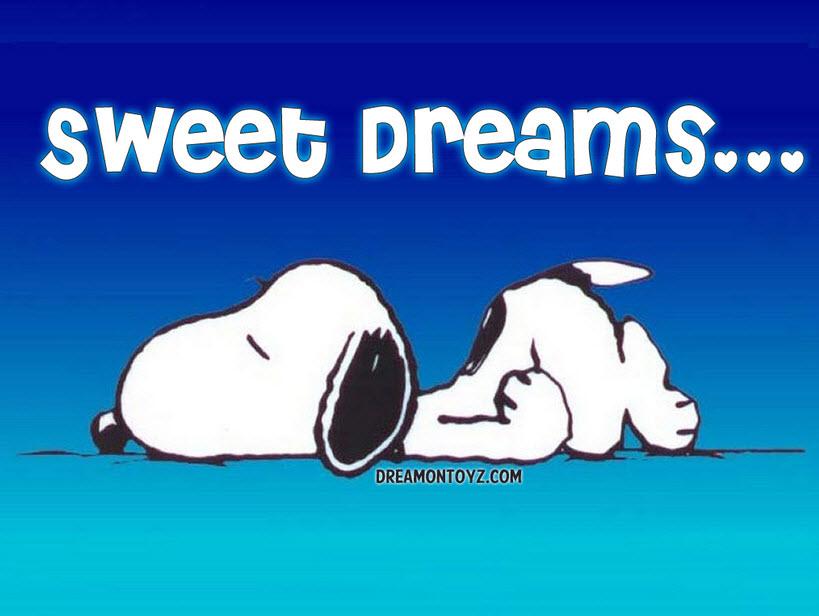 NoahBlacker
Brad Thomas wrote this article and it has appeared previously on Seeking Alpha.
Summary
A SWAN is quite simply a BLUE CHIP stock.
Blue Chips offer the most elite value proposition in the form of durability.
I have found good success in owning a large majority of Blue Chip REITs.
Finding attractive Blue Chip REITs is just part of the puzzle, the other important piece is to find them when they are cheap.
Today I'm publishing the May edition of the Forbes Real Estate Investor.
This is actually my 4-year anniversary for this monthly newsletter publication and I am thankful for the many loyal subscribers. I would have never imagined that the newsletter would be so successful, and I am grateful for the support and encouragement of many of you on Seeking Alpha.
I owe much of the success to the newsletter to the performance of the REITs, because they have done well over the years. More specifically, my 6 largest holdings (33.9% overall) in the Durable Income Portfolio has returned an average of 14.4% per year (since August 2013).
A large majority of the REITs in the Durable Income Portfolio are what I refer to as the so-called SWANs, or "sleep well at night" REITs. The difference between a SWAN and a non-SWAN is fundamental to the success of the Durable Income Portfolio.
A SWAN is quite simply a BLUE CHIP stock that is generally a high-quality stock, that's known to weather downturns and operate profitably in the face of adverse economic conditions.
Essentially, blue-chips offer the most elite value proposition in the form of durability - a demonstrated track record of stable income and predictable growth. Accordingly, most blue-chip companies have long-term records as explained by Chuck Carnevale:
…many of the most recognized blue-chip dividend paying stocks have been in business for many decades, and in some cases for a century or more. In this respect, they have endured and even prospered throughout almost every stock market or economic crisis of modern times.
Some may consider Blue Chip stocks expensive, however, there's simply a misconception, even though my core SWAN holdings have out-performed, there are a number of blue chips that are attractively priced today (some are even cheap).
While I do own a number of non-SWANs, seemingly riskier to due to their volatility, there are other risk considerations that should be taken into account when you are evaluating blue-chip growth stocks. These investment attributes include, but are not limited to the following (source: Investing in REITs by Ralph Block):
Outstanding proven management
Access to capital to fund growth
Balance sheet strength
Sector and geographical focus
Low payout ratio
Absence of conflicts of interest
Dividend History
I have found good success in owning a large majority of blue chip REITs, and as noted, I am hoping to transition my portfolio into a larger percentage of "sleep well at night" REITs.
While I see more and more folks trying to "chase yield", I often remind investors, "Don't Be Too Cute".
"I am fearful that investors are becoming a bit too cute in their decision-making, and by chasing yield, they could end up with the same thing that the Easter Bunny is bringing this weekend - a big fat egg with no candy in it."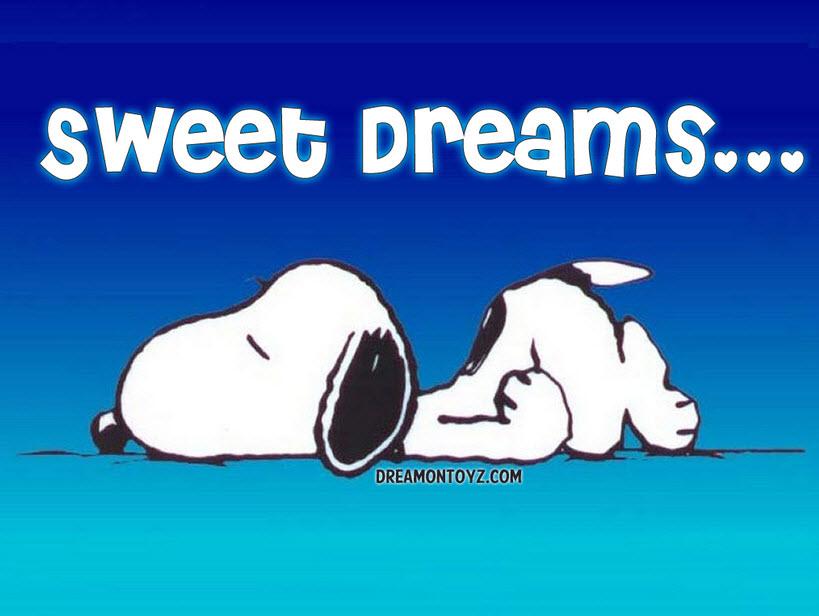 Don't Drink This Kool-Aid
I recently ran across a Seeking Alpha article by Paulos Santos as he wrote,
REITs might be victims of a much-lower corporate tax.
Keep in mind that even after the publication of President Trump's proposal, there's clearly a wide range of potential outcomes for tax reform ranging from modest (if any) change to significant and far-reaching change for the entire economy, let alone for REITs and the larger real estate economy.
How REITs (and real estate investment more generally) may be affected will depend on an extensive variety of factors which include various tax rate levels as well as a host of other tax treatment issues for REITs and broader investment in the economy.
As (publicly-traded) REITs provide both consistently strong current income and strong long-term capital appreciation, they have proven their value to individual and institutional investors in the U.S. since at least 1971 (if not earlier) with total returns that have averaged nearly 12% per year for more than 45 years with an average correlation to the S&P 500 of just 63%. Source: NAREIT
That historicalperiod has encompassed several major tax reforms as well as several real estate market cycles. Moreover, REITs have proven their value not only in the U.S. but in more than 30 other countries, many of which have very different domestic tax systems including several with lower corporate tax rates.
In short, even if we find ourselves in a lower corporate tax rate environment, I think it's clear that REITs will continue to thrive, especially the Blue Chip REITs….
The Blue Chip REIT Blueprint
Most often, intrinsic worth is estimated by analyzing a company's fundamentals (not share price movements), and I prefer to utilize a REIT's earnings (and dividend history) as the most relevant method for determining value.
It's great to own a Blue Chip REIT but the real worth for investing in these gems is to watch them appreciate in value. By investing in REITs with consistent profit margins it's much easier to predict the dividend payouts and total return potential for the security.
It's simply better to be invested in value stocks that offer the highest potential return, than to play the timing game.
As I reflect on the performance of my Durable Income Portfolio, I thought it would be useful to highlight my BEST PICKS since I commenced the Durable Income Portfolio. These top 3 REIT picks have generated average annualized returns of 18.6%.

Realty Income (O) has been a stalwart holding in the Durable Income Portfolio. Since 2014 the shares have generated annualized returns of 15.4% and this REIT is one of my top holdings (6.0% concentration). I have a BUY on shares at this time and my Target Price is $55.00 per share. It's unlikely that I will increase exposure, unless there is a pullback (below $55.00). Here's my latest article on Realty Income. (I will be attending O's Annual Shareholder's meeting in a few weeks).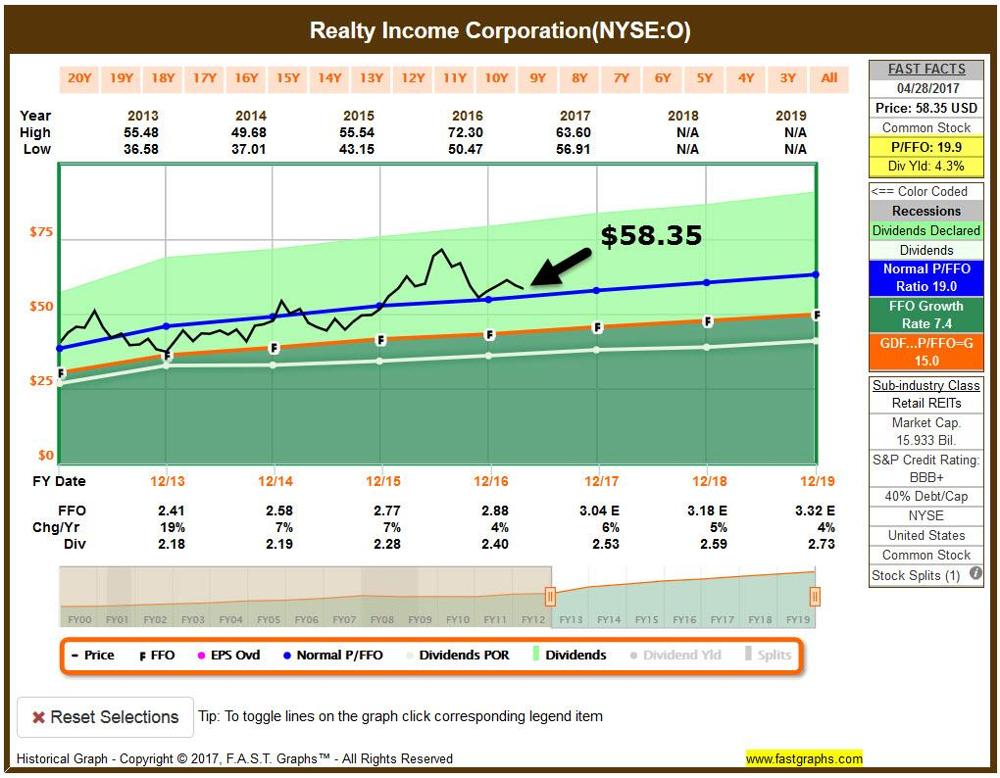 Healthcare Trust of America (HTA) has delivered strong results for the Durable Income Portfolio, returning around 16.6% since 2013. Recognizing the strength of the fundamentals, as well as the strong demographic profile of the healthcare sector, I have been increasing my stake in HTA, and currently I am at 5.4% exposure in the name. Shares are now trading at a premium and I am waiting on a pullback before I deploy more capital into this REIT. Here's a link to my latest article on HTA.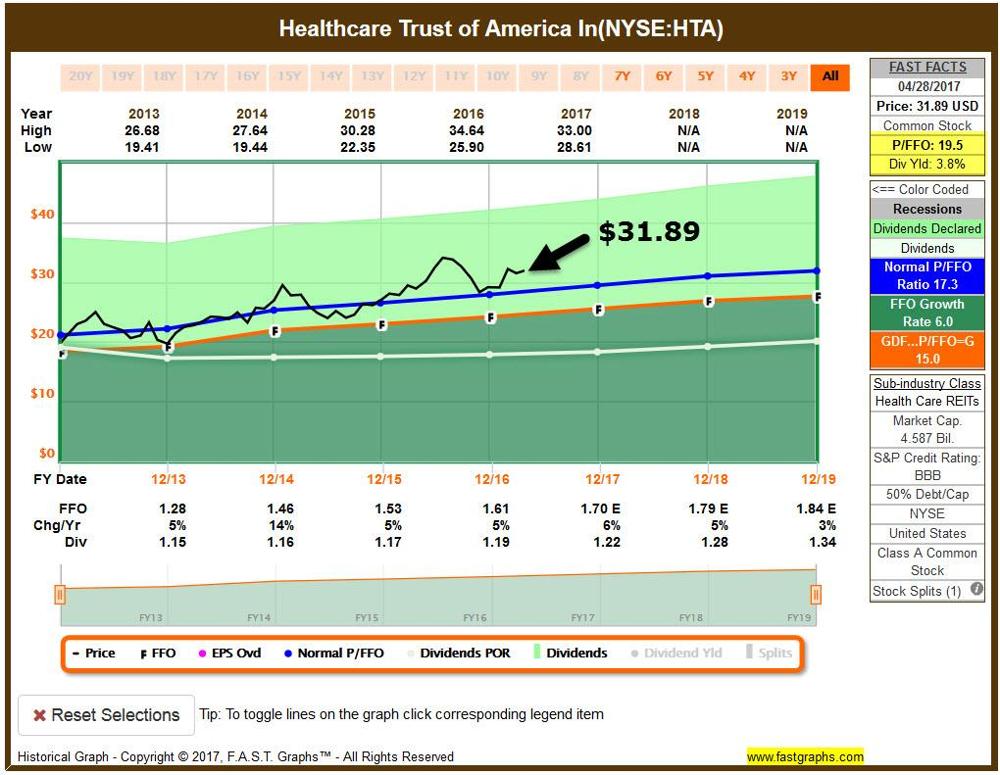 Retail Opportunity Investment Corporation (ROIC) has been a winner, shares have returned 17.2% since 2013. I recognized that this REIT was not battle-tested (IPO was November 2009) but the management team was experienced and the west coast focus was especially appealing. ROIC was not a blue chip when the company launched, but over the years this REIT has evolved into a true gem. The necessity-based tenancy (grocery and drug store composition) is also attractive, so ROIC should continue to perform with little impact related to e-commerce. Here's a link to my latest article on ROIC.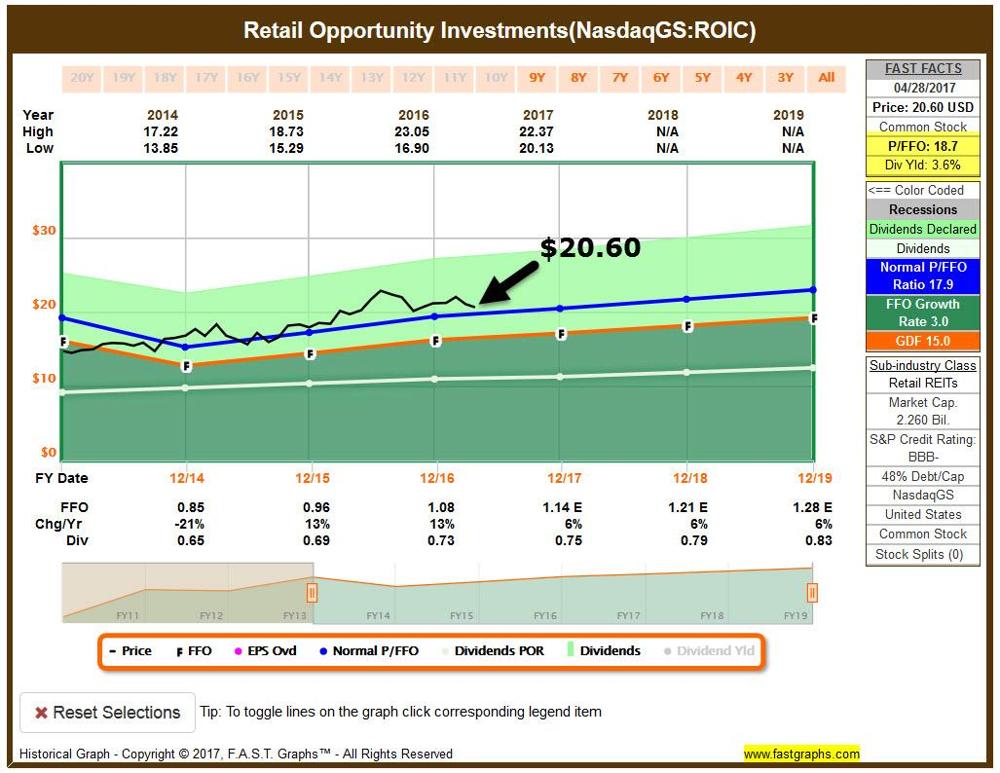 Digital Realty (DLR) has hit the ball out of the park! Of course, much of that success is due to the fact that I bought shares when others were selling. Back in 2013 many feared DLR and there was a large contingent of short sellers. I recognized the mis-pricing opportunity, and the fact that DLR was a "blue chip on sale". All of the stars lined up (balance sheet strength, diversification, low payout ratio, dividend history, etc..) so I decided to capitalize, and it paid off. DLR shares have returned an average of 25.4% per year and I own 4.5% overall. Here's a link to my latest article on DLR.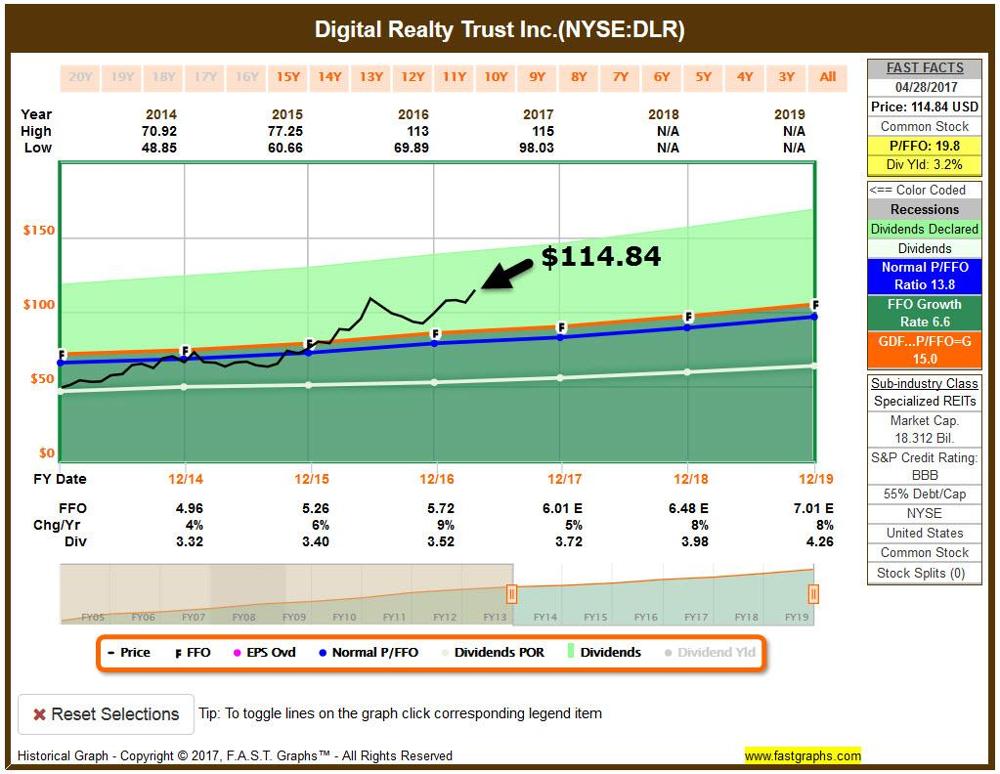 The REIT Recipe For Sleeping Well At Night
Many Blue Chip REITs, including the four I just named, have enjoyed a strong run-up in the past four years, and generalist investors are continuing to treat REITs as alternative products. Some are even claiming that REITs have peaked, and suggesting it's time to ditch them.
That would be a mistake.
REITs still offer healthy dividends that are more predictable than their less-financially sound brethren. Although the O, DLR, HTA, and ROIC have become "soundly valued" today, there are quite a few other Blue Chip REITs that can be purchased with a margin of safety. (I have a list of 15 in my newsletter this month).
Finding attractive Blue Chip REITs is just part of the puzzle, the other important piece is to find them when they are cheap. As the legendary investor Ben Graham explained,
You are neither right nor wrong because the crowd disagrees with you. You are right because the data and reasoning are right.
To get a first look at my upcoming article – The Evolution of My Durable Income Portfolio – CLICK HERE. I also include all of my Rhino REIT Ratings in my marketplace product, REIT Beat.
Author Note: Brad Thomas is a Wall Street writer, and that means he is not always right with his predictions or recommendations. That also applies to his grammar. Please excuse any typos, and be assured that he will do his best to correct any errors, if they are overlooked.
Finally, this article is free, and the sole purpose for writing it is to assist with research, while also providing a forum for second-level thinking. If you have not followed him, please take five seconds and click his name above (top of the page).
Source: F.A.S.T. Graphs
Disclosure: I am/we are long APTS, ARI, BXMT, CCI, CCP, CHCT, CLDT, CONE, CORR, CUBE, DLR, DOC, EXR, FPI, GMRE, GPT, HASI, HTA, KIM, LADR, LTC, LXP, O, OHI, PEB, PK, QTS, ROIC, SKT, SNR, SPG, STAG, WPC,.
I wrote this article myself, and it expresses my own opinions. I am not receiving compensation for it (other than from Seeking Alpha). I have no business relationship with any company whose stock is mentioned in this article.