Canelo vs. GGG: How We Got Here & How it Could Play Out
davidberry
By David Berry: For the purest of boxing fans, Christmas comes on September 16 this year, as Canelo Alvarez (49-1-1, 34KO) squares of with WBA, IBO, WBC, IBF middleweight champion Gennady Golovkin (37-0, 33KO). (Or, in terms that my three-year-old godson would understand, replace 'Christmas' with 'new episode of Paw Patrol').
The Mayweather vs. McGregor spectacle (if it can be called that) is now in our rearview, a match-up that grabbed the attention of the general public but was more sideshow than showcase.
On Saturday night, we get a main event that is worthy of its hype and the oft-overused label of "can't miss fight." In Alvarez, you have a fighter who operates best with a fighter who comes at him. In Golovkin, you have a fighter that is a known terror who comes right at you.
Getting here wasn't easy. In November 2015, nearly two years ago, Alvarez challenged then-WBC and lineal middleweight champion Miguel Cotto at a 155-pound catchweight. Fans and insiders clamored for the winner to take on Golovkin who, despite lacking the lineal title claim, had widely been perceived as "the guy" in the division. Alvarez went on to take a unanimous decision victory in the fight, only to drop his title after a beef with the WBC regarding a tight timeline to make a mandatory defense against Golovkin.
Some said that Canelo was ducking him. We'll never know. Nevertheless, fight fans were starved of a collision course middleweight war that seemed ripe for the picking. Disappointment continued in Canelo's subsequent fight when he fought blown-up welterweight Amir Khan. Canelo iced him in six rounds and called Golovkin out in his post-fight interview, only to drop back to 154 pounds (he'd fought Khan and Cotto at 155) and fight Liam Smith for the WBO's super welterweight strap in another fight that he won by KO, this time by body shot in round 9.
All the while, Golovkin stayed active, as he has most of his career. One month prior to Canelo's fight with Amir Khan, Golovkin dispatched Dominic Wade in two rounds, then went on to fight Kell Brook a week before Canelo fought Liam Smith. He won that affair by fifth round KO, but not before getting caught with quick combinations - even getting lifted off of his feet with a Brook uppercut.
Suddenly, you could sense that maybe, just maybe, the tide was turning. Canelo was blitzing through outgunned opponents and Golovkin, for the first time since arriving stateside, appeared vulnerable.
In March of this year, Golovkin took on arguably the second-best middleweight in the world in Daniel Jacobs, a knockout artist in his own right who pushed Golovkin to the limit in his first-ever 12-round fight. Golovkin left the arena with a narrow unanimous decision victory on that night, but in the eyes of observers, he'd either lost the fight at worst, or appeared exposed as one-dimensional at best.
Six weeks later, Canelo moved up to a 164 pound catchweight to take on Julio Cesar Chavez, Jr. in the biggest high-stakes mismatch in 2017 outside of Mayweather vs. McGregor. Chavez, Jr. provided next to no resistance as Canelo battered him over 12 rounds, winning every round across three judges' score cards.
And suddenly, the Golovkin fight seemed palatable to Canelo's side. Golovkin turned 35 two weeks after beating Jacobs and his power suddenly seemed less awe-inspiring after Jacobs took him the distance. For his part, Canelo had just fought a guy who was likely in the 180-plus pound range on fight night, well beyond the middleweight limit, and he came out with no damage.
This time, we didn't have to wait long to see if we'd get our dream fight. After the final bell sounded on the Chavez, Jr. massacre, Golovkin came through the ropes with an entrance evocative of a WWE ring walk to announce the fight we'd all been hoping for.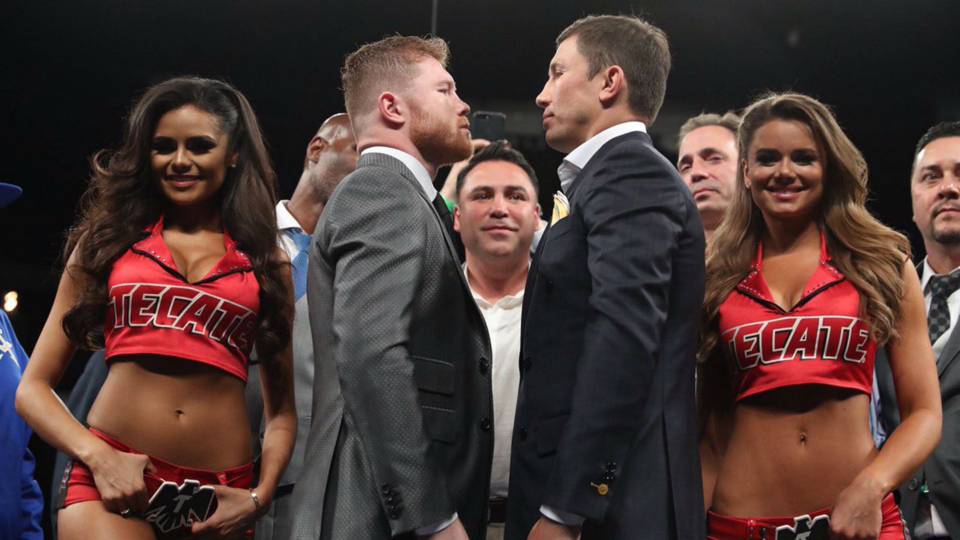 "Golovkin, you are next!" said Canelo into the mic.
Now, we're now just three days away from a fight that even purists are saying has the potential to be this generation's Hagler vs. Hearns (if you've never seen the fight, it's also routinely called "8 minutes of war." Click HERE to watch it).
Where does the past two years leave us here in the present, on the doorstep of this mega-middleweight title fight?
On one side, we have in Golovkin a proven middleweight with wrecking ball power. On the other side, you have the show-pony Canelo who has better-known names on his resume, and skills that improve with every fight.
One seems to be declining, the other seems to be rising to his peak at the perfect time. In a sport where its observers seems to have a notoriously short memory, the guy who has the best performances on his resume often gets the nod when it comes to predictions. Golovkin is a slight -150 favorite at Las Vegas sports books, but increasingly, 'experts' are picking Alvarez; ESPN's panel of experts voted more than 2-to-1 in favor of an Alvarez win (9 picked Canelo, 4 picked Golovkin).
What do you see if you dig deeper? Here are three things worth looking at.
Strengths: Canelo is a combination boxer-puncher with very good speed. He's not the KO artist that Golovkin is, but he can crack plenty, particularly to the body. On top of that, his defense is perhaps his best quality and the least-discussed. No, he's not a fleet-footed, flashy defender, but you'd be hard-pressed to find another fighter who moves at the waist better than him.
Golovkin for his part invariably gets labeled a knockout artist because in 23 of his last 24 fights, that's exactly how he's put his signature on his fights. But he's an underrated boxer; you don't make it through the amateurs with 345 wins and (depending on the source, just 5 or 8 losses if you can't box. He has an educated, sharp jab and his ability to suffocate his opponents has less to do with his power, and more to do with his ability to cut the ring off with no place to escape.
Styles: HBO's Max Kellerman astutely pointed out that Canelo is at his best when his opponents come to him. That's because he's a counterpuncher; he operates best by exploiting weaknesses or openings in his opponents' offense. Kellerman also astutely pointed out that Golovkin is at his best when he's coming forward, and that's due in part to the two aforementioned qualities he possesses in spades; the ability to cut off the ring, and the fact that he hits like a mule.
Common Sense: This is where things get interesting. In a world of "what have you done for me lately," this favors Canelo; he's looked better as of late. But what do those victories really say about Canelo? If you flipped their resumes, there is no one not named Floyd Mayweather that you wouldn't also pick Golovkin to defeat convincingly.
On the flip side, you can't say that with the same confidence with regard to Canelo taking on Golovkin's resume, which is ironic because Canelo's resume has the better names. But when you look at Daniel Jacobs, it's harder to say that Canelo would've beaten him in March. Likewise, Canelo may be favored to beat David Lemieux and Willie Monroe, Jr., but it's likely that you'd feel more comfortable picking Golovkin in those bouts.
The good news for both guys is that their resumes don't matter when the bell rings.
Canelo deserves to be in this fight, and there's a reason - or several reasons - that so many insiders are picking him to win it. His frame and his skills, despite his recently undersized opponents (non-Chavez, Jr.), are world class.
For his part, Golovkin is the favorite for a reason, and that may be on sheer power alone. But he can box a little too when he respects his opponents (just ask David Lemieux), and that will be a critical skill for him come fight night.
So what's the pick? Check back with us Friday for our official prediction. Want to follow along with us from ringside? We'll be there! Follow @iamdavidberry on Twitter fo r real-time updates, images and interviews on Friday and Saturday from Las Vegas.
Until then, familiarize yourself with all things Canelo vs. Golovkin right here:
WHO:
Saul 'Canelo' Alvarez. 49-1-1 (34KO). 5'9" tall with a 70.5" reach. Age 27.
Gennady 'GGG' Golovkin. 37-0 (33KO). 5'10.5" tall with a 70" reach. Age 35.
WHEN:
Saturday, September 16, 2017. Coverage starts at 8:00 p.m. EST..
WHERE:
T-Mobile Arena in Las Vegas, NV (if you're going in person). Available on HBO PPV for $69.99 ($10 more for HD) if you're watching at home.
​