Mayweather is Now Just a -400 Favorite & You Should Bet the House on Him
davidberry
By David Berry: If you've been hawking the betting sites for odds on the Floyd Mayweather vs. Conor McGregor mega-event on August 26 at the T-Mobile Center in Las Vegas, NV, you may have noticed something perhaps unexpected in recent days. Instead of logic prevailing in favor of betting, Mayweather's odds are in fact getting worse, at least according to betting sites like Bovada.
Mayweather was a -500 favorite a week ago, then just -450 a few days ago.Today, the odds dropped to -400, meaning a $100 wager on a Mayweather victory now provides a guaranteed $25 pay day. Not a bad return for a bet on a guy who has never lost as a professional.In fact, the odds are nearly 8X less favorable than they were in Mayweather's last fight against Andre Berto.
Mayweather was a -3000 favorite in that fight, yet Berto was a two-time world champion in the same weight class - in the same sport.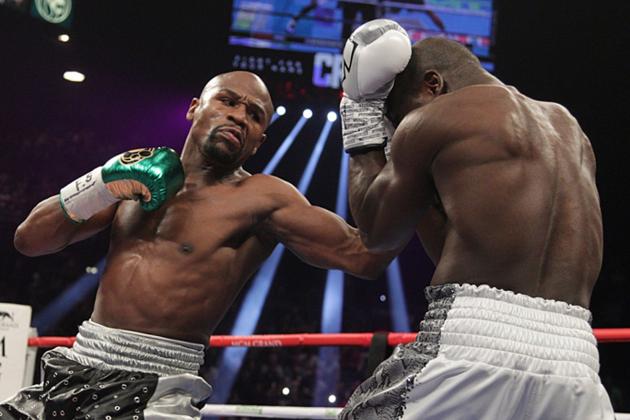 McGregor, for all that he is, is not a boxer. He's never fought as a professional in a boxing ring. You could even argue that he's just two fights removed from being outboxed in his own sport, prior to a tap-out loss to Nate Diaz at UFC 196 (and yes, I'll make that argument).
So how in the world has the money on McGregor gotten this close? It's a testament to how well the fight has been sold, or more specifically, how well McGregor and Dana White have sold it. McGregor, whether it's bluster or actual self-belief, has convinced enough of the public that he's not only going to upset the apple cart, but that he's going to do it in spectacular fashion.
And somehow, the perfect storm has formed around McGregor's camp to make even the most rational boxing fans think, "hey, maybe he does have a shot."
One such perceived boost for McGregor came Wednesday, when the Nevada State Athletic Commission (NSAC) inexplicably approved a rule change to switch the glove size from 10 oz. to 8 oz.
"Now the gloves are 8oz, I don't believe he makes it out of the second round,' McGregor said on Wednesday.And then there were the leaked photos of his sparring session against former two-division world champion, Paulie Malignaggi, which showed McGregor taunting Malignaggi with his hands down in one photo, and with Malignaggi on his back in another. Surely it was just a piece of the story, right?
That was until grainy video footage was released days later that seemed to show McGregor landing, at best, glancing blows, and Malignaggi clumsily tumbling to the canvas. If it was a legitimate knockdown - and that's a big if, with McGregor appearing to cuff the back of Malignaggi's neck - it was far from a damaging one.
Nevertheless, momentum is on McGregor's side, at least in the eyes of a public that's eager for blood. In fact, the odds have only been less favorable for Mayweather on two occasions since he fought Shane Mosley more than seven years ago (Manny Pacquiao at -200 and Canelo Alvarez at -300).
But here's the cold hard truth that, inevitably, all of Mayweather's opponents have learned. Fights aren't won or lost on glove size, or leaked video of sparring sessions.
They are won in the ring, and in 49 fights with 15 world titles, Mayweather still has zero losses. Let your heart and ears believe what they want, but when the bell rings, Mayweather has proven time and again that he is king.
You can take that to the bank.
________
Find me on Twitter at @iamdavidberry
Email me at iamdavidberry@gmail.com