The Fight Guys: Official Canelo vs. Golovkin Prediction
davidberry
By David Berry, LAS VEGAS: It's been said that the anticipation for an event is often greater than the event itself. Like the foreplay before losing your virginity and then - whoops - it's over. Or going to watch a Mark Wahlberg movie.
With the collision course middleweight title fight between Canelo Alvarez (49-1-1, 34KO) and Gennady Golovkin (37-0, 33KO) on deck tomorrow night at the T-Mobile Arena in Las Vegas, it's a rare instance where the event itself may meet or exceed its expectations. In my last column, I explained a style contrast between Alvarez, the counterpuncher, and Golovkin, the forward-moving freight train, and how that contrast lends itself to both fighters revealing the best of themselves while simultaneously being tested to the highest degree.
Canelo comes into this fight with the momentum, the youth and the name. Despite being a slight +135 underdog, he's quickly become the favorite among boxing insiders who like all of the above, plus the fact that he's Golden Boy's cash cow fighting in Las Vegas. In short, should the fight go to the cards, there's a widely-held assumption that Canelo would get the benefit of the doubt in scoring and walk out with a win. (Gail Van Hoy's vision impairment won't find its way to a judge's table this weekend, but Adalaide Byrd's will - and Byrd inconceivably scored just one round for Miguel Cotto in his November 2015 loss to Canelo, a fight that most saw as much closer).
But Golovkin isn't an ordinary opponent. Hell, he's technically not even the "opponent;" he's the holder of four title belts (WBC, WBA, IBF and IBO) in the weight class, and he's fought at 160 his whole career. He knocked out 23 opponents in a row before going the distance with Daniel Jacobs in March. He's comfortable at the weight, never been down or hurt, and he's as smily outside the ring as he is ruthless inside it. He's taken down every middleweight in his path and is a deserved -165 favorite in the bout.
So how does it play out once the bell rings?
Rounds 1 - 2: Golovkin may find himself in a small hole on the score cards as the fight begins, as he figures to show a ton of respect for Canelo by sticking to his jab and cutting off the ring, getting a sense for what Canelo has to offer. Sure, many are expecting fireworks from these two right out of the gate, but there's too much respect for the other's skill set for either to set caution to the wind that early. Canelo lands some flashy combos and moves away, but Golovkin's jab starts finding its home later in the second round. Canelo 20-18.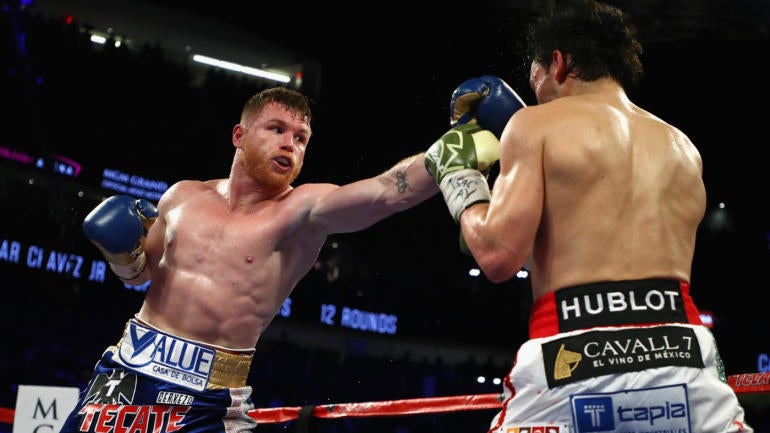 Rounds 3-4: The Golovkin jab becomes the story here. Canelo is by no means deterred, but Golovkin is finding his range a bit more as Canelo finds himself going backward more than the Reynoso brothers would like. Golovkin recognizes a need to get to the body early and often, but he's met with counter uppercuts and hooks for his troubles. Even, 38-38.
Rounds 5-6: If you said to hell with Mayweather vs. McGregor because you knew that Canelo vs. Golovkin was a far better use of your money, these are the rounds that start to prove you right. Canelo can sense the tide shifting if he doesn't take a few more risks, and Golovkin uses Canelo's increased aggression to his advantage. Canelo is landing flashy combinations as Golovkin is increasingly an easy-to-find target, but Golovkin doesn't seem deterred by Canelo's power, even though he's being out-landed. Canelo, 58-56.
Rounds 7-8: Canelo's risks have paid off on the score cards, but he's absorbing an increasing amount of punishment for his trouble. Despite it, he's not backing down, though his output declines in an effort to preserve energy and stop the onslaught. Golovkin's jab finds its home again, but so does his left hook to the body. Even, 77-77.
Rounds 9-10: Canelo recognizes that the fight may be evening up again, and he's got a bit of a second wind. Canelo's uppercut is finding a home, but Golovkin continues to pressure with head-to-body combinations. Canelo decides to fight fire with fire but catches a violent left hook to the jaw toward the end of round 9, going to the canvas for the first time in his career. Canelo comes out for round 10 but has not fully recovered from the left hook. Golovkin is relentless, smelling blood. He's working to find openings and Canelo is doing his best to slip the punches, until another left hook catches him and folds him at the waist. It's not enough to drop him a second time, but is enough for referree Kenny Bayless to step in and call off the action.
Final Prediction: Your winner at 1:25 of round 10, and still undefeated, Gennady Golovkin (38-0, 34KO).
Think I'm right? Think I'm wrong? Leave me YOUR predictions. And be sure to follow me LIVE from the T-Mobile Arena tomorrow night, September 16 at @thefightguys__.